Jun/22/2022
Last Update: June 26, 2023
988
23 min read
Slam Dunk! The Hottest Ben Wa Balls In 2023 For A Super-Strong And Virgin-Tight Fuckhole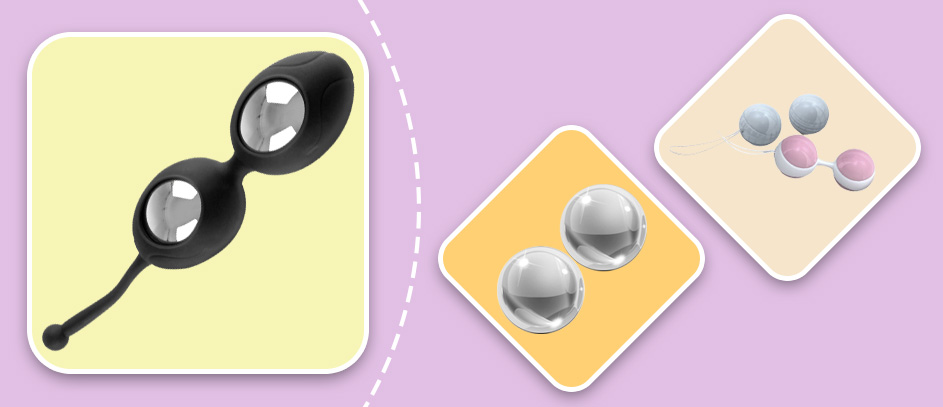 Wanna train your pussy to make it even tighter, wetter, and so much stronger? Honey, if you're like your horny friend Scarlett here, you're probably addicted to huge throbbing cocks and you're constantly stretching your snatch to the limit. Oh, you bad, bad bitch! However, it's always a good idea to pucker up and train your little minge with Ben Wa balls to tighten up the plumbing down there. If you're in need of an instant gorilla grip or if you want to wear these vibrating orgasm balls in public and get the naughtiest gushing orgasm of 'em all, let me instruct your slutty ass on all you need to know about Ben Wa balls!
Top 10 Ben Wa Balls in 2023: Tested!
You know that moment when you're just about to cum and your cunt starts gripping your lover's cock like crazy? When he says: "holy fucking shit, your pussy is so fucking tight!!!" and blows that huge load inside you as you both revel in orgasmic bliss? Mmm hmm! Unfortunately, not every girl was born with a tight vajayjay. But we can change all that! You can use the best Ben Wa beads to boost the health of your kitty, improve your tightness, strengthen your orgasms, and get kinky as hell! So check out the best Ben Wa balls that I've tested in 2023!
Strong-As-Balls Orgasms and a Healthy Vagina
"I first started using Ben Wa balls two years ago and in just a few weeks, my pussy became tighter than a nun's virgin asshole!"
So what are Ben Wa balls anyway? Are they some ancient Asian sex toys or are they a modern invention? Honesty, you won't care so much about their origins once you get the ball rolling, so to speak.
In fact, I wear Ben Wa beads all the time, especially when my BF wants me to have an explosive orgasm right in the middle of our favorite shopping mall or if he wants to train me to become his good little fuckdoll and squirt like a porn slut. Seriously, all I can think about is how to get this article over with and prove to Richard that I've been a good girl worthy of sucking Daddy's monster cock. But first, let me help you out and show you what these balls are really about.
All You Need to Know About These Special Balls
Not every girl is blessed with a tight and creamy pussy. On a made-up tightness scale of 1 to 10, I used to be a 6 until I used Ben Wa beads and Kegel Balls. When I first started training with them, I noticed a huge improvement in several weeks. By now, I can safely say that I'm in the 9 to 9.5 range in terms of pussy tightness. Okay, so that's not a real-world unit of measurement, but you get my point. Anyway, Ben Wa balls are incredibly useful sex toys that offer plenty of sexual and health benefits.
Primarily, one of the biggest issues that orgasm balls can solve is dull and even painful sex that never ends with a bang. Simply put, around 30% of all women can't reach an orgasm during penetrative sex. What a shame! If you're one of those women or if you find it extremely difficult to get off with your partner inside you, it's time to get some balls! No, no, not those balls! I'm talking strictly about Ben Wa beads that can boost your arousal and awaken thousands of pleasure nerves inside your cherry pie. They'll finally help you land those huge multiple Os. And don't even get me started on epic squirting marathons… Just make sure you stay hydrated!
What Are Orgasm Balls For?
While you might not be a stranger to sucking big balls and squeezing out all that sweet, thick man nectar, you could be a total newbie when it comes to Ben Wa toys. And I can already hear you thinking: "Scarlet, wait… I have to push those balls inside me?!?!" You bet!
Basically, you can use your Ben Wa eggs to masturbate all on your own. However, you can also use them to train your minge and reap the benefits. They can improve your v's health and sexual pleasure, and they are some of the oldest sex toys out there. However, they have very little in common with their ancient prototypes. Nowadays, you can get all kinds of wireless and remote-controlled Ben Wa balls, vibrating Kegel balls, smart next-gen jiggle balls, etc.
What's more, Kegel Balls are sort of like dumbbells. Except, instead of using them to flex your biceps, they'll pump up your pussy and help you out with some epic internal bodybuilding! Remember, while your clam is a muscle, it's not a typical organ like a penis. It stretches from your vulva to your cervix and forms a fibromuscular tube. Ben Wa beads, love balls, jiggle beads, and Kegel balls are all meant to be inserted into that gorgeous honey tube of yours. Then, they will help by inducing pelvic floor contractions. And that's the reason why they're so effective!
Plus, these balls work in a similar albeit much more improved way compared to traditional Kegel exercises. If you've ever tried those exercises before, you may not have been able to make them work. Also, you might have been missing some resistance to nudge your progress. With Ben Wa beads, you'll get just the right amount of weight and pressure to activate and tighten your PC muscles.
Ben Wa Balls: Put the Wa in WOW!
Now, let's get into the real meaty parts of our little lesson. Ben Wa toys are small and weighted spheres that have a super smooth surface. They are also sometimes called orgasm balls, venus balls, joy balls, geisha balls, shake balls, etc. That's a lotta balls! But seriously, while they were invented in Asia, they are just starting to get mainstream recognition.
Truth be told, a lot of people started to use them after that iconic scene in Fifty Shades Darker. Ya know, the one where Anastasia, wide-eyed with excitement and fear, asks Mr. Gray if he's going to push some Ben Wa beads deep inside her little asshole. Can you relate?
Anyway, what's special about Ben Wa eggs is their super smooth surface along with a weighted design. Most of them are hollow. They contain another smaller metal ball on the inside. This second ball moves along with gravity to stimulate your PC muscles. Other types of balls are not hollow. But, they still have a hefty weight that will trigger your PC muscles. Some contain only one ball whereas others have a pair that is connected through a retrieval cord.
Regardless of the type, Ben Wa beads produce special vibrations that trigger involuntary contractions. It's a similar albeit much more intense feeling compared to trying traditional Kegels. When you push this toy in and move your body, the inner ball will spin inside the outer one. It will create an unusual vibrating sensation. That way, it will activate all the fibers in your vajayjay.
But what if you're asking: "Scarlett, aren't these balls just gonna pop out of my pussy and soil my panties in the middle of the school library?" Well, if you wear your Ben Wa balls properly, they will remain inside you without falling out. Then, you can use them while walking around, running, swimming, and not to mention every shade of hardcore fucking.
Benefits of Ben Wa Balls: Grow Some Balls!
If you're still confused, you don't only need to use your love balls to get a tighter vagina. Sure, a lot of girls use them to make their holes tighter and wetter, but they actually offer more benefits than you think:
They can cure incontinence and help you regain strength after pregnancy. – If you're only here for the s.e.x., you better skip this one. However, Ben Wa ball weights truly help to control excess bladder leakage and regain the natural elasticity of your flower after childbirth.
Stronger muscles for all – These balls will strengthen not only your muffin, but also your uterus, bladder, and rectum. Yes, you read that right: Ben Wa eggs will keep your butthole nice and tight!
Improved wetness – These sex toys will boost your natural lubrication to make you wetter and juicier than a Georgia peach.
Better vaginal health – Having stronger muscles down there will also help ward off infections and keep your pussy nice and clean.
Stronger orgasms – Now we've cum to the fun part. Ben Wa beads will strengthen your muscles to make your orgasm contractions feel a lot more intense. By stimulating your muscle fibers directly, these toys will increase your response to stimulation to finally bring you those legendary squirting G-spot orgasms!
Discreet design – A lot of women are into orgasm balls because they don't resemble all of those classic sex toys such as huge and realistic BBC dildos. These jiggle balls are much more discreet and they're a great choice for someone who isn't into fat, veiny, and intimidating cocks.
Types of Ben Wa Balls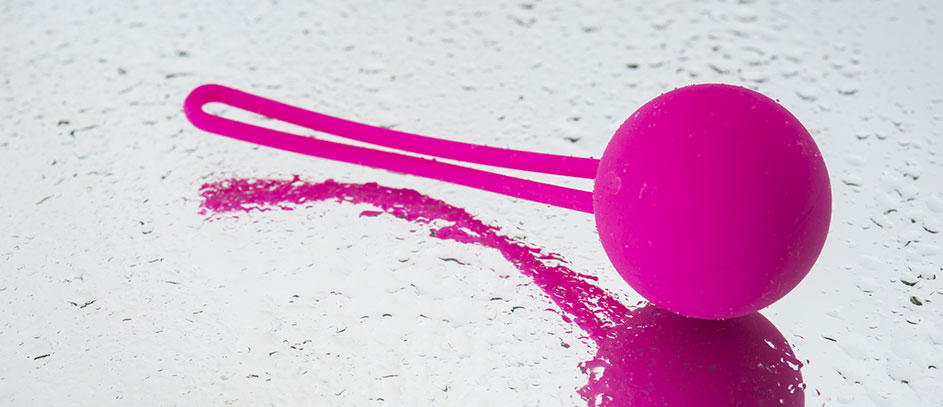 I vaguely remember the first time I pushed one of these bad boys inside my pussy. What I was most surprised with is that they aren't as intense as you may think. The standard types will provide mellow and gentle stimulation. That's especially great if you want to wear them for hours on end. However, you can ramp up the pressure with other types that provide extra features such as vibration and remote control. But before you get started with some of the kinkiest bedroom adventures ever, you should think about the type of Ben Wa ball that works best for you. So take a look at the most common variants of Ben Wa balls:
Kegel Ben Wa Balls
This is the standard type of Ben Wa bead and it's designed for newbies and pros. It's usually made of body-safe silicone, but it's also available in several other materials. Overall, you'll find tons of different models out there in various sizes. Still, most of them are designed to suit everyone's skin while offering a soft and smooth texture. They are also called Kegel balls, and there's little to no distinction between them and other balls.
What's important is that this type has a balanced light weight. Plus, Kegel balls will give you a comfortable fit. They will suit most women's abilities and preferences.
Vibrating Ben Wa Balls
This type is all about your pleasure! It's mainly intended for women who just love to get off hard and are not necessarily into practicing their Kegels. But, they will work just as well as the previous type when it comes to training your clam.
Of course, the reason why some horny ladies are crazy about these toys is that they provide additional vibrations via strong vibrating motors. Even though the balls are smaller than full-size vibrators, they pack a mean and powerful punch. It will make your whole body shake! By offering several different vibration patterns and speeds, they will deliver anything from playful and gentle pulses to deep throbbing sensations! All you need to do is lie down and relax. Or maybe even suck a cock or two while you get your G-spot milked inside out by your vibrating orgasm ball! YOLO, right?
Duotone Ben Wa Balls
Why choose only one ball when you can have two or more? Double or nothing, baby! That's exactly what duotone Ben Wa eggs are all about. They will give you two or more balls in one package. They are attached in a single line via a nylon string, a silicone retrieval cord, or a stretchy harness. That makes them incredibly easy to remove. All you need to do is tug on the string slightly to make them come out.
Plus, the inside of each ball will have additional internal balls that spin around or even small weights that produce a special type of stimulation. Additionally, your internal muscles will have to contract around not one but several balls. That will provide even more pressure or intensity while making you grip those balls much tighter. Now, just add some strong vibrations to all that and you'll be on your way to an epic full-body orgasm.
String Ben Wa Balls
Some Ben Wa balls are attached together using a string. This feature makes them look similar to anal beads. However, they are primarily designed for vaginal use. The results that you'll get with these types are similar to the previous example. Also, string Kegel balls could be a bit easier to maneuver. This makes them ideal for kinky in-out action. Plus, it makes this type great for pure simulation.
When you want to party, just hold onto the string and push these bad boys inside you. Then, slide or push them out to feel a unique popping sensation just when you're about to explode! Plus, the "stringed-up" look is actually super kinky and it makes this type a perfect fit for all sorts of dungeons and playrooms. Ready for your punishment from Big Daddy?
Other Types of Ben Wa Balls
There are plenty of other Ben Wa ball designs that you can experiment with. That includes:
Metal Balls – These shiny sex toys will give you a sensation like no other. They are smooth and easy to insert while allowing you to experiment with temperature play. These types can adapt to the surrounding temperature. For example, you can cool them down before insertion and wait as they heat up inside of you. Plus, their tough texture is ideal for Kegel experts who are already pros at internal weight lifting.
Glass Balls – Glass balls also offer temperature play sensations, but the smoothness of the material and their translucent looks will provide an entirely unique sensual experience. They are light and slippery which is what you're looking for if you want to train your PC muscles even harder.
Remote Control Ben Wa Balls – This type is all about vibrating Ben Wa toys that you or your lover can control from a distance. You can use them to ramp up the fun in the bedroom or try some kinky public adventures. Just try to go shopping with your ball inside and allow your BF to control the action!
Long-Distance Ben Wa Balls – Some remote-controlled Ben Wa balls can use apps to connect you to a long-distance partner. That way, you can stay intimate with your lover even if you're miles away.
Buyer's Guide: Let's Have a Ball!
Listen up: treating yourself to some pleasure balls is very different compared to buying standard dildos or vibrators. If you get any run-of-the-mill dildo, you'll probably get it up there without any problems. Yet, if you want to get the perfect pleasure ball for your pussy, you will have to dig around a little bit until you find a single ball or set that matches your body. Plus, you shouldn't only focus on your preferences. You will also need to think about your abilities, desires, and several other things such as the material your balls are made of along with any special features.
Remember, Ben Wa toys are all different. You'll spot those differences mainly in the size, material, weight, type, and shape. Plus, some of the newest types use smart app control technologies. You might have to factor that in and spend more money if you're looking for cutting-edge orgasms. Others can induce rhythmic contractions and strong vibrations to stimulate your peach hands-free. But which pleasure ball is perfect for you? Let me start you off and show you the best type of pleasure ball for your body!
What to Watch Out For
Your vagina's health – The #1 rule here is that if you have any underlying health condition that prevents you from using Ben Wa spheres, you need to talk to your vagina doctor first. Even if you're suffering from incontinence or vaginal prolapse and you want to use Ben Wa weights to get better, talk to a specialist and ask for their opinion. However, if you're healthy and all your plumbing is working perfectly, go ahead and have fun!
Wanna train? Or do you just need to fuck?! – It's crucial to focus on your desires and goals here. If you just want to masturbate or get freaky with your lover, vibrating balls will deliver a lot of pleasure while still giving you a full Kegel workout. Yet, if you just want to work on your tightness and improve your v's health, a standard Ben Wa or Kegel ball will be a great place to start.
The size and shape of your Ben Wa balls – This point is crucial since you're not choosing long and thick dildo-like toys. You should always look for a ball that fits you comfortably and feels great when you're sitting, lying down, or standing.
Single vs. Duotone Kegel Balls
You may be wondering whether you should get only one ball or treat yourself to multiple balls. Here, it's crucial to note that single ball weights are the lightest. Single balls with a small size are ideal for a narrow internal size and they're also a good choice for women who already have experience with Kegel exercises. However, larger single balls are a great option for newbies. If you want to double up, get ready for a heavier weight.
If you're a beginner and you have a looser minge, try a pair of larger Duotone Ben Wa weights. These types are recommended for women who have a medium or large internal size. But, if your love tunnel is already nice and tight, bigger Duotone balls will work wonders. Therefore, you should choose your weapon carefully!
What Is the Best Material for Your Ben Wa Ball?
It's definitely not jelly or rubber! I've seen this way too many times: people are too quick to ignore their safety just so they can save some money. But in reality, you will not have a jolly good time if you opt for a cheap toy that uses unsafe materials. Therefore, you should inspect your balls carefully. Make sure they use body-safe materials!
Generally, the most popular and safest materials include silicone, metal, glass, and ABS plastic. All of them are skin-friendly and non-porous. This means they will not absorb any vaginal bacteria. Plus, once you clean them after each use, they'll be as good as new. On the other hand, you might run across some Ben Wa eggs made of rubber, jelly, or latex. If you want to keep your minge safe, it's best to just avoid them. Trust me, they could wreak havoc on your precious orchid. Plus, they smell and feel so bad that they could turn you off sex toys completely.
If you still can't decide, it's always best to choose genuine silicone. I can safely recommend this material to all beginners because it's easy to use and has no hidden flaws. What's more, it has a soft and smooth texture that feels fantastic during penetration. However, if you want to experiment with something that's a little harder, you could pick metal, steel, or ABS plastic. All of those materials are body-safe but they will provide an entirely different sensation compared to silicone. They will add more pressure and will feel heavier inside you. That's why they're recommended for girls who are tight down there or those who have already mastered their Kegels.
Size
Choosing your ideal ball size is entirely personal. So let it be known: small balls are best for tight pussies and large ones are better for loose cunts.
Fortunately, there is a huge range of sizes available out there. Some are no bigger than a marble. Others have extra-wide diameters of 3 to 4 inches. Obviously, you'll have to pick a different size if you're a beginner or expert. For newbies, it's best to choose a medium to large size ball. It may seem counter-intuitive, but larger balls will stay inside you with less effort. That way, you will squeeze your muscles so hard. Plus, larger balls cover a wider area inside you, which makes them a great choice if you only want to explore self-love. They create a nice feeling of stretchiness that can lead to some legendary orgasms.
Still, if you already have a virgin-tight pussy and you intend on keeping it that way, you should do all your Kegels with a smaller ball. The smaller diameter will make your vajayjay contract much harder in order to keep the ball in place.
How Tight Are You?
If you're not sure, you can always poke around. My recommended tip for you is to relax and stick one or two fingers up there. How does it feel, baby?
If your fingers fit inside snugly, choose a small to medium size. That's around 0.5 to 1 inches in diameter. However, if your fingers are wobbling around inside, you need to go for a medium to large ball. That includes diameters of 1.5 to 2 inches or more.
How Much Do Your Balls Weigh?
As I said, you can choose weighted or unweighted options. Standard non-weighted balls for beginners can measure around 1.6 to 8 oz. Now, if your pelvic floor is weak, stick with lighter balls. But, if you're up for a challenge, try a weight between 4 to 8 oz. If you want to buy Duotone balls, just note that they will double that weight. Also, steel or metal balls could be even heavier.
Don't Ignore the Special Features
What if you're looking for next-gen Ben Wa ball weights to enjoy long-distance fun, teledildonics, kinky public play, and ultra-intense masturbation?
Well, you should always be prepared to spend extra on that. Plus, you should also know exactly which features are perfect for you and which ones you can skip.
If you want to buy a remote-controlled or vibrating Ben Wa ball, make sure you inspect all the little details. Many of those toys will offer different vibration technologies, smart monitoring, custom vibration patterns, and different types of remote control Ben Wa balls.
Some could even have sensors that track or analyze your contractions and orgasm stages. It's up to you to find the features that make you horny and ready for hands-free pleasure. Therefore, look into the fine print to see whether your toy is worth it or not.
String, Harness, or Retrieval Cord?
Finally, don't forget about pulling your balls out. You'll have to do that eventually and that's why you should find a design that suits you the best.
For example, I prefer my balls to come with silicone retrieval cords. They're easy to remove and you can also jiggle them around to add some spice while you masturbate. You can also use those types that are connected via a string as long as you know that the string is made of body-friendly materials. The same applies to balls that use a harness. Plus, if you want to use multiple balls in a harness, you'll need to know how to clean the entire combo correctly to stay safe.
Dos and Don'ts
Do…
Focus on your goals. If you just want to get off on your own or with a partner, a larger vibrating ball will work wonders. Still, if you're looking to train hard and get a super-tight squeezebox, focus on your internal size and find a ball that fits correctly.
Use all of my tips about the weight, size, and shape. However, don't let me stop you from experimenting. If you want, you can buy several balls and play around with all of them until you find the one that feels the best to you.
Don't…
Don't choose poor-quality materials such as jelly or rubber.
Most love balls will not work in your or your partner's ass so don't be tempted to shove them up there.
If there's something wrong with your vagina, don't try a Ben Wa egg before you get professional advice from a doctor.
Tips on Using, Cleaning and Storing Your Ben Wa Balls
If you want to get a buff, toned, and super wet fuckhole, you'll have to put in the effort. Trust me, you will not get a tight fuckhole overnight and it will take a couple of weeks until you see some substantial changes inside you. So if you want to get a fit and athletic pussy, follow my expert tips:
All About the Squeeze
If you've never used an orgasm ball before or if you've never even tried Kegels, it might not be a bad idea to contract and hold your PC muscles just to see how that feels. Also, don't shove your toy up there straight away and head out to town. Believe me, that shit can fall out of you in the middle of your office meeting if you're not ready.
Instead, be patient and try to think of it like you're going to the gym. And the first thing you need to do at the vagina gym is to take it easy. Use some lube that's compatible with the material of your toy (water-based lube works for all of them) and set aside some time to relax.
Now, there are two ways in which you can start. That depends on whether or not you want to practice some Kegels or masturbate like crazy. The former doesn't require you to get horny at all. You can gently push the ball inside to start your workout. However, if you want to try the latter and jill off until you're super-soaked, just do what you normally do to get horny. You know, watch some porn, suck your BF's cock in 69 while he licks your asshole, think about Brad Pitt, etc…
Time For an Epic Workout!
Regardless of your fantasies, the trick is to get your ball about halfway into your bajingo. Then, try some mild contractions to see if it fits correctly. If it feels too heavy or too light, you can still use it if you lie down on your bed. That way, it won't fall out or cause too much pressure.
Once your muscles have adjusted to it, you can start clenching. Try to hold each stretch for around 5 to 10 seconds and also rest for 5 to 10 seconds when you release it. If you want to do a full set, repeat the exercise five times. Of course, you can squeeze your pussy for much longer and try more reps if you need a challenge. Plus, you can repeat each set three times per day.
Alternatively, if you don't want to squeeze at all, you will still notice some results if you keep your ball inside your muffin for longer. The weight will make your muscles contract automatically in order to hold your ball in. What's more, if you're going to use your toy for sexy solo masturbation, don't forget to experiment with all sorts of positions and even incorporate other sex toys.
Cleaning Your Ben Wa Balls
Nobody likes dirty smelly balls, am I rite?! Well, just imagine how they'll look when you push them out of your pussy after a creamy orgasm. By all means, don't use your mouth to suck off the juices and store your ball away! Well, go ahead if that turns you on, but never forget to clean your Ben Wa ball weights with soap and water afterward. You can run them under the tap and wash off all those naughty liquids to keep your toys sparkly clean.
That method works for silicone, metal, steel, or ABS. Still, if your balls have retrieval strings or special textures, try to get in there and clean up all the little details. You can even use a soft cloth to polish your balls and keep them nice and shiny!
Either way, you will need to wait for your Ben Wa toy to dry before you can put it away. So leave it out for a few minutes. Then, safely store it in the original packaging or use a soft carrying pouch. That will keep it away from external elements. It will ensure that your toy is always ready for your next training session!
Ben Wa Balls Industry Overview
According to legend, these balls were first used in Japan in 500 BC. However, they were invented by a Japanese man who wanted to penetrate his sphincter while fucking his concubines. What a way to party!
But, those early jiggle balls were actually quite unsafe because they were filled with mercury. It sure was risky, but the mercury contributed to some unique tingly sensations that were just perfect for sending horny Japanese men into ecstasy. What's more, there is evidence of pelvic floor exercises in all sorts of ancient texts from China and India.
Somewhere along the way, women mixed the two together and started to use all kinds of balls in their vajayjays for a pelvic floor workout. Still, the "official" origins of love balls date back to 1948 and a doctor named Arnold Kegel. He is credited with inventing the modern Kegel method along with all kinds of Kegel balls for pelvic floor contractions.
The Future of Orgasm Balls
Aren't you glad that we don't have to stuff our muffins with mercury today? Well, the sex toy industry is definitely at its peak right now and it's not slowing down. We can literally find thousands of different love ball models with body-friendly materials and groundbreaking features.
One of the best examples of that are next-gen Luna Beads from LELO. There are many other cutting-edge Ben Wa toys from companies such as Intimina, Fun Factory, Elvie, Paloqueth, Lovehoney, Tracey Cox, InJoy, and so on. The look and feel of the newest Ben Wa models is beyond gorgeous. Plus, with such a wide choice, you easily find the perfect toy for you.
But what about the future? Whether you buy into the whole 2,500 years of orgasm ball history or not, you can expect huge changes in the coming years. We already have access to remote and app-controlled balls as well as those that monitor your contractions.
Plus, the sex toy industry is constantly following other trends in the tech world. A lot of the brands I've mentioned are experimenting with AI, VR, robots, and other tech that you probably don't even understand. What matters the most is that the future will make you cum like never before! Still, Ben Wa balls are finally getting the recognition they deserve and the best time to try them out is right now! So follow my tips to find the best model for you and get some balls-to-the-wall orgasms!
⚠️ Disclaimer: Our articles contain affiliate links. If you like our content and wish to support our work, consider purchasing your new sex toys through our links. For each purchase through our links, we receive a small commission but at no extra cost to you.
FAQ
Absolutely! Love balls are among the safest toys for your foo-foo. Unlike big dildos or vibrators, they won't cause pain or irritate your hole. However, you could risk an infection if you don't clean them properly. Granted, that could happen with any toy if you're not careful. Still, if you use your orgasm balls properly, they will feel safe, snug, and comfortable!
The answer to this question depends on your abilities. You could wear them for 5 minutes until you complete your exercises or you can keep them in for hours on end if you prefer that. Still, you shouldn't hold them inside for more than 6 hours. If you want to keep your balls inside for a long time, remember to take your lube with you and constantly reapply it.
This will happen rarely, if ever. You could sometimes feel like your ball is stuck inside your vaginal walls. However, it will always drop down and slide out, especially if you relax your muscles. If it turns to a weird angle and you can't get it out, just dig in with your fingers and gently remove it. Alternatively, if your toy has a retrieval cord, just pull on it to make it come out.
Oh yeah! Wearing a Kegel ball in public will feel extremely naughty, especially since no one will know. You can use it at work, while shopping, etc. It will brighten up any boring day at the office and it will also put a lot of fun into your daily chores!
Beginners should try 5-minute workouts first like I explained in the article. Once you get used to it, you can extend your sessions to 10 minutes. Also, you could try to wear your balls three times per day to get the ultimate workout. The first results will come after a few weeks, but it might take around 2 to 3 months for some women to see the improvements.
I wouldn't recommend it. A lot of people will tell you that they can sleep with a love ball or a butt plug inside without any problems. However, remember that you will usually sleep for around 8 hours. That's longer than the recommended wearing time. Plus, you will not be able to feel anything while you sleep. If you make an awkward turn and injure yourself, you won't know it until the morning.