Aug/16/2022
Last Update: June 26, 2023
801
7 min read
Abracadabra, Beyotch! Hitachi Rechargeable Magic Wand Review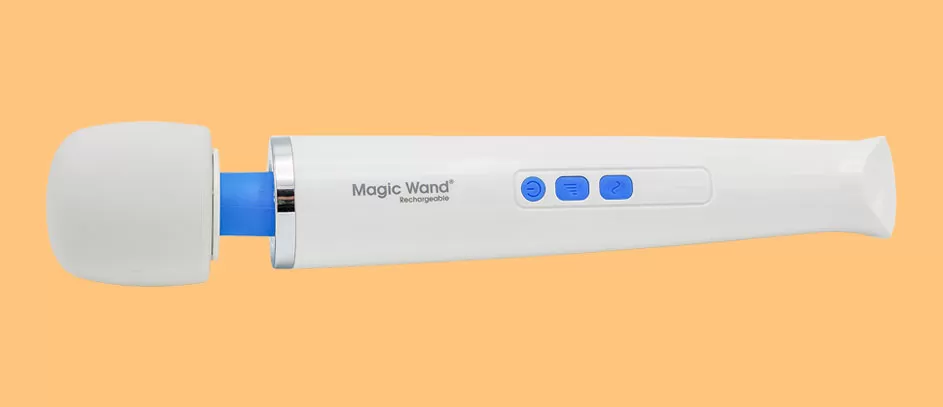 So you're thinking: "Scarlett, what's the most powerful vibrator out there?" Well, if you're in need of some serious magic and you crave those "drill your soul out" orgasms, a wand vibrator will make you as jolly as a schoolgirl on a Friday night! Yup, there's truly something enchanting about a magic wand rumbling against your sweet spots. Even better, the Hitachi Rechargeable Magic Wand can vibrate at 6300 RPM! It actually made me feel a bit intimidated before I used it all over my dripping clit and pussy! This "Cadillac of vibrators" uses the original Magic Wand design we've all grown to love. However, it gives you a few additional features that fangirls like myself have waited a long time for. So will the Hitachi Rechargeable Magic Wand put all other vibrators to shame? Will it bring you those supernatural "ooh-aah" orgasms every time? Find out in my Hitachi Rechargeable Magic Wand review!
Open Sesame: Orgasms Everywhere!
If you've never used a wand vibrator before, you probably don't know what makes them so magical. But before I tell you all about how the Hitachi Rechargeable Magic Wand felt when I used it for some suspiciously pervy masturbation marathons, it's time for a little history lesson.
I'm hoping that you already know a little bit about the original Magic Wand and how it was one of the first vibrating sex toys ever. Seriously, this bad boy was the OG orgasm machine! Like many other sex experiments, it all started in the late 1960s. The original Hitachi Magic Wand was actually intended to be a muscle massager. However, some horny-as-balls girl out there had the brilliant idea to use it for another type of massage. Then, the rest was history. And by "history", I mean that women everywhere were enjoying huge and awesome orgasms!
Seriously, women went crazy for the Hitachi Magic Wand. It's all due to its ridiculously strong and intense vibrations that travel deep into your body via the soft and round silicone head. While ladies everywhere were exhilarated, the company that designed the Magic Wand wasn't so thrilled. Moreover, the Japanese inventors never expected their massager to become a world-famous sex toy. Also, they didn't want to associate their product with sexual pleasure. Back in 2013, Hitachi discontinued the Magic Wand. Sadly, that left us with a huge void to fill.
Fortunately, another company called Vibratex partnered with Hitachi and the Magic Wand was reborn. They agreed to make some updates on the technology and the exterior design. Out of that came the new Original Magic Wand. It was almost an exact replica of Hitachi's legendary invention. Now our horny asses can return to the present and we can focus on the ​​Hitachi Rechargeable Magic Wand.
First Look
The Hitachi Rechargeable Magic Wand has been out for a couple of years already and it's the successor of the Original Magic Wand. It features the same iconic white-and-blue design, the same 2-inch vibrating head, and most importantly for us, similar yet much more improved functions.
What grabbed me from the get-go is that the Rechargeable Magic Wand finally gives us four speeds to play with. In contrast, the Original offered only two.
Furthermore, they've finally listened to our needs and they designed this bad boy to be fully rechargeable. Originally, you had to plug it directly into the wall if you wanted some action. While that pretty much gave you unlimited power, the range was always restricted to that long-ass power cable sticking out of your pussy.
Granted, rechargeable power and 4 different speeds are somewhat outdated compared to other app-powered or VR-compatible features that you'd see on newer vibrators today. Still, remember that this baby was made in the late 1960s. The new design is nearly an exact copy of the original. Basically, it doesn't try to impress with flashy next-gen features. Yet, it will definitely make your pussy fizzle like it's the summer of love all over again!
Features
Rechargeable
Operating time: 180 minutes
Charging time: 3 hours
Automatic power-off feature
Plug and play feature
4 speeds
4 vibration patterns
Flexible neck
Circumference – 7.75 inches
Length – 12.5 inches
Design
One of the things that Hatchi and Vibratex have always been very direct about is that the Magic Wand puts all other vibrators to shame in terms of power. The Original wand was made to give you the ultimate vibration speeds and intensities. The Magic Wand Rechargeable is no different. When I first received it for this Hitachi Rechargeable Magic Wand review, I instantly noticed that this mothafucka is large and oh so powerful.
What I really like is that, while the toy is based on a decade-old design, the ABS plastic used on the body feels incredibly sleek and comfortable. Moreover, the head uses firm and velvety silicone.
Also, the buttons on the handle are made of silicone. Plus, the whole body is a full foot long. The vibrating head is 2.5 inches wide, 2 inches tall, and it sort of resembles a tennis ball.
Of course, the head is not designed to be insertable. Still, I can already imagine some kinky freaks out there getting some weird ideas… No, Richard, I don't want you to push this thing up my asshole! Anyway, you can relax your PC muscles now. You should probably use this thing for what it was designed for and that is to massage your sore back or shoulders and of course, to pummel the heck out of your clit and vulva!
Size and Material
Obviously, the first thing I noticed during my Hitachi Rechargeable Magic Wand review is this toy is huge. While it's rechargeable, it's not the perfect travel toy. If you want to take it with you, you'll definitely need a lot of luggage space!
Nevertheless, you'll quickly realize that the size makes a lot of sense when you hold it in your hand. The handle is extra long. Plus, the buttons are conveniently placed so that you can hold the whole thing at various angles without getting distracted. Also, the silicone material is super smooth and it looks like it will last forever. It feels fantastic coupled with some water-based lube, but I'd advise you not to use too much.
Sadly, the Rechargeable Magic Wand isn't waterproof. Therefore, you won't be able to soak it if you want to clean it thoroughly. This is one of the biggest gripes I have with the toy and I honestly don't know why they didn't make the toy waterproof (grrr!!!).
The Most Powerful Vibrator Ever?!
So how does it feel like to use a 6300 RPM orgasm machine on a tiny clit that has 8000 nerve endings? Well, let me warn you that you shouldn't attempt to go from 0 to 100 on this thing. While my kitty was already best friends with the Original Magic Wand, I knew what I was getting into here. Basically, the Magic Wand's vibes are much stronger than any other toy I've tried.
My advice for you is to use it on the first setting and take it easy. You may even have to try it over your panties to get used to it. I was able to move up all the way to the fourth speed while wearing my PJs, but I doubt that beginners could reach this level. Still, the first and second settings are incredibly powerful. They are just perfect for a huge clitoral release, intense multis, or even a massive squirting party.
Here are all the patterns you can experiment with:
Steady vibration with controllable speed
Two short and one long pulse
Medium length pulses
Fast pulses (awesome!)
Low/High/Low pattern
Go Big or Go Home
What I loved most about all of those settings is that they feel amazing through the large silicone head. You can press the whole thing against your clit. Then, you'll literally envelop your entire vulva in intense pressure! There's a lot of room to experiment here. Therefore, you'll have to get super horny and try as many patterns as possible.
What's more, I enjoyed the new design of the flexible neck. I was able to bend the head slightly and not over-extend my arm. Trust me, it will definitely come in handy during partnered sex. Speaking of mutual pleasure, I used it on my clit while Richard was pounding me from behind and the vibrations were so strong that they literally milked his balls dry! Not bad!
Moreover, while the entire thing is immensely powerful, it didn't strain my hand at all. All the vibrations come from the head. It's literally impossible to feel them on the handle and make your hand go numb. Another thing I should mention is that the noise level is quite high, but it drops down substantially when the head touches your skin.
Pros
It's one of the strongest vibrators on the market!
You'll get the classic design but it's updated with rechargeable power and additional vibrating patterns
The flexible head feels soft and smooth
Cons
Not waterproof
It may be a bit too powerful for some people
Final Thoughts for My Hitachi Rechargeable Magic Wand Review
If you love classic sex toys, the Rechargeable Magic Wand uses a legendary design but improves it with some much-needed tweaks that will literally put you under a spell!
⚠️ Disclaimer: Our articles contain affiliate links. If you like our content and wish to support our work, consider purchasing your new sex toys through our links. For each purchase through our links, we receive a small commission but at no extra cost to you.
| | |
| --- | --- |
| 👉 Name: | Hitachi Rechargeable Magic Wand |
| ⚙️ Features: | Rumbly Vibrations, High Quality, Rechargeable, Multiple Patterns, Extra Thick Head |
| 📁 Type: | Wand Massager |
| 🛠️ Materials: | Silicone, ABS Plastic |
It's super powerful! (It made me cum in 2 minutes!!!)
5
Tried and true design (It looks nearly identical to the OG Magic Wand)
5
The head feels fantastic (It provides wide stimulation and intense rumbles!)
5
Rechargeable (The new rechargeable design is far superior to the older wall-powered version)
4
Editor's Pick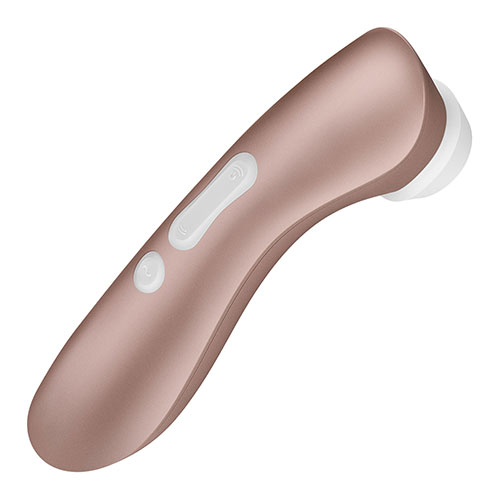 Satisfyer Pro 2+
⚙️ Special features:
Smooth vibrating pressure
⚡ Power source:
Rechargeable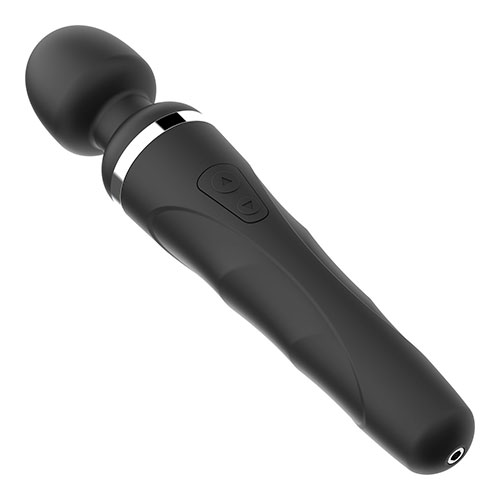 Lovense Domi 2
⚙️ Special features:
Remote App Program
⚡ Power source:
Rechargeable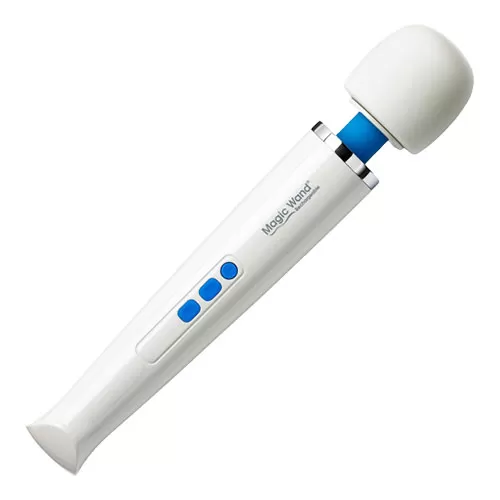 Hitachi Rechargeable Magic Wand
⚙️ Special features:
Flexible neck and smooth head
⚡ Power source:
Rechargeable