Aug/16/2022
Last Update: June 26, 2023
754
8 min read
Unlimited Power And Unforgettable Orgasms: Doxy Extra Powerful Die Cast Review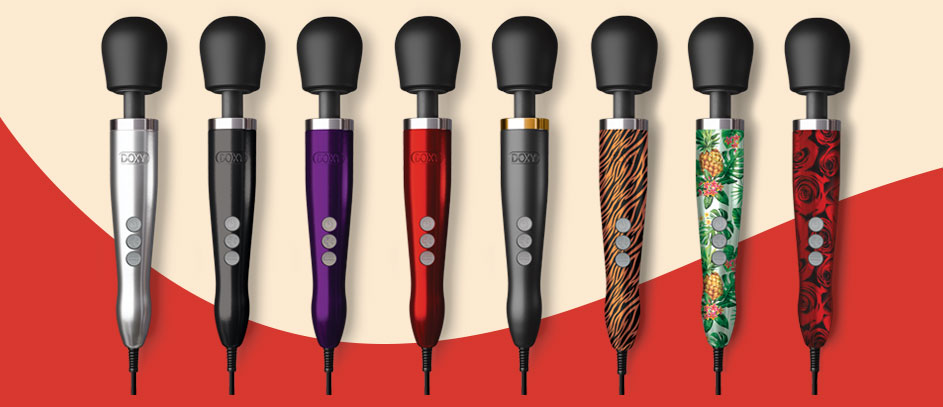 You know that feeling when you get home from an awesome weekend getaway, curl up in bed and fuck yourself silly with a wand massager? Well, if you answered "no" you're definitely missing out. Wand massagers like the Doxy Die Cast are some of the most powerful vibrators you can ever press against your throbbing clit. And trust me: they'll make you cum like a freaking queen! Sure, there are many options on the market like the Lelo Smart Wand 2 or the Hitachi Magic Wand Rechargeable, and I've tested tons of them in order to find the one that literally puts a spell on my pussy. So how did the Doxy Extra Powerful Die Cast do and did it give me some thunderous and unforgettable orgasms? Check out my full Doxy Extra Powerful Die Cast review below!
Spoiler alert: This bad boy delivers vibrations at up to 9,000 RPM and I literally showered my BFs face with the most epic squirting orgasm ever!
Doxy Extra Powerful Die Cast: One Wand to Rule 'Em All?
What most people don't know about Doxy is that this British company actually saved our asses in the early 2010s. In 2013, the legendary Hitachi Magic Wand went out of production and there was definitely a shortage of wand massagers. And you know what that means: thousands of women worldwide were desperate for a new wand massager that would address all their kinky wishes.
Enter: Doxy! This company took advantage of that gap in the market and started to design its own wand vibrators. Obviously, all wand vibrators are inspired by the original Hitachi massager. However, Doxy took it a step further and added some exciting upgrades. Some of those upgrades actually address the issues a lot of women encountered with the original Hitachi devices while still giving you full and unlimited vibrating power. In fact, the company even says that the Doxy Die Cast is 30% more powerful compared to the OG Magic Wand.
First Impression: Ooh, It's Shiny!
The most unique feature of the Doxy Extra Powerful Die Cast wand is by far its special design and appearance. It definitely turns heads and it gives us something that we won't find in other wand massagers. It's all in the name, people! Basically, this thing is made using cold chamber die casting. You'll get a shiny body made out of polished aluminum. With high-pressure injection, the aluminum and titanium materials on the body go through five different stages of polishing to create this vibrator's signature look.
When I first unboxed the wand for my Doxy Extra Powerful Die Cast review, I was taken aback by the metallic look. Seriously, it's shiny and I love it! But, what's also neat is that the Die Cast uses this construction method to enhance the quality of the vibrations.
Moreover, take just one look at the double-weighted silicone head. You'll instantly see that this thing isn't just some random vibrator. It's a freaking piece of art! At first glance, you can see that someone really thought this thing through and attempted to create the most comfortable and powerful wand massager ever. Personally, I found the body to be a bit thinner and more compact than some of the other options on the market, and I genuinely enjoyed the premium feel that this toy delivers.
Unboxing
Here's what you get with your Doxy Extra Powerful Die Cast:
Doxy Extra Powerful Die Cast
1-year warranty
12 feet long power cable
The box is thick, sturdy, and great for storing the Die Cast
Quick start manual
How Does the Doxy Die Cast Work?
Okay, so you know that the Die Cast looks fabulous, but how does it actually work, and what's so special about it? Well, the Die Cast is a wall-powered wand massager. It's used only for external clit and body stimulation, so you shouldn't get any ideas and try to push the 6-inch wide head inside you. No, ma'am, this bad boy is all about intense stimulation of your clit and vulva. Oh, and you can also use it to soothe a sore neck or back!
Basically, one of the reasons why wand massagers are so popular with women is that they have super thick heads and ultra-powerful vibrations that hit all of our secret spots. With the Die Cast, you just need to plug it in, find your settings using the three buttons on the handle, and get ready for an out-of-this-world orgasm!
Sure, there are some drawbacks to this kind of design. Like I said, it's not friendly for penetration. Also, it's not the most portable toy out there since you have to use it while it's plugged in and the total length is around 13.5 inches. Nevertheless, the wall-powered Die Cast will give you unlimited power at your fingertips. Plus, the ultra-smooth silicone head will definitely stir up some fireworks inside you.
Features
8 speeds (fixed vibration)
Customizable multi-speed pulsation mode
Cool aluminum handle
3 soft LED-lit buttons
Available in Black, Brushed Aluminum, Black/Gold, Purple, Red
Power supply can be used worldwide
Memory function (remembers the last setting you used)
Look and Feel
Now, some may say that the mains-powered design is a bit too old-fashioned for today's standards and I have to say I agree. This thing costs a ton of money (the die-casting process is super expensive) and for a price of over $200, you should expect to get a lot of bells and whistles. Unfortunately, the Die Cast follows the OG Magic Wand tradition and you can only use it while it's plugged in. Whether you like that or not is up to you. Personally, I love the option of having endless power on tap. Plus, the extra long power cable is more than enough to allow me to use this bad boy indoors.
What's more, I'm absolutely in love with the smooth aluminum look of this thing. It looks like a premium item while giving off some seriously classy vibes. What I also enjoyed is the balanced weight of the whole body. It weighs around a pound and it's not too light or too heavy to hold in my hand.
Frankly, if you're a power queen who wants a premium-looking sex toy that's not made of plastic, I'd say the Die Cast is just for you. However, it's not all about the looks. On top of the stellar design, you'll also get a super-powerful motor linked to the sleek vibrating head. In my opinion, the head's diameter is just perfect and it can target your entire vulva. If you don't want to stimulate the whole area, just move the head up towards your clit and use the edge to get precise and direct stimulation!
Materials
What I should also mention about the head is that it's made of premium silicone. This material looks like it can last forever, especially since it's 100% body friendly and non-porous. The texture feels smooth and firm, and the added bonus is that the head is flexible. This delivers bigger rumbles and overall better vibration, but it also makes it easier to use the Die Cast in slightly bendier positions.
Still, the biggest drawback of the Die Cast is that it's not waterproof, which I'm hoping you figured out by now. I'd honestly advise you not to plug this toy into the wall and jump into the shower! Honesty, it's certainly a missed opportunity that they didn't include some kind of rechargeable and waterproof feature. Without water resistance, the head is a bit tough to clean, especially if you're a squirter or you want to use your wand to massage your butthole.
Power
Of course, if you're looking for a magic wand, you're probably craving a high-powered orgasm machine that can milk your clit for all it's worth. And that, sweetie, is where the Die Cast truly shines. I was totally impressed with the wide range of speeds here. You'll get to choose between the 3,000 to 9,000 RPM range. Keep in mind that the Hitachi wand topped out at around 6,000.
The Die Cast's vibrations definitely took me to a whole other level, but I'd say that you'll definitely need some time to get used to the higher speeds. The tremendous intensity is the biggest selling point; you'll definitely feel it even on the lowest settings. And while I had fun playing with the 8 available speeds, it took me some time to figure out the customizable pulse vibrations mode. You have to turn the whole thing off, hold the power button for a while, and wait for the toy to reset itself to the pulsation mode. It's kind of a nuisance if you're in the heat of the moment and you instantly want to switch to pulsations instead of steady vibration.
What's more, you'll only get to use the +/- controls to vary the pulsation speeds, without any interesting rhythms or automatic slow/fast speed changes. This pretty much makes the pulsation mode useless and I think they should redesign it and add a separate button for it along with some more vibration patterns.
Pros
Epic power and speed range
Based on looks and design alone, it obliterates most other wand massagers that I've tested.
Cons
Not waterproof
Mains-power only
Pulsation mode is very confusing
Doxy Extra Powerful Die Cast Review – Final Thoughts
To sum up my Doxy Extra Powerful Die Cast review, I can tell you that this is one of the prettiest wand massagers out there and it's definitely packing a lot of power under the hood. It was so powerful that it made me squirt in just a few minutes and I had tons of fun using it during sex with Richard. There are some downsides, though, but my vagina is telling me to learn to live with them after tons of epic orgasms!
⚠️ Disclaimer: Our articles contain affiliate links. If you like our content and wish to support our work, consider purchasing your new sex toys through our links. For each purchase through our links, we receive a small commission but at no extra cost to you.
| | |
| --- | --- |
| 👉 Name: | Doxy Extra Powerful Die Cast |
| ⚙️ Features: | High Quality, Extra Powerful, Premium Design, Flexible Head, Wall-Powered |
| 📁 Type: | Wand Massager |
| 🛠️ Materials: | Aluminum-Titanium, Silicone |
It looks like a piece of art (the die-cast aluminum truly contributes to a premium feel)
5
It's way more powerful than a Hitachi Magic Wand (you'll have to watch out for the noise, though)
4
The head cupped my vulva perfectly! (I loved the smooth silicone material)
5
Huge range of speeds (Who wouldn't love to pummel their clit at 9,000 RPM?)
4
Editor's Pick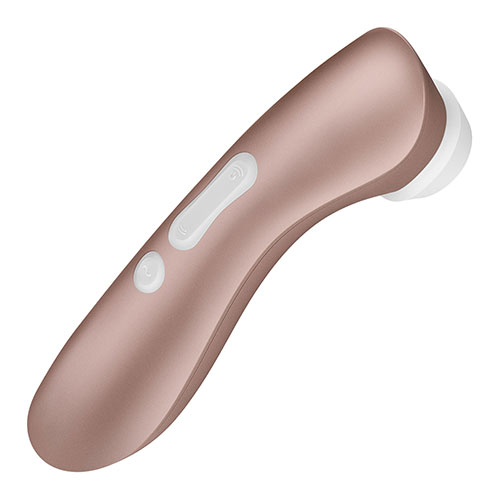 Satisfyer Pro 2+
⚙️ Special features:
Smooth vibrating pressure
⚡ Power source:
Rechargeable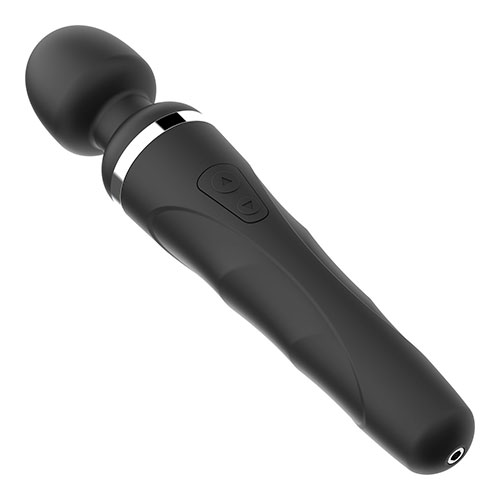 Lovense Domi 2
⚙️ Special features:
Remote App Program
⚡ Power source:
Rechargeable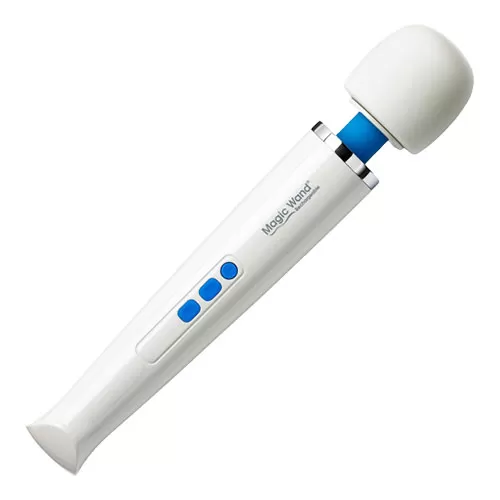 Hitachi Rechargeable Magic Wand
⚙️ Special features:
Flexible neck and smooth head
⚡ Power source:
Rechargeable