Jun/24/2022
Last Update: June 26, 2023
993
23 min read
Best Chastity Cages In 2023: The Naughtiest Way To Surrender All Control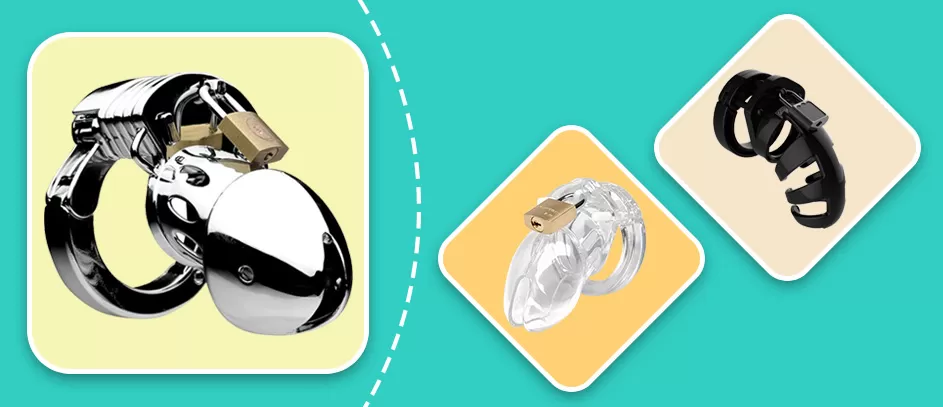 Not every guy wants to wake up with his cock locked in a steel cage. It takes a while to process the crazy contraption wrapped around your gentle giant. Then, your morning boner fills it to the edge as you squirm in agony and struggle to break free. You remember that only your partner can unlock you – but not before you plead, beg, and cater to her every whim. Welcome, my fellow kinksters, to the wonderfully agonizing world of chastity cages!
I want to tell you all about using the best male chastity devices for BDSM, orgasm denial, filthy jizz milking experiments, and much more! Let's lock that cock up and head to the dungeon, buster!
Top 10 Chastity Cages in 2023: My Favorite Cock Blockers!
Several years ago, my bae Scarlett sealed my manhood off with a chastity device. Then, she rammed a strap-on dildo deep into my rectum. From that moment, I became her sissy slave, and I loved it! We've tested tons of penis locks for her amusement (and my punishment!) and I'm gonna share my knowledge with you and show you the best devices for chastity play. So let's start with my top 10 best chastity cages!
Chastity Cages, Male Chastity Belts, and the Chaste Lifestyle
First of all, I want to make sure we're on the same page here. If you look around on Reddit, you'll probably see that cock cages are slowly seeping into vanilla circles nowadays. Yet, chastity devices are still a relatively small niche compared to other toys. There are very few resources and authorities that can give you the full lowdown and instruct you on how or why you should use them. I want to change that by showing you how penis locking devices can transform your relationship with yourself and with your partner.
Basically, penis locks and the whole idea behind them can get a little intimidating. That's because most people think these odd-looking contraptions were first used to lock women up during the middle ages in the name of purity and forbid them from getting that sweet D. While history has shown us that this was actually a medieval urban myth, a lot of people still think that a male chastity belt is a torture device intended for hardcore abuse. But that's simply untrue!
Why You Need to Lock That Cock Up
So why do so many guys like to seal their junk away? Well, for some, cock cages and male chastity belts can symbolize faithfulness and intimacy. They can also improve a marriage and spruce up your sex life. And for others, chastity devices are all about dark and kinky Dom/sub dynamics of taboo BDSM fetishes.
Overall, the reasons for chastity are incredibly diverse. If done correctly and safely, this kink can provide you with tons of benefits. And can you imagine busting that sweet, sweet load after being locked up for days on end? Trust me. It's exactly like that jizz cannon scene from "Scary Movie!" But let's take a step back here.
As a seasoned kinkster, I want to explain to you that wearing male chastity devices isn't easy. Before you even think about getting locked up, consider the following:
Your reasons for locking up your prisoner
Ways to discuss chastity with your partner (if you have one)
How to pick the best chastity cage
How to use your chastity device safely and correctly
Ways to prepare yourself emotionally
How to clean your chastity cage and use it responsibly
But What Are Chastity Cages Anyway?
Essentially, dick cages are sex aids that forcefully stop you from touching your junk, masturbating, and (if you're like me) wanting to hump every female that moves. In short, cock cages are designed to accommodate the shape of a flaccid penis and lock it up to prevent full erections.
They are most commonly used in the world of BDSM and are often associated with femdom, role-playing, and other acts of submission and dominance.
During chastity play, the dominant partner or the Keyholder holds the key to your cage and ultimately controls your pleasure. If you're already a kinky hunk, you know that the goal is fairly simple: when that padlock clicks shut, your manhood and your orgasm are left entirely in the mercy of the Keyholder. Any kind of release through masturbation or penetration is not allowed unless your Mistress or Master grants you the satisfaction!
That can be both mentally and physically stimulating, and it can make way for all kinds of tease and denial kinks. It can spice up foreplay, sex, and post-sex rituals!
But, it's also worth mentioning that you can orgasm while locked up. This is a type of hands-free orgasm that you can get by stimulating your prostate and your dong with vibrators or by simply being locked up for too long.
Why Would You Wear One
Cock cages are vastly different from, let's say, a blowjob toy where most guys will pretty much look for the same end goal (that's not to say blowjob robots aren't some of my favorite toys in the universe!). Obviously, everyone has their own reasons for getting into chastity:
If it's purely sexual, you can wear a chastity device for solo masturbation experiments and kinky sex marathons with your partner that involve tons of BDSM and fetish play. You can wear one for the sake of abstinence, to improve trust in your relationship, prevent infidelity, etc.
Stop touching your junk all the time! A chastity cage can help you hold off on excessive masturbation and increase your stamina during sex.
So what makes you want to lock up your cock and balls the most? Do you want to become a worthless male slave and do your Mistress' bidding until she rewards you by milking you dry? You naughty, naughty boy!!! Or do you want to try chastity for the sake of improving your relationship?
Types of Male Chastity Cages
Just like other popular sex toys, cock cages are available in hundreds of different types and variants. But what are the differences between them? Well, they vary based on size, portability, the materials used, waterproofing, and various other features.
Here's a rundown of the most popular types of chastity cages for men:
Plastic Chastity Cages
Plastic chastity cages are a neat option for beginners. They are comfortable, lightweight, and often feature an ergonomic design. This also makes them portable and a good match for long-term wear. However, since most of them will enclose your cock fully, they can be a bit stuffy, and you could experience some sweating. Nevertheless, by design, they can fully restrict you from touching your meat, which should be exactly what you're looking for.
Metal Chastity Cages
Metal is actually one of the best materials for cock cages due to its strength. Also, it provides the most effective restriction. Still, not all metal chastity cages are created equal, and if you choose this type, I advise you to look for a surgical steel cock cage. Generally, this type of metal chastity cage will provide an intense experience because it both looks and feels awesome.
Silicone Chastity Cages
If you've dabbled in sex toys before, you know that silicone is the safest material out there. It's non-porous and hypoallergenic, which means that it doesn't harbor bacteria, and people of most skin types can use it. Also, silicone chastity cages are soft and incredibly comfortable. They are also a bit more flexible compared to the other two variants.
How Are Penis Cages Made?
"If you want to play lock-paper-scissors, you need to know what you'll be getting yourself into."
Typically, cock locking devices for men have a shape that fits a flaccid penis. The mechanism looks simple at first, but getting it on could get complicated if you don't know what you're doing.
Basically, a penis cage curves downwards to prevent your dong from getting up. It's worth noting that chastity cages also come with a penis lock ring. This ring is an absolutely essential part of the entire unit because it connects the cage to your wang. It squeezes the base of your dick and traps the balls like a fish between two cats. The ring locks in with the cage, and then, the padlock secures the whole thing.
Who would have thought that such a small thing could completely paralyze your cock?!
Functionalities
Generally, male chastity cages use rings, tubes, or a solid surface to constrict the dick. They exert pressure that prevents the glands from swelling and ultimately stop an increase in size and diameter. Moreover, the small size of the cage prevents the cock from rising. At first, your prisoner will try to get up when aroused, but the cage will prevent it, and your emerging erection will soon go away.
Features
There are many, many different variants of cock cages, and they also offer some unique features. So take your pick from some of these options:
Shape – Cock cages can have several different shapes, from partially or fully closed to those shaped like a tiger's head. Rawr!
Color – You can also choose from various colors. That includes anything from red, blue, black, transparent, pink chastity cages, and so on.
Add-ons – If you don't want a standard cage, you can spice things up with dozens of different add-ons. Some dick cages come equipped with built-in or removable penis plugs, butt plugs, prostate massagers, electrostimulation, screws, spikes, and much more.
Vibration – Some penis cages come with built-in vibrators to make things even more frustrating! Adding vibration to a chastity device can bring you tons of ruined or involuntary orgasms, and it's a great option for all sorts of femdom fantasies!
Remote control – Devices like the QIUI Cellmate are Bluetooth-enabled so that you can control them from far away. You can use this feature for long-distance relationships or even to fully ensure that you won't have any control of the cage whatsoever. Unfortunately, the technology is at its early stages, and it was recently exploited by hackers.
Chastity Cage Basics and Buyer's Guide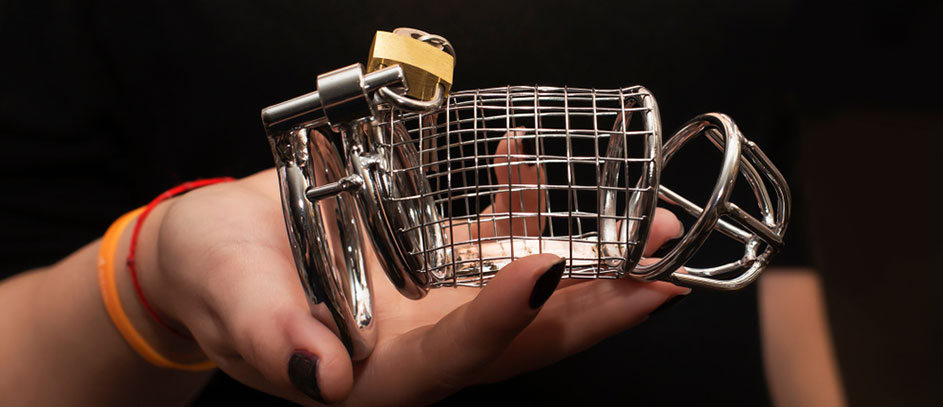 Next up, I want to tell you the secrets of buying a chastity cage to suit your preferences. Why? Well, if you're impatient and you grab the first male chastity cage you see, you could have an outright miserable experience, and not in a good way! The cage could feel too tight or too loose, or you could end up buying a poor-quality product that shouldn't go near your champ.
What You'll Need to Focus On
Before you buy a penis cage and lock yourself up, pay attention to the following:
Type – You can choose between fully and partially closed penis cages.
Material – The material will determine your overall comfort (or discomfort!) level. As mentioned, you can pick from tough materials like steel to more flexible types, like a silicone chastity cage. Also, if you prefer leather, you can find leather/steel cage variants.
Size – This is the most important thing you should think about before buying a chastity device. I'll discuss it in the next section, but for now, note that you'll have to find the perfect cage and ring size measurement.
Extra features – Do you need a straight-up chastity cage for men, or would you prefer to get even naughtier with extra features such as penis rods, vibration, or electrostimulation?
Appearance – As with any toy, you should pick one that looks the best to you. So think about the color and overall shape of the cage. Which one looks the sexiest to you and your partner?
Vents – In my opinion, this is another essential feature that any guy should look into. Some penis cages could include a hole for urination. Other partially closed cages have several openings that facilitate long-term wear and hygiene.
Cleaning – Finally, don't neglect the cleaning and maintenance aspect of it all. Here, look into whether your material is waterproof or not. Most cages are resistant to water, but some that include extra features like vibration may not be.
Which Material Should You Choose?
Here, the most important thing is to pick a quality skin-safe material. Fortunately, most of the materials that I've described are already 100% body-safe.
If you're still unsure, let me clear it up for you:
Metal or steel – Metal cages look the kinkiest, but they are heavy, and they can produce clanking sounds as you move around. If you don't want to worry about odd noises while you're at the office, get a metal cage with an internal locking mechanism. Moreover, remember that a metal cage or a male chastity belt will not pass through security checks and that you'll need to remove them at airports. Additionally, metal is the toughest material to cut off in case of emergency situations.
Silicone – When it comes to silicone, it's much softer than metal, and it doesn't make any noise. It's comfortable, and it retains heat to keep your prisoner warm. Plus, if there's an emergency and you misplace your key, you can just cut it off with scissors.
Hard plastic – Lots of guys prefer this material due to its light weight. However, I gotta warn you here: hard plastics are extremely porous, and they harbor bacteria. You will never be able to clean them fully.
Alternatives such as leather, TPR, and jelly – All of those materials are also non-porous. You won't be able to clean them completely. Plus, they disintegrate over time. I wouldn't recommend them, but if you simply need to buy a cage made of these materials, you'll need to pay extra attention when using and cleaning them.
Fully vs. Partially Closed Chastity Cages
So what's the difference between these two main penis cage shapes?
Fully Closed
Well, fully closed cages will lock your rooster away completely. You will not be able to touch any part of your dingaling. These are designed for your ultimate submission! What's more, fully closed male chastity devices don't have an opening for urination. For many guys, this can be an additional fun factor because you'll need to beg your Mistress to unlock you whenever you need to urinate or clean yourself. Most commonly, these types are made of steel.
Partially Closed
These types will cover most of your cock, but they will not encase it fully. The idea is to leave some open space at the shaft while closing off the head of your dong. Some of these will have vents along the shaft or at the tip.
As mentioned, the tip could have an opening for peeing. Additionally, while fully closed cages look relatively similar to each other, partially closed ones will have much more elaborate designs. Some could provide intricate design patterns (swirls, geometric shapes, tiger jaws at the tip, etc.).
The Ring and Cage Design
Previously, I told you that male chastity devices consist of a cage that goes over your johnson and a ring that attaches to the base of it in order to prevent you from getting hard. You'll see some differences in the ring design here, and you can pick them based on how easy they are to put on. For example, some rings use a hinge configuration to connect to the cage. Others are separated from the cage, and they are much easier to put on.
So How Do You Measure for a Chastity Device?
Cock cage too tight? If that's the case, you'll be in for a long and uncomfortable adventure. A cage that's too tight will constrict your dick and choke it like a python. On the other hand, a loose cage will cause your dick to flop around inside. It could also fall off. Either way, if you pick the wrong size, your penis cage just won't work. Here's what you'll need to do:
Cage Measurements
The actual enclosure or the case needs to fit your flaccid schwanz correctly. You will need to aim for a fit that's just right without being too tight or too loose. First, you'll have to measure the length of your limp dick. Most importantly, you should take out your ruler and stand up.
Then, hold your penis up at a 90-degree angle and measure all the way from your pubic bone to the tip of your schlong. After that, just look for a cage length that matches your measurement.
Ring Measurements
Finding the diameter measurement for the ring can be a little more tricky. You'll have to get out your tape measure and find the circumference of your scrotum and penis. After that, get ready for some math!
When you have a measurement for your diameter, take out your calculator and divide it by Pi (3.14). For example, if your measurement is 5.2 in, dividing it by Pi will give you 1.65 inches. For most guys, it will be tricky to find an enclosure that's an exact match. But, my way of doing it is to pick a size that's just a bit larger than my measurement.
The Best Cage for You?
When you've finally completed all the measurements, you can start looking for the cage you like the most. This will, of course, be highly subjective. As I said, you can choose between all kinds of materials, shapes, colors, and additional features. Alternatively, your Mistress could choose those features for you based on what she's into.
Portability: Wearing Your Cage in Public?
This is one of the most overlooked aspects of buying cock locking devices. Many men will try to wear their cages in public. In other instances, their Mistress will order them to wear one when she isn't around.
Whatever the case, you should be able to wear your cage whenever and wherever you want. There's nothing wrong with leaving home with your junk locked up. But, in my experience, if you want to wear it in public, it's better to choose something discreet. A large metal cage will usually give you a bigger bulge, and it could make sounds while you move. This is why a smaller silicone cage could be a better option.
Kinky, Kinky Add-ons
Cock cages that come with additional sections can make chastity play much, much more intense. While I advise all beginners to go for standard cage variants without any attachments, you could try several different types to kick things up a notch. That is if you're careful.
The most common add-ons are butt plugs that plug your ass and lock your cock simultaneously. This basically renders you useless for any type of stimulation because it locks off your schlong and blocks off your butt. Obviously, the butt plug will provide you some internal stimulation as you move around, but you won't be able to play with your boy hole at all.
Alternatively, you can pick a cock cage or male chastity belt with a penis plug that blocks off your urethra. This is intended for advanced lovers of urethral play only! It's yet another way of making it simply impossible for you to get hard.
For an even more excruciating experience, you could get a cage with spikes or screws that bring you slight pain if your cock shows any sign of throbbing, and penis cages with vibrations are another unique variant. Usually, they use small bullet vibrators that transfer strong pulsations to the cage and your cock. This is fantastic for forced and ruined orgasms, femdom, humiliation, and so on.
And what about electrostimulation? Well, some cages contain conductive surfaces for electricity play. That way, you can treat your prisoner and his twin cellmates to unique tingles, pulsations, and twitches if you're into that.
Dos and Don'ts
Now, let's check out what you should and shouldn't do while buying a penis cage.
Do
Buy a cage that looks the best to you or your Mistress.
Find the best shapes, materials, and features.
Check out user reviews to see what other kinksters thought of your chosen product.
Don't
Buy a cage without measuring your meat.
Avoid cheaper, no-name variants from shady websites or sellers.
If you're coupled, don't lock your cock up without your partner's approval. The chastity kink requires consent, which is something I'll cover in the next section.
Tips on Using, Cleaning, and Storing Your Chastity Cages
Obviously, you should use a chastity cage with extreme caution. A chastity cage is not intended to torture your shooter and physically hurt it. Some men prefer cages that are designed to hurt, but as I said, it will all depend on you.
Still, the biggest pointer I can give you is to follow the guidelines of safe, sane, sober, and consensual sex play. Here are a few essential tips:
How to Put On and Use Your Cage
Take the steps below to put a cage on your rooster and ensure a comfortable fit:
Clean yourself thoroughly and shave your dong. You don't have to shave, but it's always recommended because you won't need to worry about your pubes getting caught between the lock and the ring.
You should start with the ring and slide it on first.
Lube up from the bottom to the top – you could also use ice to make your penis shrink. And when using lube, always make sure that it won't damage the material of your cage. For example, use only water-based lubes for silicone cages.
Now, very slowly, put the cage on.
Secure the ring to the cage.
Lock that rooster up! Simply put the padlock on, turn the key, and remove it.
If you feel pain at any time, remove your cage.
Why Men Love Cock Cages
Chastity play can be thrilling and somewhat unusual. However, it's not always easy, and you may not know how to start. Some people practice it due to simple reasons (curiosity, sexual experimentation), and others do it for more complex reasons (abstinence, spirituality, etc.).
Here's the difference:
For Abstinence
I get it – wanking to the same porn every day can become boring quickly, just like having the same mac 'n' cheese dinner every night. That is why some chaste guys choose to get locked up for several days so that they can hold off on masturbation – it can cause an increase in testosterone while decreasing their constant longing for pussy.
Also, it can improve your libido and enhance your orgasm. As frustrating as it sounds, using a chastity cage in this way can actually calm you down. It can curb your sexual desire, and it can finally get sex off your mind. Moreover, this is a great way for couples to reset their sex lives and make their intimate moments truly special.
On the other hand, a chastity cage can also lower your desire to cheat or become aroused by fantasizing about other women. Even if you're single, you can use a cage to help you stop masturbating or to control your sexual urges.
For BDSM Play
Having sex while wearing a chastity cage is next to impossible. But that's the whole point! It can make any type of BDSM activity feel like you're looking at a steamy gourmet dish while wearing a big mouth gag. But, there are so many arousals and thrills you can get from it! It all starts with delayed gratification and orgasm denial.
Lots of guys are turned on by the idea of ownership, femdom, and power exchange. If your Mistress locks your cock up and hides the key, you essentially allow her to be in charge. Now, if you want her to give you the key, you'll need to beg for it or do her bidding. This could pave the way to all kinds of fetish play, from feet licking, ass worship, femdom, bondage, prostate milking, findom, and so on.
Furthermore, a lot of chaste males love to lock their cocks up because it shifts their focus to the P-spot or the prostate. This can result in strong anal or P-spot orgasms. Also, you don't need to have a partner to try some of those things while you're in chastity. For example, if you want to experiment on your own, a girly, pink chastity cage can help you fulfill all sorts of sissy fantasies, ass play adventures, and so on.
Consent is King
Another crucial thing we need to cover before you buy your chastity cage or male chastity belt is consent. If you want to try chastity play with your partner, consent is always required. Meaning, both partners will have to be 100% sure that they feel up for it. You wouldn't just lock your cock up and force your Mistress to stick a pineapple up your ass without any prior discussion, right?
Well, if you intend on wearing a chastity cage or male chastity belt and trying out all sorts of fetish play fantasies with your partner, you'll need to have a long talk with her beforehand. You can determine your turn-ons, limits, and safe words.
Safety
Previously, I said that chastity cages should be completely safe once you measure for one properly and learn how to use it correctly. And no, they won't shrink your dick down! But still, you'll need to follow some key safety rules:
Always get a cage that fits your manhood correctly.
Don't rush it while putting your cage on, and try to make it as comfortable as possible for your dick and balls.
The #1 rule is, if your balls go blue, remove that f*ing cage ASAP!
While there's no time limit on how long you can wear one, beginners shouldn't wear them for whole days at first. You'll always need to build up some tolerance and get used to the cage. Generally, it's best to first wear the cage for a few hours each day before you can wear it all day.
Remove the device and replace it if you notice any skin reaction.
Always use lube.
Practice impeccable hygiene in order to get rid of bad bacteria and smells.
Don't forget about that spare key!!! Having a spare key (your Mistress can hide it or keep it in a safe) could literally save your balls if you misplace the original one.
Cleaning and Storage
So how do you keep yourself and the cage clean if you're not allowed to remove it? Well, the easiest way is to clean it every day when you jump in the shower. However, it's essential to remove it every few days and clean the whole thing thoroughly.
Usually, when I clean my cages, I use the recommended method of washing them with warm soapy water. This only takes a few minutes, and it's no big deal. When you remove your cage, you can use a cloth or brush to scrub it and remove germs or dirt thoroughly. Also, you should clean the cage every time after you pee.
Finally, if you remove your cage for cleaning, wait until it's dry to pop it back on. If you want to take a break and store it away, you can use the original packaging, a carrying pouch, or a plastic box. Here, it's important not to store the cage with other sex toys for hygienic purposes.
Chastity Cages Industry Overview
Have you ever wondered why people started to use chastity devices in the first place? Next up, I'll tell you all about the fascinating history of chastity cages, the most famous brands, and the future of the industry!
How It All Began
If you were paying attention, I told you that chastity belts were never actually used to torture people and prevent them from getting some during the Middle Ages. Actually, chastity tools were the subject of jokes and ridicule during the 15th century, and male poets and artists used them for a somewhat comedic effect. Ultimately, male chastity belts are a sort of medieval urban legend, similar to today's serial killers with hook hands. We now know that chastity belts most likely appeared in the 19th century as part of the Gothic revival.
Back then, fans of Medieval history used them as collector items or decoration pieces. In fact, most chastity devices that were proudly displayed in museums all over the world turned out to be fake replicas from the 19th century.
Using chastity devices to prevent masturbation and sex actually started in the early 1930s when dozens of bizarre anti-masturbation device patents were filed in the U.S. It's also possible that some women used these similar devices as "rape shields" to prevent sexual harassment from male bosses or colleagues.
Chastity Cages in Modern Times
Sadly, the history of female and male chastity belts is so confusing that we'll never know who used them for BDSM first. But, we know that the production of modern-day penis cages began with the invention of stainless steel. And things truly took off in the second half of the 20th century when people started to experiment with all sorts of BDSM fetishes. Chastity belts were seen in fetish magazines and on pin-up girls, and finally, they started to become a regular sight in brick-and-mortar sex shops.
Today, you can choose from hundreds if not thousands of cock cages and male chastity belts made by famous brands such as OXY, Happygo, KHD, Holy Trainer, CB-X, and others. And while we've already witnessed plenty of innovation in the industry with 3D printed or blue-tooth controlled cages, I think that there's still plenty of room for improvements. For example, I'd love to see a chastity device for men that can be completely controlled from a phone or tablet but without the hacking risks.
Also, what about a fingerprint unlock feature? There are many smart unit controls that I can think of right now, like sensors for blood flow and pressure or daily erection monitoring. And what about sensors and alarms that tell your Mistress whether you've unlocked your toy without her permission? Ah, I hope I don't have to wait too long to see the future of penis cages!
⚠️ Disclaimer: Our articles contain affiliate links. If you like our content and wish to support our work, consider purchasing your new sex toys through our links. For each purchase through our links, we receive a small commission but at no extra cost to you.
Frequently Asked Questions
If you or your dick have any other questions, I'll try to answer them below:
No, a chastity cage shouldn't hurt unless you want it to. By design, a chastity cage should create a snug fit. However, you will need to measure yourself for the cage correctly and not pick one that's too tight or too loose if you want the best experience.
Some men wear their cages for months or even years. This will all depend on how much you can handle and how ready you are. For example, beginners should not lock their junk up for days at first. And, while there's no limit, you'll need to unlock yourself periodically for hygienic purposes. Also, remember that you have to get an erection occasionally to maintain penile health.
Usually, people think that staying in chastity for a long time will cause their penis to shrink. Luckily for you, this is simply not true. A penis cage will not affect the long-term size of your member.
If a chastity device is too tight, it could cut off the blood flow to your penis. If that happens, it's possible to see discoloration or even experience some penis damage. In extreme cases, it could cause impotency, but that is incredibly rare. If you buy a chastity device that doesn't fit, remove it immediately and find another one. You should measure yourself correctly and find the right cage for you. That's how you'll eliminate most of the safety risks.
You won't have to worry about this difference when buying a male chastity cage. If you're uncircumcised, your foreskin might not fit the cage, but this is extremely rare. Still, if you're uncut, you'll need to pay extra attention to hygiene and moving parts.
If you feel any discomfort, it could likely be the result of an improper fit. In that case, the best thing you can do is to just unlock and remove your cage. Don't try to power through it because the cage shouldn't hurt.
Yes, you should use it for all cages or male chastity belts. Basically, it eliminates friction. It makes it easier for your penis to move slightly in the cage. It also creates a barrier between your skin and the material of the cage. Therefore, you should lube your entire genital area (cock, balls, and the skin around it) before you lock yourself up.
Not every man is comfortable with walking into a brick-and-mortar adult store and buying a chastity device. The easier way is to order your cock cage online from a reputable site. That way, you won't have to deal with any shop clerks, and the cage will arrive at your door in an unlabeled box. That way, you will get full discretion, and you won't have to worry about someone knowing that you bought a cock cage.