Jun/20/2022
Last Update: June 26, 2023
1028
15 min read
Best Vaginal Exercisers In 2023 For A Stronger, Tighter Pussy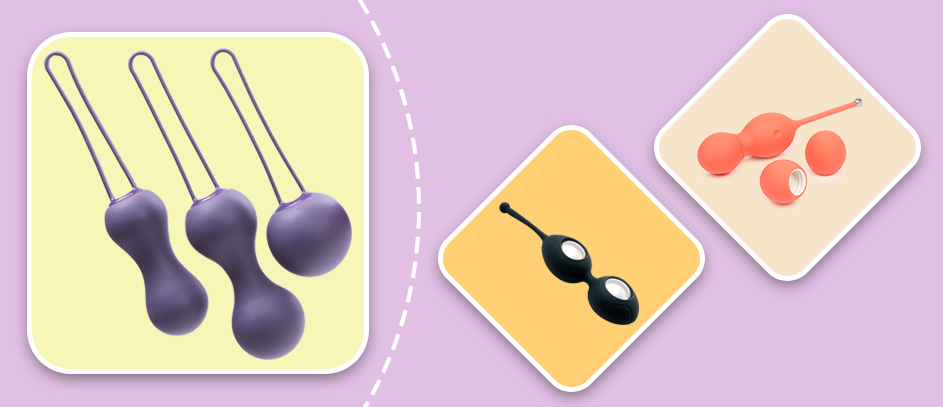 Squats work wonders to strengthen and tone your booty, but if you truly want to challenge yourself, it's time to pump some iron with your pussy! Seriously, vaginal exercises will give you a nice wide stretch deep down in your honey pot. They'll make you feel and fuck like a virgin all over again! If you're ready to build some hardcore tightness in your love hole, it's time to put your naughty muscles to work, baby! But don't pick up those dumbbells just yet! Instead, wrap your sweet minge around some vaginal exercisers and feel the burn!
If you want to make your bear trap tighter than hell and strengthen your pelvic floor, let me be your personal pussy trainer and show you all you need to know about vaginal exercisers!
Top 10 Vaginal Exercisers in 2023
So how the heck do you work out your vagina anyway?! Well, a lot of people never do these exercises in the right way or use the correct training tools. That's part of the reason why some girls chicken out at first. Still, I've put in the hard work, and I tested dozens of vaginal exercises on the market to help you find the perfect vaginal weight ball. They'll make your hole stronger than a freaking bodybuilder! I've ranked them based on their design, features, and overall results. Check out the best vaginal exercisers to help you train your pussy just right!
Vaginal Exercisers: Sore Today, Strong Tomorrow
Some girls might think vaginal exercisers are just big fat throbbing cocks that stretch and pound their holes all night long. Guilty as charged! Still, you could always benefit from an extra workout.
What Are Vaginal Exercisers?
I'm always stretching out my holes with the fattest and widest brutal dildos, huge vibrators, and kinky inflatable butt plugs that make me gape like I'm trying to get nominated for the AVN awards. My secret to staying nice and tight down there? I regularly work out my muscles with Kegel balls!
"After testing my favorite vaginal weights for several months, my BF said my pussy felt tighter than a virgin choirboy's asshole. Freaky? Yes! But hey, it worked!!!"
Basically, there are hundreds of different vaginal exercise balls out there. Plus, there are many reasons why you'd like to try some intense kitty training. Most pussy trainers are based on working out your PC muscles. They are small, insertable toys that you can use to practice your Kegels any time of the day. But, vaginal trainers such as Kegel balls, jiggle balls, and Ben Wa balls will not only maximize the strength of your kitty. They also come with a host of other health benefits and juicy orgasmic rewards!
Why Should You Work Out Your Pussy?
Ideally, every woman can try Kegels for sexual and health purposes. You see, it's not just about pumping up and making your minnie stronger than your BF's biceps! If you need me to keep your motivation high, here are some of the benefits you'll get from using jiggle balls:
Your punani will feel tighter during sex. This will not only feel awesome for your partner, but it will maximize the sensations in your pleasure nerves to give you epic orgasms!
They'll strengthen your pelvis, hips, and lower back, which will be especially helpful if your lifestyle requires you to sit for a prolonged period of time.
Pussy weights can cure bladder leakage and prevent urinary incontinence.
They'll boost your natural lubrication and make you much creamier during arousal.
They'll also tighten up your asshole! By training the entire pelvic floor, they'll strengthen your sphincter and make anal sex flow much more smoothly while eliminating discomfort.
You can wear them in public under your clothes to train all day, and no one will know your dirty secret!
Types of Vaginal Exercisers: Feel the Pump!
Vaginal exercisers vary based on their size, material, weight, and shape. The general rule here is that with a heavier weight, your muscles will need more strength. If you're a total beginner, you should try to start small. However, you should also examine all the different types of vaginal exercisers. Not all of them could suit your kitty just right. It's up to you to find the toy that will match your needs, body specifications, and muscle strength!
Kegel Exercisers
You can do all kinds of exercises without a specially designed toy, but a lot of women will struggle to work out their PC muscles correctly. That's when Kegel balls could make all the difference!
Now, there are a lot of different types of Kegel exercisers out there. That includes everything from traditional Kegel balls to next-gen devices. There are many smart vaginal balls that monitor your progress, track your performance, and generally make your training routine easier! Some could use motion detection to tell you whether you're exercising correctly. Others can even stimulate your muscles via electricity.
Whether you're into non-vibrating traditional Kegel balls or you're looking for something that does all the work for you, Kegel balls are essentially spherical weights. Usually, they'll consist of two or more balls connected via a cord. Each ball has a weight inside it in the form of another smaller ball which moves and generates a unique type of vibration. This unique design allows your, erm, balls to work with gravity and do most of the work for you.
For example, if you're doing Kegels without a toy, you'd have to push and contract on your own. But, with Kegel balls, you can activate all of your muscles passively. You'll still be able to put in the extra effort and do regular Kegels if you insert the balls, but their weighted design and special shape make them the perfect solution if you don't want to flex on your own.
Ben Wa Balls
Ben Wa balls are very similar to Kegel exercisers. However, many of the differences between them are based on their marketing. For example, some manufacturers might claim that their Kegel balls are used for PC workouts. Conversely, they'll say that Ben Wa balls are better intended for sexual purposes. That's a lot of balls! In most cases, the two types are used interchangeably.
However, you can think of Ben Wa balls as a kind of Kegel ball that you can use for regular masturbation and ultra-intense orgasms. They resemble anal beads and are often the most basic types of vaginal exercisers out there. Most of them come with a solid core or have chimes or clappers on the inside.
Plus, much like Kegel balls, they'll also contain an attachment or retrieval string of some kind. However, perhaps the biggest distinction between this type and the previous is that Ben Wa balls have been used as a part of Taoist sexual practices for centuries. Kegel exercisers are a much more modern invention.
Other Types of Vaginal Weight Balls
You can also take a look at some additional models or designs depending on your skills, sensitivity, and preferences:
Biofeedback vaginal exercisers – These exercisers can connect to phone apps to monitor your workouts. They'll track your performance and analyze how you squeeze your muscles. Plus, they can indicate if you're doing it incorrectly. Most of these types have electronic sensors with fun apps and built-in trainers that can use science to help you break a sweat. But they could also vibrate to make you cum harder!
Electrical kegel balls – Wanna zap your minge? These devices use mild electrical current to induce contractions. They have been used in the medical field for decades to help some women train their bladder control.
External vaginal exercisers – Some electrical exercisers can induce contradictions externally without penetration. These are mainly used to treat bladder issues, but they're also loved by BDSM fanatics who like it rough.
Vibrating eggs – If you want to cum hard while training your pussy, vibrating eggs are the ideal option. They will massage your vag and G-spot with sizzling vibrations to make you explode!
Anal kegel exercisers – Besides a long fat cock, these are the best toys that can strengthen your anal sphincter! The biggest difference between these and traditional kegel balls is that they'll have some sort of attachment or stopper that will prevent the toy from getting stuck inside your butthole.
Buyer's Guide: Eye of the Tiger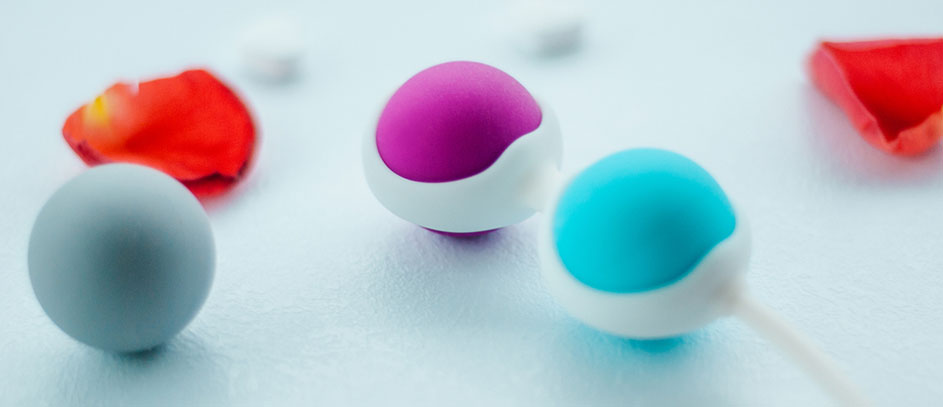 If you want to start your Kegel training, the most important thing to do is to pick the correct exercise tool. Now, choosing a pussy exerciser is a lot different from buying any traditional dildo or vibrator. You'll need to look out for:
The shape of your vaginal exercise balls has to fit your exercise position.
If you want to use a jiggle ball to fix a health condition, you should speak to a medical specialist first.
Materials and cleaning – these devices have smooth and hard materials, and you need to choose the safest ones for your skin.
Some models come with FDA approval. These have been clinically tested for medical purposes. They could be the easiest and best choices out there due to their safety.
Do you want to work out or cum hard? You can use some Kegel balls purely for sexual purposes, so it's up to you to see whether you want to get serious and train your muscles or you just want a bit of naughty fun.
Materials
The smartest thing you could do here is to choose an exerciser that uses high-quality materials such as:
Medical-grade silicone
Metal
ABS plastic
Glass
Out of those materials, silicone and metal are the most common. Still, all of the materials I've listed are body-safe, non-porous, and hypoallergenic. They are 100% body-friendly and do not absorb bacteria. That makes them safe for short or long-term wear. However, not all of them will feel the same.
For instance, metal, ABS plastic, and glass will give you a hard texture. Silicone will provide a softer sensation. My tip for you is to start with silicone if you're a complete beginner since the other materials could feel a bit overwhelming at first.
Nevertheless, if you want to play around with something tough and rigid, metal or ABS generates a unique type of pressure from the inside, and it also looks quite kinky. Trust me: you'd be a fool to think that your boyfriend won't enjoy shoving metal balls up your butthole!
String or No String?
Eventually, you'll have to pull these bad boys out after you finish your session. That's why I'd always recommend you to look for vaginal exercisers that are connected to a string. On silicone toys, the string could be molded out of the same material. But, metal balls could be connected with rope or rubber. This feature makes it easier for you to take the balls out, but you can also use these weights without a string since they'll easily slide out by themselves. The decision is up to you, but remember that the string will make everything glide a lot easier.
Shapes
Other than the traditional ball shape, you'll see various other designs out there. Granted, traditional ball exercisers are the best for a deep stretch, but other egg-like or convex designs might feel more comfortable if you want them to vibrate while rubbing one out. Still, round balls will stay inside you with less effort, and they'll provide a stable fit.
Size
Picking out the best size for your coochie exerciser depends on how tight you are. If you're unsure, larger balls are better for beginners because your muscles will not have to contract around them so tightly. With smaller balls, your vagina will have to do a lot more work to hold them in place. Ideally, you should look for a diameter between 1 to 2 inches.
Weight
Now, weight will play a key role in your workout. It will change the way your muscles contract. In most cases, vaginal exercisers weigh under half a pound. That weight is a decent starting point. It will help you to activate your kegel muscles and learn how to contract them. However, that will all depend on your body's potential. You may even need to buy a few balls with different weights to increase the difficulty if you want to Hulk out during your workouts.
Smart Vaginal Exercisers, Vibration, and Other Features
Most of the newest Kegel balls provide unique motion technology and smart app syncing. That way, they can track your performance and make your workout easier. By monitoring your progress with smart sensors, your exercisers could tell you if you're doing it correctly or not.
And as stated previously, many vaginal exercisers can stimulate you automatically and cause contractions with electricity or vibration. You can use a standard vaginal exercise ball for the same results, but smart Kegel balls could make your routine a whole lot simpler. They could also train you quicker and provide you with some ultra-orgasmic solo fun.
Personally, if you want to get a vaginal ball for Kegels and a bit of dirty pleasure, a smart vibrating device will be your best bet. You can use it to give your pussy a good workout and reward yourself with some of the strongest orgasms of your life! Talk about a post-workout treat!
Dos
Be open to experimentation. Just as you'd use several different dumbbells in the gym, you might need to try a few exercisers with different shapes or weights to make the most out of your strength training.
Think about your goals. If you want to get super tight for your wedding anniversary, it's best to go with a traditional exerciser to help you focus on your muscles. But, if you want a kinky gadget that you can use during masturbation and sex, look into all sorts of extra features such as vibrations or remote control.
Don'ts
Stay away from cheap and unbranded toys that use unsafe materials such as rubber or jelly.
If you want to use your exercisers to help sexual dysfunction, pelvic relaxation, or urinary incontinence, consult a doctor first.
Tips on Using, Cleaning, and Storing Your Vaginal Exercisers
So you want to play ball, eh? Well, let me show you the best tips and tricks for using vaginal balls correctly for an epic workout!
Welcome to the Power Pussy Gym!
Since these bad boys are part exercise weights for your fanny and part sex toys, you'll have to use them accordingly. The best way to begin is to clean your toy and lie down on your back.
Now, use a water-based lube to get your toy wet and make it glide smoothly inside. You don't need to get super turned-on at this point if you are just exercising. Yet, if you want to butter your muffin, it won't hurt to turn on some porn or get nasty with your partner.
Either way, once the ball is inside, take a minute to analyze your body. You should feel comfortable, but you should also be able to notice the weight and feel an unusual stimulating sensation. Once your body adapts to it, you can try to move around with your toy or clench your muscles.
As mentioned, your vaginal weight will do most of the work for you. However, if you want to feel the stretch even more, you can open and close your kegel muscles. Try to hold them for 5 to 10 seconds. Then, you can relax for 5 to 10 seconds before you clench again. What's more, you can experiment with various positions, masturbate, or get dirty with your partner. Just remember that you shouldn't leave your coochie ball inside for more than 6 hours. To remove your toy, simply grab the string and gently push it out.
Cleaning your Vaginal Weight Balls
When you're finished, you should head for the bathroom and clean your toy. Fortunately, you'll be able to clean your silicone, ABS, metal, or glass toy within minutes. The trick with all these materials is to use warm water and mild soap. You can soak most of them in water, but before you do that, make sure your toy is waterproof and submersible. Also, you should try to clean all the curves and other nooks and crannies to make your balls as spotless as possible.
Finally, you should leave your exerciser out to dry before you store it. The smartest way to keep your toy safe is to place it in its original box or a plastic container and leave it in a cool, dry place.
Vaginal Exercisers Industry Overview
Did you know that several ancient cultures practiced pelvic floor exercises? While Kegels are a modern invention, similar types of exercises were used in ancient China and India. In fact, there are several mentions of pelvic floor training in ancient Taoist and Hindu practices. Still, the modern Kegel method was actually created in 1948. It was named after its inventor, Arnold Kegel. He was one of the first gynecologists to bring pelvic floor exercises to the masses. What's more, while other doctors also worked on similar theories at the time, Kegel was the only one who created a vintage steampunk device that induced pelvic floor contractions.
Of course, his invention was only used for medical purposes, and we had to wait until the 1990s when Kegel balls were marketed to the masses as a sex toy. After that, the sex toy industry boomed, and there were hundreds of unique Kegel ball designs.
Currently, it seems that the innovation is just starting, and tons of brands are competing to revolutionize the market of smart vaginal exercisers. That includes famous names like Lovehoney, Tracey Cox, Relentless Vibrations, LELO, IntiFit, Intimina, Elvie, Paloqueth, etc. The biggest takeaway here is that all of those brands are focused on female empowerment and that they're using the power of new technologies to demystify our orgasms and help us find the best way to cum based on our bodies. Trust me, smart Kegel trainers are some of the most futuristic toys you'll ever use, and they'll literally help you to cum into the future!
⚠️ Disclaimer: Our articles contain affiliate links. If you like our content and wish to support our work, consider purchasing your new sex toys through our links. For each purchase through our links, we receive a small commission but at no extra cost to you.
FAQ
Kegel balls, Ben Wa balls, and other vaginal weights are designed for the vagina only. They are not safe for anal use because they do not have a stopper or base. They can get lodged deep into the rectum. Anal beads look similar, but they always have some sort of loop or stopper at the end. That prevents them from fully entering the rectum.
Yes, but only if the toy is designed for anal (i.e., if it has a flared base). Some kegel balls are anal-friendly, and men can use them to massage their prostate and experience intense hands-free P-spot orgasms. Still, a dedicated prostate massager could be a more suitable option.
If you buy a vaginal weight without an attached string, there's a chance that it could slide deep inside. There's nothing to worry about here because the toy will naturally slide out of your vagina. Alternatively, you can also take it out with your fingers. If it gets stuck, just try to stay calm, use extra lube, and wait a few moments until your Kegel ball falls out.
Absolutely! You can keep it in, but only if you're planning on having anal sex. If you're ready for vaginal penetration, you should remove your toy. Still, you can keep the weights inside your vagina during anal sex, and they will push against your most sensitive spots with even greater intensity.
Typically, you'll feel the results in several weeks to several months. This will depend on your body as well as how you use your toy. With daily use, you could see the improvements much quicker. However, remember that you might have to buy heavier or larger balls if you adapt to them quickly. That's the only way you'll have continuous improvement and see the results quicker than usual.
If you are not too tight, it's best to start with a larger and lighter single ball made of silicone. Remember, if you pick a small size, your muscles will work extra hard to clench the ball. Also, if you pick a heavier weight, your muscles will need more strength to hold the ball inside. Once you get used to the sensations of a beginner's vaginal weight, you can pick a heavier double ball to make your muscles even tighter!