Jun/22/2022
Last Update: June 26, 2023
974
23 min read
Blow It Out Your Ass! The Best Anal Douches And Anal Enemas In 2023 For A Squeaky Clean Butthole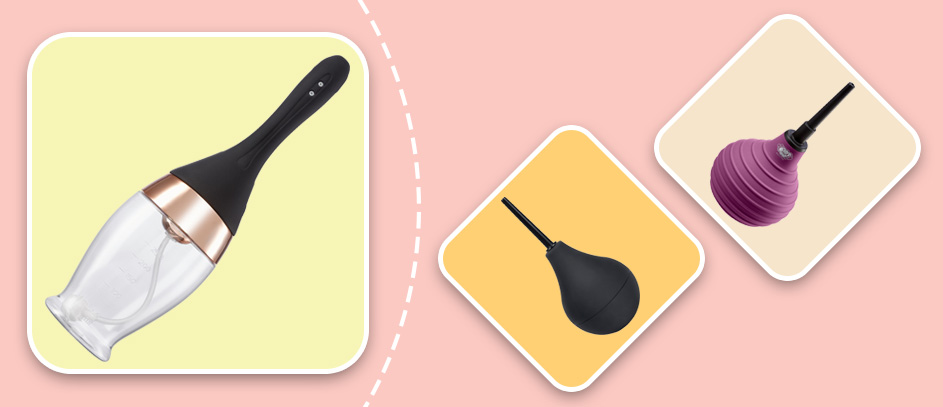 If you like to party with your pooper, you know that there's nothing more awkward or disgusting than your lover pulling his dong out of your ass and suddenly you both find yourself screaming at the sight of yesterday's In-N-Out Burger all over his cock. Oh, believe me, the mud monster is always out there! It's constantly waiting to give you a disturbing visit just when things start to get hot and heavy. If you're here, I'm pretty sure you're looking to avoid staining your partner's dick or ruining your sex toy with poor hygiene. So if you want to flush the pearly gates, check out my ultimate guide on anal douches and anal enemas!
Top 10 Anal Douches and Anal Enemas
When you're having tons of intense and orgasmic anal adventures, poop is bound to enter the equation at some point. Well, shit happens, right? Whether you're rimming, playing with toys, fisting, or you're getting tag-teamed by a bunch of monster-cocked gym instructors, you should never enter the bedroom or dungeon with a dirty anus. Everyone will notice, but they won't have the guts to tell it to your face.
Fortunately, I'm here to help you avoid code brown! I've tested some of the most popular anal douches out there while focusing on their type, design, effectiveness, price, and ease of use. So take a look at the best anal douches and the easiest ways to use them!
Royal Flush: All About the Douche
If you're no stranger to stretching your tight asshole like you're Daddy's little fuck doll, you've probably seen some shit. There was probably a time when your horny-as-heck lover texted you in the wee-wee hours saying that he was in the mood for some quality anal acrobatics. You replied with a thumbs-up and a peach emoji, but suddenly your thought… "Oh crap, Janice, you should have laid off the stir-fried chicken with spicy black bean sauce!!! My butthole just isn't ready!" So what should you do?
Obviously, you'd be a fool to cancel that late-night booty call and forget all about gobbling up your lover's huge fat cock. But you also know that you can't just ask him to stick a pin on his nose and power through it.
Seriously, whether you're a hardcore anal whore or you just want to experiment with a little colon spelunking, you should realize that there's no such thing as a happy accident when it comes to ass play.
So hear me out: if you don't prepare, you'll encounter shit-stained balls, smelly anal beads, ruined bed sheets, and a ton of other crappy stuff! But…! You don't have to give up some quality backdoor play altogether if you douche your ass! Trust me, a quick squirt up the cheeks will give you a sparkling clean bum. It will make things easier for everyone. Plus, you'll be able to focus on your orgasms without worrying about freaky smells and uncanny stains!
What's an Anal Douche?
While anal sex isn't as strange or taboo as it used to be, you could always ruin your adventure if you spill some poop just before you cum. After all, massaging your sphincter and anus can feel incredible, but when you shove things up there, you'll eventually reach your rectum. That's where you could enter into some dangerous territory.
If you want the really dirty details, let me tell you that poop doesn't always linger in the rectum. However, if your colon is already full, some fudge will slide down. You'll definitely be able to feel, smell, or even see it during anal sex. And trust me, running into some golden nuggets will traumatize you and your partner. Not to mention that you won't be able to get rid of that poop smell for days. Plus, it could turn you off from anal altogether. And we don't want to leave that gorgeous ass unused and unserviced, do we? Well, that's exactly where anal douches and anal enemas come in.
Anal Douche vs. Anal Enema
These two terms are often used interchangeably. They could refer to the clyster device that you use to flush out your bunghole as well as the act of administering fluid into your anus in order to clean it out. It's actually an ancient practice and it was adopted from many tribal purification rituals.
However, there are some differences between anal douches and enemas for anal sex. Essentially, an anal douche is a device that comes with an inflatable bulb and a cylinder. This device pushes water into your anus and rectum. When you use it to flood your brown eye, you'll rinse out any remaining feces and microbes. In turn, this will give you a nice clean hole that you or your partner can use and abuse for all sorts of anal exercises. Yet, when it comes to enemas for anal sex, you can think of them as a more intense version of douches.
Basically, enemas are much larger. Instead of relying on a nozzle and bulb, they use a bag, tube, and a syringe. What you'll need to do here is push the tube inside your pooper. Then, give yourself a deep colon injection. This will create more pressure compared to douching. It will give you a full colon cleanse.
Simply put, anal douches can clean out the first few inches inside the rectum. Conversely, enemas can reach deeper into the large intestine. You can even hook some of them up to your shower for a limitless supply of water right there in your bum! But don't get your hopes up, you kinky butthole addict! Traditional enemas are more commonly used for medical purposes. They are recommended to people who experience constipation, inconsistent stools, bloating, and other backdoor problems.
Which One Is Right for Your Booty?
Hopefully, you're not here because you're backed up and you're trying to find a cure for constipation. No, you're here because you want to pump your shitter raw and gape like the sluts in the movies without worrying about little pieces of poop flying across the room when you spread your cheeks! And trust me, all the pornstars are doing it! Just check out any behind-the-scenes interview and you'll see them raving about all kinds of anal douches and enemas that they use to unclog themselves before a nasty anal fuckfest.
Obviously, you don't have to be like one of those girls if you're not into it. You know, not everyone is a milk-farts-in-your-face type of girl. However, I'd advise you to use an anal douche regardless of how you want to get your ass fucked. If you're squeamish and you don't want to leave behind a crime scene of horror, you should definitely douche before every anal session.
But I should also tell you that douching is generally the safest and quickest way to flush out your booty. Anal douches are cheaper compared to enemas. Plus, they require less technical know-how. Moreover, traditional enemas are not designed for everyday use. Some rumors out there claim that they can mess with the natural flow of your bowel movements. Therefore, standard anal showers will be the best choice for most anal experiments.
In the end, you will most likely never get past the rectum anyways, so you won't have to worry about any deeper cleansing. Still, if you want to travel much further into the body with fists or extra long brutal dildos for hardcore depth play, you'll probably have to clean out your entire colon with a traditional enema.
Types of Anal Douches
Time for a confession: this girl has been a sucker for hard anal sex for a very, very long time. Actually, I'm so obsessed with blasting my ass that I've tested pretty much any anal toy that you can think of. Heck, I don't even want to count the number of dicks that have ejaculated deep inside my back-pussy. And trust me, flushing my ass out with an anal douche was one of the biggest revelations of my sex life.
When I tested the most popular anal showers, I realized that they could give me a quick and clean cleanse after only a few minutes. Another major reason why I love these things is that they make sex so much easier on my pussy. I don't have to stress out about any nasty infections coming from my butt!
Still, the douches I've tested all came in various different designs. They differ based on the size and length, application method, materials, along with a few other factors. If you don't know which one to pick, I found that it's best to look into the different types and find your favorite. So let me teach you all about basic douches, water bag douches, cleansing enemas, and more!
Basic Anal Douches
Basic or anal bulb douches are the simplest and most accessible option. These types look like large bulbs. They are usually made with rubber or silicone. They also include a special nozzle that you can use to inject the cleaning fluid into your butt. Plus, some of them have a detachable nozzle. It allows you to easily clean or fill up the bulb. The rest is pretty simple: push the tip in. Then, just squeeze the bulb gently to inject the liquid into the rectum, and voila! Your ass will be as clean as a whistle!
While these are the easiest types to use out there, they come in various nozzle and bulb sizes along with different tip shapes and textures. Meaning, you will need to think about the sizes that suit you and your experience level.
Water Bag Anal Douches
These types are quite similar to traditional enemas for anal sex. The thing that makes them stand out is their large size. They always come in a kit that includes a reusable rubber bag along with a pipe and a nozzle. The large bag enables you to push more liquid into your booty and get a deeper cleanse. Also, it makes things easier because it doesn't require you to refill the bag frequently while you're douching.
In fact, the bag can hold several liters of water. You simply need to hang it up at an elevated position. Then, gently push the pipe between your bum cheeks. Eureka! Just allow gravity to do the rest! The water will drip down the pipe and into your tush for a deep and natural cleanse.
Disposable Anal Douches
Disposable douches are essentially the same as standard bulb types. Yet, they are much smaller and you should only use them once. What you'll get is a compact and portable douche. Plus, due to its size, you can literally stock up and buy as many as you want to use during your summer vacation.
Another thing I love about these is that you can simply throw them out when you're done. You won't have to think about cleaning and drying them. This is especially important if you want something that gets the job done without getting too messy. Nevertheless, buying a bunch of disposable douches could end up being quite pricey if you intend to blast out your booty every single day.
Cleansing Anal Enemas
These are the traditional types of anal showers and they are water-based. You will need to hold them in your rectum while you're flushing yourself out. After an injection, you'll have to retain the water for a few moments until you let go. In that time, the debris and feces in your rectum will absorb the fluid. To put it bluntly, they will glide out when you're ready to flush.
Plus, since we're all a bunch of kinky freaks, people have thought of a million different liquids to use instead of water. There are all kinds of cleansing techniques. That includes the use of salt water, vinegar, sodium phosphate, lemon juice, and even coffee.
Retention Anal Enemas
Unlike cleansing enemas for anal, you need to hold a retention enema in for much longer. On average, you might need to keep them in for 10 to 15 minutes until you release the fluid. These types are usually oil-based. They soak the stool in order to make it pass more smoothly through the body. If you're a newbie, this should probably not be your first choice as it's designed for medical purposes. However, they are often used in fetish play and BDSM circles.
Shower Enema
These types of enemas are designed to hook into most showers. Actually, anal shower douches are some of the most convenient options out there. They have a metal nozzle and a hose that you can directly attach to your shower for a high-pressure cleanse. They don't include a bag or bulb and you merely need to push the nozzle into your rear end. Then, use the included pressure valve to control the water flow.
Still, unlike a traditional enema, an anal shower douche doesn't regulate the amount of water that's going inside you. If you're not careful, you could overload your colon. And if you didn't think that was a thing, you were definitely wrong. Overflowing your intestines could lead to serious medical problems if you don't know what you're doing.
Enema Sex Toys
What if you're one of those nasty girls or boys who starts drooling every time you see a clip titled "Anal enema cream milkshake squirts from ass to other girl's mouth"?
Well, sure, enema play is an obscure fetish, but if you're into BDSM, chances are that you wouldn't think twice if your slave begged you to fill him up with milk before you use a huge strap-on cock to pound his prostate. Sure, some people may think it's disturbing and I'm definitely here to testify that getting my ass filled up with a baby oil enema and blasting that shit out into my boyfriend's face was not my proudest moment. But I get why it may be fun and because of that, I'll give you a rundown of some of the most popular types of enemas for fetish play:
Check It Out
Enema Syringe – These are the most practical enemas for your dungeon. They are shaped like a large syringe. All you need to do is fill them up with liquid, oil, or milk, and give your slave a nice deep injection. What's more, they're also used as lubricant applicators, so you can try them if you want to push a lot of lube inside your butthole and make everything flow smoother.
Enema Dildo ⁠- These special dildos are hollow on the inside. They are attached to a tube and bulb. You can fill them up and use them to flush out your guts while you're getting fucked.
Ejaculating Dildo ⁠- Ejaculating or squirting dildos are some of the most popular enema dildos. They shoot fake cum by the bucket and they'll fill you up with some of the most legendary anal creampies of your life!
Automatic Enema Bulb – These types look like standard bulb-type douches, except they are electronic and they can flush your ass out automatically. You simply need to fill them with water and let them do their thing. Oh, and some vibrate from the tip to give you super-strong enema orgasms!
Anal Douche Buyer's Guide: A Clean Butthole Is a Happy Butthole
"Keep your friends close and your enemas closer! But don't spray your guts out!"
As you've seen, there are several ways you can make use of your new enema, whether it's solely for practical purposes or dark and deeply disturbing sex acts. But before I show you how to find the best enema, you need to know something about douching your marbles. As with anything that goes up your rectum, you need to handle things with your utmost attention. I know that all the "read the manual" advice out there rarely works, but in this case, you will have to stick to the rules.
If you do it incorrectly, your intestines could become dependent on water in order to create bowel movements. Yet, if you get it right, your ass will be cleaner than ever. It will be nice and ready for any anal stretcher, butt plug, vibrator, or monster BBC dildo that you throw at it.
Another thing I should note is that using anal showers correctly will actually make sex flow much smoother on a physical and mental level. On the one hand, you will prime your ass for A-level seduction. On the other, you won't have any self-conscious thoughts along the lines of "Dear God, his cock is pushing the remains of yesterday's tuna sandwich deeper and deeper into my body!"
Why You Need an Anal Douche
Obviously, we should all stick to the "poopy ass = no sex" rule. But, let's not pretend that everyone should use a douche. In fact, your diet and your bowel movements can do a great job of purging your body. Sometimes, all you need to do is rinse yourself out in the shower and you'll be safe for some light to mild anal play.
However, if you're hosting a brutal anal swing party or you want your lesbian lover to tongue fuck your sphincter all night long, you will definitely need to flush. Here are some other reasons why you should buy an anal douche:
The Main Reasons:
If you're constantly going for the butt and you're trying all kinds of positions, toys, oral sex, etc., you should definitely use an anal douche.
You suffer from digestion problems. If you don't have a balanced diet or you have problems pooping, getting your ass 100% clean will be nearly impossible. Even if you're not aware of it, you could always have a lingering smell that your partner may not enjoy.
Anal PTSD is a thing – How many of us were turned off from anal sex at some point because we saw poop or felt a nasty scent? Seriously, a lot of people have never gone back to anal after a similar situation. That's a damn shame! If you use an enema, you can be 100% sure that your past traumas won't come back to haunt you and you can enjoy anal to the fullest!
Keep your toys safe – Nobody likes a chocolate-covered dildo. Some anal toys can actually absorb all the smells from your rectum and that's where douching can help. It can keep your colon free of various scents. Plus, it will prolong the lifespan of your toys while keeping them fresh.
Prevents cuts or tears – If you're into extreme anal, fisting, or using huge dildos, a douche will actually lower the risks of foreign undigested materials accidentally causing micro-tears inside you.
Rimming and switching from anal to oral – Trust me, it's so much smarter to do all that with a clean colon and a few drops of coconut oil to make things super tasty.
How to Find the Best Anal Douche for You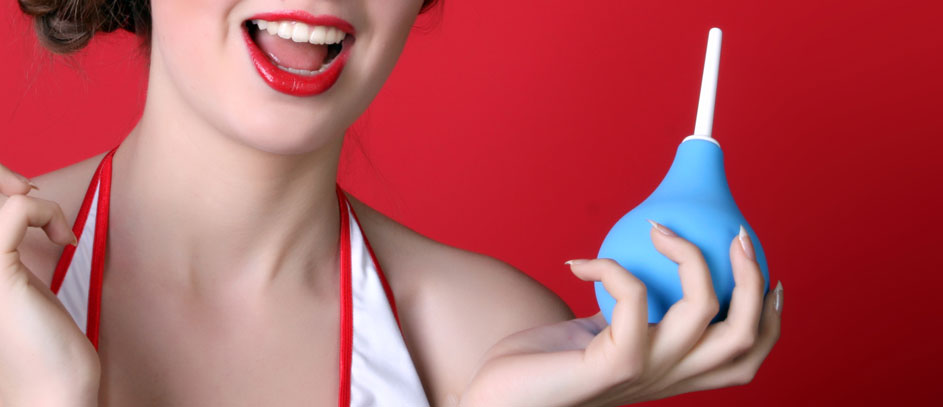 If you are a total anal novice, picking out your first enema could be a bit tricky. Here are a few steps to follow before you buy your douching device:
How interested are you? If you want to have anal sex on a daily basis, definitely consider a douche. But if you only want to try a butt plug from time to time, you might be able to skip douching altogether.
If you're a return customer who is always up for some casual buttfucking, you will definitely need a quality bulb-type douche, a water bag type, or even a traditional enema.
If you're an anal virgin and you want to become a power player, you could use disposable enemas in order to get the hang of them. In that case, you won't have to choose big nozzles or traditional enemas. But, if you're addicted to the crack and you want to stretch and gape harder than an AVN award winner, you will need a large-volume enema.
Think about your skin. If you have an allergy, you have to inspect the materials of your enema and the douching fluid.
Choose the Materials Wisely
Typically, douches and enemas are made of silicone, durable plastic, and soft rubber. You could also encounter materials such as PVC, ABS, and metal. A standard bulb-type douche could use two different materials for the bulb and the applicator. You should always look for a material that plays well with your skin without causing allergies or irritations.
By far, medical-grade silicone is the best option out there since it's 100% body-safe and non-porous. This material will not absorb bacteria. That's exactly what you should look for when you're putting things up your brown eye. Also, most of the other materials I've mentioned, such as rubber, PVC, or jelly, are highly porous. They are not the safest long-term solutions, but they'll do the job just fine if you're planning to buy a disposable douche. You can also go for stainless steel for shower enemas or ABS plastic for syringes, water bag douches, and other types of enemas.
What's more, you will need to pay attention to your entire douching kit, especially the nozzles or applicators. Some enema kits could come with multiple nozzle types so that you can experiment. And since you'll have to clean a reusable kit, always consider how easy it will be to dismantle and sterilize.
What's in My Enema Kit?
Most standard douches contain only two parts: a removable tip and a bulb. In my opinion, the fewer parts, the easier it is to clean your enema. However, as I said, these devices are smaller and they will only clean out your rectum. Most retention or water bag enemas are bigger and they'll flush out your entire colon. That's why they have a totally different set of parts. They could include a thick and durable bag, a long plastic hose, and a different style of nozzle. Regardless of the type you buy, you should carefully inspect all the parts and the installation method to see if the enema is easy to use and clean.
Nozzles and Sizes
How many times have you heard "Darling, please, just the tip!" but you were scared shitless thinking that you'll defecate all over your partner's junk? Brown alert!
Well, speaking of tips, douches and enemas come in a variety of nozzle shapes. Most of them will be around 2 to 3 inches long. For beginners, it's definitely better to stick to thin and straight shapes. If you buy a silicone anal douche, the tip will actually be a bit bendy. You can use it to find the perfect angle. But if you want to add a little fun to your flushing rituals, you could also pick a beaded or curved nozzle. Those shapes will not only clean your tush, they will stretch it out and train it for bigger things to come! And remember, some douches could come with several different removable tips. That way, you can play around and see what feels the most pleasurable to you.
A Word on Enema Fluids
Most enemas that are made for sexual purposes are water-based. In fact, water is the most pleasant of all options and it's by far the least irritating. Unless you're constipated or you have a medical issue, there's no need to go for the other options. That includes sodium phosphate, salt water, or Epsom salt. And trust me, even if some doctors recommend it, it's better to lay off the lemon juice, soap suds, or vinegar.
If you use only water, you'll not only decrease the risks of irritating your colon, but you will also extend the durability of your enema!
Bonus Tips
To maximize your enema use and get the most fun out of anal sex, try to keep a steady diet of high-fiber foods such as vegetables and fruits.
Don't buy an anal enema if you're suffering from hemorrhoids or any other conditions.
Start small if you're a beginner. You could get a disposable enema to see what it feels like before you settle for a reusable type.
Don't try to make a "DIY" enema with supplies or liquids from your kitchen. Believe me, flushing your ass out with a plastic water bottle is definitely not safe!
If you're buying a reusable douche or enema, stay away from materials such as jelly, PVC, and rubber. They contain toxic phthalates that are dangerous for your body.
Tips on Using, Cleaning and Storing Your Anal Douches and Anal Enemas
Listen up: I don't want to be full of crap and tell you to get your enema right away. Using anal douches is a ​​DIY procedure. If you're not very familiar with the state of your butthole or if you have a medical issue, you should consult an expert first. Also, remember what I said about reading the manual? You'll have to follow the accompanying instructions of your kit correctly to avoid any risks. Check out my other tips to learn how to correctly use an anal douche:
Prepare Your Sphincter
You should always begin with a clean and sterilized nozzle. If you don't use sterile equipment, you can risk all sorts of infections and even autoimmune diseases. The next step is to fill your douche up with water. For most types, you should use lukewarm water that's not too hot or too cold.
Now Purify That Butthole!
Once you've filled up your enema, it's also essential to lube up the tip. Not only will this help the nozzle glide in smoothly, but it will loosen your ass a bit before sex to make anal a lot more comfortable!
However, just make sure you're using the correct lube. I can't stress this enough, but I'd recommend you to use water-based lube. It's the safest for your body and your enema. And while the whole colon purification process is different depending on your douche type, the general idea behind it is the same. Just push the nozzle inside and squirt the fluid out of your ass! But wait, that's not all… You don't want to launch the contents of your bowels all over your bedroom!
Instead, you should put one leg over your toilet. Now, gently push the nozzle inside. After that, squeeze the bulb, bag, or bottle and squirt the water deep inside your rectum. Remember to always do this gently to avoid damaging your colon. When the liquid is inside you, clench your cheeks and hold it in for a few seconds. Then, sit or squat over your toilet and release the Kraken!!!
My best tip here is to not push too much and simply let the water run out slowly. Also, if you're all backed up and you literally see all kinds of crap flowing out of you, you can repeat the process several times until the liquid is clean.
Aftercare
When you're done with your enema, you can generally put it away and go on to play Alice in Anal Land. However, don't forget to clean your douche when your ass is fully satisfied. The easiest way is to remove the nozzle from the bulb and wash the two parts separately. You may not even need to wash the inside of the bulb, but it's always a good idea to rinse it out. Still, you should carefully clean the nozzle with warm water and mild soap to get rid of all the bacteria. Also, it's important to let your enema dry after you wash it. Then, you can store it in its original box or a soft carrying pouch.
Anal Douches and Anal Enemas Industry Overview
While douching your ass out is not a mainstream practice, it actually has a long history that stems back thousands of years. Oh, and it was first used by the Maya not to facilitate anal sex, but to inject psychoactive substances rectally and have a throw a different kind of party altogether!
History of Anal Douches: That's a Lotta Clean Assholes!!!
Some Mayan sculptures depict various rituals with hallucinogenic enemas but the art of anal douching is also well documented in ancient Egypt and Greece. In fact, the first mention of enemas in writing comes from the Ebers Papyrus from 1,500 B.C. It's also well known that the ancient Egyptians were famous for having clean bowels. Yes, having exemplary bowels was a thing to be admired for back then! The Egyptians were so clean that even the Greeks wrote tales of their legendary buttholes.
What's even more surprising is that the Egyptians took such great care of their backsides because they believed that the residual fecal matter would enter the blood through the colon and give them dangerous diseases. However, they didn't use the fancy equipment that we have available now. Most early enemas were self-induced by, wait for it, using a hollow reed and sitting in the river! If that's not kinky enough, just remember that the American Indians used a syringe crafted out of some animal bladder and a hollow bone. Yikes!
What's more, you'll see a ton of other bizarre stories about enemas in ancient India, China, and Babylonia. In fact, there's hardly been a culture in the world that didn't use enemas since ancient history. Also, in the late 1600s, Parisians were known to use around three or four enemas each day to improve their well-being. By the 1700s, enema jugs were actually a common household item and they were recommended by doctors worldwide. However, it's still a mystery whether all those cultures used enemas to stay clean or if that was just a way to hide the fact that they just liked taking big cocks up the butt.
Flush Your Ass Into The Future
Nowadays, we can find pretty much any type of anal douche out there and we can use it to facilitate sex as well as to dabble around in some kinky enema play. Heck, you can even buy a steel cock-shaped dildo and attach it to your shower hose to blast your ass out and fuck it at the same time! But seriously, so many brands are trying to innovate on the original enema design and some of the most popular companies include Lovehoney, Colt, Clean Stream, BASICS, Beauty Molly, Tracey Cox, etc.
As I mentioned earlier, you can already get automatic enemas that rinse you out and vibrate the hell out of your butthole with just a push of a button. But what about other trends in the sex toy industry? Will we ever get to use remote-controlled and app-enabled enemas that boast AI technologies and even VR compatibility? That would be an ass fetishist's dream come true! But why wait? Get yourself an enema today and let that sucker blast!!!
⚠️ Disclaimer: Our articles contain affiliate links. If you like our content and wish to support our work, consider purchasing your new sex toys through our links. For each purchase through our links, we receive a small commission but at no extra cost to you.
Anal Douches And Anal Enemas FAQs
It all depends on how you use them. If you learn how to do it correctly, you will not face any risks. However, if you over-douche, you could damage the lining of your anus and your intestines. You can also mess up your body's natural pooping schedule. Still, if you're careful and you follow the instructions of your enema kit, you won't put your ass at risk.
It's definitely a good idea to use an enema to avoid all kinds of awkward accidents, but no, enemas are not essential. If you only practice light anal play, it will be enough to rinse yourself out under the shower or use a baby wipe. But, if you're scared and you don't want to encounter any poop, it's much better to use an enema.
Ideally, you shouldn't use it more than three times per week. Also, it's unsafe to use your enema several times within 24 hours. This will help you to avoid some of the long-term risks including bloating, cramping, and disrupting the balance of bacteria in your gut.
Absolutely! You can use any anal-friendly sex toy after your enema. One thing to remember is to clean your tush after you use an enema and before you use your toy. That way, you won't transfer any germs from the enema to your butt plug, anal stretcher, or extra-large dragon dildo.
When you squirt out the fluid from your ass, it will mainly contain water and some feces, depending on when you had your last bowel movement. The safest way to stay clean is to use your enema over the toilet. That way, the contents of your intestines will flow directly into your toilet and you won't make a mess.
For most people, the effects of an enema will last around 60 minutes. During this time, you may feel the need to defecate again. Also, you might still have some fluid in your rectum. That's why it's better to stay patient and wait for around an hour before you start stretching out your rear-entry with sex toys or big throbbing cocks.