Jun/21/2022
Last Update: August 24, 2023
966
14 min read
Best Strapless Strap-Ons In 2023 For Kinky Couples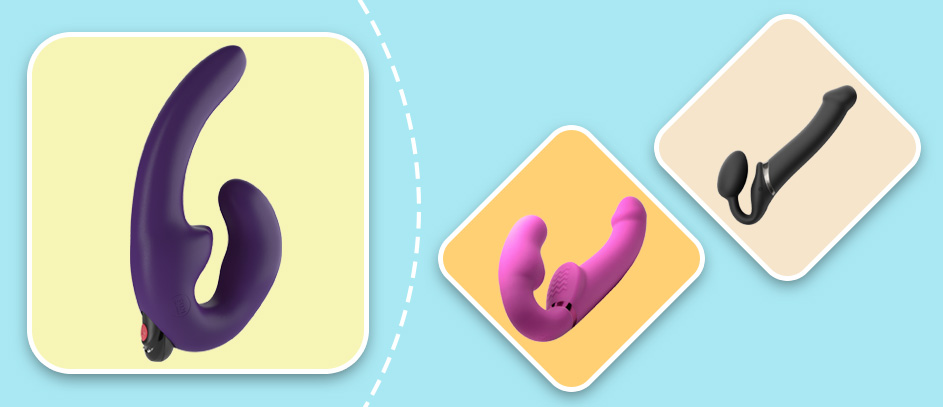 You know what they say: it's always better to give than to receive. What if you want to do both? What if you want to fuck your lover senseless with a huge strap-on and get your holes serviced at the same time? Ooh, baby, yes! I'm pretty much obsessed with using strapless strap-ons to peg my BF and fuck my lady friends' tight pussies and assholes all night long! But how exactly are strapless strap-ons different from standard strap-on toys? How can you find the best fake cock for you and your partner? Well, sweetie, it's time to break some rules, get kinky, and use a strapless toy to fuck like the world is about to end!
Top 10 Strapless Strap-Ons in 2023: Tested!
While classic strap-ons have been a staple in my sex toy arsenal for years, trying a strapless strap-on for the first time was a total freaking game changer. Trust me, just realizing that you can taste the action while banging your partner balls deep with a massive dildo is one of the most unique experiences ever! After trying dozens of these toys, I became a total strapless strap-on worshiper.
Right now, I'll show you the best strapless dildos and vibrators I've ever had the pleasure to push inside my partner's holes while stuffing my dripping clam and tush simultaneously! If you want to strap in and get straight to the fucking, check out my top 10 strapless strap-ons!
Strapless Strap-Ons: No Need for a Harness!
Now, I know what you're thinking: "Scarlett, how the heck do strapless strap toys even work? How can they make me cum while I'm fucking my partner?!" Obviously, these toys look a bit intimidating. Like, how are these bad boys even meant to go in your ass or pussy and stay inside while you're dicking someone down?
Well, strapless strap toys solve several problems of standard strap-on toys. They'll also boost the pleasure for the wearer! Plus, since they're not secured by a harness, they look even more realistic. Just imagine wielding a big and veiny black cock. Now use it to abuse your partner's tight holes until you're both creaming like crazy! Cum to momma!!!
Get Ready for a Strapless Surprise!
"Look ma, there's a huge dick buldging out of my pussy and I'm about to set the world on fire!!!"
Dildos and vibrators are true lifesavers when it comes to solo play, hot couples' adventures, extreme sex, and other naughty acts. When you add straps to these toys, you can take control of a huge pleasure-pumping beast and enjoy a full-on thrusting sesh with your lover.
For me, the best thing about strap-ons is that they let you experience sex from a dominant or male perspective. And if you're like me and you're obsessed with rough strap-on porn, you're probably already familiar with their versatility. You know, you'll see all kinds of hot porn chicks fucking guys' assholes with strap-ons, girls fucking girls, girls sucking strap-on cocks worn by other wild pornstars while getting their pussies pounded, and so on. The options are literally endless here!
If you want to take things to a whole other level, strapless dildos will give you an entirely different experience, both visually and physically. They'll make it feel like you're packing a massive throbbing monster! Plus, they'll make both partners enjoy all sorts of kinky acts equally!
What Are Strapless Strap-Ons?
Strapless strap-ons are a cross between a standard strap-on and a double dildo. A strapless stimulator uses a similar approach to a double dildo, but it's designed to be used as a regular strap-on.
On one end, you'll find a long and fat dildo or vibrator. Obviously, you'll use that end to ram your partner's holes. And on the other, there'll be a specially designed round bulb. This bulb is the best feature of a strapless device. It's exactly what makes the whole toy work hands-free!
The bulb is ergonomically designed to go inside your vagina. Then, it stays there during even the most intense fucking sessions. Since it's designed at just the right angle for your pussy and G-spot, your vaginal muscles will keep it in place. Simple, right?
Well, the biggest challenge for me was to find the best strapless dildo that fits inside correctly, pleases me in just the right way, and allows me to use it for all kinds of acts without popping out.
Types of Strapless Strap-Ons
No matter what kind of strap-on dildo or vibrator you get, it will always be categorized based on its material, design, and its features. If you're a total newbie, the best tip here is to first think about the type of strapless toy that tickles your imagination. It should look like something you'll be able to use for hours and hours of pure pleasure!
Since the market for strap-ons is so versatile, your goal should be to find the strap-on with the best look and feel for you. It should match your exact preferences, from vanilla sex to brutal fetishes! There's so much to choose from, including realistic strapless strap-ons, vibrating strapless strap-ons, strap-ons with unusual textures and curves, anal strap-ons, hot pink strap-on dildos, and so on. So let me break them down into several main categories:
Non-Vibrating Strapless Strap-Ons
This is the most basic type of strapless toy. It's usually referred to as a strapless dildo. What you'll get is simplicity and perfection at the same time!
Also, these types of strap-ons come in a wide range of colors, shapes, sizes, and styles. The best thing about it is that the insertable bulb will directly target your G-spot. It will fill you up with a unique type of pressure while you're dicking your male or female partner with the other end. I'd recommend it as a neat starting point for beginners who want to get accustomed to using this style of dildo.
Granted, this toy won't give you any vibrations or other features. Yet, it will help you learn how it feels like to take control from various different angles. Conversely, if you're already used to harnessed strap-ons, this type will be your ideal introduction into the strapless territory.
Vibrating Strapless Strap-Ons
If you want to add a lot more spice to your strap-on adventures, vibrating strapless strap-ons will totally revolutionize the way you play. Trust me, these are some of the best lesbian and pegging toys! They'll feel incredibly intense for the giver and the receiver! What's more, this type of vibrating strap-on dildo can come in various configurations.
For example, some toys will only provide vibrations from the insertable bulb. Others will pulsate from both ends. Some could include two vibrating motors inside both ends. Others could have a single motor installed between the two dildos. Either way, they'll also give you a wide range of vibration speeds and fun patterns.
However, it's up to you to decide where you want to feel the vibrations. You can choose a model that sends deep vibrations to your G-spot only. Yet, you can get one with two vibrating ends. That way, you can massage your and your partner's secret spot simultaneously until you squirt all over each other! Just remember to bring some towels!
Bluetooth, Wi-Fi, and App-Controlled Strapless Toys
Generally, a standard vibrating strapless strap-on will come with button controls or even a wired or wireless remote. However, some of the newest models are compatible with the latest technologies. You can sync them to your phone to explore all sorts of fun remote-controlled play.
With app control, you can hook your strap-on vibrator up to your phone and configure it from any distance while experimenting with extended control settings. The apps will allow you to play around with a wider range of vibration patterns or even customize your own settings. Moreover, some of these toys could also enable you to sync the vibrations to music. Others could help you monitor your orgasms with smart sensors.
Rabbit-Style Strapless Stimulators
Whether you're a clit-only girl or you need to have your G-spot milked rough in order to cum, rabbit-style strapless vibrators will become your new favorite toy! These strap-ons will give you a vaginal vibrator plus a rabbit stimulator. Then, you can tease your clit while you pump the other end deep inside your lover's holes!
Strapless Strap-Ons With Anal Stimulators
As a balls-out anal whore, I'm always stuffing my ass full of all kinds of sex toys, and this strapless dildo type has become one of my favorite gadgets for intense backdoor play! Essentially, this type of strap-on will give you two insertable bulbs for your body. Can you see where this is going?
Well, just lube up and push them inside your minge and your pooper at the same time! These strap-ons could come with attached anal beads, butt plugs, dilators, and big dildos. Just think of all the bondage play and hardcore DP acts you could try with this toy! Bottoms up, slave!
Buyer's Guide: Find the Perfect Toy for Lesbian Sex and Pegging!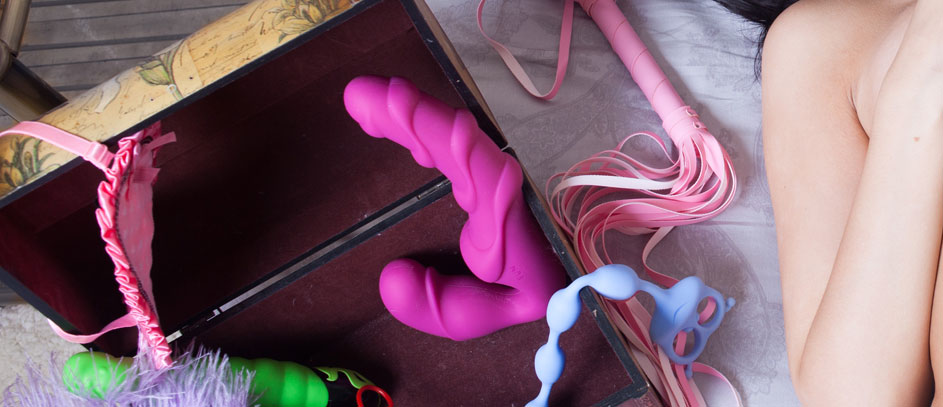 Since the shapes, sizes, and features of strapless toys could get a bit overwhelming, I'd advise you to follow some of my buyer's tips to see which kind of toys you should avoid. If you get it right, the strapless strap-on will fit inside you snugly. However, if you buy the wrong toy, it might not fit properly. It could pop out and ruin the mood just when you and your partner are edging yourself to those massive orgasms.
The Difference Between Harnessed and Strapless Strap-Ons
Basically, classic strap-ons require a harness that attaches to your body. These harnesses could be uncomfortable to some people. On the other hand, strapless dildos solve that problem by eliminating the harness altogether. They essentially enable you to "wear" the toy with your body.
Now, when you push the shorter bulb inside, your pelvic floor muscles will keep it in place. An added benefit of this design is that it will train your PC muscles in a similar way to Kegel exercises. Therefore, the more you wear your strap-on, the tighter you'll get! It's a win-win! Even better, since there's no harness, your strap-on cock will look better aesthetically. It will feel like a natural extension of your body!
What Are the Best Strapless Strap-On Materials?
Another secret to finding your dream strapless vibrator or dildo is to choose the material carefully. This isn't only important for the safety of your skin but also for the way the dildo feels during sex. Some of the most common choices you'll find here are silicone, ABS plastic, rubber, Cyberskin, and TPE.
For strapless strap-ons, you'll most likely get to choose from silicone and ABS since these toys have to be a bit tougher in order to not pop out. Both silicone and ABS plastics are fantastic choices. They're 100% body-safe and germ-free. Plus, they're the best materials for all kinds of strap-on users. They'll give you a silky smooth feeling during penetration. Also, they'll match nearly everyone's skin type.
While skin-safe rubber, TPE, and Cyberskin are decent options, it's best to skip them because they are quite floppy and are better suited for classic dildos. And when it comes to materials you should avoid, just try to stay away from jelly and rubber. They might seem appealing because they're super cheap and extra floppy, but they can be toxic for your skin.
The Size Makes All the Difference!
The size of the insertable dildo that goes in your partner is extremely important. There are so many different sizes to choose from: from small strapless strap-ons to super large wearable dildos. If you're unsure, just choose a decent average size of 5 to 6 inches.
That will be enough to please most willing pussies, buttholes, and throats. Plus, there's no shame in choosing an extra small strapless strap-on if your partner can't handle a 5- or 6-inch toy. However, if you've already trained your partner's holes, you can always go larger and wear a huge fat cock.
Still, it's equally important to choose the right size for the bulb or pony part of your toy. Since the second end is smaller, it will typically measure around 4 to 5 inches. The easiest way to make sure the size fits inside you correctly and secures a tight fit is to pick a strap-on with a flexible bulb. That way, you'll be able to insert the bulb inside you from all angles.
Strap-On Shapes
So which shape should you go for? You can choose a realistic strapless strap-on that looks like a throbbing cock, or you can opt for something non-conventional and non-phallic. The shape will also have a massive impact on how the toy feels inside both of you.
For example, the dildo could have textures, curves, or wider cock-like heads. All of that could tease your partner's G-spot or fill their ass up just perfectly. And when it comes to the bulb, you should choose it based on the stimulation type that you prefer. For beginners, I'd recommend a shape that resembles a curved G-spot massager, butt plug, or a classic dildo. If you need to kick things up further, you can choose a rabbit-style shape or a strapless toy with an attached anal stimulator.
Bonus Tips
Stay away from jelly, rubber, and other unsafe materials. They could pose a risk to you and your partner!
Consider your and your partner's heights when choosing the size of your strap-on. Finding a decent balance will make it easier for you to get into all sorts of positions.
Always look for a strapless strap-on that suits both your and your partner's preferences!
Tips on Using, Cleaning, and Storing Your Strapless Strap-Ons
Strapless strap-ons will give you more skin-to-skin contact, and they'll feel more lifelike, but you'll need to learn how to use them properly to avoid any interruptions or accidents during your bedroom rodeos.
Using Your Strap-On
The first thing you'll notice is that you won't have to deal with straps, harnesses, and other attachment methods. The easiest way to start is to lube up your toy, insert it, and start playing!
Just remember to always use the correct lube type that matches the material of your toy. Also, it's important to slide the insertable bulb inside you first. After that, your partner can give you a deep and sloppy strap-on blowjob before you start fucking. Thanks to the way your pussy will grip onto the toy, the shaft will extend at a realistic angle.
However, if your wearable strap-on starts to slide around or fall out of your body, don't panic. It could mean that your hole is just not ready for it yet. If the insertable bulb feels loose or causes you discomfort, you may have to brush up on your Kegels. Why not train your pussy with some Kegel balls for a few days to make your pussy virgin-tight? If you're unsure, you can read all about my adventures with Kegel balls in my previous article.
Cleaning
After a few intense orgasms, your toy will be covered in all sorts of liquids. Well, unless you make your love slave suck them off your fake cock! Either way, it's absolutely necessary for you to clean your strapless dildo after each use.
The simplest method for this is to wash your toy with warm water and use some light soap. But be careful: if you get a vibrating strap-on, make sure it's waterproof. If not, you can clean it with a soft, damp cloth. That will be enough to remove all kinds of nasty cum juices and bacteria off of it. However, after you're done, you should also leave it out to dry fully. Then, pop it into the original box or use a dedicated plastic container to store it safely.
Strapless Strap-Ons Industry Overview
Did you know that our ancestors first used strap-on sex toys approximately 10,000 years ago? Well, the earliest versions of strap-ons were made of stone. They were used by ancient tribes for bizarre fertility rituals and epic sex orgies! Also, records have shown that some ancient Greek and Roman men had a nasty secret. They had a special affinity for getting their booties pounded by women who wore early versions of strap-ons!
However, modern strap-on dildos were invented in the 1990s. Strapless dildos are a totally different take on the classic harnessed design, and they became popular just a few years ago. Fortunately, many famous brands are competing to revolutionize strapless strap-ons even further! That includes companies like Lovehoney, Fun Factory, We-vibe, Pegasus, Happy Rabbit, Doc Johnson, Fetish Fantasy, etc. Some companies have even invented bionic strap-ons. These toys can track your thrusting movements. Then, they can transfer them into vibrations to make it feel like your strap-on dildo is actually a part of your body!
In fact, strap-ons have come a long way since their earliest iterations. Luckily for us, it seems like the whole thing is just getting started! In the next few years, we should expect to see a lot of high-tech features implemented into the newest strapless vibrators. That could include VR or AI compatibility, biometric controls, smart sensors, ergonomic designs, and much more.
⚠️ Disclaimer: Our articles contain affiliate links. If you like our content and wish to support our work, consider purchasing your new sex toys through our links. For each purchase through our links, we receive a small commission but at no extra cost to you.
FAQ
Strapless toys have many advantages over traditional harnessed strap-ons. For example, they allow you to feel more skin-to-skin contact with your partner. Also, they can fit everyone's body regardless of their size or weight. In contrast, some harnesses could be too small or too big for you. Plus, a strapless toy will deliver equal amounts of pleasure for the wearer and the receiver. This isn't always possible with a standard strap-on.
Yes, but not always. If you're in a monogamous relationship and you get a body-safe silicone strap-on, you can certainly switch between who's wearing the toy and who is receiving it. If you want to stay extra safe, you could even use it with condoms. However, you should never go from anal to vaginal or vice versa! This is quite unsafe, and it could lead to various infections.
Absolutely! That's what it was originally designed for! Since you'll "wear" the toy by sticking the insertable bulb inside you, you'll have to keep your vagina tight. That way, you'll hold the toy in place while thrusting in and out of your partner. This increased tightness will lead to some epic orgasms, especially if you opt for a vibrating strapless toy.
Yes, there's a chance that the insertable bulb could rub against you in the wrong way, but this is nothing to worry about. For example, you could use an awkward angle that might push the bulb too hard against your vaginal walls. Also, you'll need to be careful while penetrating your partner. You won't be able to feel your fake cock while it's inside them, so take it slowly at first.
Don't worry! Some fast movements, weird angles, lots of lube, or your vagina's natural wetness could make your strapless toy pop out. This is entirely normal. It will most likely happen if you're a beginner. The only way to avoid this is to make sure your vagina is nice and strong. If your strap-on feels loose and if you have problems controlling it, it's best to stop. Then, practice some Kegels to make your vagina tighter. There's a bit of a learning curve to these toys, but it will all be worth your while once you get the hang of it!
Not at all! A lot of straight men love to get off through pegging, but that doesn't make them gay. Getting dominated by a female partner is an incredibly unique feeling that many straight men enjoy, and the only way to achieve it is to use a strap-on.