Jul/04/2022
Last Update: June 26, 2023
1474
23 min read
Best Vibrators In 2023 For Your Ultimate Pleasure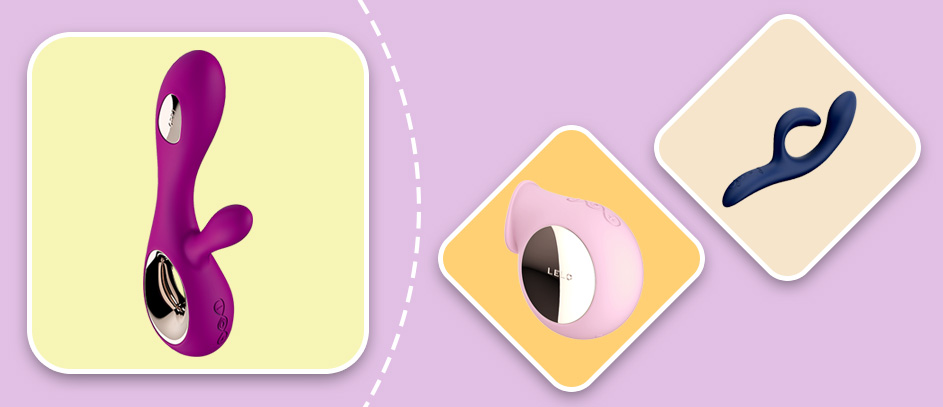 Ladies, we all know that orgasms are a journey. However, while you can pleasure your clit all night long (or shamelessly take a massive cock up your butthole *wink wink*), vibrators can do things to you that just aren't humanly possible. Oh yeah, doing it au naturel like Adam and Eve is a thing of the past – now it's your turn to play Florence and the Machine!
Here, I'm gonna tell you all about the best vibrators for women. You can use them while watching porn, eating snacks, browsing Netflix, or even knitting a sweater! So let's get your buzz on!
Top 10 Vibrators in 2023
Whether you need a cute vibrating all-rounder or you crave something massive and mighty to tear you apart, finding the best vibrator is always subjective.
IMO, the perfect vibrator is definitely out there. However, it may take some time to find it. Still, the top 10 vibrators I picked for you today consistently outperform their competition. I've tested them inside and out to satisfy all my holes, and I picked them based on how well they're built, how easy they are to use, and their overall fun factor!
The Buzz: All About Vibrators
Just like bubble baths or Harry Potter, everyone loves vibrators. But things were different back in the old days. You know, your auntie's vibrator was disguised as a back massager. It was louder than a snowblower! Even worse, the thing looked like a freaking Soviet missile! Still, it surely made her smile from ear to ear.
Fortunately, thanks to technology and high demand, these toys have gone mainstream in the past few decades. In fact, studies have shown that just five years ago, over 50% of women in the U.S. have used one in their alone time or with their partners.
What's more, the technology has advanced massively with the introduction of rechargeable types, new shapes and materials, and features like app control or VR integration. It all goes to show that now is the best time to grab a vibrating dick and get that sweet, sweet release!
Trust me – it's all about devoting yourself to a blissful climax like a true Cream Queen. And when you get to orgasm #3, your vibrator will literally separate your soul from your body. Your palms will be sweaty, arms heavy, knees weak, craving pizza… Then, as you tremble for that holy vaginal or anal exorcism, you'll turn into your biggest cheerleader: "You're gonna cum. You're the fucking orgasm champion. You deserve it, bitch! Oh yeah, you…. know… you…. do! Ahhhhh!"
Good Vibrations: The Basics
Basically, vibrators are among the most popular adult toys ever. There are literally thousands of models you could use. If you listen to your experienced sex toy fanatic Scarlett, the best way to get the most from the vibrator world is to focus on your individual anatomy, needs, and cravings.
Honestly, I've tested more vibrators than you can shake a dick at, and now I've reached the point when just that buzzing sound can make my peach drip. They helped me experiment with my fantasies, get extremely kinky with my BF, and even pop my squirting cherry.
Also, not all ladies are able to reach their big O through sex or penetration alone. But, you can and should try it with a little help from your friends. Obviously, you can think of men or women as your friends (fuck buddies, lovers, whatever…), but let me tell you that nothing compares to a battery-operated orgasm robot!
I'm guessing that you don't need me to explain that vibrators vibrate (duh!). Yet, you need to know that not all of them are created equal. Typically, the most basic function of this toy is powered by an electric motor that creates pulses or throbs. You can apply the vibration to your sweet spots. That includes all those magic areas like your clitoris, vagina, vulva, nipples, anus, rectum, and many other erogenous zones. You can use the toy for external or internal stimulation, depending on what you like the most.
Plus, you can try one either on your own during masturbation or with a partner during foreplay or intercourse. Whether you want gentle stimulation or you want to become a full-on squirting superslut, a vibrator will become your new best friend!
Take Me to Pleasure Town!
You could test out all sorts of discrete bullet vibrators for beginners, deep G-spot massagers, smooth pulsating anal rumblers, automatic thrusting dongs, clit suckers, and much more. But what exactly is the best vibrator for women? Sweetie, you'll know when you are no longer able to stop grinding against one and you cream so hard you'll want to take the damn thing's last name!
Seroiously, vibrating sex toys can expand your horizons and make you experience some of the most unusual and strongest pleasure trips ever. There are many, many saucy benefits to these cute toys, including:
Vibrators accelerate your orgasms and simply make you have more of them.
Everything you feel will be amplified! Whether you use vibrations externally or internally, the powerful pulsations will give you the kind of pleasure that's just not possible with fingers or a real male sausage.
You can use them to trigger incredibly powerful clitoral, vaginal, or anal orgasms. Plus, they can give you multiple or blended orgasms or even make you squirt for the first time. I first squirted with one of the toys from my list, and it became my preferred way to get off.
These toys can broaden your sexual horizons. They can boost your sexual confidence and enable you to play around with new activities and filthy fantasies.
Your partner could get even hornier if you use one together, and sex could get much better if you include your toy.
Did I mention that you can use one to vibe your way to less stress, better sleep, better blood pressure, and a healthier vagina? Boom!
Battery-Powered Orgasms
Now, if you want to know more about how these things actually work, most of them come with built-in electric motors. They are either battery or socket-powered. Also, they have a button configuration or a remote that lets you configure the type of vibration. For most toys, that includes:
You can often adjust those settings manually based on what you like. Alternatively, you can choose a pattern or mode that automatically ramps up the fun. It's sort of like automatic interval training on a treadmill. Except this time, there's a vibrator deep in your pussy, and it gradually speeds up or down on its own to drill your brains out!
But as I said, you'll run into many different shapes and vibration configurations. Some can sync the pulsations to your favorite music. You'll also find a Bluetooth vibrator for long-distance play, next-gen toys with biofeedback and smart learning, or even those that connect to VR porn.
Types of Vibrators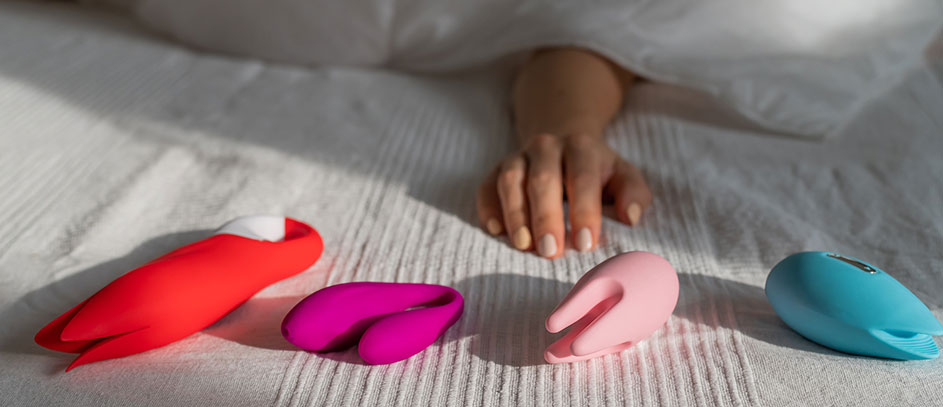 Even if most vibrators for girls feel glorious, you might have a frustrating experience if you use the wrong type. Whether it's your first toy or your hundredth, you will always need to pick the type that makes you gush, matches your turn-ons and goals, and plays well with your skin.
Usually, we can split these toys into three categories: clitoral, vaginal, and anal vibrators. What's more, they can have a phallic shape, or they might not look like a penis at all.
The Most Orgasmic Vibrator Types
Let's have a look at the most common types of vibrators:
Classic Penetrative Vibrator
The most basic vibrator has a phallic shape and closely resembles a dildo. These toys are available in many sizes and thicknesses, and they serve a simple yet effective purpose. You can slide this thing inside your honey pots to feel intense vibration from the inside. Alternatively, you can use the tip to direct the pulsations to your happy button or another sensitive area.
Magic Wand Vibrators
It's a clit vibrator disguised as a back massager! What a classic! This type is inspired by the original Hitachi Magic Wand, but the newest toys use a much less bulky and quieter design.
Typically, they provide incredibly strong vibrations via a soft rotating head at the top. You can press the soft head against your lovebud, browneye, or any other sensitive area. They are affordable, intuitive, and they offer tons of fun.
Vibrating Panties
This type offers hands-free fun in the form of a wearable harness. Vibrating panties are intimate yet highly kinky, and you can also use them in public for daily orgasms. They have various vibration patterns and speeds. Plus, they almost always come with a remote. This type of discreet vibrator works wonders for foreplay and teasing, BDSM, public play, etc.
Rabbit Vibrators
Ah, the elusive rabbit-style vibrator. I can't think of any other way to describe these than to tell you they're a divine creation from the sex tech gods. Rabbit vibrators are shaped like a dildo but include a pair of nubs (ears). These bunny ears directly massage your jewel as you slide the shaft deep inside. What more can you ask for than direct clitoral stimulation, intense penetration, and a strong G-spot milking all at once?
Bullet Vibrators
Now, this is perhaps the best type for newbies. Anyone who just needs something small and simple will enjoy it. These mini vibrators are shaped like a small bullet. While they maintain a low profile, they also pack a lot of power. They are some of the most amazing toys for direct clitoral pleasure. However, you can also use them to get unique nipplegasms or send strong rumbles throughout your body.
G-Spot Vibrators
If you're all about the G-spot or if you're thinking of pleasuring this magical area for the first time, look no further. These things feature an ergonomic curved-tip design that precisely targets your G-spot. It brings intense rhythmical waves and helps you worship your pleasure altar until you get to that rare full-body orgasm. Except with this toy, you'll be having G-spot orgasms every day! Welcum to Squirtsville!
Finger Vibrators
Here's a bit of an odd category but it can be highly useful if you love to use your fingers. These toys are similar to bullet vibes, but you can attach them to your finger and enjoy some touching moments.
Tongue Vibrators
If you're like me and you love it when your partner eats your pussy or ass like it's gluten-free, a tongue vibrator will be the perfect alternative!
There are several different types of these toys. The first is a standard vibrator that's simply shaped like a tongue. This has a great visual effect and a highly precise mechanism with licking motions to simulate oral sex. Another type is a suction vibrator that uses vacuum and vibrations to feast on your muffin and suck you dry. Yum!
Egg Vibrators
Love eggs are travel-friendly, discreet, and highly versatile. They look like an egg and they always come with a remote. You can use the egg on any external erogenous zone that turns you on, or you can insert it for a strong G-spot stimulation or a discrete anal massage.
App Controlled Vibrators
Many new vibrators are Bluetooth-enabled and you can control them via apps. You can find pretty much any type that I've mentioned with app control options. The point is to eliminate the need for a separate remote and allow you to configure your Bluetooth vibrator from the app.
One example is the popular FeelConnect 3 app. You can use apps like this one to completely personalize your vibration preferences. Moreover, some apps or toys even offer smart controls and monitoring features that track your pleasure cycles and your orgasm.
Most importantly, you can let someone else use the app on your toy to please you remotely. For example, your partner can use it to pleasure you during a boring day at the office.
But, these toys are most popular among long-distance couples who live far away from each other but still want to be able to feel intimate. Other app-controlled vibrators use next-level VR tech to sync you to your favorite porn and mimic the movements of pornstars you've always wanted to bang.
Mini Vibrators
A small vibrator is another fabulous option for beginners. It's shaped like the standard type except it's smaller than the average penis. These discreet vibrators are similar to bullet types but have a more traditional shape. They are pocket-sized and are not too intimidating, plus you can easily hide them. They work wonders for extremely precise stimulation. What I love about a mini vibrator is that even though it's tiny, it can truly focus the vibrations on where you need them the most.
Extra Quiet Vibrators
A silent vibrator is designed to be extra quiet while still allowing you to have fun. This type will basically put a stop to all the noise that's present in many standard vagina vibrators. Finally, we have a solution to end all those embarrassing chats with your roommates at your breakfast table! These things use extra quiet motors and sturdy materials to dull the vibration noise without changing the intensity.
Thrusting Vibrators
If you truly want to get pumped, thrusting types have a dildo-style look. Oh, and they're large enough to please any size queen! Yet, their main feature is an automatic thrusting and vibrating mechanism. A thrusting vagina vibrator is pretty much a portable fucking machine that can create rhythmic in and out motions or even rotations. These toys usually have a single or expendable length. They can also come in rabbit configurations or even include a suction cup for the most realistic pumping action.
Other Types
The fun doesn't stop with those options and there are many other unique types:
Don't Ignore What They're Made Of
Let's get serious: buying a new vibrator is not exactly like heading to the ice cream man and gobbling down your favorite chocolate sundae. You'll also need to look into the materials to make sure they're body-safe. Most of these toys are made of:
Silicone
ABS plastic
Stainless steel
TPE
Typically, silicone is the most common material. It's great for beginners and intermediate sex toy users. Silicone is non-porous, hypoallergenic, and it's 100% body-safe. Moreover, it also feels incredibly lifelike. It's also an ideal match for any vibrating mechanism because it transfers the pulsations incredibly well without dampening them.
Alternatively, ABS plastic or stainless steel are popular materials for harder vibrating toys. That includes bullet vibes, eggs, etc. Both materials are body-safe, non-porous, and long-lasting. Also, unlike soft silicone vibrators, they can bring more pressure due to their solid build.
Alternatively, TPE is another safe choice, although it's non-porous and it absorbs bacteria. It's a bit stretchier and cheaper compared to silicone. There are generally no major risks of using it as long as you know how to clean it thoroughly. And above all, some vibrators to avoid like the devil are made of jelly, latex, PVC, and cyberskin. These materials are highly porous and aren't phthalate free, which makes them a no-no for your kitty or booty.
Buyer's Guide
"I get that all of this can get a bit confusing and not in a "Hey, Scarlett, your BF's cock is too fucking big for both of us, but if we try hard, we can handle it together!" kind of way. But don't freak out too much – the earth won't explode if you buy the wrong vibrator. Still, your holes also deserve the best of the best."
Frankly, if you can, it might even be better to experiment with several vibrating toys. This is especially true if you're sensitive or if you don't already know what type of orgasm feels the most pleasurable for you. But, if you're on a tight budget, and you don't want to waste time, you can check out my buyer's tips below.
Quick Buyer Checklist
Here are a few rules to follow when you're buying a new vibrator:
Find the type and shape that you like the most.
Think about whether you want to use your new toy internally, externally, or in several different ways.
Is the material safe and does it have the right texture to make you feel good?
Inspect all the features to see whether you can really use them or not.
Look into the powering or charging options and don't neglect the battery operating time.
The materials and vibration strengths can influence the sound intensity, which is something you should look into if you want the toy to stay quiet.
Choose a size that suits you.
Consider your budget and try to find a balance between what you can afford and what actually works and gives you a high-quality experience.
Features to Look Into
There's actually a lot more to it than meets the eye here, and there are some hidden details that you could miss. Primarily, not every vibrator packs the same amount of juice. It could be downright disappointing if you buy a toy that doesn't have what it takes to please you.
Here, it's essential to think of which type of stimulation gets you off the most and compare that to the features:
Deep power – If you need to feel the pressure deep inside your vag or tush, a massager with a bigger surface area will produce stronger and deeper rumbles that will shake up your entire body. A longer and thicker vibrator sex toy will work the best here.
Precision – If you prefer the sensation of direct stimulation to only one erogenous zone, a targeted toy will generate strong and precise pulses to only stimulate that area. This could include a bullet vibrator or a G-spot massager.
Steady pulses – If you need to orgasm from constant stimulation, and you don't want a toy that automatically changes its speeds and patterns, get one with a motor that provides powerful and consistent speeds.
Patterns – If you're more likely to get off with dynamic patterns, buy one with different vibration modes and settings. This could include patterns that create short pulses with pauses in between or ramp up the speed gradually.
Penetration – For intense penetration with blended thrusting and vibration, get a thrusting type.
Discrete pleasure – If you don't want a phallic-shaped vibrator or you're not into penetration at all, get a small vibrator like a finger or bullet type.
Single vs dual-motor – From my experience, it's better to start off with a single motor and use that vibrator to discover what you enjoy the most. If you have to get stimulated from multiple areas, you can always move up to that dual stimulation rabbit vibrator later.
Don't Overlook These Options:
Controls – Most vibrators will have a button configuration somewhere near the base of the toy. There's nothing worse than getting close to the edge and having to fumble about with poorly designed controls. So you should definitely make sure to pick the best mechanism for you.
Texture – You can find smooth or textured types. Smooth vibrators will glide in quite easily. They are great if you're too tight or sensitive. But, textured toys can have beads, swirls, and ribs to provide even more intense stimulation from the inside.
Manual or hands-free stimulation – Suction vibrators or those with remote controllers are perfect for hands-free stimulation. Otherwise, you'll need to hold the toy in your hands.
Moving parts – Some vibrator toys are molded out of a single piece of material while others are made from several different parts. For example, wand vibrators usually have a soft head for stimulation and a handle made out of hard plastic. What happens here is that the toy gets harder to clean if it's made from several different parts.
Waterproof – Speaking of cleaning, not all of these vibrator sex toys are waterproof. If you want to use your toy in the shower, or if you want to be able to clean it thoroughly, make sure that it's waterproof first. If not, you could damage the mechanism inside.
Sound – Depending on your toy, it could make a high-pitched fizzing sound or a low-frequency rumble. The power and the material will have a big impact on the sound, and generally, the most powerful thrusting toys will be the loudest. Silicone vibrators can stay quiet due to their sound-proofed material. Also, small vibrators will be the quietest.
Charging – Most wireless vibrators are battery operated, but some can be powered by a wall wart. Generally, AC-powered vibrators are the most powerful, but battery-operated ones can also pack a big punch if their battery has enough juice and if the operating time is enough for you. Most of those vibrators can run for 30-40 minutes to several hours.
Which Material Is the Best?
The best and safest options are silicone, ABS plastic, and steel. Granted, not every girl wants to stuff herself full of metal, so the choice is up to you here.
If you need something that feels realistic for external play and penetration, silicone is definitely the best choice. It's highly durable, easy to maintain, and you can fully sanitize it after each use. This is my most recommended material for all beginners or intermediate sex toy fans.
Conversely, ABS plastic is harder than silicone, and it creates a completely different experience. You'll get a similar feeling with metal toys, although they will also allow you to experiment with temperature play as they warm up inside you.
Also, all of those three materials are great for external stimulation. But, that will all depend on their precision and their design. At the end of the day, if you don't want to think about it too much, silicone will be your best bet for most uses.
What About the Size?
Of course, the size of your vibrator toy will play a huge factor in your pleasure. However, you don't only need to focus on the length. You can determine your ideal size according to:
Insertable size – Most average-sized female vibrators for internal use are around 5 inches or longer. External vibrators can be smaller, with up to 3 inches for bullet vibes or even much longer for wand types.
Surface area – The surface area of your toy will play a huge role during external stimulation. The general rule here is that small and thinner toys are more direct while wider, and larger toys provide more pressure across the board.
How Much Should You Spend?
​Did you know that Gwyneth Paltrow once raved about a Lelo vibrator that was made of 24-karat gold and cost over $15,000? Yeah, well, these toys are so popular that they come in every single price range. That includes anything from cheap options to luxury pieces of art designed only for the wealthy. Here's how much you should really expect to pay:
$10 to $15 – You can find some dirt cheap toys in this price range, but I would generally advise you to avoid them.
$20 to $25 – This price range is where you'll find most quality beginner vibrators.
$30 to $75 – You'll find most midrange vibrators for this price range. For this amount of money, you should usually be able to cover most of the female vibrator types I've described.
$80 to $250 and more – You can expect to spend this much on premium vibrators. If you're really certain in your decision, I would advise you to skip the budget options and treat yourself to a lux vibrator.
Vibrator Dos and Don'ts
To recap, here's a list of dos and don'ts for buying your new pleasure machine:
Dos
Pick a toy that looks like it's going to rock your world.
But don't forget to focus on the materials, the powering options, and the features.
Always think about whether you want to use your toy internally, externally, or both.
There are tons of products to check out, and you can generally find out a lot about them if you research them.
You can even look into user reviews for nearly any available vibrator to see if others liked it.
Don'ts
Stay away from cheap options. They could be loud, poorly made, and their vibrating mechanism could break down quickly.
Avoid vibrators made of jelly, latex, or PVC.
Tips on Using, Cleaning, and Storing Your Vibrators
You should treat your vibrator with respect and handle it carefully. You obviously don't want to use it as a baseball bat, but you should be careful not to drop it or damage the mechanism in any way. Here are some more tips on playing the electric boogie safely:
Try to get nice and horny before you turn the vibrations on. If you're sensitive, the vibrations could tickle or feel too intense. So just make sure to be nice and ready before you get the vibe going.
Always start with a slower speed to set things in motion.
For external stimulation try to experiment with all sorts of erogenous zones. That includes your nipples, thighs, etc.
If the vibrations still feel too intense externally through the tip, hold it sideways to lower the pressure.
Start experimenting with the modes, patterns, and speeds to see what you like the most.
If you're using it internally, try to find the best penetration angle and vibration strength. I like to use my vibrators just below or on top of my G-spot because I feel the best pressure there. You might have a totally different experience, though.
If you want to put it in your butthole, just be careful of what's going inside you. For example, you should avoid bullet types because they are small and they don't have a flared base. Your best bet here is to get a vibrator for girls for love anal play.
Make It Wet!
While I know that you can get "wet enough", you shouldn't avoid using extra lube. Lube will ease some of the friction created by your toy, and it will warm up our holes to make everything more exciting. However, you have to use the correct lube that won't damage your toy.
For example, silicone toys will not work with oil or silicone-based lubricants. The easiest choice is a water-based lube because it works well with all toy types. It's also cheap, easy to wash off, and it doesn't feel sticky.
Cleaning
No matter how wasted you feel after those multiple Os, you should never be too tired to get up and clean your vibrator. The goal is to wash away all those juices and clean the lube off your toy to keep it sanitized.
For the most part, vibrators can be cleaned with soap and warm water. However, if your toy is not waterproof, if it has moving parts or a separate handle like a wand vibrator, you should avoid using too much water. Instead, you can clean your toy with baby wipes, a moist cleaning cloth, or sponge. After you wash or wipe your vibrator clean, leave it out to fully dry before you store it.
Vibrator Industry Overview
So how did we invent vibrators and when were they first used? Nope, this has nothing to do with that myth of Cleopatra humping a pumpkin with bees inside to get her buzz going. But, the past, present, and future of vibrators is quite buzzworthy nonetheless.
History of Vibrators
Near the end of the 1990s, a Sex and the City episode featured the vibrator on TV and many people thought that the toy was a brand new invention back then. However, vibrators take their roots from dildos which were invented more than 28,000 years ago! But, the buzz actually began in the 1800s and 1900s. The most common myth is that the first vibrators were designed and used by Victorian-era doctors to treat female "hysteria".
Back then, this condition encompassed anything from stress to headaches. Fortunately, there's no evidence of any pervy doctor ever doing this to a lady, and the myth has been debunked. But, these toys did come from that era. They were first marketed as medical body massagers. And trust me, those early inventions look nothing like a sex toy you'd actually use on your snatch.
Still, physicians used them as personal massagers to treat patients' backaches or similar issues. Initially, there was a hand-cranked version. It was later upgraded with steam-powered models and eventually electrically powered massagers. It remains a mystery how electric vibrators were first used for sexual purposes, but in the early 1900s, they were subtly marketed as sexual aids.
What we do know for sure is that the modern version traces back to the 1950s and 1960s. The invention started to show up in ads, and it was openly sold to the public. By the 1970s, ads encouraged people to use vibrators, and their popularity surged. With the boom of the sex toy industry in the 1990s, vibrators became mainstream.
Brands With the Biggest Buzz and the Future
Right now, dozens of companies are competing to make the perfect next-gen vibrators, and as I mentioned, you'll face a lot of different choices. The names that truly stand out today are We-Vibe, Lelo, Hot Octopuss, Fun Factory, Dame, Je Joue, Zumio, Lora Dicarlo, Skyn, Kiiroo Le Wand, and there are many more. You won't go wrong with a toy from those companies as they truly stand behind a superb reputation and years of experience.
And as you've seen, the design of these toys just keeps evolving. I've told you about long-distance toys, smart vibrators that track your orgasm cycles, and sex machines that connect you to your favorite VR porn. But, there's always something new lurking around the corner. In the future, I'd like to see more VR content created specifically for women, as well as more teledildonics toys for long-distance fun.
On the practical side, I'd like to see more developments in the actual look, design, and controls department to make them as ergonomic as possible. Plus, it wouldn't hurt to get some wireless charging options and even some AI features that learn the nuances of your orgasms to make you explode every time.
What a time to be alive right? Still, I wouldn't spend too much time waiting for new advancements, and I strongly urge you to order your new vibrator today and have fun!
⚠️ Disclaimer: Our articles contain affiliate links. If you like our content and wish to support our work, consider purchasing your new sex toys through our links. For each purchase through our links, we receive a small commission but at no extra cost to you.
Frequently Asked Questions
Yes, vibrators pose no health risks, and they can actually make your vagina healthier while improving your wellbeing. However, you will need to learn how to handle them and use them properly to avoid any complications. For example, if you're too sensitive, a large vibrator could feel a bit too painful. Also, if you don't know how to clean your vibrator properly, you could expose your skin to harmful bacteria.
Sweetie, it's absolutely okay to use a vibrator in this day and age! No one will judge you for it! In fact, data shows that over 50% of women use vibrators regularly. There's no need to feel ashamed or embarrassed!
No, this toy will not desensitize your vagina or cause an addiction. This is a popular myth that has been clinically debunked many times. However, if you use it on the highest settings for a long time, you might experience some numbness. But, this is only temporary, and it only happens if you use extreme settings. Still, it will not permanently desensitize your clit or lead to any other sex risks.
Most vibrators will require a charging time of around 3 hours, but that will depend on your toy and the battery inside. You can expect a standard wireless vibrator to last around 30 or 40 minutes, but many of them can also last a few hours on a full charge.
Loud vibrations can easily find their way through walls, and your roommates or neighbors could be able to hear them. There are many silent vibrators out there that avoid this issue. If you're not concerned about the noise, you can get a really powerful toy. However, if noise is an issue, you might have to get a slightly weaker quiet vibrator.
You bet! There are tons of possibilities here. You can masturbate with it in front of your partner, allow them to use it on you, or even use it during sex to intensify your orgasm. In fact, I recommend you to try this if you're having trouble reaching climax during penetrative sex. Alternatively, you can also use the vibrator on your boyfriend's body, penis, and anus to drive him wild.
Absolutely! There are thousands of male vibrators out there, and most of them are designed for anal play. They are curved slightly to target the prostate for some incredibly powerful orgasms. Also, the penis is highly sensitive to vibrations, and lots of men like to massage their genitals with vibrators while masturbating.