Jun/22/2022
Last Update: June 26, 2023
1026
23 min read
For Your Ass Only: The Best Anal Dildos In 2023 For Intense Assgasms!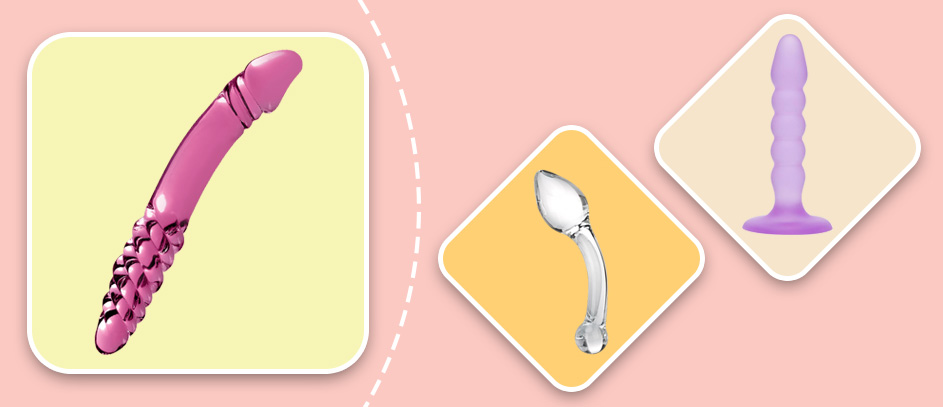 What's the best way to show everyone you're a kinky little freak and that you don't care what others think? Well, you can always spread your crack wide open and fuck your tush raw to cum like a slut! However, pumping your hindquarters is not an easy endeavor. You could be the butt of all jokes if you end up in the ER with a pineapple up your colon! Instead, do what all the pornstars are doing: stuff your keister with beautiful and huge anal dildos!
But what are anal dildos all about and how can you use them for some epic rectal rampages? What are the hottest dildos that you can buy for your butt? Let's go balls deep (mmm baby!) and explore the naughty world of anal dildos!
Top 10 Anal Dildos in 2023: Tested Deep in My Rear-Pussy!
Are you tired of all those cute-looking pink vibrators and you're looking for something that's big, thick, and extra girthy? What if you're just dying for a veiny piece of tube steak for dinner and you constantly obsess about stretching your asshole out like the girls in the movies? Well, you're just like me: a naughty little pervert who thinks about abusing your asshole all day long! And trust me, there is nothing wilder than digging deep into your poop chute. That's why my tight little ass has tested some of the best and most intense anal dildos! So check out my list below and you'll definitely find the one true Asscalibur and fuck your shithole until you squirt!
Romancing the Brown Eye: I'm a Butt Slut and I Cannot Lie!
First of all, allow me to confess my sins. I have been plowing my bum with all kinds of sex toys (and not to mention big cocks) ever since I was a naughty little college girl in need of some serious discipline. Yup, this little slut's asshole has truly seen it all. From glass butt plugs, anal vibrators, to giant anal dildos or even a fist or two, my tight caboose has devoured anything I put into it and I did it all with a smile.
Seriously, some kind of magic happens when I get all horny, lubed up, and I'm stretching out my hole harder than a juiced-up Olympic gymnast. Push another dildo inside my pussy and I'll gape and squirt all over your new bedroom rug. And not to mention all kinds of kinky acts when I get to dominate my male partner's boy cunt and feel like the queen of cock milking. So no, if you're thinking about getting yourself an anal dildo for all kinds of nasty shit (not literally), you're not as deranged as you think.
Why You Need a Dildo for Anal
Back in the day, it wasn't easy to get some butt-centric sexual entertainment when you needed it the most. In fact, ass play was considered a taboo for many decades and getting some love up your heinie probably required a thick bank account, a secret handshake, as well as some careful decision-making tactics that started WWII.
Fortunately for us butt sluts, the times they are a-changin'. It's never been easier to get your bottom blasted just the way you like it! Anal sex is all over the news and Netflix shows, and it seems that literally everyone wants a taste of that sweet, sinful sodomy. Why should you introduce an anal play dildo into your life? Well, more than anything, anal sex is a statement. It's a way for you to tell the world: "Look ma, I can take it up the ass and I'm lovin' it!!! Hands-free!"
But frankly, whether you're an innocent little backdoor virgin or a full-on anal superslut, long anal dildos can make you quiver like never before. Sure, you can go out there and look for a member of the male sex to fulfill your fantasies. But do you really think it's easy to find a guy who can compete with a big black vibrating dildo?
As much as I love my boyfriend Richard and his glorious throbbing dong, I always benefit from some alone time when I get to fire up a few candles and fuck my ass silly until my eyes pop out of my head! Now, whether you want to be like me or you want to get your tush ravaged like a choirboy who just dropped the soap in prison, a high-quality dildo can help in so many ways:
What You'll Get From Your New Anal Plaything
Thunderous anal orgasms – If you didn't know, your anus and rectum are full of super sensitive pleasure nerves. They travel directly to your clit and G-spot. Massage them with a special dildo and you'll get some of the most unforgettable anal or blended orgasms of your life!
Anal is for everyone! – Everyone was born with a butt. That means everyone can fuck their butts and an anal dildo is the perfect tool. Anyone can use it regardless of their gender or sexual orientation!
It will help you get creative – If you're stuck in a sex rut or you're having trouble orgasming, anal play dildos allow you to explore your filthiest fantasies and boost your experience level. Just reach for a dildo and it will open you up to all kinds of new experiences!
Train that ass! – These dildos are the perfect training tool that can help you practice and stretch your behind until stuffing a huge cock up there won't hurt anymore. Talk about Browneye of the Tiger!
Sizzling P-spot stimulation – A lot of guys like it up their wazoo and believe me, milking a man's prostate is one of the most empowering things a girl can do. A good dildo will hit your partner's P-spot perfectly. You'll get to fuck his ass and suck his cock until he blasts you with the biggest load of that sweet nut butter!
Did somebody ask for BDSM? – What's a better way to dominate your partner than to shove an extreme anal dildo up his exit tunnel? And what if you want to get submissive and surrender your untarnished ass to Daddy? Just combine your dildo with some whips, chains, ball gags, and leather. Now step into your dungeon and be a good little ass slave!
Why Can't You Just Use a Regular Dildo for Anal?
I know exactly what's on your mind: "Wait, Scarlett… What's so special about an anal dildo? Why can't I just plow my bum with any random dildo or even my fist?"
Whoa, slow down honey… I don't want to instruct you to do anything that would harm the delicate flesh of your intestines. After all, anal play obviously requires you to insert foreign objects into your or someone else's anus. There's no need to ruin your lunch and tell you that things can get pretty crappy if you're not careful. See what I did there?
Anyway, that's exactly why you should always separate your anal toys from those that you'd use vaginally or orally. Despite what you may have seen in the videos, it's definitely not advisable to go ATM on your vibrator and stick it in your vajayjay right after. That could end in a total disaster involving melted dildos and infected holes.
Moreover, there's always the risk of you wanting to go deeper than your toy can handle. If you use any standard dildo or vibrator in your chocolate starfish, it could slip all the way inside and get stuck.
But don't fear: anal play dildos are specially designed to fix all those problems. Most of them look just like any other dildo out there. However, ass play dildos always come with a stopper or base. That way, you'll get a foolproof way to prevent your toy from getting lodged way down in your A-zone. Plus, these dildos come in various shapes that can directly pleasure all the sweet spots in your backyard.
Types of Anal Dildos
"There's so much variety out there right now! It makes me wish my body had multiple assholes so I could fuck them all and try out every single model of anal dildo there is! But, I'll save that for some bizarre hentai fantasy later on tonight. And I'm also not sure how that would work bathroom-wise."
Be that as it may, if you still don't know what kind of dildo you're looking for, my best tip is to first learn about all the different types. Then, you'll get an idea of all the glorious toys that you can shove where the sun doesn't shine.
Vibrating Anal Dildos
If you want to skip all the rookie options right away and buzz the hell out of your butt, vibrating anal dildos are the answer! These bad boys look just like standard dildos, except they have built-in vibrating motors that can drill and thrill your bottom all night long.
To me, these types of anal toys are incredibly special because they are totally different compared to standard vibrators. They are made of soft and smooth materials. Once you stick them down there nice and deep, they'll vibrate in a completely unique way. Rather than an external or internal vibrator made for your punani that can sometimes feel fizzy and a bit too precise, a vibrating dildo will give you powerful low-frequency rumbles. It will literally drill the soul out of your body. What's not to like?
Suction Cup Anal Dildos
These are some of the most common and most popular anal dildos on the market. They can look like fleshy cocks or non-phallic objects, but all of them have a suction cup base. Just use it to stick your dildo on your floor, door, or wall and get your ass ravaged hands-free! I'm totally obsessed with these types because they are so versatile and they allow me to test out all sorts of real-life sex positions. Plus, you can always add an extra cock and experiment with threesome-like debauchery like spitroasting your man's cock with a dildo up your tush. Game on!
Realistic Anal Dildos
Sure, if you don't love to worship the cock, you can always buy a dildo that doesn't look like a replica of male naughty bits. But I don't care about that. I'm all about eating enormous and veiny penises with huge testicles for breakfast! And what if you're obsessed with gigantic cocks yet you can't find one in real life?
Well, baby, realistic dildos are as close as they cum. These bad boys are made to replicate the look and feel of a long hard dong. They are squishy yet incredibly firm. They deliver some of the most intense and lifelike action right there in your behind. Also, they replicate every inch of the male genitalia with high precision to please any shameless cock obsessive. Even better, you won't find a quirky male brain attached to them and they'll never stop or cum way too early.
Ejaculating Anal Dildos
Did all of this talk about ass sex, buttholes, and big anal dildos make you work up an appetite? Well, I think you deserve a sweet treat, missy! Ejaculating dildos are some of my favorite toys I pick when I'm craving to get hosed down with gallons of cum or fill up my butthole with massive anal creampies. It's so yummy!
What you need to know here is that these types of dildos are hollow. They shoot out lube that looks, smells, and even tastes like cum. Even if sticky anal creampies aren't your thing, you can always take your fake cock out of your ass. Now, shower your face or fill up your throat as much as you like until you're satisfied! For sure, these are the best dildos for all kinds of cum guzzlers, semen worshippers, or anyone else who's on a strict jizz-only diet. Cheers!
Adjustable Anal Dildos
Wanna pop your dildo into a strap-on harness or stick it onto a 600 RPM fuck machine? Adjustable anal dildos are standard dildos that come with some sort of attachment mechanism.
For example, some adjustable dildos have a special base. You can insert it into a strap-on harness and secure it with an O-ring or loop. This saves you the trouble of using only one built-in dildo in a strap-on harness.
Huge Anal Dildos
Who wouldn't like to fill their dirt box with a 14-inch BBC monster? Long anal dildos can help you do exactly that. They come in extra-large sizes that usually start around 10 inches and extend way past 14 inches. Well, shit my britches and call me Sally, that's a lot of cock!
But hold up, even if your biggest fantasy is to utterly ruin your asshole with an extreme anal dildo until your rectum starts rose budding, don't try this at home unless you're fully aware of the risks. Some girls can take a cock or dildo that's way past the average size up their bumhole without any issues while others could seriously injure themselves.
Monster Anal Dildos
If you want to pretend you're a helpless little kitty who's about to get her ass raped by a cruel and wicked dragon, definitely look into monster anal dildos!
These types of fantasy dildos are extra large and they resemble all kinds of creatures. That includes dragons, wolves, dinosaurs, mermen, aliens, etc. What's unique about all those monster anal dildos is that they rarely resemble anything that looks human. That gives them a special shape and an otherworldly texture with tons of interesting ridges, twists, scales, and curves. Oh, and they can also shoot fake cum or lay slimy and gooey eggs inside you!
Double Penetration Dildos
What if you're not satisfied with your ass only? If you want to get in double trouble, a DP dildo will give you two shafts that you can use to penetrate your tush and kitty at the same time! So leave no hole unfilled as you work hard to plow your holes deep and cum like a true porn slut!
Inflatable Anal Dildos
Here's another one that falls under the category of huge and deep anal dildos that can fill up every little inch inside you. Inflatable dildos are hollow and you can blow them up after insertion using an air pump. That way, they can get super huge while they're inside you. Just check out some of the pros who do that shit online and you'll see what I mean.
Buyer's Guide: Let's Get All Anal About It!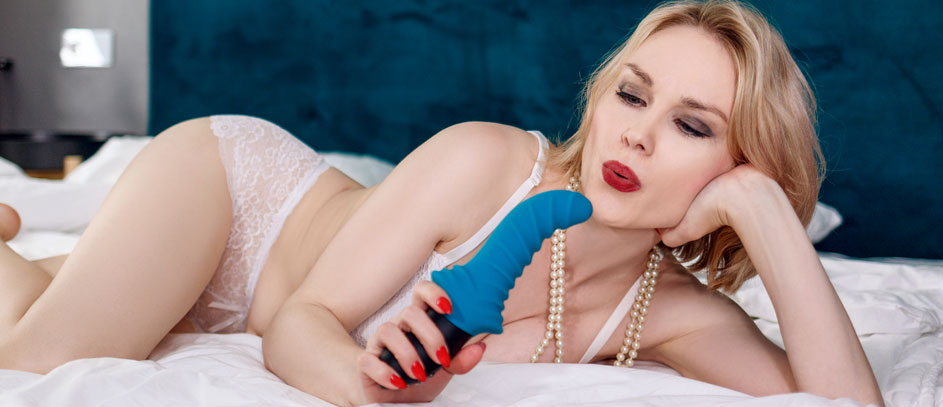 As you've seen, there are many, many types of dildos for anal play. But if you want to be a good little anal astronaut, you should settle on one or two dildos that you like the best. So to help you find the best dildo of your dreams, focus on my expert tips:
The Easiest Way to Pick Your Dildo
It's always important to stop and think before you wrap your sphincter around the first extreme anal dildo you see. Even if you're horny as heck, this short checklist will make it easier for you:
Which type do you like the most? Think about all of the examples I've just explored and see how they match your fantasies.
Does it make you wanna buttfuck yourself until you pass out? Your new fake cock should look delicious and super nutritious to you.
Don't let your fantasies cloud your mind. There are several other factors that can make or break your dildo. That includes the size, materials, shapes, etc.
Check out all the special features to see whether they're enough for your anal appetites. That includes vibration, suction cups, special textures, remote control, and so on.
Do You Want It Small, Medium, or Extra Large?
Honestly, Greek-style adventures and rear-end acrobatics are different for everyone. Sometimes, even the filthiest size queens who love to pummel their pussies could actually have a hard time using huge anal dildos up their butts. And other times, a giant anal dildo might be exactly what you're looking for. So think about:
Are you going to use your dildo on your partner or only on you?
Have you ever defiled your asscunt before? If you're a completely inexperienced backdoor virgin, the rules will definitely change.
What kind of sensations do you prefer? It's up to you to decide whether you want to feel extreme pressure from wide stretching or extra-deep penetration.
Ultimately, your dildo size will reflect on the pleasure you receive. It's different for everyone and it's tough to find an average size that would suit all buttholes. Still, if you're a newbie, go with something that's shorter than 5 inches and a width no bigger than an inch. That way, you'll get to experiment with shallow penetration until you're able to handle deeper excursions.
What's more, if you're totally clueless, you can try the finger or thumb test. Just get your booty nice and lubed up. Then, try to insert your thumb or index finger. Does it glide in gently and without any pain? Can you fit two fingers in snugly? If so, you could try a toy that's larger than 5 inches. And if you're a naughty little fuckdoll who keeps her rear pussy trained and primed, no one's stopping you from dancing the chocolate cha-cha with a giant dildo.
The Best Shape to Shove up Your Tush
Ass play has a lot to do with precise stimulation of the P-spot or A-spot, but that may not be something that matters to you. You might want your dildo to stimulate you all over and fill you up with that special feeling of intense pressure that a lot of anal girls are into.
So definitely look into the shape of your new anal plaything. Does it have a thinner pointy tip? This will make insertion a lot easier. What if it has an extra-thick head to actually increase the friction when you push it in? That type of shape will boost the pressure and stretch you out more. Also, if it's bulbous, curved, ribbed, or textured, it could produce some highly memorable sensations that you just can't get with a regular cock or a few fingers.
No Base, No Love
I don't have a lot of rules and safe words during sex, but I definitely live by this one. Personally, I wouldn't stick anything up my fudge box if it comes without a base. If there's no base or stopper on your dildo, it could fall out of your hand and slip into Neverland, never to be retrieved again.
Unlike your pussy, the ass is super deep. If your toy gets stuck, you'd have to go to the doctor's to get your huge anal dildo fished out of your rectum. Oh, and not to mention making up some lame excuse on how that thing actually got up there. "That's not mine, Doc! My uncle told me it was a back massager!!!"
Your Asshole Deserves Only the Finest Materials
Even though your ass is dirty, it doesn't mean you should treat it with no respect. In fact, the anus is full of bacteria and tons of sensitive nerve endings. A dildo made out of a cheap and toxic jelly, PVC, rubber or any other material that contains dangerous phthalates could actually cause a serious infection. In the worst case, it could rip you to shreds. And the only way to avoid that literal shitshow is to only choose high-quality materials.
For anal dildos, silicone will give you the safest experience and a lot of freedom. It's 100% body-safe, non-porous, and you can fully sterilize it after each use. Moreover, this material is nice and bendy so you can use it in all sorts of butthole-wrecking positions. Also, you can find other soft and smooth choices such as TPE or TPR, but you'll have to be careful. Those materials are non-porous. They can absorb tons of bacteria during each anal rodeo. You can use them with a condom, but I'd advise you to avoid overcomplicating things and go with a silicone dildo.
However, if you want to get fucked raw by your dungeon master, you can also choose a glass or steel dildo. These materials are non-porous and they will last for ages. Plus, they look and feel like they belong in a BDSM movie. One thing to remember is that glass or steel can't bend, so you'll get to ram your dinger with some extra hard anal fun whether you like it or not!
What About the Extras?
There's a lot to go through here but I'll try to make it short and sweet. From wireless remote control to sonic sensations and fake ejaculation, you can take your pick from one or several features that you like the best. The key things to watch out for here are the vibration features. Does your toy offer enough settings or patterns to keep you occupied? Do you have a problem with noise or is it something you can live with?
Additionally, if you're looking into the latest and greatest options, you'll come across a lot of app-enabled dildos that you can control with your phone. These toys are perfect for kinky bondage or even long-distance play. They'll let you configure all the vibration settings from your phone for ultra-kinky remote fun. Some of them even use AI to connect to your partner's long-distance toys while others can interact with VR porn. Talk about fucking your ass into the future, right?!
Do…
Try to spend a little extra to make sure you're getting a toy made out of premium materials.
Train your butthole first. Masturbating with your fingers or a butt plug several times per week will get your ass in shape for a bigger dildo.
When you receive your dildo, give it a thorough look-through. Don't use it if you see any tears in the seams or bubbles.
Don't…
Don't use a porous toy in your ass and avoid all dildos made of jelly, PVC, or rubber.
It's always better to buy several different dildos if you want to share them with a partner or use them in several different holes.
Don't be shy. We're living in the age of pure and unadulterated anal exploration. Nothing should prevent you from shoving all kinds of dildos up your ying-yang!
Tips on Using, Cleaning, and Storing Your Anal Dildos
Did I already tell you that you shouldn't drive your deep anal dildo far up your husband's ass without any prior warning? Now, it's all about training, patience, pleasure, and consent. So let me give you some of the best tips when it comes to using anal dildos:
A Clean and Lubed-up Ass Is the Best Kind of Ass!
Unless you purposefully want to go digging for brown guacamole, you should always clean your tush before you try anything.
If you want that ass to get fucked without any awkward mishaps, the best way is to wash it with your showerhead or even use an enema. Also, try to dump the contents of your trunk at least an hour before the main event.
Once you're nice and clean, the next step is to be generous with the lube and grease up your ass all over! When you want to lube up, you should spread your lubricant over your butthole and on the tip of your dildo. You can also inject some right there in your rectum to make it all flow like an anal symphony.
But be warned: don't use any silicone or oil-based lubes on your silicone dildo. This will damage the outer material of your dildo. So no matter how much you enjoy greasing that asshole up with coconut oil, try to think of your dildo's feelings! To stay safe, only use a water-based lubricant.
Now Shove That Fake Dick Deep up Your Shithole and Enjoy Yourself!
Of course, my #1 rule is to take it easy and test the waters a bit at first. You could try using just the tip to see how it feels. If it's too much, take a breather or try to stretch yourself out more with your fingers. What should you do when it starts to feel just right? Well, I'll leave that up to your imagination. So go ahead and blast that cornhole in whatever way you like!
Don't Clean It up With Your Mouth: Do This Instead!
Despite of what you may see on OnlyFans, doing ATM is definitely not the best or healthiest way to clean up a dirty dildo that's recently been inside the deepest corners of your poo-poo hole. The only real way to clean it is to soak your dildo in warm water and use soap. You can scrub it with your hands or a clean cloth for as long as you deem necessary.
However, if you want to eliminate all the nasty bacteria that are on there, you can also sterilize your dildo by boiling it. This is a quick and useful process to clean any silicone, metal, or steel dildo.
What's more, a lot of people forget to dry their dildos fully before storing them. If you put your wet dildo away in its box, all kinds of bacteria could build up on it. That's why it's crucial to wait for it to dry fully. Once that's done, I'd advise you to keep your dildo in a sealed plastic box or a carrying bag. That will keep it away from all kinds of dust and other external elements. Finally, it will always be ready for you whenever you want to take it out the next time and push it deep in your cornhole!
Going Balls Deep Into the Anal Dildo Industry
Nowadays, we can back our asses up and ride all sorts of famous creations by some of the leaders of toys made for anal play such as Doc Johnson, Lovense, OhMiBod, LELO, Adam and Eve, and so on. But who was the first to figure out that a rubber dick-like sex toy actually feels awesome when you slide it in where the sun doesn't shine?
Anal Dildo History
If you thought that ass for anal were invented only recently, think again. In fact, the first-ever dildo known to us dates back 30,000 years ago to the Upper Paleolithic era. This fascinating ancient schlong was made out of stone. Even though its rock-hard 8-inch shaft may not seem like something you'd use right now, it tells us so much about our kinky ancestors. Plus, many other prehistoric dildos have been found and some were even double-sided! Talk about some sweaty, smelly, and hairy prehistoric cave orgies, right?
Anyway, dildos have popped up all over ancient Egypt, Asia, Greece, and Japan. Still, it's debatable whether those early dildos were used to fill the asses of some Asian or Greek slave boys. Some historians believe that many ancient dildos were actually used for worship ceremonies and rituals. We also know that the first anal toy was a 2,000-year-old butt plug discovered in an old Chinese tomb. These old butt plugs were used for something far more bizarre than a good ol' cornhole cramming. They were intended to "plug up" the body of dead Chinese princes to keep their spirits safe. Doesn't that make total sense? But let's get a bit closer to the era we're living in…
High-Tech Anal is Coming!
In 1965, a man named Gosnell Duncan was the first to officially invent a toy that closely resembled the modern-day dildo. Duncan's dildo was made of silicone. His idea has a story behind it that always makes me tear up. Namely, he was paralyzed and he invented a fake dick in order to be able to please his wife from his wheelchair. The concept took off and the dildo became widely available in the 1970s and 1980s.
When the 1990s came, sex toys were everywhere and while you could buy all kinds of anal gadgets, most of them were not as high-quality as something that you'd be able to get today.
Right now, not only are sex toy makers looking to blow our minds with premium materials and intense features, they're also updating the existing designs to invent something truly unique. Some of the brands I've mentioned earlier, like We-Vibe, LELO, or Doc Johnson, are truly revolutionizing the world of anal play. With next-gen features like app control, long-distance play, smart monitoring, and VR integration, our anal dildos are already able to fuck us just the way we like it while keeping track of our orgasms. So what's a better way to prepare for the future than to get a new anal dildo and fuck your butthole silly?! Have fun, you naughty little butt slut!
⚠️ Disclaimer: Our articles contain affiliate links. If you like our content and wish to support our work, consider purchasing your new sex toys through our links. For each purchase through our links, we receive a small commission but at no extra cost to you.
FAQ
Always take it easy and try it at your own pace. If you're not properly trained, you should use one or two fingers first. Even if you feel like you need an extra hand, you should try to do this by yourself because you'll get to try it on your own terms. So try to be gentle and slowly stretch your booty before you push in your dildo. You can also practice with butt plugs or anal beads to speed things up.
Anal is not 100% painless. The ass is a delicate muscle that doesn't get wet when you're aroused, and it all depends on how you train yourself. Also, some people love the "no pain, no gain" approach to anal, and they like to feel a little pain to make them get off harder. If you feel too much discomfort, try to stop and leave your dildo for another day. Alternatively, get a small anal dildo to start and take it easy on your hole. If you work hard, you'll be ready for a bigger dildo or a real cock in just a few days.
This is highly debatable. Some people can shove brutal anal dildos deep down in their guts without any pain or risk. Others believe it's a highly dangerous activity that you should avoid. The truth is, anal sex with extreme dildos can cause small tears inside the ass. It could sometimes be hard to feel those tears during the moment of pleasure. That's why they're only recommended for professionals who know the ins and outs of their bodies.
Yes, if you can handle it. A small anal dildo can stretch you out and help you get used to the sensations of anal sex. In fact, if you're just starting out, an anal dildo or a butt plug are the best toys to use. I would even advise you to start with both just to see what feels the best.
Well, anal dildos look almost exactly the same as standard dildos, so I guess you might want to push your dildo out of your poop chute and slide it deep inside your cooch in the moment of passion. You should never, ever do this with your anal toy because it could lead to infections or worse. If you're comfortable with it, you can use a clean, non-porous dildo in your pussy first and then slide it into your butthole. But why risk it? I'd say it's better to get two dildos, one for the pink, and one for the stink!
This is actually a genuine concern and it could be a big turn-off for some people. Some believe that using big anal dildos could stretch you out permanently and leave you with a loose butthole. However, this is just a myth and the science says otherwise. In reality, your butthole has a natural elasticity. That stops it from getting stretched out for good. Even though you could feel loose after a hot night of beating your bottom, don't worry. The tightness will come back within a few hours or up to a day. So go ahead and stretch or gape your hole for as long as you want!