Aug/16/2022
Last Update: June 26, 2023
950
8 min read
We-Vibe Chorus Review: Wearable Couples Vibrator With Touch-Sensitive Vibrations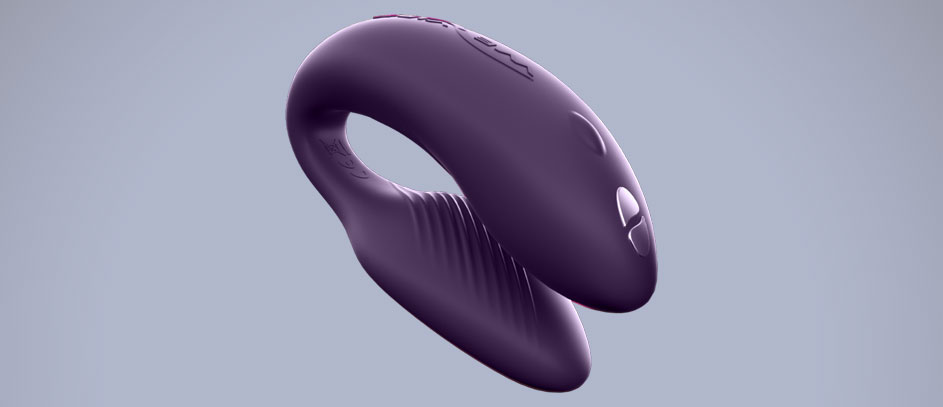 It takes a lot of work to please a pussy. Sometimes, the good ol' in-out movements can get dull and you could also get sick of jilling off manually. Sure, you can grab a big dildo or two and have a rocking ride. However, you could also experiment with a sex toy that's ergonomically designed to adapt to your anatomy and provide intense rumbles deep in your body – hands-free! I tested the We-Vibe Chorus for that reason alone, and I can tell you that your sweet kitty doesn't know what it's missing. I found that the Chorus is one of the most unique hands-free toys because it stimulates my G-spot and clit simultaneously while also allowing me to ride Richard's cock balls deep. There's a lot to experiment with here, so let me get straight to the fucking and reveal it all in my We-Vibe Chorus Review!
Sing, Scream, and Cum like a Queen!
For starters, the We-Vibe Chorus is one of the most recent offerings from this legendary sex toy company. It was released a few years ago, and now I'm regretting that I didn't test it out sooner.
It's actually an upgrade over an older model, the We-Vibe Sync. Compared to its predecessor, it offers more intense stimulation, stronger vibrations, and a better grip while it's inside you. And when I say "better grip", that's exactly what I mean.
Namely, the clit and G-spot shafts on this hands-free vibrator are adjustable, and I believe this is one of its best features. They will let you bend them to find the perfect fit for your pussy and body. The whole point is to get it up there, secure it, and it will stay inside you for as long as you want. And that's not only useful for hands-free masturbation. This type of design allows you to wear it while your partner is penetrating you. I had some of the wildest times when I pushed it hard against my G-spot, and then took Richard's hard 8-incher deep inside my creamy hole.
So yes, the We-Vibe chorus stays inside while someone is fucking you. That way, its thunderous vibrations can actually please both of you. To be honest, I wasn't expecting anything less from We-Vibe, knowing that this iconic sex toy company makes some of the most innovative pleasure gadgets out there.
First Look
In my opinion, the We-Vibe Chorus is one of the company's most unique creations so far. I was impressed as soon as I saw this thing because of its original adjustable design.
Seriously, how many of us have tried a sex toy that just didn't fit properly? With vaginas and G-spots, it's crucial to find a toy that fits like a glove. The Chorus' adjustable arms enable you to do just that. But there's so much more to it!
The whole point of the Chorus is to give you solo or mutual pleasure while staying locked inside you. Once you adjust it to your honey pie, you won't have to do anything else. The great thing here is that you can control it with the included remote. Plus, you can also use We-Vibe's app on your phone. Oh, and this bad boy is also touch responsive. It has a special Squeeze function that increases the intensity of the vibes. Just squeeze the remote tighter with your hand and the pulsations will take you higher and higher. Not a bad way to refresh your sex life, right?
But seriously, with this thing inside you, you can walk around in public, brighten up your day at the office, watch porn, or simply get fucked and experience all kinds of multiple orgasms.
What's in the Box?
Aside from what it says in the product description, what I was most impressed with when I unboxed my Chorus was the overall premium feel of the toy. Granted, it comes at a steep price of around $200 depending on where you buy it, so I already expected it to be flawless.
But frankly, it definitely exceeded my expectations. For one, it comes in a gorgeous purple/peach box with gold accents. Opening it feels like you've just unboxed a brand new iPhone. Inside, you'll get the vibrator and the remote controller, but you'll also receive a super useful magnetic charging deck that looks like those boxes you'd use to charge your Bluetooth headphones. The toy is U or C-shaped, depending on how you look at it. Also, the remote is nice and compact. It has a wide round shape so that it can conveniently fit in your hand. Combined with the charging/carrying case, this toy already convinced me that it's a fantastic choice for traveling and outdoor adventures.
Let's Put it In MY Box!!!
Before I reveal the main features of this bad boy, I couldn't wait any longer to push it inside me. I was really, really horny when I unboxed it, and to be blunt, I was more interested in cumming hard than writing this article. Who can blame me?!
Well, the whole point of this vibrator is that you can bend it to your liking. I simply used my fingers to stretch out the arms a bit before I put it in its new home. Aka my gushing wet pussy! The divider between the G-spot and clit stimulator has a few flexible joints inside it. You can almost straighten it out all the way or position it in any way you see fit. What I also enjoyed here was the compact yet mighty size of the two stimulators.
The G-spot massager had just enough width and oomph to cup my secret spot and deliver the vibrations just where I needed them. What's more, the clit arm is soft and round. To me, this is much more comfortable compared to other pointy or thin clit stimulators. It covers a wide area and cups your entire vulva, but you can always bend it to send the vibrations directly to your clit.
Getting Started
Now, what I also have to mention is that the remote controller is super intuitive. It lets you figure out all the controls pretty quickly and you won't have to fumble around. What you will need to do though is be patient and carefully adjust the arms to make them match your body.
As soon as I figured that out, I was blasting my pussy like I haven't been fucked in years. The good news here is that the adjustable design actually stayed inside me during all sorts of solo play and PIV penetration. But enough about me…
We-Vibe Chorus Review: Features
Adjustable fit
Wearable
Remote controlled (range: 10 feet)
Dual motors
Touch-sensitive Squeeze feature
The Chorus is 100% waterproof while the remote is splashproof
10 vibration modes
Quiet operation
App-enabled (We-Connect app)
Total length: 3 inches
Insertable length 2.5 inches
Colors: Purple, Orange, Blue, Pink
Includes charging case
The vibrator weighs only 2.4 ounces
90 minutes of battery life, 120 minutes charging time
Size and Materials
What I love about We-Vibe is that the company always uses the finest materials. On the Chorus, you'll find premium silicone, which is body-safe and phthalate-free. However, you'll also get a wonderful matte finish that feels incredibly silky. Plus, the remote is equally as reliable. It's also made of silicone but does have body-safe ABS backing.
The best thing about both of those units is that they are waterproof. However, while the vibrator is submersible, the remote is only splashproof. That can make things a bit tricky if you want to use your toy in the shower. Nevertheless, I was absolutely impressed with the low 2.4-ounce weight of this thing. It's basically as light as a feather, which works wonders in terms of portability.
Furthermore, let's discuss the size. If you like 'em big, I have to warn you that this toy isn't meant to replace your favorite BBC dildo. It's small and compact and it was designed for precision. But even if it's small, it still packs a huge punch, especially since the flexible arms generate a lot of pressure when inserted.
Plus, the 2.5-inch G-spot arm is just big enough to let your partner enter you without stretching you out too much. Oh, and did I mention that Richard went totally batshit crazy when he felt the vibrations drill the shaft of his cock while he was inside me? You'll have to try it to believe it…
Vibrations and Connectivity
Overall, the Chorus' vibrations are wide, strong, and rumbly. The low speeds are nice, precise, and deep. Yet, if you're one of those power queens, you might find that some of the higher speeds on the G-spot stimulator are too weak.
Either way, the vibrations are not overpowering and I think they will suit most women. Still, they could have added an extra level of intensity to satisfy some power users. In my opinion, the range of vibrations makes up for it since it starts off very low and increases without any sudden or awkward leaps. Moreover, the clit vibe is another story. It's definitely the most powerful of the two. It can go from wonderfully teasy to hot and intense. I also enjoyed the 10 stock vibration patterns, but the added bonus here is that you can explore additional modes if you use the We-Connect app. For example, you can use your phone to control the vibration. You can also create and download new patterns or even sync the vibrations to music and get the party pumping.
We-Vibe Chorus Review – Pros
Intense mixed G-spot and clit stimulation
It's extremely quiet!
You can wear it during penetrative sex
Fantastic control options (app or remote)
We-Vibe Chorus Review – Cons
I experienced some glitches in the app
The remote control range (10 feet) could be a bit longer
The G-spot stimulator is a bit underpowered
My Verdict
To sum up my We-Vibe Chorus review, I gotta say that this is one of the best couples' toys of all time. It's packed with features, it fits perfectly, and it allows you to expand your sexual horizons and experiment until you get some epic orgasms!
⚠️ Disclaimer: Our articles contain affiliate links. If you like our content and wish to support our work, consider purchasing your new sex toys through our links. For each purchase through our links, we receive a small commission but at no extra cost to you.
| | |
| --- | --- |
| 👉 Name: | We-Vibe Chorus |
| ⚙️ Features: | Touch-sensitive, Remote Control, App Control, Clit and G-spot stimulation, Adjustable |
| 📁 Type: | Couples Vibrator |
| 🛠️ Materials: | Silicone, ABS |
You can use the adjustable arms to make it fit your body perfectly!
5
Perfect size and shape for couples (my boyfriend can still fuck me WHILE it's inside)
5
You can control it with the remote or the app for maximum versatility (The remote could offer a longer range, though)
4
I'm totally addicted to the touch-sensitive Squeeze feature (You'll keep coming back to it!)
5
Editor's Pick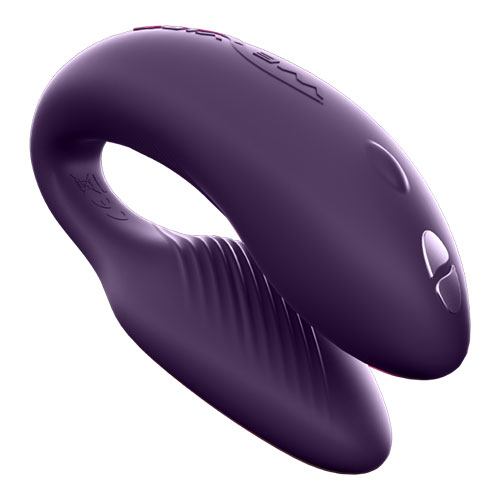 We-Vibe Chorus
⚙️ Special features:
Adjustable fit
⚡ Power source:
Rechargeable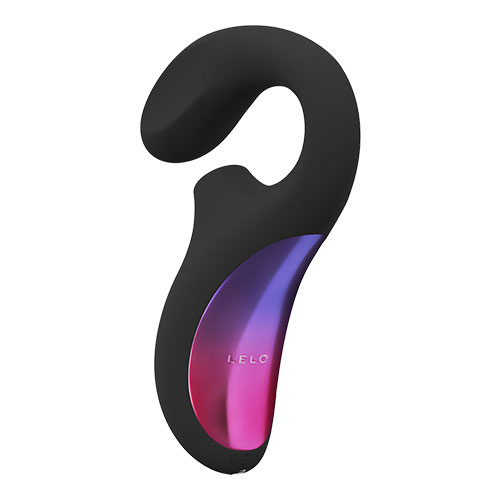 Lelo Enigma
⚙️ Special features:
Sensonic technology
⚡ Power source:
Rechargeable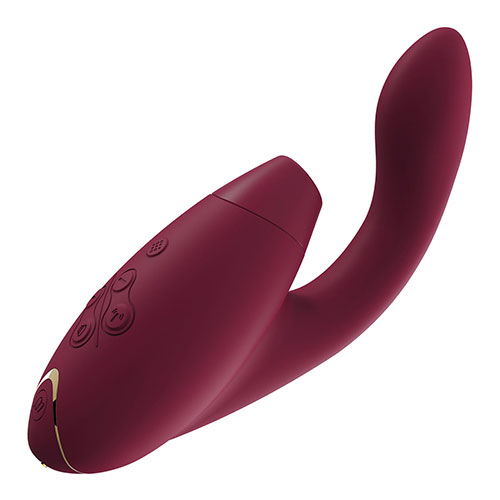 Womanizer Duo 2
⚙️ Special features:
Patented pleasure air technology
⚡ Power source:
Rechargeable