❯
Anal Toys
❯
Anal Beads
Mar/06/2023
Last Update: June 29, 2023
431
8 min read
My Asshole Has Outdone Itself! b-Vibe Triplet Review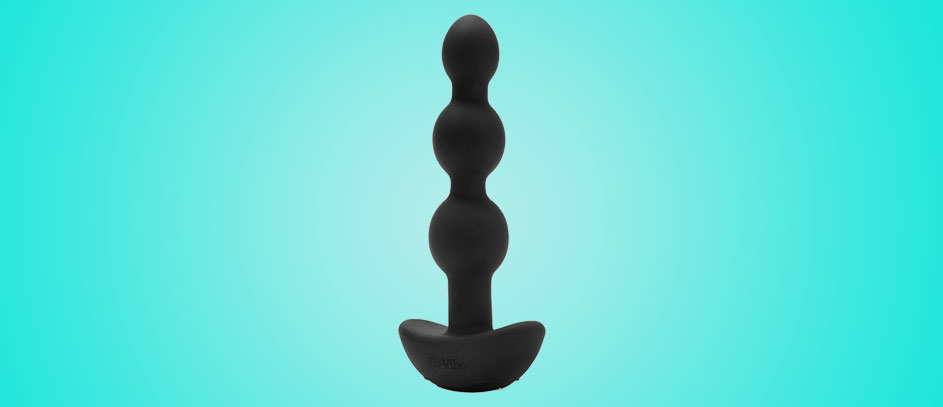 Do you often have those "horny all day and all night" kind of moments? You know, your back gets sweaty, hands shaky, and you just can't stop thinking about doing a ton of freaky stuff to your body? Well, in those situations, I often think: wouldn't it be nice to have a big hard cock up my asshole?! You see, sometimes it's not about love and romance. Sometimes, it's about drilling your butthole with remote control vibrating anal beads! Now, if you have never explored the depths of your or your partner's anus or if your pooper is simply in the mood for something fresh and inspiring, your kinky sex expert Scarlett has just the right tool for the job. Take a look at my b-Vibe Triplet review to see whether these vibrating anal beads are a good fit for your bumholio!
b-Vibe Triplet: Step by Step, Bead by Bead
If you've followed up on my previous articles, you know that I have an insatiable appetite for anal. Well, I love to stuff huge toys up my bottom, and thank goodness I'm not the only one. I also love to dominate my boyfriend's tight man-pussy with all kinds of vibrating prostate toys. Still, I'm well aware that not everyone's a no-limits anal whore with an elastic sphincter. So, if this is your first anal rodeo and you're worried about navigating the uncharted waters of your goodie hole, the b-Vibe Triplet is an excellent starting point.
Now, I didn't know much about b-Vibe until this review. But everything I've seen so far reassures me that this is definitely a beginner-friendly company that makes fun, intuitive, and non-intimidating sex toys.
Basically, b-Vibe's toys are all about sex education. They can help you experiment with new sex habits in inviting ways. With toys like the Triplet, b-Vibe is in no way forcing you to be taboo, kinky or secretive. It's trying to remove some of the sexual stigmas that are so common in our culture. And the b-Vibe Triplet is a fantastic example of that.
✍️ Scarlett Recommends: If you've never tried anal with a penis or big strap-on before, don't fall for the "just the tip" trick that your partner could pull on you. Instead, practice with toys such as anal beads to relax your sphincter and get used to the sensations. This will help you eliminate discomfort and teach you how to enjoy anal to the fullest.
In the Mood for Remote Controlled Vibrating Anal Beads?
Despite what I've said above, the b-Vibe Triplet is not a beginner-only toy. Besides anal newbies, hardcore BDSM fans and anyone in between can benefit from it. b-Vibe actually offers two different vibrating anal bead toys. The Triplet is the smaller model with an insertable shaft measuring 4.6 inches and three tapered beads. The diameter of the widest bead is 1.2 inches and you'll find two strong vibrating motors inside the last two beads. At the very bottom of the flexible shaft, you'll also see a flared base. It functions as an easy-grip handle and offers a ton of control. If 4.6 inches is too small for you, you can opt for the b-Vibe Cinco, which is identical to the Triple but features a 7.4-inch length.
When I started my b-Vibe Triplet review, I knew that the measurements and features of the Triplet would make it a great all-around anal toy. It's small enough to devirginize your poop hole and become your new best friend. However, it also packs a ton of power to keep anal enthusiasts entertained. But, it gets even more interesting. These anal beads offer 15 vibration intensities and 6 unique patterns which you can control via an included remote. The remote has a 30-foot range. It can enable you to play solo hands-free or control your partner's orgasm from a distance.
What's in the Box?
One of the coolest things for me during this b-Vibe Triplet review was the actual box. The packaging is well-designed, but when you open it up, you'll find a neat surprise inside. The Triplet comes with an awesome black storage case. The case allows you to keep your toy safe as well as take it on your travels. It's a firm and sturdy zipper case and inside, you'll find the anal beads, remote control, and a magnetic charging cable.
What's really cool here is that you'll never have to think about finding a safe way to store your toy or experiment with DIY hacks. Just pop it in your butt, have an orgasm or two, and store it back in its case when you're done.
b-Vibe Triplet Features
Premium vibrating anal beads with 3 bulbs
6 intensity levels
15 vibration patterns
Remote control (up to 30 feet)
Flared base
Colors: Black, Pink
Material: 100% pure seamless silicone
Submersible
Quiet operation
Magnetic charging
Total length: 6 inches
Insertable length: 4.6 inches
Width: up to 1.2 inches
So How Does It Feel in My Ass?
Not everyone can instantly love the sensation of butthole stimulation straight away. Fortunately, this toy was designed for easy insertion. In my b-Vibe Triplet review, it convinced me that it was definitely one of the best anal toys for newbies. Here's why:
Super Smooth Materials
Tons of porn out there tells us that anal beads are floppy and unruly toys. In the videos, they actually look kind of cheap, gimmicky, and unsafe. However, that's totally not the case with the b-Vibe Triplet.
What I loved during my b-Vibe Triplet review is that these anal beads are quite firm. They're not floppy or bendy like other sets that have caused me some disappointment in the past. The Triplet actually gives you a slightly more rigid sensation. To me, the materials and texture feel great for anal virgins and anyone who's not into the classic floppy bead design.
What makes all that possible is the smooth silicone material. b-Vibe uses premium skin-safe silicone on all their toys, and these butt beads are no exception. The material is 100% body-friendly and non-porous. Plus, it doesn't give off nasty odors and it is incredibly easy to clean. One drawback here is that the beads are only splashproof. You can clean them under the sink, but you should never soak them since they're not fully submersible. Nevertheless, the plus side is that the design is fully seamless. The body is made of smooth uniform silicone. You won't find any sharp or awkward seams that could cause discomfort in your tushy.
The Perfect Size?
Earlier in my b-Vibe Triplet review, I mentioned that the maximum diameter is 1.2 inches on the widest bead. However, the first bead at the tip is much thinner. The gentle increase in size between the three beads allows you to go at your own pace and gradually insert the toy.
With many other beads, you have to skip straight to the large bulge without any taper. This can feel quite unpleasant if you're a newbie but you won't experience it with the Triplet. What's more, the total length of these beads is just under 5 inches. This is not too big or too small for an anal toy and I'd like to think of it as the best size for newbies. The size along with the smooth and tapered shape makes the Triplet a wonderful tool for anal penetration, especially with the addition of the easy grip base.
Now, the flared base instantly made me think of butt plugs and I wanted to know whether this toy could be used like one. Indeed, you can push this thing up there and plug up your pooper while it remains in place. Then, you can leave yourself open to other forms of stimulation. All I can say here is that the beads felt amazing in my ass when I took Richard's big cock inside my pussy. However, the base is a bit too heavy for me and it feels bulky to hold in my hands. Richard and I both had the same conclusion that the base also feels a bit too big between our buttcheeks, but not to the point of being uncomfortable.
The Vibrations Are Coming From Everywhere!
During my b-Vibe Triplet review, I realized that these beads would have been an awesome anal toy even without the vibrations. However, this feature makes the toy even better and truly allows you to go wild.
Seriously, it's all there: from intense rumbles to soft pulses that will target all of your pleasure nerves. Again, what you need to remember here is that the two vibrating motors are located in the bottom two beads. Still, the vibes travel nice and fast and you can feel them through the entire shaft.
Yet, if you like to stimulate your hole with only the tip of the first bead and you're looking for a sensation that feels closer to a pointy and precise vibrator, this may not be your thing. That also applies to internal prostate stimulation. Richard said that the beads felt fantastic when I pushed them deep inside his boy-hole, but he also thinks the tip isn't pointy enough for strong P-spot orgasms.
Moreover, my other complaint here is that the Triplet is not the best fit for anal power users who love intense buzz and a ton of pressure. If you're looking for something to fully drill your dirt box inside out, these beads could feel a bit underpowered to you. For all other purposes, the Triplet offers plenty of juice and power for strong anal orgasms and it will definitely make you say: "you've gone and outdone yourself, butthole!"
Remote Control
Lastly, there's not much to say about the included remote except that it has the perfect size and design to fit in the palm of your hand. It's shaped like a small and smooth pebble. While most of its outer shell is made of plastic, the buttons are silicone. It feels neat under my fingers and allows me to change the patterns and intensities quickly. Unfortunately, there is no app-control feature. This is definitely a missed opportunity since an app would enable you to configure the vibrations even further and get unlimited control.
💡 Pro Tip: If you're with a partner, stick these anal beads up their ass and use the remote control to pleasure them from a distance. Now watch them scream and beg for more!
Pros
Perfect for beginners!
Smooth and tapered silicone material
It's very quiet
Cons
The flared base is a bit too heavy
No app control
Die-hard anal addicts could feel that the vibrations are slightly underpowered
b-Vibe Triplet Review: Final Thoughts
All in all, the b-Vibe Triplet is an awesome choice for beginner to intermediate anal players who want to experience a ton of different sensations. It's all in there, from intense stretching sensations, smooth penetration, and powerful vibrations. If that's what you're after, definitely get yourself one of these, slide it deep in your butthole, and have fun!
⚠️ Disclaimer: Our articles contain affiliate links. If you like our content and wish to support our work, consider purchasing your new sex toys through our links. For each purchase through our links, we receive a small commission but at no extra cost to you.
| | |
| --- | --- |
| 👉 Name: | b-Vibe Triplet |
| ⚙️ Features: | Remote Control, Flared Base, Splashproof, Multiple Patterns, Beginner-Friendly |
| 📁 Type: | Anal Beads |
| 🛠️ Materials: | Silicone |
I prefer bigger toys but objectively, the beads have an ideal size and shape for smooth anal insertion.
5
The seamless silicone material is super high quality and feels great when I push it deep inside my guts.
5
You can use the remote control to play around with various vibration patterns, but I would have preferred an app.
4
The included storage case looks cute and you can use it to store your toy as well as travel with it.
4
Editor's Pick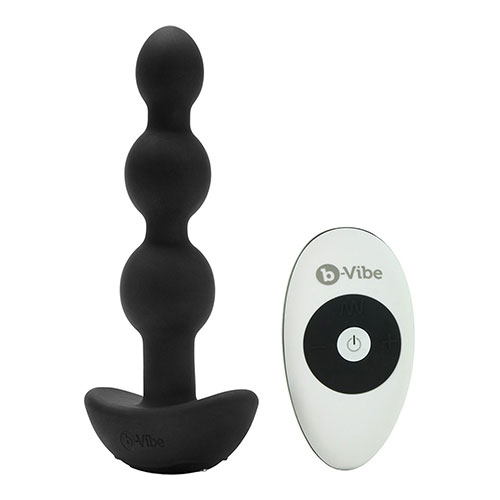 b-Vibe Triplet
⚙️ Special features:
15 vibration patterns for varied play
⚡ Power source:
Rechargeable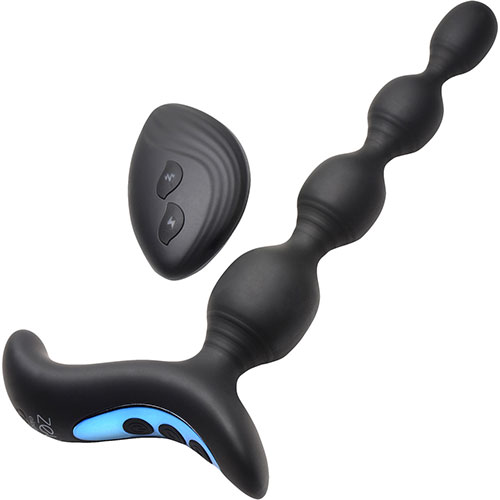 Zeus Electrosex Shock Beads
⚙️ Special features:
Handsfree
⚡ Power source:
Rechargeable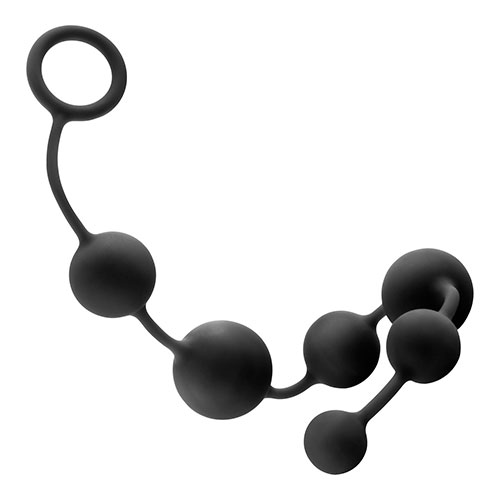 Blush Anal Adventures Platinum
⚙️ Special features:
Easy retrieval