Jul/04/2022
Last Update: June 26, 2023
1003
22 min read
The Best Glass Dildos In 2023 To Make You See Things More Clearly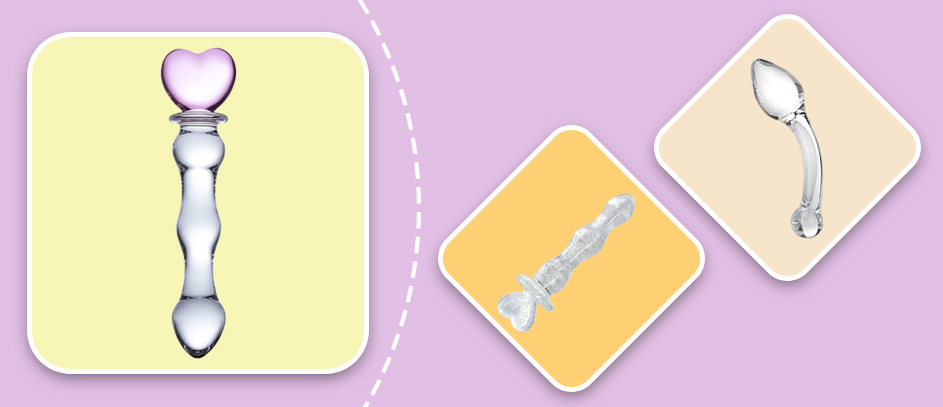 Is your glass half empty or half full? Oh, baby, glass dildos will give you a whole new perspective on things. They're gonna fill you to the brim and make you smile like a cat that's got the cream! Meow!
When I see a glass dildo, I just can't help myself. The glistening shaft and the cool, smooth feel against my skin… It just makes me see things crystal clear! But how do you find the shiniest, safest, and most orgasmic glass cock for you? Well, let's raise our glasses, back up our asses, and dive deep into the glistening world of glass dildos!
Top 10 Glass Dildos in 2023
If you wanna buy a new sex toy for your naughty bedroom parties, you need to be fully aware of what's going to go inside your horny holes. Indeed, you can't just pick up any random piece of glass and slam it in there. Priorities, right? If you don't want to dig too deep on your own, check out some of my favorite glass dicks below. I've ranked them based on their design, quality, how they made me feel, and how hard they made me cum!
Glass Dildos: Smooth, Shiny, and Extra Hard
By now, you can probably tell that glass toys look considerably different compared to a real cock. And believe me, I'm not saying that classic vibrators or realistic dildos are bad. Really, you can see how much my hungry holes enjoyed them in my previous reviews. Spoiler alert: I literally made Richard choke on my squirt explosion! But, I want to point out that glass dongs are truly special toys that will give you completely different tingly sensations.
However, I get what you're thinking: "Back off, Scarlett! My tight pussy will shatter that thing to pieces!!!"
Honey, don't get your panties in a wad just yet. I understand why glass sex toys could be intimidating to some people. But if you're careful, something like that will never happen – unless you've got a hammer hidden in your vagina.
Crystal Clear Orgasms
Basically, glass is one of the safest and toughest materials to use for some deep drilling. It's incredibly hard, and it will fit inside you smoother than any real greased-up cock! Of course, your mission is to find the shiniest, safest, and most orgasmic glass cock for your sweet holes! And you should be glad that you have sluts like me to help you out!
After all, if you're looking into glass dongs, you could spend anywhere from $30 to $400 on a single toy. Why are some of them so expensive? Well, even though these toys originate from the 17th century, it's still not easy to make them today. The whole process is messy and time-consuming. Indeed, glass dildos look and feel like pieces of art. They are available in various shapes and special designs for extra precise stimulation. That includes flawless G-spot massagers, intense anal dildos, huge realistic dildos, or even exciting new designs for all kinds of weird and otherworldly pleasures.
However, as I mentioned, it's not easy to choose a dick made of glass. But don't let that shatter your aspirations.
Are Glass Dildos Safe?
Again, you won't have to worry about your dildo breaking inside your honey pots. But let's cover this topic first to calm your kitty down.
These sex toys use extremely resistant glass. It can withstand all sorts of chemical and thermal conditions. Plus, during the manufacturing and glass blowing process, several techniques, like tempering and annealing (not what you think), can help to remove stress in the material. All of that means there's no way you could break your silicone dildo while pushing it inside.
Still, glass dongs are not bulletproof. You can damage yours if:
You don't handle it properly, or you drop it on the floor or another hard surface.
It's unclear whether new vibrating or liquid-filled dildos offer the same toughness as standard glass toys that are molded out of a single piece of glass.
What's a Glass Dildo Anyway?
Basically, these dildos are some of the most popular penetration tools aside from silicone or steel sex toys. Moreover, you don't only have to use them for carnal pleasures. They are beautiful to just look at too! Their shiny look offers a fantastic alternative to toys that intend to replicate the appearance of real-life genitals. Plus, they can introduce you to all sorts of new sensations and provide tons of possibilities for fun, exciting, and kinky play.
For example, you can cool them down or heat them up to experiment with temperature play both externally and internally. And like I said, you can find them in all kinds of shapes and colors. Some curious observers are really into the fact that these toys are transparent, while others love that they're available in various different shades like pink, purple, blue, etc.
Even better, they are some of the most hygienic sex toys out there, and you can clean them effortlessly. Let's not forget that they work with any type of lubricant! This could truly matter if you want to ditch the same old water-based lube. Simply lather your brown eye up in your favorite coconut oil without worrying about the durability of your toy and pound your hole until you gape! Well, breaking your butthole might not be the biggest turn-on for you as it is for me, but you get my point.
And for my favorite part: these dildos are really, really hard! Since they're not squishy or bendy, you can indulge yourself in effortless penetration and also experience unique sensory play.
Shine Bright Like a Diamond
There are many reasons that could convince you to choose a glass dildo, including:
They look fancy and feel fantastic.
You can cool them down or warm them up for an extra kick.
They're great for people who don't like the look of dicks. Sweetie, I ain't judging, but you're missing out!
They're also great for all knob-gobblers who love to fuck a big fat cock. Trust me – large glass dildos are harder than hell!
You can choose the shape and size that fits you the best.
It will slip inside easier than most other sex toys.
It can make you orgasm only through penetration. This is great if you've never experienced that type of orgasm.
It will make you cum over and over again!
How Are They Made?
I want to get a bit nerdy for you here and show you how the manufacturing process works. Basically, these types of dildos are made of solid glass. The goal is to create a neatly crafted, durable, and highly sturdy piece of glass. The toy first starts out as sand and contains soda ash, lime, and silica. You probably know that since glass was used for hundreds of years to make all sorts of things. Either way, whether it's your Grandma's salad bowl or your new monster glass dong, the crafting process is relatively the same.
Moreover, manufacturers can use several different techniques to make and shape the glass. That includes the use of glass containers or dildo molds and the classic way of melting a hot chunk of glass in a furnace and shaping it with a long rod. The dildos are always shaped at hot temperatures before they cool down. Then, they get tested for durability (no, not in the way I test my sex toys).
Sometimes, glass blowers use pre-made rods or dildo templates as the starting point. In the end, you get an expertly crafted piece of solid glass that looks like an insertable sex toy. Obviously, the most basic toys have a standard dildo shape. Other dicks made of glass are curved, anal dildos with beads, swirly textures, hooks, and various other body-pleasing configurations.
Types of Glass Dildos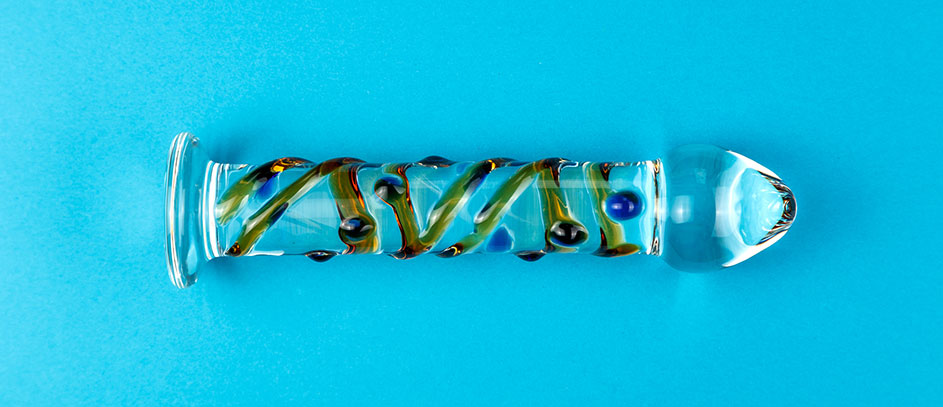 Most of the common glass variants are similar to the shape of regular silicone dildos, but there are many other special options. Here are some of the most popular types:
Straight Glass Dildos
This type has a plain texture and a completely straight shaft. It's the most basic variant, and it will work great for anyone who doesn't want to experiment a lot with curvy shapes. Generally, this type offers sleek and easy penetration. They look like a long glass rod and often have a ball at the insertable end. Plus, due to their straight shape, they're incredibly easy to insert and use for good ol' in-and-out thrusting.
Curved Glass Dildos
These types are my favorites. They have a curved shaft and a special angle. Typically, these types are used for directed stimulation on your G-spot. Most of them have a ball or bulb at the end of the curved tip. Also, the natural weight of the material gets really handy here because it provides more pressure.
If you prefer G-spot stimulation, the curved type will be much more effective compared to the previous ones. It will help you find your sweet spot much quicker and slam it until your orgasm takes over your whole body.
In fact, many women experience first-time squirting with these toys. Another reason why I love this type is that it's just perfect for anal play. It spreads my booty nice and wide and allows me to find the best angle of stimulation to hit my A-spot with waves of intense backdoor pleasure!
Twisted Glass Dildos
These types offer a twisted and swirly texture with a loop or handle at the base. You can hold the handle and use all sorts of twisting motions to literally screw yourself! These dildos are intended for people who like stronger twisting movements during vaginal or anal penetration. So get ready for some of the most twisted orgasms ever!
Ribbed Glass Dildos
Some girls (myself included) love the feeling of a ribbed texture on their toys. Ribbed glass dongs are some of the best ribbed toys due to their toughness. The ribs will brush up against your internal walls to provide maximum pressure and high-intensity stimulation. Some can have small ribs, while others, like the popular Purple Rain dildo by Glas, include big beads.
Beaded Glass Dildos
Speaking of beads, this type of glass dildo is by far the most intense for your pussy or tushy. If you're unfamiliar with beaded dildos, their shafts are packed with beads or balls. The beads usually increase in size along the shaft. The point is to increase the pressure as you push every single bead in and stretch your holes wide open. This is fantastic for anal play because it spreads you out gradually and helps you take things at your own pace. Also, the beads will work wonders for vaginal stimulation because they can stimulate all sorts of internal nerves and directly target your G-spot.
Other Types
There are several other variants you could try:
Realistic glass dildo – Perfect for any girl who needs a glass toy that looks like a real hard cock. These dildos are precision crafted to look like dicks, complete with throbbing veins, a pair of balls, and a thick head. Yum!
Colored glass dildo – You can also find them in various colors. That includes pink, blue, yellow, purple, red, etc. If you need something that truly looks like a piece of art, choose an Icicles glass dildo.
Double-ended glass dongs – This type has two insertable ends. You can use it to double the fun and penetrate yourself and your partner simultaneously!
Vibrating glass toys – Glass and vibrations are not usually the most common combination in the world of sex toys, but there are some options. However, these toys need to be hollow on the inside in order to fit the vibrating mechanism. That could make them a bit more sensitive, and I just think that a regular vibrating dildo would do a better job at transferring the vibrations to my body.
Big glass dildos – This type is definitely not intended for beginners. Heck, even the most dedicated lovers of monster cocks could find them intimidating. They can be over 12 inches long, and they're much stiffer or heavier compared to, let's say, a silicone monster dildo.
Non-standard shapes – You can find glass heart dildos or even glass tentacle dildos if you want to try something different.
The Most Important Features
Besides the various different types of dildos, you'll also need to look into several crucial features:
Stoppers or Handles
Since glass is slippery, most dildos have some sort of stopper, handle, or O-ring at the base. This prevents the toy from getting stuck inside. It also gives you something to grab onto while thrusting in and out. What's more, it secures the toy inside so that it doesn't fall out. I always use this feature whenever I need something shiny in my booty. My asshole wraps around the toy tightly, and the stopper frees up my hands to let me play with my muffin.
Textures
While I've already mentioned ribbed, twisted, and beaded types, there are many other textures to explore. That includes bumps, dots, ridges, nubbies, spirals, etc.
As I said, the whole point of textures is to boost the pressure and stimulate many sensitive nerve endings inside you. All of those textures will feel special. You can use them for G-spot stimulation or anal fun. I've even tested some on Richard, and he said he "had fun" with curvy dotted dildos for prostate play. That's a bit of an understatement because I gave him a milking he'll never forget!
Taper
Glass dongs can also have an increasing or decreasing taper. This means that they can reduce or increase in thickness towards the end. If you love the sensations of "fullness" and the feeling of being stretched out, a glass cock that gets wider at the base will definitely expand your horizons!
Materials
The crucial thing to look out for here is for your dildo to be crafted from borosilicate glass. The most common glass products (90% of them, actually) use soda-lime glass. This is also found in sex toys, albeit it is much less sturdy.
Borosilicate glass is the most popular material for glass-type dildos. It's designed to withstand a lot of pressure, chemicals, and extreme temperature conditions. You could also encounter Pyrex dildos. Borosilicate and Pyrex used to be the same type of glass, but Pyrex is now made from soda-lime glass. This kind of glass is much more sensitive to temperature changes.
In contrast, a properly treated and annealed borosilicate dildo will last for a long time. You will be able to experiment with it in all sorts of hot or cold temperatures. Plus, if it's well made, it will not shatter if you drop it on a hard surface accidentally.
Now, if you're completely unfamiliar with glass sex toys, let me tell you that they are some of the most hygienic and safest choices out there. Namely, glass is non-porous. It doesn't harbor bacteria, and you can clean it in just a few simple steps. Plus, you can fully sanitize it if you boil it. It's also skin safe, and it's least likely to give you an allergy. And as I said, you can use this toy with any lube type. If you treat it properly, it could literally last forever!
What About Vibration, VR, or Other Features?
Well, glass dildos are some of the most elementary sex toys out there. Aside from special textures, shapes, and colors, you won't really get any next-level pleasure features. Here, it's all about the tough, smooth feeling of the glass as opposed to all sorts of bells and whistles.
But, as mentioned, it's possible to buy a vibrating glass dildo. Yet, I would advise against it because the mechanism will require thinner glass to be used. Plus, silicone or TPE variants are better at transferring vibrations to your body. And when it comes to VR or any futuristic features for long-distance play, I'm afraid you won't find a glass cock with those options right now.
How to Buy the Best Glass Dildo
So how do you know which dildo is the one? Well, if you were paying attention, you saw that the choices could get a bit overwhelming, especially due to all the different types of glass cocks along with steep prices. To help you find the perfect glass dick for you and get it inside you quicker, I'll show you all the things you should look out for below:
Why You Need to Try a Glass Dildo
For me, glass dicks always offer a smooth glide sensation. This is vastly different from regular silicone dildos that provide more grip. Since glass is incredibly hard and smooth, it also provides very little friction and doesn't require lots of lubrication. Moreover, your holes will react to it in a completely different way compared to regular dildos or actual penises. Plus, since the material is tough, it will make it easier for you to pinpoint the spots that you want to put pressure on.
So get one if you:
Love direct stimulation.
Want to experiment with temperature play.
Need to feel a bit of weight inside you.
Don't want to bother with extensive cleaning methods.
If you love glass art or glass objects, these dildos will combine your favorite medium with your orgasms. And that's pretty awesome in my book!
"The weight of my big glass dildo feels just incredible to me. It truly works miracles when I want to stretch out my sphincter and feel intense pressure. But that's not all… When the cool glass starts to heat up inside me, I completely lose my mind, and I squirt like a pornstar in heat!"
Buyer's Checklist
To proceed, you can follow these six simple steps:
Material – Make sure you get a dildo with the sturdiest and most reliable glass material, aka borosilicate.
Size – Try to find the best size that fills you up in just the right way.
Tempering, annealing, and sturdiness – You find several guides online to help you look into the type of treatment used on your chosen dildo.
Stimulation type – Most of them are fabulous vaginal or anal toys. But, you'll need to think about what you like the best and take it from there. For example, if you need strong stimulation for multiple orgasms, choose a glass G-spot dildo. Conversely, if you want glass in your ass, you can also use a curved shape, or you can choose a wider, longer dildo.
Price – You can find affordable and incredibly expensive dildos. My best tip is to find a happy medium between the quality and the price. Some glass toys from famous brands can cost a small fortune, and that could be due to the name and the design but not the usability.
Look – If you love the look of glass, you can just pick the toy that looks the cutest to you, for example, a glass heart dildo. However, try to keep in mind everything I've said regarding the types and features. Even if it looks great, a glass toy might not have what it takes to make you shake from the inside.
How Big Should You Go?
Now, here's where things could get tricky. Obviously, size doesn't make a difference for some girls, whereas it's the most important thing for others. Either way, if you're buying any type of toy, you always need to check out the size to find out if it will be just right for you. Additionally, size is incredibly important. It has to do with how safe these toys are. For example, a thin and small glass dick is much more prone to breaking if you drop it.
Here, I advise you to go for the average size if you're unsure. That is about 5 to 6 inches. It will be more than enough for your anal or vaginal adventures. Still, if you're a bit of a size queen and you need to get filled up with something bigger, you can choose a 7- or 8-inch long glass dildo. You can even go bigger than 10 or 12 inches, but this will only work if you're a total pro who knows what she's doing.
For me, I prefer to use glass dongs that are around 6 to 7 inches long. And that's not because I don't like huge cocks. In fact, huge glass dildos can get a bit too intense for extended use in my vag. Whenever I want to go bigger, I choose a silicone dildo or my Richard's 8-inch Turbo Dick. If I really want to experiment with a huge glass dildo, it usually goes in my ass, and that's where the bigger size feels the most intense for me.
Pricing
Earlier on, I said that you should expect to pay anywhere from $30 to a couple of hundred dollars for your dildo. My tip here is to avoid the budget options. Get yourself something that you know will last for a long time. If you spend from $30 to $100, you'll get a high-quality dildo made of resistant and durable glass. And if you go above $100, you'll get a luxury toy made by famous designers and with great attention to craftsmanship and detail.
Pay Attention to These Two Crucial Factors
There are two incredibly important factors that could make or break your dildo experience:
Stress points – These are the spots on your dildo where the glass gets thinner. It's most common on ribbed and textured toys or those that have an O-ring base. For example, if you get a glass tentacle dildo, it will have several stress points. You'll need to take extra care of those areas because they are the most sensitive.
Shapes and angles – It's crucial to pick your dildo according to the shape that pleasures you the most. A straight glass toy might not do it for you, whereas a curved one could hit the magic spot just perfectly. You may have to experiment with several dildos to find the best one.
Shipping and Travelling
If you're worried about ordering your toy online, just remember that these dildos are packed with extra protection. If you buy your toy from a reliable site, it should arrive in a discreet shipping box with extra padding to keep it safe. What's more, if you want to take your toy with you on the road, you certainly can. This kind of dildo is perhaps the most discreet option here because it might not look like a sex toy at first glance. However, you will need to take extra care of it during your travels and protect it to ensure that it doesn't break or get damaged.
Dos and Don'ts of Glass Dildos
To finish off this section, check out my list of glass dildo do's and don'ts:
Dos
Buy your dildo from a reputable company or manufacturer.
Factor in the looks, size, and shape.
Check out user reviews to see if others were impressed with your dildo.
Get some inspiration – I love to watch porn that features the toy I'm about to buy. It gives me new ideas and shows me exactly how much fun I'll have with it.
Don'ts
Avoid cheap glass variants. As I said, your safest bet is borosilicate glass.
Don't buy your toy from shady manufacturers or suspicious websites.
Try not to overestimate yourself – an average-sized dildo could be more than enough if your holes are sensitive.
Tips on Using, Cleaning, and Storing Your Glass Dildos
So what's the best way to lose your glass dildo "virginity"? I'll show you how to feel that hard glistening dong inside you in the hottest way and cum until you're unable to walk!
Start Slowly
You can approach it just like any other dildo or cock. You know, make yourself nice and wet first before you get to business! The trick here is to use a thicker lubricant compared to what you'd normally use for a standard silicone dildo. That includes oil-based or silicone-based lube.
Remember, glass toys are heavier, and they require very little lube. Also, since these toys aren't flexible, you'll need to find the best position (I prefer doggy) to adequately stimulate your pleasure spots. From there, you can use in-and-out motions, or you can twist or turn your dildo. Honestly, it all depends on what you like. But I guarantee that you'll get off in no time due to the amount of pressure plus the hardness of the dildo
It's Getting Hot in Here
To spice things up even further, you can experiment with temperature play in several ways:
Turn Up the Heat
Your large glass dildo will naturally warm up when you nestle it inside your muffin or bum. However, you can heat it up in hot water or even boil it to get it warm before you insert it. After that, you could feel the opposite effect of the toy cooling down to body temperature once it's inside you. Also, you could stimulate your clit or nipples with a warmed-up glass cock for all sorts of new sensations.
Cool Down
For an even more extreme shift in temperature, you could cool down your dildo using a freezer or a bucket of ice. I sometimes do this with Richard when I want him to tie me up and dominate me. I can't really put it into words, but the cooled-down dildo can get freezing cold, which can slightly numb your holes until they start to warm up again. It's not for everyone, but it will give you some sensations that you've never felt before.
Cleaning Your Toy
Finally, even if glass is among the safest sex toy materials, you'll still need to clean it. There are tons of easy options here. You can wash your toy with warm soapy water, you can boil it, or you can even stick it in the dishwasher.
When you're done, use a soft cloth to wipe it dry and polish your glass knob clean. After that, you can store it in the original box or a soft and safe container. Try to keep your glass toy in a safe spot and make sure that it can't roll off and fall on the floor or touch other sex toys.
Glass Dildos Industry Overview
So who invented glass dildos, and what should we hope for in the future? Let's find out!
History of Glass Dildos
Over the years, our ancestors made sex toys from all sorts of bizarre materials. In fact, yams were once used as a lubricant, and guys even fashioned condoms out of tortoise shells. But that's a whole other story, and I'm so grateful that I don't have to push a dried-up dead turtle inside my pussy!
When it comes to glass dildos, the records show that they were first used by Italian nuns (yes, nuns!!!) in the 16th century. These early dildos were hollow, and the nuns used to fill them up with hot water to enlighten themselves, I guess.
Either way, by the late 1800s and early 1900s, Pyrex was invented and used for all sorts of glassware, including early dicks made of glass. But, it took another century until they were a widely available and commercially manufactured product.
Still, if you wanted this type of dildo in the 1980s and 1990s, you'd have to get one specially made and pay a fortune. That's why they were mainly seen in luxurious porn sets.
Luckily, we have tons of interesting and innovative brands at our disposal today, and glass toys are widely accessible. Some of the most popular toys are Icicles glass dildos or those made by companies like Doc Johnson, Lovehoney, Glas, Crystalino, Spartacus, etc.
Those companies sell glass dongs made by expert blowers, and they offer tons of different shapes, colors, and sizes along with manageable prices.
What About the Future?
So what should we expect from these toys in the next several decades? As you're probably aware, the sex toy industry is changing every day. That's mostly due to the huge demand for next-gen sex gadgets. Isn't it wonderful that we can literally buy any sort of sex toy that we're into today? Well, I hope that glass sex toys will keep evolving as much as our sexual kinks and desires.
As I said, these dildos are fairly simple toys, and you can't really improve them by customizing them with tons of new features. You can find options with vibration, but they might not do the job so well compared to standard vibrating dildos. I think that adding any sort of complex mechanism would make the glass unsafe. But there's still time for innovation, and I hope that we'll see some next-gen glass toys soon. For now, if you need something different, you can choose a glowing glass dildo to get that party started. Bottoms up!
⚠️ Disclaimer: Our articles contain affiliate links. If you like our content and wish to support our work, consider purchasing your new sex toys through our links. For each purchase through our links, we receive a small commission but at no extra cost to you.
FAQs
Well, these toys will not feel like a real dick or a standard dildo. Instead, they will give you a harder texture that can't bend. This will feel incredibly intense when it's inside you. Most women who've tried glass dicks love the feeling of "fullness" they provide. Also, glass G-spot dildos are some of the best toys to try if you want to learn how to squirt.
You shouldn't worry about any accidental trips to the ER. Quality glass dildos are incredibly sturdy. One of the only ways to break them is to slam them against a hard floor. If you drop them by accident and it's only a light fall, they might not even get damaged. What I want to say is, it's not like you're going to masturbate with a wine glass. You shouldn't be afraid that the dildo will break inside you at all!
This is another potential risk if you're not careful with your dildo. If you see any scratch or dent, you'll have to replace your toy. A small scratch could harm you internally, and you shouldn't try to salvage your dildo. What's more, if you dent it or break off a piece, don't even think about using superglue.
Yes! There's no harm in using two separate dildos if you really want to get filled up from all angles. The two dildos won't touch each other internally, so there will be no risk of damage.
Absolutely! You can use a glass toy regardless of sexual orientation or gender. I love to use a ribbed glass toy to massage Richard's prostate and milk him dry. This gives him some of the most intense orgasms ever, and it makes me feel in charge. Alternatively, your partner can penetrate you with the dildo, or you can use a double-ended dong for mutual fun.
There is no risk of inserting hot or cold toys inside you. In fact, I recommend you try it with your glass dildo! Of course, you need to make sure that you can handle the temperature. So don't cool down or heat up your dildo too much. Just remember to test it by touching it with your fingers or skin. If it feels pleasant and doesn't hurt, you can slide it in without worrying!
Don't even think about it! Windex and other glass cleaning products contain strong chemicals. They won't harm your dildo, but they could irritate your vagina and anus or could even cause a serious infection.