Aug/26/2022
Last Update: June 26, 2023
749
7 min read
Let There Be Light: NS Novelties Firefly Heart Review!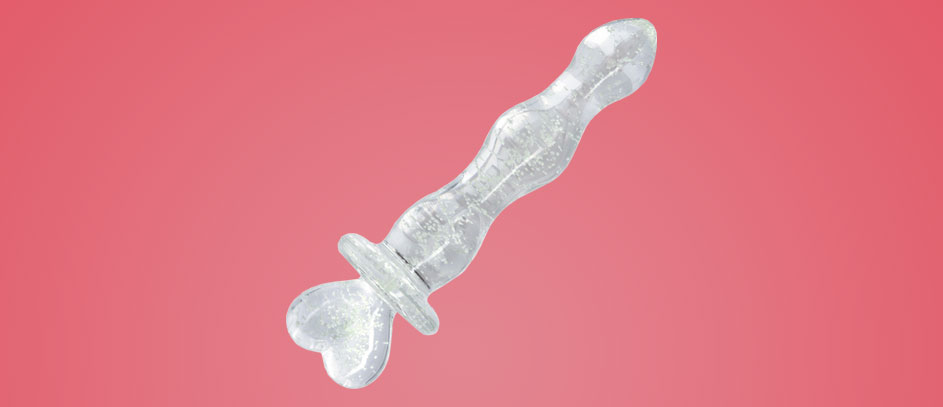 Sometimes, when the sun goes down, all I can think about is spreading my ass wide open and stuffing it with all kinds of nasty sex toys. And here's a question for you: if a glass dildo glows in my asshole and no one's around, does it still glow? Well, that's what this girl is about to find out in her NS Novelties Firefly Heart review!
This glow-in-the-dark glass dildo is playful, dreamy, and incredibly functional! It also has a bubbly shape that feels fantastic as its smooth curves penetrate deeper and deeper inside my slutty little butthole! So allow me, your friendly neighborhood dildo addict, to put it to a deep test and tell you more about it in this NS Novelties Firefly Heart review. Lights off – bottoms up!
Time to Illuminate Your Ass and Pussy!
For starters, the Firefly Heart is a glass dildo with a flared base. To me, it kind of looks like a super long butt plug that you can use for all sorts of naughty anal adventures. You know the rest: just lube your ass up and go for it! You can use this bad boy for all sorts of perverted escapades, from anal training, couples play, and DP. Of course, you can also do it the "classic" way and push it far up your pussy for a deep G-spot massage.
Now, remember that this is a glass dildo. And you'll never know how it compares to standard silicone dildos until you try one! While classic dildos are flexible and floppy, glass always remains hard. Always! It puts an entirely different type of pressure in your holes and it will truly make you go wild! But that's not all…
Again, the best thing about the NS Novelties Firefly Heart is that it glows in the dark. I've never heard of NS Novelties before, but they definitely managed to get my attention with that feature. Sure, seeing light emanate from your tight pussy and asshole is not the most important feature when it comes to dildos… But it looks cool as fuck! If you're one of those perverts who love to see a wet open hole and you have a huge fetish for all kinds of stretching maneuvers, it's definitely time to bring a little light to your life! So how did the Firefly Heart feel when I pushed it deep inside?
First Impressions
The night is dark and full of terrors! But! The Firefly Heart is bright and beautiful and full of hope!
I'm positive that everyone will have one of those "awww, it's so cute I'm gonna die!" reactions when they see this bad boy. Seriously, the Firefly Heart looks adorable. The cutest thing about it has got to be the heart-shaped handle. Who wouldn't want to see a sweet little heart sticking out of their partner's butthole?! But let's get back to business and down on all fours!
When I first opened this dildo, I was stunned by its unique shape and glossy look. This toy, like most other glass dildos, is made of hand-blown borosilicate glass. It feels silky smooth to the touch. However, it has that extra tough glossy texture that will provide hours and hours of naughty fun. What's more, this dildo uses annealed glass. Annealing is a process that removes residual stresses in order to make the glass extremely resistant.
Even better, when we get past the heart-shaped handle, we'll see a nice wide base. This makes the toy suitable for all kinds of anal romps. It also ensures that the dildo will never get stuck inside you and make your guts glow while you're running to the ER.
Anyway, after the base, you'll see a curvy shaft with three bead-like curves across it. To me, this curvy and wavy texture looks like it can do a lot of damage internally – in a good way! Oh, and there are all sorts of cute little bubbles on the inside that look otherworldly when they light up!
Features
100% quality borosilicate glass
Heart-shaped handle
Flared base
Insertable length: 5.2 inches
Insertable width: 1.34 inches
Total length: 7.2 inches
Compatible with all lube types
Can be cooled or heated for special temperature play sensations
Glows in the dark
Materials
While glass dildos always have a similar toughness to them, they differ based on texture, shape, and transparency. In my NS Novelties Firefly Heart review, I was impressed with the quality of the actual glass compared to the price. At around $45, you'll get a premium-looking glass toy that will literally last forever.
As I said, this thing is made of annealed borosilicate glass that's super durable. I don't exactly know how they get that glowing effect, but you'll need to leave your dildo out in the sun to "charge up". Then, turn off the lights and this bad boy will glow with a kind of phosphorescent green color. Plus, all the little bubbles inside it will light up to make it look like you're stuffing your ass full of some kind of unusual celestial object. The Force is strong with this one!!!
And yes, the glowing effect sort of resembles a firefly, but no matter how cute those things are, I really don't want to mix bugs and sex together… Anyway, while the material is sturdy and durable, it's also incredibly easy to clean. After testing it with all kinds of lubes (oil-based are my favorites for anal!)I was able to clean it in just a few minutes. The neat thing here is that the glass used on this model is non-porous and it suits everyone's skin type. Plus, its weight feels nice and stable, both in my hand and in my sweet spots. When I tested it, I also used warm and cold water to change the temperature of the glass for an instant hit of tingly fun.
Size
Every once in a while, I test out a 5 or 6-inch toy and I start to panic thinking that it will be too small for me. Yes, I'm a dirty slut and I'm used to Richard's 8-inch monster, but I always forget that 5 to 6 inches are more than enough. When I started my NS Novelties Firefly Heart review, I thought that the 5.2 inches of insertable length would be a bit underwhelming. However, that wasn't the case at all. Basically, the size is slightly above average. That makes it great for all kinds of vaginal and anal adventures. Combined with the swirly shape of the shaft, I'd say this length is perfect for beginners and pros.
Plus, the girth is around 1.34 which is also average. Yet, it feels fantastic when it stretches out my butt. I would have preferred to have a thicker shaft for my kitty, though. Still, the three large curves on the shaft can introduce some neat sensations. They can also feel very intense against your G-spot. Even better, I loved to feel them stretching out my sphincter one by one! Pushing the whole shaft up your butt like that will feel like you're playing with super long anal beads, which is definitely my idea of fun.
On a side note, the heart-shaped base is much thinner than the dildo, and I think this is the most vulnerable spot of this toy. It looks like it could crack if you drop it, so I'd advise you to be extra careful here.
Look Ma, My Butthole's on Fire!!!
By far, the glowing effect was the most entertaining aspect of my NS Novelties Firefly Heart review. It made my adventures look and feel super intimate. Plus, Richard loved it when he saw this thing glimmering out of my anal fuckhole. It's truly something special and it can take you to a whole other level of intimacy. Plus, if you like to take photos or videos of you or your partner in action, it can also look sexy as heck.
Pros
Glows in the dark to make your pussy or butthole light up!
The glass feels smooth and tough
The unique shape made me feel all sorts of tingles deep inside
Cons
Be careful with the heart-shaped base as it's quite thin. It could break if you accidentally drop your dildo
NS Novelties Firefly Heart Review: Verdict
Ah boy, this toy has truly helped me see the light at the end of the tunnel! To sum up my Firefly Heart review, all I can say is that this is one fine-ass dildo for a very affordable price. It's definitely worth it for the glowing effect alone, but it also made me cum over and over again! Definitely recommended!
⚠️ Disclaimer: Our articles contain affiliate links. If you like our content and wish to support our work, consider purchasing your new sex toys through our links. For each purchase through our links, we receive a small commission but at no extra cost to you.
| | |
| --- | --- |
| 👉 Name: | NS Novelties Firefly Heart |
| ⚙️ Features: | Glow In The Dark, Flared Base, Ergonomic |
| 📁 Type: | Glass Dildo |
| 🛠️ Materials: | Glass |
If you like glass up your ass, this dildo will feel super intense and powerful!
4
I'd advise you to buy it for the glowing effect alone: it looks super cool and extra kinky when it makes your holes light up!
5
The glass feels fantastic and it looks like it will last forever.
4
It responds very quickly to cool or warm water and it's a fun toy for temperature play.
4
Editor's Pick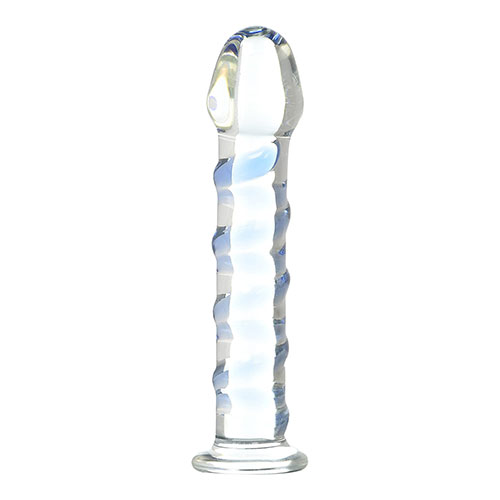 Pipedream Icicles No. 5
⚙️ Special features:
Angled specifically to stimulate the G-spot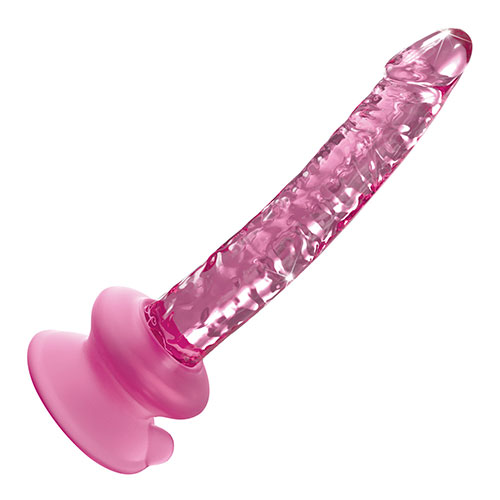 Pipedream Icicles No. 86
⚙️ Special features:
Powerful Suction base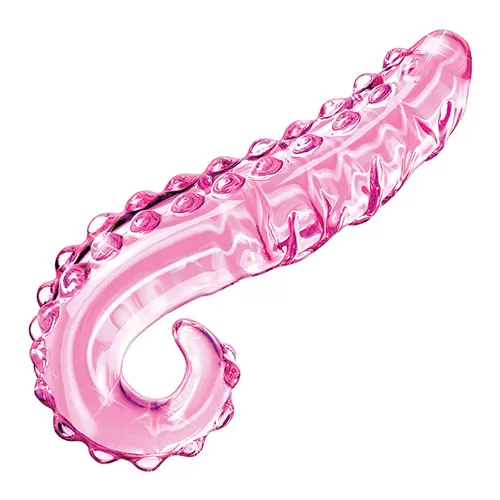 Pipedream Icicles No. 24
⚙️ Special features:
Nonporous and body safe