Jun/21/2022
Last Update: June 26, 2023
947
15 min read
Best Double Penetration Strap-Ons In 2023: Leave No Hole Unfilled!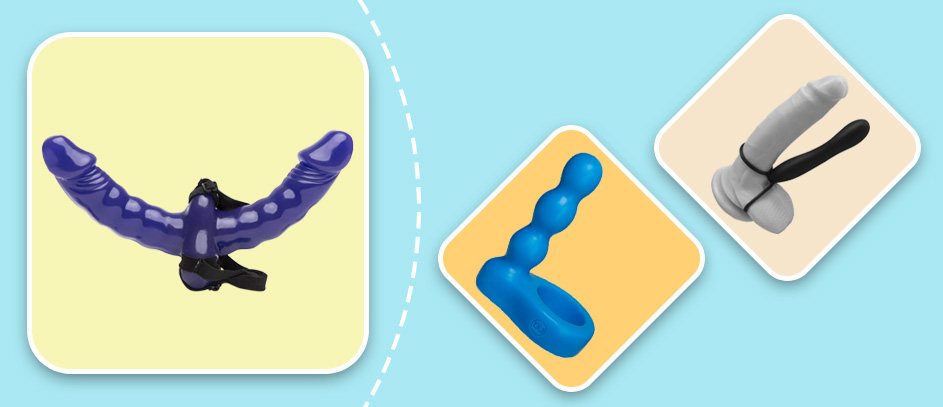 Are you bored of your same old dildos and vibrators? What if you've already used a butt plug to stretch your tush and take things to the next level, but you realized that it was not enough? Honey, I know that all you think about is getting both of your tight holes pounded balls deep at the same time! Wanna get filled up and busted like a pinata? Or do you constantly fantasize about dominating your lady lover's holes with huge strap-ons to turn her into your personal fuckdoll? Well, it's time to reach for your lube jar and finally live out your darkest fetishes with the hottest double penetration strap-ons!
Top 10 Double Penetration Strap-Ons in 2023
We've all seen those movies where huge-breasted blonde bimbos arrange a sleepover with their best friends and end up fucking each other senseless with massive strap-on dildos. If you've always wanted to be one of those girls or if your BF is constantly pushing you to get fucked in both holes like a dirty squirting slut, then you need to add a double penetration strap-on to your sex toy collection!
But which double penetration strap-ons are the best? I've tested them all in my hungry ass and pussy! Plus, I've used these bad boys to fuck some of my female FWBs until they literally couldn't walk straight! If that's everything you dream about, check out the best double penetration strap-ons of 2023!
Double Penetration Strap-Ons: Double Trouble!
If you're reading this, I know you've already tried to shove all kinds of things inside your dripping clam and booty. Now, if you need a DP strap-on, you're probably obsessed with rough anal sex, extreme stretching, hard lesbian fucking, and everything in-between. And even if you've never tried those kinky fetishes in real life, it's never too late to pop your DP cherry and experiment with big strap-ons!
But what's so special about DP strap-ons? How can you use them for an intense double pounding that will turn you or your partner into the dirtiest porn whores? Let's strap in! Double the Fucking, Double the Fun!
Typically, a standard strap-on will let you experience what it's like to use and abuse a massive fat cock. Just wear it around your waist. Voila – you'll get to use and abuse a big piece of man meat! There's so much fun to be had here! Just facefuck your slave or ravage their holes like there's no tomorrow! Yet, if you want to be a real pro, you can kick things up a notch and get yourself a nice, shiny (and extra-large!!!) double penetration strap-on!
Essentially, double penetration strap-ons are all about giving you two dicks to play with. That's exactly why they're some of my favorite toys for dirty sex with girls and boys! You can use them to simulate intense threesomes with only one partner without having to involve a third party. Plus, if you're the wearer, you'll get to experience what sex really feels like from a penis owner's POV. Only this time, you'll see two dicks bulging out from your crotch like a swinging pendulum of hardcore ass destruction! Talk about being slightly freaky and so damn sexy at the same time!!!
Double Penetration Strap-Ons Explained
Basically, DP strap-ons use the same setup as any other traditional strap-on toy. They attach to your waist with a special strap-type or underwear-style harness. There are many different styles of these toys, but the most common variant is a harness-style DP strap-on. This type of strap-on will give you two big dildos or vibrators along with a comfy harness. The two dildos are usually stacked on top of each other. That way, they provide you with the perfect angle for an intense double banging.
What's next? Well, if you're drilling your lover in doggy style, the bottom dildo will penetrate her tight pussy while the second dildo on top will stretch out her sweet, tight butthole. Then, you can try all kinds of slow and fast thrusting movements!
Moreover, you can think of these toys as a cross between a double dildo and a classic strap-on. While they're designed to provide ultra-realistic DP thrills with tons of skin-to-skin action, there are many different models. That includes some that can be worn by men, as well as some that vibrate from both shafts to drive you totally insane!
Types of Double Penetration Strap-Ons
Which type of strap-on should you buy if you want to conquer and dominate your lesbian girlfriend's body? And which model should you choose if you want to get double-fucked by your boyfriend?
Well, the best way to get all your needs met is to first find out about all the different strap-on configurations and types. Then, you'll be able to quickly find a toy that looks and feels the best to you.
Non-Vibrating Double Penetration Strap-Ons
Classic non-vibrating double penetration strap-ons are truly an amazing sight to behold! They'll give you two shafts to use while penetrating your lesbian lover. The two dildos could have the same size, but in most cases, the second anal dildo might be a bit smaller or thinner for easier rear entry. This type will also hook up to your body via several different strap-on harnesses (more on that later!).
However, by default, this type doesn't come with any vibration features. It's a more affordable option compared to vibrating double penetration strap-ons. It's a great choice for beginners and all kinds of double penetration virgins.
Also, these toys come in realistic and nonrealistic designs. That way, you can take your pick from a massive and veiny double-cock or a non-phallic and slightly less intimidating DP strap-on.
Oh, and did I mention that you can use these bad boys for double vaginal or double anal penetration? Well, you can try, but be warned: stuffing two dicks in one hole is one of the most extreme sex acts out there. So try it only if you know what you're doing!
Vibrating Double Penetration Strap-Ons
Now, if you want to buzz the hell out of those holes, look no further than vibrating DP strap-ons. Since these types offer strong vibrations, they will not only feel fantastic for the receiver, but they'll drive the wearer wild too!
Typically, vibrating double penetration strap-ons come with one or two vibrating motors. They'll create strong pulsations from the base or the head. Those vibrations will shake both partners up to make them cum like never before! So say hello to mutual orgasms! If that's your poison, you can choose a strap-on vibrator that pulsates from one or both ends. Others could provide you with a smaller clit or G-spot vibrator. It will fit inside the harness and directly pleasure your little kitty while you're bamboozling your partner.
Still, there are many different vibrating double penetration strap-ons out there. The trick is to find one that delivers just the right type of vibration for you. It should also give you tons of different speeds and patterns to experiment with. What's more, most vibrating DP toys will give you a standalone remote. Alternatively, they could connect to apps to help you experiment with the most realistic (and practical!) hands-free pleasure!
Double Strap-Ons for Men
I know what you're thinking: "But, Scarlett, how can men even use strap-ons?" Heck yeah! Double strap-ons for men are specially designed to fit the male body. The point? Well, your partner can fuck you with his cock and a second dildo all at once! Goddamnit, Berta, you're gonna need some bigger holes!!!
For real, most of these toys include a single dildo or vibrator. You can usually attach it to your male partner's body via thin straps. Then, your partner can decide whether to attach the fake cock above or below his penis. It's a fantastic option for rough maledom, intense double-entry sex, and fake threesomes that don't need to involve another guy.
"DP strap-ons for men are the closest thing you'll get to a real MMF fuckfest! Plus, you'll avoid all those real-life issues that come with involving another guy, such as awkwardness or crossing swords, and you can forget all about the second guy cumming in your BF's eye by mistake!"
Double Penetration Cock Rings
Another fabulous strap-on for double penetration is a DP cock ring. This strap-on type is similar to the previous. However, it attaches itself to your man's junk via a tight-as-fuck C-ring. As you may know, a cock ring will block your BF's blood from exiting his penis. Then, the ring will prolong his erection. It will make his boner look super pumped up, thick, and veiny! Slap me silly – that's so freaking delicious!
On top of that, the cock ring is attached to a dildo. You'll only need to choose which hole gets the dildo and which one gets your man's love rocket. Then, you'll be ready to receive intense and lifelike double plowing action from your male stud until he blasts your holes like a double-barrel shotgun!
Buyer's Guide: It Takes Two to Tango
Don't jump on the first DP strap-on you see just yet! Why? Well, picking the wrong type of strap-on can be a total cockblocker just when you want to get filthy.
So Which Strap-On Setup Is Best for You?
To find the most comfortable toy for your or your partner's body, you'll first have to look out for the harness type and the attachment method.
Generally, you can choose from wearable two-strap or three-strap harnesses. Plus, you could pick a model that resembles underwear or a sexy leather thong that makes your ass pop. Most single-shaft straps on harnesses can accept a wide variety of dildos. However, with strap-ons for double penetration that are joined together, you'll usually have to buy a strap-on kit. It will provide you with a harness and an insertable double penetration dildo for the best fit. The general rule here is that more straps give you a more comfortable fit.
Plus, a double-shaft dildo is heavier than a classic strap-on dildo, and it will have to fit the harness snugly and allow you to use it without issues. Yet, if you want to experiment and use various dildos, you can buy an underwear-style harness with two openings. With this type, you can attach two different dildos of your choice. It's also important to think about which attachment method you'd prefer the most. Some toys will provide you with a rubber or metal O-ring, while others will have a hole in the harness.
Should You Choose a Dildo or Vibrator?
Honestly, this is up to you. I'll confess that I had some of the most unusual and most powerful orgasms of my life when I felt powerful vibrations on both my cunt and my rectum. However, other people may be a bit sensitive to vibrations, especially since double penetration already poses a challenging task. In other words, this is something you'll need to try for yourself to see how it feels. But, my best tip for you is to pay attention to all the vibration options. Look into whether the toy buzzes from both shafts or a single shaft, and definitely check out all the vibration settings along with the power options.
Use Only the Safest Materials!
Unfortunately, choosing the best material for DP strap-ons is a bit tricky. There are many unsafe options out there. For starters, I'd advise you to skip all toys that are not body-safe.
Remember, this toy will go into your or your partner's holes. That's why it's especially important to pick one that's safe for both of your bodies. For most beginners and intermediate players, I'd suggest you go for a silicone DP toy. Silicone is a 100% body-safe material that won't cause nasty reactions on your skin. Plus, it's non-porous, and it doesn't absorb bacteria. Because of that, it's perfect for all sorts of anal or vaginal adventures.
Another benefit of silicone is that it provides an incredibly lifelike texture and a smooth feeling during penetration. Alternatively, you can choose TPE, TPR, or Cyberskin materials. These choices are super bendy, and they're fantastic for all sorts of DP positions.
However, those materials are porous, and they'll absorb germs. That won't be a big deal if you take care of your toy after you use it. However, it's not the most durable choice, and you'll need to replace your toy after a few months. Another great choice is 100% body-safe ABS plastic, and you'll encounter it mainly on vibrating strap-ons for double penetration.
Now, when it comes to the materials you should stay away from, just watch out for porous options that are full of toxic chemicals known as phthalates. That includes materials such as jelly, PVC, and rubber. While they are flexible and jiggly, you should avoid them.
The Perfect Size
So how do you pick the size of your double penetration strap-on? Obviously, you'll have to think about the length and width of two shafts instead of only one. If you don't want to waste too much time, you could choose the same length for both dildos. Still, that will depend on your or your partner's abilities.
Frankly, there's no shame in using a smaller DP dildo if you're just starting out. A decent starting point would be anything from 5 inches for the vaginal dildo. For the anal toy, a length of 3 or 4 inches should be enough. Of course, if you're a good girl who trains her holes every day, you can go as big and as thick as you want! Lastly, it's essential to measure your waist and compare your size to the measurement of the harness to see if it will fit correctly.
What to Look For
Choose a shape based on your anatomy. Some of these toys could be curved to stimulate your G or A spot with precision, while others could be straight.
Think about the flexibility of the material. If you want it soft and squishy, opt for a silicone or TPE strap-on dildo. But, if you want it harder, ABS plastic will be a fantastic choice, especially when it's paired with strong vibrations.
What to Avoid
Stay away from cheaper toys that use toxic materials. That includes jelly, PVC, or rubber.
Don't buy your strap-on without your partner's knowledge and try to jam it inside their holes without prior warning! Instead, talk to your partner and see which strap-on would suit both of you.
Tips on Using, Cleaning, and Storing Your Double Penetration Strap-Ons
As a sex toy expert, I can tell you that using a double penetration strap-on is no different from using a classic strap-on. You'll simply need to wear it and bang away! However, there are several crucial tips to learn before you grab your big Sexcalibur.
To play the "two-car garage" game with your strap-on successfully, you'll have to get used to two big fake cocks hanging from your waist first. Once you get strapped into your harness, I'd advise you to walk around with your toy or use it during foreplay. That way, you'll get used to all the motions and sensations. Of course, if you get a male DP strap-on, your stud should study the instructions first. He'll need to learn how to attach the toy without pinching his balls.
Either way, when you're ready, you're also going to need to use a lot of lube on both dildos and on both holes. My rule? The wetter, the better! This is especially true when it comes to any anal action that you may give or receive. If you use lube generously, you'll eliminate any friction on your skin, and you'll make everything flow much smoother.
Now, it's time to fuck! When you're ready to ram your lesbian lover's holes, my best tip would be to try doggy style first because that's the easiest position to use with this toy. When you get the hang of all the intense thrusting motions, you can switch things up and try several other positions to make your partner gape and cream like crazy!
How to Clean Your Strap-On For Double Penetration
Hopefully, when you're done with all that intense double-entry action, your partner's holes will be nice and stretched out. Also, your dildo will be covered in all sorts of creamy liquids! So don't forget to clean your toy after each use!
To do this properly, remove the strap-on dildo from the harness and clean them separately. If you use warm water and soft soap on your DP strap-on, your toy will be clean in just a few minutes. Also, don't forget to wash your harness by hand or stick it in the washing machine. After that, you should leave your DP dildo or vibrator to dry before you store it. To stash your toy away correctly, just use the original packaging or a sealable plastic container.
Double Penetration Strap-Ons Industry Overview
To be honest, the history of double penetration strap-ons is a bit of a mystery, but we can speculate that they were invented when some brilliantly kinky mind had the wild idea to put two dildos on a standard strap-on harness. Now, two-on-one action is certainly nothing new, and even our ancient ancestors were obsessed with intense double penetration with strap-ons.
For example, all sorts of double penetration shenanigans pop up on ancient cave paintings. When it comes to strap-ons specifically, there are records of them being used on women and men in ancient Japan, Greece, and Rome. Various DP toys have been discovered through the ages, and some of the oldest ones were stone double dildos that were found in Asia.
While we'll never really know who invented the double penetration strap-on, it's better to look ahead and think about what the future has in store for us.
Right now, the sex toy industry is leading a full-on sexual revolution, and there's never been a better time to stock up on next-gen strap-on toys. Some of the most revolutionary brands out there today include Lovehoney, Doc Johnson, Fetish Fantasy, Happy Rabbit, Tracey Cox, King Cock, We-Vibe, etc. Those are just some of the names you should keep an eye on if you want to get yourself a state-of-the-art DP strap-on.
⚠️ Disclaimer: Our articles contain affiliate links. If you like our content and wish to support our work, consider purchasing your new sex toys through our links. For each purchase through our links, we receive a small commission but at no extra cost to you.
Frequently Asked Questions
It depends on your skills. If you've already tried using toys or big cocks in your ass and vagina and you've always fantasized about DP, then yes, this toy is the best choice to start off your adventures with either a male or female partner. But if your holes are not ready, it's better to start with two separate toys, such as a vibrator for your kitty and a butt plug for your pooper.
Absolutely! However, using it will require some trial and error. So just be patient and try to get those thrusting movements down first. Also, if you're not careful, you could hurt your partner. This is because you won't be able to feel your strap-on while you push it inside your partner. That's why you'll have to make careful movements to avoid causing your partner discomfort.
Oh, yes! If you want the most realistic action, it's best to use a soft silicone DP toy that resembles a real penis. That will be the best toy to experiment with double penetration, and it will save you all the hassle of having a real-life threesome. Still, if you really want to get fucked by two guys in real life, a double penetration strap-on will be the perfect training tool!
Yes and no. It all depends on you and your partner's heights and weights as well as your athletic abilities. Remember, penetrating someone with a cock is not the most natural thing for a woman. Therefore, you'll have to practice your thrusting motions and exercise your muscles. To make everything a lot easier, try to go slowly and use easy positions like doggy style!
You can, but it might be easier to do it with a single strap-on. That is because the second shaft could bump up against your partner's balls and cause him discomfort. But, that's not always the case. If you get a vibrating DP strap-on, the sensation of another dildo stimulating his cock and balls could be highly pleasurable. Also, if he's into it and if he's experienced, you can try your DP strap-on for double anal penetration to make him gape like a little slave boy!
DP strap-ons are designed to prevent the spread of bacteria from your partner's anus to her pussy. You only need to push both ends in both holes separately, and you'll be safe. However, try not to push the anal dildo inside the vagina or the other way around during sex. This could lead to some potential health risks such as infections. You can always slip on a condom over the vaginal and anal dildo just to be safe.