Jul/04/2022
Last Update: June 26, 2023
975
23 min read
The Best Thrusting Dildos In 2023 For Next-Gen Orgasms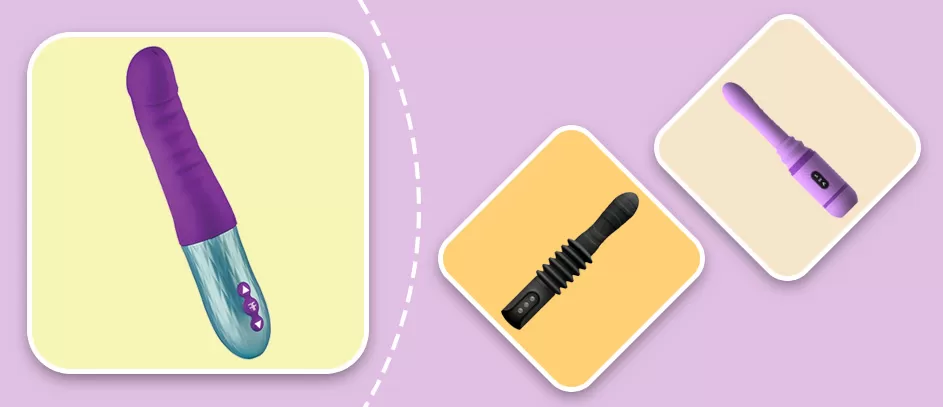 Did you know that some thrusting dildos can fuck you faster than 800 strokes per minute? Yup, I'm talkin' about 800 long, fast, and super hard thrusts that will drill you a new one in under 60 seconds! But wait, let's not pump that fast before we get to know each other!
Oooh, baby, get your pie ready to shoot out some questionable amounts of that warm, sweet squirt juice, and check out all you need to know about the biggest, baddest thrusting dildos!
Top 10 Thrusting Dildos in 2023
I can't tell you how many times people ask me: "Dear Scarlett, sometimes I just need a bigass cock to fuck me real hard without holding back. I don't want it to stop ramming me until my holes are sore, and I want to feel like I just got my asshole blasted by the Incredible Hulk. What's the best toy you can recommend?"
Well, darling, just skip all those mini-vibrators and grab yourself a handsome bite of the Big Kahuna. A mighty thrusting dildo will give you what you seek! If you're looking for the cream of the COCK, check my list of the best thrusting dildos below!
Thrusting Dildos: Push It to the Limit!
"A thrusting dildo is a hand-held fuck machine that will push you above and beyond your penetrative potential and go where no other toy has been before! It will pummel you with loud moans and deeper-than-life thrusting to give you creamy, mind-bending orgasms outside of the realm of your naughty imagination! Oh, and it packs more power than the freaking Energizer bunny!"
Are you one of those horny sweethearts who spends her evenings watching kinky sluts get blasted in all holes by fucking machines with massive dildos? Would you do anything to be like one of those girls? Surely, all sex toys have the potential to get you off. But what happens when most of the vanilla choices out there are simply not rocking you as hard as you'd like anymore?
And let's be honest: full-size sex machines are fucking awesome, but they're way too big, they cost a fortune, and worse, they're louder than a goddamn motorboat. But wait! Don't give up! You can still own a personal fuckbot that drills your soul out while pumping, thumping, and vibrating your holes to orgasmic oblivion in a much more convenient yet equally kinky package! The thrusting fake cock buffet is open, and it's time for your delicious treat!
Spread 'em Wide!
Finding a quality fuck-you-just-the-way-you-like-it thrusting toy is not as easy as it sounds. Not all of them are perfect for the job! But what do I know, I only test dozens of sex toys for a living each week, and I don't hold back when using them in all my holes, right?
Seriously, the best thrusting dildo needs to keep you hooked for hours! It should also give you that slightly intimidating look and the squishy, veiny feel of a real hard jizz cannon. And if you want the good stuff, you're going to need a thrusting dong that's rechargeable, that offers smooth and safe materials, as well as multiple high-tech features – plus heaps of penetrating power!
So before you get your dream cream machine, do your homework first and find out all you can about thrusting sex toys. And why not rub one out to videos of girls and couples using them for tons of nasty shit? Aww, yeah! But let's start with the basics first:
To Thrust or Not to Thrust
For starters, thrusting dildos are mini fucking machines that fit in your hand. Except they're less expensive, much easier to use, and they're a hell of a lot easier to store compared to a full-size sex machine. Essentially, they're designed to push in and out of you automatically. That's how they can deliver the most life-like penetrative sensations and do all the hard work for you. Lazy masturbation FTW!
But even if you don't want to get pounded like a tied-up pornstar begging her fuck machine operator for mercy, they can still deliver tons of elegant movements and gentle pumping pressure for all kinds of unique tingles.
What's more, they'll give an all-out anal revelation if you're the kind of lady who takes extreme pleasure in stretching out her tight sphincter. And if you're simply begging for it, most thrusting sex toys will literally pound your pussy like a jackhammer until you're creamier than a warm cherry pie!
Seriously, from FAST and FURIOUS to deep and sloooooow, thrusting dildos are some of the most intense toys for adventurous singles, kinky couples, and all kinds of nymphettes out there!
One Thrust at a Time…
If you really want to get the party pumping, and you're the type of girl who needs motion and penetration to reach the high plains, these toys will give you all of the benefits of a regular dildo plus the extra juice of a self-propelling thruster mechanism. You can use this fake cock for normal in-out penetration, or you can turn on the energetic pulsing engine and go wild.
As for the basics, self thrusting toys give you the same sizes and lengths as classic dildos. But, they have an internal mechanism powered by an electric motor. While there are many types out there, they will most likely feature an accordion-like extendable design. Others will have a single-length shaft. They'll sport a hollow interior that thrusts using magnetic force.
Push, Push, Bang, Bang
Here's what you'll get from your new thrusting dildo:
Automatic hand-held or hands-free penetration that's perfect for solo and couple play.
All the benefits of a dildo, including a long, thick shaft, throbbing veins, a delicious cock head, and sometimes even a lovely pair of balls.
Unlike Mr. Quick Draw, your thrusting dildo machine will never let you down just when you're about to climax.
You can use most thrusting dildos for all kinds of vaginal and anal adventures. But you can also suck on them, too!
They're ideal for BDSM, DP play, teasing, G-spot edging, squirting, and many other kinks.
A thrusting dildo can push you to the max. It will allow you to explore all sorts of intense vaginal, clitoral, and anal orgasms time and time again.
What if a standard pulsator isn't enough? You can also explore various designs that swirl, rotate, offer remote control, or even VR features.
Time for a Little Self Love
At this point in my articles, I usually go deep and tell you about all the technical mumbo-jumbo. But since these toys are truly special, I want to give you a personal look into what it actually feels like to lose your "thrusting dildo virginity".
In my case, I get soaking wet whenever I see sex machines and dildos in action. The way they pump and rotate makes me feel like I'm about to lose all control and surrender myself to a machine that knows exactly how I like to get fucked.
What stopped me from getting an actual sex machine was obviously the steep cost of hundreds if not thousands of dollars. Luckily, I found thrusting dildos that perform the same basic functions but at a much lower cost and with tons of storage-friendly potential.
Now, when I got my first thrusting dildo, I tested it out for some naughty solo play on my bed, and I played with my clit until I was ready to insert the toy. I stopped to tease myself further by giving my thrusting fake cock a really slow and sloppy blowjob. And since it was already between my lips, I couldn't help but wonder: "Should I turn it on and let it fuck my mouth for a while?" Seriously, facefucking myself with the thing was surprisingly hot, and it made me all the more ready to spread myself wide open!
It's Sooooo Deep!
To continue, I lubed my dildo up, pushed it in and out with my hand for some time, and once I was ready, I turned on the thrusting. First, my fake cock started pumping into me slowly, and then I experimented with all sorts of settings. And it didn't only feel amazing because it was pushing in and out. The texture and the smooth material were incredibly soft. It put just the right amount of pressure against my G-spot and made me feel it all inside me while I had my fingers on my soaked clit.
Mind you, I was already past orgasm #2 by this point, and I simply knew that this dildo would not stop until I practically passed out. I was so horny that I spread my legs in front of a mirror and watched myself get fucked.
Honestly, I was trying to keep up with my fake cock's endless stamina, and everything faded to black once I started riding it. I had the kind of orgasm that made me clench my ass, feel it deep down in my belly, and my body felt like it was on fire. After I squirted for the last time, I put my self thrusting dildo away, and I knew that I'd come back to it the next day.
Moral of the story? Besides helping you shoot out your wildest orgasms, thrusting sex toys will bring out your strangest fantasies and make you feel extra naughty while expressing your sexual desires (and don't forget my mirror trick for later!).
Thump It, Baby
Now that I've sparked your imagination, you can search out the automatic thrusting dildo from your biggest fantasies and look into several factors:
Color
Style
Size
Material
Power
Design
Extra Features
You can pick your toy depending on all that, but it's likely that you'll start by checking out the way it looks. Is it a treat for the eyes as well as your body? Well, if you need a big, hard cock, then treat yourself to a realistic thrusting dildo.
But obviously, I'm not forcing you to take a massive dildo that looks like a dick. Not unless you want me to. There are plenty of non-phallic pulsators out there. They have special non-conventional designs. They're great for people who aren't all that into real dicks or just want something new. Either way, let me break down the two main thrusting dildo styles:
Extendable Dildo
Accordion-like designs are the most common. They have a long shaft that's similar to standard dildos, but you'll see a thrusting mechanism along the length. You'll typically find it behind the head or at the base. The mechanism pumps the shaft back and forth to create the sensation of movement inside your body. This design is ideal for deep, fast, and precise movements.
Single-Length Dildo
The second type is hollow on the inside. It produces the thumping sensation via internal magnets. With magnetic force, the entire dildo thrusts up and down. Magnets, baby!
This creates a different effect compared to the previous design. It produces a unique rocking sensation that moves the whole thing while it's inside you. Also, while the previous type is best for deep penetration, this kind of design gives you shallower and gentler pumping movements.
Main Types of Thrusting Dildos
Almost all the self thrusting dildos I'll describe below come in dick-like or non-conventional designs. That includes:
Silicone Thrusting Dildos
Automatic thrusting dildos are basically the best type you can get. They are made using stretchy and soft silicone. Silicone is the most popular material for standard dildos as well as countless other sex toys.
You'll instantly recognize the velvety texture of these smooth toys. But what you also need to know is that they are 100% body-safe. Plus, they don't give off funky smells, and they'll last a lifetime.
What's genuinely important here is that the thrusting mechanism pairs exceptionally well with silicone. Meaning you'll feel even the tiniest nuances all the way up to a hardcore plowing.
Plastic Thrusting Dildos
If you need something that's harder than silicone, ABS plastic should be first on your list. Thrusting toys made of ABS plastic are not so common, but you'll still be able to find some quality options if you need an extra-hard goober.
While ABS plastic is also body-safe, the main difference between this kind of dildo and a silicone one is the toughness of the material. Namely, it's not bendy or flexible. This gives you more pressure inside. You'll tighten up around it much harder as it pumps away!
Rubber Thrusting Dildos
Newbies should avoid rubber thrusting toys as well as those made of latex or jelly. They are cheap, extremely common, and are usually made by unknown brands. During the manufacturing process, toxic chemicals called phthalates get added to the material, and this makes them highly unsafe for the skin. Also, their surface is porous, and they will crawl with nasty bacteria after a while.
Some of them can look the same as silicone thrusters, so don't get them mixed up. If you must, you can still use them with condoms, but you have to pay extra attention while cleaning them.
TPE Thrusting Dildos
Another common choice you'll see out there are TPE thrusting sex toys. These dildos are similar to silicone options. Yet, they feel a bit more bendy. They're also much softer, but the caveat is that TPE is a slightly porous material. It's not full of phthalates, which means you can use it safely if you want a softer and super-squishy fake cock.
Nevertheless, I would only recommend this toy if you know what you're doing. You'll need to know how to clean it thoroughly and even swap it out for a new one every few months.
Boost Your Thrusting Fun With One of These:
Rabbit thrusting dildo – If you want to add more juice to a classic rabbit vibrator, just use the thrusting version! Thrusting rabbit dildos will literally blast you into space with a long, thick shaft that pumps automatically, plus a built-in clitoral stimulator for external clit-satisfying madness.
Rotating thrusting dildo – If you don't like the sensation of thrusting, but you still need to feel some movement down there, a rotating dildo will turn your world upside down. These types have rotating shafts instead of those that thrust, but you can also find a combination of in-out motions and tingly swirls!
Vibrating thrusting dildo – Vibrating thrusting dildos are some of my favorites! A vibrating and thrusting dildo will give you all the hot pumping action plus extra-strong pulsations. Even better, if you need vibration to get off, all of the variants I've described above are available as vibrating and thrusting dildos. They'll give you unforgettable pulse-pounding sensations!
XL thrusting dildo ​​- Brace yourselves, size Queens – BIG DADDY is cumming to teach y'all a lesson! If you're not satisfied by anything but a huge monster cock, extra-large thrusters will quench your thirst. If you like it big and black, or even if you're into fantasy options, these realistic thrusting dildos will give you over 10, 12, or more inches to play with! Challenge accepted!
What About Anal?
If you're begging for an appointment with Dr. Thickassfuck, you might be wondering: "Gee, Scarlett, can I put any thrusting dildo up my ass?" Hell yeah! You can use any shape or size, as long as the material is non-porous and anal friendly. My favorite combo is a longer and wider realistic thrusting vibrator dildo along with gallons of lube. It gets me a nice, wide stretch along with extra-deep anal pumping.
Also, if you're really having serious DP cravings, it might be better to buy two separate dildos: one for the pink and one for the stink! Not good enough? How about a thrusting double penetration dildo? Or a ridiculously thick thrusting butt plug? To quote my BF: "Scarlett, Mike Adriano called, and he wants his gape gloves back!"
Don't Ignore These Features:
Not all thrusting toys come with the same set of features. It's smartest to look into them and see which one(s) you prefer:
Suction cup
Handle
Shaft controls
Remote controls
Thrusting movement range
Thrusting modes
Vibration types
Textures
Squirting and ejaculating options
Warming features
Long-distance control
VR compatibility
Buyer's Guide: How to Buy the Hottest Thrusting Dildo for You
If you see a dildo that gives you butterflies, don't slobber all over it just yet. Sure, a big veiny pulsator might get your juices flowing, but will it truly be able to plow you just like your favorite male pornstar?
In my opinion, the greatest dildo is the one that ticks all the right boxes for you. Don't eat with your eyes only! First, look into all the details to see if your thruster has what it takes. So listen carefully to your dildo expert Scarlett:
Thrusting Style
To me, pulsators with extendable shafts are ideal for hard and fast penetration. The accordion-like design will give you precise and targeted movements. This type is fantastic for quick orgasms or long sexathons! I can especially recommend it to girls who love G-spot stimulation.
However, the single-shaft design also has a lot going for it. The mechanism doesn't thrust from only one spot along the shaft. That way, it feels even more realistic. As I said, the movement is not so extreme. This makes it ideal for deep, slow, and sensual penetration.
Stroke Length
The movement range will determine the penetrative impact of your toy. Most self thrusting dildos have a range of up to 1.5 or 2 inches. This means that their thrusting rods and their size will extend up to 1.5 or 2 inches.
If you're just starting out, 1.5 inches will be just enough for you, and you can always move up later on. I'm a fan of either 2- or 2.5-inch movements. It produces deep and intense penetration and lets me vary the stroke length to find the sweet spot.
Handle or Suction Cup?
Ah, one of the most important decisions! With thrusting toys, it's all about manual or hands-free operation. If you want to keep the dildo in your hand and direct it while you're porking yourself, pick one with a handle. The handle is usually made out of body-safe ABS plastic. It gives you something to hold onto while you're banging your brains out.
But, if you want to feel like you're being filled up by the freaking Terminator, use a thrusting dildo with a suction cup. You can pick from two types. That includes a suction cup on the base or a separate telescopic base that can bend and rotate at all angles. Simply stick the suction cup onto a flat surface. Then, climb on top of your dildo or back your ass up against it, and your toy will drill you like you're the world's next rodeo champion.
Controls
A quality pulsator will give you one or both of these control options:
Shaft controls – You'll usually get a button configuration directly on the handle.
Remote controls – You might be able to configure the thrusting remotely via an included wireless remote. Some thrusting toys allow you to use your phone as a remote.
Here, you might not need to pay extra for a remote if you think that the shaft controls are enough for you. Just make sure that the buttons are easy to use. Shaft controls can be practical, especially if you need a portable dildo. However, they need to be ergonomically designed so that they won't distract you while you're edging yourself.
Moreover, the added kink factor of a remote control makes the whole thing feel much closer to an actual fucking machine. Remote controls are also a bit more practical for couple play, especially if you've been bad and you want to get restrained.
Materials and Textures
Which material is the best and safest? As I said, silicone might be the best all-around option. It feels incredible, it's body-safe, and it lasts for a long time. This is my favorite choice for a life-like fake dick as well as a non-conventional shape. It transfers the thrusting movements or any other features like vibration perfectly. Plus, it's a breeze to clean.
What's more, if you've already tried a silicone dildo, you can experiment with ABS plastic or TPE to get a different sensation altogether. As mentioned, ABS will give you a rigid shaft. Alternatively, TPE will feel softer compared to silicone.
Thrusting Modes
You should also find a variety of thrusting modes. This could include 8 to 10 or more settings. They'll provide different speeds, lengths, and patterns. You should aim to get a range of slow and fast speeds as well as tons of different rhythmic thrusting patterns. That way, you'll be able to experiment with your self-propelling dildo infinitely, and you'll find the most orgasmic thrusting modes for you.
If you're looking for a dildo that vibrates and rotates along with the thrusting, make sure you inspect all the settings it's capable of before you dish out the cash. My advice? The more options, the better!
App Control, Ejaculation, Long-Distance, and VR
And what if thrusting, rotation, and vibration aren't enough for ya? What if… You need to get blasted with creamy fake semen that feels like there's a real cock cumming deep inside you or all over your face?!
Sugar, some thrusting and ejaculating dildos can shoot more webs than the Amazing Spider-Man! They're pretty much a must-have toy for any cum-hungry vixen out there. Alternatively, you could buy a dildo that gives you intelligent heating options.
Moreover, the newest and most popular extra features right now are all about long-distance control, VR syncing, and app compatibility:
Long-distance – Some dildos will give you video-chat options plus toy-syncing capabilities to allow you to have sex with your partner even if you're in another country.
VR – Virtual reality thrusters can sync to 2D or 3D VR adult content to get you the most realistic porn action ever. Just connect them to compatible videos, and they'll thrust as fast or hard as your favorite on-screen cock!
App control – App control is not only fabulous for long-distance relationships. If you have a Bluetooth or Wi-Fi-enabled thrusting dildo, you can control it with an app. You can use your phone as a remote. You'll also get extended control of your toy. For instance, the app lets you configure all sorts of thrusting modes, make your own vibrating patterns, and sync the dildo movements to music.
How Big Do You Want It?
The rabbit hole just gets deeper and deeper! You can treat yourself to just about any size or shape of these dildos out there. That includes straight, curvy, thin, or extra wide. But to find the right size, focus on the stroke length plus the total insertable length. For most beginners, 5 inches with a 1.5 extendable shaft will be more than enough.
Nevertheless, there's no harm in wanting more, and that's purely subjective. For example, nothing pleases me more than to see my creamy, cum soaked BBC dildo pushing inside me balls deep! So if you're into it, treat yourself to that huge 10-inch fake cock. If not, remember that bigger is not always better. Just use a size that you know you will enjoy.
The Cost of a Fake Thrusting Dick
Thrusting toys are not the cheapest, but they can still fit most budgets. Realistically, you'll need to pay around:
$50 to $100 – This will get you a quality thumper that uses premium materials and offers basic thrusting settings. You'll also find features like vibration, warming, suction cups, and more for this price.
$100 to $200 – You'll find most of the next-gen toys from companies like Lelo, Fun Factory, or Adam & Eve for this price. They'll give you unique designs plus premium features such as app-control, long-distance options, and VR capabilities.
Do…
Try to get a waterproof thrusting dildo. Waterproofing will protect the mechanism during cleaning. It will also allow you to use your dong in the shower.
The power is where it's at – You don't want to pay for an awesome-looking thruster that can only last for 15 minutes, right? Look for USB-rechargeable options that can run for at least an hour on a single charge.
Buy your dildo from a respected brand and avoid the no-name copies.
Don't…
Don't underestimate the importance of features such as the thrusting style, stroke length, and stroke speed.
Avoid the cheap options: they mostly use poor materials and ill-designed mechanisms that don't belong in your holes!
Tips on Using, Cleaning, and Storing Your Thrusting Dildos
Not gonna lie – I love to get tied up and used with my thrusting dildo inside me. Richard and I play with these bad boys all the time. He gets rock hard when he watches me and controls the dildo as it pumps deep inside me. But, these toys are some of the most versatile sex gadgets out there, and you can use them for all sorts of exciting experiments. So let's focus on the Holy Trinity:
Clit – You don't always have to insert your thruster! You can use the pulsating head directly on your clit. The thumping will produce all kinds of intense tingles that are much different from a classic vibrator.
Pussy – Slide it in and feel the thunder! You can experiment with manual or hands-free settings and try out all sorts of speeds to find what works the best for your orgasms. My tip? Use a suction cup! And if you want dual stimulation, a rabbit thrusting vibrator will be the best decision of your life!
Ass – As mentioned, you can use your fake thrusting cock as an all-out booty blaster or a gentle external stimulator.
Lube It Up!
There are plenty of more fun activities, including throat-ripping oral action, kinky partner play, and so on, but that will depend on whether you're into it or not. Regardless of if you want to please your coochie or your starfish, you'll also benefit from lots of lube.
So don't forget to apply some on your dildo. It will eliminate any "pins and needles" thrusting friction and make everything feel more tingly. But, only use the correct lube for your toy. I'd recommend a quality water-based lube because it works for all materials.
Use Your Dildo Safely
Don't overdo it. Note that most thrusting dongs have sensitive internal mechanisms, so you should handle them carefully. As stated, the most reliable options are waterproof dildos. You should also be careful while using them inside you. Try not to push them in too deep because they can bump up against your cervix.
Clean Up
Nobody likes a sticky, stinky dildo covered in dried goo, and it's your responsibility to prevent such disasters! The best way to clean your toy thoroughly after you're done is to use warm water and mild soap. If your dildo is waterproof, soak it; if not, use a damp cloth.
My pro tip here is to clean the entire body of the toy and make the material spotless. Some accordion-like thrusters will be trickier to clean due to all the small crevices.
Still, you'll be able to make it work with a thin cloth. Then, your toy needs to be 100% dry before you can store it and use it again. Doing all that will eliminate any dirt or bacteria build-up. Just remember to put your dildo away in a soft carrying pouch or a clean plastic box.
A Look Into the Thrusting Dildos Industry
It's a dildo! It's a sex machine! It's a vibrator! Honey, a thrusting sex toy is all that, and much, much more. But how were these amazing orgasm gadgets invented, and what does the future hold for them?
History of Thrusting Dildos: Doctor's Orders!
The origins of mankind's relationship with mechanical sex toys is just fascinating. In fact, the first sex machines were designed by doctors to relieve female "hysteria" by inducing orgasms. However, all the "hysteria" was just a term for any kind of behavior that didn't fit the norm, including anxiety or nervous outbursts.
By the 1600s, doctors across Europe had come up with all sorts of mechanical contraptions as a cure for "hysteria". But, it was in the 1880s that the first mechanical sex toy was invented. This was the granddaddy of them all, aka the vibrator.
However, sex machine toys truly evolved in the 20th century. Early on, you were able to get an automatic blowjob machine or even a saddle-type vibrator. That's when the most iconic floor-standing models with thrusting dildos were invented.
In the decades that followed, sex machines with vacuum pumps, thrusters with electrical shocks, the iconic Sybian, and even pedal-powered dildo bikes were invented. Hand-held thrusting dildos were made in the late 20th century, and the rest is history. Heck, you can even visit sex-machine conferences like Arse Elektronika to see the latest and greatest in the world of mechanical sex!
The Future of Machine-Powered Sex
Obviously, technology and our kinky desires are developing at a fast pace. If you need to keep up with the trends, you'll be glad to learn that most of the top names in the business are constantly innovating. I've already told you about some next-gen features of thrusting dildos, like VR or teledildonics, but I think there's much more in store for you in the coming years.
So think about life-size Ken dolls with self thrusting dicks, smart dildos that make it feel like you're actually having sex with someone, and even more advanced VR or AI capabilities. For now, it's your turn to play woman vs. machine. So get your thrusting dildo today, and let's ride!
⚠️ Disclaimer: Our articles contain affiliate links. If you like our content and wish to support our work, consider purchasing your new sex toys through our links. For each purchase through our links, we receive a small commission but at no extra cost to you.
FAQ
The main difference is that a standard dildo will not give you any automated pumping action. A thrusting toy has a built-in mechanism, which will make it slightly heavier and a bit less bendy. However, it will look very similar to a standard dildo. The biggest benefit of a thrusting toy is that you don't have to push it in and out manually, and you can use the mechanism to configure all sorts of self-propelled penetrative action.
Yes. Generally, thrusting dildos do not vibrate. If you need vibration and motion to get off, it may be better to get a thrusting vibrator. This toy gives you all the benefits of a thrusting doing, but with extra vibration functions.
While these toys are quite safe from the get-go, just remember to find one that uses body-safe materials and to also use it carefully. For example, pushing it in too deep could make it bump against your cervix just like a big penis would. You could feel some discomfort if you do this accidentally, but it's usually nothing to worry about.
Absolutely! If your BF is into it, you can use the dildo on him. For example, you can tease his cock and balls with its head. If he's ready, you can push the dildo inside him and turn on the thrusting motions. Some men will genuinely enjoy this because the dildo will stimulate their prostates and result in unique P-spot orgasms. Just remember to get his permission first!
This style of dildos covers several bases at once. If you love to feel pressure on your clitoris during penetration, a rabbit thrusting dildo may be your best bet! It will give you a built-in clit massager to play with, and you'll be able to turn it on when you insert the toy. That way, you can double the fun and experience all sorts of intense stimulation!
A thruster could be a fantastic toy for lesbian sex. But first, you need to see if your partner is okay with it. They may not be into using a penis-shaped dildo, but you can still have fun if you choose a non-phallic dildo. Plus, you can use a pulsator with a strap-on harness to make penetration even more intimate.
Yes, but not exactly. No toy can replicate all the sensations that we feel during sex with another person. However, a soft thrusting toy will feel insanely realistic when you penetrate yourself with it. The material, along with thrusting motions, lube, and even some of the warming features, will get you incredibly close to the real deal.