Jun/21/2022
Last Update: June 26, 2023
980
16 min read
The Hottest Vibrating Strap-Ons In 2023: Buzz Those Holes Like There's No Tomorrow!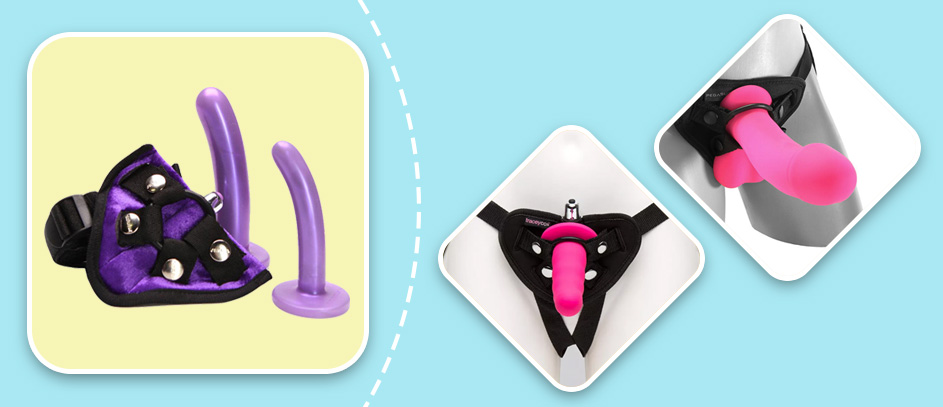 Are you a seasoned strap-on pro? Or are you looking to dip your toes (and fuck some buttholes…) inside the insanely kinky world of strap-on sex toys? Well, as much as I love to worship a huge fat cock, it's always fun to turn the tables on my BF and fuck his little pooper with a massive strap-on. What about using a big strap-on to pound your lesbian lover's tight pussy until she squirts? Mmmmm yes, baby, cum to momma! However…! If you truly want to be a freak of nature and leave your or your partner's holes in a warm creamy mess, vibrating strap-ons will take your adventures to a whole new level!
So let me show you everything you need to know about strap-on vibrators! I'll help you choose your new favorite weapon of ass destruction!
Top 10 Vibrating Strap-Ons in 2023
As much as I adore classic strap-on dildos and all the naughty things they let me do to my partner, I sometimes like to get extra filthy and fuck my BF with a huge vibrating cock. Most strap-on types out there have their own vibrating versions, and there are literally hundreds of these toys on the market right now.
But which ones are the best? Which ones will make you cum hard? I've tested dozens of strap-on vibrators, and I focused on their design, harness type, materials, vibration features, and more to help you find the hottest strap-on cock of your dreams! So take a look at my top picks for the best vibrating strap-ons in 2023!
All You Need to Know about Vibrating Strap-Ons
Everyone knows that intense vibrations and big dildos go together like peanut butter and jelly. But vibrating strap-ons are a whole other story! Whether you aspire to be a ruthless mistress to your boy slave or you want to own your lesbian lover's holes, vibrating strap-ons will provide you with some of the kinkiest adventures out there.
While my BF Richard's big 8-inch monster is still my favorite, I love to switch things up and take control. Whenever I get a sudden craving to become a dominant sex goddess, I always take out my strap-ons that vibrate!
These toys have become some of my favorites for hardcore pegging experiments with my guy. Plus, I've also used them to dominate my female fuck buddies and own their throats, asses, and pussies until they had trouble walking straight.
Trust me – nothing gets me off harder than seeing a big black cock attached to my waist and using it to pound my lover's holes like he owes me rent! But, finding the perfect strap is a whole other story compared to picking out a classic non-vibrating model.
Obviously, the biggest difference here is that your strap-on will come with one or several vibrating motors. There are many different vibrator designs to look for. Yet, the whole point of these toys is to give you sizzling vibrations that can please both parties!
Also, sometimes, using classic strap dildos can get a bit tiring. They can feel too floppy, and all the action can turn dull after a while. When you strap in and use a vibrating toy, you won't only get a long, thick shaft that you can grab onto while using and abusing your partner's holes. Yup – you'll also get to feel strong vibrations pulsating all over your new fake cock!
How Do Vibrating Strap-Ons Work?
Strap-ons that vibrate come in many different types and models. If you want to choose one to ram your partner's holes balls deep and get off at the same time, you'll have to consider several important factors. But what if you're a total beginner? What if you've never even seen a strap-on before?
Generally, some strap-ons come in combo kits. Others are all about individual harnesses that you can use with various detachable dildos or vibrators. Regardless of the design, strap-on vibrators look similar to the classic versions. However, they have built-in vibrating motors that can take your bedroom rodeos to a whole new level.
For example, the most typical strap-on vibrator out there has a motor embedded in the base or head of the shaft. Some can include a removable bullet vibe. Others can have dual vibrating motors to stimulate you and your partner simultaneously. Moreover, the best vibrating strap-ons out there will provide you with heaps of power plus several extra features. That includes a wide variety of pulsation speeds, strengths, and fun patterns.
Also, most of these bad boys offer remote control. That way, you can directly change the settings from a remote or even a phone app. And all of that is powered via rechargeable batteries that can provide several hours of pure unadulterated pleasure. The rest is entirely up to you and your kinky fantasies!
Types of Vibrating Strap-Ons
"Not sure how to choose your strap-on? Just follow my motto: the top chooses the harness, the bottom chooses the vibrator!"
Now, not everyone is willing to get ass fucked with a 12-inch BBC vibrator, correct? Every couple has its kinks and fetishes, and the whole point of strap-ons is that people can use them to experiment with their favorite fantasies, regardless of gender or sexual orientation!
However, it's not exactly ethical to tie your BF to the bed and rape his butthole with a massive strap-on. Well, not unless that little bitch consents to it, and you make him eat his cum afterward! Either way, the first thing you should do is to look into all the different types of vibrating strap-ons. That's how you'll find a toy that suits both your and your partner's desires!
PVC Vibrating Strap-Ons
These are some of the most common options out there. Unfortunately, a lot of companies are producing PVC and vinyl strap-ons. That's why it's not easy to find quality phthalate-free models.
While PVC is bendy and feels realistic, I'd advise all beginners to skip this option because it is not the safest. PVC toys can be highly porous. That is, they will absorb germs after each use. Plus, they might contain toxic phthalates that could pose a risk to your skin. If you truly want a PVC vibrator due to its flexibility and jelly-like feel, you can use one, but only if it's phthalate-free.
Silicone Vibrating Strap-Ons
If your health is a priority, silicone strap-ons are always the safest. These types are made of medical-grade silicone. This material is 100% body-friendly and germ-free. It's a non-porous material that doesn't absorb bacteria or give off any funky smells.
What's more, silicone strap-on vibrators have the most lifelike look and feel. That makes them ideal for realistic vibrating strap-on models. They are smooth and bendy without being too floppy. And since silicone is slightly thicker, it makes the vibrations travel through your body in a very unique and precise way.
These types will deliver intense tingles and deep rumbles. Even better, silicone is the easiest sex toy material to clean. That is especially important if you like it rough and are planning to soak your strap-on vibrator with plenty of spit, lube, and cum.
Soft Plastic Vibrating Strap-Ons
This category mainly refers to vibrators made of TPE or TPR. These types of vibrators are usually cheaper than those made of silicone. Plus, they have a much softer texture. They are a less expensive alternative to silicone, and they are a bit bendier. Since they're soft, they transfer vibrations with more intensity, and the pulsations will feel closer to a high-frequency fizz compared to deep and low rumbles of silicone vibes.
However, while soft plastics are phthalate-free, they are mildly porous. They are not the easiest option for beginners, but you can use them safely if you know what you're doing.
Other Exciting Options:
Double vibrating strap-ons – This type has two insertable ends secured through a harness. You'll get a standard dick-shaped end that you can insert into your partner. However, the second end will be reserved only for you! Just wear your double vibrating strap-on and enjoy intense mutual pleasure!
Rabbit-style strap-ons – This type is designed to deliver 2-in-1 stimulation to the receiver. Instead of a standard vibrator, you'll get a rabbit-style toy that gives you a long shaft plus an external clit stimulator. Trust me – this is one of the most intense vibrating strap-ons out there!
Hollow strap-ons – Not all strap-ons are made for women. Hollow vibrating strap-ons are designed for men who are looking for a quick and fun way to get a bigger dick size. They're hollow on the inside, and your partner simply needs to stick his dick in, and he'll instantly get to fuck you with a vibrating monster cock! So leave no hole untrained!
Strapless vibrators – Now, this is an entirely unique category of strap-ons, and I've covered them in a separate article. Basically, vibrating strapless strap-ons are wearable toys that work without a harness. They have two insertable ends, and you "wear" them by gripping one end with your tight holes. They look a bit more natural compared to using a full-sized harness, and they provide more skin-to-skin contact.
Buyer's Guide: Good Vibrations!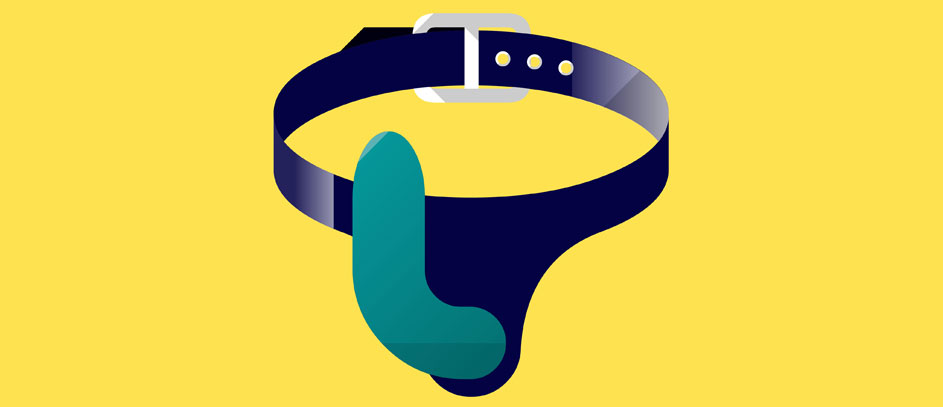 While testing my favorite strap-on vibrators, I've also come across some that looked terrible or fell apart right when I turned them on. That's why I want to share some of my smartest buyer's secrets with you to help you find your ultimate strap-on quickly!
How to Choose the Best Strap-On
Basically, no two strap-on vibrators are alike, and you should think about the following steps before you order your toy:
Choose the best attachment method for your body.
Measure your waist size to find a hardness that fits your body correctly.
If you want to use it on your boyfriend, you should pick a vibrator that fits his ass and delivers just the right type of prostate stimulation for him.
If you want to use it for hot lesbian sex, both partners should decide on the best vibrator that pleasures their holes just right.
What type of vibration do you want? Do you only want your lover to feel the vibrations? Or do you want to receive intense stimulation while penetrating your partner?
Don't ignore the size of the vibrator! Some could be too small for anal penetration. Others could just be too big for you or your partner.
Do you want a wired controller, or would you prefer to go hands-free?
Find the Most Comfortable Strap-on Harness
While you should obviously focus on the size and type of vibrator, you shouldn't neglect your body measurements and the harness type. You can choose from:
Underwear-style – This type of harness resembles regular underwear or sexy leather lingerie. Most of these harnesses come in a kit, meaning that the vibrator will not be removable.
Strap-style – This harness attaches to your waist or thighs via several straps. The best tip here is to choose a harness with three or more wider straps for a super sturdy fit.
Removable – Some underwear or strap-style harnesses allow you to mix and match your vibrators. They include a special O-ring or a hole that allows you to insert a compatible vibrator. This is a fantastic option if you're curious and want to try all kinds of vibrators!
Strapless – Strapless vibrators do not require a harness, but you'll need to train your vaginal or anal muscles to get used to them.
Size Makes All the Difference
Do I really need to repeat myself and tell you that using a strap-on is all about consent and mutual pleasure?
Well, that's why it's crucial to pick the right vibrator size for you or your partner. Let me tell you something – nothing will get you out of your mood as much as a vibrator that's too small or too large. The first thing you should do here is to take some measurements of your waist and find a harness that fits without being too loose or tight.
Then, look for your ideal vibrator size based on your goals. For example, if you only want to use your strap-on vibrator for some vanilla sex with your female partner, an average size of, let's say, 5 or 6 inches will fit perfectly. But, if your partner wants you to stretch their holes and make them gape wide open, you'll definitely need a few extra inches. If you want an extra-large size, anything from 8 and more inches will be enough for super spicy anal or vaginal adventures. However, just remember to know your desires and your limits.
What to Watch Out for When Choosing the Material
The general rule here is to only choose body-safe and medical-grade materials. As I've said earlier, you can pick toys that are slightly porous and ​​phthalate-free, but only if you're experienced. If you don't want to think about it too much, you should pick:
Silicone – Since silicone will never absorb bacteria, it is an ideal fit for all sorts of vaginal or anal romps. You can even share it with your partner (but never from ass to pussy!), and you'll be able to clean it in just a few minutes.
TPE – If you're looking for a more flexible or more affordable option, TPE is a decent material. But again, you will need to know how to clean it properly and follow the manufacturer's instructions.
Which materials should you avoid? – Well, if you don't want a toy that melts after a few uses or makes your pussy turn red, I'd advise you to stay away from jelly, rubber, vinyl, and PVC vibrators.
Shapes
Do you like it curvy or straight? What about fat and chubby vs. long and thin? Well, the shape will make the biggest difference. And that is something that the receiver should decide on. For example, if you need a pegging toy, you should pick the anal vibrator that's most comfortable for your partner. And for hot lesbian sex, you can choose curved G-spot vibrators, thick realistic vibrators, compact rabbit vibes, etc.
Vibration Features
Above all, you shouldn't neglect to inspect the vibration feature. That's the whole point of strap-on vibrators, right? How can you tell if your toy has enough power to drill all those juicy holes? Inspect the following:
Water-resistance – If you want to use your toy in the shower or fully soak it during cleaning, make sure it's waterproof.
Patterns – To keep things interesting, look for a toy that delivers as many vibration settings as possible. Ideally, you should get 10 to 20 different vibration speeds and patterns.
Motors – Do you want a single or dual motor? A single motor will only pulsate from the shaft, while a dual-motor will stimulate you while you're thrusting in and out of your partner.
Charging – Ideally, you should choose a USB rechargeable vibrator that offers around two or more hours of playtime.
Noise – Some powerful vibrators can get quite noisy, so if you're looking for something that's more discrete, opt for a silent vibrator!
Remote or Wired Control
One thing I haven't mentioned so far is that some strap-on vibrators have an attached wired controller. These can sometimes deliver stronger vibrations compared to remote-controlled vibrators. However, they can be a bit tricky to position on your body. Conversely, remote-controlled strap-ons will give you a genuine hands-free experience.
Also, some app-controlled vibrators will give you an extended range of controls. For instance, they could enable you to make custom patterns, sync the vibrations to music, connect to VR content, and similar.
Tips on Using, Cleaning, and Storing Your Vibrating Strap-Ons
How exactly should you wear and use a vibrator correctly? Look, I know you're horny as balls, but it's important not to stick your new fake cock into your partner's pooper without first learning a few key tips:
Put your harness on correctly – Since most strap-on harnesses are adjustable, you should take some time to slip it on and find the ideal fit.
Get used to your new strap-on cock – If it's your first time with a strap-on, the smartest thing to do is to wear it for a while before you have sex. That way, you'll get used to the feeling of a big dick swinging between your legs.
You must lube! – You'll always have to get your vibrator nice and wet before penetration. In most cases, water-based lube will be your best friend since it's compatible with all sex toy materials.
When you're ready to thrust, try easy positions like doggy style. – They'll give you the most comfortable angle and will feel great for your partner. And voila, you're now ready to enjoy intense oral, vaginal, and anal sex with your strap-on!
How to Clean Your Strap-On
The easiest way to clean your strap-on is to simply wash it in warm water. You can use mild soap, and you can even soak your toy completely if it's waterproof. If not, use soap, water, and a soft cloth.
Also, you can wash your harness by hand or stick it in the washing machine. Just remember to take the vibrator out of the harness and clean them both separately.
When you're done, you should also leave your strap-on vibrator to dry fully. After that, you can put it away. My best tip here is to use the original packaging. Yet, you can also store your vibrator in a carrying pouch or a plastic container.
Vibrating Strap-Ons Industry Overview
While I'd love to grab a beer with the person who had the brilliant idea to combine a vibrating toy with a strap-on, we'll never truly know who invented this super kinky sex toy. Still, strap-on sex has been around for centuries. Some of the earliest records of women using strap-ons on submissive men date back to ancient Japan, Greece, and Rome.
Obviously, vibrators weren't around until electricity was invented, but it took some time to develop functioning vibrators that were used for adventures of the flesh. They came around in the late 1800s, but it wasn't until the sexual revolution in the 1960s that they became hip among the masses. While we don't know when exactly strap-on vibrators were invented, they became widely available in the late 1990s. And today, we can say that sex toys have never been more accessible!
You'll be able to find nearly any vibrating toy that matches your dirty desires. Some of the most innovative companies in the strap-on business include Pegasus, Doc Johnson, Tantus, We-Vibe, King Cock, Tracey Cox, Happy Rabbit, and plenty more. What's truly helping here is that both vibrators and harness designs have advanced a lot. For example, there are many new types of vacuum lock harnesses along with smart vibrators that offer app control, long-distance play, and smart sensors.
What if we could somehow strap-on a big vibrating cock onto our bodies and feel all the sensations through it while pounding your lover's tight cherry or starfish? There are many other things to hope for in the future, including AI or VR integration, biometric harnesses, super versatile remote control options, etc. But don't wait too long until you strap in and join the fun!
⚠️ Disclaimer: Our articles contain affiliate links. If you like our content and wish to support our work, consider purchasing your new sex toys through our links. For each purchase through our links, we receive a small commission but at no extra cost to you.
FAQ
That depends on his turn-ons. If he enjoys anal play or prostate stimulation, you could talk to him to see what he thinks of pegging. If he's never tried anal play, it might be better to explore light fingering or rimming before you ask him about pegging. If he's unsure, you can watch some pegging porn or talk about your reasons for wanting to fuck him in the ass. However, if he doesn't consent, you should probably respect his wishes.
There are so many exciting ways you can orgasm while fucking your partner with a strap-on! First, many women can cum just by wearing the strap-on and trying all kinds of thrusting motions. It's a mental/visual thing, and it drives a lot of women wild. However, if you need additional stimulation, it's better to get yourself a double-sided strap-on vibrator that can penetrate and stimulate you at the same time. Also, you can pop a butt plug in your ass and get stimulated from all angles while you thrust your strap-on cock inside your partner!
Absolutely! If the vibrations get too powerful at some point, or if you don't want to use the vibrations at all, you can always turn them off. Then, you can use your toy for intense thrusting just like any other strap-on. But trust me, once you try your strap-on in combination with strong vibrations, you'll have a hard time turning it off!
It's possible, but that will be only temporary. This is a big myth related to vibrators. Some people believe that powerful pulsating motors can eventually result in permanent numbness. However, tons of studies have proven this myth wrong. So if you use your vibrator on the strongest settings and you end up feeling some mild numbness, don't worry. The sensation is temporary, and it will pass quickly.
It's up to you. If you're intimidated by real penises, you don't have to choose a realistic vibrating strap-on. You can opt for a non-conventional and non-realistic shape with cute colors or entirely unique designs. However, if you're obsessed with huge, veiny, and throbbing cocks, you should definitely choose one or two realistic vibrating strap-ons.
That will all depend on your fitness level and your body. Not everyone will get the hang of it first. You might need to go through some trial and error. However, you can always try some extra training tips. For instance, you can try to wear it around the house for a few hours to see how it feels. Also, it might be a good idea to brush up on your squats and other exercises that will help with your thrusting. And my favorite part: you should watch a lot of strap-on porn! Whether it's women banging men, chicks banging chicks, or whatever else you're into, strap-on porn will teach you all about hot strap-on sex!