Jun/20/2022
Last Update: June 26, 2023
955
15 min read
Classic Vibrators: The Most Iconic Sex Toy Of All Time!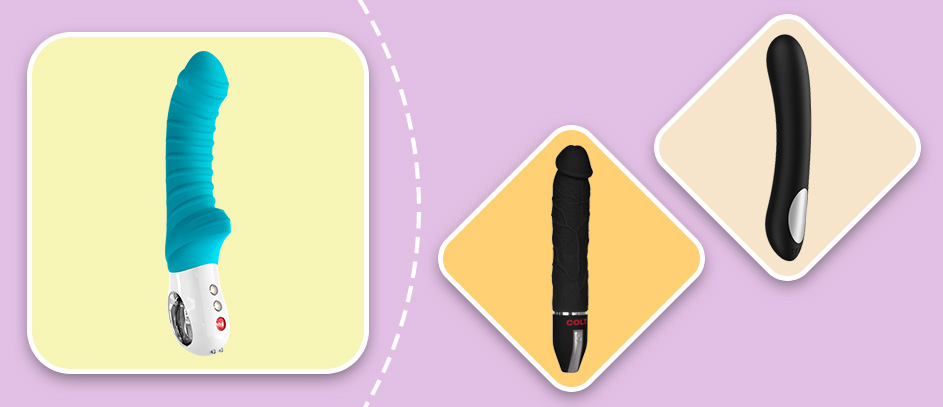 Right now, at this very moment, there's a woman out there who's gasping for air, shaking all over, and she's trying not to scream because it's way past midnight and her classic vibrator is drilling deeper and deeper into her pussy! If you've always wanted to be one of those ladies, it's time to take your pleasure into your own hands and get off with the most iconic and most intense sex toy of all time! Seriously, classic vibrators belong in every woman's bedside table or secret sex dungeon!
So if you wanna be the freaking orgasm princess and make your peach drip while blasting your body with ultra-intense pulsations, let me show you how to get your buzz on and find the perfect classic vibrator for you!
Top 10 Classic Vibrators in 2023
Sometimes, I get into one of those moods where all I want to do is eat, sleep, and squirt. And maybe suck cock, but that's a whole other ball game (ba dum tsssss!) Anyway, considering that there are so many different vibrator types out there (e.g., clit, anal, magic wands, DP toys, etc.), it's totally okay if you're confused and don't know where to start.
One of the easiest ways to cure your option anxiety is to go with a tried and tested classic. So let your friend and experienced sex toy connoisseur Scarlett help you out here!
In the list below, I've rounded up the sexiest, sleekest, and steamiest standard vibrators every girl out there can use for explosive out-of-this-world orgasms! Oh, baby, here we cum!
Classic Vibrators: Back to Basics
For starters, climbing on a huge BBC dildo and stuffing an extra-wide anal plug in your butthole while wearing a ball gag may not be every girl's idea of fun. If you're intimidated by most cock-shaped or kinky sex toys out there but still want to explore your body and maximize your orgasms, you shouldn't deny yourself the pleasure. You should totally consider a traditional vibrator or two!
Still, even if you're a kinky cock gobbler and you want to get rough with your BF or let him abuse your holes, a traditional vibrator will always hold a special place in your sex toy arsenal. So where do we start?
The Most Legendary Sex Toy Out There
To cut to the chase here, standard vibrators are the most popular sex toys for women. In fact, over 50% of U.S. women have used them for solo or partnered fun. They're by far the easiest and classiest sex toy to use if you want to supercharge your masturbation rituals or spice up sex with a partner. And I've tested so many of them over the years that I still get goosebumps whenever I hear that special buzzing sound.
Literally, it's always calling out to me. "Bzzzzzzz, Scarleeeeet… Time to cuuuuuum!" But what's the big deal about standard vibrators anyway?
Sleek, Simple, and Oh-So Sexy
Traditional vibrators are some of the most powerful sex toys out there. They can help you go straight to your sweet spots without making you feel intimidated. While I'm one of those girls who loves blasting her holes with huge realistic dildos, not every lady out there is able to stomach a massive BBC dildo. That's exactly why standard vibrators are so popular!
They have a sleek non-phallic shape. It's cute and shiny and it will not remind you of a man's penis. Not to mention his tendency to snore, eat too much, and fall asleep whenever you're dying to get lucky!
Plus, traditional vibrators have a silky smooth shaft and an ultra-precise tip. These features make these vibrators ideal for all sorts of internal and external stimulation. Still, whether you're anti-cock or you love to feel a long hard chub inside you, a standard vibrator can take care of so many of your fantasies. Depending on the type you get, you can use it to:
Make solo masturbation a lot more fun.
Experiment during foreplay to blow your and your partner's mind.
Get stronger orgasms during penetrative sex.
Vibrators will give you a whole other type of stimulation that's simply not possible with a penis or your fingers. They'll help you to reach huge vaginal, clitoral, or anal orgasms or even help you to squirt for the first time!
If you're having difficulty orgasming, a standard vibrator will get you there quickly and help you to finally get off like you deserve it!
Types of Classic Vibrators
"A classic vibrator will tease your clit until you start screaming. It will also make your honey pot gush while you slide it in deeper and deeper. Or would you prefer to use the powerful vibrating sensations outside of your butthole and eventually push that bad boy deep in your ass until you squirt like a porn queen? Baby, the world is yours!"
One of my ultimate tips for you here is to think about how you want to pleasure yourself. That's why you should pick your toy based on your desires. While traditional vibrators are fairly straightforward, you'll still be able to find several different types and designs. Your first mission should be to explore those types. That way, you'll see which one works the best for you. Here are the most popular types of traditional vibrators:
Silicone Classic Vibrators
When in doubt, a silicone classic vibe will always cum to your rescue! One of the best things I like about silicone vibrators is that they can literally suit everyone. They're hypoallergenic and body-friendly. Anyone can use them without any risks. Oh, and they feel fantastic due to their soft and velvety textures. They offer smooth action regardless of if you're using them internally or externally.
What's more, these types will give you the most realistic sensations. On top of all that, silicone transfers vibrations fantastically. These vibrators will feel awesome for high-intensity clit massages, deep and low rumbles during penetration, and everything in between!
ABS Classic Vibrators
Vibrators made of ABS plastic are the second most popular choice here. Just like silicone, they are body-safe and hypoallergenic. However, they have a harder texture and a smoother surface. Because of that, they can produce different sensations altogether.
For example, while silicone can flex and bend, ABS vibrators will always stay firm. This will create more pressure on your internal and external sweet spots. It will amplify the buzz much more compared to silicone vibrators. That's why I'd recommend these types to all girls who like to ride it rougher, faster, and harder. Yeehaw!
Jelly Classic Vibrators
One of the first mistakes you could make while buying your sex toy is to get a cheap jelly vibrator. Unfortunately, these things are incredibly common. It's very easy to end up with the wrong toy. Almost always, jelly is a material used on cheaper vibrators, and you should avoid it because it's highly porous and contains chemical softeners. Jelly vibrators are full of phthalates which can pose a risk to your skin and overall health.
However, these toys have a highly soft and bendy texture. Some women prefer the way jelly jiggles when it's inside them. If you must, you can try to find a premium phthalate-free jelly vibe that won't be toxic to your skin. Nevertheless, the material is highly porous, and you'll need to know how to clean and maintain it properly. My advice would be to skip these unless you're a total sex toy pro.
Plastic Classic Vibrators
There are other types of vibrators out there that use plastics such as TPR or TPE. Some manufacturers even create their own blends using plastics. These materials are usually known as cyberskin, real skin, or fanta flesh.
While plastic vibrators are soft and squishy, the same rule I've just told you about jelly toys applies. They can absorb bacteria since they're porous, which means you'll need to replace them frequently.
Need More Options?
If you're not satisfied with a no-frills traditional vibrator but you still want something with a non-phallic shape and a few extra features, you can look into these options:
Rabbit style vibrator – A traditional rabbit vibrator will give you a long shaft to push deep inside plus an attached clit stimulator to double your pleasure!
Mini vibrator – If you want something small and ultra-portable, mini classic vibrators, bullet vibrators, and small massage wands will give you huge amounts of power on tap but without a large size.
Textured or ribbed vibrator – Some vibrators can provide unique textures like ribs, swirls, and bumps instead of a smooth shaft. These textures can kick your pleasure up a notch and deliver highly unique tingly sensations!
Classic G-spot vibrator – Some classic vibes are curved. They have a pronounced head that's designed to precisely target your sweet spot to get you those ultimate G-spot orgasms! You'll learn that squirting is real, and it's oh-so-fabulous!
Huge classic vibrator – Are you a go big or go home kind of gal? Well, extra-large classic vibrators will give you 12 or more inches to play with. They'll tear you apart and make you beg for mercy!
Buying the Classic Vibrator of Your Dreams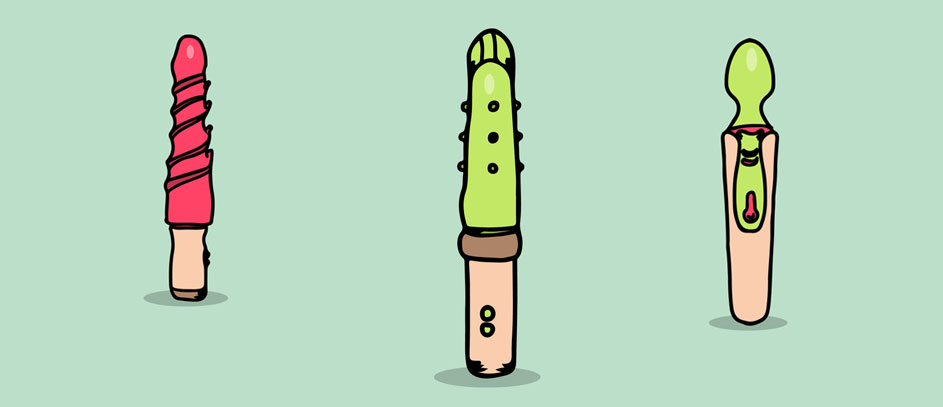 In my experience, it's not that hard to find and use a decent vibrator. However, you'll be better off if you do some homework first. So follow my tips below, and you'll be able to find a vibrator that you'll absolutely fall in love with!
Does Your Vibrator Have What It Takes?
There are several ways to find out if your vibrator is worthy of your sweet pussy or not:
Do the type, shape, and size suit you? Remember, all of this is subjective. The trick is to find a toy that fits your body as well as your desires.
Think about how you want to use that bad boy. If you only want to use it on your clit, you won't have to go with a larger size. But, if you need it for deep adventures of the flesh, you'll have to think about the shape and size that makes your holes smile.
Is the material body-safe and does it have the kind of texture you need to make you explode?
Look into the power and charging options. If your new toy doesn't have enough juice, you should probably skip it.
The same applies to vibration strengths, modes, and noise. The best vibrator will give you a wide variety of vibration strengths while remaining relatively quiet.
Things to Look For
If you have an undying itch in your panties, you can buy any silicone or ABS vibrator, turn it on, and get it over with. But why spend money on something you don't know anything about?
After all, that thing will go in and out of your holes. It's always better to consider all the details to see if it's worth your time and cash.
Power Options
Depending on the type of vibrator, your toy will include a single or dual vibrating motor. Also, it will either be battery-powered or USB-rechargeable. Personally, I would look for the newest USB-rechargeable models. They will save you the hassle of replacing those annoying and expensive removable batteries. Plus, they will have tons more power. They'll run for one or two hours on a single charge.
Shapes and Colors
Most standard vibrators have a straight shaft. But, even if your vibrator is straight as an arrow, you'll still encounter many different tip designs. Some are sharp and pointy. These are excellent for direct clit stimulation. Others are wider and rounder. That way, they'll cover a wider surface.
However, if you don't like to play it straight, you can get a slightly curved vibrator. These could be the hottest option for intense G-spot massage! And when it comes to colors, just think about what you like. You can go with the most iconic option and choose a pink classic vibrator. But, you can pick black, red, purple, or any other color that looks good to you!
Controls
Should you use a manual or hands-free standard vibrator? Honestly, this is up to you, but I'd advise you to go with a vibrator that does both. That way, you'll always get to experiment with hands-free pleasure if you need it. Some remote-controlled vibrators will come with their own remote. Others will connect to an app on your phone. The latter is an awesome option if you want to explore next-gen features and various customization options.
Vibrations
For me, the greatest vibrators provide a wide range of vibration strengths, speeds, and patterns. My advice is to find a toy with at least ten different vibration modes and speeds to keep you entertained!
Materials
If you've been paying attention, you already know that you should look for quality ABS or silicone options. But, don't take this choice lightly. It will make all the difference!
In most cases, beginners will be better off with a silicone vibrator. It's mindlessly simple to use and clean. Plus, it will give you the most realistic sensations. However, if you're not into that, and if you need something tougher, go with ABS plastic.
How Big Should You Go?
Sweetie, I don't know what kind of cock gets your pussy wet the most. But, it makes me happy to tell you that you can pick pretty much any size you want as long as you're comfortable with it.
The key is to find the perfect size for you to maximize your pleasure. If you get it wrong, your vibrator could be too small or too big. If you don't know your ideal size, you could start with an average vibrator that's around 5 to 6 inches long. For many women, that will be the ideal size for penetration or clit play. Nothing is stopping you from going bigger, but you'll need to know whether you really want it or not.
What About Long-Distance or VR Play?
If you want a futuristic toy that you can use with the newest technologies, some of the most popular brands out there are truly pushing the envelope. You can control these toys via apps to have fun with a partner who's miles away from you. Alternatively, some vibrators can connect to VR content. They'll vibrate along with the movements in your favorite adult movies! And that's not all: the newest app-controlled vibes will give you features like music syncing, intelligent mode, smart controls, and much more.
What to Avoid
Stay away from any material that is highly porous and contains phthalates. That includes jelly, PVC, etc.
Don't think that you'll get the hottest vibrator only if you pay extra. Even the most expensive vibrator might not fit your expectations if it doesn't tick all your boxes.
Tips on Using, Cleaning and Storing Your Classic Vibrators
All you need to do is hold the power button, and you'll be in business, right?! Well, it's not that simple. You could experience some discomfort or pain if you take things too quickly.
Lube Is Your Friend
A great vibrator works even better when it's covered in lube. Before you get busy, you should apply some lube to the tip of your new toy. But beware! You can outright ruin your toy if you use an incompatible lubricant. While ABS plastic can handle all lube types, you could damage a silicone vibrator if you use silicone or oil-based lube. To be safe, stick to water-based lube.
Get Wild!
Once you get your vibrator nice and wet, you can head straight to pleasure town! But, start slowly. You can rub your vibrator all over your clit and body without turning it on to get used to the material. After that, choose a slow setting to give your punani some time to adjust. Just try to go at your own pace and gradually increase the vibrations until you're ready to burst!
Clean-Up Time
Regardless of if you're a squirter or your holes get hella creamy during your orgasms, you'll need to clean your toy afterward.
For most standard vibrators, the smartest thing you can do is to wash them with warm water and mild soap. If you plan on doing some deep anal gymnastics, it might even be a good idea to fully sterilize materials like silicone or ABS. Either way, the instruction manual will be your best friend here, and you should follow the manufacturer's tips to not harm your toy.
Classic Vibrators Industry Overview
Standard vibrators are the OG sex toy. But, you might not have known that their origins trace back to the 1800s. Back then, doctors gave out prescriptions for women to use vibrators in order to cure their "sexual frustrations" or "female hysteria". Some of them used hand-cranked or even steam-powered mechanisms!
Moreover, aside from the sexual revolution in the 1960s when these toys first went mainstream, vibrators became a massive part of popular culture when they were featured on TV shows like Sex and the City. Vibrators were all the rage by the end of the 20th century, and women became empowered to use them to expand the boundaries of their sexual pleasure.
Nowadays, vibrators have become completely normalized and accepted in our society. I'm so glad we don't need to talk to a doctor before getting one! Another interesting fact is that the industry is not slowing down. Seriously, brands like Fun Factory, We-Vibe, Je Joue, Fame, Le Wand, and Hot Octopuss are taking these toys to a whole new level with improved materials, functionalities, and awesome next-gen features.
Plus, vibrators have become a lot more ergonomic and friendly to control compared to early versions from the 1990s. We also have VR, AI, long-distance, and smart controls at the tip of our fingertips to give us next-level orgasms from the future! So buy a classic vibrator today and buzz your brains out!
⚠️ Disclaimer: Our articles contain affiliate links. If you like our content and wish to support our work, consider purchasing your new sex toys through our links. For each purchase through our links, we receive a small commission but at no extra cost to you.
FAQ
There are some myths out there claiming that the overuse of vibrators can desensitize you permanently. However, that is completely untrue. There are absolutely no health risks when it comes to using vibrators. They might make your vagina feel a little numb after you cum, but your sensitivity will quickly return to normal.
Absolutely. Anyone can have fun with a vibrator, regardless of their gender or sexual orientation. Vibrators are a great choice for men who love to feel intense pulsations on their penis. Also, they are a great choice for anal stimulation and prostate massage.
If you want to experiment even further, you can pair your vibrator with butt plugs, cock rings, egg-shaped massagers, and similar toys. There are no limits here, as long as you're creative, and you know exactly what you want. My favorite combo is an intense traditional vibrator along with a large realistic dildo, but you might find that another pairing will work better for you.
This is a totally legit question since some men could have a problem with their partners using toys in the bedroom. It could harm their confidence and make them feel inadequate. If you don't know your BF's opinion on this, it might be better to ask him first.
Oh, yes! Vibrators can work wonders for anal play, but you'll need to be careful. For one, you should never use your vibrator in your ass, take it out, and stick it in your vagina. This is a serious health hazard.
Also, it's important to know that most vibrators do not come with a stopper at the base. That could make them unsafe for anal if you push them in too far. If you're unsure but you still want to explore the depths of your bunghole, you might be better off with a dedicated anal vibrator or vibrating anal dildo.
Vibrators can actually help many women who are having difficulties. If you can't orgasm from penetration alone, a vibrator will help you take care of that. It can provide tons of unique clitoral stimulation that could help you to jumpstart your orgasm. You can use it during sex to tease yourself and increase your sensitivity while your partner penetrates you. What's more, you can penetrate yourself with a vibrator and ultimately learn how to have strong vaginal orgasms.