Sep/27/2022
Last Update: June 26, 2023
787
7 min read
Meet Your Very Own Self-Thrusting Fuck Machine: Velvet Teddy GS Review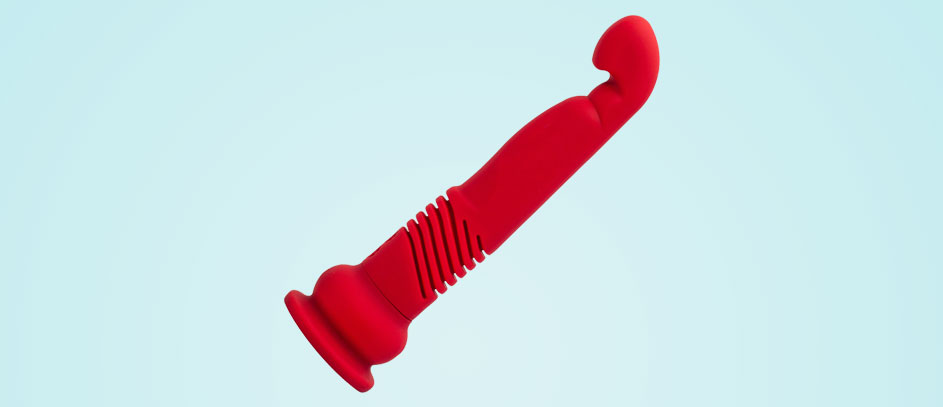 Another day, another orgasmic dinner! Last night, Richard and I had some super healthy chicken satay salad, linguine with lime and avocado, and sweet stuffed potato with hummus dressing. Speaking of stuffing and creamy dressings, we decided to skip dessert and go straight to the bedroom. Without hesitation, Richard stuffed a massive self-thrusting dildo deep in my pussy while filling my throat full of cock! Bon appétit, bitch! But seriously, I spent a few weeks testing the Velvet Teddy GS and I've came to the conclusion (oh, so many times…) that it's one of the most unique self-propelled G-spot dildos out there! So check out my Velvet Teddy GS Review to find out all about this small, portable sex machine!
It Will Fuck You with 128 Thrusts Per Minute!!!
Although the Velvet Thruster Teddy GS looks very similar to any other ordinary dildo, this bad boy has a built-in thrusting mechanism that can deliver 128 super fast strokes per minute. I'm not so sure about you, but it takes a lot of hard work to fuck yourself that fast manually, right?
Well, the Velvet Thruster Teddy GS does all that heavy lifting for you automatically! It also frees up your hands for other naughty activities! Seriously, just check out that hooked tip and I bet you your G-spot will already start to throb uncontrollably.
Anyway, before I begin my Velvet Teddy GS review, it's worth pointing out that Velvet is one of the most popular brands for self-thrusting toys. That includes popular toys for women like the Velvet Mini. They're also the masterminds behind the Velvet Stroker, a mind-bogglingly powerful cock milker that my boyfriend can't stay away from. Even though Velvet is not the most well-known brand out there, it pretty much delivers auto masturbator perfection. At the end of the day, when I found out I was finally going to review the new Teddy GS, I instantly knew that this thing means serious business and that I was going to be in for a wild and enchanting ride.
First Look
Again, take a look at that curved tip! When I first started my Velvet Teddy GS review, I just couldn't keep my eyes off that wonderfully curved head. Now, this thing doesn't look like a realistic dildo. It has its own special shape. The tip is ergonomically designed to hook onto your G-spot in a very similar way to that ever-so-famous "come hither" finger motion.
Oh My, What a Fantastic Sex Machine!
Another reason why the Teddy GS is so unique compared to other G-spot massagers is that the head is basically angled at 90°. It's meticulously designed to give you on-target G-spot fun, even if you don't use the thrusting mechanism. However, that's not all there is to it. If you get this bad boy in deeper, you'll feel a nice wide bulge near the middle along with some neat curves. All of those tiny details will give you even more pressure through extra hard G-spot stretching sensations! Then, when you get down to the base, you'll see a harmonica-style section. This houses the thrusting mechanism that moves up and down. What more could you ask for?
Well, we're not done yet! Near the bottom, the shaft expands outward, making this toy 100% anal-safe. And to top it off, you also get a suction cup base for awesome hands-free play. Oh, and let me emphasize again that this base allows you to stick the Teddy GS up your butthole and rock that booty balls deep! Plus, since it's anal-safe, you can also try to use this little devil while milking your BF's prostate. Oh, the choices!
Another neat fact I forgot to mention is that the head of this damn thing vibrates. So if hands-free automatic fucking isn't enough for you, the vibrating tip will definitely give you some legendary orgasms!
Features
Curved tip for G-spot or prostate massage
6 self-propelled thrusting speeds
Up to 128 strokes per minute
Flexible shaft (up to 90°)
Suction cup base
Up to 2.5 hours of playtime
Button controls
Splash-proof
Insertable length: 5.5 inches
Total length: 10.5 inches
Width: 1.5 inches
Stroke length: 2 inches
Size and Shape
While this self-thrusting dildo has a total length of 10.5 inches, the insertable part of the shaft tops off at 5.5 inches. Also, the width is around 1.5 inches. Therefore, the total size of this thing is just enough for your everyday cock-worshiping needs. To me, the 5.5-inch length sounded a bit underwhelming. What can I say, I'm a size queen and I'm proud! Nevertheless, it actually felt just right when I popped this sucker deep in my poon.
In my opinion, this length is just enough to help any girl find her G-spot and stimulate it with just enough pressure. Also, remember that the Teddy GS extends up to 2 inches when you turn on the stroking mechanism. That way, you'll actually fuck an expanding dick that gets bigger and you'll meet all your size needs.
Moreover, while I've already mentioned the hooked tip, I have to say that it's one of the smartest designs that I've come across so far. It has a steeper angle compared to other G-spot massagers. Even though it looks kind of strange, it actually delivers just the right type of pressure for me. The tip is designed to "pull" on your G-spot. This creates a very unusual effect compared to other options on the market. It also allows you to stimulate your sweet spot from the front, back, or to cover the entire area during full-length strokes. Also, despite the rather large total length of 10 inches, the dildo has a really light weight to it and it's only around 14 ounces.
Materials
Another thing that impressed me during my Velvet Teddy GS review was the silicone material. This dildo is made out of platinum splash-proof silicone. It's 100% body safe for vaginal or anal and it also feels sleek and smooth. And to me, this material has just the right amount of smoothness and density. It works wonders during the self-propelled thrusting movements! Plus, I didn't notice any weird friction or any strange seams that distracted me from my adventures.
Still, one thing they should have done better is to make this dildo fully submersible. Instead, it's only splash-proof. Even though you can wash it under the tap, there are all sorts of curves and ridges. They make the whole cleaning process a lot more difficult. Nevertheless, the Teddy GS uses non-porous silicone, so you won't have to worry about it absorbing any nasty vaginal or anal bacteria.
Testing the Teddy GS In Action
If you're like me, you're probably a lazy masturbator who doesn't want to work a lot to get her pleasure. Also, you may be way into sex machines, but you don't really have a dungeon where you can store a full-size fuck machine. This is exactly why I love the Teddy GS. It does all the hard work. Basically, it keeps chugging until you're ready to have a full-on squirting seizure. What I loved the most about it is its longer-than-average stroke length.
Plus, let's not forget the suction cup base. The Teddy GS is truly one of the only dildos on the market that offers a 2 inch thrusting length plus a suction cup. That's why I loved to use it for long, deep thrusts rather than short and rapid bursts.
What's more, the suction cup allows you to ride it hands-free, which pretty much gives you limitless options. While using it, you can help yourself to another toy and experiment with some saucy DP fun or your partner can join in. Then, you can enjoy a glorious threesome-like experience. Either way, the Teddy GS is one of the most effective toys that have ever been inside me. The girthy, blubbery head feels incredible against my G-spot and the thrusting motor is very consistent. It will not slow down or stop when you start to contract. No, baby, it will keep going until you explode! Plus, there's a lot of fun to be had between the vibrating tip and the 6 different thrusting speeds.
Pros
It made me cum damn hard!!!
You'll get a lot for your money
The shape, stroke length and suction cup are totally worth the price
Cons
Not 100% waterproof
The motor can get too noisy
Velvet Teddy GS Review: Verdict
Overall, I can conclude my Velvet Teddy GS review by saying that this is a pretty powerful piece of kit that will totally rock your world. Some options like waterproofing and quiet operation are missing, but I was able to forget all about them once this bad boy started to rock my G-spot at 128 strokes per minute!
⚠️ Disclaimer: Our articles contain affiliate links. If you like our content and wish to support our work, consider purchasing your new sex toys through our links. For each purchase through our links, we receive a small commission but at no extra cost to you.
| | |
| --- | --- |
| 👉 Name: | Velvet Teddy GS |
| ⚙️ Features: | Self-Thrusting, Hands-Free, G-spot Stimulation, Anal-Friendly |
| 📁 Type: | Dildos |
| 🛠️ Materials: | Silicone |
You can use the adjustable arms to make it fit your body perfectly!
5
Perfect size and shape for couples (my boyfriend can still fuck me WHILE it's inside)
5
You can control it with the remote or the app for maximum versatility (The remote could offer a longer range, though)
4
I'm totally addicted to the touch-sensitive Squeeze feature (You'll keep coming back to it!)
5
Double Ended Dildos
Velvet Teddy GS
⚙️ Special features:
Suction-cup base
⚡ Power source:
Rechargeable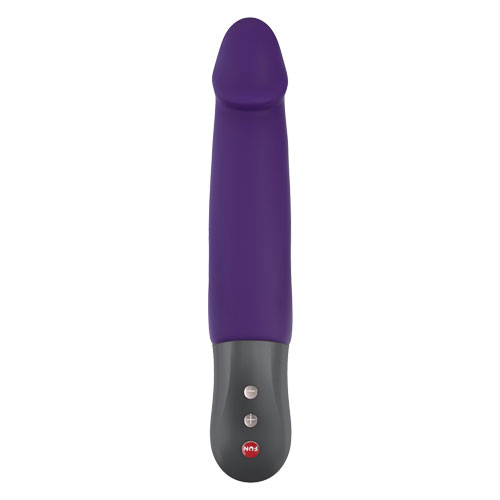 Fun Factory Stronic Real
⚙️ Special features:
Powerful back-and-forth thrusting action
⚡ Power source:
Rechargeable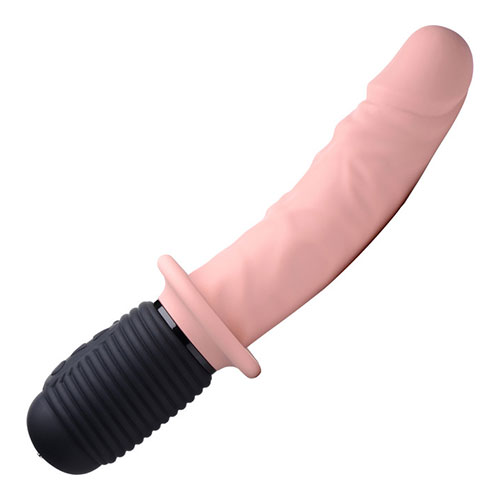 Master Series Power Pounder
⚙️ Special features:
Ribbed grippy handle
⚡ Power source:
Rechargeable