Aug/02/2022
Last Update: June 26, 2023
799
7 min read
High-Powered Thrusting And Superhuman Stamina: Fun Factory Stronic Real Review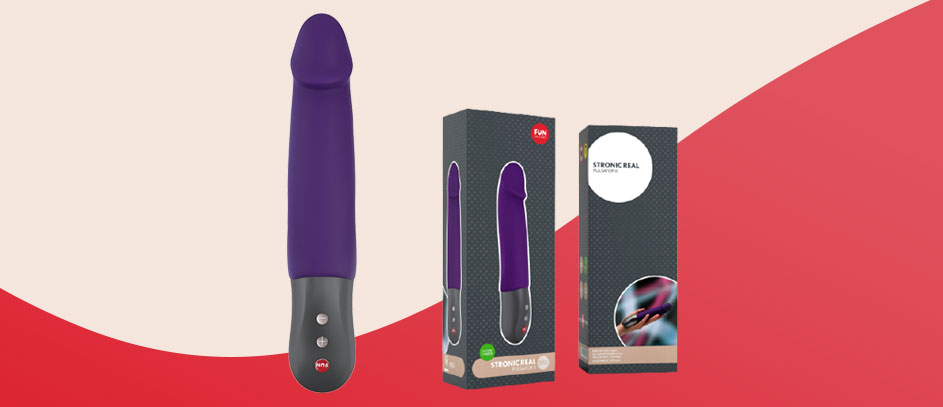 Believe it or not, I sometimes get bored of my dildos. And it's not what you think! Eventually, I end up wanting a bit more out of a long, hard dildo. That's when my pussy starts craving deep thrusting motions. If you've never had the chance to try one, a thrusting dildo will let you experience lifelike pumping movements. It will send strong and fast tingles deep in your tight minge! That's exactly what the Fun Factory Stronic Real was designed for! So how did this thrusting dildo feel when I pushed it deep inside? Was the Stronic Real able to pump in and out of my pussy to make me cream until my head was spinning? I'll reveal it all in my Fun Factory Stronic Real review!
The Real Deal
For starters, I'm a huge fan of automatic toys that are designed specifically for women. And if you keep up with the sex toy industry, that's exactly what Fun Factory does best. But, the Stronic series of toys is special because it's designed using magnetic propulsion mechanisms.
Personally, I'm a fan of all Stronic toys because of those unique thrusting technologies. Instead of vibration or manual thrusting, the Stronic Real uses automated in and out motions that will make you feel like you're getting penetrated by a real cock. Yeehaw, ride 'em, Sally!
What's more, most of Fun Factory's self-thrusting toys did not have a realistic design until the Stronic Real was born. And yes, it was totally worth the wait for me because I'm also a huge fan of big realistic dildos. You could say this toy is a match made in heaven for all ladies who are looking for a realistic pussy pleaser with no hairy or sweaty member of the male sex attached to it. Oh, and it will give you two hours of use time, which is definitely more than enough for all sorts of multiple orgasm marathons!
First Look
What usually catches my eye first with all Fun Factory toys is their sophisticated German design. This brand makes everything from love balls, prostate massagers, G-spot toys, to super powerful vibrators. It has been in business since the early 1990s, making it one of the most popular European sex toy brands.
What's more, most Fun Factory toys are based around non-phallic designs. The range of women's toys looks quite feminine without alluding too much to huge veiny dicks and balls. The Stronic Real tries to make an exception here because its main intention is to replicate the look of a real hard wang. And if you've read any of my previous reviews, you know that I'm just a sucker for toys that look like huge cocks. Still, when I first checked this thing out, I got the feeling that it was designed to be semi-realistic at most.
The Stronic Real has a smooth texture and a slight taper on the shaft along with a protruding cock head (my favorite part!). But, if you're hooked on the real deal, you won't find any popping veins here. Also, you may find the lack of balls a bit disturbing.
Nevertheless, even though this toy has a realistic appearance, it was not made to replicate a porn cock. Its minimalistic look falls in line with most other Fun Factory toys.
Slow and Steady to Fast and Rough
Honestly, I believe the designers wanted to create something that resembled the perfect penis shape and size. Because of that, I believe this bad boy can suit everyone from newbies, girls with super-tight honey holes, and even size queens.
Actually, the Stronic Real will give you a total insertable length of 4.5 inches along with a 1.38-inch diameter. This seemed small to me at first but then I realized that I had completely missed the point.
The idea behind this toy is that it should be incredibly easy to use and insert while also giving you heaps of variety. So yes, I believe this is a toy for ladies who want something super portable and simple without the need to bring home a huge and floppy 12-inch realistic dildo.
What I should also say is that the unique magnetic propulsion mechanism comes with 3 patterns and 7 speeds. They range from super slow to jack-rabbit fast but they are also quite dynamic and feel closer to real penetrative sensations.
Features
Let's have a look at the main features of the Stronic Real:
Pulsations and thrusting
Hands-free
Realistic shape with a slightly tapered shaft
Also suited for external stimulation
Quiet operation
7 Speeds
3 Patterns
Rechargeable
Waterproof
100% body-safe materials
Travel Lock
Speed and Power: Can It Fuck Me Like a Horny Rabbit?
The magnetic propulsion mechanism is really unique here because it moves the toy forward and backward using short strokes. It's not the same thrusting that I can achieve with a hand-held dildo. Plus, it's definitely not even close to those balls-deep in-and-out sensations I love to feel with a real cock. Instead, the movements feel more like an intense jiggle. They can get the party started pretty fast!
For example, the first mode is called Perfect Start and it gives you 2 thrusts per second. But, if you advance to some of the higher settings like the Rumba, the thrusting movements will extend a bit more and they'll cover more ground.
Honestly, what I really enjoyed was the relaxed and intuitive feeling that I got while using the Stronic Real. I get the feeling it was designed to give all of us ladies a lingering and intense build-up that helps us focus entirely on our orgasms!
Moreover, switching through the different power settings gave me a special type of sensory overload. It allowed me to forget all about the outside world and focus on myself! Some of the slower settings can bring me to the edge of cumming and keep me there for several minutes, which is just perfect if you're up for a long and intense masturbation session.
Premium Materials and Ergonomic Shape
What I also loved about this toy is its premium silicone material. The material is 100% body safe, non-porous, and phthalate-free. This convinces me that the thing is going to last forever! Plus, the entire thing is waterproof, which makes it a breeze to clean. It also has a medium firmness and it's nearly impossible to bend it near the base.
One thing I noticed is that the handle is a bit too short to provide a comfortable grip. Because of that, you have to be careful while pressing the buttons during playtime. Also, the buttons have a neat clicking sound when pressed. Still, they felt just a bit too tough for me. Another thing I would have hoped to get from a toy at this price range is app compatibility or wireless control. This is a bit of a missed opportunity since it would have made the handling so much easier.
Super Quiet and Hands-Free
The firm and unyielding base of the Stronic Real actually allows you to use this toy hands-free. You can pop it inside, turn on your favorite pattern and sit back. Compared to most other toys, this actually works as intended. Just find the right angle, slide it deep inside, and the shaft will keep thrusting until you explode!
Another huge benefit of this toy compared to most other vibrators is that the thrusting mechanism is nearly silent. You won't get any noticeable or strange noise even if you use this thing on some of the fastest modes that feel closer to a standard vibrator.
Deep Test
To be honest, I had to expand my horizons a bit to truly understand the beauty of this toy during my Fun Factory Stronic Real review. I realized that I can't constantly go through life fucking super fast sex machines and huge anal toys and that sometimes, it's better to choose something smaller.
What I loved the most about the Stronic Real is that it doesn't have a mechanical and robot-like feel. The movements are smooth and natural, and the size feels much larger than I expected. The 4.5 inches of length and a 1.38-inch diameter were just enough to fill me up! That's likely due to the smooth tapered shape of the shaft that feels great when it's inserted.
Plus, the firm shaft makes it incredibly easy to insert and use hands-free. Even better, the cock head is set at the perfect angle and has just enough width to give me a nice smooth stretch while also massaging my G-spot perfectly without any effort at all! I was even able to use the thrusting motions over my clit to get warmed up, and some of the slower modes really took me to a special place. However, where this toy really shines is its wonderful range of thrusting motions that can deliver hour-long edging and huge orgasmic potential. You might have to be patient with it, but it will all be worth it once it thrusts inside you deep and rewards you with some full-body G-spot orgasms!
Fun Factory Stronic Real Review – Pros
The shape feels awesome while inserted and it will suit most women.
The patterns and speeds offer plenty of different experiences.
Extra silent operation.
Fun Factory Stronic Real Review – Cons
The handle can feel too small at times
It doesn't have a flat base, so it's not anal-friendly. If you want a thruster that can penetrate your ass, you'll have to look elsewhere.
No remote control or app
Final Thoughts for my Fun Factory Stronic Real Review
To sum up my Fun Factory Stronic Real review, all I can say is that this is a powerful and well-engineered thrusting dildo that can please almost anyone! It has a super powerful pulsating mechanism and a delicious cock shape that can deliver huge and unforgettable orgasms!
⚠️ Disclaimer: Our articles contain affiliate links. If you like our content and wish to support our work, consider purchasing your new sex toys through our links. For each purchase through our links, we receive a small commission but at no extra cost to you.
| | |
| --- | --- |
| 👉 Name: | Fun Factory Stronic Real |
| ⚙️ Features: | Thrusting, Realistic, Quiet, Long Battery Life, Premium Materials |
| 📁 Type: | Realistic Thrusting Dildo |
| 🛠️ Materials: | Silicone |
Size and shape (It's not too big or too small!)
4
It's dead quiet! (It won't wake the neighbors even if you use it on the fastest settings!)
5
The speeds and patterns feel fantastic (So much variation here!)
5
The head hits my G-spot perfectly! (And makes me cum so damn hard!!!)
5
Editor's Pick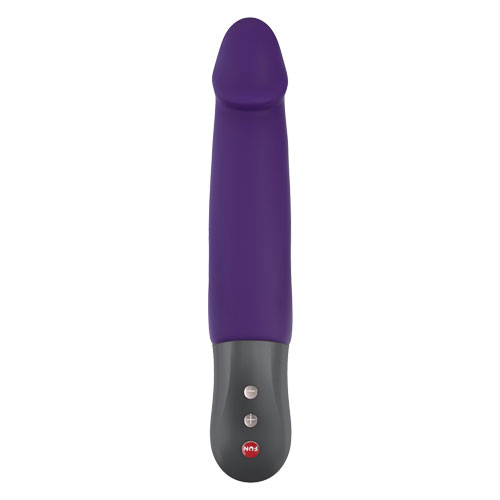 Fun Factory Stronic Real
⚙️ Special features:
Powerful back-and-forth thrusting action
⚡ Power source:
Rechargeable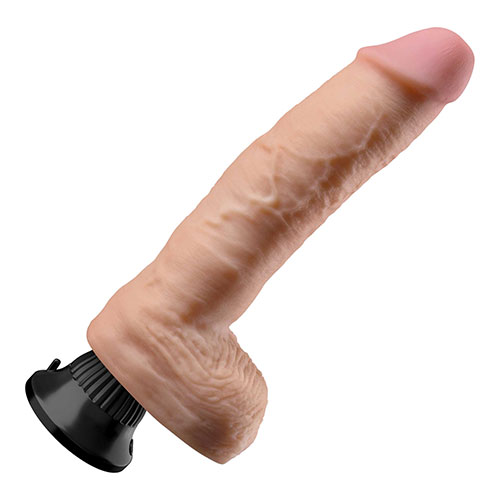 Real Feel Deluxe No. 9
⚙️ Special features:
Ultra-strong suction-cup
⚡ Power source:
2 x AA Batteries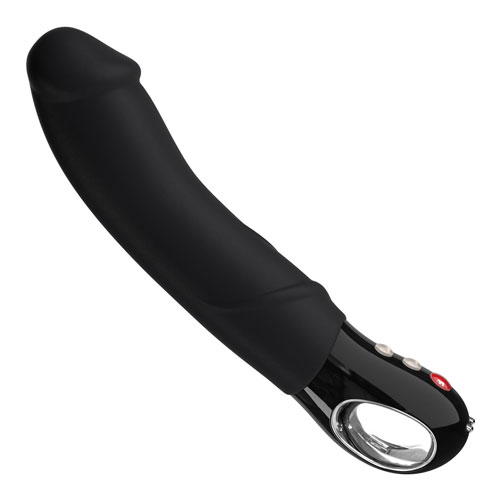 Fun Factory G5 Big Boss
⚙️ Special features:
5 speeds and 4 patterns
⚡ Power source:
Rechargeable