Aug/02/2022
Last Update: June 26, 2023
790
7 min read
Spread 'Em and Push It In Balls Deep: Fun Factory G5 Big Boss Review!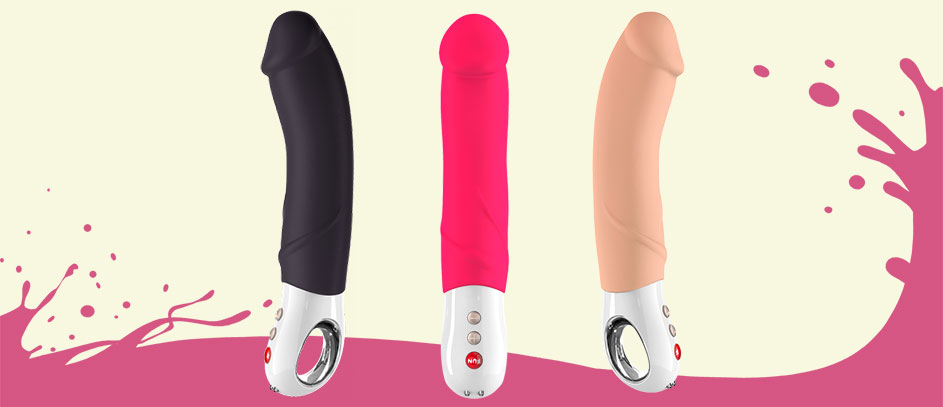 Hey there! Are you looking for a new big boss or dirty daddy to show you what it's like to really and I mean *really* milk your G-spot hard with a huge 7-inch cock inside you? Well, it's almost impossible to miss the Fun Factory G5 Big Boss due to its impressive size. Seriously, whenever I see something that big, I forget all about my gag reflex and my knees instinctively drop to the floor. Anyway… What you need to know is that the G5 Big Boss has finally filled a hole (oh yes!) in the market for large G-spot massagers. Trust me, this bad boy looks like a big and mean realistic dildo, but it's actually designed to hit your G-spot right every time and make you cum like a boss! So if you wanna pummel your G-spot with super strong vibrations but you also need to feel the super intense pressure of a huge and thick shaft deep inside you, take a look at my Fun Factory G5 Big Boss review! Spoiler alert: I squirted all over my keyboard!
Yes, Boss?
If you love G-spot toys, you know that most of them are small and that not all of them necessarily look like realistic cocks. However, the G5 Big Boss is on a whole other level. It's basically a G-spot massager on steroids AND it looks like a huge dildo. Just open up and say "aaaah!" Good girl!
Basically, the main selling point of this toy is that it will give you a huge, delicious goober to play with and make all those G-spot sensations much more intense. Therefore, if you've always wanted to try a G-spot vibrator but were unimpressed with those tiny and portable hook-like massagers, this latest toy from Fun Factory will definitely become your new master.
For real, I totally missed out on the previous G4 version of this toy, and now they've come out with a new one that pretty much answered all my prayers. It inspired me to be as sinful and as naughty as I can get during this Fun Factory G5 Big Boss review. Hear me, Gods of Sex Toys, let my punishment be swift and brutal!
But seriously, whenever I buy a sex toy, I always look for something that looks similar to my boyfriend's 8-inch jizz bazooka. If you're here, chances are that we're not that different… You're probably a size queen that needs to feel a big behemoth deep inside you in order to let go and unleash the most powerful G-spot explosions! You may even *want* to get a little scared because a monster cock comes with a little uncertainty and a slight degree of intimidation. If so, I'd advise you to buy the G5 Big Boss in black and get your pussy ready for a whole other kind of adventure!
First Look: G5 Big Boss
As always with Fun Factory, you'll get sophisticated German engineering and packaging. I always have a great time unboxing Fun Factory toys and this one was no different. The box is both luxurious, fun, and definitely gives you that wow factor when you take out the outer slip. Then, you get a beautiful gold box with the words "Your Perfect Moment". Whether you like all that cutesy stuff or you just want to get straight to the hard thrusting acrobatics, here's what you'll get when you open the box:
G5 Big Boss
Magnetic charging cable (USB)
Instruction manual
Gulp! It's Huge!
When I first grabbed this toy for my Fun Factory G5 Big Boss review, I had one of those "eureka" moments where my jaw dropped and I was ready to bend over. Sure, it's better when that happens with a real handsome hunk. Still, just knowing there's a toy out there that can get me to the same level of horniness is enough.
Anyway, what I was most impressed with from the start is the actual shape of the thing. Now, you'll be looking at 6.6 inches of insertable length. Plus, the diameter is approximately 1.78 inches.
What's more, you can clearly see that this fake cock was designed to please any naughty size queen. The thick head has a gorgeous pronounced ridge. It looks like a match made in heaven for your G-spot! Also, the smooth shaft has perfectly-placed light veins. They will deliver additional massage sensations deep inside! Plus, the shaft is not straight or evenly tapered. It has a special texture that replicates the curvy and bumpy sensations of a real penis. Now, the curve is the cherry on top: it's not too steep nor too light.
One thing I should say here is that the total length is around 9 inches. The other 2 inches are taken up by a finger loop handle at the base. Also, the white handle is nice and smooth and it comes with three buttons that you can use to control the action.
Fun Factory G5 Big Boss Review – The Specs
5 vibration speeds
4 vibration patterns
Finger loop at the base
Waterproof
Made of premium silicone
USB-rechargeable
Insertable Length: 6.63 inch
Diameter: 1.78 inch
Total length: 9.25 inch
Operating time: 120 minutes
Charging time 6-8 hours
Colors: Cream, Pink, Black
Materials: Smooth Criminal
One of the things that I always loved with Fun Factory toys is their high-quality silicone material. You can squeeze and tease the Big Boss but the firm texture allows you to feel every inch!
Plus, you won't have to worry about germs and other nasty stuff seeping into the non-porous premium silicone. Seriously, the material feels extra smooth and if you combine it with lube, it will be hard to tell the difference between the Big Boss and a hard wet cock.
Fun Factory's silicone material is also incredibly easy to clean, and it helps a lot that the whole toy is submersible. That way, you can go crazy on the lube or cum as much as you want over your new vibrator, and you'll be able to clean it in just a few minutes. Even better, you can use it in the shower!
Size: The Bigger, The Better
Honestly, the Big Boss surprised me with a size that is just right. I have a feeling that the shape, length, and thickness will be the perfect match for any admirer of big cocks. It even looks like a great tool to use if you're not used to big dicks and you want to train until you can take them balls deep.
What I really enjoyed here was the balance between the length, thickness, and weight. It's not too heavy and the finger loop at the bottom balances it all out. Like I said, the cool thing here is that the curve is just right. It allows you to use the Big Boss hands-free. Still, you can always use your hand if you need an extra push. Another thing you can do is use the head as an external clit massager. It's wide, soft, and it can deliver all sorts of pleasurable vibrations in and around your clit.
Vibration Functions: Let That Sucker Blast!!!
Speaking of the actual vibration quality, I was impressed with the overall low noise factor on this thing. It's not fully silent, but it's still quieter than most other G-spot vibes.
Additionally, you'll get 5 speeds and 4 unique patterns to play with. You can mix and match them to find your favorite setting for a deep internal massage or intense clitoral vibrations. When used externally, I found that the head felt very similar to a wand massager. Even at the lowest level, the vibrations were enough to give me a throbbing clit orgasm. And when I inserted it inside (slowly — it's extra thick!!!)It filled me with heaps of intense pressure that I've never quite experienced with other G-spot massagers so far.
Razzle Dazzle
The lowest "Razzle Dazzle" and "Aerobic Mode" settings were strong enough to send deep rumbles throughout my body and even reach down to my butthole, which felt mind-blowingly naughty.
What's more, the pulse patterns and continuous vibrations felt fantastic when I pressed the head directly on my G-spot. Note that some girls will enjoy tiny movements here while others will love big thrusts. I tried various types of thrusting and hands-free fun, and I slowly built up to an explosive G-spot orgasm. But, I also realized that this is a superb toy for edging. Just let go of it when you feel an orgasm coming and use it hands-free. You'll sense a deep throbbing that extends way beyond your A-spot and cervix. Hopefully, you'll feel your pussy tense up before an explosive squirting orgasm! Just don't forget to use a towel!
On a side note, I really wish they would have made this thing a little more anal-friendly. My big black G5 vibrator looks like it should live in my ass! However, the manufacturer doesn't recommend it for anal. You can try it and get by if you keep a constant grip on the finger loop (I couldn't help myself and it felt great) but if you're a beginner, I would advise you to keep this thing far away from your bum.
Pros
Intense G-spot and clitoral stimulation
Delicious shape, size, and texture
Hands-free
Cons
It takes ages to charge (6-8 hours)
I would have preferred some kind of app or wireless connectivity for remote operation.
Not designed for anal (what a missed opportunity!)
Time to Fuck!
Now that I've (hopefully) managed to talk you into sticking the Big Boss deep inside your gushing pussy, don't wait any longer. Order it today and have fun!
⚠️ Disclaimer: Our articles contain affiliate links. If you like our content and wish to support our work, consider purchasing your new sex toys through our links. For each purchase through our links, we receive a small commission but at no extra cost to you.
| | |
| --- | --- |
| 👉 Name: | Fun Factory G5 Big Boss |
| ⚙️ Features: | Extra Large, Extra Thick, Realistic, Waterproof, Multiple Patterns |
| 📁 Type: | Realistic Vibrating G-Spot Massager |
| 🛠️ Materials: | Silicone |
It's huge! (The length and width are just perfect for any size queen!)
5
Smooth and realistic texture (The material is beyond impressive!)
5
That curve makes my pussy smile (The size of the head and the angle are perfect for a deep G-spot massage!)
5
Intuitive design and controls (The finger loop base is easy to grip, but I just wish they would have made this thing safer for anal)
4
Editor's Pick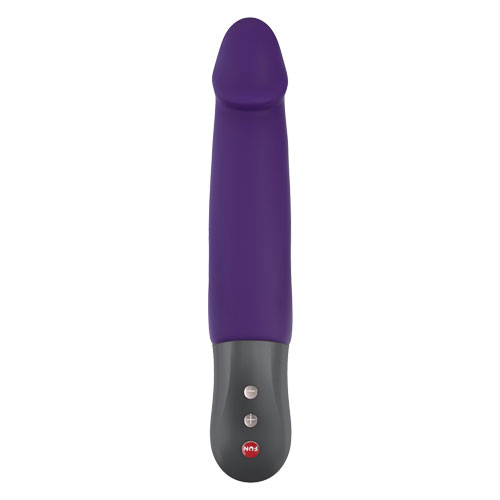 Fun Factory Stronic Real
⚙️ Special features:
Powerful back-and-forth thrusting action
⚡ Power source:
Rechargeable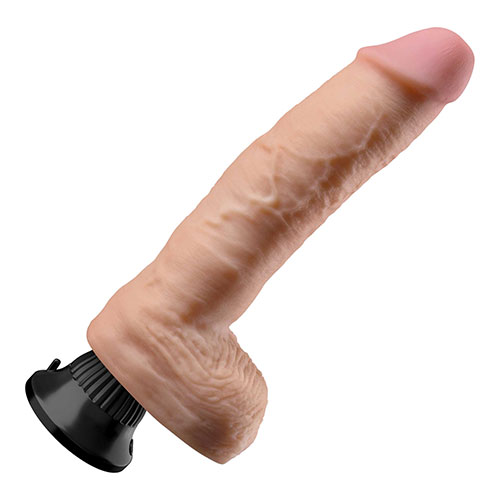 Real Feel Deluxe No. 9
⚙️ Special features:
Ultra-strong suction-cup
⚡ Power source:
2 x AA Batteries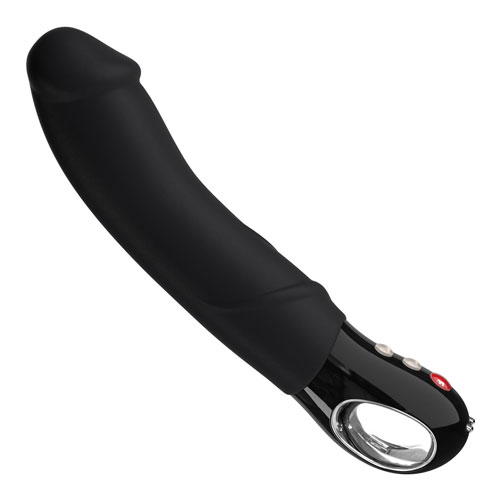 Fun Factory G5 Big Boss
⚙️ Special features:
5 speeds and 4 patterns
⚡ Power source:
Rechargeable