Jun/22/2022
Last Update: June 26, 2023
1029
23 min read
No Guts, No Glory: Why You Need An Anal Vibrator In Your Ass ASAP!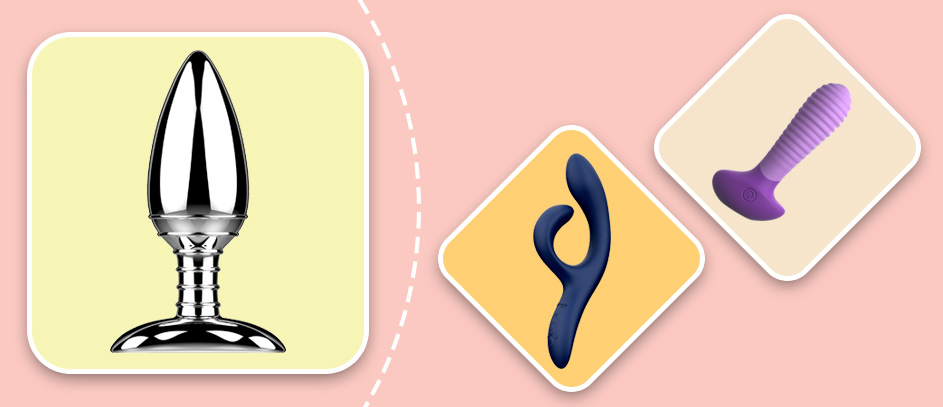 Are you no stranger to taking big fat cocks up deep down your tight and creamy ass-cunt? But what happens when you're in the heat of the moment and suddenly you get an intense craving to punch your dirt bucket with intense vibrations and bulldoze that ass like there's no tomorrow? You know what they say: no guts, no glory! If you're a dirty backdoor slut and you're in a rush to hit your third hole and go out guns blazing, anal vibrators will literally drill you a new one!
But what is it about these anal toys that makes them so special? How can you find the perfect plaything to make all your buttsex fantasies cum true? Listen up, missy: it's time to sit your butt down and allow me to train your booty and show you all you need to know about anal vibrators!
Top 10 Anal Vibrators in 2023
When it comes to this girl's slutty little bunghole, anal vibes are like the final level in the buttsex game. Well, maybe they're one step behind monster black dildos that shoot out fake cum, but you get my point… Anyhow, I've tested more vibrating anal toys than you can shake a cock! Now, I want to pass my hard-earned knowledge to you, my little anal apprentice!
If you're the kind of girl who knows that no means yes and yes really means anal, ​​take a look at some of my favorite anal vibrators below! These bad boys will pump your starfish until you're screaming and creaming. They'll also help you experiment with your fantasies, get hella kinky with your lover, and make you squirt buckets until you can't walk straight!
Bottoms Up: What You Need to Know About Anal Vibrators
"Life is like a box of chocolates. You never know when you'll suddenly want to get fucked in the ass by an app-controlled vibrator that pumps your rear-end at 20,000 RPM and makes you gape wider than Riley Reed!"
Allow me to confess something. I love my BF with all my butt. I would say heart, but my butt is bigger. Also, it's so fucking tight and juicy… It would be a shame not to stuff it full of all kinds of sex toys every day of the week. That's right! Sometimes, sodomy is the only answer. And let me tell you that nothing's better than a little self-induced sodomy with a thick-ass anal vibrator that hits all your sweet spots on a Wednesday night.
Now, if you're looking for the perfect anal weapon, you'll have to go with your guts first. So ask yourself: do you need a cutesy-wootsy vibe that will finally allow you to pop your backdoor cherry? Or do you want to tear yourself a new one with a massive anal pulsator?
What if you've always dreamed of playing Backdoor Barney with your male partner? Do you want to pound his little tush to make him your bum boy? It's all there and you just need to think long and hard to find the ass vibrator of your dreams!
What's the Buzz?
Obviously, standard vibrators (the ones that go in your vajayjay) are some of the most popular sex toys. They come in hundreds of different models. While they're generally designed for hole #1, you can even use some of them to play the chocolate cha-cha in your back end. But let me warn you! Vaginal vibrators are not really designed to go up your money maker. Not to mention the whole hygienic matter of going from ass to pussy with your regular vibrator. Instead, why not go on that Swedish bike ride with a toy that is specially crafted for all sorts of anal pleasures?
Well, you're in luck because there are a ton of different ass vibrators you could test out! Thanks to today's technology and popular demand, these anal toys have gone mainstream. Tons of nasty fuckdolls (myself included) are using them on a daily or weekly basis to play naughty and cum hard!
For All Your Anal Acrobatics
Basically, anal vibes are special vibrators that are designed to, well, go up your bottom. Or all the way down, depending on your position! Anyway, what makes these toys different from standard vibrators is their ergonomic rectum-friendly shape.
While most standard vibes have a phallic shape, vibrators designed for butt stuff have more in common with anal plugs or prostate massagers. Most of them have smaller curvy shapes along with a flared base at the end. Much like butt plugs, they're designed to plug your ass until you remove them. Yet, you can also use them for spicy in-out penetration. Still, there are plenty of different models and if you're looking for something bigger and more cock-like, you'll definitely find something that fulfills all your anal cravings. Even if that means riding a realistic BBC vibrator and stretching your kiester like those girls in the movies with 10 inches of pure perfection! Mmm hmm!
B*tch Don't Kill My Vibe!
I know it's tempting, but you shouldn't get your ass worked up just yet. One of the biggest letdowns that can happen when you're buying your new anal toy is for you to step into it unprepared. Here's why: not everyone is into anal vibrators. Even if you're the biggest anal-only whore, you might not have the stomach for extra-strong vibrations.
On the other hand, you could be all about vibrating that ass deep and hard. Yet, you might accidentally get a toy that's too small or weak to make an impact. What you need to do is take some time to do your research and, erm, digest it all.
Either way, most anal vibrators are powered by built-in electric motors. The motors spin at high speeds to create throbs, pulses, and various other rhythmic sensations. Simple, right?
However, the types of pulsations on most anal vibes are different from what you'd get from a standard pussy or clit toy. Remember, the sphincter and anus are a whole other story compared to your girly bits. In fact, your anal canal is full of thousands of pleasure nerves. They are just waiting for intense stimulation! That's why most anal vibrators are designed in such a way to target your A-spot and produce super deep and rumbly sensations. It's all a bit different from toys designed for your punani. For one, these toys drill you with a lower frequency to literally milk the soul out of your body. Sounds good? You bet your ass it does!
Battery-Powered Butt Fucking
In the past, it was all about connecting your vibrator to a wall socket and praying to God that you won't get your donkey-hole electrocuted. Fortunately, most of the newest toys out there today will not risk your life. Also, unlike the vibrators of the past, they come with advanced shapes, cute colors, and a lot of fun features. Most new models are rechargeable and you won't need to worry about removable batteries or power cables.
What's more, you'll also get some buttons, remote control, or a phone app to keep things interesting. For most anal vibes, you'll get to experiment with the speed, strength, and vibration patterns.
For example, you can adjust those options manually. Or, you can choose a pattern that ramps up the pleasure automatically. It's kind of like running on an automatic treadmill. Only this time, your chocolate fudge brownie will be filled up balls deep and your vibrator will speed up or down gradually to give you a royal anal workout!!! How's that for a banana slammer?
But that's not all. You'll come across many different vibrator shapes along with all sorts of extra features. Some anal vibes can even pulsate along with the beat of your favorite tunes. MC Hammer, anyone? Also, some can use Wi-Fi to connect you to a long-distance partner, and others can use biofeedback or smart learning to turn you into an award-winning anal acrobat!
Types of Anal Vibrators: Show Your Ass Some Love!
Frankly, you could end up disappointed if you get the wrong type. In fact, it doesn't matter whether this is your first or hundredth anal toy. You should always start with a beginner's mindset and pick one that makes you horny as heck and ready to fuck. One way to help speed things up is to focus on the main types of anal vibrators:
Realistic Anal Vibrators
Are you just a sucker for huge throbbing cocks? Do you like to beg your partner to let you worship his balls while he fucks your throat until you gag and get yourself ready to take his jizz-cannon balls deep in your shithole? Good girl! If you're obsessed with big cocks, look no further.
Realistic anal vibrators are a bit different from traditional smaller anal vibes. In a nutshell, they're designed to look and feel just like big pulsating dicks! You'll get a thick long shaft to ride all night long and a highly realistic penis design, complete balls and all.
These types also use life-like materials such as silicone to complete the experience. Trust me, it's the closest you'll get to a real cock. Heck, it may be even better because these vibrators will stay up all night. They'll never cum too early!
Remote-Control Anal Vibrators
A lot of new vibrators come with a remote that you can play with while you're using your toy hands-free. If you don't know what a remote controller can bring to the table, just imagine yourself getting fucked without having to do anything at all! You can pump up the entertainment with just a push of a button and drill your stinkhole until you cream over and over!
Plus, having an external remote also allows you to experiment with all sorts of kinks in your bedroom or dungeon. For example, your partner can use the remote to tease, please, and torture your rear-pussy until you plead for mercy! And not to mention that you can do the same to him while owning his boy-hole like he's your little bitch!
Thrusting Anal Vibrators
What if you want to be like those dirty little webcam nymphs who fuck their asses with sex machines all day long?
There's just one problem there: a full-sized sex machine is way too expensive. Plus, it's probably not something that you're going to proudly display in your kitchen. Instead, there's a better solution: thrusting anal vibrators!
These unique vibes are designed to thrust in and out of you automatically. They're like mini hand-held fucking machines and they'll hammer your pooper until you get what you deserve! Some of them have an extendable shaft that drills your rectum up and down. Other thrusting anal vibrators rotate at the base or head for a super-wide stretch. The only question is: how fast do you like it?
Wireless Anal Vibrators
Just like remote-controlled vibes, you can control wireless anal vibrators from a distance. All you need is a Bluetooth or Wi-Fi connection. Then, you'll get to pair up your anal gadget with an app on your smartphone. You can use the app to uncover the full potential of your toy.
For instance, you can play around with features such as music syncing, voice activation, smart monitoring, custom patterns, and so on. Also, if you're in a long-distance relationship and your partner wants to ravage that ass from miles away, these toys can sync to his phone and allow him to control the action. And this isn't only good for long-distance romances that happen on separate continents. You can use your wireless anal vibrator for all sorts of public acts of butthole vandalism! So pop that anal vibrator inside you and go shopping and I promise it will be a glorious adventure!
Waterproof Anal Vibrators
What if you want to get extra steamy and let your boyfriend defile your exit hole in the shower? Well, in case you didn't know, not all anal vibes are waterproof. Also, you could damage the sensitive mechanism on the inside if you use your non-waterproof anal toy in the shower.
Another reason why I'd advise you to look for waterproof anal vibes is that you can soak and clean them easily. These toys are just as strong as non-waterproof variants. Yet, you can submerge them in water to make them squeaky clean! Plus, you can bring your huge anal vibrator in your hot tub and use it to massage much more than just your back!
Other Types for Pro-Level Anal Play
What if you're looking for something else entirely? What if you get turned on whenever you see those naughty clips titled "Tinkerbell's attempt at anal expands her hole to an unrealistic size"? Do you want to be just like one of those girls? Well, you nasty freak, some of these types might be exactly what you're looking for:
Prostate massagers – If you want to pop some manholes and humiliate your sissy boy-slave, try a prostate massager to milk his cock dry and force him to cum hands-free!
Vibrating anal probes – If you dream of having close encounters with aliens, why not check out a vibrating anal probe? These small anal toys are ultra-precise. They usually have a hard, unyielding texture to allow you to try all sorts of kinky ass experiments.
Vibrating butt plugs – Do I even need to explain these? They'll fill you up with intense pressure and you can wear them all day long to train your bottom for a big cock or two.
Vibrating anal beads – If you're an experienced anal slut, you probably know these toys for their unique "bead in, bead out" action. They will stretch and pop your ass until you explode! But what happens when you add vibrations to a nice and wide set of anal beads? Well, you have to see it to believe it!
Anal rimmers and tongue vibrators – What if you need to have a set of lips and a nice wet tongue eating your ass 24/7? These special vibrators use pulsations and suction to mimic the sensations of oral sex. They'll munch on your tight asshole until you're fully satisfied!
Extra-large anal vibrators – These bad boys will give you 10+ inches of extreme anal fun. While they're probably not the best beginner anal vibrator, they'll satisfy any gut-wrecking ass fetishist or gaping enthusiast. They'll wreck your ass-cunt just the way you like it!
How To Buy the Best Anal Vibrator For You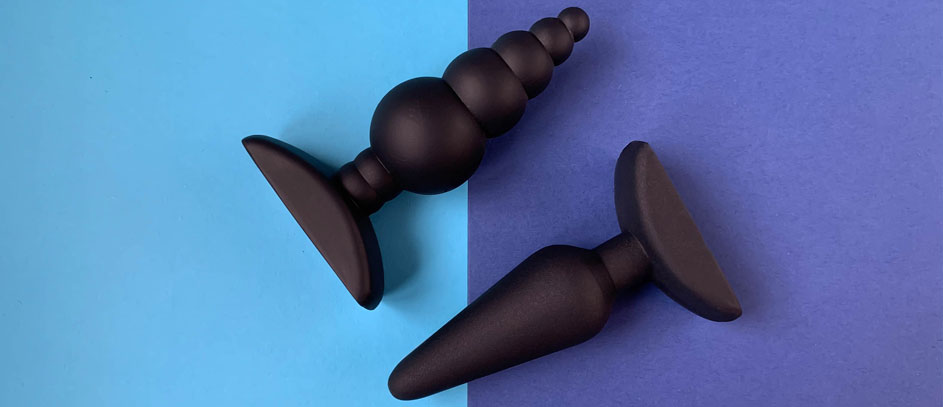 First and foremost, let's start with the number one rule of anal play: if your vibrator doesn't have a base, it's not designed for your tush! Or at least it's not 100% safe to use because the journey could turn out to be deeper than you thought. Got it? Good! Let me share some of my other secrets to help you find the best anal vibrator:
Ways to Tell if Your Anal Vibe Is Worth It
Your ass deserves the best of the best, correct? Well, just follow my rules below and you'll quickly find your dream anal toy!
Look for the shape and type that make you feel the butterflies deep inside.
What's your experience level? Has your ass never been touched or are you no stranger to hardcore anal romps?
Do you want to use your toy for intense penetration or do you want to tease the outside of your sphincter until you see unicorns and rainbows?
Don't forget to consider your male partner's wishes. If you want to buy a vibrator to pound his prostate, consider his skills and preferences.
Not all materials are safe to use in your booty. You should inspect them all to see which ones are the safest and most pleasurable.
When it comes to anal, the size can make or break your experience. And I know that you may be tempted to wreck your poop chute with a huge realistic vibrator but you'll have to know exactly how much cock you'll be able to handle in advance.
Look into all the vibration features and control options as well as the powering or charging options.
Anal Vibrators for Newbies
For innocent little ass virgins, I'd suggest a thin beginner anal vibrator made of silicone that won't stretch you out too much. These are usually around 3 to 5 inches long. They'll allow you to train your booty without any pain until you're ready to transition to bigger things. Also, if you don't want to work so hard to push your vibrator inside, my best tip would be to get a slim anal vibrator with a wide base.
Anal Vibrators for Pros
What if you've already mastered the fine art of anal play? If your backdoor is already trained or if you're a naughty little butt slut and you like all sorts of ass fetishes, worshipping, and hardcore anal banging, definitely look into some huge and heavy anal vibes. You can choose wider and more powerful models that are designed for intense in-out penetration in your little starfish. Oh, and why not pair it up with a vaginal vibrator to nail both holes at the same time?
Play It Safe With Only the Best Materials
By far, the safest options for anal toys include silicone, ABS plastic, glass, and steel. Of course, not everyone is into stuffing their pooper with a shiny metal toy. Also, not all materials will feel the same when you turn on the vibrations.
For example, silicone will provide deep rumbly vibes. Conversely, the harder stuff such as ABS plastic will give you more precision. Nevertheless, all of the materials I've just outlined are 100% body-safe. They are also non-porous. This is the most important quality you'll need for your anal adventures. Non-porous toys will not absorb any bacteria from your butt. Additionally, you can fully sterilize them after your huge anal orgasm.
However, when it comes to the materials you should avoid, stay away from jelly, PVC, rubber, and latex. These materials are often used on cheaper vibrators. While their affordable price may be tempting, it's better to skip them. They are highly porous (a big no-no for anal) and some of them could contain dangerous chemicals known as phthalates.
In the best case, those materials could break down after just several uses. In the worst, they could give you a nasty infection. To sum up, you should stick to silicone if you're a total newbie. But, if you already have tons of carnal knowledge, try an ABS plastic or steel vibrator.
Size: Are Smaller Dicks Really Better for Anal?
Picking the size of your vibrator will depend so much on what you like and how experienced you are. Some women prefer smaller toys inside their asses because they are easier to insert while providing tons of unique tingles. Others need to stuff a huge and fat monster way up their dirt boxes in order to cum hard. So what's your poison?
In my opinion, you should always start with a smaller anal toy if you're unsure. Therefore, look for a vibrator that's around 3 to 5 inches long. Also, don't forget to neglect the thickness and overall shape of your vibe. As I said, beginners will be better off with a slim anal vibrator while the pros can use whatever length or thickness they prefer, even if that means pumping their rear entries with massive ass cannons that are over 10 inches long!
Don't Ignore These Features:
Shape – The surface area of your vibe will determine the type of vibration you're getting. Again, most vibrators with a wider or bigger shaft will stimulate you all over. But, thinner toys will deliver more precision. Also, you should decide whether you want a straight, curvy, or beaded vibrator. All of those shapes still stimulate your ass in a different way.
Motor location – Most ass vibes have a built-in motor at the base. Some could come with a removable bullet vibe. I'd advise you to avoid these types because the small insertable vibes could pop out when you least expect it and ruin your mood. What's more, vibrators with built-in motors provide tons of more power and longer battery life.
Charging – It's always better to go for a USB-rechargeable vibrator instead of toys that use removable batteries. A decent anal vibe should take around two hours to charge. It should deliver around 2 to 4 hours of uninterrupted playtime.
Vibration patterns – If your goal is to experiment with all sorts of anal vibrations, look for a toy that offers as many patterns and speeds as possible. Most basic models will provide around 10 different settings. Some pricier app-enabled vibes will even allow you to create your own patterns.
Water-resistance – As mentioned, waterproof anal vibrators are the easiest to use and clean. However, if you want to get a waterproof toy, make sure it's fully submersible.
Noise – When it comes to vibrators, noise is the nature of the beast, so you'll have to consider whether you're okay with it or not. Still, if you don't want anyone to hear you, you can find a discreet silent vibrator that uses quieter motors.
Long-Distance, App-Enabled, and Remote-Control Anal Vibrators
Last but not least, you should consider the control configuration of your new vibe. If you're fine with using buttons and changing the settings on the fly while you're holding your toy, you may not need a remote-control anal vibrator.
But, a remote control or an app will open you up to a lot more options. It will enable you to enjoy some intense anal buzzing hands-free. Also, it will allow you to get extra kinky. Why not tie up your boyfriend and use a remote control vibrator to milk his anus without ever touching him? There's a whole world of nasty fetishes to discover here! However, smart vibes that use app control are also ideal for long-distance play or kinky public sex. You can control them from any smart device and from any distance even if you're miles away from your partner!
Do's and Don'ts of Anal Vibrators
Do…
Choose a toy that's going to rock your world and you ass hard.
Consider your kinks and fantasies but don't forget to focus on your experience level.
You can read user reviews or check out your toy in action to learn about other people's experiences with it.
Stay away from unsafe materials such as jelly, rubber, or PVC.
Don't…
You shouldn't forget to inspect your toy before you play. If you see any tears, scratches, or ripped seams along the shaft, just put it away and replace it with another.
Don't buy cheap and unbranded toys because they could use unsafe materials or poor-quality vibrating motors.
Tips on Using, Cleaning, and Storing Your Anal Vibrators
If you want to play the electric boogie and pop the pudding safely, you should always treat your anal vibrator with respect! Would you throw your boyfriend's cock across the room and never wash it after it's been in your butt? I don't think so!
Here are some of my expert tips on how to poke your rear end for the most orgasmic results:
Don't force it! Before you do anything, you should get extremely horny. So try to stimulate yourself all over or even have an orgasm or two before you move to anal stimulation.
Start slow and use lots of lube. You can stimulate your cornhole externally or even stretch it out with a finger before the main act.
Don't use the wrong lube. If you buy a silicone toy, you should only use a water-based lube to keep the material safe.
Make it as wet as you can. Remember, your brown eye does not have any natural lubrication. So be generous and apply your lube along the shaft of your toy, on the tip, on your sphincter, and even push some inside you. You should also reapply lube during your session frequently.
Start with penetration first before you turn on the vibrations. If you're sensitive, it could feel a bit too much if you do both things first.
Remember: take it easy! If you're a beginner, you may not be trained enough to push the whole thing inside you at first. If you move in with just the tip and it feels great, don't force yourself by pushing it in deeper unless you know that you're ready.
Safety Tips
If you're a total anal virgin, you should know that it will take a lot of practice at first. One of my best tips here is to prepare for it correctly by cleaning your booty. There are many different methods here, from rinsing yourself out in the shower to using water enemas. While that may sound awkward, it's a heck of a lot more pleasant than running into some golden nuggets while you're spelunking deep in your colon.
Also, you may even feel some discomfort when you first use your toy. If that happens, just remain calm and not freak out. Usually, it's completely normal to feel some pain at first. If your toy feels uncomfortable, slow down and use more lube. Above all, if you feel pain, you shouldn't try to force your toy inside deeper. That could tear the delicate tissue of your rectum.
Cleaning Your Anal Toy
We've all been there: no matter how wasted you feel after those multiple anal orgasms, you should never be too lazy to clean your toy. No need to explain, right?
Well, your toy will be loaded with lube, creamy orgasm juices, and maybe even a creampie or two if you're lucky… So remember the rule: a clean anal vibrator is a safe anal vibrator! Cleaning your toy every time before and after you play will not only keep you safe. It will also extend the durability of your toy.
Generally, you can wash most anal vibrators with soap and water. If your toy is waterproof, you'll be able to clean it in detail and not worry about any leftover bacteria. You can simply put it in a plastic tub or rinse it out under the shower for a few minutes. However, if your vibrator is not waterproof, the only way to clean it will be to use a damp cloth. Then, wipe the shaft thoroughly. You can also use a moist sponge or baby wipes.
Either way, you should carefully inspect the entire surface of your toy to see if you managed to get everything cleaned up nicely. After that, it's essential that you leave your toy out to air-dry before you store it. But be careful, if you want to stash it correctly, keep it away from your other sex toys. Ideally, you should leave it in its original box or a separate plastic container.
A Deep Gape Into the Anal Vibrators Industry
Compared to just a few decades ago, anal sex is a whole different ball game right now. Currently, we can fuck our butts with some of the newest smart toys from companies like Kiiroo and We-Vibe. Some of their toys even offer VR integration that enables us to get our asses handed to us by our favorite male pornstars. But how did it all start?
The History of Anal Vibrators
Most scholars know that around 2,000 years ago, Chinese emperors were allowed to have hundreds of wives and they even consulted their Tantric masters to learn all about new sexual techniques. One of them included the fine art of massaging the prostate to deliver super-pleasurable orgasms. What's more, traditional penis-to-butt anal sex was a favorite of many ancient cultures, especially among Greek and Roman people. However, it took thousands of years until the vibrator was invented.
Actually, it was first used in the 1800s by Victorian-era doctors. The earliest vibrators were designed as medical body massagers. According to the story, some reports claim that doctors actually used them to treat a condition called "female hysteria". By inducing orgasms, the doctors were able to cure the condition and all sorts of other ailments. Interestingly, the first vibrators were hand-cranked and steam-powered. Yup, it was all about steam-powered butt fucking fun! But, it took way until the 1950s when we were able to commercially buy modern electric versions.
By the 1970s, you could buy a vibrator in a pharmacy and the best example is perhaps the legendary Magic Wand vibrator. When the 1990s arrived, vibrators became a part of popular culture when they were featured in Sex and the City and pretty quickly, everyone wanted to get a piece of the action. It's unclear how or when anal vibrators were designed, but I can only guess that it was because people were tired of using standard vibes in their asses and they wanted something new.
What About the Future?
Nowadays, we can truly find anything out there, whether it's a small anal vibrator or a massive self-thrusting ass destroyer that links to VR porn and thrusts automatically while shooting out fake cum. Delicious! As mentioned, some brands like We-Vibe are leading the way to newer and smarter sex tech, but there are many other names that are competing to design the best anal vibrator. That includes Fun Factory, Je Joue, Hot Octopuss, LELO, Aneros, Lovense, etc.
All of those brands have built up a superb reputation and they are definitely worth taking a look at if you want to get yourself a high-end anal massager. Plus, with so many VR, AI, app-control, smart monitoring, and remote control options, it honestly feels like we're already fucking our asses into the future! So which vibrator would you choose and how would you use it to make yourself cum? Enjoy yourself, you naughty little anal addict!
⚠️ Disclaimer: Our articles contain affiliate links. If you like our content and wish to support our work, consider purchasing your new sex toys through our links. For each purchase through our links, we receive a small commission but at no extra cost to you.
FAQ
Absolutely, but as long as you follow some of the most important rules for anal sex and pay close attention to your hygiene. In the worst case, you could use your vibrator incorrectly. If you see that it's damaged but you push it in anyway, you could risk getting minor cuts inside your colon. However, it's highly unlikely that will happen if you're careful. If you take it nice and slow and if you train your ass properly before, your toy will not hurt at all and you will be able to enjoy it to the fullest.
That will depend on your experience level and your body. If you've never tried some ass experiments before, it may be better to start off with a finger or two or use a small butt plug. You can also try some small anal vibrators to see how they will feel. Usually, using small anal vibrators will stretch you out and train you slowly until you get used to all of the tingly sensations.
There are so many options here! Some women can orgasm directly by stimulating their anal canal. This is known as the famous A-spot orgasm. It feels a lot different to standard clit or G-spot orgasms. However, you can also have clit and G-spot orgasms with a toy up your fanny. That's because the nerves in your anus travel all the way to your sweet spots in your pussy. If you use a vibrator in your bum, you can directly send waves of intense pleasure to those spots and ultimately get mind-blowing G-spot or clitoral orgasms over and over again!
Of course! There's nothing wrong with a little ass play and tons of guys enjoy it. Most of the pleasure for men comes by stimulating the sponge-like prostate gland. Using a vibrator to do this on a guy will eventually trigger a strong full-body orgasm that's very similar to a female G-spot climax. Plus, you can explore all kinds of fetishes including cock milking, cock worship, roleplay, and so on.
No double-dipping allowed! It's extremely unsafe to take your vibrator out of your ass and stick it into your vagina because it can lead to all sorts of nasty infections or diseases. However, if you learn how to carefully wash your toy, you can always use your vibrator in your pussy before you slide it inside your tush. You can also try it on your nipples, clit, or neck to tease yourself and get mega horny before you're ready to pop it into your backdoor!
Oh, yes!!! If you're a fan of kinky foreplay or super-intense double penetration, your new anal toy will definitely provide some unforgettable experiences. One of my favorite things to do is to stuff my vibrator deep in my rear hole while my BF penetrates my pussy. He also loves it because the vibrations travel all the way down to his dick to make him cum harder than ever. After that, you can always remove your vibrator when you're nice and stretched out and have anal sex with your partner all night long!