Jun/20/2022
Last Update: June 26, 2023
935
14 min read
Best Double Penetration Vibrators In 2023 For Intense DP Orgasms!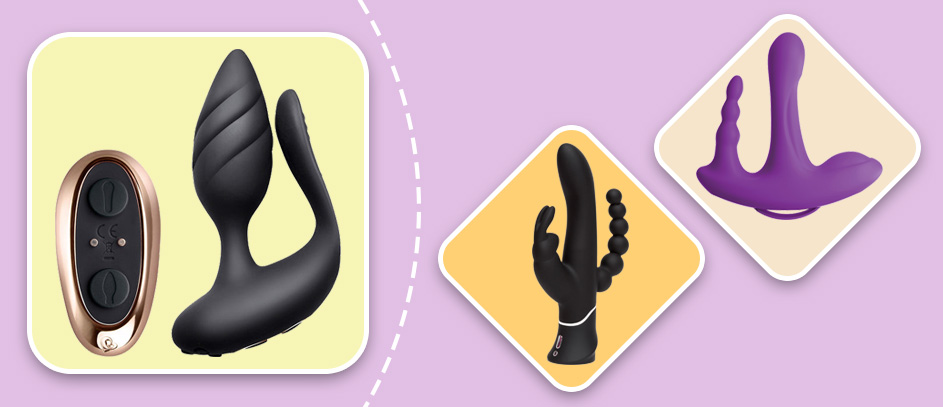 You know how the saying goes: two heads are better than one! Of course, that may not be about sex toys for double penetration, but it sure as hell applies to them! However, what if those regular ol' floppy DP dildos just aren't doing it for you? Do you need an untamable orgasm machine that vibrates and pulsates the heck out of your pussy while drilling your butthole deep and hard at the same time? The answer? Double penetration vibrators, baby!
So let me teach you everything you need to know about double penetration vibrators and how to buy the perfect one for you!
Top 10 Double Penetration Vibrators in 2023
Ever been double-fucked? I can already hear you: "OMG Scarlett, that's gonna hurt! I can't believe I'm actually gonna go through with it". Honey, don't listen to your brain!!
DP vibrators are big and funny-looking, but they'll make you feel hornier than a Czech porn star at a Jamaican gang bang! If you want to double down right away, I'll show you some of the best DP vibrators and dual-action stimulators I've tested while fucking my ass and pussy raw for the wildest and sluttiest orgasms!
Double Penetration Vibrators: Double the Dicks, Double the Fun!
Not everyone outside of porn is brave enough to try DP, for starters. It looks so damn easy and tame on the big screen, but it actually requires a lot of training and care. Many people compare this unique sexual experience to climbing Mount freaking Everest! Obviously, DP is not a vanilla bedroom practice that will appeal to all singles and couples. Still, if you've constantly been fantasizing about getting your holes filled with more than one hard cock, it's time to finally climb that peak and ride it until you pass out!
So how should you start? From my experience, DP vibrators and dual-action stimulators are some of the best toys that will ease you into the wonderfully intimidating world of double penetration.
But, whether you're a beginner or a pro, a double penetration vibrator will be an essential addition to your sex toy collection. It will allow you to fulfill all those filthy DP fantasies where you're a virgin stable girl, and you're getting plowed by two ragged cowboys with the biggest dicks you've ever seen.
Whatever your fantasy, double penetration vibrators are some of the most orgasmic sex toys designed to give you twice the pleasure. They'll change the limits of what you thought you could do with your body! Also, they'll stretch your holes to the max while making you squirt all over your fancy new Egyptian cotton sheets! Ooops!
What Are Double Penetration Vibrators?
With so many choices out there, it's somewhat difficult to define a double penetration vibrator. It can include a host of unique sex toys used for dual stimulation.
In the most basic terms, double penetration vibrators give you two insertable ends, one for your juicy clam and the other for your sweet, tight butthole. Most of them have a special angle, and it allows you to insert both shafts inside easily. Then, you can rock your world with mind-blowing ecstasy!
What's more, part of the reason why I believe they are some of the best toys for DP virgins is that they're slightly less intimidating than huge double penetration dildos. Plus, they provide sizzling vibration functions. They'll make you even hornier and force you to cum much harder!
However, there are so many toys to choose from, starting from standard DP vibrators to cock rings with double penetration vibrators and G-spot and anal vibrating massagers, as well as countless other dual stimulators. To get closer to finally living out your double penetration dream, I'll show you some of the most popular categories.
Types of Double Penetration Vibrators
Since it's all so subjective, you should thoroughly look into all the different types to see which ones would suit you the best. While inspecting the looks and features, you should also pick your toy depending on the material. It will play a massive role in your pleasure. Check some of the main choices out there:
Silicone Double Penetration Vibrators
If you don't want to overthink things and get straight to the fucking, Silicone DP vibrators will be the most accessible and convenient option.
Silicone vibrators are generally recommended for everyone since they're body-safe and non-porous. They won't give off funky smells or cause nasty allergic reactions. Plus, they look and feel fantastic. They're the closest thing you can get to an actual penis! Silicone feels soft, sleek, and smooth. Also, it pairs amazingly well with vibrations.
I love silicone vibrators for solo play because they have just the right amount of flex to them. Meaning they will bend to adapt to your holes. They'll make the whole experience feel comfortable yet extremely intense!
ABS Double Penetration Vibrators
Just like silicone, dual penetrators made of ABS are 100% body-safe. However, they will feel a bit stiffer and not bend as much. Again, it's all a matter of personal preference.
Some people prefer ABS simply because it's firmer. It makes your vagina or ass grip your vibrator in a different way compared to silicone. For some, it could deliver stronger orgasms, while it might feel a bit too much to others who are more sensitive.
Metal Double Penetration Vibrators
If you're a genuine anal slut who loves it hard, fast, and rough, metal DP vibrators will be just the thing! These types are not so common, but they have a large following among BDSM fans. Besides their shiny and metallic look, these toys are some of the safest out there. They are made of surgical steel, which is by far the most resistant and most hygienic material out there. It's perfect for hardcore DP exploits, temperature play, intense dom/sub roleplay, and all sorts of wild kinks!
Jelly Double Penetration Vibrators
Jelly DP vibrators are dirt cheap, but that doesn't mean they're a bargain. Most of them are full of phthalates, aka nasty chemical agents that can cause infections. Moreover, they're highly porous and can break down quite quickly.
Some people love the stretchy and jiggly feeling of jelly toys, especially for dual pleasure. Yet, I wouldn't recommend these vibrators to newbies at all. If you must, you can try phthalate-free jelly vibrators. But keep in mind that they'll still be highly porous, and you'll need to use them with condoms.
What About Other Types of Dual Stimulators?
Dual vibrators or dual stimulators encompass so many different sex toys. The most popular by far are rabbit vibrators. These 2-in-1 stimulators aren't used for double penetration, but they can simultaneously stimulate two pleasure spots. Just stick the shaft deep in your soaked honey pot. Then, use the built-in clitoral arm (the bunny ears) to rock your clit. If you're curious, you can twist the whole toy around and use the bunny ears to pummel your sphincter with intense vibrations!
But, there are many, many other dual-action vibrators to consider. That includes:
Double penetration strap-on vibrators – Instead of a standard strap-on, these vibrators will give you two ends, one for you and one for your partner!
3-in-1 stimulators – These toys are similar to rabbit vibrators, except they'll give you three different stimulators. That includes a clit stimulator, a vibrator for your vagina, and a big anal stimulator for your booty.
Cock rings with double penetration vibrators – These toys are ideal if you already have a partner with a big fat cock, but you want him to give you DP without involving another guy. They tighten around your partner's dick and give him a big vibrator to bang you with. Fire away!
Dual-ended vibrators – These toys are similar to double-sided dildos, except that they vibrate. You can use them on your own by bending them into a U shape. Alternatively, you can ride one end while your partner fucks the other side for the ultimate mutual pleasure.
Buying Your Favorite DP Vibrator: Double or Nothin'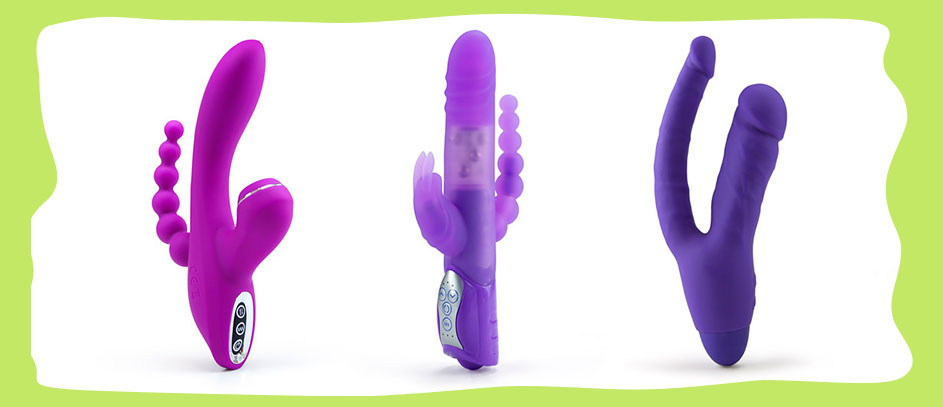 Given the huge advances in the sex toy industry, there's no better time to think about which dual stimulator you want the most than now. If you want to explore dual stimulation for the first time or if you want to expand your growing arsenal of sex toys, focus on the following categories:
Double penetration vibrators for one person and for solo play.
Dual action vibrators for two people who want to receive pleasure at the same time.
When it comes to the first type, I've already described that this is a vibrator with two insertable ends. It's meant for solo play, but you can use it on your partner, or your lover can push it in and out of you hard and fast. However, the second type is usually a toy that you can enjoy together with a partner. I've mentioned some DP vibrating strap ons, double-edged vibrators, and toys like cock rings with vibrators. With these toys, both partners can give and receive to experience kinky vaginal and anal action.
As you can see, there are many options if you want to try DP on your own or with a horny lover. My best tip here is to think about what turns you on the most. However…! Another tip is to not only eat with your eyes.
What to Look For When Shopping for Dual Action Vibrator
So how do you know if your new vibrator is worth it? Well, you shouldn't put your legs behind your head and spread out your holes with just about any dual stimulator. Here are a few key factors to consider:
Do you need your toy for solo or partnered play? Obviously, you won't get much use out of a DP strap-on if you don't have anyone to share it with you. So think about your intentions first.
Does it make you horny? You can find a variety of phallic or non-phallic shapes out there. It's important to decide whether you want to pound yourself with a realistic dong or you want something that doesn't remind you of a real dick.
Do you want it hard or soft? While the material will play a huge role in your safety, it will also affect how your toy will feel while you're riding it.
Whether you're going to use your DP on your own or with a partner, you'll have to pay close attention to the size. After all, you're not only measuring one shaft but two. That's why you'll need to find the correct fit.
Materials Make a Difference
Again, I'd only advise you to stick to silicone, ABS, or steel. When in doubt, you should always go with silicone because it's the safest and easiest material to handle. As mentioned, metal or ABS materials are also completely safe, but they produce different kinds of sensations altogether. It's up to you to decide whether you want a softer or harder texture. However, if you've never tried a vibrator, it's best to go with silicone and not think about it too much. You can always experiment with other materials later on.
Size Matters
It's definitely time to think about some cocks that you've had in the past now. Remember that you'll have to choose two sizes, one for the vaginal end and the other for the anal vibrator.
Sometimes, a DP vibrator will use the same measurement for both shafts. Other times, the anal vibrator will be slightly smaller or thinner. If you don't know where to start, pick an average size of, say, 5 inches in length for the vaginal vibrator. If you want a smaller anal vibrator, 3 to 4 inches will be enough. Of course, the only limit here is your body. You can go as big as you want and get an above-average size of 7 inches or even a huge 10-inch monster.
Vibration and Power
The whole point of a vibrator is to deliver strong pulsations, right? Well, it's always possible that your vibrator might not have enough juice to please you. Here, you should look into the powering options first. Try to find a USB-rechargeable vibrator that lasts for up to 2 hours on a single charge.
After that, check out the vibrating motors. Some DP vibrators only have a single motor inside the vaginal stimulator. Others have a motor inside both the vaginal and anal stimulator. This will also depend on your preferences and your sensitivity. If the vibrations feel way too powerful inside your rectum, go with a single-motor vibrator. If not, buy a dual-motor version and buzz your brains out!
Also, look for a toy that will give you 10 or more vibration settings, speeds, and patterns. Try to get as many settings as possible because that will allow you to experiment with all sorts of patterns all the way from sensual edging to deep and rough orgasms.
Keep an Eye Out for These Features:
If you want a hands-free ride, get a vibrator with a suction cup.
If you want to use your toy manually, make sure it has a sturdy handle or base.
Some double penetration vibrators have beaded textures for the anal shaft to make ass play feel much more intense.
Choose a waterproof and fully submersible vibrator to facilitate cleaning and use your toy in the shower without any issues.
If you want the newest features, get an app-controlled toy. It will allow you to customize the vibrations, sync your vibrator to your partner's toy for long-distance play, or even connect to interactive VR content.
Tips on Using, Cleaning, and Storing Your Double Penetration Vibrators
"A high-quality DP vibrator should fit inside you like two peas in a pod. But, you can't just go on a double date with your DP vibrator and shove it in there if you're not ready."
Look, DP is no rocket science, but you have to get your body ready. As someone who has stretched her pussy and asshole out more times than I can count, I'd suggest you try the following:
Using Your DP Vibrator for Intense Orgasms
If you've never tried DP before, you should use a regular vibrator and a finger or butt plug in your ass. The more you get your ass used to penetration, the better DP will feel for you!
Also, don't forget to stock up on lube. You should slather it over both tips of your toy. Go slowly and make sure they enter your holes smoothly! Here, always use water-based lube to avoid damaging your silicone toy. Plus, when your toy is in there nice and deep, and you feel comfortable, you can try to experiment with all kinds of in or out motions. Then, turn the vibrations on to push yourself over the edge!
Another absolutely essential tip here is to never swap holes or use the anal side of your vibrator in your vajayjay. Once you've got that covered, the sky's the limit! You can play around with all sorts of kinky positions, watch intense threesome porn, or anything else you're into. Then, use your toy to explore the unknown and experience orgasm after orgasm after orgasm!!!
Cleaning and Storage
Obviously, intense DP play will produce tons of bodily fluids, and all sorts of cum juices, which is why you should keep your dildo spotless after your session. If your dual stimulator is waterproof, you can quickly clean it by soaking it in warm water and using light soap. But, the next step is absolutely essential. When you clean your toy, you'll need to leave it out to air dry for some time. Then, you should store it only when it's fully dry. The best method is to reuse the original packaging or keep your toy in a separate plastic box to keep the germs and dust out.
Double Penetration Vibrators Industry Overview
While it's unlikely that we'll ever know who invented double penetration vibrators, naughty two-on-one action has been practiced for hundreds of years. We see examples of kinky DP on ancient cave drawings, in the Kama Sutra, in renaissance paintings, and so on. What's more, a movie called Delphia the Greek marked the first appearance of DP in porn back in 1970.
What's more, we can also speculate that DP sex toys have been around for a long time since some double-ended stone dildos were discovered in ancient China and Rome. And when it comes to vibrators, they are a more modern invention that obviously coincided with the invention of electricity. They were first used as medical aids in the early 1900s but they went mainstream during the sexual revolution of the 1960s.
As for today, there are more options than you can count. Several brand names stand out in this highly competitive industry and they are currently pushing the limits of sex toy tech. That includes brands like We-Vibe, Lovehoney, Fun Factory, Vixen, Womanizer, Satisfyer, Hot Octopuss, LELO, Dame, etc. Some of the newest advancements are highly configurable app-enabled vibrators and VR-compatible toys and it seems that all the innovation is not slowing down.
Sadly, we'll never know what kind of perverted mastermind thought of designing a double penetration vibrator, but I'm pretty sure that the guy deserves a Nobel prize along with unlimited blowjobs from millions of satisfied women worldwide!!!
⚠️ Disclaimer: Our articles contain affiliate links. If you like our content and wish to support our work, consider purchasing your new sex toys through our links. For each purchase through our links, we receive a small commission but at no extra cost to you.
Frequently Asked Questions
Your DP vibrator shouldn't hurt during vaginal penetration, but it might cause you some pain in your butt if you are too tight or untrained. This will depend on your experience level. If you have never tried anal play, you should first try to experiment with your fingers or smaller toys like butt plugs to get used to the sensations.
I've had tons of experience with both and in my opinion, using sex toys is a healthier and safer way to replicate a threesome experience if it's your first time. If you've always fantasized about it, your new vibrator will be able to fill you up in both holes and finally make your desire come true. It's also a great way to experiment with a partner to fulfill their threesome fantasies.
That will depend on your partner. If your boyfriend isn't into DP or threesomes, there's a chance he could feel intimidated. But, if he's into it and he wants to see you stretch your holes out with a big DP vibrator, go for it! In any case, you should talk to him first to see whether he's okay with it.
Yes, I have tried double anal penetration several times with my DP vibrators. You will need to pick a flexible silicone toy for this and bend both ends before inserting them in your ass. However, you'll need to be extremely experienced in order to do this. So try it only if your ass can flex enough and if you're already an expert in double anal penetration.
That depends. The benefit of dual-action vibrators is that they're a bit cheaper than buying two separate toys. Also, since both shafts are attached to one base, the toy will be much easier to use for DP, especially if you get one with a suction cup. Still, buying two standard vibrators isn't a bad idea if you want to experiment with DP, but you also need to have a toy for clit or nipple stimulation.
No, you can't insert a rabbit vibrator in your ass and pussy simply because the bunny ears or the clit stimulator is only meant for external use. However, if you prefer rabbit vibrators compared to regular DP vibrators, you could look for a 3-in-1 stimulator. That way, you'll get an external clitoral arm, a shaft for vaginal penetration, and another end for intense anal play.