Jul/04/2022
Last Update: June 26, 2023
999
23 min read
Shoot To Thrill: Best Bullet Vibrators In 2023 To Hit The Bullseye Every Time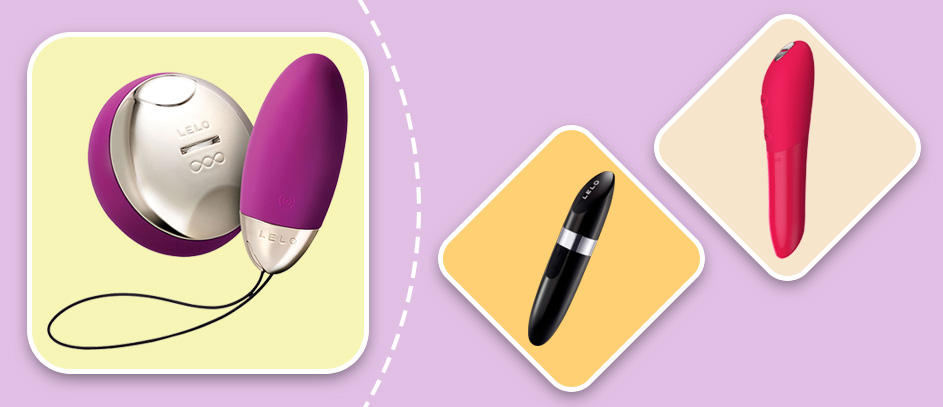 Living a life full of sexual despair or low confidence can be outright maddening. Even if your tender-hearted boyfriend can eat your pussy like it's a strawberry cupcake, there are always gonna be some setbacks. Yup, your stud could be a great worker and a dedicated partner, but he could also be way too exhausted. Just getting him in the bedroom for anything other than a deep coma could actually be harder than his cock when you're slobbering all over it. So what can you do to get an orgasm (or several) a day and ease all that stress away? Honey, just repeat my mantra: Don't cheat; use bullet vibrators!
Top 10 Bullet Vibrators in 2023
While bullet vibrators are tiny in size but huge on pleasure, not all of them are equal. That's why I'm gonna give you a sneak peek of what I think are the best bullet stimulators out there. I spent countless hours testing them until I could basically see rainbows and I forgot all about the outside world. I've ranked my top picks based on the designs, features, fun factor, power, portability, etc. Here are my top 10 bullet vibrators for 2023!
Bullet for a Bad Girl: All About Bullet Vibrators
You'll notice right away that bullet vibrators don't look like huge delicious dicks. And oh baby, I sure love me some huge delicious dicks! But… I can't always get what I want. That's when I open up my secret sex toy chest and head straight to O town! And what if monster cock vibrators or huge dragon dildos are not exactly the biggest turn-on for you? Sweetie, there's no need to give up! If you're not so keen on cock, bullet vibes are basically the opposite of anything that resembles a phallus. Plus, If you need something much smaller, more portable, and equally as powerful, a bullet vibrator could become your new secret weapon!
So regardless of if you're a 24/7 knob gobbler like your friend Scarlett here or if you're not the biggest fan of penises, magic bullets require your utmost attention. They are some of the most precise, most powerful orgasm machines! Really, these babies are the tiniest and most sophisticated toys for high-end orgasms. Some of the newest models such as remote controlled-vibes, bullet vibes that you can use in the shower, or silent-but-deadly types have downright incredible looks and the newest features. After testing dozens of them, I can guarantee that they can rival even the most powerful full-size vibes!
Lock and Load!
I get that it's the 21st century, and I hope I don't need to explain to you that using a vibrator is completely normal or even strongly encouraged now. Actually, vibrating toys are so popular that over half of the female population uses them! What you also need to know is that the demand is enormous at the moment. Tons of companies are constantly designing new high-end vibrators that use premium materials and offer high-tech features to please us!
And if you've tried a regular vibrator before, you'll notice that small bullet vibrators look nothing like them. But don't fear. They'll give you entirely unique pulsating sensations. As in, they'll make your body shoot out rapid orgasms like there's a Tommy gun hidden in your pussy!
But before we cum to that, you should get a better understanding of what these bad boys can actually do for you. I'll show you how they work, their most exciting features, and how to use them really damn well until your holes are creamier than a delicious serving of crème brûlée. Mmmm hmmm!
What Are Bullet Vibrators Anyway?
Listen, small bullet vibrators are some of the smallest and most portable sex toys. They are designed specifically for your clit and vaginal area. They are much smaller than a standard vibrator or dildo, but this can actually be a huge advantage. You might think that they're less effective as a result. Nope, that's not even remotely close to the truth!
You know, there's a reason why they're called magic bullet vibrators. They don't only have a bullet-like shape. They're designed to hit the target just right every time. It truly sets them apart as entirely unique sex toys in their own right.
Feel the Magic
Now, a typical magic bullet vibrator will give you:
Precision
Intensity
Portability
Ease of use
All of those qualities make these toys perfect for beginners and experts. Even better, you can use a small bullet vibrator for all sorts of solo or coupled adventures. These things are simply ideal for all horny girls who love precise and intense clitoral stimulation.
Not to mention they come with a lower noise level compared to standard vibrators. This is always better if you don't want to wake grandma up! Moreover, they're small enough to fit in your handbag. You can literally take them with you anywhere!
"Not gonna lie, but I'm… Uhh… barely making it through this article because there's a buzzing bullet vibrator hidden in my soaked panties right now. Oh… it's… it's teasing me harder than Riley Reid's beautiful blue eye as she slurps down on a 10-inch… Ahhh… pornstar cock and… Oh…. and swallows it whole! Holy shit, I just creamed all over my chair… Mmmm, here we go again!"
How Do They Work?
A bullet vibrator is designed to be an external-only stimulator. You can primarily use it on your love button and all over your coochie. However, there are really no limits to what you can do with it if you want to stimulate other external pleasure spots.
For example, when you push your bullet vibrator against your nipples, thighs, or your juicy pussy lips, that damn thing will rock your world. It will send shockwaves of powerful pulsations to your external nerves. Those vibrations will then travel through your body all the way up into the pleasure centers of your head. Hopefully, turn your brain into a bowl of orgasm-blasted soup to make you enter a meditation-like trance!
Set and Forget
Across the board, magic bullet vibrators will give you all kinds of ooh-aah sensations due to their internal vibrating motor that spins at high speeds. Depending on the toy you choose, the motor will also provide you with a range of different vibrations, patterns, and controls.
Oh, and did I mention that today's mini bullet vibrators look nothing like their primitive early variants? Those things shared more resemblance and functionality to an uncooked hot dog rather than a raging, unstoppable orgasm machine. Yup, the newest vibes come in cute and outright adorable colors!
But best of all, I love to recommend these magical bullets to all women because they make orgasms much, much easier. You can use them as plug-and-play tools for intense quickies. Plus, they'll help you to orgasm much faster and with more intensity.
Frankly, the big plus here is that you don't really need to do any heavy lifting. Just turn the little sucker on and sit back. Then, let it stimulate you until you end everything with a bang!
Types of Bullet Vibrators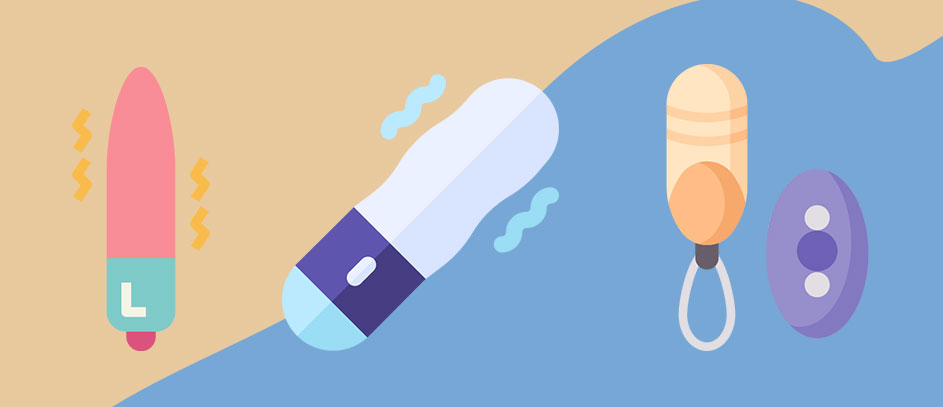 Here's where things could get a bit complicated. My entire goal is to help you sift through so many options and find the ideal toy for you. But that doesn't mean you'll get to skip out on your homework, baby.
There are literally thousands of these things, and you'll have the best experience if you choose wisely. For real, all the options always make me feel like a kid in a candy store. Except in my case, the candy is a bunch of sex toys, and I'm a grown-ass woman with a sweet tooth for a big release.
If you feel the same, one way to ease your shopping anxiety and narrow your choices down is to look into the main types of magic bullet vibrators. To proceed, I'll show you several different categories, starting from a standard bullet vibrator.
Usually, this is a mini vibrator shaped like a magic bullet. It has a straight shaft, a pointed or rounded tip, and a smooth surface. What's more, it has a few simple button controls to allow you to trigger all kinds of vibrations. All of the other types are mainly based on the standard design. Yet, they are different according to their features and functionalities. The other types include:
Remote Control Bullet Vibrators
Most of the newest toys come with remote control options. This is one of the best types if you're looking to experiment with your partner. Also, it's a great choice if you hate having to reach down for your toy and change the controls at the moment of orgasm. Plus, this type is a huge hit with all kinds of public play enthusiasts. It can make you cum hands-free in public!
For the most part, a remote control bullet vibrator will come with a wired or wireless remote. You'll mainly see a wired remote on low-cost models.
Frankly, using an old-fashioned wire to connect the remote is a bit outdated. There are many new technologies you could test out, but many people still love vibrators with cables attached to them. They could save you the trouble of accidentally losing the remote. Moreover, I think it's quite kinky to have a wire dangling out of your holes when someone else is taking control of your pleasure. Those are pretty much the only reasons why you'd want a remote bullet vibrator. Otherwise, I'd advise you to go wireless.
Wireless Bullet Vibrators
Usually, this type offers a standalone remote or some kind of app control option. A standalone wireless remote is fairly self-explanatory. It's just like the one you'd use on your TV, except, instead of switching channels, you'll be able to switch through several orgasmic pleasuring modes (ad-free!).
Alternatively, a wireless bullet vibrator with app control is one of the newest toys out there. Remote bullet vibrators can sync up with any smart device. After that, you pair them with an app. Then, you can use the app to change the settings on your vibrator. You can even access various extra features. That could include music syncing, orgasm tracking controls, or custom vibration patterns.
Additionally, these next-gen toys have tons of benefits for long-distance play. When you sync them to an app, you can control them from miles away. This can help you stay kinky and intimate in long-distance relationships.
Waterproof Bullet Vibrators
If you love to rub one off in a steamy shower or even get wild in your hot tub, waterproof vibrating bullets are the way to go. Waterproof toys are incredibly handy, and I always encourage you to look for those options. They are much easier to handle, use, and clean. You can submerge them in water and use them safely without any damage to the internal electronics.
Rechargeable Bullet Vibrators
Most mini bullet vibrators are rechargeable. This is a huge improvement over old types that worked on removable batteries. It doesn't take long to charge them simply and effectively. In most cases, they'll come with a rechargeable motor. But, there are some that include rechargeable batteries. This will mostly depend on your choice of model and your preferences, but in my opinion, a USB rechargeable bullet vibrator is the one to get.
Other Types of Bullet Vibes
There are many other bullet vibrator categories, including:
Finger vibrator with a mini bullet – This type attaches to your finger to free up your hands.
Vibrating panties with removable bullets – Vibrating panties use insertable bullets. You can use these wearable sex toys for public play or BDSM kinks.
Vibrating dildos with insertable bullet vibes – Many vibrating dildos come with bullets inserted into the base. They offer a fantastic balance of strong penetration and powerful vibrations.
Rabbit bullet vibrator – This type is inspired by rabbit vibrators, which I wrote about and tested recently. The tip is shaped like a pair of bunny ears, and it delivers highly intense and unique sensations.
G-spot bullet vibrator – This toy has an angled tip and also doubles as an insertable G-spot massager.
Cock ring with bullet vibrator – Some C-rings for men include insertable bullet vibes. They can directly stimulate your pearl during penetration for extra intense fun.
What Are These Toys Made Of?
Baby, even if you find the most attractive and strongest bullet vibrator, you do not want to put that thing near your honey pot if the material is unsafe. Some options to avoid are rubber, jelly, and PVC. All of those are porous and contain phthalates. This makes them toxic for your little muffin. So focus only on safe and recommended materials. That includes:
Silicone
ABS Plastic
Metal (Stainless steel)
I've listed those choices starting from the softest to the toughest material. Honestly, those are the only options you should be looking at as they are 100% body-safe. Those materials are non-porous. This means they're bacteria-free and skin-safe. What's more, they will suit most skin types and will last a long time.
However, there will be vast differences between the sensations created by soft silicone, ABS, and metal types. The most common choices you'll see are silicone and ABS. The former is soft and skin-like, while the latter is quite tough. This will affect the way the vibrations transfer through the material and to your skin. My opinion is that body-safe silicone can soften the vibrations a bit to give you all-around vaginal heaven. Conversely, tougher materials like ABS or metal can transfer the pulsations in a more direct way.
Magical Features to Push You Over the Edge
There's much more to mini bullet vibrators than meets the eye. You'll notice this as you look through various key features:
Tips – As mentioned, bullet vibes can have rounded, pointed, or tapered tips. But, there's a lot of variation between the way the tips are shaped. This is one of the most important features. It will determine the level of pressure and precision you'll get while you're riding your lotus flower.
Vibration functions – This is another key feature, and you shouldn't overlook it. You'll usually get a wide selection of vibration strengths and multi-speed patterns. In fact, you'll often get more options compared to standard vibrators.
Shapes and textures – Not all of these toys have that classic bullet look. Some of them are thinner, some are wider, and some even contain unique textures like swirls or ribs.
Taper – Some bullet vibes can have a tapered shape that gets wider near the base to cover more of your clitoral area.
Remote control – As I said, using a remote control on your magic bullet vibrator can take this toy to the next level, regardless of whether you're solo or coupled. It will make your whole adventure a lot easier. Plus, it will allow you to use your toy in practically any way you want.
Long-distance and VR – These next-gen features are incredibly useful if you're with an LDR partner or if you want to experience something otherworldly. Some of them are VR-enabled. Meaning, you can sync them to virtual adult content while others offer extended remote control options for long-distance play.
Buyer's Guide: Bite the Bullet!
If you're still confused and you need more buyer's tips on how to choose the perfect clit milker for you, just follow my expert advice below:
Why Do You Need One?
Well, I'd advise any sex-positive girl to try one out just to see how they feel. If you're unsure, you should get one right away if:
You want to masturbate in peace.
Your partner wants to join the fun.
Your vibrators are too loud, and you prefer something that's discrete and silent.
You need precision and intensity on your clitoris.
You want to experiment with public play.
Wearing a sex toy for several hours to tease yourself all day sounds nice.
If you want to zap your pussy so hard that you'll feel like it's a no-legged man in a butt-kicking contest!
You want to try a sex toy for the first time and want something simple and portable.
But Is It a One-Trick Pony?
Now, one of the biggest advantages of bullet vibes can also be their downsides. These things are small, and they're meant for external use only. Because of this, they might not work for penetration.
Some examples, like G-spot bullets, can be inserted. Yet, all other types are not meant to go fully inside you. And for Heaven's sake, don't try to put this thing up your butthole! It's so small, and it doesn't come with a stopper. It could get lodged deep in your rectum, and you'd have no way of taking it out.
Still, that doesn't mean you can only do one thing with your bullet vibrator. Your new toy will certainly not be a one-trick pony. The first thing you'll need to know is that you don't have to use them for direct stimulation.
For example, you can place the entire shaft along the entrance of your pink love tunnel. Then, use the vibration to stimulate your entire vaginal area. You can roll your bullet, twist it, spin it, use it on your labia, experiment with the side of the tip, etc. Alternatively, you can use your bullet to tease your nipples and your ass and even slide it up and down your BF's thick cock. Yum!
How to Know If Your Bullet Vibrator Is Worth It
Let's head straight for the bulls-eye and help you find your dream toy! So focus on the following:
Sizes and Shapes
As I said earlier, bullet vibes can have rounded or pointed tips. They can also offer wide or thin bodies. All of those factors will influence the feel of your toy. The general rule here is that thickness and roundness give you wider vibrations. Conversely, a thinner toy with a pointed tip is better for precise stimulation.
Size-wise, you'll find a whole other world of choices. What's tricky here is that you won't encounter an average size for a mini bullet vibrator. It shouldn't matter that much because penetration is not the name of the game. Still, it will impact your discretion, comfort, and preferences.
For instance, if your toy is too big, it's not the best choice for long-term wear or discreet public play. Also, a toy that's too small might struggle to make an impact. IMO, just start from 2 inches on the smaller side and a maximum of 5 inches if you want something larger.
Power
These things are famous for their tiny but powerful motors. Some of the best examples can rival full-size vibrators. In most cases, their actual vibrations will feel stronger because of the smaller size. Here, the power will depend on the type of motor and the toy's size. You should expect fizzy, tingling, and precise vibrations in smaller bullet vibes. What's more, you'll get deep, rumbly, and relaxing pulsations with bigger bullets.
Battery Life
Another thing to pay attention to here is the battery life and the charging times. Usually, a full charge takes about 2 to 4 hours, and you'll get anywhere from 2 to 5 or more hours of operating time. To be honest, if you're quick on the trigger and you don't need a lot of time to reach strong multis, long battery life might not matter to you. But, if you need more time and you want to experiment with long-term use, definitely get a bullet vibrator with the longest battery life.
Controls
Like I said previously, you should expect to get a variety of vibration modes and settings. Usually, you'll get between 10, 20, or more vibration settings. Of course, more options don't necessarily equal more fun. If you find a quality toy that you like but has fewer settings, don't hesitate to try it because those settings might be just right for you.
But, I'd advise you to find a toy with fresh and intuitive controls so that you can always experiment with something new. One way is to buy an app-controlled vibrator that allows you to customize the settings. And whether you're going wireless or wired, just make sure that the controls are easy to reach and explore.
Noise Level
Fortunately, your new bullet vibrator will never sound like a lawnmower. The design of these things makes them much quieter than traditional vibrators. Therefore, you'll rarely need to worry about the noise. Plus, the newest models are made with silent operation in mind. Some of them can truly be whisper-quiet even on the strongest settings.
Materials: Hard vs. Soft
If you're unsure whether you should get a softer or harder material, let me tell you that silicone is always the best choice for newbs. It's soft to the touch and creates a smooth, velvet-like feel. Also, this body-safe material will last a long time. Also, you won't need to spend hours cleaning it.
Still, you might want to choose an ABS or silver bullet vibrator due to its toughness. This will depend on your sensitivity and the kind of sensations you're hoping to achieve. If you are sensitive, you should stick to silicone types. They'll provide gentle stimulation that feels amazing with a little lube. However, with ABS or silver bullet vibrators, you'll get extreme precision and smooth gliding sensations that will work wonders if you need to give your love nub a jump start.
Cost
Another thing that I absolutely adore about these toys is that they are a bit cheaper compared to full-size sex toys. Sure, you might think they're extra cheap because they're small, but I beg you to stay away from any $10 options. Those are just fake knock-offs, and they could cause some trouble for your precious kitty.
You should expect to pay around $20 to $30 for a simple, high-quality bullet vibrator. The next level up will cost you around $30 to $50. Here, you'll get tons of extra features and unique designs. If you want to pay $50 and over, expect to get a luxury vibrator made by the most famous brands.
Tips on Using, Cleaning, and Storing Your Bullet Vibrators
Using a bullet vibrator is pretty self-explanatory, right? Just push it up against your minnie, get raunchy, and rock and roll! However, while these things are amazing for plug-and-play pleasure, there are tons of special ways you can have fun with them. Remember, nearly 85% of women need clitoral stimulation to push them to climax. Studies also show that over 40% prefer only clit play.
Fun Ways To Use Your Bullet Vibrator for Explosive Orgasms
With all of the above in mind, you can play around and use your bullet vibe to:
Explore your magic button and all the ways you can orgasm by stimulating it.
Use your vibrator on other areas like your nipples, back of your knees, or your neck for extra tingly sensations.
Go out in public! Wear your vibrator in your panties to tease yourself all day!
Use your vibrator during penetration with a penis or another sex toy.
Get kinky and use your vibrator for various BDSM acts, roleplay, bondage, etc.
Speaking of kinky, you can use your bullet vibrator for teasing, edging, or even forced orgasm play.
Stimulate your BFs cock and balls with your bullet vibrator while giving him an intense blowjob.
Have your BF eat you out while pushing the bullet vibe against your clit.
Use the tip on your butthole! Don't insert it, but use plenty of lube and massage the outside of it to stimulate delicious anal rimming sensations!
Milk that G-spot. If you get an insertable bullet toy, you can use it to massage your vaginal canal and target your G-spot for explosive orgasms.
Give your BF the remote and allow him to control your orgasm.
But Don't Forget the Lube…
Even if you're not going to insert your bullet vibe inside, you should use a bit of (or a lot!) of lube, depending on your preferences. Even if you can get gushing wet, lube will make things so much better. Basically, it will provide a long-lasting and smooth barrier between your vibrator and your raspberry cake. This will make it easier for you to move the vibrator around, and it will also boost your sensations.
However, you could damage your toy if you use the incorrect type of lube. Your best bet here is water-based lube. It is universal and will work with all toy materials and skin types. Another way I like to kick up the fun is to use warming or tingling water-based lube because it will wake up all those pleasure nerves.
Clean and Store Your Bullet Vibrator
Since these toys are small, you won't have to spend a long time cleaning them. A simple soak in warm water and mild soap will do the trick after every use. You can remove any lube or your silky pussy cream away from your bullet vibe quite quickly if you use this method, but just make sure that your toy is waterproof.
If not, the best way is to wipe the thing down with a soft and damp cloth. A word of warning here: while you can boil some silicone or steel toys to fully disinfect them, you should never try this with a bullet vibrator. It will damage the sensitive internal motor.
So follow my tips and get your toy squeaky clean before you can store it. To do this, wait for your bullet vibe to dry fully. Then, store it in a carrying pouch or a plastic container. This way, you'll protect it from dust, germs, and other outside influences.
Bullet Vibrators Industry Overview
How were these souped-up orgasm enhancers invented, and what should you expect to see in the coming years? There'll be lots and lots of orgasms, that's for sure!
History of Bullet Vibrators
If you've ever looked into the history of sex toys, you know that humans were horny as heck right from the get-go. We've been using sexual aids for over 30,000 years! The best thing is that our sex toys just keep getting better and better! But, there are lots of myths and legends regarding the invention of vibrators. While we know for a fact that our ancestors used polished stones, plants, ivory, and even big logs of wood (*hehe*) as some of the earliest dildos, vibrators appeared way later in the 1800s.
The story goes that back then, primitive orgasm machines were used by doctors to bring relief to women who exhibited some physical and mental issues. They devised tons of different contraptions to provide treatments in the form of intense orgasms and even got to the point of inventing steam-powered vibrators.
However, the patents, records, and expert reports all got incredibly confusing during the 1800s. We still don't know who the first one to invent a vibrator used solely for sexual purposes was. Yet, we do know that in the early 1900s, you could buy a basic sex toy in stores like Sears. Funnily enough, those early versions were discretely advertised as beauty or weight loss products.
Bullet Vibrator Origins
Since there were so many unusual products out there back then, it's nearly impossible to trace the origins of the bullet vibrator. Some say that they were available at the beginning of the 1900s, while others believe they came way later.
Most historians agree that bullet vibes got immensely popular in the 1970s, with the first examples being made by Doc Johnson. They were called magic or silver bullets and were about as popular as the original Hitachi Wand Massagers. In the decades to come, bullet stimulators were popularized by TV shows, ads, and eventually the internet, and currently, they are some of the most popular vibrators in the world.
The Future
How can we innovate on such a small and already perfected toy? In terms of new design solutions, you'll most likely encounter options such as app control and long-distance capability. Still, some of the companies that are crafting the newest bullet vibrators are keeping them relatively simple. That's the whole point of this toy, after all, right?
Still, if we look at other sex toy categories, we'll see that the innovation is not stopping. We should expect big changes in the future. Our tight pussies could witness more experimental toys in terms of looks, materials, remote control features, portability options, and I'm hoping to see more AI or VR-controlled magic bullet vibrators.
Some brands like Dame, Lelo, Satisfyer, We-vibe, Adam and Eve, Je Joue, Hot Octopuss, and others are currently at the forefront of innovation. If you're looking for a state-of-the-art bullet vibe, those are the best names to choose from, along with the toys that I recommended. So right now, it's time to take the bullet by the horns, get your bullet vibrator today, and enjoy your mind-blowing orgasms!
⚠️ Disclaimer: Our articles contain affiliate links. If you like our content and wish to support our work, consider purchasing your new sex toys through our links. For each purchase through our links, we receive a small commission but at no extra cost to you.
FAQ
This type of sex toy is different from a traditional vibrator. It's much smaller, and it's not designed for penetration. It's meant to give you powerful pulses on your clitoris and vulva so that you can have quick and easy clitoral orgasms. A standard vibrator can also do that.
However, it's much bigger, and some women could find them to be more intimidating. With a bullet vibe, you'll get a small and portable toy that hits just the right spot and brings you to climax without too much effort on your part.
Many people confuse these two toys but let me tell you that they're entirely different. The difference is that egg vibrators are used inside the vagina. They're shaped like an egg or a Kegel ball. They're meant to bring vibrations to your vaginal muscles. On the other hand, bullet vibrators are thinner and are mainly intended for clitoral pleasure.
This is a tricky question. Sometimes, you can insert the tip into your vagina to experiment with different sensations. But since bullet vibrators are so small, they are not mainly intended for penetration. They don't have a flared base, and it's very easy for them to slide fully inside by mistake.
If that happens, they could get lodged inside you. I'd advise you not to penetrate your vagina or anus with a bullet vibrator. If you must, use only the tip. If you want to use your bullet vibe for penetration, it's best to get an insertable type that's designed for it.
Absolutely! Bullet vibrators can bring you tons of anal pleasure. You can use them to tease your or your partner's butthole all night long. You can use one to tickle your cheeks, slide it between your crack, and gently stimulate the rim of your sweet butthole. However, remember that you shouldn't use the same vibrator for vaginal and anal pay for hygienic purposes. Also, don't insert the bullet in your ass fully because it could get lodged inside.
Oh, yes! This toy is practically designed to help you to study the nuances of your body and explore your orgasms. If you're already having problems during masturbation with fingers alone, try a bullet vibrator. Then, experiment with the settings and placements to see what you like the most. A bullet vibrator can give you your first genuine clitoral orgasm as well as teach you how to have multiples.
Many, many women use bullet vibrators during penetration. They provide just the right dose of clitoral stimulation to push you over the edge.
However, it's best to talk to your partner if you want to do this and not catch them off guard because some people could have a problem with you bringing sex toys into the bedroom without their approval. If all goes well, you'll be able to use your vibrator for the most explosive sex marathons and improve sex for both of you.
Of course! Bullet vibrators are actually found in many male sex toys like cock rings, glans massagers, and prostate dildos. Since they are tiny and precise, they feel amazing on the testicles and penis, but they also work wonders for guys who like to get stimulated in their backdoor.
Your BF might enjoy bullet vibes for all of those purposes, or he might just like it if you use your toy to bring him over the edge while giving him a deep BJ. It's all up to him, so be sure to ask him before you bring your toy into the bedroom.