Jun/20/2022
Last Update: June 26, 2023
914
15 min read
Best Thrusting Vibrators In 2023: Blast Your Tight Holes With Automatic Thrusting Fun!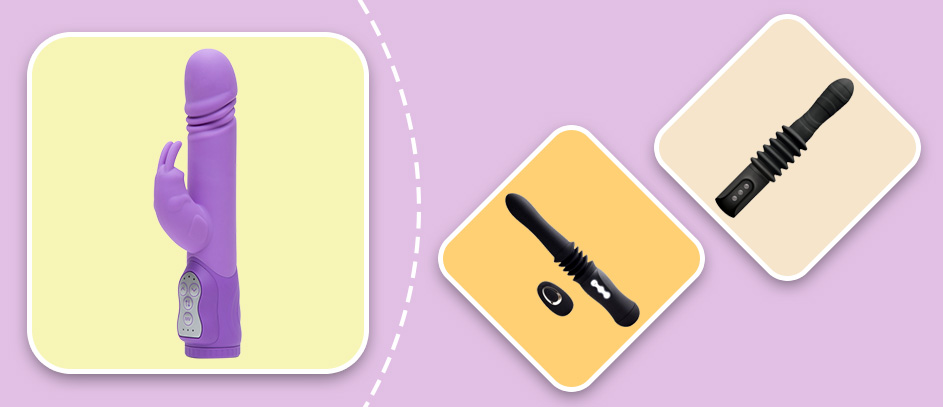 There comes a time in every woman's life when a regular dildo or vibrator just won't get the job done. Oh, honey, I can already hear you fantasizing: "I'm horny as balls, and I need a bigass cock to ram my holes hard until I can't even remember my name!" So what happens when you combine automatic thrusting and explosive vibrations into one big and thick dick-shaped sex toy? Well, if you want to get your sweet pussy or booty blasted by some of the most powerful sex toys ever, I'll show you everything you need to know about thrusting vibrators! Let's pump those holes deeper and deeper until you cream!
Top 10 Thrusting Vibrators in 2023
Whether you're in the mood to get stuffed balls deep by a massive dick-like sex toy or you're a bit sensitive and you crave a soft G-spot massage, thrusting vibrators will pump in and out of your holes automatically to make you see rainbows and squirt like a pornstar! Trust me: I tested out dozens of different thrusters, and my body is still recovering from some of the biggest Os of my life. So, if you want to get the party pumping right away, check out my rundown of the top 10 self-thrusting vibrators!
Thrusting Vibrators: The Wildest Ride of Your Life!
If you're looking for your new favorite plaything, a quality thrusting vibe will literally rock your world and help you reach some sweet spots you never knew existed. I get it: it may sound cheesy right now, but you'll definitely want to thank me when your new thrusting vibe makes you cum like a rocket.
However, let me get real with you here. Not all thrusting toys are equal! I had to do a lot of digging (in more ways than one!) to find my top 10 thrusting vibes. Some were able to hit all my pleasure spots and impress me beyond my expectations, while others that didn't make my list felt worse than a limp, hairy micropenis…
All in all, finding your dream vibrator is highly personal, and I want to help you buy a toy that satisfies your holes just the way you like it. So let me show you what these toys are all about and push you in the right direction to help you find the best thruster!
When Push Cums to Shove: The Basics of Thrusting Vibrators
So what are these toys all about? Well, just imagine the best vibrator you've ever played with. Now, picture that bad boy pumping in and out of your holes with special patterns or speeds that you can set up with easy to reach buttons or remote control. And remember, while this toy rocks back and forth automatically, it also gives you powerful vibrations and makes you feel all sorts of tingles and rumbles deep inside!
Your Own Personal Fuck Machine
Generally, auto thrusters are inspired by standard vibrators but they have a special pumping mechanism that makes them fuck you automatically without holding back. They can keep the action going for as long as you like! Also, you can make them ram your holes roughly and plow you like a slut or gently push in and out of you to make you cum like a goddess. Oh, the options!
"Thrusting vibrators will make your fuck machine fantasy come true but at a much smaller size and a more affordable price! Just hold them in your palm, switch them on, and they'll bulldoze your tight asshole harder than any real cock out there!"
Granted, not every lady out there wants to feel like a bimbo pornstar getting roughed up by a massive thruster. You can also get one if you like to take it slow and use elegant movements or gentle pumping to edge you and help you to discover entirely new ways of pleasuring yourself.
Types of Thrusting Vibrators
The smartest thing you can do on your vibrator shopping spree is to check out all the types to see which ones make your oyster cream and learn about some features that they offer.
Single-Length Thrusting Vibrators
This type is perfect for gentle and shallow pumping motions. It has a long shaft, and it's similar to a dildo but it's fully or partially hollow on the inside. The internal motor usually uses magnetic force or another type of mechanism to create the thrusting motions. Plus, the mechanism makes the entire shaft rock back and forth to create the most realistic sensations.
Extendable Length Thrusting Vibrators
Extendable thrusting toys are more common than the previous variant. They still have a long shaft but feature an accordion-like mechanism at the base or the head. This mechanism determines the extendable length. Moreover, the thrusting length is usually a bit longer compared to single-length thrusters. Ideally, you'd use this type for deep and highly precise movements with tons of speed on tap.
Endless Stamina, Endless Choices!
There are many, many thrusters out there, and it's important to find one that looks and feels perfect for your needs. Whether you need a new addition to your secret chest full of BDSM torture tools or you want something to help you improve your orgasms, you can choose from:
Thrusting Realistic Vibrators: A Delicious Cock Treat
It doesn't get any more real than this! These super squishy vibrators look and feel like big fat veiny cocks! They're the perfect choice for ladies who love to worship the D all night long.
Thrusting Non-Phallic Vibrators: Not All of Them Look Like Dicks
What if you're just not that into dicks? Well, these toys also come in non-phallic designs that won't remind you of a man's junk at all. They're the best choice if you're looking for something unique with an unusual shape, angle, or color.
Thrusting G-Spot Vibrators: Time to Squirt!
These types of thrusting vibes are designed to ride your G-spot until you get those legendary full-body squirting orgasms. They have a specially-designed shaft that is usually curved, and they often come with a bulbous tip for extra precision. They'll hit the bullseye every time!
Thrusting Rabbit Vibrators: Please Your Clit and Pussy Simultaneously
These toys look like standard rabbit vibrators with an insertable shaft and an extendable clit stimulator, but they're improved due to the built-in thrusting mechanism. They'll pummel your clit with intense vibrations while riding you deep and dirty!
Anal Thrusters: Bottoms Up, Bitch!
You can find many thrusting vibrators designed solely for your backdoor pleasures. My tight sphincter simply can't get enough of these!!! Some are shaped like regular vibrators while others look like butt plugs or other anal toys. The difference between these types and other thrusters is that they have a wider base. That way, you can spread your stinkhole wide open and ram your ass as deep as you like without worrying that your toy will get stuck inside!
Thrusting Rotating Vibrator: Twisted Fun
Not all thrusters move up and down. Some can also rotate! Thrusting rotating vibrators are among the most unusual types of vibrators out there, and they'll deliver highly special twisting sensations. Some can rotate and thrust at the same time, and the only way you'll know how that feels is to check them out yourself and feel them twist and turn deep inside you!
Large Thrusting Vibrators: Choke on That Huge Cock!
If you're always hungry for big dicks, large thrusting vibrators will give you 10 inches or more to destroy your holes and finally make you gape like your favorite pornstars! Obviously, a large thrusting vibrator isn't meant for beginners, so use it only if you're fully aware of your skills and limits.
3-In-1 Thrusters: Leave No Hole Unstuffed
Some thrusting vibes will give you three stimulators in one package. That includes one for your clit, a long shaft for your honey pot, and an insertable anal toy. This type will be a dream come true for ladies who love to service all their holes at once!
Buyer's Guide: Thump It All Night Long!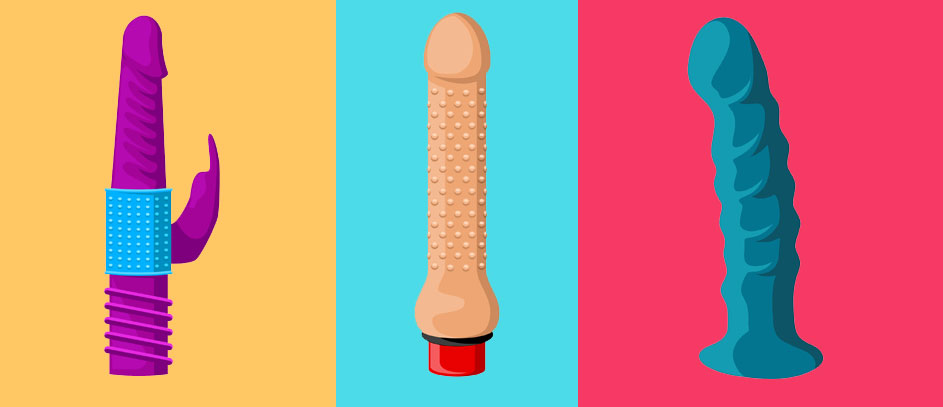 There are several things that could go wrong if you buy your thrusting toy without paying attention to some of the red flags. So let me go even deeper down the rabbit hole now with some essential buyer's tips:
Follow This Checklist to Find Your Dream Orgasm Machine:
What kind of thruster do you need? Would you prefer a standard thrusting toy, a rotating thrusting vibrator or a hardcore anal toy that can drill your brains out? It's up to you but always think about the type of vibrator first to know what you're looking for.
Is the material body-safe and risk-free? Not all sex toy materials are healthy, so always look for the safest option.
Check out the thrusting style and thrusting range to see if it's enough for you. Some vibrators are better for deep thrusts while others are ideal for shallow pumping.
Inspect the power options to see if your new vibrator has what it takes to please you.
Think about how you'll control your toy. You can configure all the action with your fingers via button controls or use remote controls for wireless fun.
Do you need additional features like long-distance compatibility or VR? These will add a whole new dimension to your orgasms!
Which Materials Are the Safest?
My rule here is that the material is equally as important as the type, features, and look of your toy. Seriously, it will determine the way your toy feels as you push it deep inside, and it will also make all the difference if you have sensitive skin. You can choose from:
Silicone
Rubber
TPE
Jelly
The worst thing you can do is to get a highly porous toy that contains phthalates. This includes synthetic and composite materials like jelly or rubber. Personally, I would not recommend those two materials unless you can find phthalate-free and body-safe variants. Still, you'll be better off if you spend your money on a quality silicone vibrator.
While silicone is 100% body-safe and germ-free, it also provides a smooth silky texture that plays well with water-based lubricants and feels incredibly realistic. What's more, it's soft and bendy. However, if you need something that's even more flexible, TPE is another great choice. This material is body-friendly, but it's slightly porous, and it's a bit harder to maintain compared to silicone.
Extendable vs. Single Shaft
As mentioned, not all self-thrusting vibrators use the same technology. If you're just starting out, you can choose either mechanism, but note that accordion-like thrusters will feel more intense compared to single shaft designs. They will produce a much longer thrusting range but they won't feel as realistic.
Stroke Length: Deep or Shallow?
The stroke range will tell you how much your vibrator will extend while it's inside you. Most average-sized thrusters will be able to extend anywhere from 1 to 2 inches. This will be enough for most girls, but you can always choose more if that's not deep enough.
Size Makes All the Difference
The total size of your toy is as important as the stroke length and the best tip I can give you here is to get it right the first time. So think about your previous experiences with men or other sex toys and find the optimal size. If you're starting out and you're sensitive, the total insertable size (while extended) should be about 5.5 inches in length. This will feel pleasant to most women, but you can always find a smaller one or go all out and treat yourself to a large thrusting vibrator.
Strokes Per Minute
Some auto thrusters can fuck you with over 800 strokes in 60 seconds, which is definitely faster than any real-life penetration experience out there. To me, a range that goes up to 100 strokes per minute was more than enough for super slow to extremely fast action.
Controls: Manual vs. Hands-Free
If you want to control all the action from the palm of your hand, it's better to choose button controls. But, some button configurations can add bulk to your vibrator. Also, you might have to fumble about too much with your hands until you find the perfect setting. If all of that bothers you, you could go wireless and get a remote-controlled thruster. That way, you can configure all the action from a separate remote or even an app. This will get you so much closer to a full-on fucking machine experience.
What's more, it's a fantastic option for partnered play, especially if your lover wants to be in charge of how deep or hard you're getting fucked while you scream for mercy!
Explore Some of the Newest Features
Currently, you'll be able to find various long-distance play features along with VR compatibility. It's up to you to decide whether you'll want to dish out the extra cash for these. But, if you're in a long-distance relationship, you could truly benefit from a thrusting dildo that can connect to your partner's phone or even another toy for steamy camming.
Alternatively, if you want to get fucked with the newest technologies, some VR vibrators can connect to virtual reality content and vibrate or thrust along with the movements of your favorite pornstars.
Should You Get a Suction Cup?
In my opinion, thrusters with suction cups are infinitely better compared to the hand-held variants. Why use your hands when you can stick your toy onto a flat surface and back your ass up on it while it drills you hands-free? The trick here is to find a quality suction cup that stays put when you use it for even the most intense penetration. You can choose a built-in suction cup or even a removable one for extra convenience.
What to Look For
Look for a USB-rechargeable vibe that gives you 2 hours of playtime on a single charge.
Try to get a vibrator with over 10 thrusting speeds, patterns and settings to keep it fresh.
Look for a toy made by a respected brand with tons of positive reviews.
What to Avoid
Avoid cheap jelly vibrators from unknown manufacturers.
If you don't want anyone to hear you, try to avoid loud vibrators. You can look up the noise rating on the model to see whether it will be okay to use in your bedroom.
Tips on Using, Cleaning, and Storing Your Thrusting Vibrators
Besides the good ol' in and out, there are many ways in which you can use your new thrusting vibe. Remember: these toys are incredibly versatile. You can use them with the vibration and thrusting turned off, and they'll feel like a regular dildo. Also, you can use only the vibration or thrusting functions or you can switch them both on. The choices are truly endless here and you can use your toy for external stimulation of your clit or nipples as well as for deep vaginal or anal pleasures.
But before you start, don't forget to:
Use a lot of lube – Even if you're soaked, lube will make everything so much easier. It will get rid of any awkward friction, which you should always try to avoid regardless of your toy's thrusting speed.
Make sure it's the correct lube – If you're going to use a silicone or TPE vibrator, keep it away from oil and silicone-based lubricants. As much as my BF likes to stuff my ass with coconut oil, we always use water-based lubricants on silicone toys because they can't damage the material.
Go crazy! – That's the whole point of a sex toy right? So use your thrusting vibe to experiment with your kinks, fetishes, and various orgasm types to finally make your dirty desires come true!
The Correct Way to Clean Your Toy
Before you try anything, make sure your thrusting vibe is waterproof. If it's not, you will not be able to use it in the shower or soak it in water to clean it. If your thrusting toy is not waterproof, always refer to the manual to find the correct way of cleaning it.
However, you can clean most waterproof thrusting vibes with soap and water by either soaking them or placing them under the tap. This will only take a few minutes, but it will keep your toy clean while extending its lifespan. Another thing you'll need to do is store your toy properly. Simply wait for your toy to air dry and store it in a plastic container or a carrying pouch.
Thrusting Vibrators Industry Overview
While I've covered the history of vibrators extensively in some of my previous articles, self-thrusting vibrators have been invented fairly recently.
Of course, we can speculate that the thrusting toys were inspired by fucking machines and other automatic sex toys from the the 20th century. That includes saddle-type or floor standing vibrators, dildos with vacuum pumps, and even the famous Sybian machine. Still, as masturbation became more mainstream in the 90s, people also wanted toys that were smaller and more portable.
Luckily, someone put the two and two together and came up with a large thrusting vibrator that rips and pumps, but at a smaller size and at a much more reduced cost. Even better, the innovation didn't stop. At first, thrusting vibes were noisy, they used poor materials, and they didn't quite work as intended. That all changed in the past decade, and there are tons of manufacturers who are now designing thrusting vibes.
That includes big names like Fun Factory, Happy Rabbit, Lovehoney, Paloqueth, Eve, We-Vibe, LELO, and many more. I've already told you about some of the newest and most futuristic features that you can get on a thrusting vibe, but you can be sure that the innovation won't stop now.
I'd like to see these toys get integrated with smart technology even more to give us the opportunity to have advanced orgasms, smart monitoring, and even AI functionality. But why wait? Get your thrusting toy today and make it pump and thump your holes until you scream!
⚠️ Disclaimer: Our articles contain affiliate links. If you like our content and wish to support our work, consider purchasing your new sex toys through our links. For each purchase through our links, we receive a small commission but at no extra cost to you.
FAQ
Yes, as long as you're ready for it and you lube it up to make it nice and wet. There are no real risks here. Yet, you could feel discomfort if your vibrator is too big for your vagina and it ends up hitting your cervix. Still, you won't have a problem with it if you pick the right size. Also, you should take it easy while exploring your body.
In my experience, penetrating yourself with a thrusting toy can get incredibly close to the feeling of actual sex. Of course, it won't be attached to a body. Plus, it will also vibrate. Meaning, it will give you some sensations that are truly out of this world.
Absolutely! Tons of men love using thrusting vibes for anal play and a deep prostate massage. These toys can hit the P-spot with precision and offer vibration plus thrusting sensations to make your man explode. Of course, if you want to experiment with male anal play, it's important to ask your partner first.
That depends on your preferences but usually, a thrusting rotating vibrator will produce an entirely different sensation. Since thrusting rotating vibrators twist and turn, they will target more of your pleasure nerves. Conversely, thrusting vibes are better for conventional back and forth penetration. You can always get a vibe that does both things separately or at once to explore.
Usually, a thrusting vibe will include two different motors. One will be a spinning motor that produces the vibrating effect. The other is a vertical motor. It extends inside the shaft to create the back and forth motions.
That depends on what you like. The obvious difference is that standard vibrators don't move automatically. But there are a few other differences. For example, a classic vibrator could have a stronger motor. It could be a bit bendier since the shaft needs to house only one motor. On the other hand, thrusting vibes are some of the only toys that can blend powerful vibrations with quick back and forth movements. But, you can also use them as traditional vibrators for clit play.