Aug/16/2022
Last Update: June 26, 2023
790
7 min read
Lelo Soraya Wave Review: Wave Motion Technology And Epic Double Orgasms!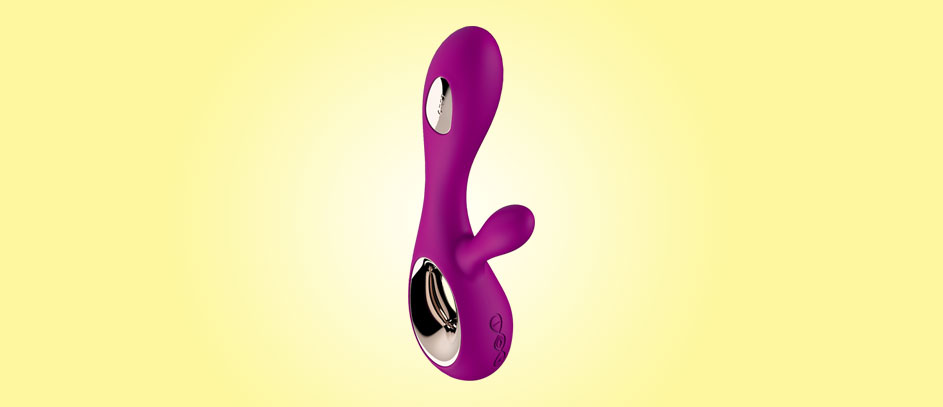 Female masturbation is currently breaking all kinds of taboos. I'm so glad we are all expressing ourselves like a bunch of horny bunnies! Hopefully, your bedroom activities aren't just a simple form of pleasure. They should be all about getting familiar with your body, exploring multiple orgasms, filling your life with excitement, and doing some hella kinky things. And trust me, life's too short to not stick a big rabbit vibrator deep in your pussy! You can do that with today's little helper, the LELO Soraya Wave! It's one of LELO's most popular rabbit vibrators. I put it to a deep test to see if it could give me strong double orgasms! And seriously, my clit and G-spot have never throbbed so hard! So check out my Lelo Soraya Wave review and see for yourself if this bad boy has what it takes to become your new favorite plaything!
Ride the Wave!
If you've followed my earlier reviews, you know that my kitty never gets tired of a quality rabbit vibrator. I mean, these things are precision engineered to make you cum hard and please all ladies who love dual stimulation!
A few decades ago, rabbit vibrators stirred up a huge revolution in the adult toy industry. It was all thanks to the now-iconic rabbit vibrator episode of Sex and the City. As naive as it looks today, the episode increased the sales of these toys by 700% and made them a part of popular culture. And yes, there are tons of rabbit vibrators out there, both good and bad. Tons of them are cheap knock-offs. Others, however, are premium sex gadgets that look sleeker than your iPhone.
Enter: LELO. This Swedish company has been around since the early 2000s. It has become one of the leaders in all kinds of sex toys for women and it offers a few 2-in-1 rabbit stimulators, including the Soraya Wave.
Come Hither!
Back when it was released in late 2020, LELO claimed that the Soraya Wave is an updated version of the Soraya 2. This was one of the company's highest-sold vibrators. At first glance, the Soraya Wave looks almost identical to it. I used the Soraya 2 for a few years and while it seems like there's not much of a difference between it and the Soraya Wave, it all made sense to me when I tested out the newer version.
Check our Soraya Wave 360 Video on Youtube
Sure, both models have the same gold accents and a finger loop. Plus, they come in the same three colors: blue, magenta, and black. However, the biggest difference is in the added WaveMotion technology. Also, the Soraya 2 activates both the clit and G-spot vibrators at the same time. The Soraya Wave allows you to activate them separately. I found that to be fantastic if I was only in the mood for clit or G-spot stimulation or vice versa.
Still, the new Wave Motion technology is definitely the key selling point of this rabbit vibe. It was designed to mimic finger movements for targeted G-spot stimulation. It will give you those intense "come hither" motions to take your orgasms to a whole other level! Combined with the super powerful clit arm, the Soraya Wave becomes a double threat that rises and falls inside you to make you cum like never before!
First Look: Soraya Wave
The first thing I wanted to do when I started my Lelo Soraya Wave review is turn it on and watch the unique WaveMotion technology do its thing. But, I was also impressed with the effort that the designers put in to make this thing come to life.
For real, the enlarged, soft tip looked like it was going to give me a serious ride. Also, the external stimulator looks cute but deadly. In terms of the design, this vibe gives you everything that LELO is already famous for. You'll get sleek curves, a soft and smooth silicone material, and some gorgeous golden ABS accents. I had to take out my old Soraya 2 to compare it and found that the newer design has less gold on it and is actually much more practical.
Honestly, I wasn't a fan of the golden accents along the shaft of the Soraya 2. It seems they've fixed the issue on the Soraya Wave. The gold ABS plastic doesn't run along the entire length of the shaft. You'll only find it on the finger loop and the tip of the G-spot stimulator. This gives you more squishy silicone to play with and feel inside you.
On the practical side, it also makes the whole thing a lot easier to clean. The Soraya 2 had so much bling on it that it took me ages to clean all the nooks and crannies between the ABS and the silicone materials. Fortunately, the Soraya Wave is much easier to handle and clean due to its revamped design. What's more, while the clit arm is the same size as on the older model, the insertable shaft on the Soraya Wave has a steeper curve to it.
Features
8.5-inch total length
4-inch insertable length
Flexible clit arm
Super-soft premium silicone
8 vibration settings
100% waterproof (submersible)
Battery life: 2 hours
WaveMotion: A Total Game Changer for Your Pussy!
My favorite feature of this rabbit vibrator is undoubtedly its WaveMotion technology. As I mentioned, it replicates finger/penis movements in a "come hither" motion.
The movements are truly unique because they twist and thrust while accurately targeting my secret spot. While it's similar to some G-spot massagers out there, the motions are intense and I'd definitely recommend them to any horny girl who is looking for a super deep internal massage.
From the moment I turned on the WaveMotion option, I instantly knew that it was a great match for all beginner and intermediate fans of G-spot stimulation. Sometimes, G-spot stimulation can be a little tricky to figure out, but I think the Soraya Wave will take you there quickly if you've never had a strong, full-body orgasm from inside. Add the external clitoral arm to the mix and you'll end up cumming so hard that you'll see rainbows and unicorns!
However, what I didn't enjoy here was LELO's user manual, which doesn't explain the eight different pulsation modes in detail. It simply says that you can choose between 8 options without giving you any sort of description. Therefore, I had to prepare for a little trial and error. Yet, it wasn't too difficult to figure out the patterns while playing with the intuitive buttons on the base.
High-End Design
While I can safely say that the WaveMotion technology is downright revolutionary, the Soraya Wave also turns heads due to its luxurious design.
I mean, this baby looks like something you'd find in a palace and it definitely tells you it's a vibrator made for royalty as soon as you put your hands on it. It's pretty simple: if you want to cum like a queen, this rabbit vibe will definitely get you there.
What I also enjoyed was the neat and balanced weight (0.4 lb). It makes it ridiculously easy to hold the toy in your hand while you're playing. Also, it makes the whole toy super portable.
Materials
Besides the golden ABS accents, the body uses 100% biocompatible silicone. Unlike some other silicone toys, the texture is extremely soft. It actually feels incredibly similar to human skin. The premium material used on the Soraya Wave also ensures that the toy will last for ages with minimal cleaning required.
Even better, this vibrator is fully waterproof (submersible). I had a blast using it in the shower for some super wet sensations. Plus, since it's waterproof, you can fully soak it during cleaning and you won't have to worry about any electrical parts going bad.
Next-Level G-Spot and Clit Stimulation
Now, I love to feel intense stimulation all over my body. Sometimes, I need to have all my holes filled in order to cream hard. I had tons of fun with the Soraya Wave because it was able to deliver just the right amount of clitoral and G-spot pleasure. But, it always has plenty of additional power on tap to push me even further. Combine that with the super long battery life and some exciting vibration patterns and I was well on the way to some insane squirting orgasms.
One thing to note here is that the clit arm is super-flexible, which is just awesome. It lets you choose all kinds of angles and positions with ease. The added bonus here is that you can also twist the entire toy around. Then, you can use the clit arm to stimulate your butthole. This gave me some surprisingly good rimming sensations! Of course, when it comes to the main attraction, the shaft felt insanely pleasant when I pushed it inside. The sculpted tip sent surges of pleasure deeper and deeper until my whole body was ready to explode. And while the shaft doesn't vibrate, the base will also send some of the leftover vibrations from the clitoral arm inside your pussy and guide you to an epic finish.
Pros
The WaveMotion technology will give you very powerful G-spot orgasms
Flexible clit arm
Ergonomic design that adapts to all body types
Long battery life
Cons
Expensive!
The vibrator is silent, but the noise increases when you turn on the WaveMotion feature
The user manual is not very detailed
Verdict: Lelo Soraya Wave Review
To sum up my Lelo Soraya Wave Review, all I can say is that this rabbit vibe is definitely worth the money. It's an expensive toy, but it does so much and gives you the freedom to experiment and discover your ultimate orgasm!
⚠️ Disclaimer: Our articles contain affiliate links. If you like our content and wish to support our work, consider purchasing your new sex toys through our links. For each purchase through our links, we receive a small commission but at no extra cost to you.
| | |
| --- | --- |
| 👉 Name: | Lelo Soraya Wave |
| ⚙️ Features: | Dual Stimulation, WaveMotion Technology, Premium Design, Flexible Clit Arm, Waterproof |
| 📁 Type: | Rabbit Vibrator |
| 🛠️ Materials: | Silicone, ABS |
It looks better than my iPhone (Seriously, your pussy deserves the best!!!)
5
The WaveMotion technology made me squirt over and over (The movements feel incredibly intense and realistic)
5
The material is soft and flexible (It's comfortable in all kinds of angles and positions)
4
Decent choice of vibration options (For the price, I would have preferred to get a few more patterns)
4
Editor's Pick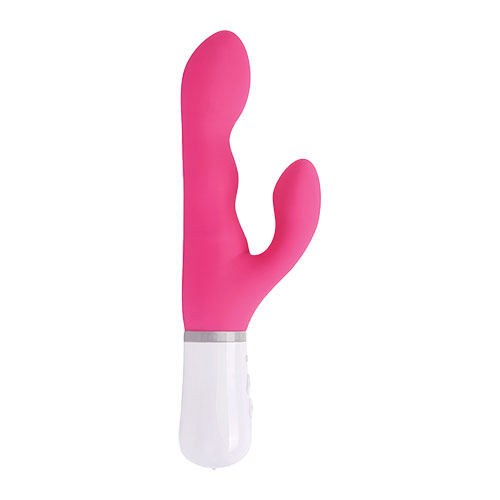 Lovense Nora
⚙️ Special features:
Rotating head
⚡ Power source:
Rechargeable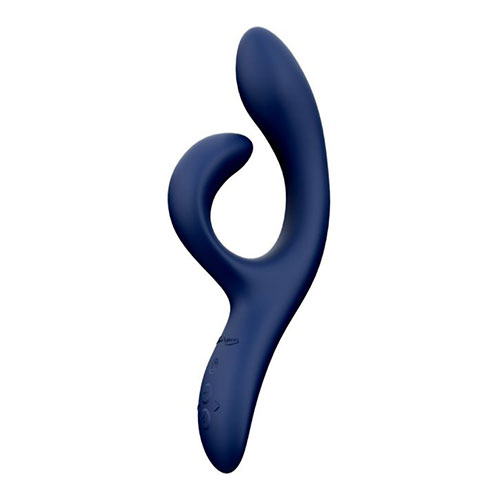 We-Vibe Nova 2
⚙️ Special features:
Long-distance play
⚡ Power source:
Rechargeable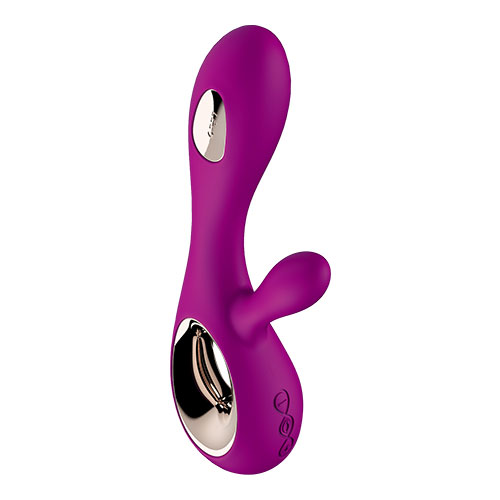 Lelo Soraya Wave
⚙️ Special features:
Ergonomic external stimulator
⚡ Power source:
Rechargeable