Aug/16/2022
Last Update: June 26, 2023
868
7 min read
I Blasted My Pussy With High-Powered, Remote Controlled Vibrations! We-Vibe Nova 2 Review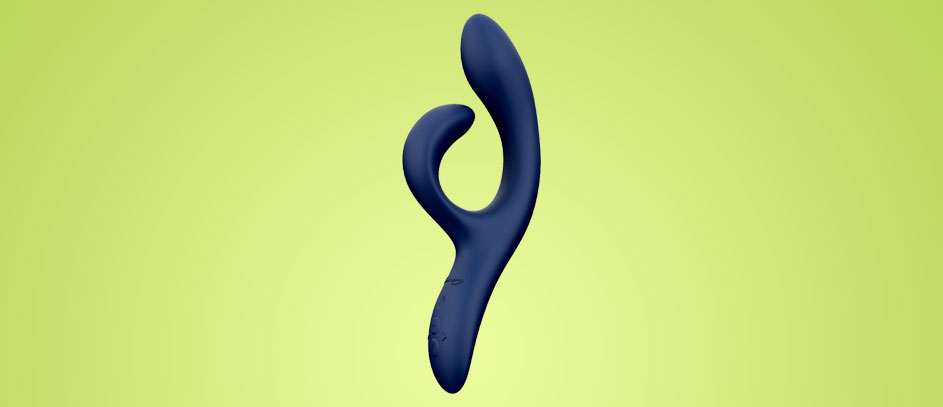 Some girls are all about taking a rock-hard cock inside their wet pussies, while others need precision, multi-stimulation, and deep rumbly vibrations. Confession: I love my boyfriend's big fat dick, but I also love rabbit vibrators. Seriously, they are some of the most intense female sex toys. They are precision engineered to satisfy the main pleasure spots in your body simultaneously. However, there are also way too many of them out there in the wild. It's actually quite hard to find a quality rabbit vibe that suits your body perfectly. With the We-Vibe Nova 2, you won't have to worry about that. This bad boy has been carefully crafted to match any body size and fit neatly inside all vaginas! And that's just the beginning. It's packed with awesome features that I thoroughly enjoyed testing with my pussy for this We-Vibe Nova 2 review!
A Rabbit Vibrator You'll Want to Marry
Whether your horny ass broke your old rabbit vibe or you're in the mood for something new, the Nova 2 is one of the most recent offerings from We-Vibe. This award-winning sex toy company from Canada has proven itself as one of the most popular designers of premium vibrators that utilize the latest smart technologies. The Nova 2 was released last year and it's an upgrade over the original Nova model that made me cream and scream on many, many lonely nights.
Honestly, you won't notice much of a difference when you compare the two. The first thing you'll see is that the Nova 2 is made entirely out of silicone whereas its predecessor had a firm ABS base. However, there are many other upgrades that you wouldn't notice at first:
Adjustable shaft (internal arm)
Dual-density
Travel lock
No harsh seams
All of those features point to a significant upgrade compared to the original Nova. What's great here is that you can manually adjust the angle of the insertable shaft, but you'll still get the full functionality of the extra-long and flexible clitoral stimulator.
Plus, when I checked out the new dual-density design, I instantly felt it had a much more realistic texture that would allow the vibrations to travel through with even more precision. On a side note, the lack of an ABS plastic base is also a huge plus to me because it makes cleaning so much easier. Plus, with the travel lock, you can easily take your toy with you without worrying if it's going to turn itself on randomly in your luggage.
First Impressions: It's Pink and It's Adorable!
One of the things I've always loved about We-Vibe toys is their attention to detail. The design of the Nova 2 is simply brilliant, giving you a special non-phallic shape that won't remind you too much of a realistic dildo. I love realistic and nonrealistic toys equally, but I guess the shape of the Nova 2 will suit the majority of women who prefer a cute and discreet design over a veiny black dildo with balls attached.
What's more, no matter your poison, the Nova 2 outright screams luxury the moment you set your eyes on it. When I unboxed it, I couldn't help but notice how high-quality the whole thing looks and feels. The craftsmanship is what you'd typically expect from We-Vibe. Yet, it truly seems that they truly went the extra mile to fix all the little details that some of us didn't enjoy on the older Nova model.
Gorgeous Curves, Baby!
Speaking of first impressions, it's hard to ignore the extreme curves you'll see on this thing. Obviously, it's a rabbit vibrator that gives you an internal and external stimulator. But, there's just something about the beautiful angles of both stimulators that gets me going. The biggest selling point is by far the extra-long clit arm. The arm is flexible (180 degrees) and it's much bigger than those that you'd see on devices made by other manufacturers. Also, the fact that it's super stretchy means that it will flex towards your body while you thrust in and out with the vibrator.
That was definitely a game changer for me because it gives me constant contact on both my vagina and clit. The flexible clit arm and adjustable shaft make the entire thing nice and bendy, unlike some rabbit toys by competitors which can feel stiff and unpleasant.
Classic Design Reimagined
Here are some of the main features of the Nova 2:
Dual clit and G-spot stimulation
Adjustable G-spot stimulator
Flexible clit arm
Separate or simultaneous vibrations for the arm and shaft
13 intensity levels
10 vibration patterns
Compatible with We-Connect app
Waterproof
2 hours of playtime, 90 minutes of charging time
Size: Double Trouble, Baby!
As always with rabbit vibes, you should focus on the total and insertable length of the toy. The Nova 2 measures around 8.5 inches in total while the insertable shaft maxes out at 5 inches and the circumference is around 4.2 inches. To me, this felt like a nice thick girth when used internally and the length was just enough. It wasn't too big or too small and after all, size is not the point when it comes to rabbit massagers. If you're looking for something bigger to fill you up and stretch you out, a huge dildo will be a better match. However, it will never be able to do what the Nova 2 does.
During my We-Vibe Nova 2 review, 5 inches of length were just perfect to reach my G-spot and ride it hard. What impressed me here is that you can adjust the angle of the shaft to match your anatomy. That's why I believe this is one of the most accessible rabbit vibes for beginners and intermediates.
What's more, I already raved about how much I love the external clit arm. It's substantially bigger than most of the other products on the market but it doesn't feel bulky or awkward at all. The fact that it's flexible achieves a lot here as it makes the arm conform to the curvature of your body and vulva. To me, it feels incredibly realistic and it's incredibly close to a real finger or tongue. So hats off to the masterminds over at We-Vibe for thinking up this practical and highly pleasurable design!
Dual-Density Pleasure
We-Vibe is known for using premium silicone, and there's really not much to cover here except to say that the material truly feels awesome. However, the Nova 2 comes with dual-density silicone, which to me feels even better and a lot more intense. Dual-density silicone is often used on dildos to create a tougher lifelike feel. And it was a fantastic choice for this toy because it makes G-spot stimulation feel so freaking powerful while allowing the clit arm to flex as you thrust. Even better, silicone is super easy to clean and the nearly seamless design on the Nova 2 helps to shorten the cleaning and drying time. What's more, the smooth texture feels fantastic and it's even better when you apply some water-based lube.
Vibration Patterns and App Control
If you want to use this toy manually, the button controls will help you start it up quickly and navigate through the settings with ease. Trust me, nobody wants to fumble around with awkward-looking buttons just when they're about to cum. Here, the buttons are soft and responsive. All you need to do is tap + to up the intensity level or use the < or > buttons to change the vibration pattern. The presets are neatly explained in the manual, and you'll get to choose between slow and relaxing modes all the way to those fast "fuck me, I'm cumming!" patterns. The patterns include Pulse, Wave, Echo, Tide, Surf, Vibrate, Bounce, Peah, Cha-Cha-Cha, and Heartbeat (my favorite). You can also use the twist symbol to turn both the clit and G-spot motors on or use just one at a time.
However, there's a lot more than meets the eye with this toy. You can connect it to the newest version of the We-Connect app to expand your playtime even further. I was able to sync it to my phone in minutes and explore additional vibration patterns or even try to make my own. Also, the app is fantastic for remote control and I came really, really hard when I let Richard use it on me to make me cum hands-free. Plus, the app lets you activate Nova 2 from anywhere in the world. That way, you can use it for kinky long-distance play and stay intimate with a partner who lives far away.
Pros
The shape fits my pussy just perfectly
It's extremely quiet!
The dual vibration motors can handle anything from slow rumbles to high-intensity pulsations that make me squirt like a fountain!
App-control works flawlessly and offers a ton of additional features
Cons
Some of the highest settings could feel too overwhelming if you're a beginner or you have a sensitive clit
It's expensive, but it's slightly cheaper than other premium rabbit vibrators
We-Vibe Nova 2 Review Summary
To sum up my We-Vibe Nova 2 Review, all I can tell you is that this was one of the most exciting and hottest rabbit vibes I've ever tested. It packs just the right features and a ton of power that will give you some of the most legendary orgasms of your life!
⚠️ Disclaimer: Our articles contain affiliate links. If you like our content and wish to support our work, consider purchasing your new sex toys through our links. For each purchase through our links, we receive a small commission but at no extra cost to you.
| | |
| --- | --- |
| 👉 Name: | We-Vibe Nova 2 |
| ⚙️ Features: | Flexible Clit Arm and Shaft, Dual-Density Silicone, App Control, Fast Charging Time, Waterproof |
| 📁 Type: | Rabbit Vibrator |
| 🛠️ Materials: | Silicone |
The dual-density silicone feels freaking amazing!
5
You can use this thing for some intense squirting marathons (Seriously, the flexible arm and shaft are some of the best I've ever tried)
5
App control gives you a lot for your money (You can try long-distance play, remote control and hands-free masturbation, etc).
4
Tons of unique vibration options (I never got bored!)
5
Editor's Pick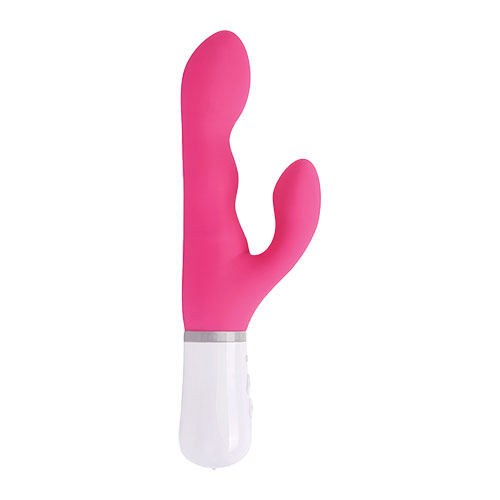 Lovense Nora
⚙️ Special features:
Rotating head
⚡ Power source:
Rechargeable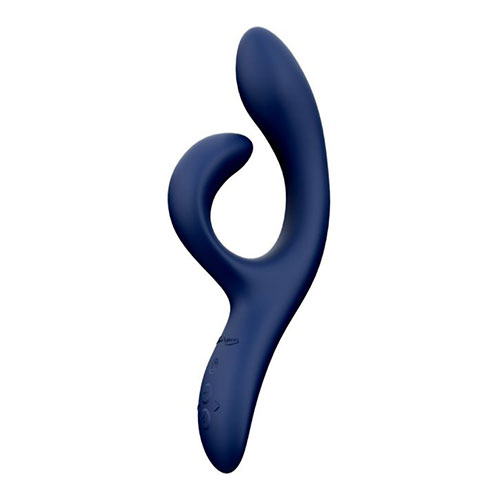 We-Vibe Nova 2
⚙️ Special features:
Long-distance play
⚡ Power source:
Rechargeable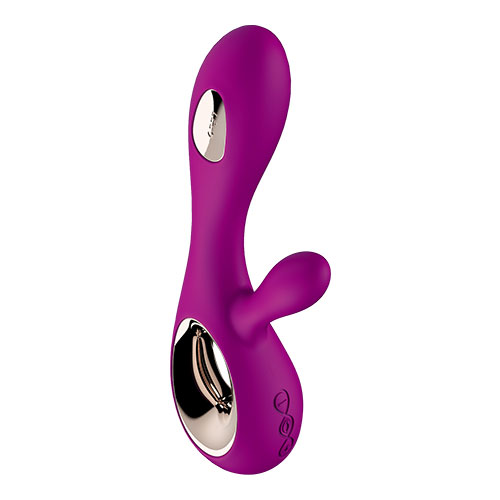 Lelo Soraya Wave
⚙️ Special features:
Ergonomic external stimulator
⚡ Power source:
Rechargeable