Oct/04/2023
Last Update: October 4, 2023
135
9 min read
When Good Stim Makes You Melt: The We-Vibe Melt Review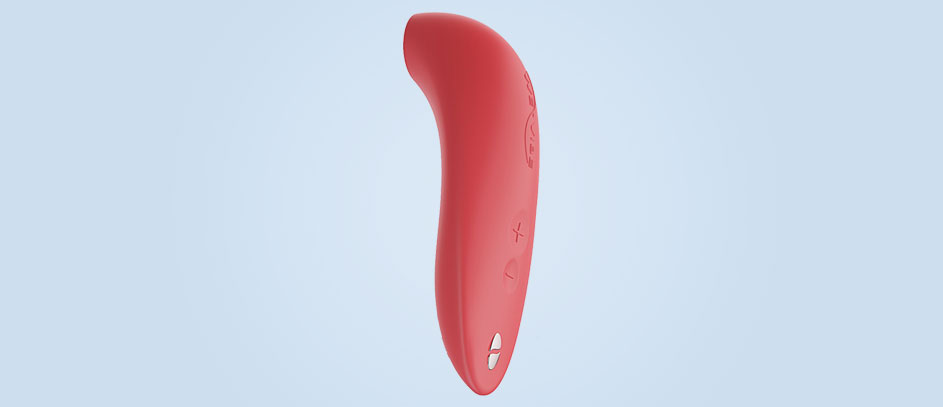 I love a good oral treatment. There is barely a handful of things better than having a partner go down on you and use everything in their power to stimulate you. And I do mean everything: the finger, the tongue, the lips, the teeth (if you're feeling frisky), the fingernails (if you're feeling really frisky), etc. There are just so many wonderful ways to stimulate that I can't even list them all. But I did mention that handful of things. And since this is a We-Vibe Melt review, you can guess what those things are.
Good clitoral stimulators are a little bit like going through a bag of Halloween candy blindfolded. Sure, you get sick enough of finding Mars bars, Snickers, and Bounty's, but once you taste that Milky Way, it's heaven. We-Vibe Melt felt that way. It was the Milky Way of my "blind" sexual hunt for the best toys on the market. And I intend to share my experiences using this wonderful toy with you lot.
Melting Into a Puddle (in More Ways Than One)
Now, I'm a busy lady. Writing reviews for these toys is hard work in and of itself, as it demands research and dedication. Of course, I believe I'm dedicated enough. After all, when it comes to We-Vibe, I have some history there. In fact, I have quite an extensive history. One that merits pointing out for the context of this review.
And what can I really say that hasn't already been pointed out? We-Vibe is an awesome brand with spectacular toys that gave my lady parts, and specifically my clit, a run for its money. In fact, I'll even be so bold as to say that some of their products made me sing praises more often than Richard did (don't tell him that!). And hell, for a company that has existed for twenty years, it's no wonder that We-Vibe is so successful. So, before we move onto the review proper, I'll do a bit of shilling and recommend you test some of the prior options I have experienced. They even offer neat little discounts for Pride Month, if you're so inclined.
Smooth Sailing: First Impressions
So, there I was, browsing the interwebs, looking for a good source of video entertainment, and as the browsing gods would have it, I was placing an order. It was a brand I trusted, a product that looked promising, and a desire to have my pink bean ruined. Plus, it had a neat little box for Richard to use. One of his masturbators came in a torn box recently and he felt devastated, so I felt like surprising him with this slim, neat number. What can I say, I can be sweet sometimes too.
As always, the item arrived in discreet packaging, with no signs of intrusion. Once I unboxed the We-Vibe Melt and gave the box to Richard, I was…
Well, the best term to describe it is "underwhelmed". Why was the color choice so bright and gaudy? I normally prefer more pastel hues, or subdued nuances of colder tones. But this fella was so bright I could have used it as a traffic cone! (Hmmm, using traffic cones during sex play… There's an idea right there).
Now, I'm not one to judge a book by its cover. Some of the most amazing-looking toys I know of turned out to be utter claptrap. And yet, some with a basic, even dull design made me literally scream during climax. So I thought to myself: sod it, let's do this thing, light this candle. A We-Vibe Melt review demands a bit of sacrifice, and if my biggest sacrifice is trying a product that shines like a flashlight, then I'll manage.
My Kind of Stimulus Package: What's in the Box?
Opening the box, I found the standard fare inside:
A storage bag for the device
USB cable for charging
Safety instructions
A how-to-use guide
Complementary lube
In other words, it was nothing special, yet nothing insulting either. Just right, as Goldilocks would put it. Now, onto the meat of it all.
Check our Melt 360 Video on Youtube
The We-Vibe Melt Review Proper
Shaped to Excite
Like many other clit stimulators, the Melt is standard fare. It's smooth, elongated, and fits properly in my hand. But then I came across two minor issues. The first one is the weight. This bad boy is a little heavier than I expected. Now, that didn't ruin the experience for me one bit, but it can be a deal-breaker for some ladies. After all, you don't want to tire your hand out just because you want some suction fun, right?
The second minor problem is the lack of a travel lock. Sometimes, I like to take my toys with me while traveling, for some exotic fun under the international sun. And the last thing I need is for my toy to start buzzing inside my suitcase. It happened a few times before, and it wasn't pretty!
💡 Pro Tip: If you enjoy traveling, make sure to get a toy that has a safety lock. If it doesn't, you can always find a good way around it by packing it tight and not giving it any wiggle room. Lola has a few other travel tips for that cosmopolitan sex toy enthusiast.
Pleasure Air, Trademark
This feature, right here, is the sole reason behind this entire We-Vibe Melt review. I absolutely LOVE how We-Vibe went about this design. Imagine having air suck onto your clit without the toy even touching it! I'm at a loss for words, really. It's a feeling that simply has to be experienced.
Of course, it also helps that the device has a fairly long runtime for such a small stimulator. Namely, it can run for up to 2 hours uninterrupted. That's a lot of time to have your clit thoroughly examined. The charge time is also acceptable, short enough not to make me wait, but long enough to fill it to capacity. Needless to say, I used the device multiple times per day in preparation for this review.
I Do All This for Material Gain
Now, while the toy itself doesn't really touch the clit, I still have to maneuver it with my hands. And the last thing I need is to catch something nasty from a toy that doesn't even caress my privates. Luckily, We-Vibe is a brand that cares about safety. The entire toy is made out of body-safe silicone, with no phthalates, latex, or any other harmful materials. In other words, if I felt inclined to use it as a substitute dildo (and the thought did cross my mind), I could do it without issues.
Google Store and Install, Right?
Earlier We-Vibe models had some problems when it came to app connectivity, at least for some users. But We-Vibe is a brand that learns and adapts, so the Melt model has no such hiccups. The app offers a lot of variety in terms of settings, speeds, and so on. If your partner has a smartphone and you have a We-Vibe, don't think — link.
The Silent Treatment
Clitoral stimulators vibrate a lot, and some let out air similarly to Melt. As such, they can often make noise, and it's not always pleasant to listen to, especially if you're looking for a quiet night to relax and rub one out. Having tried my fair share of stimulators, I can safely say that the noise can often kill the vibe.
For that reason, I have to point out just how quiet and sensual this absolute cutie of a device is. Sure, it's not exactly soundless, but the pleasant hum that comes with turning it on almost enhances the pleasure. It's so quiet that I could hear the neighbors having a polite argument across the street from our front porch.
Incapable of Soaking
Waterproofing is vital for any device, especially the ones that come into direct contact with our private parts. Sure, the primary reason is all the fluids that come out and splash across the surface of the device. But more importantly, we have to wash the toy thoroughly after use. The last thing we need is a sex toy that has a lingering smell of …well, I'd rather not share what.
✍️ Scarlett Recommends: Cleaning is just one of many ways you can take care of your clit stimulator. Depending on what model you have, you can approach its care in different ways. So, I highly recommend going over this list of my personal favorite clitoral vibrators and figuring out what type of model works for you in order to learn how best to keep it clean and running.
Proper We-Vibe Use
So, with everything set, with every bit of detail covered, it was time to give We-Vibe a whirl. As always, I asked Richard to help me out, and once he was done with his own masturbators, we had a blast. But a girl is thirsty, and as he was abusing a tight little sleeve, I was giddy with anticipation for the Melt.
Girl Time at Its Finest
After a nice shower, I took the Melt in my room. Candles were lit, rose petals were on the floor, and everything was set for intimacy.
Obviously, one has to start at the bottom, so I went with the lowest setting possible. The mild sensation of the air engulfing my button was astounding. It was a nice, slow burn, and in roughly ten minutes, I was ready for more. The first three or so settings were like that; mildly paced, with enough suction power to feel the pleasure.
Then I cranked it up a notch.
I think it was by setting #6 that I started moaning. It was so intense that the build-up was nearly as strong as the orgasm itself. Yes, I came at one of the mid-settings and I'm not afraid to admit it!
But the big test came with the highest settings. And goddamn, when We-Vibe says high, they mean high! At one point, I felt like my clit was about to be ripped out! But in a good way, I must add. Not only was I soaking wet, but my bean was redder than a stop sign. Do you know those jokes in films where a guy is kicked in the testicles and walks away after the fact with his legs outspread, clunkily? The walks where he looks like every single step makes the bruises on his balls hurt more? Well, now I know how those lads feel.
And speaking of lads…
It Takes Two, Baby!
I caught Richard at the best time for a dual run. He was just done with another device and I needed a partner that wouldn't tango with me for a while. That way, he can focus on the device and really use his imagination.
Sweet Richard never disappoints. Unlike the slow build-up I often practice with new devices, this was a rollercoaster. He flipped between slow and intense so much I assumed the app was glitching. But no, he intentionally made it an experience worth remembering.
The next time we did it together, we combined penetration and clit suction. Because of its design, the Melt fits perfectly between any two partners, so there's no discomfort during regular sex. I think it was here that I actually had my first intense Melt orgasm with the slow settings on. There's just something about combining toys and coitus that intensifies the whole affair tenfold. If I could do it all over again, I would. And I did.
Pros and Cons of the Melt
Pros
Intense suction with 12 different settings to choose from
Whisper-quiet for absolute pleasure
Easy to clean and maintain
Waterproof
App connectivity for optimal partner play
Safe material
Cons
Gaudy color palette
No travel lock on the device
Slightly heavy for its size
The price is a bit high
The We-Vibe Melt Review, Summarized
Would I recommend the We-Vibe Melt, I've been asked, multiple times in fact. Well, despite some minor hiccups. I have to say that, yes, this is indeed the clitoral stimulator I'd recommend. In fact, I might go out and purchase it as a gift for a friend. Sure, the Melt may be a bit heavy, gaudy, and costly, but it's worth every penny. Try it today!
⚠️ Disclaimer: Our articles contain affiliate links. If you like our content and wish to support our work, consider purchasing your new sex toys through our links. For each purchase through our links, we receive a small commission but at no extra cost to you.
| | |
| --- | --- |
| 👉 Name: | We-Vibe Melt |
| ⚙️ Features: | 12 different settings, smooth finish, optimal shape, 2 hours of runtime |
| 📁 Type: | Clitoral stimulator |
| 🛠️ Materials: | Silicone |
Plenty of options packed in this rather tiny device
5
Smooth shape perfect for both solo play and couple's fun
5
Silent performance for the best, discreet pleasure
5
Fits anywhere, at any time, though it's a little on the heavy side
4
Editor's Pick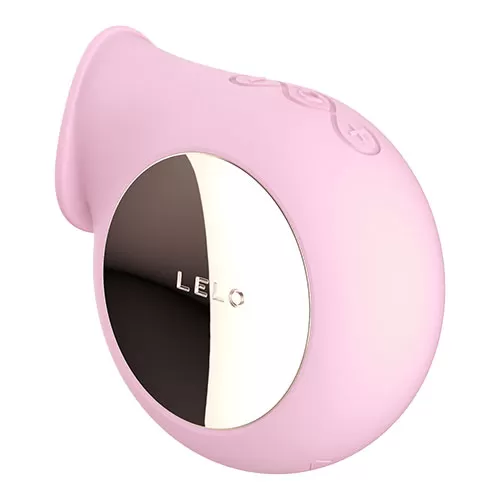 Lelo Sila
⚙️ Special features:
Gentle sonic waves
⚡ Power source:
Rechargeable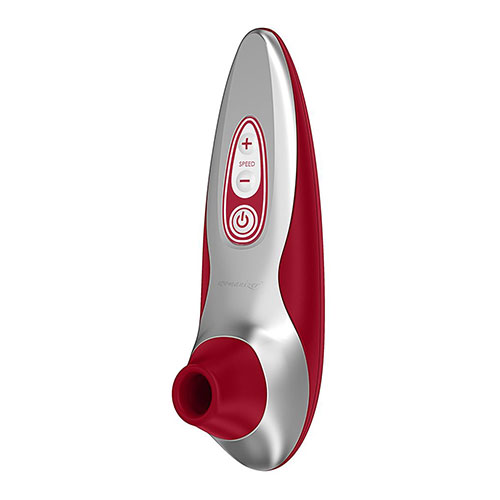 Womanizer Pro40
⚙️ Special features:
Fully waterproof
⚡ Power source:
Rechargeable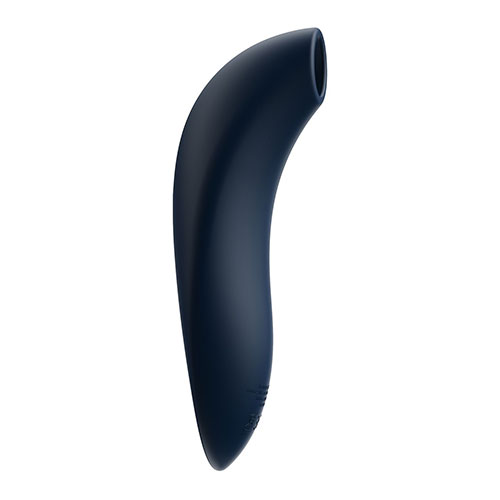 We-Vibe Melt
⚙️ Special features:
12 mind-blowing intensity levels
⚡ Power source:
Rechargeable