Jun/21/2022
Last Update: June 26, 2023
1119
22 min read
Best Strap-Ons In 2023 For Kinky Couples And Epic Orgasms
Every time I watch some hardcore anal porn or take my Richard's fat 8-incher in my holes, I can't help but wonder: what's it like to actually fuck someone with a massive throbbing cock? How does it feel to ram your lesbian partner's pussy with a fake dick until she creams? And what about holding a thick black cock and spreading out your man's asshole like he's your little bitch? Well, we all know that penises are the ultimate symbols of dominance, but you, too, can literally grab that power by the balls if you use strap-ons!
However, before you buy that huge pink dildo and shove it down your partner's tail hole, let me warn you – not all strap-ons for women are created equal! To get the most out of your fake dick, I'll show you how to find the best and most comfortable toy for your needs! So let's strap in and do some serious damage to some willing throats, pussies, and assholes!
Top 10 Strap-Ons in 2023
From pink, black, ultra-realistic, huge, or discreet, there are basically hundreds of strap-on sex toys on the market. Some vibrate while others blast out fake cum. Heck, you can even attach some to your lover's chin to utterly revolutionize your face-fucking adventures! But which one should you choose as your ultimate weapon of ass destruction? I've tested tons of these toys for all kinds of oral, vaginal, and anal kinks, and I'll show you my top picks on the list below:
Strap in and Join the Party!
Whether you want to be a femdom leather mistress to your man or you want to fuck your sloppy lesbian slut's asshole, strap-ons are among the most unique and innovative sex toys out there. For real, I turn into a dominant nymph whenever I wear one, and I feel an otherworldly sense of empowerment!
Over the years, strap-ons have been my favorite toys to use on naughty little bitches and sissy male slaves. So if your lover is a bit hard-headed and if they're in desperate need of some discipline, these toys will completely reverse your roles. They'll turn you into a dominant sex queen! Even better, they'll give you and your partner some of the biggest orgasms ever!
Still, I should also emphasize that not every person is born with a set of sexual organs that matches their sexual preferences. That's why these sex toys are so incredible, and that's exactly why they're so popular nowadays. They are one of the only sex toys that you can use to experiment with role swapping and powerplay!
First Time Strap-Ons
I've seen over and over again that people end up having a bad experience with a strap-on simply because they buy the wrong type. Generally, they are not the easiest toy to buy compared to other sex toys. Why? Well, they need to fit your or your partner's body correctly. Plus, there are many other factors to consider. That includes the materials, sizes, harnesses, extra features, etc.
Losing Your Strap-On Virginity
So what's the deal with these toys anyway, and what happens if you're a total newbie who has never even seen one in real life?
Basically, strap-on sex toys are the most unique gadgets that can help you transcend the limits of nature. They'll allow you to wear a big penis or a penis-like shape around your waist. That way, you can enjoy hands-free sex and experience what it all feels like from a penis owner's perspective.
Now, if you're looking for a first-time toy, you might think that strap-ons are solely used in the lesbian community. True, but remember that people of all sexual orientations and genders can play with them. Besides using hot strap-ons for lesbians, you can also use this toy for intense pegging sessions with your man. You can finally penetrate your man's asshole and fuck his prostate until he promises to be a good boy!
But! That's not all these bad boys are used for. Men can also wear them during intercourse for DP sex with their female lovers. How about double anal sex with gay or genderqueer partners? You got it! Also, some hollow types that are worn by men can extend their dick size.
How Do Strap-Ons Work?
Before you buy any ol' strap-on for lesbians or straight males, note that there is a huge variety of types and styles. Most of them have different types of harnesses and different types of dildos. What's more, the way that the dildo slips into the harness and the way that the harness itself attaches to the one wearing it will vary from toy to toy. You will need to look into all of those features in order to find the perfect configuration. It should work for your body and feel good while you're wearing it!
Typically, this toy attaches to your crotch via a hip harness. You can also use a strap-type harness or underwear harness. When you wear the harness, you'll get a big fat penis to play with. Just grab that fake dick and fuck some wet and sloppy throats, tight assholes, and warm pink pussies! Not a bad way to start off the weekend, right?
Types of Strap-Ons
From my experience, the first thing you should do before you buy your toy is to inspect all the different types:
Strapless Strap-Ons
Besides classic harnessed types, there are many strapless models out there. How the heck do you even use a strapless toy? Well, it's actually much easier than you thought, and these toys could feel a lot more orgasmic for you if you want to penetrate yourself simultaneously while drilling your partner!
Basically, strapless strap-ons for women are some of the newest sex toys out there. They typically have two insertable ends. While one end looks just like a standard dildo, the other is bulb-shaped. You simply need to push that bulb into your tight hole. Then, your muscles will grip it to keep it in place. Even better, the bulbs often have a special shape. It's made to target your internal sweet spots just perfectly. That way, you'll get those epic G-spot orgasms while making your partner scream for more.
Additionally, a lot of these types offer vibration via insertable bullet vibes or built-in motors. And most importantly, strapless types solve some drawbacks of harnessed types.
For some people, the lack of a harness might make the experience even more intimate. For others, it can make sex feel more comfortable. These types are also ideal for positions such as doggy, cowgirl, or even spooning sex. Still, one of the biggest drawbacks of strapless models is that they can get quite heavy. It could take a lot of work to actually hold one inside you, so you might have to brush up on your Kegels!
Double Penetration Strap-Ons
Wanna be the DP queen? The words double penetration are literally music to my ears! If you're a DP expert or if you want to finally fulfill that long-dormant double penetration fantasy with your partner, these harnessed types will literally stretch your holes to the max!
Generally, there are all sorts of double penetration strap-ons for lesbians. The most popular type is a standard harness that offers two stacked dildos. Just make your lesbian lover wear it and stick both ends in the pink and in the stink for the juiciest DP pleasure! You can also use these bad boys for double anal or double vaginal penetration, but only if you're brave enough to take two dicks in one hole!
What's more, you can also find simple types with one dildo that attach to your male partner's junk. That way, he can wear the toy and use his boner and the dildo to simultaneously pound your holes raw!
Another option that I'd strongly recommend is a double-ended type that lets you penetrate your hole while you're sticking it deep in your partner! This is similar to strapless dildos that I've described above, except that there's still a harness that you can secure to your body.
Hollow Strap-Ons
Obviously, these toys are not only made for women. Hollow strap-ons are toys intended for males or penis owners who need a size boost. If your partner has a smaller pickle or if he's struggling with erection issues, hollow types will enable him to slide his dick inside a bigger empty dildo. That way, he'll get to fuck you with a larger cock. Plus, the hollow dildo has a tight hole on the inside, so your partner will also be able to cum hard since your kitty or tush will tightly grip the strap-on while warming it up.
Strap-On Dildos
What I haven't said so far is that dildos are the most popular toys to use with a harness setup. These dildos are super stretchy and smooth. They use soft materials like silicone to give you the most realistic sensations. You can find them in all sorts of designs, from ultra-realistic to non-conventional. They are available in various shapes and sizes, from extra large and thick to super discreet and curvy. For example, you can get a solid or hollow dildo or even a double or triple dildo to experiment with all sorts of dirty shenanigans.
Vibrating Strap-Ons
If you want to add more fuel to the fire, why not get a vibrating toy? There are many types to get here, including vibrating dildos, dual-ended vibrators, rabbit-style toys, G-spot vibes, etc. These toys can include removable or built-in vibrating mechanisms to deliver ultra powerful pulsations for deep tingles and intense mutual pleasure!
Since most of them generate the vibrations from the base, those vibrations will travel to both partners' bodies. And believe me, fucking your partner with a vibrating cock is one of the most unique experiences ever! Regardless of if you're going to town on your GF's butthole or you're giving your BF a kinky prostate exam, the vibrations will feel extra intense for the both of you. You'll literally lose yourself in deep throbbing sensations! Mmmm, baby, give it to me!
Not Kinky Enough? Look Into These Types:
Sometimes, I like to go the extra mile and use a super-kinky strap-on for women to turn my lover into a dirty, filthy whore! If some of the standard types I've described above weren't hardcore enough for you, you can look into:
Realistic strap-ons – These toys come with an ultra-realistic dildo that looks and feels exactly like a real hard cock. You can pick from all kinds of sizes and skin colors, including huge and white or big and black dildos with throbbing veins, big balls, and a delicious cock head.
Thrusting and rotating strap-ons for lesbians – These unique toys have special rotating or thrusting shafts. They provide even more intense hands-free action and make penetration a lot easier. They'll do all the work for you while twisting and turning inside your partner to milk them dry!
Huge strap-ons – Do you dream big? Well, extra-large types are the only solution if you have a craving for a monster cock. They'll usually give you 10, 12, 14, or even more inches to play with. So get ready to stretch out your partner's holes and make them gape like a pornstar!
Squirting strapons – Are you fascinated with cumshots, creampies, and all things semen? These bad boys also come with a built-in pump that lets you shoot out fake cum all over your partner! And as long as you've got a fake dick strapped onto you, why not use it to fill your lover's asshole with a monster creampie? Finger licking good!!!
Chin strap-ons – This is an entirely unique type that's often used in BDSM, femdom, facesitting, and other naughty fetishes. Basically, this toy attaches to your or your partner's face/chin. That way, a dick will extend from your face. Then, you can use it for all kinds of ass or pussy worship scenarios, hardcore facesitting, etc.
Knee strap-ons – Finally, knee types use harnesses that attach to your legs. They are not designed for standard penetration via your hips. Instead, your partner can sit on your thigh and slide all over the dildo during foreplay.
Buying the Strap-On of Your Dreams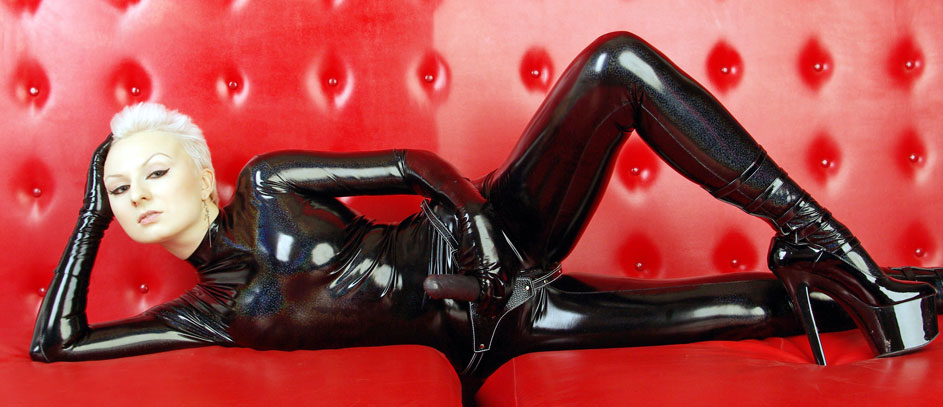 Whether you want to use your toy for hardcore anal romps or gentle vanilla sex with your partner, I'll give you some priceless buyer's tips:
The Hottest Strap-On Setup for You
All kinds of wearable sex toys that you connect to your body via a harness could be considered a strap-on. However, to get the most comfortable fit, you should consider the following:
Type of dildo or vibrator
Type of harness
Attachment method
One of the best choices here is a beginner strap-on kit. It includes an adjustable harness along with the dildo. Alternatively, you can only buy a harness that fits you the best. Then, you can play with various dildos to find the best one. Of course, if you don't want to bother with extra harnesses, a strapless dildo could be a better choice. Yet, just remember that you'll need to train your hole for it since it's heavier than a standard toy.
If all goes well, you'll end up with a comfortable strap that feels like there's an actual erect dick bulging out of your wet crotch. If not, a floppy, oversized or ill-fitting toy could totally ruin the mood.
Which Dildo or Vibrator Is the Best for You?
As you've seen, you can use all sorts of penetrative toys in your harness. Whether you want to get just one dildo or experiment with several different toys, my best tip is to focus on what you or your partner truly need.
For example, you don't have to bang your partner with a massive BBC dildo if he or she is not into it. Also, you don't have to use a realistic toy if you're intimidated by the look of a real cum rocket. Ultimately, this choice is up to you. You can use classic dildos, tapered probes, phallic vibrators, non-conventional G-spot vibes, anal dildos, prostate milkers, and so on. And remember, just choose the shape, color, and texture that looks and feels the hottest to you!
Harness Materials and Types
The first thing you need to do here is to inspect the fabrics. A quality harness should be made of soft, body-friendly, durable, and washable materials. That includes cotton or leather. Generally, leather will give you a kinky look. But, a cotton harness is lighter and a bit easier to wear.
What's more, there are several different harness configurations. The most common are two or three-strap harnesses. A two-strap harness will give you one strap for the waist. The other will be secured between your thighs. In my experience, this is a rudimentary design compared to a three-strap harness. It might cause friction and an unstable fit. Conversely, a three-strap harness is much more stable. It uses two straps to attach to your thighs and one that goes between your legs.
The final type of harness is one that doesn't come with straps and instead resembles underwear. This harness is available in all panty styles. That includes sexy thongs, fetish lingerie, or even male briefs. While this type will feel the most comfortable, the downside is that it can seal off your genitals.
Attachment Method
How do you actually attach a dildo to your harness? Generally, there are two different mounting methods: a hole or an O-ring configuration. A harness with a hole is the most basic method. You simply need to pop your toy through it to secure it. However, that method is not the best since it can make your toy slide or move around. You could lose some control over your dildo. Also, you may not be able to use it in various acrobatic positions.
On the flip side, a harness with an O-ring will hold your fake dick nice and tight. The best O-ring options out there are usually made of body-safe silicone or surgical steel. That way, the ring will firmly attach to the base of your toy. Since its job is to secure a tight fit, your toy won't flop, wobble, or pop out.
Another benefit of O-ring harnesses is that you can use them with various different dildos or vibrators. What's more, O-rings are a much safer option for anal since there is no way for your dildo to slide out and get stuck in your partner's butthole.
How to Pick the Safest Materials
Here, you'll have to take special care since the materials will have to suit both your and your partner's skin. Plus, besides choosing a safe dildo material, you'll also need to pick a comfortable, skin-friendly, and easy-to-clean harness. And most of the time, the sexiest harnesses are the toughest to clean. Also, most of them will not play well with your skin.
For example, leather harnesses look the hottest to me. However, they are somewhat porous, and they'll absorb bacteria every time you use them. You'll also encounter other fabrics like nylons, plastics, PVC, latex, or synthetics. It's best to avoid rubber or leather imitations, PVC, vinyl, or any other synthetic imitations because they might not play well with your skin.
Ideally, you should choose natural materials. That includes cotton, cloth, or latex. These harness materials will adapt to your body quickly. Cotton is by far the easiest choice here since it suits most people's skins. Also, it will prevent chafing. However, if you know that you're not allergic to latex, this natural material is a great choice due to its shiny look and smooth feel.
What About the Material of Your Sex Toy?
Since there are so many of these toys out there, it's easy to come across some that use poor-quality or outright unhealthy materials. To avoid this, only look for medical grade and body-safe materials. Here are some of the most common materials:
Silicone – Silicone is undoubtedly the best and safest material you can get for your sex toy. Silicone toys can be highly flexible or fairly tough. They'll also come in a wide range of shapes or colors. This material doesn't come with nasty smells, and it's 100% hypoallergenic and body-safe. Since it's non-porous, it's easy to clean and healthy to use if you want to share your toy with your partner.
TPE – TPE is a mix of polymers that offers incredibly realistic and highly flexible sensations. This is a fantastic choice for people who are looking for a soft and smooth cock. However, it is slightly porous. You'll need to take extra care while cleaning a TPE toy, and you may need to replace it with a new one after a few months.
Rubber, Jelly, PVC – These porous materials are full of phthalates. They can be quite unhealthy, especially if you're planning to swap holes with your toy. To save yourself the trouble and to keep your holes safe, just skip them altogether!
Time to Take Some Measurements!
Now, you'll totally ruin your evening if your harness doesn't fit. That's why you should look into both the harness and the dildo size. First, you should measure your waist and find a harness that matches your size. Ideally, you'll get a comfortable fit. It shouldn't feel too tight or too loose. If you're unsure, an adjustable harness will enable you to get the perfect fit since you'll be able to loosen or tighten it.
Also, when you look into the size of your dildo or vibrator, you should pick something that both you and your partner will enjoy. If you're only going to use your toy to penetrate your partner, make sure they are comfortable with the length and width. If you're both going to use the toy for penetration, you'll need to consider both your and your partner's needs and limits. After all, a dildo that's a couple of sizes too small or too big could ruin it for you.
Therefore, the best starting point for a beginner strap-on is around 5 to 6 inches. It will work well for all kinds of anal and vaginal sex. It will also be quite easy to handle while you're wearing your harness. If that size is too small, you can certainly go for something bigger, but just make sure that your holes can handle it!
Bonus Tip: Inspect All the Special Features
If you're buying a first-time strap-on, you should carefully look into the specs and features. For example, the best vibrators should give you a long battery life plus a wide range of vibration options and settings to play with. The same goes for all other options such as automatic thrusting or rotation, fake ejaculation, textured shafts, etc.
Some of the newest and most exciting options out there are remote-controlled or app-enabled models that allow you to configure the vibration settings via your phone or a standalone remote. These features are fantastic for hands-free fun, and they'll offer tons of extended control options for your toy. However, before you buy this kind of toy, try to look into all the details to see whether you truly need them and whether it's worth it to pay extra.
Do:
Look for harnesses with wide straps. This will give you the most stable and the most comfortable fit.
A quality O-ring harness will let you experiment with various sex toys.
If you don't want to mix and match, just get a kit that already comes with a vibrator or dildo.
Don't:
Avoid jelly, PVC, and other synthetic materials for the harness and the insertable toy.
Don't forget to talk to your partner first and buy your toy together.
Tips on Using, Cleaning, and Storing Your Strap-Ons
"Wanna fuck your chick until you squirt all over each other's pussies or dominate your guy's asshole and humiliate his sissy dick? It's all about teamwork, baby!"
So how do you actually wear or get fucked with this toy properly? Obviously, you should get consent from your partner, learn how to maneuver your huge cock, balance your heights or weights, along with several other tips:
Safety First
I can't stress how important it is to make your harness fit correctly. If it's loose, you won't be able to make those intense thrusting motions. Also, if it's too tight, it could cause some discomfort or even irritation. The smartest tip is to try your toy before sex. For real, you could try to wear it around the house for a day or two to get used to a dick swinging from your crotch! When it comes to putting it on, you should make the straps lay flat against your thighs before tightening them.
Push That Cock Inside (But Go Slowly!)
Once you get acquainted with that big dick flopping around between your legs, you'll be ready to get dirty with your lover. You can try all sorts of wild acts, from vanilla penetration to bending gender roles, strong mutual orgasms, DP, intense lesbian sex, pegging, BDSM, and much more.
Whatever your poison, you'll need to take it easy at first. That is, both of you should be extra horny before penetration. Unsure how to proceed? Well, one of my favorite things is to start the action off with a deep and sloppy blowjob! When you're ready to fuck your partner, remember to use plenty of water-based lube. Then, get into a position that's comfy for both of you. Try to line up your heights to get a smooth angle and bang away!
How to Clean and Store Your Sex Toy
Hopefully, when you're done with your wild ride, your strap-on sex toy will be covered in all sorts of liquids. That's why it's essential to clean all that cum off your toy right away.
The best way to do that is to remove your sex toy from the harness. After that, run it under the tap and clean it with warm water. You can also soak it completely, but only if it's waterproof. With non-porous materials like silicone, some water and a soft soap will be enough to eliminate all of the fluids and germs. However, if your toy is made of a porous material, you'll need to follow the manufacturer's cleaning instructions.
Also, don't forget to clean your harness! If your harness is made of a machine washable material like cotton or cloth, you can pop it in with your laundry. That will be enough to clean it thoroughly. You can also clean it by hand with water and washing powder. If you don't have a machine-washable harness, you might have to clean it only with a soft damp cloth. But, that will depend on the material and the manufacturer's instructions.
In the end, you should leave your sex toy and your harness out to air dry, But where should you hide your fake cock? Well, the safest way is to seal it in a plastic box to protect it from dust and germs. That way, it will always be ready for your next fuckfest.
Strap-Ons Industry Overview and the Future
Never in history have sex toys been so versatile and widely available to all people! In the past, women had to pay a visit to the freakin' doctor in order to get a decent orgasm. Fortunately, you can truly find the optimal sex toy (or several) for you nowadays, whether you're into a big shiny strap-on cock, an automatic G-spot milker, a hyper-realistic sex doll, or even long-distance dildos that you can use with a partner who lives miles away from you. But how did it all start, and when did humans first strap a big fake dick onto their waists?
The Origins of Strap-Ons
Some of the earliest strap-on action was seen in "Bend Over Boyfriend", a 1990s series of adult tutorials for heterosexual couples that showed men and women how to take a big strap-on up their sphincters.
Still, dildos actually trace back to ancient times. One of the oldest discovered examples is believed to be around 30,000 years old. Some ancient discoveries claim that the earliest strap-on was actually used around 10,000 BC for unusual sex or fertility rituals. Also, some ancient murals found in ancient Rome and Greece depict men getting fucked by women with early strap-ons (and it looks like they thoroughly enjoyed it!!!). Nevertheless, we could say that the modern variant of this toy was invented in the 1990s and that it has been improving our sex lives ever since.
What to Expect in the Future?
From vacuum lock harnesses to smart vibes, the masterminds of the industry are truly giving us some of their best inventions at the moment. Some of the best and most creative brands in the business are Doc Johnson, Happy Rabbit, Pegasus, King Kock, Lovehoney, Tracey Cox, Ambrosia Vibe, Tantus, etc. Some of those brands are actually focused on creating innovative toys that offer smart features via app control.
For example, one of the most interesting toys is Ambrosia Vibe's bionic strap-on that tracks the thrusting motions of the actual dildo. Then, it turns them into vibrations while you're banging your partner. That way, you can get a feel of what it's like for men to feel pleasure all over their cocks.
Personally, I would love to see more of those kinds of features in the future because they make the whole experience even more realistic. Imagine being able to feel every inch of your toy while it's inside your partner! That would satisfy our curiosity even further when it comes to owning and yielding a big fat dick. But that's not all: there are plenty of other next-gen features we could expect in the years to come. That could include VR integration, extended remote control options, biometric and ergonomic harnesses, smart controls, AI, and so on. Still, while the sky's the limit, I bet that nothing will please you more than pushing your strap-on balls deep inside your partner's creamy holes! Bottoms up!
⚠️ Disclaimer: Our articles contain affiliate links. If you like our content and wish to support our work, consider purchasing your new sex toys through our links. For each purchase through our links, we receive a small commission but at no extra cost to you.
FAQ
Yes, you can get a harness that accepts various dildos or vibrators. But, if you're going to buy a vibe or dildo separately, make sure that it has a flat base. Not all toys will fit into your harness. Therefore, it's best to measure the diameter of the hole and the width of the sex toy to make sure it's compatible.
If you're not careful, you could run into some risks. For example, you could set your harness too tight. In this case, the straps could squeeze your skin or even cause chafing. Additionally, you won't be able to feel your sex toy while you're dicking down your partner. That means you'll need to be careful not to hurt them during penetration. So be patient, use lots of lube, and practice!
Absolutely not! Pegging is a kink that many straight men enjoy because they want to experience what it's like to get dominated by their female partners. In contrast, women love this kink because it reverses the roles and puts them in control. Also, intense ass play and prostate stimulation can feel pleasurable to all men, regardless of their sexual orientation. So no, your BF probably isn't gay, but as always, you should talk about his fetish before you try to invade his bottom.
If you want to share your toy with your partner and let them penetrate you with it after you have used it on them, you should wash it first. However, heading to the bathroom when you're all turned on and horny could ruin the mood. If you don't want to wash your toy in the heat of passion, you can slip a condom on it before you swap it with your partner. Also, if you intend to swap holes (i.e., pussy to ass or vice versa), always switch out your condom and use a new one.
Some women could cum solely all the excitement of wearing this toy and using it on their partner. Others might need additional stimulation. Sometimes, it will be enough to feel the base of the toy bumping up against your clit during penetration. But, some women might need additional stimulation via vibration. In that case, it's best to get a dual-ended or vibrating toy to stimulate yourself while you're penetrating your partner. Trust me: you'll have some of the most intense orgasms ever!
If you're shorter than your partner and you want to penetrate them with this toy, you might have some issues while maneuvering your toy. The best way to deal with your height differences is to experiment to find the most practical positions that work for you. The easiest thing to do is try doggy style while using one or two pillows to lift yourself up. Another easy solution is to put your lover's ass up in the air with their legs behind their head and kneel down on some pillows to get the perfect angle.