Jun/21/2022
Last Update: June 26, 2023
992
24 min read
Best Sex Furniture In 2023: Explore A Secret Cabinet Of Erotic Curiosities!
If you wanna fuck like a true sex queen, it's time to do some redecorating! I'm not talking about stocking up on DIY loungers from IKEA or breaking your back while assembling a new bed. Sweetie, if you want to ride that mothafucka until you cream sofa-king good, nothing works better than getting laid on a specially designed piece of sex furniture!
And no, you don't have to lock your husband into a medieval iron maiden and poke the hell out of his balls to refresh your bedroom interior and spice things up. In this article, I'll show you how to improve sex, strengthen your orgasms, and get a hell of a lot kinkier with the hottest sex furniture!
Top 10 Sex Furniture in 2023
Over the years, my BF and I have accumulated a rather diverse collection of erotic furniture to keep things fresh and fuck like pornstars. I've tested all kinds of adult furniture, from sex pillows, tables, benches, stools, sofas, etc. Here, I'll show you the sexiest, softest, and most comfortable pieces that could help you get into a cozy position and explore your naughtiest fantasies! But which sex chair or sofa should you choose?
Well, there's truly something for everyone out there, honey. Just imagine any piece of furniture. Now, put the term sex before it, and you'll most likely find it out there in the wild. What a time to be alive, right?
However, if you're not careful, you could end up with an ugly-ass sex bench that causes more trouble than it's worth. If you want to get a quality piece of sex furniture to suit your dirty needs and your budget, check out my top 10 picks below!
Sex Furniture: Life's Too Short to Get Laid in a Normal Bed!
"Home isn't a place; it's a feeling. For me, that feeling is all about spreading my ass out and getting my holes plowed by my BFs huge fat cock while he bends me over our sex sofa and has his way with me! There's no place like home!"
Some say that sex is 1% fucking and 99% moving furniture or trying to get those goddamn sheets to not come off your bed. And while you don't have to break your back to have great sex, the statistics show a whole different story.
Actually, some studies by NIH have indicated that over 2 million Americans report mild to serious sex-related injuries annually. That's a lot of sprained wrists and cracked tailbones! And just imagine telling your doctor that you've busted your head open while fellating your husband over a slippery bathroom floor! Awkward AF!
Let's face it, getting injured while doing the humpty dumpty dance is pretty lame. One of the safest and easiest ways to avoid that is to invest in some quality furniture. What's more, sex cushions, stools and other pieces of naughty adult furniture aren't only practical. Would you rather get your brains drilled out of your skull over a dusty blanket or a special sex cushion that feels silky smooth and looks kinky as hell?
Trust me, nobody should jiggle things around and use shady tips from Pinterest to make DIY adult furniture with bathroom supplies, gardening tools, and motor oil. It's just unsafe, and I know that you deserve better! Now that we've got that sorted out, I wanna show you why sex chairs, ramps, wedges, stools, sofas, and cushions will be the best and naughtiest addition to your home.
WTF Is Sex Furniture Anyway?
It's not a dildo, it's not a sexy leather bodysuit, and it's definitely not some medical contraption that your boyfriend could hop onto during his prostate exam (well, not so sure about that last part…). Anyway, you can stick huge dildos onto your pleasure sofa and pump your holes balls deep, but that's a whole other story. Let's stay on the subject here, ladies.
Basically, erotic furniture is specially designed for wild lovemaking with a partner or on your own. And I know what's going through that pretty little head of yours: "But Scarlett, why can't I just get gangbanged like a fuckdoll on any random couch? All my friends are doing it!"
Hold that thought! You can, but isn't it kind of inappropriate to get dicked down by your husband and his buddies on Grandma's antique Civil War era lounger? Why not get something that was literally designed only for rough, wet, and sloppy fornication?
That's exactly what furniture for sex is all about! It can help you to improve all your sensual experiences. It can guide you to explore all your fetishes and try all sorts of unique acrobatics. That includes those where you're almost suspended in mid-air! How is that different from, let's say, jumping onto your kitchen table and taking your partner's magnum dong from behind?
For one, erotic furniture doesn't wobble or squeak at all! That way, you can enjoy all the hardcore sex you've ever wanted, and all you'll actually hear is the fast clapping of your lover's balls against your butt crack! Music to my ears!
Redecorate Your Home to Reinvent Your Pussy!
In all seriousness, adult furniture encompasses a freaking huge category of erotic equipment. There are all kinds of unique pieces. That includes those used to make worthless subs worship their mistress' buttholes! Others are made to facilitate sex for people with disabilities.
What's more, there are hundreds of different types, shapes, and sizes. Whether you choose a sex bench, bed, swing, chair, stool, or another type of erotic furniture, all of them will provide special features. So go ahead and throw out that decade-old sofa that's stained with the DNA of every lover you've ever bumped uglies with!
Generally, erotic furniture is one of the most useful physical aids for intense lovemaking. It's even used by people who only practice routine or vanilla positions. Most pieces and types are designed to support one person's weight. They can even elevate their naughty bits to the optimal angle. That way, sex furniture makes everything flow a lot easier. Plus, it makes everything a whole lot safer and helps you avoid becoming an NIH statistic.
And sure, you can use your everyday bed for all sorts of modern-day lovin'. Yet, if you appreciate proper posture and if you want to make sex feel extra special, these things will be the perfect addition to your bedroom or dungeon.
Also, I have to point out that some people could be slightly intimidated by sex furniture. At first glance, it's a bit pricey, and it can take up a lot of space. Not to mention that it can make your neighbors think you're the biggest perv! However, you won't have to redecorate your entire home just to enjoy a lovely sex sofa or a super intense monkey rocker.
Types of Sex Furniture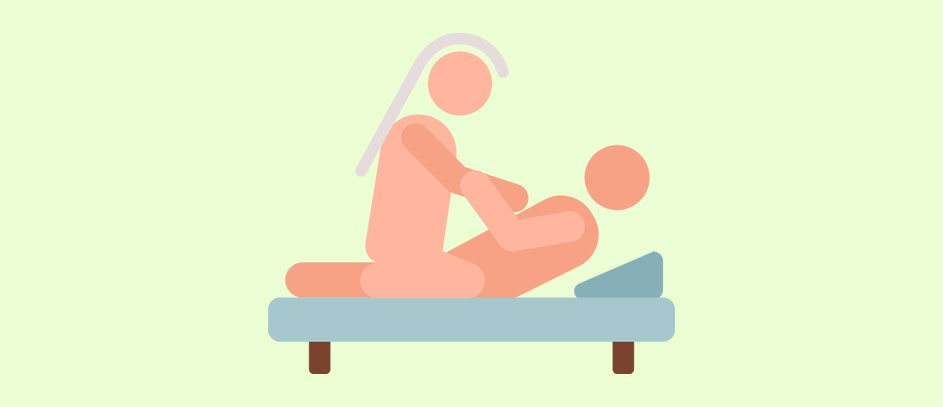 So what are some legit pieces of erotic furniture? How do you use them? Ah, now we're getting somewhere, beyotch! There are hundreds of different pieces of adult furniture. That includes small and compact wedges that you can easily stash away. But, it's also all about huge BDSM sex beds with wrist restraints and motorized dildos. Yes, motorized dildos!!!
You can use this furniture for anything from vanilla sex in spicy positions to the merciless torture of your worthless male slave. Just milk his balls dry until he promises to be a good boy! Not your thing? Well, if you're the kind of girl who prefers to follow orders, there are plenty of furniture types that you can strap into and get your holes dominated all night long! So let's look into some of the most popular types of erotic furniture:
Sex Pillows
Love pillows or wedges are the most portable, affordable, and easiest pieces to get you started. Also, they're some of my favorites. They don't weigh a ton, and you can always put them away when you're done! Even better, you can disguise them as regular pillows when you're not using them. However, their stealth factor doesn't make them any less effective.
For one, fuck pillows do a fantastic job of supporting your lumbar region and back. Most sex pillows have a ramp-like shape with a slanted edge. Usually, you'll put them under your hips. That way, you'll be able to get into some of the most comfortable sex positions.
Also, while a sex pillow is quite soft on the outside, it's made of dense foam. It will retain its original shape during even the fastest and roughest adventures. And besides the traditional ramp pillow, there are several other types. That includes wedges, half-moons, cylinders, or inflatable pillows. The most important thing to consider here is how hard or soft you want the material to be. Plus, decide if you need a steep or low angle.
Sex Chairs
There are many different categories of sex chairs out there. It's all about stools, chaises, bowchairs, loungers, multifunction or weightless chairs, and more! They'll put a kinky twist on your average furniture. But, there are a lot of things to look into when it comes to sex chairs. That includes the shape and type along with any extra features. For example, some stools can have handrails. Others could have center straps to help you bounce around in the air. Heck, some could even feature premium leather upholstery, wooden bases, and curved frames.
Sex Beds
If making whoopee and going for some horizontal refreshment in your old bunk is getting a bit too boring, why not get a bed designed for the sole purpose of making sweet, sweet love?
Trust me, BDSM beds are nothing but boring. Still, they're some of the most extreme pieces of erotic furniture. Generally, they are made for BDSM dungeons or secret sex basements, and they'll be the perfect addition to any of your fetishes. They could include sturdy (and black!) metal frames. You'll also get various attachments such as chains, ropes, lockets, and cuffs. So try not to piss Daddy off! Well, not unless you want to be a naughty little schoolgirl and get your tushy spanked. Your Dom will cuff you down and have his way with you until you sweat and beg!
But seriously, erotic beds are specially designed to handle a lot of weight and pressure. Plus, they'll stay completely silent. They won't rock back and forth. They will remain steady during any position or angle. You can also pair them up with super huge sex toys if you want to play like the girls in the movies!
But, sex beds come in many different designs, including those that look calming and cute to those that glitter to get your juices flowing. You can even find some fantasy beds that will fulfill your cat, vampire, elf, or hungry troll role-play desires. Good kitty says meoooow!
Sex Tables
Ready for your massage? Well, tables and BDSM boards are completely flat. They're usually elevated from the floor. They resemble the hottest, wildest massage bed. You can lie or sit on them during sex, and you can attach all sorts of sex toys to the surface.
Also, while they use firm materials and sturdy frames, their tops are usually lined with soft materials for comfort. Plus, there's a lot of space underneath it. That will give you a stronger grip during various steamy sex positions. However, what sets these pieces apart the most is their tough and flat surface. This will produce different sensations compared to a softer bed. That makes them ideal for all kinds of deep penetration and kinky fetish games!
Sex Benches
What if you don't have enough room for a full-size BDSM bed yet you still want to explore some fantasies of punishment and obedience? Just get a fuck bench! Sex benches and gliders are some of the most convenient pieces of furniture because they are foldable. You can easily hide them in places where no one will look! They usually put you in a doggy style position and render you motionless via leg, arm, back, or head straps. What happens next is all up to your skills and limits, my dear little fuckpig…
Sex Stools
Sex stools are just one category of erotic chairs but they are some of the most popular pieces of erotic equipment out there. This type is all about relatively simple and small stools that don't require a lot of experience or physical fitness. But, sex stools offer tons of versatility. You can use them in all kinds of sitting, lying and kneeling positions.
My favorites are see-through stools. They'll give you a good look at every little detail of your or your partner's holes. Also, remember that most of these stools have a rectangular or circular hole in the seat. That way, you can shove all kinds of things inside you, whether it's your little male slave's tongue up your stink or a big black dildo deep in the pink.
Sex Sofas
Sofas, couches, and chaises are some of the most comfortable types of erotic furniture available. Not only are they super soft, smooth, and comfortable, but they also have ergonomic designs that follow the natural curves of your body. They'll enable you to get into all kinds of creative positions! They'll also give you easier G-spot access for an all-out squirt-fest!
What's also neat about sex sofas is that they have a subtle and sublime design that isn't too revealing. While they're quite big, you can easily leave them in the open. No one will know that you've used them to defy the laws of physics! And since they have elegant curvy designs, you can also use them for restraint play, explore various hip angles, or let your BF choose how he wants to spread you out.
What if You Want to Go Beyond Standard Erotic Furniture?
If the types I described above didn't stir up your juices just enough, you can try to spice things up even further with these:
Sex Balls⁠ – Sex balls look very similar to yoga or exercise balls. Yet, they have one or two dildos attached to the surface, and they also include some cleverly placed handles. Just climb on top and jump on your dildo all day long for an extra bouncy ride!
Monkey Rockers – Ah, these are some of the most iconic pieces of porn furniture! You sit and glide on them, and they'll automatically penetrate you with one or two built-in dildos for a wild rodeo ride!
Sex Thrones – Don't try to act all innocent, the clips are all there, and I know you've seen them! Sex thrones look just like other throne chairs, except that they'll come with various D or O rings for intense bondage. Oh, and should I even mention the hole in the seat? You can push pretty much anything through your throne and into your submissive slave's holes. So get your fist ready!
And the List Goes On
Queening Chairs and Smotherboxes – These are some of the most used and most popular pieces of BDSM furniture. They are much bigger than conventional sex stools. They provide even easier access to your honey pot. However, they can also restrain the person sitting below you. That way, you can experiment with all sorts of humiliating pussy licking, ass worshiping, salad tossing, and prostate milking rituals.
Sex Swings – Essentially, sex swings and slings will let you fuck in mid-air. They'll enable you to try out all sorts of acrobatic motions and unusual swinging positions. If you want to know more, check out my full article on the best sex swings I've tested with my BF.
Sex Cages – Sometimes, the only way to tame a wild beast is to lock it up in a cage. Yes, it's cruel, but lots of people enjoy sex cages. They are the ultimate type of BDSM sex furniture. Just strap on a leather hood, get in, and obey your master until he decides to let you out!
Buyer's Guide: Let the Sunshine In!
When it comes to buying your actual erotic furniture, you probably won't lock yourself up in a steel cage if you don't want to. Duh! Remember, this kind of furniture is entirely personal. It will be up to you and your partner to decide on the best piece that gets your blood pumping.
Still, with so many types, categories, and price differences, buying your new sex sofa or stool is not as simple as assembling any random $20 table from IKEA. That's why you'll have a lot of homework to do, sugar. Some of it (the fun part) includes watching tons of videos of people fucking in sex chairs to get an idea of what you can buy and do with your furniture. So don't be ashamed to rub one out! But the other part is mainly about sticking to the following key tips:
Important Questions to Consider
If you're unsure which furniture to buy or if you want to get straight to the fucking, you should consider the following:
Do you have any previous experience with position-boosting pleasure furniture? Have you ever used regular pillows or blankets to prop yourself up during sex? If you've done that before, think about what you liked or disliked about it.
If you want to masturbate in peace, you can use your sex chair or table all on your own. If that's the case, you'll be able to make your decision a lot quicker.
If you're with someone, both of you will need to decide together based on your kinks and body types.
Will you use your furniture for wild sex parties? Or do you need something to assist you with an existing condition? If you are disabled or if you have problems experiencing sex properly, adult furniture can definitely help. However, if you have a medical condition or a disability, it's best to talk to a health professional first.
If you want to use your furniture only for blatant sex and hot fetishes, consider your and your partner's turn-ons, fantasies, and goals. So think about the acts you're going to try. That will make it easier for you to choose the size or shape that you need.
If you're on the plus size or you're going to involve multiple people in your adventures, you'll have to get a quality piece that can handle the exact weight.
Bonus Tips
You will need to look into whether your furniture has the proper safety equipment.
Another thing you shouldn't forget is to inspect the materials of your furniture.
Does your toy come with everything you need? Or will you need to buy accessories or sex toys? What about paying extra for installation costs?
Consider your bedroom or playroom and see whether or not your furniture will fit. Obviously, you're probably not going to buy a full-size BDSM fuck bed if you don't have enough space.
What Is Sex Furniture Made Of?
High-quality sex furniture is made of all kinds of sturdy and durable materials. Regardless of the type, any decent piece of erotic furniture should aim to provide both strength and comfort at the same time.
What's more, the materials should be healthy for your skin. They should be protected from lube, cum, and other bodily fluids. For example, sex cushions use water-resistant lining along with machine washable covers. That way, they boost your comfort and make cleaning easier. Plus, the materials will usually vary based on the type of furniture.
For instance, cushions, wedges, and chairs could be made of faux leather, PVC, and high-density foam. Other types could include real leather, velvet, latex, steel, etc.
In most cases, you'll see a combination of soft and hard materials. That may include latex and stainless steel. All of those materials are skin-safe. However, you should use them only if you know that you are not allergic to them.
One thing I should mention here is that choosing the furniture material is a lot different than knowing what your vibrator or dildo is made of. Well, unless your vagina is wider than a bowling ball, you probably won't attempt to penetrate yourself with your sex pillow. This is actually a good thing since you won't have to worry about keeping your holes safe from rashes and infections.
Anyway, most of the materials I've described are safe for external use. They will not harm your body. However, if you want to stay extra safe, just pick something non-porous, hypoallergenic, and easy to clean. This mainly applies to the softer parts of your furniture and not the metal frames.
Which Type Should You Choose?
This depends on how you want to get fucked and what you want to do with your furniture. If you want to tie up your boyfriend and peg his pooper with a big strap-on, let him choose the best piece of furniture that fits his height and weight. But, if you're buying it for solo play or if you know that only you will use the furniture, pick a type based on your body specifications.
Also, if you and your lover have a specific fetish you want to try, like prostate milking or ass worship, the chances are that you'll most likely need a stool or queening chair. As you can see, it's all highly subjective. But, I can dig into my past experiences and show you which type is the best for which acts:
Sex Pillow – These are ideal for deep penetration, comfortable angles, and couples who need something simple to improve their vanilla sex routines.
Sex Chair – If you want something highly versatile and easy to use, go for this type. It gives complete and easy access to your or your partner's holes. That way, it makes penetration and oral sex much easier and much more intense.
Pleasure Bed – If you already have a secret playroom but want to perfect it with the kinkiest fuck bed of all time, this one's a no-brainer.
Want More?
Sex Bench or Table – This type is small and light, but it helped me experiment with all kinds of filthy fetish stuff until I was squirting across the room. The flat surface of sex tables is ideal for bondage, yet you won't have to spend a lot of money or use up a lot of space.
Sex Stool – These are perfect for anyone who's obsessed with cunnilingus, analingus, or any other type of lingus out there! Just sit up and make your slave munch on your holes for breakfast, lunch, and dinner!
Sex Sofa – Much like small sex pillows, these are a great option for vanilla couples. But, you can also use them to try light bondage and rough sex. Just remember that you'll need to set aside some space for them in your bedroom because they can get big.
How to Set Your Budget
While standard sex toys like butt plugs or dildos can be cheap, pleasure furniture is not the most affordable option out there. That's why you should carefully assess your budget before you get out there.
Still, if you don't want to get anything too extravagant, a quality sex pillow or stool will cost between $100 and $200. However, if you want the latest and greatest bondage furniture, you'll have to spend as much as $300 to $400. One rule here is that the bigger the furniture, the bigger the price. That's why some benches and tables could cost over $500.
Of course, with full-size beds or even three-in-one sets, you could end up spending several thousand dollars. But…! It's of utmost importance to understand what you're buying. Unlike some sex toys that can melt or break down, sex furniture is made to last. It's designed to be safe and sturdy, and it's definitely a long-term solution. So even if you have to spend a lot or you want to buy multiple pieces, remember that erotic furniture is a great investment that will justify its steeper price.
Size
So how do you pick the best size for your fuck stool, chair, bench, or even a full-sized sex bed? Well, this is based entirely on your preferences, your body measurements, and your home space. One thing to consider first is whether you want a foldable piece or one that sits out there in the open. If you choose foldable furniture, you'll need to set aside some storage space for it. But if you get a sofa or bed, you probably won't get to move or hide it when your friends come over.
Still, when it comes to the dimensions, there's a very small chance you could get the wrong fit. Some things to look for are the width, height, and depth measurements. That way, you'll know for sure that your stool, sofa, or table fits your body dimensions. And as I said previously, don't forget to inspect the weight restriction. Then, you'll see how much pressure your furniture will be able to handle.
Do
Set up a hefty budget and don't be afraid to spend extra. Remember, a quality piece of sex furniture will last you for years to cum!
Inspect all the nuts and bolts including the materials, features, fastening methods, and any included accessories.
Buy the perfect type that suits you and your partner's bodies as well as your kinks!
Sex toys will make everything much more fun! Don't be afraid to combine your furniture with all sorts of vibrators, dildos, strap-ons, butt plugs, etc.!
Don't
It's probably best to skip the cheapest products that are out there. They could be poorly made and they could pose some safety hazards. If your money is tighter than your pooper, find a quality sex pillow because they are usually the cheapest.
Don't forget to inspect the materials to see whether they'll play well with your skin.
Stay away from some pieces that you think are too light, small, or narrow for your body.
Tips on Using, Cleaning and Storing Your Sex Furniture
At this point in my articles, I usually tell people to get out their lube, oil up their holes, and head straight to Pound Town with a dildo or two. However, you have to be extra careful with your sex furniture.
How to Use Erotic Furniture
To use your erotic furniture correctly, you must study the manufacturer's instructions. After all, most pieces of adult furniture are unique. That's why you'll have to learn how to set up or assemble them before use.
For example, sex swings require you to mount attachments on your ceiling. Sex chairs or stools only require you to sit your butt down. If you're not assembling or mounting anything on your walls, it will be as easy as taking the thing out of the box and having your way with it.
What's more, you'll need to know how to check if everything's safe and ready. In my experience, it's better to inspect any fastening mechanisms, chains, or straps before you use your furniture. That way, you won't slip off and fall on your ass! Also, while lube is essential for sex toys and real cocks, try not to get too much of it on your furniture. That could make it slippery and difficult to clean. And another warning: try not to adjust your furniture once you're strapped in. Your bodyweight could make it drop or slide down.
Cleaning and Storage
To maintain your sex furniture and keep it infection-free, you'll have to clean it after use. One of the easiest ways is to use a soft microfiber cloth. Just soak it in warm warm water and use light soap to wipe your furniture. You could also do this before game time to clear off any dust or germs. Also, using chemical cleaners is a big no-no here. Instead, you should only try a non-allergic and skin-safe furniture cleaning spray.
Plus, when you're done cleaning it, you'll have to think of how you want to store it. Some pieces are discrete. You can easily place them alongside your normal furniture. Others, like monkey rockers or sex balls, are too obvious and you might want to hide them. In that case, you will need to have enough space in your storage room with adequate ventilation. And don't forget to use cloth covers to protect your furniture when you're not using it!
Sex Furniture Industry Overview
If you've ever been inside a sex museum, you probably know that sex furniture has been around for thousands of years. But when did it all start? How did we get all the way to self-fucking monkey rockers, kinky pleasure beds, and hardcore sex thrones?
History of Sex Furniture
One of the earliest exemplifications of the origins of sex furniture can be found in the ancient Kama Sutra text around 400 B.C. Not only does this book contain all sorts of kinky sex positions, but it also hints at various BDSM implications. Most importantly, it shows the use of early adult furniture and sex swings.
What's more, another point of origin dates back even further to 900 B.C. Back then, ancient Spartan warriors participated in ritualistic group sex with women that included special furniture and a ton of whipping. Thousands of years later, we encounter all sorts of early BDSM apparatuses such as the infamous Barkley Horse flogging machine from 1828. And who could forget King Edward VII's legendary love seat that was designed to accommodate multiple women at once? It's no wonder they called him the Dirty Bertie!
Sex Furniture of the Future
If you want to know when sex furniture became available to the masses, it all began with the Love Chair. This was a commercial steel product that people could order from men's magazines in the 1970s. After that, the rest is history. Erotic furniture was populazired in mainstream porn in the 1980s and 1990s. And obviously, everything changed with the advent of the internet.
Currently, everyone can order a shiny piece of sex furniture directly to their homes with total anonymity. What's more, the market is developing faster than ever before. Some companies, such as Lovehoney, Dominix, Bondage Boutique, Liberator, Fetish Fantasy, etc. are truly pushing the limits of what's possible with pleasure furniture.
It's possible that we could see even more innovations in the future that combine adult furniture with the latest sex tech. We might soon be able to buy self-fucking and automatized sex stools, pillows that monitor our orgasms through smart controls, app-controlled vibrations, VR sex suits, and much more!
⚠️ Disclaimer: Our articles contain affiliate links. If you like our content and wish to support our work, consider purchasing your new sex toys through our links. For each purchase through our links, we receive a small commission but at no extra cost to you.
FAQ
If you want to take control of your male or lesbian partner, you first have to focus on your kinks and fetishes. For light flogging or spanking, a sex table or bench will work wonders. If you're into intense assplay and oral domination, try a queening stool or smotherbox. And if you want to dominate your guy with a strap-on, why not get a sex swing? You can always get a few different pieces to try them out and unleash your inner mistress!
Sex pillows are some of the best and easiest pieces of furniture that will allow you to get into more comfortable positions. You will be able to explore sex from all angles and feel deeper, stronger penetration. This is especially useful for women who require a lot of G-spot stimulation in order to orgasm. But, sex cushions or benches will also spread you wide open. They'll enable you to use all kinds of vibrators for exciting clit play and reach some of the most unusual pleasure spots.
Absolutely! Adult furniture is not only used for intense sex. It's a major part of erotic art. A lot of people who are into it can decorate their homes or art studios with adult furniture.
Oh, yes!!! Sex furniture works in so many ways, from the mental and visual to the physical. You can use it to discover or fulfill your fetishes as well as find entirely new ways to orgasm. As mentioned, some furniture is designed for easier positions while other pieces are made for intense BDSM. Whatever your poison, sex furniture will get you on the fast track to some unforgettable oral, vaginal, and anal orgasms!
Yes, but you have to take it easy at first. If you're not careful, you could slip off and injure yourself. Alternatively, if you don't take your time, you could set up your furniture poorly. In that case, it could malfunction in some way. Still, if you're patient and you get the hang of it, your sex furniture will not pose a safety risk.
You can use sex furniture for intense solo sessions even if you don't have a partner! One way is to get a dildo mount or some suction cup toys that you can attach directly to your furniture and ride until you cream. You can also use sex dolls, fuck machines, and various other kinky tools to improve your single adventures with your sex furniture!
Basically, you can use nearly any toy, as long as it's something that you're into. If you want to stick it onto your furniture, make sure it has a quality suction cup or another means of attachment. You can choose fake vibrating cocks, monster squirting dildos, anal plugs, as well as various other sex accessories. That includes floggers, mouth gags, gloves, restraints, leather hoods, and so on.