Jun/20/2022
Last Update: June 26, 2023
926
15 min read
Best Tongue Vibrators In 2023 To Lick And Suck Your Sweet Holes All Night Long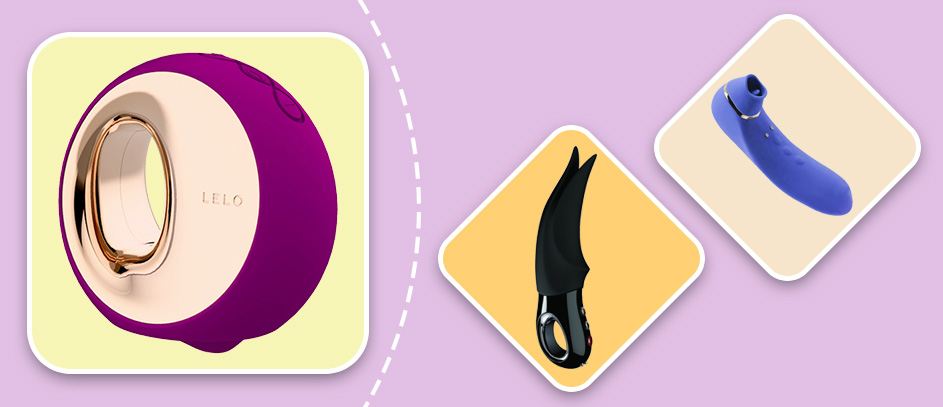 As much as I love to choke on a huge fat cock, lick a warm juicy pussy, or rim a tight asshole all night long, I expect my lovers to return the favor and eat me out like a wild animal while I squirt all over their faces! But what if your partner doesn't like to munch on your clam or starfish or what if they're simply not good enough? Goddamnit, that sweet pussy and asshole aren't gonna lick themselves! But before you dump your BF over his lack of oral skills, consider the next best thing: tongue vibrators!
Honey, if you love intense tongue-fucking and butthole munching or if you're craving a gentle velvet kiss down under, I'll save your ass today and show you the best tongue vibrators out there!
Top 10 Tongue Vibrators in 2023
Sex toys that replicate the feeling of someone actually sucking on your sugar walls are some of the newest inventions. But, while these tongue stimulators have pretty much revolutionized the market, not all of them are perfect. That's why I've tested the best tongue vibrators on my pussy, nipples, and ass to show you some of my favorites!
The toys I'll share with you below all differ based on their functionality, design, and prices. But one thing is certain: they'll eat you out like a four-course meal and tongue-fuck you to make your whole body shake!
Tongue Vibrators: Lick it Goooood!
Don't you just live for the passionate and intense art of cunnilingus? Or do you prefer to be a nasty mistress and make your male slave worship your asshole like he's your little butt-munching bitch? Well, my licking vibrators always speak to me: "Human, please let me feed on your holes". Why on earth would I deny myself the pleasure?!
If you have no idea what I'm talking about, I'll show you what these toys are all about and teach you how to choose your new favorite oral sex toy!
What's a Tongue Vibrator?
"It's perfectly okay for a guy to buy an automatic blowjob machine with 10 BJ modes powered by advanced artificial intelligence. But when a girl buys a tongue vibrator that licks her clit and makes her squirt like a queen, she's a freaking perv. That doesn't make any sense!!!"
For starters, if you're hooked on oral explorations or if you simply need to refresh your sex toy collection, oral vibrators are some of the most unusual stimulators out there. They are tongue-shaped (duh!) and are designed to reproduce all kinds of flickering motions. They will mimic the sensations of your partner licking your body but without all the tongue cramps!
What's more, these special vibrators use soft materials like silicone for the most realistic sensations. With added vibration, they'll turn any good old-fashioned beaver dinner into a royal meal at the pussy or ass palace! And while it's next to impossible to replicate real oral sex with a sex toy, my top 10 tongue toys were able to get pretty darn close. Even better, they'll give you other practical benefits, such as the ability to focus only on your own orgasms without your partner's raging boner waiting for you to suck it in return. And again, even if you can settle on a good lick, why not enhance the sensation? If you like oral play, just remember that you can get your pussy eaten out by a VIBRATING tongue. I'll leave it up to your imagination to see what cums next…
Types of Tongue Vibrators
The best way to find your perfect toy is to look into the most common types of tongue toys. Granted, a toy that looks like a real meaty tongue is actually not all that sexy and some may even consider it to be bizarre. Therefore, most of these tongue-fuckers don't have ultra-realistic designs. They are inspired by tongues, but you can get them in all kinds of colors, shapes, thicknesses, along with different tip designs, handles, and various other features.
Typically, we can split tongue-shaped vibrators into three main categories:
Tongue Clit Vibrators
A tongue clit vibrator replicates the movements and sensations that this body part can create all over your clit. They look kind of like standard vibrators, although they have a special tongue-like shape. At the end, you'll find a short, pointy, and ultra-precise tip. It can hit your love button just the way you like it!
Moreover, tongue clit vibrators can have various designs. That includes vibrators with a handle, egg-shaped tongue-movers, etc. They are ideal for all girls who are into clit play and who love to get their sweet spot teased and pleased with flickering, swirling, or thrusting movements. While you can choose from a variety of tip or tongue designs, note that some are sturdier while others are softer or more flexible.
Tongue Licking Vibrators
Standard tongue shaped vibrators are best for all-purpose oral sex. They look similar to tongue clit vibrators, except that they may have a longer and thicker tip without a shaft. They usually have a handle or base. You can hold onto it and can also control all the vibrating action from it.
Depending on the design, a tongue licking vibrator could include a single or flared tip. While these toys work wonders for clit play, they will make your dreams come true if you're a huge fan of intense nipplegasms. Do you desperately need to get your ass eaten out in order to cream hard? You got it! Moreover, you'll find these types in all sorts of sizes. That includes mini tongue licking vibrators, teasers and larger toys that attempt to replicate the entire anatomy of a tongue, complete with unique bumps and textures.
Tongue Ring Vibrators
This type of toy actually sticks onto your tongue! Whaaat?! Well, a tongue ring vibrator allows you or your partner to give intense oral sex with added vibrations. Whether you want to lick some delicious pussies, assholes, massive dicks, or big balls, everyone could benefit from an enhanced vibrating tongue!
Trust me, tongue ring vibrators are some of the weirdest yet most orgasmic toys out there. They usually have a soft ring or another mechanism that straps onto your tongue. This is a great choice for partners who absolutely love oral sex yet want to improve or boost it with intense vibrations. What I love about these types is that, once you strap them around your tongue, you can still make regular movements. Then, you can direct the action the way your partner wants you to.
Other Types of Tongue Vibes You Shouldn't Miss:
Flickering tongue vibrators – These special vibrators have a rotating tip that looks kind of like a windmill or a spur. They are great for super-fast oral sex. They are a fantastic choice if you want something different or even something strange that you can use for forced BDSM orgasms or similar dirty experiments.
G-spot vibrators – It rarely happens that your partner has a tongue long enough to reach your G-spot. Well, not unless he's Gene freaking Simmons from KISS. Still, you can rock and roll all night and party every day with one of the most unusual G-spot toys out there. You can insert these long tongue toys deep down in your love cave. When turned on, they will make all sorts of sloppy licking motions against your G-spot!
Clit kissers and suckers – This is a whole other category of oral sex toys and it deserves an entire article on its own. However, it's worth mentioning that clit vibrators aren't only designed to move. Some clit lickers can use suction to create a special sucking effect and eat your holes out like a glazed donut!
Buying a Tongue Vibrator: What You Need to Look For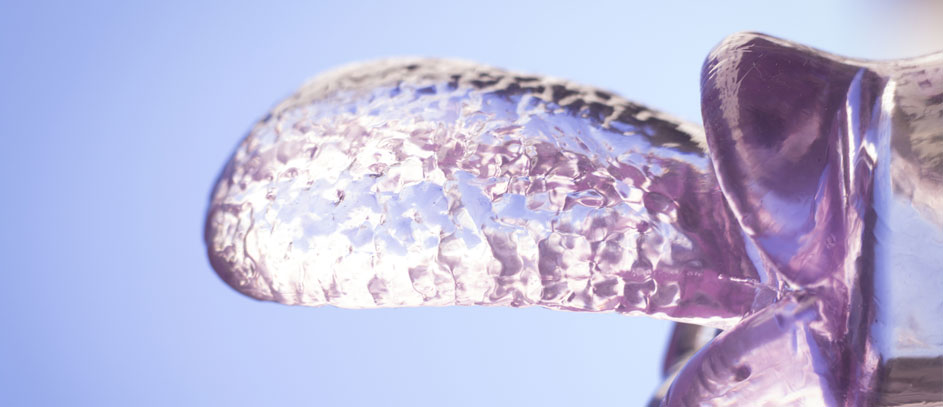 While I've treated my pussy to dozens of these vibrators, not all of them felt good to me. Some were just disastrous. Others simply felt like I was getting my kitty gnawed out by a rabid dog instead of a sexy orgasm machine. Unfortunately, the first toy you pick may not be the best. That's why you should do your homework missy! To buy the perfect tongue vibe, just follow my tips:
Why Women Are Going Crazy About Tongue Vibrators
Let's start with the fun part! Here's are just some of the many sex benefits that you can get with a tonguing vibrator:
You don't need to shave or wax every time or think about how your partner will react!
You'll get full control over your oral pleasure.
Your tongue vibrator will never get tired!
Since these toys are inanimate objects, you'll never have to return the favor! They'll never ask for a BJ!
Materials and Flexibility
Not all of these vibrators are equal and some are outright unsafe. Also, some materials are more flexible than others. So let's inspect them in more detail:
Silicone – When in doubt, always get a silicone toy! This is the most used and best-selling material for tongue vibrators. It's 100% body-safe and it replicates real flesh. Moreover, it's non-porous and hypoallergenic, which makes it the safest. That way, you'll get an extra-safe toy with a soft and velvety texture that feels just like the real deal.
TPE or TPR – These materials are softer than silicone. While they feel super soft and flexy, they are somewhat porous and absorb bacteria. If you have to go for this option, just follow the manufacturer's cleaning instructions. You may even need to replace the toy every few months.
Jelly – This is a material you should avoid. Jelly contains toxic additives called phthalates which are proven to be bad for you. You'll recognize this material by its jiggly look and extremely cheap prices, and the best thing to do is to just skip it.
Power
Since these toys use a wider range of motion plus strong vibrations, they will need a strong power source. If you opt for a traditional model, it's likely that you'll get one that runs on replaceable batteries. I'm not the biggest fan of any sex toy that works on removable batteries because they will run out quickly. Replacing them could cost a lot if you intend to use your toy every day!
Instead, it's better to find a rechargeable model that you can hook up to a USB cable. You'll be able to recharge it whenever you want, and you'll actually get more use out of your toy since the built-in batteries tend to always last longer. So find a toy that can last for 1 to 2 hours on a single charge and you'll get all the crotch diving action you need!
Speeds and Patterns
If you can get a toy that sucks on them sugar walls like there's no tomorrow, why settle on only one setting? It's better to find a model that provides different pulse rates and intensity levels. So look for a vibrator that offers low to high speeds as well as around ten or more rhythmic patterns you can play with.
Which Size or Shape Is Right for You?
Size matters a great deal here, and it will all be subjective.
For standard tongue toys, you will need to check out the size of the tongue portion that will go against your clit or other body parts. This may be as small as 1 inch in length but it could get bigger or thicker. It will all depend on what you like. For example, if you have a sensitive clit, you might prefer a bigger and wider tongue toy to cover more of your vaginal area.
If you prefer precise and direct stimulation, it's better to go with a smaller and thinner tip that can target only one area. Also, remember that you can get tongue vibrators that are up to 7 inches long. These sizes are usually available on insertable or G-spot tongue stimulators.
Wireless
Although most tongue toys will come with a handle and a few button controls, there are some wireless options. Some of the newest models out there can use Bluetooth to sync to your phone and allow you to control them remotely via an app. If you're a sucker for all things tech, this will be a creative and highly versatile option. For instance, app-enabled tongue toys give you an extended range of controls. The apps may also feature smart monitoring, pattern customization or even long-distance play features and VR compatibility.
Buyer's Checklist and Things to Lookout For:
Think about the shape and size that matches your body and your desires.
Consider the softness or firmness of the materials. My advice? Don't think too much and go for silicone because it's the best and easiest option.
The type you choose will play a huge role in your pleasure.
You can also think about the visual appeal and pick the shape or color you like the most.
Will you use it solo or for partnered play? If you want to experiment with a partner, make sure you buy a toy that both of you will enjoy.
Avoid toys that are too cheap or use materials like jelly.
Tips on Using, Cleaning, and Storing Your Tongue Vibrators
If you want a toy that can swirl the milkshake and eat your cookie up all day, you'll also need to know how to use it properly. And even if you've used a standard vibrator before, it will take some time to get used to your clit licking toy. So try to do what I did:
Get horny as heck – For a fun start, just do what you normally do to get aroused! You can mess around with your partner, watch porn, etc. Everything will go much more smoothly once you're primed and ready to get eaten out!
Lube up – Obviously, oral play requires lots and lots of spit. The sloppier the better! So always keep a lot of lube on hand. Before you use your toy, apply some lube to the tip. However, if you're using a silicone tongue stimulator, use only water-based lube to keep the material safe.
Experiment – You should tease yourself by rubbing your tongue vibrator all over your neck, nipples, and buttocks before you dig in.
Time to go downtown! – When you're ready, move your tongue toy to your gushing kitty and explore your sensitive spots to see where it feels the most pleasant. You can make it lick your lips, munch on your clit, or even stick that tongue deep inside your vag! If you need some tongue-in-cheek action, you can also move your vibrator down south and make it tongue-fuck the hell out of your asshole!
Keeping Your Vibrator Clean
Just like any normal person would brush their teeth after eating a creamy pussy, you'll have to clean your vibrator after each use. My method is to use warm water and soap to clean most sex toys. However, since tongue vibrators have moving parts and all sorts of nooks and crannies, it's best to refer to the user manual and the specs. Granted, if you have a silicone vibrator, you'll most likely be able to clean it with soap and water. But, if your vibrator is not waterproof, it might require a special sex toy cleaner.
What's more, after cleaning, you should leave your vibrator to ventilate and air dry. You'll need to store it only once it's dry and you will have to keep it in a dark place with low humidity. The smartest tip here is to store your toy in its original box or use a special plastic container. Also, you should store it away from your other sex toys to avoid the transfer of bacteria.
Tongue Vibrators Industry Overview
As I said earlier, tongue vibes are some of the newest types of sex toys, and they've managed to truly turn heads over the past couple of years. Of course, oral sex is a whole other story, and it's safe to say that our ancestors were sucking on prehistoric pussies, cocks, and assholes since before they even knew how to talk or bathe themselves. Aren't you glad you're living in the current times?
Still, classic vibrators were invented sometime in the late 1800s and early 1900s, and there were actually quite a lot of steam-powered as well as electrical contraptions until rubber was invented. Eventually, someone figured out that aside from standard vibrators, people were looking for a way to get their oral sex needs taken care of with a single toy. The rest is history and it made me (along with millions of other women) very, very happy!
Right now, tons of manufacturers are trying to beat each other and design the ultimate tongue oral vibrator. Some of the biggest names you'll see are Fun Factory, Joel Kaplan, Utimi, LELO, Calexotics, Pipedream, Lora Dicarlo, Inya, Smile Makers, Sweet Vibes, etc.
Some of these manufacturers have caused a huge splash on social networks like Tik Tok, and we have them to thank for turning these sex toys into the latest sex trends. I expect to see a lot of innovation in the future, and I hope that we'll get toys that feel even more like the real thing. So think about lifelike movements, smart controls, and perhaps even some realistic sucking or moaning sounds! But for now, it's time to buy your new vibrator and make it suck out the sugar from your honey pot until you explode!
⚠️ Disclaimer: Our articles contain affiliate links. If you like our content and wish to support our work, consider purchasing your new sex toys through our links. For each purchase through our links, we receive a small commission but at no extra cost to you.
FAQ
Absolutely! Tongue vibes are great oral sex toys for men, and they can actually be a much cheaper alternative compared to buying an expensive blowjob machine. You can also use them for all sorts of kinky stuff with your male partner. For example, you can use the tongue to tease his balls, tickle his nipples, stimulate the head of his cock, or even press it up against his sphincter while you're pleasing him in other ways to blow his mind!
It's quite simple: standard vibrators have a thick long shaft. You can use them for deep insertion as well as external play. Conversely, tongue vibes have a moving shaft that resembles a human tongue. It is used to replicate the sensations of oral sex rather than penetration with a penis.
This will all depend on your preferences. So think about how you like to masturbate and how you like to cum. If you love direct clitoral stimulation, a clit licker will be the best choice. However, if you love to feel a tongue deep inside you, get a tongue G-spot vibrator. You can also try to find a toy that does a bit of both to see what you like more.
If you love to get your dirtbox eaten out, go for it! If not, you may be missing out on some grade-A asshole munching. However, you have to be aware of some hygiene risks. Most importantly, you should never move your ass-licking toy from your booty to your vagina. Avoid it at all costs because it can pose a health risk. If you want to experiment with anal play, it's best to get a dedicated tongue vibe for ass play.
Oh, yes! There are tons of unique and kinky ways to use this toy with a partner. For one, you can use it during foreplay to tease each other's bodies. Then, if you want to get really busy, a tongue vibrator will enable you to experiment with a threesome-like experience. For example, you can use your toy on your clit and let your partner penetrate you. Alternatively, you can use it on your partner's vagina or butt while getting penetrated by a cock or strap-on dildo. Seriously, these toys will give you tons of fantastic uses regardless of gender or sexual orientation!
They can be. The general rule here is that the stronger the motor, the louder your toy will be. But that doesn't apply to all toys. You'll be able to find some big and strong yet silent tongue toys out there. Others could be just too loud for you. The best way to find that out is to look into the noise ratings in the manufacturer's specs or the manual.