Apr/05/2023
Last Update: September 29, 2023
339
8 min read
Lelo Ora 3 Review: Cunnilingus Like Never Before!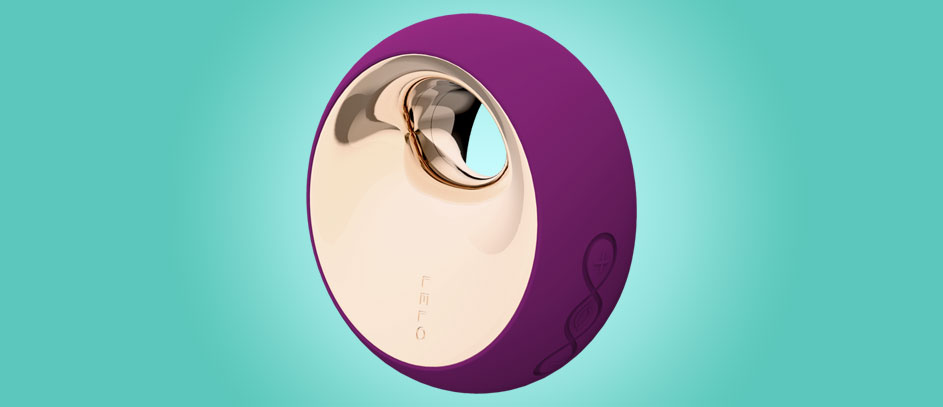 In the mood for some intense clit licking? Sweetie, if you're here, you already know that it's pretty hot to get your mango munched on by a warm, wet mouth. Sometimes, you just gotta sit back, spread the eagle, and have your partner feast on your vajayjay like the world's about to end! However, what's definitely not hot is stressing if your lover can actually get it right. It's true, their neck can get sore, jaw clenched, and they can even get some pubic hair stuck in their teeth. What if we could forget all about those awful clam diving disasters and buy a sex toy that can finally eat our pussies out just the way we like it? Well, stick around for my Lelo Ora 3 review and I'll test whether this premium tongue vibrator can pass the oral exam and lick my moon pie until I cream!
Lelo Ora 3: Lick It Up!
If you've followed some of the biggest sex industry trends, you might already know that it's practically impossible to replicate the precise movements of a human tongue and mouth with a toy. And this is totally understandable. After all, female anatomy isn't exactly simple. All of us have unique stimulation preferences based on our bodies and fantasies. While some toys for penis owners have revolutionized male pleasure, vagina owners certainly have a right to be skeptical. Well, my boyfriend is pretty much addicted to his Autoblow AI blowjob machine, but I can hardly say the same about some oral sex toys for women that I've tested.
Nevertheless, some companies such as Lelo have totally changed the game in the past few years. I've reviewed a few toys that lick and suck, most notably the Lelo Sila, and I was actually surprised by how far the technology has come to simulate the sensations of first-class cunnilingus.
Because of that, I was pretty pumped to start my ​​Lelo Ora 3 review. You know, nothing measures up to some intense oral, and my pussy was primed and ready to get licked by this tiny sex robot.
Yet, being horny isn't the only reason I'm doing this. Basically, a lot of oral sex toys out there still look like some cruel joke. Just check them out online and you'll see tons of products that seem like they belong in low-budget horror flicks. I mean, who the heck wants to buy a realistic life-size tongue and stick it in their vagina?! Not judging, but it's creepy and it's definitely not something that gets my juices flowing. And that's exactly why the Lelo's Ora 3 seems like the perfect oral sex toy for realistic clit licking sensations.
First Impressions
The Ora 3 is the third version of Lelo's Ora clit licker. Essentially, the Ora 3 is a vibrator but its design is unlike anything I've seen before. It features a round donut-like shape and a vibrating nub that rotates around your clit.
What's also neat is that it gives you 12 unique patterns that move the tiny pleasure node in different directions. The vibrations plus the movements will give you that special tongue-like sensation. It's all powered by Lelo's PreMotion vibration technology which I'll get into later. For now, the entire concept is pretty revolutionary. It doesn't copy human anatomy but instead focuses on giving you something that you haven't felt before. That's exactly what impressed me during my Lelo Ora 3 review.
Moreover, just like most other Lelo toys, you'll get a one-of-a-kind design and a premium build that simply screams luxury. A big thank you to Lelo here for not making the giant life-size tongue I mentioned earlier. But seriously, it seems that they put a lot of thought into making this toy look elegant while being able to adapt to everyone's bodies.
At first glance, the Ora 3 has a beautiful design. It's also compact while being easy to hold. While I haven't tried the previous iterations, research tells me that Lelo has redesigned the placement of the buttons and the vibrating node. That way, they made it even easier for you to hold and control the toy while using it. Plus, they boosted the power by about 25% while broadening the range of vibration intensities.
What's in the Box?
What I instantly loved about the Ora 3 is its compact size. It arrived in a classy and windowed black box along with some extras inside. That includes a charging cable, a lube sample, and a neat satin pouch for storage or travel. Not much else to say here except that this brand has some of the best packaging designs in the business. I always feel stoked when I open up a brand-new Lelo toy.
Check our Lelo Ora 3 360 Video on Youtube
Features
Premium clitoral stimulator
USB rechargeable
12 vibration settings
Materials: silicone and ABS plastic
Size: 3.2 x 3.4 x 1.7 inches
Running time: up to 1 hour
Charging time: 2 hours
Maximum noise level: 50 dB
Waterproof
Colors: blue, pink, teal
Ora 3 in Action
During my Lelo Ora 3 review, I instantly knew that this vibrator's circular ring shape is unlike any I've ever used before. Sure, I'm a sucker for big vibrating dildos and any other toys that give me that deep penis-in-vagina or penis-in-butt action, but the Ora 3 truly gave me an experience that I'll remember forever.
Here's why: there's a bit of a learning curve on the Ora 3 because it doesn't look like your standard vibrator. Its round shape has a hole in the middle. First, you have to get your thumb inside that hole (wink wink) to find the controls. If this sounds confusing, you'll get a diagram of it in the included manual so that you can see exactly what you need to do. Sure, it's not exactly romantic, but it's actually a lot more intuitive than I thought.
When you hold the toy through the offset hole, you simply need to push the power button and then select the vibration setting. Also, you get two controls to increase or decrease the speed.
During my test, the Ora 3 felt smooth to the touch and the whole thing actually looked like a masterpiece. The sleek silicone combined with the gold metallic detailing felt fantastic to hold against my body. But, the ergonomics of it all were the true standouts here. With your finger going through the middle of the toy, you won't have to fumble around and worry about accidentally dropping it just moments before your big orgasm.
💡 Pro Tip: To get those intense soaking wet sensations of oral sex, try to use a lot of lube to make everything seem even more realistic!
PreMotion Technology for Intense Tongue Licking
Earlier in my Lelo Ora 3 review, I mentioned that this vibrator uses unique vibrating technology to bring you the sensations of real oral sex. That was all made possible by Lelo's PreMotion Technology. Instead of only being a clit stimulator, the Ora 3 has a vibrating and rotating ball-shaped nub. It moves in circles and follows different patterns to feel like a real tongue.
Now, here's where this toy can be a hit-or-miss for you depending on your preferences. The pleasure nub is smaller than a real tongue. However, it has a small curve that fits perfectly against my clit. With enough lube and an open mind, the Ora 3 can truly feel like someone is going pearl diving on you.
However, you'll need some imagination to make it work because there's no suction effect. It's not going to feel like there's a real human going down on you, but rather a combined sensation of the node movement plus intense vibrations. To me, it was like getting my clit licked by a tiny robot with an insatiable hunger for pussy. The best part about it all is that you can switch up the patterns and even experiment with where you place the pleasure nub.
✍️ Scarlett Recommends: Your best bet is to explore and experiment with your entire clitoral area. While you can use the Ora 3 for direct contact, don't forget to try some indirect stimulation and play with your clitoral hood. It will drive you wild!
Materials and Size
When it comes to size, the Ora 3 is 1.7 inches thick and has a diameter of 3.2 inches. What's impressive here is that its circular shape is easy to travel with and use on the go. It's also easy to use during sex with a partner in various positions. In this case, the Ora 3 can make it feel like you're getting your clit licked while your lover is penetrating you, and for me, it created one of the most intense sensations yet.
Moreover, the material feels flawless and truly contributes to the luxury look of this toy. This little clit clicker uses Lelo's premium silicone material and I can't say enough good things about it. The material feels superb against my skin and it's also easy to clean. Plus, Ora 3 is waterproof, so you can take it with you in the shower for some extra sloppy oral action. Plus, the gold detailing is made from ABS plastic, which is also 100% body safe.
Power and Noise
Unfortunately, the feature that I liked the least in my Lelo Ora 3 review was the running time of this vibrator. It takes 2 hours to charge but only gives you up to 1 hour of use. Quite a shame because while Lelo's products are excellent, this really sucks. Even though the standby time is 90 days, I'd still like to get a little longer running time simply because this toy is not cheap. Still, what kind of makes up for that is the relatively low noise level (50 dB maximum). This is quieter than normal conversation volume and it will not be distracting or endanger your privacy at all.
Pros
One of the easiest vibrators to operate and control
Exceptional build, design, and feel
The pleasure nub and the ProMotion vibration technology feel ultra realistic!
Cons
Short running time
Not hands-free or app-controlled
It could take a while until you get used to it
Final Thoughts: Lelo Ora 3 Review
So what's the verdict for my Lelo Ora 3 review? Honestly, this is one of the best tongue vibrators I've tried and while it's not perfect, it more than makes up for some of its flaws with superior design and ultra-powerful clit licking sensations!
⚠️ Disclaimer: Our articles contain affiliate links. If you like our content and wish to support our work, consider purchasing your new sex toys through our links. For each purchase through our links, we receive a small commission but at no extra cost to you.
| | |
| --- | --- |
| 👉 Name: | Lelo Ora 3 |
| ⚙️ Features: | Tongue Licking Motions, PreMotion Technology, Waterproof, Quiet Operation, Ergonomic |
| 📁 Type: | Tongue Vibrator |
| 🛠️ Materials: | Silicone, ABS |
It will munch on your pussy like there's no tomorrow! The clit licking sensations feel super realistic.
5
The design is simply outstanding and it makes this vibrator one of the easiest I've ever used. However, it may take a while until you get the hang of it.
4
Plenty of different vibration patterns and a wide range of speeds. Unfortunately, there's no app control.
3
You can use the pleasure node to stimulate other parts of your body.
4
Editor's Pick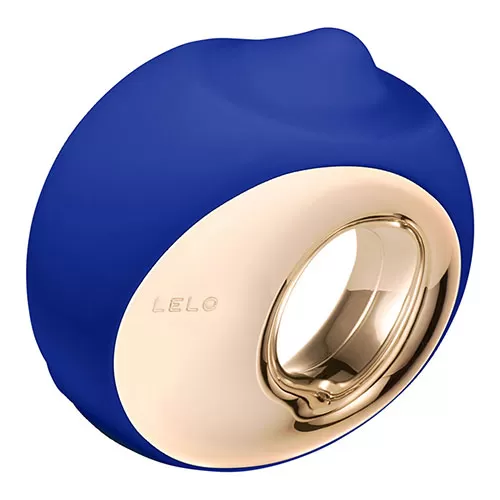 Lelo Ora 3
⚙️ Special features:
12 different vibration patterns
⚡ Power source:
Rechargeable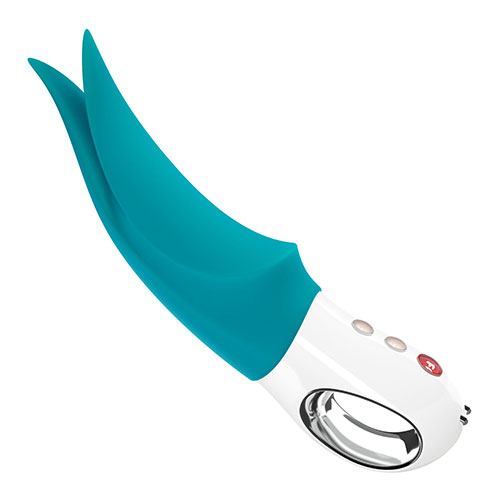 Fun Factory Volta
⚙️ Special features:
Easy-to-grip loop handle
⚡ Power source:
Rechargeable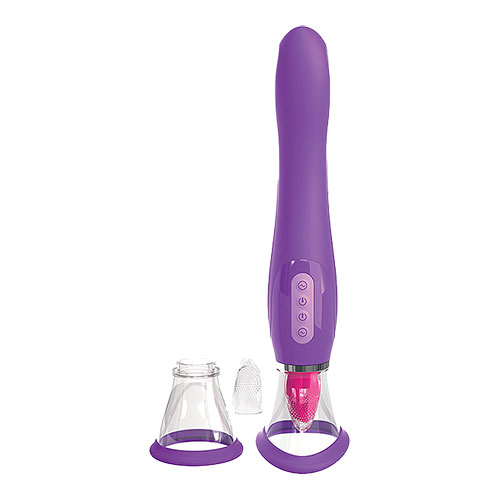 Pipedream Fantasy For Her Vibrating Pussy Pump
⚙️ Special features:
7 function licking tongue
⚡ Power source:
Rechargeable