Jun/20/2022
Last Update: June 26, 2023
978
22 min read
Best Discreet Vibrators In 2023 To Make You Cum Like a Secret Agent!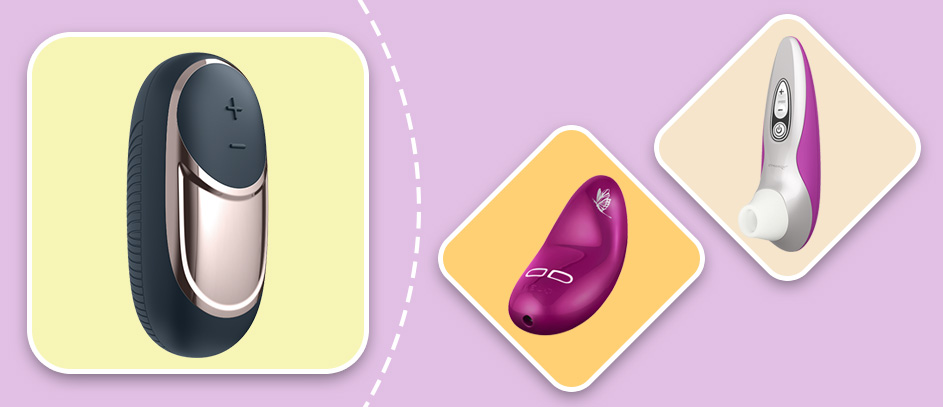 You know what they say: discretion is the better part of valor. And what's braver than hiding a cute, compact, and quiet sex toy deep in your honey pot and going about your day while you feel every inch of ultra-intense pleasure out in the open?! Sweetie, if you need something stealthy and portable, discreet vibrators will help you rub one out or cum with your lover on the DL while keeping the size and noise to a minimum! So if you wanna feel like a secret sex spy in public or if you don't want anyone to learn that you're a naughty little slut when the lights go out, I'll show you the best discreet vibrators of 2023!
Top 10 Discreet Vibrators in 2023: Tested!
As much as it's important to treat your kitty to all sorts of juicy pleasures, you don't always want your whole house to know that you're taking a well-deserved timeout with your vibrator. Everyone can recognize that special "bzzz" noise, right? Well, nothing kills the mood like the fear of knowing that your roommates or your cat can hear you! If you don't want your sex toy to sound like you're fucking a jet engine, I'll show you the hottest silent and discreet vibrators I've tested in 2023! While my top picks have super quiet motors and portable designs, they're still powerful as hell, and they'll literally buzz your brains out!
Discreet Vibrators: Silent but Deadly!
"I'm one of those girls who believes sex should be loud, rough, and sweaty. Personally, I don't really give a shit if someone overhears me choking on Richard's big fat cock, but…! Sometimes, silence is the answer!"
Not every girl out there likes to stretch out her holes with massive BBC dildos, extra-wide butt plugs, and huge vibrators while screaming like a little fuckpig. So whether you're going on a trip and you need a portable sex toy, or you want an extra silent toy to not disturb your grandma at home, discreet vibrators are some of the smallest and quietest sex toys out there. But how can you find the perfect toy that you can secretly play with and cream hard without anyone knowing!
Undercover Lover: All About Discreet Vibrators
While I love to end most of my evenings with a loud bang, not every girl out there is comfortable with noisy sex toys. That's where discreet vibrators come in! They'll keep you cumming for more, and the only thing that could give you away is if you end up screaming too loud! But seriously, these bad boys are termed discreet due to their silent operation. Plus, they have a subtle appearance and compact size.
Almost always, discreet vibrators have non-conventional designs. They don't resemble the look of standard vibrators or real veiny cocks. Since the goal is to stay inconspicuous, they often look like lipstick cases or pens. Stealthy! Some could even resemble eggs, a hairbrush, jewelry, and other shapes that don't look like a full-sized orgasm machine. That way, no one will notice that the lipstick case in your purse is actually a vibrator in disguise! Just sneak off during boring office meetings or high-school reunions and cum in peace!
Quiet Operation, Adorable Designs, and a Lot of Power!
I'd like us all to give a big round of applause for the sex-tech masterminds! The latest discreet vibrators use the power of new technologies to provide you with subtle, quiet, and ultra-powerful sex toys. They're some of the most brilliantly designed toys ever invented! Basically, their most important features are their tiny sizes and quiet motors. The special motors enable them to run quieter while still providing heaps of power.
For instance, a standard vibrator puts out approximately 60 decibels of noise. But, silent vibrators cut that number in half. By buzzing at 30 decibels, your discreet vibrator can stay super quiet. What's more, it's worth noting that most discreet vibrators are rechargeable. That's because options such as rechargeable batteries or attached cables can rattle and contribute to the noise floor. It's yet another reason why these toys have minimalistic designs. That is, you won't notice any cock shaped heads, big balls, or other anatomical features here. No, ma'am! You'll get a smooth and unique shape along with much sleeker and softer materials compared to other sex toys. All of that helps to muffle the motor and cut the noise down.
Who Are They For?
Sex is much more fun when it's a secret, correct? Well, whether you have a whole chest full of naughty sex toys or you're looking for your first one, I believe that every woman out there should try a discreet vibrator. Trust me: these babies have so many uses! Plus, they'll actually appeal to a lot more women and couples than you thought.
Obviously, these toys are perfect for ladies who respect their privacy and don't want their neighbors to eavesdrop on them. However, they are also the best toys for all women who are intimidated by bigger vibrators or dildos. What's more, not everyone can cum with the sound of a vibrator. Sometimes, the noise turns into an annoying distraction.
Last but not least: traveling and public sex! A ton of people are using discrete vibrators, wearable panty vibes, or even remote control silent vibrators to have strong orgasms in plain sight or experiment with risky public play!
As you can see, discreet vibrators are some of the most convenient sex toys out there. They are made with the female body and orgasm in mind, and they can appeal to many women while offering plenty of kinky uses. Speaking of kinky, they'll still give you enough power to make you squirt like freaking Asa Akira!
Types of Discreet Vibrators
One of the things that could make it really difficult for you to decide is the staggering amount of variety out there. Discreet vibrators come in so many different styles and shapes! While the designs of small vibrators make them stand out from other toys, the choices are truly endless. So let me break down the main types and make it easier for you to get those sneaky orgasms ASAP!
Mini Vibrators
Mini vibrators are smaller versions of traditional vibes. The most popular of these is the iconic bullet vibrator. It's short, thin, and sleek. That makes it perfect for all kinds of clit play. But, there are many other mini vibrators out there. Some of them are fully silent, while others can get quite loud.
Usually, mini vibes will have a length of around 1 to 3 inches. They'll give you a variety of speeds to play with, along with soft or rigid materials. Some of the most fun mini vibes I've tried were clit stimulators and lipstick vibrators. Others were small G-spot massagers, rabbit vibes, wands, wearable vibrators, and even anal vibrators.
Granted, a lot of different toy types fit into this category. The only thing that truly sets it apart is the fact that all mini vibrators have a compact size (duh!). That makes them ideal for public play or super stealthy (and practical!) sex at home.
Moreover, these toys are some of the best for quick and easy solo sessions. They'll truly work wonders to help you focus on your orgasm! While most are designed for external use on your pleasure nerves, some are insertable. They're designed to target your internal sweet spots just right. Even better, due to their compact size, they're ideal for foreplay or sex with a partner in all kinds of positions. There are several other designs to mention here. That includes finger vibrators, love eggs, clit suction toys, and even mini massagers that look like a keychain.
Quiet Vibrators
While the previous type includes various portable designs, I've tried some that were too loud to use in public. For example, bullet vibes and mini massage wands with removable batteries can still be as loud as standard vibrators. Therefore, if you need discretion and silent operation, it's best to go with a quiet vibrator.
Generally, quiet vibrators can give you all the benefits of mini vibes while remaining fully silent. I've already mentioned several things that can be done to vibrators to make them quieter but still retain their immense power. That includes thicker and softer materials, smaller built-in motors, and super stealthy designs.
Regardless, quiet vibrators are designed to be fully quiet so that no one in the world will hear you. Some examples include clit suction vibes, silent vibrating cock rings, dildo-shaped massagers, lipstick vibrators, wearable vibes, and so on.
Remote Control Discreet Vibrators
If you want to turn up the fun even more with your quiet vibrator, some of the newest models will provide you with remote-controlled pleasure! These types come with an external remote. You can use it to subtly control your orgasms in public or in the bedroom! Moreover, some of these small vibrators are app-enabled. This saves you the trouble of using an external remote. It also gives you an unlimited wireless range along with extended control options. By far, these are the best options for kinky public play and long-distance relationships!
Other Stealthy Mini Vibes
There are many other models out there based on the stimulation type you prefer, the look, and the way you want to cum:
Silent vibrating dildos – These vibrators look like small dildos. They are intended for women who love sex toys with phallic shapes. They'll usually come with a protruding cock head and a curved shaft to give you a deep dicking!
Wearable vibrators – Wearable vibes include all kinds of toys that you can strap on or push inside and wear on your body for long periods of time. Some examples are panty vibrators, butterfly vibes, love eggs, and so on.
Micro vibrators – Micro vibrators are the smallest sex toys out there! They are smaller than your fingertip! You can use them for extra-precise clit, nipple, or anal stimulation.
Vibrators in disguise – Some of these discreet vibrators are shaped like necklaces, lipstick cases, pendants, perfume bottles, car keys, or even rubber ducks. No one will know what you're hiding in your purse!
Discreet anal vibrators – If you want to have a classy anal romp without anyone knowing, look no further! Discrete anal vibes, butt plugs, beads, ass rimmers, and other rectum massagers can drill the hell out of your butthole and train you for bigger things!
Multi-purpose stimulation – Dual or triple stimulators can service several holes at once! This is the best type for intense blended orgasms and kinky stimulation!
What Are Some Features That You Should Look Out For?
Vibrator tip – Since discreet vibes come in many different shapes, looking at the tip will give you some idea of the kind of stimulation you'll get. A lot of portable vibes are thin and slightly pointy. Yet, you can still use the entire shaft to pleasure your labia. Others are wide and round. These will deliver deeper waves of vibrations to your pleasure spots.
Textures – Most small vibrators come without a texture. They'll usually include a smooth shaft. Nevertheless, some rounder shapes could include swirls, dots, or beads for even more intense tingly sensations!
Suction – What if you want to get your pussy eaten out all night long? Well, some discreet suction vibrators can create a unique sucking effect on your clit and labia. It's one of those weird-but-good sensations that you can only get with this type of sex toy!
Warming – A lot of small vibrators come with warming features that automatically heat up the body of the toy for the hottest experience ever!
Waterproof – Don't miss this one! Waterproof vibrators are the easiest toys to handle since you can fully clean them. Also, if you want to use your tiny vibe in the shower, make sure it's waterproof before you get wet.
Long-distance – Some app-enabled mini vibrators provide various options for long-distance play. They are ideal for couples who live miles away from each other. However, it's also fun if you want to wear your toy to work and make your lover stimulate you remotely!
Apps – If you can pay extra, app-enabled noiseless vibrators can truly take your orgasms to the next level! The apps feature custom patterns, smart monitoring, music syncing, or even VR compatibility to take your naughty adventures into the future!
Wearables – Some small vibrators come with straps, chains, and loops. These options make it easier for you to use your toy with your hands or wear it over your crotch.
What Are the Most Common Discreet Vibrator Materials?
Most small vibrators will give you either a hard or soft texture to caress your pussy with rubber-like sensations or pummel your clit with tough and precise pulsations! But, the way your toy feels against your body will all depend on the materials.
Generally, the safest and most popular materials for discreet vibes are ABS plastic and silicone. For some mini bullet or lipstick vibes, you could also encounter metal. Fortunately, you won't run into any horror scenarios with your holes or skin if you choose a toy made of those materials. Silicone, ABS, and steel are body-safe, which means no allergies or nasty rashes. But they're also non-porous. That makes them germ-resistant and easy to clean. What's more, those materials can determine the overall noise factor as well as the way you cum.
For example, silent vibes might use thicker silicone as opposed to ABS plastic. Thicker silicone will provide a unique sensation while minimizing noise. You'll be able to feel the pulsations at a lower frequency. That way, you can stimulate a wider area of your body. Conversely, some metal or ABS vibes could be louder due to the harder materials. However, their vibrations might come off as much more precise.
Buyer's Guide: Time for a Super Secret Shopping Spree!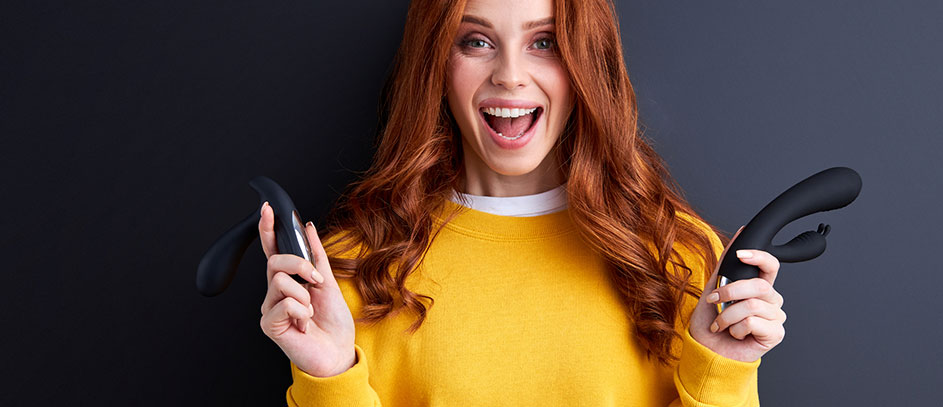 Whether you want a gentle and adorable sex toy that looks like a piece of art or a kinky clit milker your boyfriend can force against your cunt to make your bitch ass cum on command, I've got you covered! Here are several useful features and even some red flags you should look into before you spend your cash:
Why Should You Get a Discreet Vibe Over a Standard Vibrator?
What I haven't mentioned so far is that small vibrators could cost about the same as a traditional vibrator. Some could cost even more depending on the manufacturer. That's because they use original noiseless designs with premium materials. Granted, the biggest difference between standard and discrete vibes is the size. While the large length of standard vibrators could be better for some deep vaginal or anal acrobatics, tiny and portable vibes offer some advantages over their bigger bros:
More precision compared to standard vibes.
They are way easier to use and handle, especially if you have smaller hands.
Discreet vibes are all about portability, baby! You can easily pack them and take them with you without carrying a huge floppy dong in your priceless Louis Vuitton handbag!
They are much quieter.
If you are extremely sensitive or you have trouble reaching orgasm, discreet vibes will make it easier for you to target your sweet spots. Also, they are much less intimidating compared to standard vibes. They'll let you focus on your orgasm better!
They might look less intimidating to your male or female partner, especially if they don't want to use a penis-shaped toy in the bedroom.
How to Tell if Your Discreet Vibrator Is Worth It
So how can you know whether the discreet vibrator you're looking at really has what it takes to please you?
Which Hole Do You Want to Please?
You'll need to think about what sorts of adventures you want to try with your toy, as well as the body parts you want to stimulate. Sure, you can get yourself an all-purpose pleasure tool, but it's better to think of specifics. So try to find a perfectly designed vibrator for your needs! Luckily, you have so many options! That includes:
Juicy clit play – You could look into discreet panty vibrators, lipstick vibes, mini bullet vibes, or even thicker and rounder egg stimulators.
Intense vaginal penetration – If you need a powerful womb raider, get a small vibrator designed for penetration. That includes slightly bigger or thicker dildo-like vibrators, small G-spot massagers, or even insertable massage wands.
Awesome anal play – The best option for your butthole is a tiny and portable vibrating butt plug or a vibrating dildo with a flared base.
Kinky penis games – For mutual pleasure, cock rings with attached discreet vibrators are the best option! However, if you want to milk your lover's cock, you can use just about any discrete vibe. For naughty male butthole fun, you could get a discreet prostate massager or vibrating plug.
Shape and Size
My best tip for you here is to find a decent balance between the size and the shape. For example, if you need something extra precise that can tease and massage your whole body, it's best to look for a pointy discreet vibe with a straight shaft. This kind of shape will work wonders on your nipples and your crotch. However, what if you're sensitive to direct stimulation? In this case, it's better to get a rounder and wider toy.
Moreover, in terms of size, you truly can't go wrong with any portable vibe that's 1 to 3 inches long. You can also get discrete lipstick vibes and other types of mini massagers that are around 5 inches long. Choose anything above that size, and you'll be looking into standard sex toys like classic vibrators or realistic dildos. And that would totally defeat the purpose of a discrete vibe! Even if you love big cocks, remember that these tiny toys will provide heaps of pleasure with just a few inches!
Power Options
As mentioned, most silent vibes come with built-in rechargeable batteries. However, some of these toys can include removable batteries. Still, in this day and age, I'd advise you to skip the battery-powered variants and head straight for a quality rechargeable toy. However, there's nothing wrong with removable batteries. But you'll need to replace them all the time, and they'll likely die on you just when you're about to cum. A USB-rechargeable discrete vibe will provide a longer run time of around 1 to 2 hours, and the charging time will be approximately the same.
Controls and Settings
While your new discreet vibe will be able to give you the same intensity level as a classic vibrator, you should always look for a toy that offers intuitive controls and a range of various settings. Most manual vibes will give you a button or two to configure the speeds. Conversely, remote-controlled noiseless vibrators will offer a lot more options, patterns, and strengths.
Still, if you only want a manual vibrator, look for one that lets you switch speeds as well as patterns. That way, you'll never get bored. You'll be able to zap your kitty with all sorts of unique tingles!
Noise
Remember the decibel rule I told you about earlier? The quietest vibrators will output around 30 dB of noise. No one will be able to hear them, especially if you put them in your panties and cover them with layers of clothes. So if you truly don't want anyone to know what you're up to, choose a silent vibe. Other vibrators that generate 50 to 60 dB (regular talking volume) can still be fairly quiet. They are a great choice if you don't have any roommates or if your house has thick walls. But, if you want to experiment with public play or if you don't like the sound of louder vibrators, 50 to 60 dB could be a bit too noisy for you.
Do You Want It Soft or Hard?
While hard is always the answer when it comes to real cocks, vibrators are a lot different. As I said, the materials and textures will make all the difference. So think about your naughty bits and your sensitivity. If you need strong and precise stimulation, go for an ABS or metal vibrator.
However, if you need softer and smoother action, silicone is the ideal material. In most cases, I prefer to recommend silicone for beginners. It's a highly versatile material that doesn't require much maintenance and lasts for a long time. But, if you know that you want it harder, a quality ABS vibe is a great option for newbies who want to fizz their brains out with mind-blowing pulsations!
How Much Should You Expect to Pay?
Earlier, I said that some discrete vibes could cost about the same as classic vibrators. That's why you should think about where you're putting your money and whether or not you truly want to pay extra for some special features. On average, expect to pay around:
$30 to $50 – This is the usual price range for a basic, no-frills portable vibrator. You'll still be able to find various unique shapes and types in this range, along with multiple speed or pattern settings.
$50 to $100 – For this price, expect to get some extra features and excellent designs made by famous brands.
$100 and up – This price range is usually reserved for luxury vibrators and next-gen toys that you can configure via apps. Paying this much will get you a lifetime toy with tons of features, premium materials, and flawless functionality.
Do:
If you are buying an ABS plastic or silicone toy, make sure it uses genuine medical-grade materials as opposed to some alternatives. The way to know this is to skip the no-name brands and get your toy from a reliable manufacturer.
Do some kinky research on your own! There are tons of video, erm, demonstrations where girls use and review all kinds of discrete vibes on their own and with their lovers to cum hard. That will get you in the mood to party even more!
Don't:
Just because they're small, it doesn't mean they're cheap. So avoid knock-off vibrators that cost $10. They're likely to break after a few uses and some even unsafe materials.
Avoid vibrators made of toxic materials like rubber or jelly.
Tips on Using, Cleaning, and Storing Your Discreet Vibrators
We all know that, even if you get the most discreet vibrator out there, cumming hard can get messy! If it's your first time using a vibrator, you'll need some advice on how to use and clean your toy correctly to keep it running for a long time.
To ensure everything goes smoothly, I'd advise you to start off slow. Never use your vibe at the highest settings from the beginning! It could tickle you too much or even make you feel a bit numb. Instead, get soaking wet first and take your time. Then, rube one off with your vibrator externally first to get used to the sensations. And remember, a little lube will cum a long way!
Also, the way you use your small vibrator will depend on the shape and type. For example, if it's a wearable toy, check the instructions to see how you'll put it on. It's app-enabled — you'll have to connect it to your smartphone first.
Lube Advice
Did you know that you can damage your toy with the wrong lube? A lot of people are unaware of this. It's one way to actually break your new vibrator! If you don't want to think too much, the best choice is water-based lube. It plays with all types of sex toy materials and clothes fabrics. Remember that if you get a silicone vibrator, you should never use silicone lube. It could outright melt your toy! However, if you buy an ABS or metal vibrator, you'll be able to use any type of lube.
Cleaning and Storage Tips
Just cuz you're a dirty girl, it doesn't mean your vibrators should be too! The best way to keep your vibe safe and to avoid all kinds of germs is to clean it right when you finish. I know, I know, this can be exhausting after two or three orgasms, but you'll get used to it quickly. There's really nothing to it except for using water and some light soap. Just rub your toy clean and go back to bed! However, if your toy is not waterproof, you should never soak it.
Instead, use a damp cloth and gently rub the lube and other juices off. If your toy is soakable, you can submerge it and quickly clean it while covering every little detail. And when it comes to stashing your tiny sex machine away, just find a nice dark place to leave it. For example, you can leave it on your bedside table, but make sure that the entire toy is dry beforehand. Also, keep it inside the original box or carrying pouch. That will keep your toy away from dust and germs, and it will also make it last forever. Easy peasy!
Discreet Vibrators Industry Overview
While discreet and small vibrators have been around for a few decades, most of the older models pale in comparison to today's choices. But how did it all begin, and what kinds of toys should we expect to please our holes in the future? Well, just be glad that you don't have to drill your pussy with a 40 lb vibrating massager from the Victorian era!
History of Discreet Vibrators
Did you know that some of the first sex toys were made more than 30,000 years ago? However, in ancient times, the choices weren't as stealthy as today. Some of the earliest sex toys were dildos made of rock, ivory, and wood. I guess this shows us just how hardcore our prehistoric ancestors really were!
Of course, vibrators came much later with the invention of electricity. For a long time, we've been told that the first-ever vibrators were used to treat a condition called "female hysteria". This condition included symptoms like anxiety or insomnia. The legend says that vibrators were invented in the 1800s to treat those symptoms with intense orgasms. Plus, there is evidence of various electric and steam-powered vibrating devices. However, just like Cleopatra's ancient buzzing gourd of bees, this was yet another sex toy myth. It's much more likely that the earliest vibrators were designed to alleviate back pains or treat other physical conditions.
In the 1880s, a doctor created a muscle massager that was nearly 40 lbs heavy. It was one of the first vibrators used for sexual purposes! And in the early 1900s, you could buy vibrators off the rack in pharmacies and department stores. They were mostly advertised as personal massagers. But soon enough, women started to use them for naughty pleasures of the flesh.
Those early vibrators all had non-phallic and discreet designs, so I guess we could say that it all started back then. However, discreet mini vibrators first became popular in the 1970s. Some of the earliest examples were tiny magic bullets which were famous worldwide.
The Future of Discreet Vibrators
Aren't you glad we're living in an era where sex toy makers constantly update their designs and use next-gen tech to make us cum like we're living in the future? Well, that's exactly what's happening now. The link between sex toys and technology has never been stronger, and people are increasingly looking for cutting-edge sex tech to make you cream hard.
Some brands, including We-Vibe, Satisfyer, LELO, DAME, Hot Octopuss, Lovehoney, Happy Rabbit, and more, are truly knocking the cream right out of our pussies today! Those companies keep inventing smaller, quieter, and hella powerful discreet vibes with app integration, smart sensors, long-distance features, superb textures, and much more. In the future, we can expect to see various improvements concerning the remote control features, noise dampening, new shapes, and various VR or even AI options. But for now, it's time to order your discreet vibrator and get wild!
⚠️ Disclaimer: Our articles contain affiliate links. If you like our content and wish to support our work, consider purchasing your new sex toys through our links. For each purchase through our links, we receive a small commission but at no extra cost to you.
FAQ
You can travel with any sex toy, but discreet vibes are the most convenient. They're small and super portable. Some of the best travel toys are lipstick and bullet vibrators. You can carry them in your purse or bag wherever you go. No one will ever notice! Also, you can even take these small vibrators on an airplane to spice up your vacation! Just remember to pack it safely and bring a bottle of lube with you!
Most discreet vibrators contain built-in motors. They turn electrical energy into motion. The technology is quite similar to what you'd see in various other electrical appliances. However, most engineers who make motors for other purposes (e.g., kitchen appliances) always try to minimize them to avoid excessive wobble. For vibrating sex toys, special ERM motors are used to emphasize the vibrations but also to keep them precise and controllable.
That depends on what you want to achieve. If you want to go out in public and cum all day long, you could get a sexy pair of discreet vibrating panties. If you don't want to attach your toy to your body, but you want to be able to take it out whenever you want and use it for masturbation or intense sex, look for other options. That includes a mini vibrator, bullet vibe, lipstick vibrator, etc.
Generally, there are no health risks if you want to wear your vibrator for a long time. But, you should only use it for as long as the batteries are charged. That could include anything from 1–2 hours to up to 6 hours. However, when the power runs out, just pull it out, clean it, and recharge it.
Most discreet toys are not specifically designed for anal penetration. That's because they don't have a base or stopper, which could prevent them from fully entering your ass. You can tease your butthole externally for as long as you like with your mini vibe. However, you shouldn't try to stick it inside. If you're looking for a portable vibrator that you can wear in your booty, it's better to choose a discreet vibrating butt plug or any other anal-friendly toy with a flared base.
Nope! This is yet another common myth that's constantly linked to vibrators and other sex toys. In fact, studies have shown that, despite popular belief, vibrators do not cause long-term nerve damage. But, I understand your concerns since vibrators can make you feel slightly numb down there. If your vibrator makes you numb after you cum, note that this is a perfectly normal reaction due to the pressure and speed of the pulsations. If you use your vibe intensely, you could feel numb for a few hours after your session, but the feeling will pass very quickly.