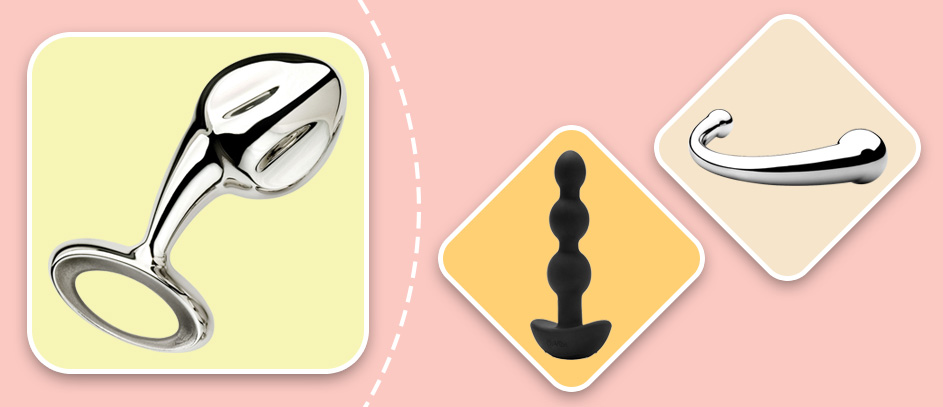 As much as I love surprise buttsex, it's always better to cum prepared. And no, you don't have to shove a massive cucumber up your tush for your next rectal rampage! Instead, pound and stretch your tight ass with some specially designed toys for all your anal adventures! Yup, anal toys are the holy grail of butt lovers, anus worshippers, and naughty little ass slaves! They symbolize sexual freedom and they… Well… They're just things that you stuff up your asshole to make you feel the butterflies balls deep!
So whether you want to try an anal sex toy to pop your backdoor cherry or stuff your butthole silly in the confines of your dungeon, I've got your ass covered! So let's drop the soap and get busy!
Top 10 Anal Toys in 2023: I Shoved All of 'Em Inside My Tight Pooper!
Great news, everybody: if you have an asshole (not sure you'd be alive if you didn't), you can fuck it! You can spread it open and pretty much shove any anal toy up there for a wild tailpipe inspection. Whether you're a total bottom virgin with the tightest bum in the world or a filthy ass whore who enjoys intense sodomy all day long, there's something for everyone out there! And trust me, this dirty girl's fudge hole has tested more anal sex toys than you know! From classic anal dildos and butt plugs to rumbling vibrators that drill you until you cream, I'll show you my top 10 anal toys below!
In Through the Outdoor: The Perfect Rendezvous With Your Caboose
"No means yes, and yes means anal!!!"
If you've seen the videos, you know what sort of weird shit people can stuff up their poop chutes. Heck, you probably even thought: "Why can't somebody just destroy my asshole just like the girls in the movies already?!?!" Well, it's not that simple, missy!
Sure, every little girl or boy out there can experiment with their tush and stuff it full of all kinds of foreign objects. But to do it right, you have to realize that playing with your chocolate starfish is a delicate art. Oh no, it's definitely not a game and it's certainly not for anyone who doesn't have the stomach for it.
Actually, after years of shameless anal exploration, I've learned the hard way (for better or worse) that you should choose your butt toys carefully. I've come across some downright crappy (figuratively) toys and I've had some true gems in my ass that were able to do things to me that men can only dream of.
What I'm aiming at here is that shopping for anal toys is a deeply personal practice. Someone's hottest toy is another's shittiest nightmare. Bummer! You definitely want to get it right the first time. But what if you've never even tried to dip your fingers in your brown-eye-pie? What are some things you'll need to know about anal sex toys before you begin?
Let's Start from the Bottom…
Look, I'm sure this is not the type of anal training you had in mind, but someone has to give you the facts. If you didn't know, all things anal were once considered to be a huge taboo. While sodomy is still illegal in 12 U.S. states, it is not as "weird" as it used to be. And obviously, in the porn world, everyone and their grandma are stuffing their sphincters full of all kinds of anal sex toys. What a time to be alive!
Yet, if you've never been "back there" before, I get why some anal toys might look intimidating to you. Who in the hell would want to stuff their fart box with a 10-inch BBC dildo? Well, to some ladies, that dildo could look like a thick, veiny, and absolutely delicious black treat. It could make them (myself included) soak their panties and drool. And to others who are not that experienced, big anal toys could look painful and awkward.
The beauty of it all here is that you don't have to suffer through endless hours of painal if you're not into it. There's truly something for every butthole out there. You just need to find the hottest and most comfortable toy for your tight caboose!
But wait, what makes anal toys different from any ol' dildo or vibrator? Well, I'm glad you asked before going digging into it on your own. It's all about your delicate rectal canal, your safety, and your secret fetishes between the cheeks!
What Goes In, Stays In!
Still confused? Let me put it for you delicately: ass toys are sex aids that are specially designed to fit inside your rear end. Once they're up there, they'll stimulate thousands of tiny pleasure receptors. Most of those pleasure nerves can travel straight to your G-spot to supercharge your orgasms. Others prefer big anal toys for the unique sensation of intense pressure that feels like you're getting stretched out and filled up like there's no tomorrow. And do I even need to mention the elusive A-spot orgasm? Well, you'll never know until you try!
Anyway, there are literally more types of anal gizmos out there than I can mention. That includes anything from cute and tiny training butt plugs for women to inflatable ass dildos that expand inside you like a balloon. Oh, and not to mention all the other types of anal gadgets for kinky boys who want to party with their prostates.
However, regardless of the type, anal sex toys are also designed with extra attention being paid to the safety of our little tushies. After all, the plumbing down there is super deep. That's why I wouldn't usually recommend standard sex toys that you'd use in your pink punani or shove deep down your throat.
Typically, most anal toys have some sort of stopper, bead, realistic-looking testicles, or a loop at the base. This design feature prevents them from getting stuck up there. Believe me, it's a real lifesaver and it can rescue you from an awkward trip to the emergency room. All in all, the #1 rule for pushing toys up your hindquarters is to always find those that are specially designed to suit the task. After that, you can go ahead and look into all the fun, kinky, and outright filthy options that are out there!
Types of Anal Toys
Regardless of if you're looking to decorate your secret sex dungeon full of all kinds of kinky anal sex toys or you just need the perfect one to prime you for anal sex, you should carefully check out all the different categories before you pick your favorite weapon of ass destruction.
As I said, it's all about your turn-ons, kinks, and erm, acrobatic abilities. However, it's always good to narrow down the options and get an idea of what's out there.
If you're a curious backside newbie and you want to experiment, you could choose just one anal toy that's great for beginners. Then, train yourself until you're ready for bigger things. Simple, right? Alternatively, you can get a bunch of different anal toys with all kinds of shapes and styles to terrorize your butthole with your wildest fantasies!
And if you look around, you'll realize that shopping for these toys is like an all-you-can-eat butthole buffet with various shapes, colors, sizes, materials, and a ton of orgasmic features. So let's have a look at the most popular types of anal toys:
Anal Dildos
I love the smell of anal dildos in the morning! They are the most classic anal toys and they're used by people of any gender or sexual orientation. The instructions are pretty simple: you put them up your pooper and receive sexual satisfaction in return.
However, there's a lot to look into here. Basically, anal dildos are soft cock-shaped toys that are designed for super-pleasurable adventures down South. For me, the best thing about an anal dildo is that it looks like a real throbbing cock. It's also firm yet quite bendy and you can use it in all sorts of wild positions.
In fact, a realistic anal dildo will give you all the visual and tactile details of a real jizz cannon. That includes protruding veins, a delicious cock head, and a big set of balls at the end. In this case, the balls and the base of the shaft function as a stopper so you'll have nothing to worry about. These types also come in various colors, sizes, strap-on attachments, and more.
Butt Plugs
Butt plugs are everyone's favorite anal sex toy! They look super cute from the outside while making your glutes look extra hot, similar to what a nice pair of heels does to your legs! But on the inside, it's a whole other story.
These bad boys are designed to plug your butt and stay there until you remove them! They have a cone or tear-like shape that spreads you out nice and wide. That's why they're the perfect training tools.
Yet, they're also something I reach for first when I want Daddy to punish my hole and I'll do all kinds of nasty things to him to persuade him that I've been a good girl.
For real, you can never have enough butt plugs and the good thing here is that they're available in all kinds of different variants. That includes small silicone plugs, huge metal plugs, inflatable models, vibrating plugs, and even animal tail butt plugs that turn you into a naughty little fox or obedient puppy!
Anal Beads
Ah, the wonderful world of butt beads. Ass beads can be some of the best beginner options, but you can also use them to make your worthless little shitter gape like you're shooting scenes for Evil Angel. These things are all about multiple beads or balls aligned along one string. The balls come in different sizes. Their width increases as you push them in one by one. This makes them a fabulous tool for training, dilation and stretching.
Also, a lot of people love to pull them out one at a time just when they're about to cum. Trust me, this can make your pussy gush like a freaking volcano. You can find molded silicone beads, steel beads attached with a string, vibrating beads, extra wide and long beads, super hard glass beads, and so on.
Anal Vibrators
These are definitely the droids you're looking for! Vibrating anal toys are an entirely unique category of ass toys that deliver extra precise pulsations to hit your sweet spot.
Most vibrating anal toys are designed just like standard vibes while others have curvy shapes and precise tips to hit your A-spot or milk your male lover's P-spot. You'll be able to find anything from classic anal vibrators with a straight shaft to non-phallic toys that resemble curvy massagers or vibrating eggs.
Either way, these toys will give you powerful internal or removable vibrating motors. They'll also include a range of speeds, patterns, and strengths to fulfill all your rear-end cravings. Just use them to gently massage your tight sphincter before you spread it wide open and push your fake vibrating cock deeper and deeper!
Anal Douches and Anal Enemas
If you're going to turn anal play into a daily or weekly activity, why not invest in a set of anal douches and anal enemas to keep your booty clean?
Obviously, cleaning all that shit up manually is a hassle. That's where anal enemas come in. They can flush you out fully and empty your colon. That way, you'll make sure there are no mishaps while you're pounding your badonkadonk. It's weird, but most pornstars do it! And let's not forget that tons of people are obsessed with enema fetishes, milk enemas, anal squirting, and so on. It may not be your thing, but I'm just putting it out there in case you need ideas on how to spice up your marriage.
Anal Probes
Anal probes are some of the most criminally overlooked anal gizmos out there. They are small, thin, and quite long. Some have straight and precise tips along with vibration and they'll hit the spot just perfectly every time. Others have a swirly or beaded texture that makes them feel similar to anal beads.
However, when push comes to shove, anal probes are some of the dirtiest toys you could use in during fetish play. They can be as long as an arm or an alien tentacle. Also, they can bend in all angles to make you feel like you're an innocent anime girl undergoing an expert colonoscopy from Doctor Octopus. What's not to like?
But Wait, That's Just the Beginning!
In case you didn't find what you're looking for or if you need something to give you even dirtier, filthier, and the most disgusting anal fun out there (mmm hmm!), there are plenty of other types you can choose:
Anal strap-ons – Wanna peg your male slave's boy pussy or dominate your lesbian lover? Anal strap-ons will put you in charge. They'll give you a massive fake dick that you can use to plow any willing or unwilling asshole in the neighborhood!
Inflatable dildos and butt plugs – You can pump these hollow toys up with a hand bulb and wait as they inflate inside you to stretch you out to the max!
Anal hooks – These are by far the hottest looking and most practical BDSM toys! You can use them to turn your slave into a filthy animal. Just hook their ass up to all sorts of bondage gear, erotic furniture, or ropes. Now, make your slave squeal like a fuckpig!
Prostate massagers – Do prostate milking and forced orgasms sound like poetry to your ears? Well, baby, if your male lover loves huge prostate orgasms, look no further than these intense vibrating massagers!
Double penetration dildos and vibrators – If you want to double up or take two dicks in both holes or even double stuff your cornhole with two dicks at once, definitely consider a large anal toy such as a DP dildo.
Anal fantasy dildos and extra-large dildos – And now for something insanely brutal and massive! If you won't settle for anything else than fucking a big monster cock with your butt or if you have a particular fondness towards anal dildos that look like aliens or animals, then the only way to get satisfied is to check out some extra large dildos or fantasy toys. Just remember, these huge anal toys are definitely not for newbies. So don't stick that ejaculating horse cock dildo up there unless you're aware of the dangers!
What Are Anal Toys Made Of?
All of the types I've outlined so far are available in various different materials and textures. I'll get into that later on, but for now, here's an idea of some of the most popular materials for anal toys:
Silicone
Glass
ABS plastic
Stainless steel
TPE or TPR
How to Buy the Perfect Toy for Anal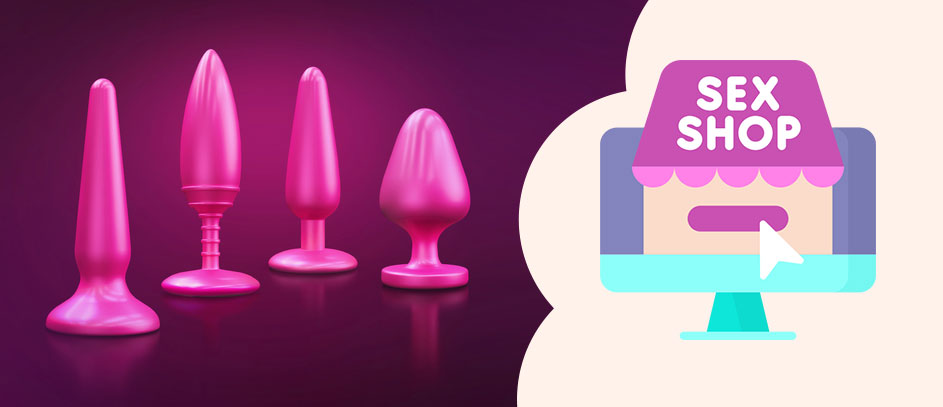 Now that you know what's out there and what sort of materials you should expect to shove up your heinie, I want to get even more anal with you (in more ways than one, maybe?) and show you my best tips for picking your favorite toy:
Ways to Tell if Your Anal Toy Is Worth It
As I said before, it's all about your desires, fantasies, kinks, and abilities. That's usually when I make an agreement with my boyfriend's or my own butthole and I come up with a short checklist. Remember, your pooper is not some worthless rump that you can abuse with all kinds of objects. Well, not unless you're into that. Whether you want to be romantic or hardcore, focus on the following steps:
Think about the type of anal toy you like the most. Not inspired? No problem, watch some intense ass porn, read my previous reviews, or choose a toy from my list. Does it make your pussy grool? Go for it!
What's your experience level? If nobody has ever penetrated your sweet innocent buttocks, it's definitely not a good idea to start with a 10-inch realistic anal dildo.
Don't forget: it's not all about eating with your eyes only. The shapes and materials are incredibly important.
Size matters a whole lot for anal. Some people even prefer small anal toys for this reason alone because they're easier to fit.
Do you need some special features? Think about things like suction cups, automatic thrusting, silent vibrations, fake ejaculation, remote control, etc.
Don't ignore your safety and hygiene. A quality anal dildo or vibrator should be easy to clean. It should fit up your poop chute without getting stuck.
Which Size Is Right for You?
Even if you are spoiled for big fat cocks in your pussy, the back end is a whole other story. Remember, your turd tunnel doesn't produce any natural lubrication. It wasn't originally designed for intense penetration. Also, I don't even need to tell you that your keister is much tighter than your vagina. That's why you have to be kind and careful with your little brown eye. If you're new to it altogether, I'd advise you to test the waters with your fingers. Then, see whether it feels comfortable. If your finger or thumb feels just perfect, find a toy with the same measurements.
For first-time entries, a length of 1 to 1.25 inches could be enough. But, if you're already used to finger banging your bum and you want to move up, anything from 2 to 5 inches will do.
Plus, once you hit 5 inches, you'll be well within the range of an average erect dong. This may or may not hurt depending on your level of training. If it doesn't feel too weird and you're up for a bigger challenge, you could always move up!
But, the width could also become your best friend or your worst enemy. Note that some toys like butt plugs or beads widen near the middle, so you'll have to look up their measurements and see if that would be something you're comfortable with.
In my opinion, if you're starting out and you want to get a nice stretch, pick a dildo, plug, or a set of ass beads that's slightly wider than what you can handle. That can put more force against your sphincter. It can stretch you out and help you get stronger.
The Safest Materials
The rules here are simple: there are porous and non-porous materials. For ass play, I would strongly advise you to stay away from porous materials. That includes things like jelly, PVC, rubber, or any other cheaper material that you might encounter on inexpensive toys. This leaves you with 100% body-safe, non-porous, and phthalate-free toys that don't absorb any anal bacteria.
Some of the safest materials include silicone, glass, stainless steel, and ABS plastic. All of them produce different sensations depending on your preferences.
For example, a steel or glass anal toy will give you a cold, rock-hard shaft that heats up when you push it in. That may not be the best choice for amateurs. Still, it's a top-notch option if you want to get a better grip on your butt plug and truly feel the stretch.
If you want something softer, you should choose silicone. This is the most popular material for most types of anal toys. It feels extra smooth and slides inside quickly but it's also easy to clean and maintain.
Inspect All the Special Features
If you're buying a simple dildo or butt plug, you won't have to think too much about the features. But, if you want something with more bells and whistles, keep an eye out for:
Vibration motors – Some toys have single or dual built-in motors while others are removable. In my experience, anything with moving or removable parts is better for your bum.
Vibration speeds, patterns, and intensities – Your toy should give you about 10 or more patterns to play with and keep things fresh.
Remote control – If you want to plow your trunk or dominate your partner's tush from a distance, definitely consider a remote-controlled anal toy. It will enable you to change the vibration settings remotely with the push of a button!
App control – You can connect some toys to your phone and use an app to control them. This is a brilliant option for long-distance play, public orgasms, and fun bondage adventures. Some of these app-controlled toys even interact with VR videos to give you a fully immersive anal experience.
Suction cups – For solo play and rock hard penetration, choose a dildo or butt plug with a suction cup. Now stick your toy on the floor and ride it hands-free!
Strap on harnesses – A lot of anal play fans are into strap-ons and if you've always wanted to try them, remember to look into all the different types of harnesses and strap-on dildos.
Things to Avoid
If you want to avoid a total shitshow, stay away from jelly, PVC, and rubber materials.
When your toy arrives, you should carefully inspect it for any rips, bubbles, or tears. If you see anything strange, keep it away from your backside and simply replace it.
Listen to your butthole: if it's telling you that a finger or two is too painful, don't get a brutal dildo. But if you can handle several fingers or even a whole fist, go for it! To put it simply: don't go too big if you're just starting out.
Watch out for toys that don't come with a base or stay away from them altogether.
Tips on Using, Cleaning, and Storing Your Anal Toys
Some say that they like their anal rough, others like it short and sweet, and some think it's the most romantic and deeply intimate sexual activity in the world. But don't be the butt of the joke and force random objects up your asshole if you're not ready!
So how should you really begin your rectal rampage with your new toy? Now, it's essential that you take it nice and slow. I've experimented with my bottom for so long now that I can tell you exactly what you should and shouldn't do. So let me train you using my tips below and you'll become a total anal pro!
Keep Calm and Fuck That Ass!
Obviously, you'll need to use lots of lube and train your backdoor a bit before you party with your new toy.
If you're already experienced, you probably know how it goes. If not, you'll have to make sure everything is nice and clean down there. The way to do this is to wash your tush thoroughly in the shower. If you want to be all anal about it, use an enema. Also, it helps to poop at least an hour before the big act. Also, I know that you're all into a steady diet of cock, but adding some fiber to your meals will help clean things up down there.
Anyway, you should focus on a lot of foreplay and use your fingers and a lot of lube to massage your asshole and stretch it out slightly. What's essential here is your choice of lube. If you get a glass or steel toy, you can use oil-based or silicone-based lubes. These lubes last for a long time and they glide smoothly all the way through. But, don't make the mistake of using them on your silicone toys because they will ruin the material. If you get a silicone toy, use only water-based lube. You'll have to reapply it more often, but that only makes things safe as well as nice and slippery.
Bonus tip: use plenty of lube all around your sphincter, on the tip, and on the shaft of the toy. You should even push some lube inside your rear end to make everything flow much easier.
When the time comes to insert your toy, it's all about baby steps. So go in with just the tip and try to see how it feels. You should also relax your muscles as much as you can. After that, it's up to you. You can tease your pussy, slap your nipples, move your toy in and out, suck your lover's throbbing cock… Whatever works, right?
Always Clean Your Anal Sex Toys!
Do I even need to mention this? Unless there's something seriously wrong with you, you should clean your toys for anal before each use.
The good thing here is that you can fully sterilize all of the materials I've mentioned. If you have a glass, steel, or silicone anal toy and you're worried about germs and infections, all you need to do is boil it for a few minutes. That will eliminate all of those nasty germs from the surface of your toy.
Alternatively, you can wash your toy under the tap with some warm water and mild soap. Both of those methods are quick, painless, and they'll keep your anal toy squeaky clean.
However, what you also need to do is leave your toy out to dry. If it's moist and you put it back in its box, all sorts of bacteria or even mold could accumulate. And once your anal cannon is fully dry, you can put it back in its original box. If you want to keep it extra safe, your best bet is to use a small plastic container or a zip lock baggie. That way, you'll keep it away from all kinds of external elements. Another rule to live by here is to never store your anal toys together with the rest of your sex toy collection.
Anal Toys Industry Overview: A Deeper Look!
If you thought that everyone was obsessed with colon diving right now, you were definitely right! Anal was once the domain of hairy, sweaty men who plowed each other in bathhouses and secret sex clubs. Not that there's anything wrong with it! Still, ass pounding has truly moved into the mainstream in the past few decades. Heck, studies even show that nearly 45 percent of women are having and enjoying anal sex frequently. But when did it all begin and when were the first anal toys invented?
From Ape to Gape: the History of Anal Toys
In case you didn't know, the oldest dildo that was ever discovered was a long piece of phallic-shaped stone that dates back to 30,000 years ago! Whether our ancient ancestors used it to stuff their cornholes, we'll never know. However, we do know that the ancient Peruvians drew depictions of people taking it up the ass on pottery over 2,000 years ago. Those depictions were cleverly disguised with non-sexual explanations. However, it didn't take long for researchers to figure out that the ancient writings and drawings were actually demonstrating the fine art of porking the pooper.
Also, it's well known that other cultures like the ancient Greeks and Romans have shown a particular fondness for diddling with their butts and that ancient Japanese erotic art depicts the act in great detail.
Still, it was only recently that we discovered some ancient jade butt plugs dating back to the Han Dynasty era in China. That's right, some of the earliest butt plugs were made in China over 2,000 years ago! But don't get your hopes up… They were actually used during the embalming process to "seal off" a dead body and protect the spirit of the deceased. Holy shit!!!
And even though people have dabbled in anal pleasure since the dawn of time, the first recorded anal toy that was used for sexual purposes dates back to the late 1800s. This was a set of butt plugs and dilators invented by the infamous Dr. Young. Initially, they were designed to cure constipation. Yet, people soon found a better, hotter use for them and the rest was history. They were used up until the 1960s when the first rubber dildos were invented.
The Future of Ass Fucking
At the end of the 20th century, you could pretty much find any anal plaything out there, from beads to extreme anal toys. And right now, there are so many choices available and they can please any fan of the brown eye.
From remote-controlled butt plugs, self-thrusting dildos, and huge dragon-shaped dongs, you can pretty much find any cool toy that will take your anal play into the future. Some of the most innovative companies in this field are Doc Johnson, We-Vibe, LELO, Lovehoney, Lovense, OhMiBod, and more. They keep pushing the boundaries of what's possible with all the next-gen sex tech that you can stuff up your trunk these days. And while VR anal toys, smart butt plugs, and long-distance prostate milkers are already available to us, you should definitely get your ass ready for all sorts of exciting shit in the future! Bottoms up!
⚠️ Disclaimer: Our articles contain affiliate links. If you like our content and wish to support our work, consider purchasing your new sex toys through our links. For each purchase through our links, we receive a small commission but at no extra cost to you.
FAQ
It all depends on your body, your skillset, and your definition of pain. Some people love anal just because it hurts a little and delivers a unique type of pressure. Others work past the pain and eventually train their buttholes to handle even the most intense penetration.
If you feel uncomfortable, don't freak out. You can try to take it slower, use more lube, and relax. However, if the pain is too unbearable, just stop and remove your toy. In most cases, there's no reason to worry if you feel pain and it only happens because your sphincter is tight and not used to penetration. You should try training your bum with toys for several minutes a day and you'll quickly get used to the sensations.
Having anal sex with a huge anal toy that's around 10, 12 or 14 inches long can be fun if you know what you're doing. However, it's not usually recommended for obvious health reasons. If your boyfriend is untrained, don't even think about it. It can even leave permanent damage to his splenic muscles. So only try it if he's trained properly and he knows the risks.
If you've never played with toys for anal, I'd suggest a small and thin butt plug or a small dildo. A length of around 2 to 4 inches is a good way to start. If that's too big, you should definitely experiment with your fingers first to stretch yourself out and get used to the sensations.
Most large anal toys are designed for the ass and not the pussy. However, you can use an anal dildo or vibrator to please both holes. However, it might be safer to buy a separate toy for your vag for obvious reasons. Also, never go ass to pussy with your anal toy. This could cause serious infections and other risks.
The easiest answer is no. You'll be better off if you have separate sex toys. It's much safer and more hygienic. However, it's always easy to get carried away in the moment and stuff your ass with your partner's toy. If you absolutely have to share toys, make sure they're clean before you or your partner use them. If you want to stay extra safe, put a condom over your toy.