Jun/24/2022
Last Update: June 26, 2023
997
22 min read
Best Penis Extenders in 2023 – Unlocking the Path to a Bigger Member!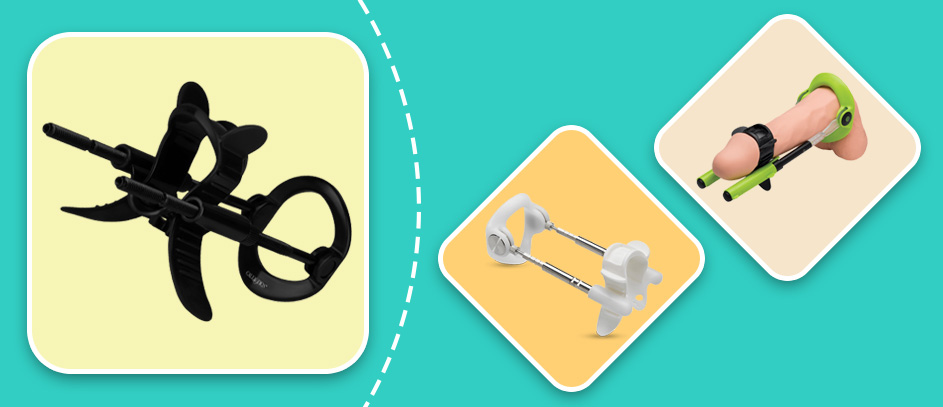 Do you like the size of your pickle? Or do you constantly fantasize about impaling hot chicks with a huge and meaty love cannon and banging their brains out until they forget their names? Don't we all? If you're the guy who really needs a size boost and you're looking into penis extenders, you're definitely in the right place.
And what if you have doubts whenever you pull your shorts down? Well, let me tell you about some of the best penile traction devices and teach you how to use them to naturally expand your dick for colossal results!
Top 10 Penis Extenders in 2023
What makes me so competent to show you how to ramp up the size of your junk? After testing all kinds of penis extenders out there, I've become a cock enlarger guru of sorts. Even though my schlong was above average from the start, I managed to use penis extenders to engorge my cock even further. Now, I'm happily packing around 8 inches of pure throbbing manpower. And how can you accomplish the same thing with your mongoose?
First, have a look at my favorite penis extenders of 2023!
Getting That Magnum Dong with Penis Extenders
If you're reading this, I'll bet your bottom dollar that you've always dreamed of seeing that look on your girl's face and that naughty twinkle in her eyes when she grabs your monster erection with both hands and goes into a cock-obsessed trance! Yup, it's all about spreading out a beautiful babe's tight and gooey holes with your gargantuan wang. Then, think about glazing her body in bucket loads of that sweet, sticky man nectar! Oh, sweet Eros!
But, if you've ever looked into penis stretchers before, you've probably heard all the success stories. Some products have huge endorsements by medical companies and doctors, and others say they're so comfy that they'll even make you cum while wearing them. Heck, some boast that your cock will get so massive that you'll need new pants for your resized anaconda! So is any of that true?
In my experience, you'll see the best results if you know what you're looking for. Also, you need to pick the right product and learn how and when to use it properly. Yet, with so many penis extenders out there, finding a quality product can be tricky. And although some traction devices provide amazing results, others can end up feeling like tiny and cramped torture chambers. That's why it's time to soak up all the knowledge that Professor Turbodick has to offer and use it to finally get that Ph.D.! Let's boogie!
Penis Extenders Explained
Let's geek out a bit here. Penis extenders are completely different compared to sex toys and other dick gadgets. Indeed, even if all of the technical aspects related to them bore you to death, you'll need to get educated to avoid the pitfalls.
For starters, penis extenders are non-invasive medical devices. They offer an alternative to penis enlargement surgery. We officially call them penile traction devices. But, some also refer to them as penis enlargers, stretchers, or extenders.
Basically, they offer an all-natural solution that helps any guy get a larger dick, regardless of his reasons for wanting to get bigger. They're designed to boost both the length and girth of your member. Also, penile traction devices aren't only made to make your penis bigger. Doctors usually use them to treat Peyronie's disease or straighten curves or bends.
And since this method doesn't require surgery, what you get is a pain-free enlargement process without any serious side effects such as infection or scarring. Plus, cock stretchers won't only increase your size – they will promote healthier blood flow too. That is, you'll see an improvement in sexual performance, gratification, and libido. It's a win-win!
Stretching Your Way to a Bigger Size
Originally, penile traction devices were created to straighten overly curved penises. Even though they showed successful results, some wise men of science out there figured out that the devices could also expand a guy's dick size and width over time.
Anyway, science has also proven to us through multiple studies that penis stretching devices deliver fruitful results after several months. Studies say that, on average, these little contraptions can help your monkey grow by at least an inch over six months of daily wear!
All of that is made possible through the organic principle of traction. And traction, my friend, is the same concept that's used for all sorts of body part extension techniques and medical procedures in various cultures. Some examples of that are neck or lip extenders in Africa and South-East Asia, as well as ear stretching techniques for piercings in the western world.
So How Do Penis Extenders Actually Work?
Penile traction devices are only a natural extension (pun intended) of traction enlargement in medicine. That's why they are so effective. Typically, the way penis extenders work will depend on their design. But, the most common types of these devices use the traction method. The goal here is to stretch and flex the tissue of your soldier over time.
Eventually, the process will create microscopic tears in your penis. But wait, this is not the moment to start screaming in fear of your shmeckler's health! By making multiple microscopic tears in your plonker, you'll actually trigger your body's response to naturally duplicate its cells in order to heal them. That way, the cells will multiply. They will fill the small tears and, in turn, replace them with cells of an extended size. The formula is quite simple: more tears equals more tissue equals MORE PENIS!
Even though the whole concept of tearing up your dick sounds awkward, it's actually something that you do all the time. Well, if you're not lazy enough to go to the gym!
It's the same type of mechanical stress that makes your muscles sore after exercise and ultimately helps you build up those bulky biceps. Who would have thought?
Types of Penis Stretchers
As mentioned, most penis stretchers are designed around the principle of traction. However, that's where most of the similarities end and where a huge variety of different products comes into play. Not all of those devices are the same. That will all depend on the stretching configuration (e.g., straps, nooses, vacuum method) along with the materials used to make them.
Also, not all extenders are intended solely for enlargement. Some are designed for postoperative care; others are for erectile dysfunction, Peyronie's disease, chordee, and so on.
With that in mind, let's break down the main types of penile traction devices:
Classic Rod Penis Extenders
Rod extenders are the most common devices for traction enlargement. Most of the products you'll encounter will be based on this type. Generally, rod extenders are the most effective types and are proven to create long-term effects. The rod design consists of:
Aluminum rods
Penis extender base
Glans support
Comfort pads or other attachment accessories
Silicone tubes
Moreover, the rods can have special comfort clips, tension screws or springs, straps, foam pads, tension scales, and various other features or accessories to maximize comfort and ease of use. Additionally, rod extenders have a lightweight design. They utilize hypoallergenic materials to stay body-safe.
Vacuum Penis Stretchers
Vacuum penis stretchers are based on a new concept of using a tension belt and an anatomically correct vacuum chamber to house the penis.
While the operation is different, this design still uses traction. But, instead of rods, a vacuum in the chamber causes the stretching. Most vacuum penis extenders provide a belt to control the traction of the vacuum. They provide a scale that you can use to monitor the tension level.
Furthermore, some stretchers like the Phallosan Forte can use special condom sleeves to create a vacuum. Others like the Penimaster PRO have a removable bulb that forms the vacuum. Another key difference with vacuum stretchers is that you should use them for a year only. But, they provide more comfort compared to standard rods.
How Are They Made?
Remember when I told you that making the wrong choice can turn your extender into a dick torture cage? That's exactly what you could end up with if you make the wrong choice and buy an extender that uses poor quality materials or is simply not suited for you.
Remember, penis extenders are delicate devices. Their quality depends on the sum of their parts. After all, they need to fit men of all kinds of sizes. Plus, they have to be comfortable enough to facilitate long-term wear.
Most commonly, a quality penis extender should contain skin-safe materials. They have to feel pleasant and not cause allergies. Also, it should use only medical-grade materials for the rods, frames, or vacuum cups. That includes materials such as silicone, stainless steel, and aluminum. They have antibacterial properties and are great for long-term use. Plus, they will also have a huge impact on the resulting traction and the end result.
Features and Sizes
There are several other design features that could improve the quality and create a pleasant user experience. You typically won't find them all in one product, which is why you should choose carefully:
Comfort clips ⁠- There could be various comfort clips that you attach to the tip or base of your penis.
Tension mechanism tension screws or springs ​​⁠- The tension mechanism can be based on springs, screws, or a vacuum pocket. It determines the overall comfort level and the tension force.
Stretch settings ⁠- A penis extender will usually come with several configurable stretch settings or levels.
Single or multiple -Some extenders could include additional single or multiple strap configurations for support.
Comfort pads on the base or tip ⁠- Foam or silicone comfort pads are the most common. They will create a pleasant feeling on your skin.
Tension scales ⁠- A tension scale can enable you to check the level of tension force and keep track of your stretch level.
App ⁠- Some extenders come with free mobile apps that help you monitor your penis stretching times and set your goals.
Does Size Really Matter?
Well, every self-respecting bro out there wants to pull his shorts down and see his partner's jaw drop in awe of his big fat cock. Still, while size doesn't really matter in love, it's obviously important to you if you're currently thinking of investing in a penis enhancer!
If you're reading this, then you've probably made up your mind to get bigger down there. Whether you want to use your extender to get a few extra inches, straighten your member, or deal with erectile dysfunction, you should know that this is entirely your own choice. You shouldn't be ashamed of wanting to try it, and you should know that lots of guys feel the same way!
Plus, your penis size will actually play a crucial role in the kind of extender that you buy. Here, it's essential to note that most extenders are built for sizes between 1.5 and 8 inches, meaning that you'll struggle to make your dong fit if the size extends past those limits.
Buyer's Guide
Ready to buy your new penis stretcher? Let me show you how!
The Basics of Extending Your Cock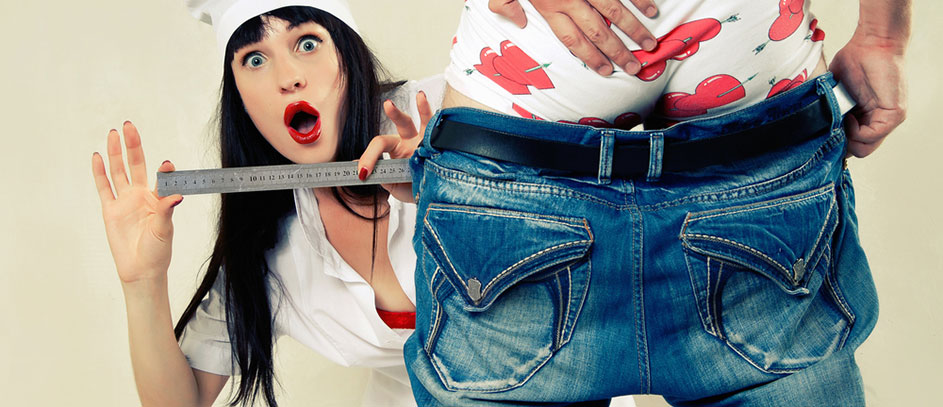 Previously, I said that cock extenders are medical-grade devices that offer a non-surgical way to increase your length and girth. Most studies on these devices have concluded that they boost the size by 30% on average. Also, some data from Science Daily shows that penile extenders can increase erectile function by 36%. This process could last several months or even a year, depending on the type of device, your body, and your dedication.
You should also be prepared to spend several hundred dollars on an extender kit. Also, a reality check: strapping this thing to your dick for 6 hours every day will be utterly disappointing if the penile traction device is uncomfortable and ineffective. I wouldn't want that to happen to any guy. That's why I want to give you some insider tricks on investing your time and money properly to grow your rooster without failure!
Why Should You Do It?
Before spending your cash, it's crucial to consider your motives. Do you simply want more dick, or do you want to make your knob healthier? You can use a penis extender to:
Increase length and width ⁠- Duh, Captain Obvious! If you don't have an average penis or you consider your prick too small, a penis extender could be just the thing for you. But, even if you're already packing a large dong and you simply need more length, a traction extender could also help.
Correct penile curvature​​ ⁠- A penis extender can provide relief by straightening congenital curvature. In the case of mild curves and bends, this is done purely for aesthetic or sexual reasons.
Treat Peyronie's disease ⁠- Peyronie's disease is a much more serious condition compared to congenital curvature. It's a disorder that creates scar tissue inside the penis and creates extreme or abnormal curvatures. Here, penis extenders have proven themselves to be incredibly effective in combating the condition.
Buyer's Checklist: Follow These 5 Simple Rules!
"After several months of testing penile traction devices, my cock grew to a whopping 8 inches. Now, I feel like a new man. Even better, my GF worships my dick now! I can make her cum like a fountain, scream, and shake harder than ever before! It was well worth the effort and time!"
Like I said, your plonker will not be satisfied with you if you lock it up in an unsuitable or poor-quality device. To make everything worth your while, focus on the following rules before you buy a penis extender:
Make a list of what you think would be the best devices for you. Alternatively, you can follow my own list and read my reviews to find out about the penis stretchers that I recommend the most.
Choose a penis enlarger that you can fine-tune according to your dick size.
Think about your goals: do you want to take it slowly and stretch out your schlong comfortably for 8 months to a year? Or are you okay with feeling mild discomfort from stretching and seeing the results within 3 to 4 months? This is one of the biggest factors that will impact your purchase.
Get a stretcher that provides protection for your penis and the entire genital area. It should use quality hypoallergenic materials that keep you safe from side effects and infections.
Think about when you'll use it. Do you want to leave the house with it and wear it outdoors, in your car, and at work? If so, find a discreet and comfortable penile traction device that will not limit your movements.
How Effective Is It?
Now, listen up: you won't be able to extend your dick overnight. Just remember the gym analogy. Except that this time, you're not benching to bulge up your triceps – you're training your cock to grow it organically! Did Schwarzenegger become such a ripped beast after two weeks of lifting weights?
Don't get scared, but the whole process could last for thousands of hours. In fact, most products state that you'll need to use an extender for up to six months to see long-lasting results. That applies to the length and width of your flaccid as well as your erect wang.
For me, I noticed a 0.5 to 1 inch gain after testing several devices like the Quick Extender Pro, Jes-Extender, Phallosan Forte, Male Edge, and so on. In my experience, it was fun to check out how all kinds of extenders operate and how they differ from each other. Most of them use the same technology, but I found many differences when it comes to the comfort level, the ease of use, and the outcomes.
Speaking of the results, I can't emphasize enough how important it is to stick to your goals. While a quality penis extender will feel comfortable, you'll have to do a lot of work. That is, it's not a magic pill that will make your schlong blow up like a balloon that we're talking about here.
What Extenders Are the Safest?
With a big cock comes great responsibility, and you'll need to realize that you'll essentially be sticking your schnitzel into a penile brace. Basically, all penis stretchers will work as intended if you follow the instructions. However, that doesn't mean you should ignore their medical components.
If you look at some product pages, you'll see some clinically tested or doctor-approved units. Others have received official approval stamps like certificates from the FDA or Type 1 CE Certified ratings.
Still, even if your chosen device isn't clinically tested, it could provide successful results. Sometimes, medical companies might not have the resources for official medical testing, or they might already have a trusted fan base that accounts for their reputation and quality.
Whether your enhancer has been officially approved or not, it's extremely important to only focus on medical-grade devices that utilize safe materials and are made by reputable companies.
What to Avoid
Okay, now, so most medical-grade products are the safest since they use carefully selected high-quality parts that have undergone rigorous testing for biocompatibility and safety. But, if you buy an off-brand penile traction device made by some random Chinese company, you could end up with extremely cheap materials. Those extenders could use non-medical grade materials which could cause chafing and become a hotbed for germs and microbes.
Such poor-quality materials, along with improper handling, could lead to wounds, bruising, or other issues. In the worst case, wearing such a device for a long time could cause nightmarish ejaculation or erection issues.
Dos and Don'ts
Let's end this section with a list of dos and don'ts of buying your penis enhancer:
Dos
Buy a penile traction device with reliable medical-grade components.
Focus on the tension level and the comfort level.
Take your time and learn all you need to know about your chosen penis enhancer.
Think about how much time you want to invest ⁠- if you want to see results in 6 months or less, buy a classic rod extender. If you want to feel a bit more comfortable and you have 12 months to spare, buy a vacuum penis expander.
Don'ts
Don't buy no-name products and cheap variants that promise too much.
If you have a serious condition such as Peyronie's disease, don't use an extender without medical supervision.
Don't give up if your penis stretching device doesn't produce results after a few hours.
Tips on Using, Cleaning, and Storing Your Penis Extenders
By now, you know that your dick-growing journey will take up to six months or more. But how do you actually use a penis extender responsibly and with superb results?
How to Use Your Penis Extender
Most penis extenders operate on the same principle. First, you strap your (flaccid!) dick inside. Then, secure the ring and the base, and the molded head at the top. If you get a classic rod device, you will need to extend the two rods to your preferred level to increase the strength of the stretch. After that, just wear the penis stretcher for a certain number of hours each day.
Also, each penile extension device will have its own wearing and operating instructions, so make sure you study them thoroughly! The attachment and detachment methods can vary greatly, and so can the tension settings.
Train Your Way to a Bigger Cock
What I recommend the most is to start slowly. Then, work your way up until your penis is able to handle the feeling of being strapped in for 5 to 6 hours per day. This is the timetable that most manufacturers recommend, although it will vary depending on the unit. Plus, you don't have to wear a penis stretcher all week long. You can wear it five days a week and take a two-day break. In your first week, you should limit the usage to an hour or less, especially if you experience discomfort.
Either way, as you continue to stretch your johnson for several hours each day, you will start to create micro-tears in your prick and create new cells.
Here, the first change you'll see will be an increase in circumference. It usually happens within the first or second month. After that, you'll notice several stages of developmental progression. If you're satisfied with the results after 6 months, good for you! If you want to continue the stretching, you can continue to wear your extender. Some guys wear their penile extension devices for even two or three years. In that case, you could see a growth of around three inches. It might sound like a long time, but it's nothing compared to a lifetime of packing a big hard cock!
What You Need to Know Before Using
Here are some essential tips to watch out for while using your enhancer:
Tension Amount
Since they operate on traction, penis stretchers need to boost the tension to a certain level. A higher tension strength could increase the weight of the device. But, it could also produce better results if your pickle can handle it.
For example, most penis extenders have a tension force of 1500 to 4000 grams. This is actually a massive amount of tension! The minimum required traction level is around 900 grams. Beginners could struggle to reach that at first, and going up to 1200 grams could feel like torture. Your wang needs to get used to it with time. That's why it's important to choose an extender that offers adjustable tension and customizable settings.
Comfort and Portability
While it's crucial to focus on the results, your comfort level should be equally important. Meaning, if you're uncomfortable, your penile traction device will not feel good for you. So focus on products that offer various attachment options such as nooses, straps, and pads. It's essential to learn how to use them properly and carefully adjust your enhancer for maximum comfort.
Also, you will need to think about the added bulk that comes with wearing a penis extender. Some devices will take up a lot of space in your pants, while others are designed for portability. Additionally, some are made so that you can wear them during sleep, while others are not intended for that. This will all depend on your lifestyle and your requirements.
Cleaning and Storing Your Cock Stretcher
Let me say this loud and clear: you have to clean your cock and your stretcher! Anyone who fails to do that will face a microbial death trap. Really, the perspiration produced by your wang can produce harmful bacteria and microbes that can survive on the surface of your device for 72 hours or longer.
Usually, the cleaning process will also vary based on the actual device. Some medical-grade stretchers do not absorb bacteria, and you'll be able to sanitize them by wiping them down with warm water, soap, or even a bit of rubbing alcohol. If you can, take the enhancer apart before cleaning it. Then, wipe it down gently with a cloth soaked in a cleaning solution. You can also use a small brush to clean hard-to-reach areas.
After that, you can give your stretcher one final rubdown with a clean, dry cloth. Finally, wait until your penis extender dries before you store it in its original carrying case or a plastic container.
Penis Extenders Industry Overview
So how did cock extenders become so popular? What are some of the best brands you could look into?
History: You'll Be Glad Your Penis Didn't Have to Go Through This!
Back in the old days, lesser-endowed men used a variety of strange DIY procedures to boost their size. And by strange, I mean strap your dick to a rope and make your livestock pull on it kind of strange! It's true, this is how the whole thing started. Luckily, we don't need to go to such extreme lengths to enlarge our junk today.
Of course, records of people glorifying large cocks exist in most world cultures. There are many examples of it from ancient times, stemming back to the Egyptians and the Romans.
What's more, evidence shows that people from all sorts of cultures used some form of primitive stretching method to expand their meat sticks. For example, the pharaohs in Ancient Egypt used to practice an unusual "weight hanging" technique. They tied a rope to their schlong and attached weights or large rocks to it, and left it all up to gravity. Tribesmen from India, Africa, South America, Polynesia, and many world cultures have also used similar methods. I really don't know if they were effective, but I'm guessing that the world of modern medicine wouldn't approve of them!
In fact, modern penis enlargement actually became a thing after WW2, and by the 1980s, men were able to make their dicks bigger with a variety of surgical and non-surgical procedures. As mentioned, penis stretching devices were invented to treat Peyronie's disease, but it's not known when they became a staple for penis enlargement. Either way, we should be grateful because we'll never have to walk around with massive rocks tied to our junk!
The Most Popular Brands
Unlike sex toy companies that often offer huge catalogs of butt plugs, dildos, sex dolls, and penis pumps (all of which I've tested and reviewed in my previous articles), penile extender companies almost exclusively focus on making one or two products for stretching and enlargement. That's why it's easier to do your research based on the product rather than the brand.
Some of the standouts that have been proven to work and have a loyal following of fans who now have much bigger dicks include Quick Extender Pro, PeniMaster, Jes-Extender, Male Edge, SizeGenetics, and Phallosan Forte. There are many other brands out there, but those are the most popular ones that stand behind high quality and a stellar reputation.
The Future of Cock Extenders
So what's next? Honestly, this is not an area where we'll see a lot of fancy AI, VR, and mobile features or any state-of-the-art digital tech. That's because penile extenders are incredibly delicate, and they need to be used with caution. They undergo hundreds of hours in testing and development, and that makes it complicated for companies to add in any extraneous features that could limit the design or add more weight to the device.
And of course, I really don't want to strap my junk into an AI penis extender that would get hacked easily or start expanding my cock to the max all on its own.
But, I can tell you that companies are working around the clock to maximize the comfort and effectiveness of their cock extenders. That includes things like finding the safest and most comfortable materials, developing new technologies for vacuum pumps, and trying out all sorts of science-based innovations.
Obviously, we all love to dream of having cocks that could expand at the push of a button (and some cum-hungry, solar-powered sex robots to boot) in the future, but that kind of takes away from the whole point of penis expanders. With a penis extender, you need to earn your big dick! You'll have to train hard and put in the hours to grow a big fat Shwanzenegger in your pants! And with that, I can only advise you to start early.
So order a penis extender today, hit the dick gym ASAP, and in a few months, you won't only pack a massive slut slayer down below, but you'll also feel happy about yourself. And you'll be able to fuck your partner like a pornstar!
⚠️ Disclaimer: Our articles contain affiliate links. If you like our content and wish to support our work, consider purchasing your new sex toys through our links. For each purchase through our links, we receive a small commission but at no extra cost to you.
FAQ
If you still have some questions about stretching your dick with a penis expander, I'll try to answer them below:
This will depend on your dong and the way you use your penis extender. Of course, the expected results include an increase in penis size, which can also boost your stamina, arousal, and sexual confidence. Mild discomfort is unavoidable. But that will manifest itself as a feeling of soreness, similar to the one you'd get after a workout. Some of the negative side effects are skin irritation, chafing, redness, and pain. They can come about if you use your penis stretcher for too long or incorrectly. In this case, you should see a doctor or contact the manufacturer.
Absolutely! However, you can have sex only when you're not wearing the device. Trying to have sex or jerk off with your penis extender is definitely not recommended. If you wear the penis stretcher for the recommended number of hours, you can take it off and have a little fun with your partner without any worries. And, as an added reward, having sex or wanking off after you remove the penis stretcher will improve your blood flow and ultimately speed up the expansion process. So jerk away!
Yes, but don't try to pee while you're still wearing the device! That's just unsanitary, and it can cause all sorts of problems. If you have to use the toilet, just remove the penis extender and relieve yourself. Then, clean your junk thoroughly, put it back on, and carry on with your day! Easy peasy!
Well, not really. In some cases, it can even make the extender slip off. But, if the skin around the contact point is really dry and the pressure starts to irritate your skin, you can apply a small dab of lube to ease the friction.
As a rule, cock extenders should not hurt. It's normal to feel a small pinch across your skin or on your nuts from time to time. However, if you start to feel any direct and intense pain in your cock, take the device off immediately. It's worth noting that penis traction devices can't lead to nerve damage or other injuries, but it is important to watch out for any signs of severe discomfort. In this case, see whether you have adjusted your penis stretcher correctly or turned the tension down.
Oh yeah! If you use a quality penile traction device and you follow the manufacturer's instructions to the tee, your expanded cock will stay like that forever. However, if you're straightening congenital curvatures or treating Peyronie's Disease, the results could be temporary, or they could depend on a variety of other factors.
Erm, not exactly. While the best penis extender manufacturers out there today want you to experience impressive results quickly, they also focus on your discretion and privacy. For one, they will ship the product in a discrete and unlabeled box, so no one will know what you've received. What's more, you'll be able to wear most of them under your clothes without anyone noticing.