Jun/21/2022
Last Update: October 4, 2023
1063
15 min read
Absence Makes The Cock Grow Fonder: The Hottest Long-Distance Sex Toys For Couples In 2023!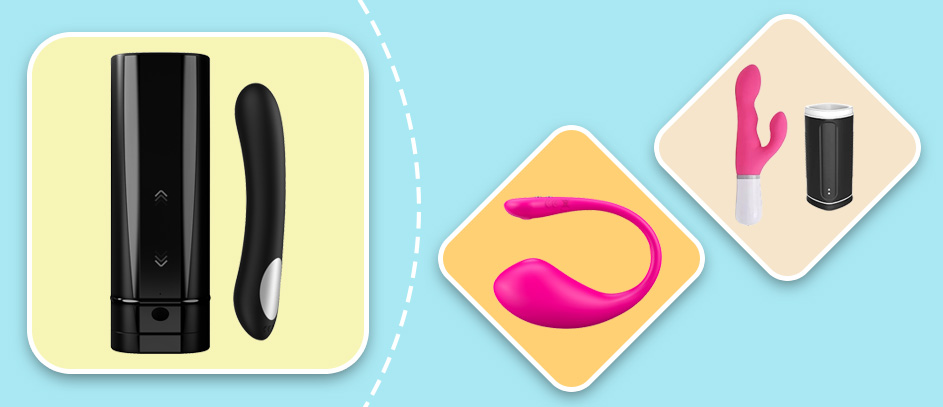 Ladies, we've all heard the cliches people say about long-distance relationships. When you're separated by thousands of miles, you can still breathe the same air and share the same sky, yadda yadda yadda… But why not fuck the hell out of your partner with long-distance sex toys that provide haptic feedback and remote interaction technology?
And no, this isn't about your BF wanting to shove a massive inflatable butt plug up his colon and FaceTime you while you pee. Well… Never say never! But seriously, LD sex toys and teledildonics have completely changed the game when it comes to doing it long-distance. So let me tell you all about the best long-distance sex toys to make your partner cum from near, far, wherever you are!
Top 10 Long-Distance Sex Toys in 2023: Tested!
If you're in a long-distance scenario, you're probably already familiar with the huge itch that comes with being unable to see your partner for months. But let's ignore the romance for a moment and get straight to the dirty deeds. While I'm not an LDR kind of girl, I've tested all sorts of long-distance sex toys with my boyfriend while we were away from each other. I came to the conclusion (many times!) that these newest pleasure gadgets have truly revolutionized the sex toy industry in recent years! So whether you're exclusive or you want to get kinky and experiment with long-distance orgasms, check out the best and newest long-distance sex toys out there!
Sex Toys for Long-Distance: Stay Intimate and Get Wild!
"Love will travel as far as you let it. So go ahead and shove that virtual remote-controlled dildo balls deep in your holes and let your partner fuck you with it from miles away!"
Not to be too obvious here but we all know that long-distance relationships are incredibly demanding. That's mostly because so much joy and happiness in relationships comes from being able to see your partner, spend time with them, and above all, try all sorts of weird shit together in the sack.
However, when you're separated by thousands of miles, you simply can't share all those unique experiences. Trust me, not being able to gaze into my BF's eyes while I'm taking his huge cock deep down my throat is the most difficult part! But don't freak out just yet.
What Are Long-Distance Sex Toys?
Before app-controlled sex toys and teledildonics became a thing, long-distance sex was quite crude. Well, it was pretty much useless. We only had glitchy video chats, picture swaps, and routine phone sex. But no more!
If you're a total newbie in the LDR sex toy game, let me tell you that teledildonics has changed how people are having sex all around the planet.
Here are some ways in which you can use your long-distance sex toys:
Interactive long-distance sex with toy synchronization
Interactive masturbation with porn or other adult content
VR masturbation
And here are just some examples of what's out there:
Remote controlled vibrating eggs
Long-distance rabbit vibrators
Long-distance clit suckers
Teledildonic male masturbators
Teledildonics: The Future of Fucking
If you're still confused, just picture your favorite vibrator. Now, rather than you having to fiddle around with the buttons, the vibrator links up to an app. Your partner can use the app on his smart device to control the intensity, speed, and other features of your toy. Moreover, you can make things even more intimate by fucking each other over FaceTime or hearing the experience (and the moans!) on speakerphone.
And that's exactly what teledildonics is all about. It's a tech term for remote-operated adult toys that sync to each other. They use all sorts of nerdy high-tech voodoo, including haptic feedback and AI, to mimic and even improve sexual interaction. That way, sex toys for long-distance go way beyond your standard remote-controlled dildo. They enable the motions of your toy to be communicated to your partner's toy through tactile sensations.
For example, your partner can move or put pressure on his vibrator. Then, your vibe will recreate the same motions even if you're living on an entirely different continent. Pretty cool!
Types of Long-Distance Sex Toys
Sex toys for long-distance pleasure are available in a huge variety of models, sizes, and shapes. Plus, they use high-tech components, apps, and various security protocols to keep you entertained and protect your privacy. So get ready to finally throw out your old floppy dildo with a broken suction cup! Still, you'll need to know that all of those unique remote-control features aren't cheap. These are some of the most expensive toys out there, and that's why I want to make sure you won't end up wasting your money.
The best way to get started is to check out my rundown of all the different types of long-distance toys:
App-Controlled Sex Toys
If you want to keep it simple but you also want to get freaky, you could look into basic app-controlled toys first. This category includes a lot of different sex toys, from clit massagers, G-spot vibrators, vibrating eggs, Kegel balls, cock rings, butt plugs, and so on. Just think of any sex toy and there's a high chance that some company out there is making an app-controlled version of it. So what's your poison?
Regardless of the toy you pick, it will come with an app that you can use for all kinds of long-distance fun.
Generally, almost all app-controlled sex toys for long-distance couples work over Wi-Fi or Bluetooth and offer an unlimited range. The end goal of all this is to allow you or your partner to configure your toy from anywhere in the world.
Additionally, the apps will give you extended control options and various extra features. For example, some of them can monitor your orgasm stages while some offer video chat. Others can sync the vibrations to music or allow your partner to make custom patterns for ultra-tingly pleasure.
Almost always, these types of sex toys for long distance come with vibrating functions. However, you can find others that thrust, twist, spin, and rotate to mimic the sensations of real-life penetration. And what if you want to please or dominate your male partner? There are several app-controlled toys for that too, including cock rings and prostate massagers. It's up to your BF to be a good boy and earn his reward!
Teledildonic Sex Toys
As mentioned, teledildonics refers to a wide range of AI toys that precisely mimic the sensations of sex. They are also app-enabled, but they use advanced technology to communicate with other toys. A neat example is a vibrator that syncs up to a male masturbator.
First, you need to link the vibrator to your partner's masturbator. Then, choose your favorite hole and stick your vibrator right up there. After that, the vibrator will follow your lover's movements while he penetrates his tight lifelike masturbator. You'll get to feel the rhythm of his movements deep inside your wet pussy or tight ass. In real-time! That's some space-age shit right there! Just try not to squirt all over your iPad…
What's more, all of the action happens on a secure remote cloud between you and your partner. You'll get an app that functions as the interface of your toy. Yet, the app also makes sure that your privacy and security are protected during your long-distance adventures.
Buyer's Guide: Can You Go the Distance?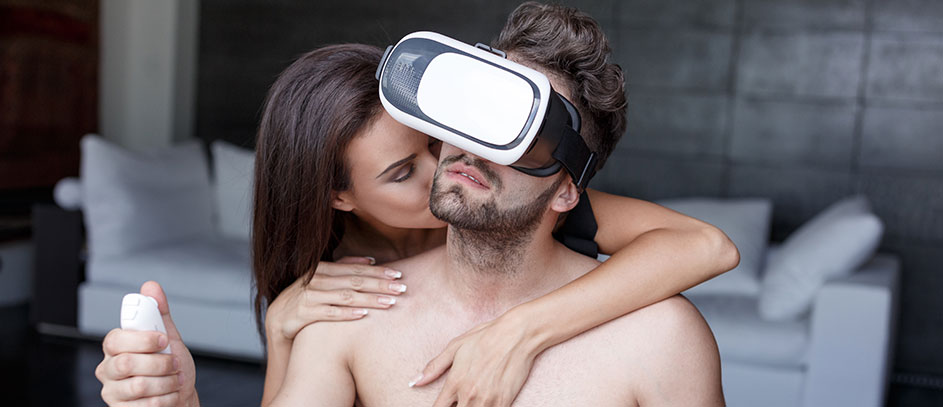 I won't lie to you here: buying the newest sex toy for long-distance is a lot like choosing the best iPhone for you. Except, you wouldn't really stick your iPhone up your punani, would you?
But honestly, you'll have to do your homework and figure out whether your new LDR vibrator is worth it or not. To help you speed things up, I'll share some of my best buyer's secrets below:
Why Use a Long-Distance Sex Toy?
Let me show you some of the benefits of using your remote-operated toy with your LDR partner:
Reach next-level orgasms ⁠- What does it feel like to cum with a remote-operated vibrator? Well, you'll only know if you try it.
Boost romance and intimacy ⁠- long-distance sex toys finally offer you the chance to stay intimate with your partner in a satisfying and healthy way. They'll provide you with spontaneous romance, flirty foreplay, and extremely realistic 1-on-1 action.
Customize your experiences ⁠- LDR toys offer a ton of special features and customization options. From special textures on men's masturbators to smart monitoring options on apps, a remote-controlled sex toy will literally give you everything you need. You just have to know what you're looking for!
Widen your dating pool – If you're not into monogamy or you're single and you want to make some new connections, these high-tech toys will allow you to flirt with cam models or even meet potential dates online. Or, you could just use them to immerse yourself in VR and get fucked by your favorite pornstars. Oh, Johnny Sins, turn my holes into your cum dumpster! Pretty please!
Let your imagination run wild – You can only go so far with old pussy shots and dick pics! long-distance sex toys will help you escape the confines of time, space, and distance to let you focus on what truly matters. Even if that involves your partner sodomizing you remotely until you cream! Seriously, these toys will enable you to try all sorts of futuristic and tech-fueled ways to have sex!
Things to Know Before You Buy
Whether you're getting an LD vibrator, dildo, pussy masturbator, or an AI-operated prostate milker, you should think about the following:
You need to have the knowledge and the proper gear to support your high-tech toy. That includes a secure data connection, streaming limits, as well as a compatible smart device.
You'll have to consider both your and your partner's skin types to find the best sex toy material.
How much can you spend? While most devices come with everything included, others require you to buy add-ons or other compatible toys that your partner can use. It's up to you to decide whether you want to spend extra on a state-of-the-art miracle of teledildonics or choose a cheaper option that only offers remote control.
How do you connect to each other? Do you prefer dirty chatting, visual stimulation, and vanilla sex? Or are you a bad girl and you want to be disciplined by your master? You'll have to focus on your turn-ons to see which long-distance toy is the best for you.
Some modern-day LDR toys are plagued with misleading advertisements. If you're looking into this category of sex toys, you should only stick with well-known brands that have already established themselves in the field of remote-operated devices.
How to Find the Best Long-Distance Sex Toy for You
While buying sex toys is a highly individual choice, there are some details that you shouldn't miss on your shopping spree. That includes:
Stimulation Types
Not a fan of sticking huge remote-controlled butt plugs up your keister? Well, one of the easiest ways to decide which toy to get is to think about your preferred way of receiving pleasure. So think about whether you want to orgasm through clit stimulation, penetration, butt stuff, G-spot massage, etc. Then, you can decide whether you're buying a long-distance rabbit vibrator, panty vibe, thrusting dildo, etc.
Size and Shape
Obviously, the size and shape will determine how hard you'll get off. But, it will also play a huge impact on the portability and usability of your toy. For example, a large vibrator will be more difficult to control compared to a small clit stimulator.
Still, if you need something huge and mighty, a clit vibe could be too tiny for you. Therefore, you should talk to your partner before you choose your toy. Then, look at the design and take some measurements to see if it has what it takes to please you. That includes the length and width of the insertable part as well as the total length of your toy. Also, remember that thin and straight toys are ideal for external stimulation while thicker curved ones are better for penetration.
Materials
Fortunately, picking the best material for your sex toy for long-distance will be a bit easier compared to buying any random dildo out there. That's because these toys are expensive and the manufacturers always strive to use premium materials.
In most cases, these remote-operated toys are made of silicone. This is the safest choice for any internal or external sex toy out there. It's 100% body-friendly and it doesn't absorb germs. Also, it feels soft, smooth, and incredibly lifelike. I'd recommend you get a silicone toy because it does a fantastic job of transferring vibrations or other mechanical motions for vaginal or anal pleasures.
What's more, you could encounter ABS plastic as an option on external vibes and tougher G-spot or P-spot massagers. This is also a 100% body-safe option, although it offers a much more rigid and unyielding feel. Still, tons of people who love to feel intense pressure enjoy it for all kinds of stimulation types.
Additionally, you should stay away from materials such as jelly or rubber. However, since those are only used for dirt-cheap toys, it's unlikely that you'll encounter them on your new long-distance plaything.
Features
There's so much to cover here! That includes add-ons, special textures, vibration modes, movement types, app options, and so on. In my experience, you should get all the options that matter to you and your partner. However, try to keep an open mind and buy a toy that offers several useful extra features. That way, you'll never get bored of your long-distance pleasure gizmo! So keep a lookout for multiple vibration modes, extended remote controls, customization options, etc.
Equipment, Apps, and Connectivity
With interactive toys, you have to take care of your equipment ahead of time (*wink wink*). That means you'll need to look up the specs of your toy to see what kind of connection or operating system it requires. Also, tons of different LDR apps are being made right now. Some require a subscription while others are free. Most long-distance toys will come with an app made by the manufacturer and this is probably something you should look into to avoid safety or privacy concerns.
And above all, if you want to buy a toy for yourself and another one for your partner, you have to make sure they're compatible. Not all toys by one brand will be able to connect to a toy made by a totally different brand.
Tips on Using, Cleaning, and Storing Your Long-Distance Sex Toys
Now listen up, using these toys isn't only about shoving them down there and hoping for the best. It may sound lazy if I tell you to "read the manual" but that's exactly what you need to do here before you use your remote-operated toy. You need to:
Follow the proper steps to connect your toy to your smart device and control it from an app. The same applies to your partner and his toy.
Study the app to see what kind of settings you'll get to play with and turn on your cam feed.
Use a compatible lube. The worst thing you can do here is to use an oil or silicone-based lube on your expensive silicone toy. That could damage the material and pretty much render your vibrator useless. Instead, use water-based lube and apply it all over your toy and your sweet spots!
What's next? Well, it's time to explore the wonderful world of teledildonics! So let your creativity run wild and experiment with all sorts of remote-operated settings and features of your toy. Just slide it in or place it over your clit and let your long-distance partner do the work for you!
How to Clean Your Long-Distance Sex Toy
You'll have to watch out here. Sex toys for long distance contain a lot of special components. That's why you should make sure that your toy is waterproof before washing it. If it's fully submersible, you can run it under the tap or soak it in a plastic bowl.
Also, you can use mild soap to remove any lube or cum thoroughly. Yet, if your device isn't waterproof, you might need to use a special sex toy cleaner or wipe it down with a damp cloth.
Either way, I'd advise you to be delicate with any buttons or ports. Finally, you should let your toy air dry and store it in a cool dark place. You can use a plastic box or a soft carrying pouch to keep it away from dust and bacteria. Easy, right?
Long-Distance Sex Toys Industry Overview
So are teledildonics a completely new concept or was this something that was brewing up for ages? Actually, the idea was invented back in the 1970s. Yet, it took a long time until we were able to see attractive and functional designs available to the public.
The first remote-operated toys were invented in the 1980s, but they were quite primitive and they caused more trouble than pleasure. Of course, the 1990s were all about sci-fi and high-tech, but we still didn't have the knowledge to make long-distance toys work as they do today.
If I could guess, I'd say that all of the innovation happened in the past decade and that we are just at the start of our wonderful teledildonics ride. In fact, tons of brands are competing to revolutionize the market and create the most realistic teledildonics toys. That includes big names like We-Vibe, Kiiroo, OhMiBod, Lovense, Svakom, Satisfyer, and so on.
If you're completely clueless and those brands mean nothing to you, I could say that they are like the Apples or Googles of the sex toy industry. They are spending considerable time designing the world's most futuristic LD toys with AI compatibility, VR integration, and flawless wireless connectivity to practically reinvent the way we have sex with our long-distance partners. Who knows what they'll think of in the future, right? But don't hesitate any longer, get your long-distance sex toy today and have fun!
⚠️ Disclaimer: Our articles contain affiliate links. If you like our content and wish to support our work, consider purchasing your new sex toys through our links. For each purchase through our links, we receive a small commission but at no extra cost to you.
FAQ
Teledildonics refers to a specific category of sex toys that interact with each one another and with you or your panter's bodily movements during long-distance sex. On the other hand, you can also use remote-controllers toys for long-distance sex, but you won't be able to get the benefits of teledildonics.
It all depends on the toy and you'll have to do some research to find the perfect teledildonic connection. Most long-distance toys are compatible with new Apple or Android smartphones and they will require Wi-Fi or Bluetooth. Also, some toys might come with a desktop app for newer Apple or Windows devices. You'll have to see if your toy is compatible with your computer and its operating system.
Some examples include the Lovense Remote, OhMiBod Remote, We-Vibe's We-Connect, and Kiiroo's Feel Connect app. Those apps are made by some of the biggest sex toy manufacturers. You can use them to connect their products and control them from a smart device. They offer video chat and interactive videos along with customizable or interactive sex toy controls.
That will depend on your budget. If you want to explore teledildonics and buy two toys that can sync with each other, you should spend around $200 to $300. But, if you're only looking for a simple remote-controlled vibrator or massager, you'll be able to find one for up to $100.
This is a tricky one. Instead of surprising your partner, you should always talk to him first. Try to find out his opinion on using remote-controlled sex toys to improve your intimacy. You can tell him all about why you want to use these toys and talk about their benefits for both of you. If you make yourself clear, he'll probably be into it.
Obviously, a sex toy app receives incredibly sensitive audio-visual information. In the digital era, nothing is safe from cybercriminals, but there's no reason to worry. The top manufacturers are constantly striving to improve the security of their apps and eliminate any possible threats. If you're unsure, you can look up the manufacturer online to see if their sex toys have a history of vulnerabilities.