Jul/05/2022
Last Update: June 26, 2023
969
24 min read
Best Double-Ended Dildos In 2023: Double The Dildo, Double The Fun!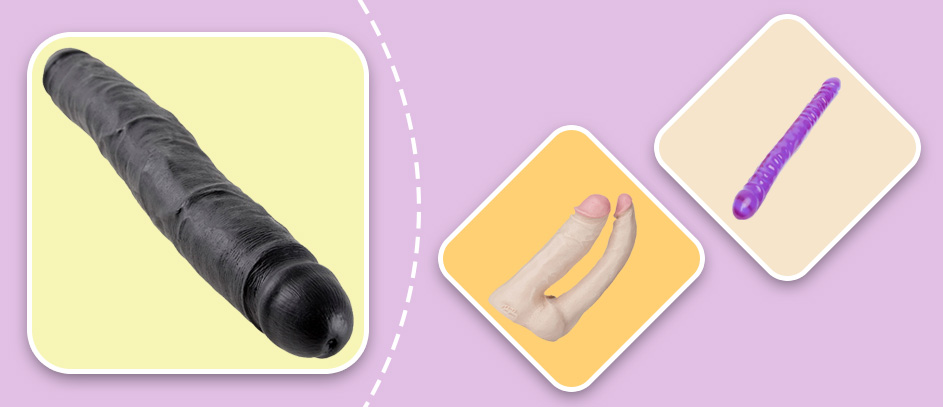 Everything in life is better when you double down, right? There are double chocolate chip cookies, double whoppers, double tequila shots, and other tasty treats. But what if you're hungry for double-ended dildos?
Sure, you can swing them around like a pair of nunchucks when you're fighting off a zombie apocalypse. But once that's over, just stick your double-ended dildo deep in your pussy and ass. Now, fuck your brains out raw until you get the ultimate DP orgasm! Double freakin' whammy! So let's double the fun, and I'll show you all you need to know about extra-long, bendy, and insanely hot double-ended dildos!
Top 10 Double-Ended Dildos in 2023: All Holes Tested!
Even though my ass has seen a fair share of sex toys over the years, I've never actually had a double dildo inside me. Well, not until I talked to my friend Megan.
In fact, Megan and I have been two very naughty girls together recently, and we tested all kinds of sex toys. And if Meg says something feels good, goddamnit, it is good! She agreed to help me out today and we're going to double down to show you our top 10 double-enders!
Double-Ended Dildos: Double Your Pleasure!
Honey, I'm not gonna bore you with vanilla sex toys such as compact bullet vibrators or those tiny finger dildos today. I wanna help you get straight to the fucking! If your holes are hungry for a gargantuan two-headed monster, your kinky sex toy expert Scarlett here is gonna tell you all about hardcore double dildos! If you have at least one hole in your body, a double-sided dildo can help you explore all kinds of solo and coupled adventures. From intense DP that makes you squirt buckets all the way to pegging your BF like he's your little sissy, double dongs can do it all!
But what's a double dildo anyway? And why does it look like a domestic terrorist threat? Sugar, you can endlessly (and safely!) experiment with this dildo to spread out your holes to the max, dip into double penetration, train your throat, or double up with your horny-ass partner until you're both soaking the bed!
Time to Train All Your Holes!
Contrary to popular belief, huge double-ended dildos aren't only used as extreme sex tools in porn or as silly melee weapons in video games like GTA. Many folks think that all those extreme porn acts with double-sided dildos are just fantasy fodder. However, you can genuinely test out various kinky acts of penetration with a double-sided dildo if you know what you're doing.
Now, if you're in a lesbian relationship, you can only go so far with your tongue and fingers. It might all be hot and wild the first couple of times (especially if you're fucking in public dressing rooms), But that could soon start to get boring. Enter: double dildos!
Trust me, Megan and I toyed around with tons of dirty gadgets when we were horny and needed to fuck like pigs. My boyfriend Richard almost beat his cock to death when he watched us play. We tried classic dildos, strap-ons, vibrators, butt plugs, squirters – you name it. Yet, I still can't thank Meg enough for talking me into trying a double-sided dong. She first convinced me to test out a double-ended dildo with my boyfriend Richard when we were just beginning to dive into double penetration.
She said that it might be a little weird when you don't see the actual thing in front of you, but once you start using it, it will open up an entirely new world. So say hello to unusual positions, endlessly kinky acts, and unforgettable mutual orgasms!
Additionally, double-sided dildos are not reserved for lesbian sex only. There are loads of hot and outright filthy ways you can use them on your own or with someone with a dick.
What's a Double-Ended Dildo Anyway?
"If you want to be in trouble, make it a double!"
Still not convinced? Are you wondering: "Scarlett, how the fuck do I push a 12-inch fake cock inside me?! Is that even freaking legal?!?"
Relax, honey – nobody will bust you for strong orgasms. I mean, just look at girls like Adriana Chechik. This insatiable goddess constantly uses twin dildos in her holes and on her friends. She makes it all seem like a delicious piece of cake!
Of course, whether you aspire to be like Adriana or want a quality sex tool to make your bedroom marathons more practical and a hell of a lot more exciting, you should look at the basics first.
Fortunately, it couldn't be any simpler. A double-ended dildo is exactly what its name says! It's a dildo that comes with an extra-long shaft and two insertable ends. Instead of giving you a base, suction cup, or a pair of balls at the bottom, the other end provides you with a second phallic tip.
If you're solo, you can use one or both tips for intense penetration. Also, you can push one tip inside your punani and the other inside your partner. Can you even comprehend all the options here???
However, those of you who are just beginning your search for the ultimate double dildo have probably come across hundreds of options. A word of warning: not all of these toys are as great as they look. You'll have to filter out all the hazardous crystal jellies out there. Plus, you'll need to find something that looks and feels fantastic for your wild adventures.
Double Dildo Magic!
Check out some of the hottest ways to use double-ended dildos as tested by your kinky sex bunnies Scarlett and Meg:
Penetrate your magic muffin for ultra-long pleasure. How deep can you go?
Push it in your cooch and tush simultaneously. Can you be the DP queen?
Two dicks, one hole. If you're brave and nasty, you can stuff both ends inside one hole for an epic workout!
We're only starting to scratch the surface here, dear! The fun gets even weirder when you use your double cock toy with a partner. Here are some epic combos you can try:
Pussy to pussy
Pussy to ass
Asshole to asshole
One end in your pussy or ass and the other in your male partner's butthole
Oral to oral
Oral to pussy
Oral to ass
I'm sure there are even more options that can help you spice up those same ol' missionary, doggy style, or face-to-face positions. Also, you can stuff this thing inside just like any other standard dildo by inserting only one end. Not good enough? Just spin that sex monster around like a lasso and slap your naughty little slave straight in the face to show them who's boss!
More Inches Than You'll Ever See
Most dual dildos are available in fabulous designs and life-like textures. You'll get a long, smooth, bigger-than-your-arm shaft. It usually measures between 10 to 15 inches or more.
Before your holes scream for mercy, just remember that it's supposed to be that long so that you can use it for masturbation, lesbian sex, and heterosexual sex.
Believe me; there's nothing hotter than your lesbian lover stuffing you full with your double-ended dildo and pushing the other end deep down her throat while it's still inside you! Meg showed me that little trick, and I seriously started to worship the double dick after that.
What's more, the feeling of finally being able to squeeze that 12-inch dildo fully inside you is one of the most amazing experiences I've ever had. If you want to break your comfort zone with the best double-sided dildo of them all, note that these toys are usually categorized according to:
Length
Width
Color
Shape
Flexibility
Features
The Most Common Double Dildo Shapes

While double-ended dildos can help you make two friends with one gift, a cool way to dodge the lemons and find ​​the toy that works for you is to look into the different types. Then, you'll be able to seek out just the right kind of fake double cock. Here are the most common dual dildo designs:
I-Shaped Dongs
It doesn't get any more classic than this. You'll get a straight I-shaped shaft that you can bend for all kinds of penetrative acts. You can join the ends together and push them inside both holes.
Alternatively, you can use the dildo with your partner while joining your bums together or scissoring. What about keeping this bad boy inside you like a strap-on while you plow your partner's hole in all kinds of positions? Double, double toil and trouble!
U-Shaped Dongs
The second most common design you'll encounter is U-shaped. It's not as flexible as the previous one. It's mainly intended for vag-and-bum solo penetration. This design is more popular for solo play because it's sturdier. The U-shaped shaft makes it much less likely to break the position and pop out during use. However, you can't bend it to a straight line and use it with a partner.
Types of Double Dildos
Even though the type of dildo you pick could be entirely unique, it will still use one of the above-mentioned shapes. But, the types also vary based on the materials, textures, surfaces, and extra features.
In most cases, some double-ended dildos are ultra-realistic replicas of real veiny cocks. Others could be sleek and plain. Which one would you rock your tonsils with? Here are some of the most common double-sided dildo types:
Silicone Double-Ended Dildos
I've always said that a good old silicone dildo should belong in every sex-positive woman's bedside table. But what about silicone double-ended dildos? Well, the difference mainly lies in the shape and what you can do with it. Everything else stays the same, and you still get the velvety flesh-like texture and smooth feeling of silicone.
Plus, if you didn't know, silicone dildos are the safest sex toys out there. They are the most body-friendly toy. These dildos are 100% non-porous and hypoallergenic. This also makes them easy to clean and increases their durability to the max.
Whether it's an I-shaped or U-shaped silicone double dildo, I'd always advise beginners to start with a toy made from this material. My friend Megan taught me that these types of double-sided dildos feel glorious in both of my holes.
What I love about them is that they're nice and flexible while still giving you the feeling of a real dick. Also, I guarantee that tight pussies and assholes of all kinds will enjoy the thickness and natural squishiness of this material.
Metal Double-Ended Dildos
Did you also know that not all double-sided dildos are soft and wiggly? As I said, there are *tons* of options. I didn't even begin to talk about those that feel cold and hard when they penetrate your ass!
Metal dildos are some of the coolest choices if you're looking for a solid, unyielding shaft that delivers out-of-this-world sensations. Seriously, these toys deliver much more pressure compared to silicone dildos. You'll get a special rush when your muscles tighten around the metal.
What's more, these types of double dongs are typically made of surgical steel. Medical-grade steel is a non-porous and hypoallergenic material. It's virtually indestructible! You can use it safely to open all doors without any health risks.
Plus, these steel beasts will allow you to use any type of lube. It's especially entertaining if you need loads of oil up your butthole (you can't use oil with a silicone dildo). Another reason why you might want to get a steel toy is temperature play. You can warm or cool your double-ended dildo before you insert it for tingly sensations!
Rubber Double-Ended Dildos
Many dildos are made using ​​jelly-like rubber, PVC, or vinyl. These materials are dirt cheap, and they are the most flexible. Yet, that doesn't mean they're the safest. Rubber dildos are known for their bendiness. However, this is mainly because the materials get pumped with toxic phthalates.
If you have to use them, you can find phthalate-free rubber, which is a healthier alternative. But, since rubber and jelly dildos are still highly porous, you'll have to disinfect your double-ended dildo after each rodeo or even use it with condoms to minimize any risks.
I wouldn't recommend rubber or jelly to anyone, but since these materials are so widely used on dual dildos, you might have to make a compromise if you can't find a decent silicone dildo for you.
Plastic Double-Ended Dildos
If you still want a plastic or rubber toy due to its spongy and bouncy texture, the safest rubber-like option here is a TPE double dildo. TPE is a commonly-used toy material that feels similar to silicone. Except, it's a bit softer and squishier. In a way, it blends all the great parts of rubber and silicone toys together.
However, if you're getting a TPE dildo, just remember that this material is somewhat porous. You'll need to know how to clean and use it properly to get the most out of it.
Alternatively, ABS plastic is another neat choice for those looking for a hard dong. ABS plastic is body safe and non-porous, and it can give you an unyielding shaft plus tons of hard pressure. But I haven't seen many of these around, and you're more likely to see the material used on G-spot or prostate massagers and similar toys.
Glass Double-Ended Dildos
If you want something truly special, glass dildos are an entire world on their own. I found that out in my previous article. The short version? There's really nothing like stuffing a piece of glass in your ass!
Glass double-ended dildos look like shiny pieces of art. But they also pack a huge punch. They're similar to steel dildos in the way that they fill you with extra hard pressure. However, glass dildos also have the smoothest surface out there. They're the best for fast or slow gliding motions.
Plus, glass is one of the safest options out there. It's non-porous, and it can last forever. But be warned, you have to be extra careful not to drop or ding these things when you're using them with a partner.
Anyway, they'll give you a straight or curved shaft along with various embellishments. That includes bumps, ribs, and swirls for extra special internal pleasures.
Explore Double-Dipping Fun With These:
Look, it's not just about grabbing any brand new wiggle stick and taking it for a ride. You have to focus on the exact pleasure you or your partner want to explore. So how do you want to cum?
Well, here are some other types of double-sided dildos to help you double the madness:
Realistic double dildo – These dildos look and feel like real dicks. They'll give you two round and delicious cock heads plus tons of throbbing veins along the shaft and all other physical embellishments of a real boner. They also come in black!
Double-ended vibrating dildo – If you need vibrations to get off, look no further. These types of vibrating dildos usually have motors built into each head. They offer various speeds and pulsation patterns that will buzz your G-spot or A-spot into orgasmic bliss!
Non-phallic double dildo – If you don't like cocks, you can choose a non-phallic shape. These dildos are straight, sleek, and they don't resemble a man's penis at all.
Double-ended strap-on dildo – Strap-on double dongs are some of the mightiest toys for lesbian sex or pegging. You can secure this dildo onto your body with a strap-on harness, and you'll get a long hard dick to play with. Better yet, the other end can go in either of your pleasure caves while you're fucking your partner senseless.
One thick, one thin – You'll also find double-sided dildos that have a different thickness on each end. These are great for experimenting and especially for DP if your starfish prefers something slimmer.
Only For the Brave:
Extra-long double dildo – If you thought that monster dildos were massive, your jaw will drop when you see an extra-large double dildo. These things are bigger than an anaconda, and some of them measure 28 inches in total length! Since a regular double-ended dildo is already huge, I'd advise you to skip this option unless you're experienced enough to blast your holes out until you can't walk. Yippee-Ki-Yay, Motherfucker!
DP dildo – This is a special type that gives you two dildos on one shaft. You won't be able to flex it and use it with a partner, but it will give you some unforgettable DP experiences.
Strapless dildo – These dildos are similar to double-ended strap-on dildos, except they're supported by your body and not a harness. Usually, the end that goes inside you looks more like a G-spot massager. It's ergonomically designed not to fall out while you're dicking someone down with the other end.
Buyer's Guide: Double or Nothin'
Did some of the above examples give you a little tingle in your crotch? Well, don't say "shut up and take my money!" just yet. Let me share some buyer's secrets first:
Is It Nice and Sexy?
Obviously, the best double-sided dildo design might feel awesome to one person, but it could be downright terrible to another. Meaning this tip is all about personal preference. Meg says I gave her the strongest orgasms when we fucked with a huge black dildo, and I don't need her to remind me of how much that monster made me squirt! Yet, you might prefer a different alternative.
Either way, just remember: a sexy dildo is a great dildo. The overall look and design will play a huge role in your arousal, foreplay, and your orgasm.
The Longer, the Better
If you want to use your double-dipper for mutual penetration with your partner, I'd advise you to skip the smaller options. Sure, my jaw literally dropped to the floor when Megan took out her 14-inch double dildo while telling me to get down on my knees and be a good girl. But, I soon realized that all that extra length is absolutely necessary for mutual penetration. In a way, you should feel intimidated!
Even if you're worried, know that you're going to need some space between you and your partner if you want to try creative positions. In my experience, you should aim between 12 and 18 inches. Always split that measurement in half if you're inserting both ends to see how much you'll actually take.
For example, if you get a 12-inch dildo, you'll be able to insert 5 inches inside both holes with one or two inches of space between. I found that 14 or 16 inches worked better for me. ​​Now, if you don't have any experience or if you prefer something smaller, go for it. What's more, if you want a huge two-headed beast, go ahead and treat yourself to that massive 18-inch double dildo!
How Thick Do You Want It?
It's also vital that you think about how much you want to stretch and whether or not you enjoy that special feeling of fullness inside you. If you want to use your double dong in your or your partner's booty, you may not need an extra girthy and meaty dildo. Obviously, it needs to be smaller to pass through those untrained sphincters.
If you're a newbie, I'd say a girth of 1 to 1.25 inches will be enough. If you like it nice and thick and you're already trained, 1.5 to 2 or more inches will give you a nice and wide stretch.
Flexibility
Flexibility may not be important with other toys, but it plays a vital role for double dildos.
When you insert both ends, you'll put a lot of pressure and force on it in various different directions. If you want a metal or glass dildo that just doesn't move at all, you'll have to be extra careful. You could end up hurting yourself or damaging your double-ended dildo if you make the wrong moves or the thing accidentally pops out of you.
Material and Toughness
Speaking of firmness, I'd advise all beginners to start with a flexible silicone dildo to avoid any annoying mishaps. Silicone is soft but firm enough for vaginal and anal insertion. It will also work wonders for solo or mutual play. It will provide enough oompf, and it will stretch you in the right way, regardless of if you're DP-ing yourself or you and your partner are doing it ass to ass.
Alternatively, I've already mentioned the best options for firm and unyielding dildos. If you're experienced, and you know that you need hard pressure plus deep penetration, metal, glass, and ABS plastic are all great options. Just remember that you will need to handle your extra-hard dildo with care.
What About Some Extra Features?
If you don't want a traditional dual dildo, you can fill two needs with one deed if you focus on several additional features:
Textures – Look out for ribs, nubs, dots, swirls, and even anal beads along the shaft. These will target your internal nerves in a special way to boost stimulation.
Head or no head? – Double-headed dildos will give you a bulbous tip that can stretch you out more and massage your G-spot. But, if you prefer smooth penetration, you don't have to get one with heads on both ends.
Handle – Sometimes called a sword handle, this is a base at the bottom. You can grip onto it while pushing your double-ended dildo deep inside your partner. But, you can also insert the handle inside you. This feature is usually more common on metal or glass dildos.
Vibration – Double-ended vibrating dildos can fizz your brains out and make it feel like the world's going to end! Here, you should focus on the power options, noise, and vibration modes to see if your double-ended dildo can handle your appetites.
Remote control – Remote control is much more common on single vibrators and dildos. But you'll also find it on some vibrating double dongs. This feature is useful if you want to configure the vibration patterns remotely for hands-free play. It's especially handy if you have a master that's going to dominate two slaves at the same time. Just that time when Richard, Meg, and I took a couple of days off in Maui! Best summer vacation ever!
Suction cup base – Some DP dildos will give you a suction cup base. This is the best feature for hands-free solo play. Just stick the suction cup onto a flat surface and ride on!
What about VR, app control, and other next-gen features? – Well, those are not the most common features for classic dual dildos. You may see them on DP vibrators or dildos, but the way a double-headed dildo is designed doesn't really accommodate those options.
Don't Forget…
The look, length, flexibility, and thickness are the most important factors you need to look into before you buy your double dick.
It's not a bad idea to make a list of your faves and compare the prices to find the best toy for you.
Always keep your partner's interests in mind. Choose your double-ended dildo together and ask them about the features and the look that they'd prefer.
Learn all the safety tips before you and your partner jump on your new dildo.
Avoid toxic materials like jelly.
Don't go too small. If the shaft is not long enough, you may not be able to try different positions or stretch the dildo enough for DP.
Tips on Using, Cleaning, and Storing Your Double-Ended Dildos
Dual dildos have definitely helped me widen the definition of "slut". And trust me, they've given me some of my all-time favorite orgasms. Also, they made Richard jizz like a racehorse, and my friend Meg is literally addicted to stuffing my ass full with a double-headed dildo while it pushes deep inside her dripping pie. YOLO, right?!? But, getting kinky with a double dong may not be that easy for you at first…
Cum Together (Safely!)
Unfortunately, while double-sided dildos are versatile and infinitely entertaining, they are some of the most difficult toys to use safely. If you want everything to work out smoothly, just use my safety tips:
Don't interchange the ends – Whether it's solo or partnered play, you should never change the ends and swap them from hole to hole. Meaning if you're using one end in your butthole, make sure it stays there! If you swap holes with your double-ended dildos or push them out of your sphincter and into your partner's hole, you will risk nasty infections.
Use a condom on one end – You don't necessarily have to use condoms on your double dong, but doing this is a neat way to remember which end is yours and which end is being used by your partner.
Make sure the thing is nice and clean before you use it. Nobody likes a filthy, smelly fake cock!
Use the right type of lube – If you get a silicone dildo, don't use anything but water-based lube with it. All other lubes can damage the material. However, if you get a glass or metal dildo, you can use oil or silicone-based lubes to your heart's content.
Now, Have Your Cake AND Eat It!
The rules to live by here are masturbate, lubricate, and communicate.
If you're sticking a long-ass dildo in your and your partner's love tunnel, you will have to move slowly and work out some of the logistics. This might not happen during your first ride, but you'll get used to it in time. Whether you're riding that double dick solo or with a partner, try to get extremely horny first and push it in slowly.
Also, it's very likely that you'll need to stretch your butt out first if you're planning on doing DP, so you'll probably need to pop in a buttplug or have someone give you a long, sensual rimming to loosen you up beforehand.
Plus, if you need ideas for some kinky positions, you can try everything from solo missionary, ass to ass doggy style, face-to-face missionary, standing sex positions, or a tried-and-true piledriver.
Whatever the case, you're going to need to focus on keeping a steady rhythm. Try to push your dildo right against your G-spot or A-spot and keep consistent movements. Don't forget to stimulate your or your partner's clit or any other sensitive area!
One of my favorite things to try with Meg is to make Richard watch us while we're both sliding up and down on the dildo and cumming at the same time. So, try to get creative!
How to Clean Your Double-Ended Dildo
Soft silicone dildos are fairly easy to clean. You can soak them in warm water and even use mild soap to get all the squirt, cream, and lube off. Also, you can run it under the tap and use your hands to wipe off any residue. The same method will work for glass or metal toys.
What's more, you can put silicone, glass, or metal dildos in boiling water for a few minutes to sterilize them fully. I'd recommend this option, especially if you're thinking of penetrating one or more assholes with your double-ended dildo. That way, you can fully sterilize it and rest assured that all the germs have been wiped out. Also, you'll have to leave your double-ended dildo out to dry afterward.
When it dries, you should only store it in its original packaging. The longer it is, the more space it will need to lie flat. The original box that matches the dimensions will work great. You can use other boxes but don't bend and store your double-ended dildo because that could affect its shape.
Inside the Double-Ended Dildos Industry
Why are these toys sometimes called Roman dildos? And why, oh why, was an ancient Chinese prince buried with his double dong?! Let's look into the bizarre history and future of double-headed dildos!
A Long and Hard History of Double Dildos
Around 30,000 years ago, a horny Neolithic human realized that the biggest weakness of penises was their complete lack of portability. Plus, they were attached to sweaty, hairy hunters whose beards often reeked of mammoth flesh. And so, the dildo came into being.
History shows us that our ancient ancestors first made phallic-shaped dildos out of polished stone. As time passed and craftsmanship evolved, we started to see ancient bronze dildos pop up in China. The proof? A huge bronze double-sided dildo was found in prince Liu Sheng's grave. It dates back to the Han Dynasty. Most likely, the prince allowed his concubines to use it whenever he was in the mood to see something freaky.
When it comes to double-sided dildos as we know them today, they date back to ancient Rome. The Romans used bronze two-headed dildos for ceremonies and parties with their friends, hence the term "Roman dildo".
The use of dildos stayed relatively the same for a long time after that. Glass dildos were invented in the middle ages. Strangely enough, some cultures didn't use man-made dildos at all and instead relied on natural dick-shaped objects like bananas or plantains.
Heck, by the time we got to the 18th century, using dildos was a criminal offense all over Europe. If you got caught playing with one in an "unnatural" way, the punishment was death. Holy shit, my dildos could have gotten me killed a million times by now!!!
But, things weren't so gloomy when the 20th century arrived. New materials and technologies were used for manufacturing dildos, and everything changed with rubber. Rubber and silicone gave us unlimited options regarding shapes and flexibility, and along with that came the invention of the double dildo.
Baby, We've Cum a Long Way
These days, you can find dildos in every variation imaginable, and they can suit any taste or experience level. We should be eternally grateful to sex toy masterminds because of that! They keep designing new dildos and innovating them to perfection. Right now, some of the top brands that are pushing the boundaries are Doc Johnson, Adam and Eve, Glas, Dorcel, KingCock, Fun Factory, Lovehoney, etc.
Any double-sided dildo from those brands will give you an unforgettable experience, right from a lux box to a durable and highly effective dildo that will please you for days on end.
Of course, the designers are getting more creative by the day. Some of the most popular new features out there are VR, long-distance control, app control, and smart monitoring. As I said, you won't find these features on most double-enders, but who knows – maybe they'll be available in the future? Right now, it's time to get that ass on double duty and buy your double-headed monster today!
⚠️ Disclaimer: Our articles contain affiliate links. If you like our content and wish to support our work, consider purchasing your new sex toys through our links. For each purchase through our links, we receive a small commission but at no extra cost to you.
FAQ
Definitely! You can do a lot of things with a double dildo, depending on your turn-ons. You can use one during foreplay, or you can sit back as your partner DPs you with it. Also, you can also use one end in your vagina or anus while your partner penetrates you. There are so many options here!
Absolutely. A gay double-ended dildo can be a superb addition for intense anal sex and a deep prostate massage, along with mutual penetration in all kinds of positions. Gay double-ended dildos can also be a neat addition during blowjobs, oral sex, rimming, and so on.
This is a totally legitimate question because you'll come across hundreds of dual dildos made of rubber or jelly. They are the most common materials for double dildos out there. I'd advise you to skip them because they are not body-friendly. However, if you have to use a soft and jiggly jelly dildo, you can get one, but you'll have to be extremely careful. For example, you should use it with a condom and replace it frequently.
That depends. If you have never tried a sex toy, but you know what it feels like to get penetrated by large penises both in your vagina and anus, then yes, a double-ended dildo will help to fulfill more of your fantasies, and it will feel amazing. However, if you're sensitive down there, and you've never owned a sex toy or, let alone experienced DP before, it might be better to start with a smaller classic dildo or vibrator.
Yes! A classic bendy double-headed dildo can work as a regular dildo if you only want to insert one end. The best part is that you can push it in as far as you like and as far as you can handle! However, some inflexible types made for DP can only be used for both holes.
Yes, but you have to learn how to use them properly. For example, you should never interchange the ends during solo or mutual penetration. This could lead to infections and other health issues. To be absolutely sure, you can use a condom until you get the hang of it.
Oh, yes! Some men love getting their anus penetrated with a dick-like object, and some of the best toys for that are double dildos or strap-on dildos. Pegging is incredibly kinky, and it can allow you to try all kinds of roleplay. Plus, it will feel amazing for your BF, especially if you learn to hit his prostate just right to make him cum hands-free!