Oct/25/2022
Last Update: June 26, 2023
789
7 min read
This 18-Inch Double-Ended Dildo Destroyed Our Holes!!! Doc Johnson Crystal Jellies Review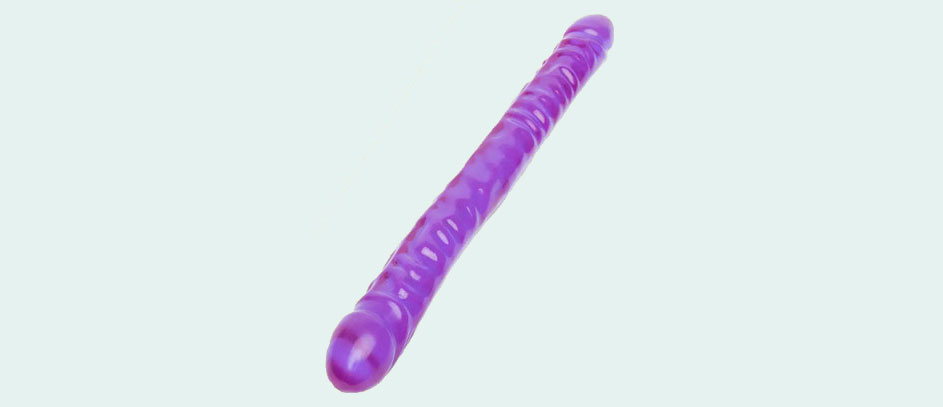 Sometimes, you just have to go all out and buy a realistic 18-inch double-ended dildo. Why? Well, life's too short to only fuck one dick, baby! Plus, you'll always be able to use this bad boy like a pair of nunchucks in case you need to defend yourself! Trust me, I wouldn't want to get smacked in the face with this 18-inch mega-cock… Now, I was feeling extra horny these days and pretty much the only way to solve my problems was to order a huuuuuge fake dick and shove it deep in my pussy and ass. Oh, and I also pushed this dildo up my boyfriend's butthole while it was fucking my pussy. Happy days! So let me get straight to the fucking point in my Doc Johnson Crystal Jellies review and tell you all about this double-ended monstrosity!
Get on Your Knees and Take It Like a Bitch!
There's no need to be polite here: if you're looking for a double dildo, you're probably a naughty little bunny. You have certain cravings that are so slutty, they would terrify most "normal" people. You see, we're not so different, you and I…
I love and need things to be really, really big and that's why Doc Johnson is one of my favorite dildo manufacturers. This brand is the mastermind behind some of the most popular realistic dildos out there and the Crystal Jellies series truly needs no introduction. But, if you're here, you're probably not looking for a super-detailed backstory. It's more likely that you wanna know how this dildo feels in action.
Well, you can join the ends together and push it deep in your ass and pussy at the same time! But that's just one out of a gazillion different options. There are so many other fun combinations you can try with your partner. That includes pussy to pussy, pussy to asshole, oral to oral, oral to pussy, and so on… What also helps is that the Crystal Jellies double dong is a whopping 18 inches long and it's obviously more than enough to satisfy any size queen.
First Impressions: It Made My Jaw Drop
It all went down like this: my dildo arrived for my Doc Johnson Crystal Jellies review and just minutes later, Richard and I were pushing it deep in our holes at the same time while screaming in joy. But let's back up a bit. This bad boy is obviously bigger than my arm. I could tell it was going to do a lot of damage from the moment when I unpacked it.
Seriously, when I picture a double-sided dildo in my head, it probably looks like the Doc Johnson Crystal Jellies double dong. This thing is huge and not to mention purple. All double dildos should be purple, shouldn't they? However, this dildo is also transparent. It has a ton of realistic bumps, curves and veins across the shaft. Plus, the cock heads on both sides are so gorgeous. I literally don't know which one to suck on first!
What's also neat is that you'll get a lot of cock for your money. The price is just under $30. I'd say that's more than generous for what you're getting in return.
Moving on, when I started my Doc Johnson Crystal Jellies review, the toy came in a clear plastic box. Sure, you won't get premium packaging. Still, the design of the box is amusing to look at. It will greet you with a funny "Grab a Jellie and Jam" slogan. And I know that you probably don't care about the box, but let me point out that the straight plastic tube that holds the dildo is actually quite convenient for storage. It will help your fake dong retain its shape when you're not using it.
View Price On Pleasuresuperstore.com
Features
Flexible 18-inch double dildo
Realistic look and feel
Round lifelike heads for easy insertion
Circumference: 5.5 inches
Waterproof
Phthalate-free and Latex-free
Double Dong, Here I Cum
What I didn't mention so far in this Doc Johnson Crystal Jellies review is that this baby is also super thick. The 5.5-inch circumference plus the 18-inch insertable length truly makes a mean weapon and your imagination is literally the limit here. That, and the depth of your holes, of course. Again, you won't be short-changed on pleasure here. But, I will need to point out some important things about this big fella.
For one, it's obviously not meant for newbies and it requires some training. If you're planning to use it for solo or coupled play, you also need to know what this dildo is made of.
Materials
With a name like Crystal Jellies, you'd think this guy is made of jelly, but the material is actually PVC. This is not the safest dildo material out there, but it comes with the benefit of being super flexible and squishy. All the while, I found that it still felt very rounded and firm enough for smooth and intense penetration. That's one advantage of the material they used on this toy.
However, the downside is that PVC is porous. You will need to clean it thoroughly after each use. If you pop it inside your boyfriend's stinky poop chute, you won't be able to sterilize it by boiling it like some silicone dildos out there. Still, you can use it with condoms to keep it germ-free.
So I would put this material in the "maybe" pile but I don't think it's an issue with this particular dildo. For one, it's super cheap and you can easily toss it out and replace it. Also, the PVC material used on all the ​​Crystal Jellies models has an awesome feel and texture that's just perfect for a double dildo. Unfortunately, the thing does smell a bit when you first open it. However, the scent will go away after you wash it two or three times.
How Big Is Too Big?
If you're like me, you already know the answer to that question. Really, no cock is ever big enough! However, the 18-inch length of the ​​Crystal Jellies puts it among one of the biggest dongs I've ever had inside me.
What *really* made me lose my mind here was the long and textured jelly shaft. For me, it was super versatile. It allowed me to experiment with tons of different sensations on my own and with my BF.
Plus, the whole thing looks super realistic. It all starts with two delicious cock heads. Then, you get all kinds of bumps, ridges, and veins. The shaft isn't tapered and there are no stoppers. This put a huge smile on my face because I knew I would be able to insert this thing inside my asshole as deep as it would go.
So besides kinky solo and partnered play, you can also experiment with extreme depth play and train those holes, but only if you're brave enough! I was able to push 12 whole inches inside Richard's ass and there was a lot of shaft left over for my pussy. So take a deep breath, use a lot of lube, and wreck the hell out of your slave's asshole without worrying that your new dildo will be too small!
View Price On Pleasuresuperstore.com
Twice Upon a Time
During my Doc Johnson Crystal Jellies review, I couldn't help but notice that the shaft feels a bit wiggly once you push it inside. However, pretty much all double dildos do this and you'll need to learn to maneuver them.
If you want to use this fake dong with your partner, you'll have to take your time and figure out the optimal angle and position for both of you. Now, Richard loves it when I milk his prostate, but we've never tried to use a double dildo together until now. Sure, it was a bit unusual to see this fake cock stick out from my pussy and then go inside his anal hole. But, it's definitely something that you can try with this dildo if you're into it. If not, I've already given you some ideas on how you can use this bad boy to go nuts and double your pleasure.
Pros
Super long shaft
The texture is squishy yet firm
It looks deliciously realistic!
Inexpensive
Cons
It's made of PVC and it can absorb bacteria. Still, if it gets worn out after a few months, you can just replace it with a new one since it's not expensive.
Doc Johnson Crystal Jellies Review: Verdict
I ended my Doc Johnson Crystal Jellies review with this thing lodged deep inside my fuckholes and I don't even remember how many times it made me cum… Sure, the dildo is made of PVC but that really won't make a difference since it's inexpensive and you can easily replace it. All that matters is that you'll finally get to double down on the monster cock of your dreams!
⚠️ Disclaimer: Our articles contain affiliate links. If you like our content and wish to support our work, consider purchasing your new sex toys through our links. For each purchase through our links, we receive a small commission but at no extra cost to you.
| | |
| --- | --- |
| 👉 Name: | Doc Johnson Crystal Jellies 18-Inch Double Dong |
| ⚙️ Features: | Realistic, Flexible, Dual-Ended, Squishy |
| 📁 Type: | Double Ended Dildo |
| 🛠️ Materials: | PVC |
Can it get any bigger than this? The size and width of this thing were just perfect for me!
5
It's flexible and quite stable, but you'll still need to figure out how to maneuver it if you're using it with a partner.
4
Super realistic and versatile: I pretty much choked on this fake cock until I saw unicorns. It looks and feels incredibly realistic plus it's hella versatile!
4
The material feels realistic during penetration but it's not the safest option out there.
3
Editor's Pick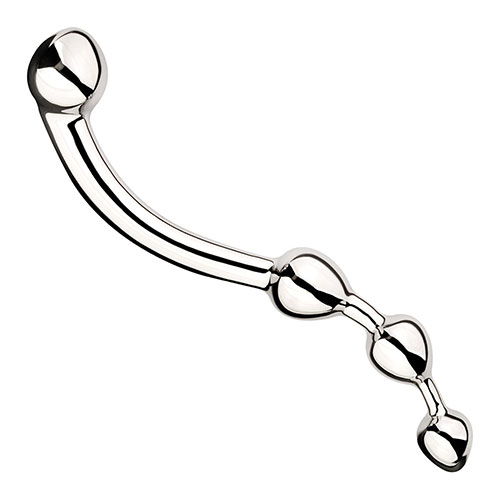 nJoy Fun Wand
⚙️ Special features:
Graduated balls increase intensity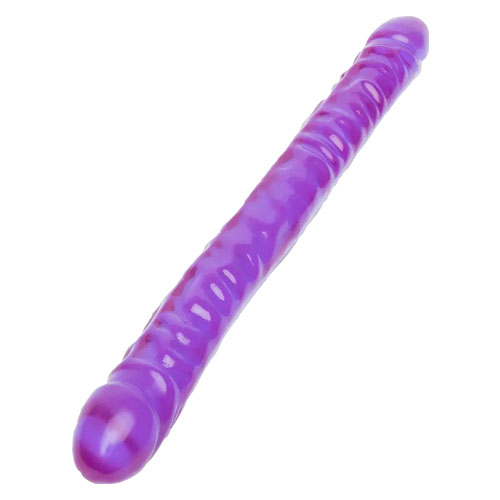 Doc Johnson Crystal Jellies Realistic Double-Ended Dildo
⚙️ Special features:
Thick and long textured jelly shaft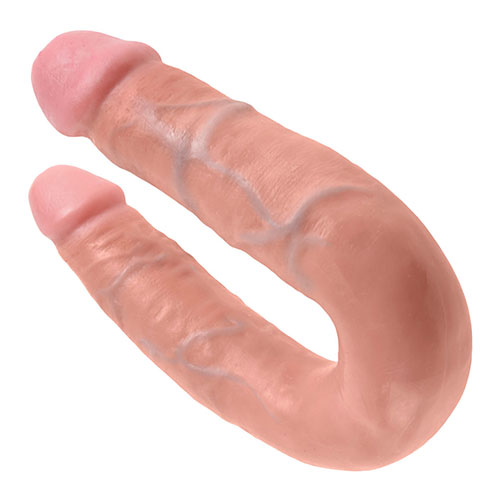 Pipedream King Cock Double Trouble
⚙️ Special features:
Most realistic experience