Oct/25/2022
Last Update: June 26, 2023
797
7 min read
Lovehoney Desire Luxury Weighted Curved Review: Will It Hit My Sweet Spot?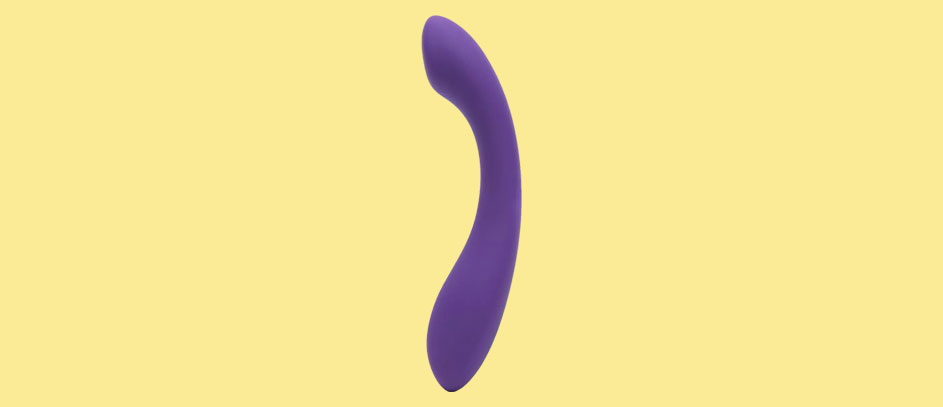 As a sex toy reviewer, I'm always drawn to fresh and interesting ideas. So imagine my surprise when I saw that Lovehoney offers a weighted metal dildo enclosed in silicone! I've definitely never seen this kind of design before and my pussy was practically begging for something ultra-modern and exciting. It's true, all those years of stuffing my holes with floppy realistic dildos are starting to take their toll on me, and let's face it: I have to take a break sometime and try something different. That's why I stuffed this gorgeous purple dildo deep down in my tight pussy and I rocked it hard against my G-spot! Check out the rest of my Desire Luxury Weighted Curved review to see whether this bad boy is truly as good as they say…
Going Down Smooth
Off the top of my head, I can name several reasons why Lovehoney is one of the most popular names in the sex toy business. First, they sell a fuck ton of cool sex toys by various brands and they also make their own. Second, you always get a decent return policy and unbeatable prices.
Now, something caught me off guard when I started my Desire Luxury Weighted Curved review. I was casually looking through Lovehoney's site, wondering what kind of toy I would get to fuck next. I came across the Desire Luxury Weighted Curved dildo and I felt a weird tingle in my minge. It's actually all about the concept.
By far, the Desire Luxury Weighted Curved dildo is something that you don't see every day. It's one of the only weighted-curved G-spot dildos on the market. Sure, you'll see plenty of weighted glass dildos out there. Plus, there are many curved silicone dildos available. But what you won't see are curved and weighted metal dildos that are enclosed in silicone.
To those who don't understand why I'm freaking out right now: there are literally no silicone weighted dildos out there that give you the same look and feel as the Desire Luxury Weighted Curved dildo. What you'll get is a gentle and smooth massager on the outside, and a hard 'n' heavy shaft on the inside. Oh, and it comes in a fabulous purple color that screams "Look at me, I'm a dildo and I'm going to rock your socks off!" All of that is kind of hard to describe so I just had to fuck this thing and cum to my own conclusions.
First Look: Challenge Accepted!
To get this Lovehoney Desire Luxury Weighted Curved review underway, part of the reason why I wanted to jump on this dildo instantly is that I've already tried butt plugs with a similar design. The metal is there to add weight as well as make this dildo firm and unyielding. But, the external silicone layer will give you that classic feeling of a sleek dildo. That way, you get the best of both worlds and the combo gives you some entirely new sensations.
Plus, the shape of this dildo is quite abstract. You can insert both ends and you can choose which one you want to stuff inside you depending on your mood. You can opt for the bulbous end for a deep G-spot massage or you can choose the slimmer curved tip for a subtle yet intense pleasure that you'll feel all around your vajayjay.
In both cases, the internal weight will give you firm pressure along with tons of powerful stretching sensations. That's exactly what I was looking for: a firm toy with a smooth texture that makes my insides tighten up like crazy while I'm creaming over and over again. Now, if you want to add vibrations to all that, you can also get the Desire Luxury G-Spot Vibrator which is pretty similar to this one except it has a built-in motor.
Nevertheless, I wanted to get my rocks off old school and focus on the non-vibrating variant. One more thing: the price is $49.99 which is pretty much unbeatable for a quality silicone dildo.
What's In The Box?
Like most Lovehoney toys, you'll get a plain and simple cardboard box, but wait until you see what's inside. Besides the actual dildo, you'll get a soft leather pouch. I'm pretty much in love with these bags.
I ordered them separately on several occasions, but I didn't know that Lovehoney started to include them with some of their toys. This is pretty awesome of them because the bag is fucking fantastic and it comes with two lockable zippers. So big props to Lovehoney here because this saves you from spending more money on a quality storage bag for your dildo.
Features: Desire Luxury Weighted Curved Dildo
Premium weighted dildo
Metal interior and silicone exterior
Perfect curve for G-spot massage
Ergonomic grip
1 slim end for subtle massage
1 bulbed end for intense penetration
Total length: 9 inches
Insertable length: 5 inches
Circumference: 4 inches
Weight: 11 ounces
Purple Rain
As fun and creative as this dildo really is, the name of this dildo name kind of puts me to sleep. But, that's pretty much one of its only flaws. That and the fact that it's not safe to put this dildo up my butthole. Other than that, the fit and finish is pretty much perfect. I didn't find any flaws or weird seams on the shaft. Plus, I genuinely believe that this is a quality toy for both beginners and pros.
One thing you should be aware of is obviously the weight. In fact, it's hard for me to tell you how this dildo actually feels without actually being able to fuck you with it. But basically, the firm metal casing adds weight and it also prevents this toy from flexing. What you'll get is a powerful feeling of fullness. It will stretch you out to the max. Also, it will make your pussy contract around it as it simulates the majority of your pleasure nerves. You simply need to choose which end you want inside you. What's neat here is that the other end doubles as an ergonomic handle and makes it easy for you to maneuver this dildo.
Stick 'Em With the Pointy End
Now, there's a lot of fun to be had if you experiment with both ends here. The flat and curved G-spot tip is just over an inch across. That's a great width for most G-spot adventures. The forward curve and the flat head can truly do a lot of damage here since they're accompanied by added weight.
One thing I noticed is that you'll have to be careful during insertion due to the unyielding shaft. If you go too fast without lubing up, the whole thing could feel like you're trying to pop a cork out of a wine bottle. So take it easy at first and try some gentle or steady thrusts. Then, if you want to experience something completely different, just flip it over. The other side is generously thicker than the G-spot end. It also gives you more volume plus more weight and feels more like a standard dildo. This end is also bigger and heftier which gives you more all-around pressure. The rest is up to you.
For example, if your sweet spot needs a flat head and firm pressure, just use the G-spot head. If you prefer rounder stimulation and rocking penetration, stay with the thicker end.
Materials and Weight
What also surprised me during my Desire Luxury Weighted Curved review was the smooth feeling of the silicone material. You'll get a silky matte finish that glides smoothly and feels great in the hand. What's more, let's discuss the weight of this dildo. In my experience, it's about 50% heavier compared to regular silicone dildos of the same size.
What I loved about it is that it's exactly twice as light as my Njoy Pure Wand. The 11-ounce weight feels great on my wrists and it puts a lot of heft inside me. What's more, the silicone material is incredibly easy to clean and it pairs quite well with water-based lubes.
Pros
Unique design
Inexpensive
Versatile
Cons
They could have picked a better name
Not suitable for anal
You'll need to spend some time experimenting with what feels best for you (but that's also a good thing, right?!)
Finish Line: Desire Luxury Weighted Curved Review
To sum up my Desire Luxury Weighted Curved review, all I can say is that this bad boy made my G-spot tingle and shoot out massive torrents of cum until I was ready to pass out. This dildo is super unique and versatile and the best thing about it is that you can use it for super long masturbation marathons where all those juicy multis just keep cumming!
⚠️ Disclaimer: Our articles contain affiliate links. If you like our content and wish to support our work, consider purchasing your new sex toys through our links. For each purchase through our links, we receive a small commission but at no extra cost to you.
| | |
| --- | --- |
| 👉 Name: | Lovehoney Desire Luxury Weighted Curved |
| ⚙️ Features: | Dual Ends, Weighted, Ergonomic Premium Materials |
| 📁 Type: | Double Ended Dildo |
| 🛠️ Materials: | Silicone, Metal |
It's super affordable: you'll get a premium design and materials for an ultra low price.
5
One-of-a-kind design: There are literally no other dildos like it on the market!
5
The weight and size are neatly balanced, you just have to be careful during insertion.
4
Two ends: you get to experiment and choose which end you prefer deep in your pussy! I just wish the wider end was a bit longer…
4
Editor's Pick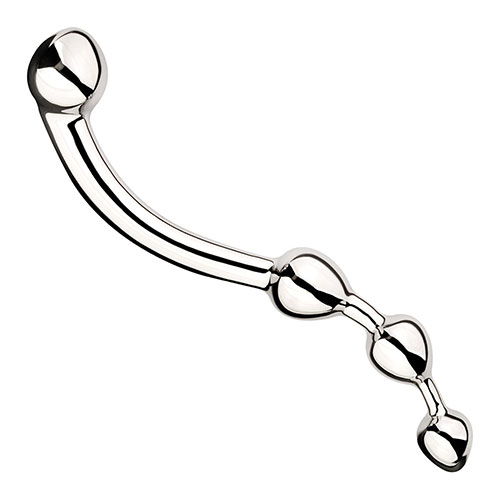 nJoy Fun Wand
⚙️ Special features:
Graduated balls increase intensity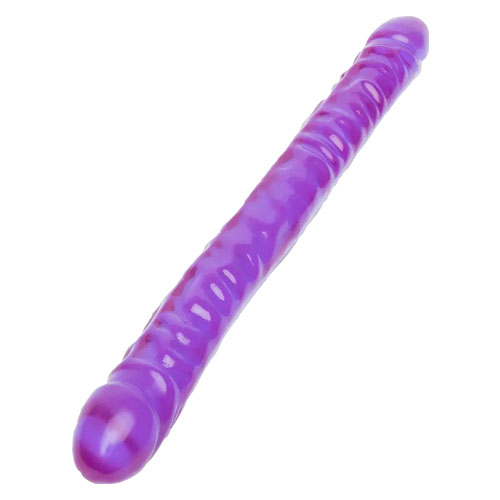 Doc Johnson Crystal Jellies Realistic Double-Ended Dildo
⚙️ Special features:
Thick and long textured jelly shaft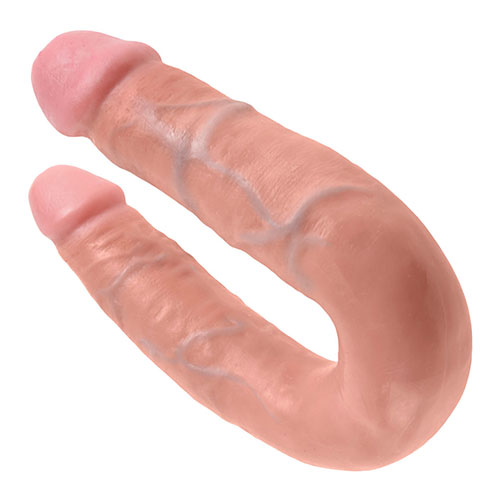 Pipedream King Cock Double Trouble
⚙️ Special features:
Most realistic experience