Jun/22/2022
Last Update: June 26, 2023
1059
24 min read
Easy-A: Everything You Need To Know About Stuffing Butt Plugs Up Your Pooper!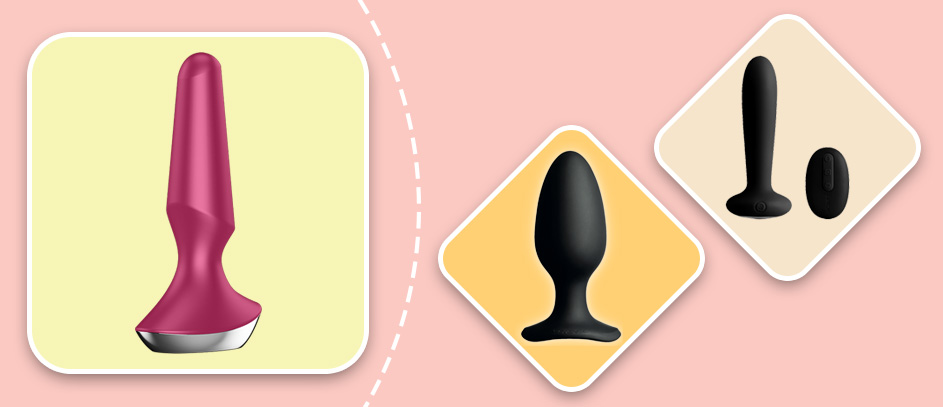 Have you ever reached that point in your life where you're suddenly shoving all kinds of things up your tailpipe for sexual gratification? You know what they say: if you have a butthole, you can plug it! Even if you're an innocent little anal virgin, you probably know that butt plugs are America's #1 ass toy. Almost everyone uses them to fill up their super tight turd tunnels with intense backdoor pleasure!
From gaping pornstars to your sweaty boss who walks funny but always happens to keep a smile on his face, ass plugs can please everyone's anal sex obsessions. They can even teach you a thing or two about training that brown eye for an unforgettable anal pounding! So sit your butt down (if you can), and I'll help you ride out the storm in your panties with this ultimate guide to anal plugs!
Top 10 Butt Plugs in 2023: Tested!
Whether you're finally ready to sodomize your virgin tush or are just practicing for next week's fisting contest, butt plugs can stretch you out and make it feel like someone's shoving actual rainbows up your ass! But how can you find the perfect plug that feels amazing and looks hot as fuck?
As a grown-ass woman who has a special place in her heart for all kinds of Greek-style pleasures, my tight caboose has seen more anal plugs than an airport security agent. And all I know is that if you're sane and wanna be careful, you should find the best toy before the party starts. So let me show you the hottest butt plugs that I've ever had the pleasure to shove up my rear end! Bottoms up!
One Butt Plug to Rule 'em All!
If you love to stir your peanut butter, you already know that you can never have too many anal sex toys! But…! If you're new to the intense world of stuffing your badonkadonk until you cream and want to stretch your cornhole out like the girls on OnlyFans, anal play is most certainly not a game. And no, it's definitely not for the faint of heart or anyone who's a gutless wonder.
In reality, what goes up your poop chute needs to stay there. Yet, it also needs to come out safely whenever you want to remove it. We've all heard the horror stories of Richard Gere cramming a dead gerbil up his ass and going to the ER to get it surgically removed, right?
So before we continue, you need to know that not all ass plugs are the same. And I don't wanna disappoint you, but there is no such thing as a perfect plug. Most of them work as intended, but to truly get it right, you'll have to find the ideal plug that matches your booty and your preferences.
In fact, after years and years of colon spelunking, all I can tell you is that it's way too easy to come across a bad butt plug. Maybe "shitty" would be the more appropriate term, but that's a whole other story that you may not want to hear during your morning cereal. Anyway, I've sifted through tons of crap (metaphorically…) to show you how to buy the hottest plug for your sphincter and learn how to use it for the most intense B-hole orgasms!
What's a Butt Plug Anyway?
In case you've been living under a rock, anal plugs are pretty much the most popular sex toys of the 21st century. Everyone with a rectum can use them! That's exactly what makes them so entertaining. Just like opinions, everyone has assholes, and those assholes can be plugged to fill any fantasy or sexual craving!
Seriously, you can use these bad boys regardless of gender or your sexual orientation. Plus, there are tons of different types out there. They can match even the nastiest ass-fucking kinks that are constantly roaming through your pervy mind!
Just the Tip…
Even though most plugs are different, they are all designed in a special way to, well, plug your butt. They'll keep it shut even if you use gallons of shiny, sticky lube. Mmm hmm!
That's why most plugs have a teardrop or cone shape with a tapered shaft. Basically, the shaft starts off with a narrow tip for easy insertion. Then, it widens near the middle to ramp up the pressure.
Most importantly, all ass plugs have a wide flared base or stopper. This base is an essential element of any quality plug. It prevents the damn thing from getting lodged deep inside your guts. Therefore, if you ever see a plug without a base, there's probably something wrong with it.
Now that I've set the record straight, I should also turn your attention to the huge variety of types and categories. Sure, there are basic silicone plugs that you can use to pop your anal cherry. But, there are all kinds of kinky plugs out there.
To Plug or Not to Plug…
"A quality butt plug is exactly like a naughty trip to Vegas: what happens in your butthole, stays in your butthole!"
What if you're a complete newbie who doesn't understand what the hype is all about? Well, anal plugs have received mainstream acceptance simply because anyone can use them. What's more, they can do things to you that no other toys or fleshy man parts can. Your new sex plug can become your best buddy, and you can wear it all day long! Here are some other reasons to talk you into trying one:
Under Pressure
Obviously, ass plugs are designed to provide intense pleasure of the anal variety. They'll fill you up and stimulate all of your sensitive ass nerves. That will lead up to a special type of pressure that will make you feel nice and full. A lot of people enjoy them for this feeling alone. Trust me: the special pressure will be enough to make you squirt like a fountain!
Intense Prostate Stimulation for Everyone
Anal plugs can directly stimulate the prostate. That is especially useful if you're into all kinds of kinky milking or massage frolics. So stick that plug up your boy's ass and make him beg!
Stretch and Train Your Fart Box!
By far, ass plugs are the perfect anal training tools. They can genuinely help to stretch your anus and prep you for bigger things. Whether you're training for a real cock or a huge dildo, a good plug will make anal sex feel even hotter. Believe me when I say it's the perfect toy to use if you want to lose your anal virginity or if you're an anal-obsessed slut who wants to out-gape everyone else.
But wait, there's more:
Kinky public play – Whether you want to wear them to work or spice up any boring shopping spree, these plugs are the perfect toys for naughty public play! Just stick your plug up your tail and carry on with your daily chores.
Perfect for BDSM – We've all seen the videos, and we all know what happens when you bring a plug into a dungeon. You can use these puppies for the cruelest Dom/sub humiliation games, anal torture, forced orgasms, role-play, bondage, and so much more.
Double duty – Wanna double up and get both of your wet holes fucked at the same time? Just shove a plug into the stink and a cock or dildo in the pink! Double or nothing!
Types of Butt Plugs
It's not always easy to choose your favorite plug. You'll have to consider so many factors, starting from your body to your kinks, and your butt sex goals. The smartest way to speed things up is to check out some of the most popular types of butt plugs:
Classic Butt Plugs
In my opinion, everyone should have a classic ass plug in their bedroom or dungeon. Traditional ass plugs are the easiest toys to use. Yet, they can still provide years and years of intense fun to please any professional anal acrobat. Typically, they have a small to average size and a fairly simple no-frills shape. They'll give you a super smooth and tapered shaft with a sturdy base to keep your tush plugged up nice and tight.
Due to their inconspicuous size and look, these classic plugs are also a good choice for public play enthusiasts. And even though they're smaller in size, they still pack a mighty punch that can reach your sweet spot and massage your rectum all over!
Vibrating Butt Plugs
If you want to kick it up a notch, definitely choose a vibrating butt plug. These babies come with built-in vibrating motors or removable bullet vibrators that you stick inside the base.
Either way, they can provide a wide range of strengths, speeds, and patterns. It's like the perfect marriage between a strong vibrator and an intense anal toy! That's why I always reach for them first! These bad boys can vibrate the hell out of my anus with multiple vibration settings and even remote control options.
What's more, vibrating ass plugs are available in many different styles and shapes. The only question here is: do you want to dance the chocolate cha-cha hard and fast or use slow pulsations to milk your sphincter until you leak?
Inflatable Butt Plugs
Oh, I can't tell how much filthy, horny, and outright disgusting fun I've had with these. Inflatable butt plugs are some of the most intense anal toys ever. However, don't let the fact that they blow up inside you scare you away. The good ones are actually made of super safe and sturdy materials that won't tear or break. They're fully hollow and they usually come with a hand pump that you can use to push air into the shaft and inflate them.
And what happens when you pump up a big plug inside your tail hole? Honey, you have to see it to believe it… While a standard plug already provides tons of pressure, just imagine what it's like to stuff your rear end and pump it up like a balloon! What you'll get is super kinky anal action and the potential to gape your rear fuckhole like you're auditioning for Evil Angel!
Thrusting Butt Plugs
Now, here's an interesting category: butt plugs that thrust automatically! Thrusting plugs are some of the most unusual anal toys because they deliver the classic sensations of plugging but also bang you hands-free. They can vibrate, pump in or out, and rotate or spin to drill deeper and deeper into your brown eye! These are some of the best tools for intense prostate play, double penetration, kinky torture experiments, and much more.
Hollow Butt Plugs
Talk about seeing the light at the end of the tunnel! Tunnel or hollow butt plugs have a similar shape to a standard plug but with a wide hole along the shaft. What's that all about?
Well, some people like to play doctor and inspect their lovers' gaping guts while there's a plug inside them. Gross? Sweetie, if you've made it this far, you're probably already planning on becoming the world's next gaping champion. Just you can stick your fingers inside the opening and move the plug in and out to truly dominate a butthole or two. And you know, if it has a hole, any cock can fuck it! Trust me, the feeling of getting my shitter stretched out by a hollow butt plug while my partner's cock enters through the shaft and fucks my ass raw is something I'll remember forever.
Tail Butt Plugs
What if you want to be a nasty little critter and piss off your owner until he teaches you some manners? A tail butt plug is one of the best toys for kinky role play and BDSM! These toys look like standard plugs, except they have a tail attached to the base. That way, you can instantly become a nasty little fox or an obedient puppy.
Generally, most tail butt plugs are made with real or faux fur. They're available in all sorts of shades. You can choose a kitty, fox, rabbit, wolf, horse or pretty much any tail design to suit your role-play. Others, like small pig or puppy tails, are made of silicone or plastic. Just pair them up with some leather kitty mittens, a pair of cat's ears, a ball gag, or even a steel sex cage. Now, get down on all fours and beg Daddy for your sweet milky treat!
Jeweled Butt Plugs
If you truly want to show off your glutes, this is the type for you. Jeweled plugs are usually made of shiny steel. They have various decorations on the bottom end of the stopper. That could include a shiny jewel or gem. But, it could also include other decorations such as flowers and petals. Cute but deadly! These are the perfect plugs to pair with sexy lingerie. My BF always says they make my ass look fantastic when I get down on my knees to throat fuck the shit out of his cock!
Princess Butt Plugs
If you wanna act all innocent but express your wild side in the bedroom, princess plugs are some of the cutest sex toys out there. They are made of shiny glass. They usually have a base shaped like a rose, heart, or diamond. You'll also find them in all kinds of color variations such as pink, purple, glitter, red, or transparent.
While they are quite feminine and adorable, it's a whole different story once you push them inside. They'll stretch your princess ass out, and the shiny see-through material will reveal a royal gape to show everyone that you're not as innocent as you seem!
Other Fun Types
There are so many other types of ass plugs, but most of them are intended for experts or people who earn a living by getting their buttholes dominated every day of the week. That includes expanding plugs, huge butt plugs, fist-shaped models, anal hooks, etc.
Generally, I wouldn't recommend them if this is your first rodeo. Still, if you're already trained and your sphincter won't settle for anything less than 5 inches, go ahead and blast that asshole out with a huge butt plug like you're training for the anal Olympics!
Buyer's Guide: Your Ass Deserves the Best of the Best!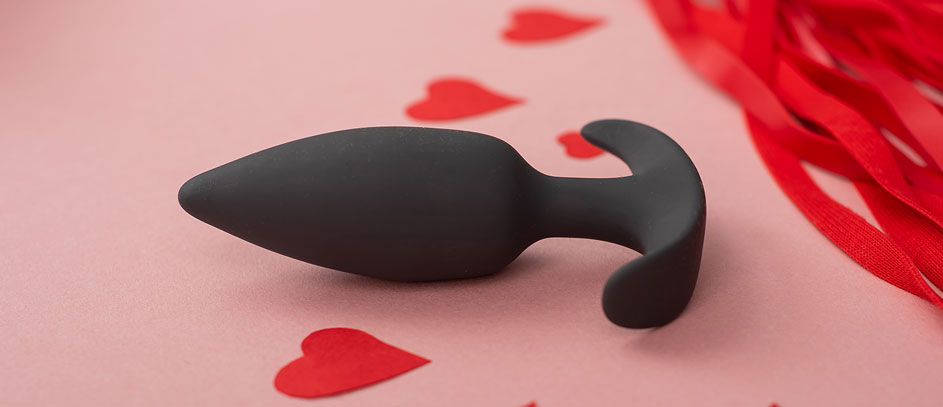 What do Roxy Raye, Sheena Shaw, and Adriana Chechik all have in common? Well, baby, they have some of the strongest, tightest sphincters on the planet. But regardless of whether you're buying a plug for some gentle rectal romance or hardcore gaping orgies, the rules are pretty much the same.
So don't let me repeat myself: ALWAYS get a plug with a flared base. Trust me: you don't wanna get to the point where your boyfriend has to shove his hairy arm down your intestines to fish out your butt plug. Well, not unless you're into that shit. Anyway, let's proceed with the following tips.
Tips for Buying the Best Anal Plug For You
Buying a new butt plug is already hard, especially since you won't have a chance to test it. On top of the sheer variety, your needs, your body, and your budget could make your adventure feel like a huge pain in the ass. But let's look on the bright side and get all anal about it. Here's what my experienced ass would tell you to look into:
Your Butthole
There's no point in getting a plug if you don't know your way around your ass. Find the right one, and you'll change everything you thought you knew about sex. But if you get it wrong, it could feel painful or even disrupt your digestive system. So consider whether your ass is even ready for it.
The Shape
Picture a square ass plug with sharp edges and a blunt head. Do you think that would feel good? Stop smiling, you sicko! For all the normal people out there, most plugs need to have an ergonomic shape that fits inside neatly and feels good.
Are You Getting a Plug for Solo Fun or Couple Play?
You'll need to think about your or your partner's needs first. Is he a little sissy who wants to train his booty before a huge strap-on fuckfest? Or do you want to train your ass with a plug to finally let him conquer the shit out of you? What if you're solo and just want to tease your ass or try something kinky all on your own? All of that will influence your shopping choices.
Start With the Best Materials for Your Booty
These sex toys are made of various quality materials. Some are safe for your booty while others can be a total disaster. You can choose between:
Silicone – The safest and most beginner-friendly option! Silicone is 100% body-safe, easy to clean, and doesn't absorb bacteria. It also feels smooth and has great weight to it that causes intense pressure in your anus.
Steel – Stainless steel plugs are also some of the safest options out there. They are made of surgical-grade steel. They're non-porous, and they don't contain any nasty chemicals. Plus, they feel nice and cool when you push them inside!
Glass – While glass butt plugs are 100% body-friendly, they also look super cute. Trust me, they feel like you're shoving a piece of art up your bum!
ABS – ABS is a plastic material used for anal-friendly prostate plugs and other types of plugs that require precision to hit a special spot. They are a great choice for men or anyone looking for a tough alternative to a steel or glass butt plug.
Jelly, PVC, rubber and similar – Danger, danger!!! These materials are highly porous, and they're full of toxic substances known as phthalates. Sadly, way too many of them are out there in the wild. Still, you can easily spot toys made of these materials since they're usually the cheapest.
Which Material Feels the Hottest?
There's no way I can answer that for you. It's all highly individual. But, I can give you some pointers on what those materials actually feel like.
For example, silicone is soft, smooth, and feels great when you slide it in. Since it's bendy, it's a great choice for anal newbies. But, it's also a superb choice for intermediate players, especially if you're someone who wants a hassle-free toy that is easy to maintain and will last forever! Oh, and silicone combined with vibrations is a match made in heaven, so definitely look into it if you've got your ass set on a vibrating plug.
On the other hand, you can choose harder materials like steel, glass, and ABS. They won't bend, and they'll feel a bit heavier compared to silicone. They are a fine choice for any young dame looking for a lot of pressure and intensity. What's more, you can cool down or heat up your steel and glass plugs to experiment with temperature play.
Bonus tip: let's not forget that how you want to lube up your ass will matter a lot. For example, if you're into extremely wet and oily anal play, glass or steel plus enable you to use any kind of lube. However, if you get a silicone plug, you'll only be able to use water-based lube.
Cone vs. Teardrop Shapes
When it comes to various shapes, we can split them into those that look like cones and those that look like a teardrop. The former is thinner and longer while the latter is thicker and shorter. The difference will play a huge influence on how much weight and pressure you feel.
For example, some beginners that are just too tight could prefer the thinner cone shape. This shape is usually most common on softer silicone plugs. Yet, if you want something harder to fill you up and offer more pressure, choose a glass or metal plug with a wider teardrop shape.
Not Sure about the Size? Do the Thumb Test!
There are tons of people out there who love getting their ass rimmed and massaged but have never actually tried to put anything up there. If you're one of them, you might have some trouble deciding on the right size.
In my experience, a plug that's too big could hurt. Another one that's too small could fall out often or not be enough to please you. That's why you'll need to do some digging on your own.
My best beginner tip is to experiment with your thumb first. If you can't push it all the way up there, you'll need to get a small butt plug that's shorter than your thumb. But, if it feels good when you give your partner a "thumbs up", look for a plug with a similar size. A decent starting point is approximately 1 to 1.25 inches in diameter and around 2 to 3 inches in length. Still, if you're already trained and you need to go bigger, look into plugs that are 4 to 5 inches long or more. If you're completely clueless, it might be a good idea to buy an anal training kit with several different plugs. That way, you can experiment and find the perfect size for you.
Don't Ignore the Extras!
If a standard smooth plug is not all that interesting to you, you can ramp up the fun with some special features. So keep an eye out for:
Curves
Not all plugs are straight and some of them feature light to extreme curves. This will all depend on the sensations you want to feel. If you want to stimulate a specific spot, find a curved plug with a sharper tip.
Textures
Some plugs have beads, ribs, swirls, dots, and various other tingly textures along the shaft. They'll give your plug a better grip against your anal walls. Plus, they'll also provide a unique type of stimulation.
Suction Cups
Some silicone plugs come with suction cups that allow you to attach your toy to a flat surface. Then, you can rock up and down on it hands-free! This is a fabulous option if you want to use in-out motions with your plug and stretch your ass to the max.
Tails
If you're buying a tail butt plug, make sure the tail materials are safe for your skin. As I said, you'll encounter fake or real fur as well as plastic or rubber. You'll also need to know how to take care of the tail and keep it clean.
Add-Ons
A lot of plugs come with built-in stimulators. That includes things like cock rings, clit stimulators, clit suckers, vibro eggs, or even a steel cock cage. They'll provide anal pleasure plus another type of stimulation depending on what you buy.
Good Vibrations
If you opt for a vibrating butt plug, make sure it has enough features to please you. It should give you plenty of settings to play with plus a ton of power. If I were you, I'd avoid most plugs with removable bullet vibes simply because they are impractical and are not so powerful. So get a rechargeable vibrating plug with a built-in motor and tons of pulsation speeds and wreck that ass until you squirt!
Remote Control and Long Distance Play
If you opt for a vibrating butt plug, you could always look into remote control. This option will enable you to trigger the vibrations hands-free. Plus, if you get an app-controlled plug, you'll get even more exciting features like customizable vibration patterns, smart controls, music syncing, voice activation, etc. And did you know that some toys are designed for long-distance play? A lot of app-controlled plugs allow you to sync your toy to your partner's smart device or even another sex toy, regardless of their location. They'll help you to enjoy all the intimate anal fun even if you're miles away!
Dos and Don'ts of Butt Plugs
Do
Always make sure the stopper or base is bigger than the tip.
If you're a complete newbie, try a plug with a thinner tip.
Find out if you're sensitive to the material to avoid a nasty reaction.
Don't
Don't let your eyes fool you. If your research involves a ton of, erm, visual material, just remember that all those girls and boys are trained professionals. It's much better to go for a smaller plug and ease into the experience. Also, you can always move up in size later on.
Avoid unsafe materials like jelly or PVC. They'll wreak havoc upon your colon!
Tips on Using, Cleaning and Storing Your Butt Plugs
With a great butt plug comes great responsibility! I mean, you can just shove it up there unprepared and wait for your orgasm to come. Also, it's probably not a good idea to try and sodomize your boyfriend without giving him a heads up first.
How to Insert Your Plug
A clean ass is a happy ass! – You should always wash your butt for obvious reasons. If I have to be blunt, nobody wants to see the remnants of yesterday's Taco Bell on your new plug. But don't worry: prepping for your plug is relatively easy. After you do a number 2, you can try to rinse your ass out in the shower. But, if you want to fully clean everything down there, try a water enema.
Lube is not optional – Shoving your toy up there without any lubrication will hurt. That's why you'll need to apply lube to the tip, shaft, and base of your plug. Oh, and don't forget to grease up your butthole a little!
Baby steps – Go slowly and don't rush it. Try to tease your butt with the tip of your plug before you insert it all the way. You can also push the tip in and out to get used to the stretching sensation. Just be patient, and you'll become a good little anal whore in no time!
Explore Your Rear End
The fun begins! – Once your plug is up there nice and tight, you can really go for it and experiment with your fantasies. Wanna get your front hole fucked with a plugged rear end? Or would you prefer to have your man go down on your clit until you cream all over his face? Why don't you take your plug out when you're all stretched out and have your lover drill your ass with his thick cock balls deep? Oooooh, baby! There are too many things to even mention here, and all I can say is that you should never be afraid to experiment.
Easy removal – Even if you wear your plug for hours, you can remove it without any difficulties. The best tip here is to reapply the lube where the base meets your butthole. Then, your plug will glide out easily.
How to Take Care of Your Butt Plug
Nobody likes a stinky and greasy ass plug. Well, unless you're a disgusting slob, you should always clean your anal toy after use. The reasons are more than obvious, and I don't want to see you skipping this part altogether.
Basically, what you need to do is run your plug under the tap or soak it in a bowl of water. Pretty simple, correct?
Well, if you get a silicone, steel, glass, or ABS plug, you can use soap and water to clean it thoroughly. Try a soft cloth or simply wash the thing with your hands, and you'll get rid of all the germs, lube, cum, and other bodily fluids.
Still, if you want to be extra careful, you can fully sterilize all those materials. That means you can boil them for a few minutes to kill off any intestinal bacteria. Also, you can pop your silicone, steel, or glass plug in the dishwasher if you're lazy! However, if you buy a vibrating plug, you should avoid such methods. If your vibrating toy is waterproof, you could soak it or run it under the tap. If not, use a soft damp cloth to clean it.
What's more, you'll also need to let your plug dry before you stash it away. So don't put it back in its box before it's fully dry! Instead, leave it out for a few minutes. Then, you can store it in the original box, a soft carrying pouch, or even a plastic container.
Butt Plugs Industry Overview
I've been digging through the history of various sex toys for all of my articles, and all I can tell you is that humans are batshit crazy! From prehistoric stone dildos to AI-powered blowjob machines, we've literally tried to have sex with anything and everything on this planet. And that includes ginger roots. What does that have to do with butt plugs? Well, just wait and see…
History of Butt Plugs
So yes, people used to actually put spicy fucking ginger roots deep in their cornholes back in ancient Greece. In those times, the practice was called figging. It was used to punish female slaves with spicy tingles up their keisters. Anyway, figging grew into a fetish in its own right, and it's still practiced in BDSM circles today by people who like their ginger raw. But, back in ancient Greece, it was one of the earliest records of humans stuffing their dumpers with strange objects.
Of course, we discovered anal pleasures even earlier. The oldest records that depict classic willy-in-bum action date back to 4,000 years ago. And trust me: I'm so glad that we've advanced far beyond stuffing our asses with roots.
Officially, butt plugs were invented back in the 1700s. The big trend that led up to that involved tobacco smoke enemas. Yes, people were actually obsessed with blowing smoke up their asses through a variety of pipes and tubes. Why? Well, some wiseass out there thought that smoke enemas had the ability to cure colds and coughs.
Finally, in the 1800s, doctors realized that our assholes were not at all linked to our lungs but they didn't stop experimenting on the rectal area. And that's how this toy was born. The earliest commercial example was Dr. Young's Ideal Rectal Dilators. It was a set of plugs designed to improve bowel movements or relieve constipation. I don't know how people figured out that they could use those things for pleasure, but I can tell you that the modern anal plug was invented in the 20th century. That's not the (w)hole story, but it's definitely a satisfying one!
Butt Plugs of the Future
What should your sphincter expect to see in the future? And what are the most revolutionary plugs to get right now? Well, tons of companies are competing to push the limits of what's possible with ass plugs.
Some of the most famous names include LELO, Je Joue, We-Vibe, Lovehoney, Doc Johnson, OhMiBod, Icicles, Lovense, NJoy, and so on. Some brands like LELO have already introduced a plug that pushes sonic waves up your ass instead of vibrations. Surf's up! Others are experimenting with remote control possibilities and all kinds of smart tech. It's possible that we could even see AI-power or VR-compatible plugs in the future that could stretch you out using the latest technologies. But for now, all you need to do is to spread that tight booty nice and wide, get yourself a new butt plug, and dive deep and deeper into your ass!
⚠️ Disclaimer: Our articles contain affiliate links. If you like our content and wish to support our work, consider purchasing your new sex toys through our links. For each purchase through our links, we receive a small commission but at no extra cost to you.
FAQ
You should only start with a few minutes at first. When you get used to the sensations, you can wear your plug for longer. After that, it really depends on you. You can wear your plug for 10 minutes to even 10 hours! However, the average time is around 2 to 3 hours.
If you do a quick search on Reddit, you'll see everyone boasting about how they wear their plug all night long. However, I wouldn't advise that. Wearing a plug at bedtime could pose a risk, especially since your pain receptors aren't working when you sleep. If something happens, you won't be able to feel it until you wake up.
Absolutely! If you've never had anything up there, you can use a small butt plug to stretch yourself out and get used to the sensations. In fact, ass plugs are the best beginner's toy for all people who want to explore anal sex adventures for the first time.
Oh, yes! Anyone with an asshole can enjoy them! Still, ass plugs can be incredibly fun during lesbian or gay sex. They feel pleasant for women and men, and they'll stimulate just the right spots. They can even stimulate the G-spot through the anal canal! And for men, they are some of the most intense toys for prostate stimulation!
For most people, anal sex is pretty much a "no pain, no gain" type of deal. Some people love to sense some pain while using anal toys, while others may not feel pain at all. If this is your first ass ride, you might feel some discomfort when you insert your anal toy. But don't worry: that is normal, and it could take you a few attempts until you get your butthole accustomed to the sensations. Of course, if the pain is unbearable, stop what you're doing, slowly remove your plug, and try again the next day.
No, this is just a silly porn myth. Still, it's reasonable to think that a wide anal plug could cause some damage to your sphincter. But don't worry. Since your sphincter is a muscle, using your plug frequently will actually make your ass stronger and give you more control over your muscles.