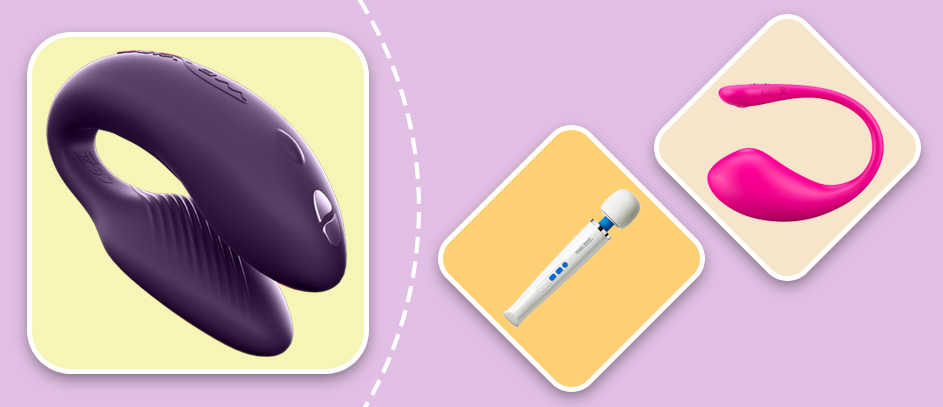 Wanna lose your virginity to a massive throbbing dildo? Why not try a G-spot vibrator and finally learn how to squirt like a pornstar? Or do you want to get freaky and destroy your male slave's asshole with a gigantic strap-on? If you're just starting to explore sex toys for women, get ready to enter a whole new world of naughty gadgets that you can use to tighten up your pussy, train your butthole, please or torture your lover, or even enjoy naughty public orgasms! Whether you're a newbie or a seasoned pro, let me be your personal orgasm guru and show you how to find the perfect sex toy for women!
Top 10 Sex Toys for Women: Time to Play!
My holes have truly seen it all: from clit stimulators, magic wands, realistic dildos, G-spot massagers, huge butt plugs, sex machines, to all kinds of other kinky sex gadgets. While there are literally hundreds of awesome sex devices out there, you'll still come across some lemons that feel worse than a limp dick. That's why I've tested literally every sex toy for women and today I'll help you find your ultimate weapon! Check out my favorites on the list below!
Sex Toys for Women: Unleash Your Inner Slut!
Whether I'm playing with sex toys on my own or I'm using them to make Richard horny as balls, they always transport me to a magical place where I can wake up the dirty whore inside me. Seriously, sex toys for women and women's masturbators push my body into an orgasmic trance. They make me see rainbows until my pussy blasts out huge waves of cum! Baby, if my holes could talk… They'd sing Ave Maria loud and proud! All the while, I'd be craving mac & cheese to recover after torrents of deep and creamy orgasms that were literally exploding out of every hole in my body. Now, if you wanna join the choir, don't believe the whole "women's masturbators are shameful" story.
In fact, we're living in the 21st century and that's why we should proudly raise our asses, fill them up with the latest women's sex toys, and stretch our holes to their limits to explore a different side of self-empowerment. Bottoms up, bitch!
Still, remember this: a dildo is not only a dildo. Basically, ladies' sex toys can finally help you to get that sweet release and experiment with all the kinky or even disturbing sex stuff that you've always fantasized about. Wanna dress up like a little kitty and ask your lover to DP you with a bunch of dildos until you prove you're a bad girl? Mmm hmm!
Of course, not all ladies are into wearing leather masks and getting fucked in all holes by super-fast sex machines for women, right? Anyway, women's masturbators are all about you! You can use sex toys for women in whatever way you please and you'll definitely find a toy or two that matches your preferences. They are awesome tools that let you masturbate in peace, improve your sex life, save your marriage, get weird, and so much more! But, there's a lot to swallow here… That includes the quality, functionality, versatility, materials, and designs of all kinds of women's masturbators.
All You Need to Know about Female Sex Toys
"Sometimes, your love life can only be as strong as the batteries in your vibrator."
Did you know that around 70% of women are using sex toys to boost intimacy and add a little spice into the bedroom? Part of the reason could be that we are finally taking our pleasure into our own hands and saying "no" to our horny husbands or partners who just want to stick their dicks in and out and be done with it. Damnit, the female orgasm should be treated like an intense and elegant journey! That's why you shouldn't be afraid of going after your pleasure! This is especially true if you're having some difficulties in the bedroom.
Yet, it all depends on the type of girl you are. Whether you're an innocent virgin, horny lesbian, cock-addicted cum-dumpster, cruel-as-fuck mistress, obedient wife, or anything in between, you'll find a sex toy that can satisfy you just the way you like it!
What Are Sex Toys for Women?
If we look at the big picture, women's masturbators are gadgets that can stimulate various pleasure nerves in your body. There are hundreds of different types and women's sex toys out there. Some of them, such as standard vibrators, are universal and can hit all your sweet spots.
Other women's masturbators are made to trigger special nerves while targeting specific parts of your body. What's more, most women's sex toys are available in vibrating and non-vibrating variants, and they are designed for different types of stimulation. That includes:
Internal stimulation – Clit vibes, bullet vibes, oral sex toys for women, and wand vibrators will stimulate the nerves on the surface of your skin. They'll please your clit, nipples, and other parts of your body until you get goosebumps and cream hard!
External stimulation – Dildos, butt plugs, G-spot massagers, vibrating eggs, and similar toys are made for juicy internal stimulation. You can push them inside to experience deep penetration and thunderous orgasms.
Blended stimulation – Some toys, like rabbit vibrators, can give you a mix of internal and external stimulation to truly rock your world with multiple blended orgasms!
The Various Benefits of Sex Toys for Women
Regardless of which toy you pick, you'll also get various benefits. They aren't just linked to strong orgasms! In fact, adult toys for women will:
Inspire you to experiment.
Help you if you're having trouble in the orgasm department.
Allow you to explore all kinds of new ways to make yourself cum and give you strong G-spot, clitoral, and anal orgasms. Over and over again!
Provide a huge boost to your sexual confidence and body image.
Help you break out of your everyday sex habits and experience something new.
If you're coupled, ladies' sex toys can increase intimacy and allow you to get filthy with your partner.
They'll make you much happier! Women's masturbators can eliminate stress and help you sleep better while reducing depression and anxiety. It's a win-win!
Types of Sex Toys for Women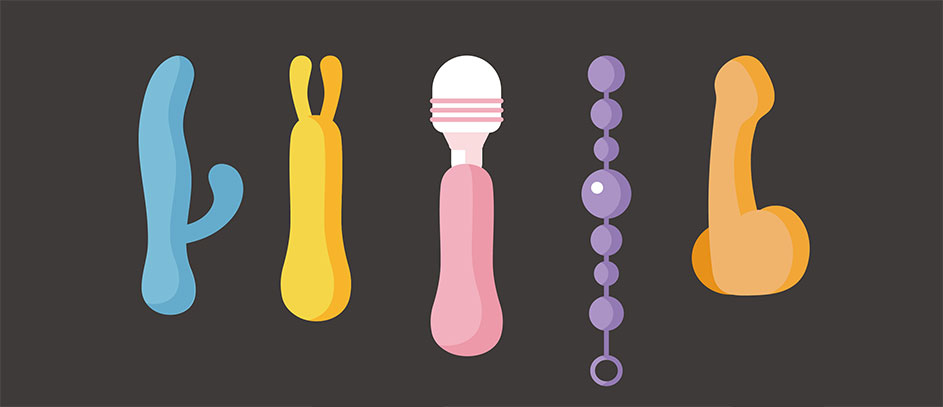 If you want to get your freak on, you have to know that not all women's sex toys are the same. Sure, you can test the waters with any average pink dildo, but it's much better to get the lowdown on various different women's sex toy types before you go out there and try stuff on your own. That way, you'll quickly learn which women's sex toy will be the best for you. So let's check out the most popular types of sex toys for women:
Vibrators
Ah, the wonderful world of vibrators… These bad boys are undoubtedly the most popular female women's masturbators. And rightfully so! They deserve to be in every girl's bedroom simply because they will stimulate your sensitive spots unlike any other toy or real cock. These babies use strong motors to deliver powerful pulsations that will shake your entire body up! They are also hella versatile and they'll stimulate you internally or externally.
And you know what that means? Epic orgasm marathons! Vibrators can pulse the heck out of your pussy for hours to make you drip and cream until you're fully satisfied. You can use them on your own and also try them during penetrative sex with a partner to finally push yourself over the edge. Even better, the newest vibrators out there have got a lot more to offer. That includes silent operation, remote control, longer battery life, app control, etc.
But, you should also remember that vibrators are a category in their own right and that there are many different types of vibes out there. That primarily includes standard vibrators for penetration. But, it also encompasses vibrating G-spot massagers that are specially designed for strong G-spot orgasms. There's all sorts of other stuff to discover here, including tiny bullet vibes, clit massagers, thrusting or rotating vibrators, rabbit vibes, and so on. As you can see, you can find various types of vibrators out there, from compact and tiny toys to enormous pulsators that will drill you balls deep!
Dildos
Ride 'em, cowgirl! Dildos are classic women's masturbators that will never get old! Most of them are designed to do only one thing: fuck you deep and hard! Also, they are made to resemble real dicks. You heard me, real, veiny, throbbing cocks! Cum to momma! But seriously, you can use them to work out your tonsils, pound your pussy, hammer your ass, and do just about anything that sparks your imagination. Oh, and most dildos come with balls attached! Meaning, they are the ideal toy for all kinds of women who love the look and feel of a real jizz cannon.
Plus, dildos are also flexible and are ideal for all kinds of positions. Of course, you can also get a non-phallic dildo if you're not into dicks. In fact, there are a lot of different dildo types out there. That includes realistic or vibrating dildos, strap-ons, double-sided dildos, fantasy dildos, etc. What's more, a lot of them have suction cups that you can use to affix your toy to a flat surface for some happy hands-free humping. Others even squirt fake cum, which is just a delicious treat for all jizz addicts out there! Just open up and say: "Aaah!"
Clitoral Stimulators
Ladies, we all know that the easiest way to get off is to tickle our pink pearls. And what do you get when you don't want a full-size cock-like sex toy and you're looking for something discreet?
Well, clit stimulators are portable and subtle, but they'll hit you just where you want them. Most clitoral women's masturbators are designed to deliver strong external vibrations. Even though these toys are small, they pack a hell of a punch. They will target all your sensitive clit nerves with just the right amount of pressure and help you ride your magic button until you're cumming like crazy!
Also, you can easily stash them in your purse when you're traveling. Better yet, they won't make a lot of noise compared to full-size vibrators. There's a lot to choose from here, including bullet vibrators, finger vibrators, clit pumps, panty vibrators, and oral sex toys for women. If you're not worried about the size, you can always pick a classic wand vibrator with a spongy head to cover your entire vaginal area! Now, buzz your brains out! Of course, if you want to feel something different compared to traditional vibrations, try a suction toy that can eat out your clit all night long! Yummy!
Exercisers For Vaginal Muscles
If you like to work out, you know that you can try all sorts of exercises like sit-ups, planks, and squats to tone your body. But what about your vajayjay?! Some toys out there can help you to train your honey pot to turn it into a super-strong gorilla-grip cock milker that most men will be afraid of!
In fact, most sex toys for vaginas are designed to strengthen your pelvic floor and tone your kitty. They will help you improve your Kegel exercises and ultimately make you much tighter down there! Have you always wanted your boyfriend to say "oh my, what a tight pussy you have…"? Well, it's time to break a sweat and try some Kegel balls, Ben Wa balls, yoni eggs, vibro eggs, and other sex toys for vaginas.
Basically, most of those pleasure balls are small and weighted. When you slip them inside, your muscles will tighten up around them and contract automatically. Then, you can wear your vaginal exerciser and go about your day. Plus, not only will these toys tighten up your lotus flower in just a few weeks, you can also use them for intense masturbation, especially if you opt for vibrating types with remote control.
Sex Dolls For Women
Are you looking to find your dream hunk with killer abs, a pretty face, a huge cock and a tight pink butthole? Well, contrary to what you may have thought, sex dolls aren't only designed for weird single dudes. You can use them to get yourself some companionship and fulfill every male fuckdoll fantasy out there!
Granted, you can always get a female or trans doll if you prefer that. Still, not all sex dolls are the same and it all depends on the level of craftsmanship. Inflatable dolls, for example, are the cheapest. Most people believe that they're outdated compared to all the other options that are out there today. That includes silicone sex doll torsos and full-sized dolls.
Still, note that those types of realistic sex dolls are designed to the finest detail. They are the most expensive items in the sex toy industry, and they can cost several thousand dollars. They are made to order, and you'll also be able to customize the way they look. That's right, you can design your ideal partner with all the facial details or bodily features that you're into. And don't even get me started on AI sex dolls and sexbots that cost over $10,000 dollars. Obviously, most of us can't afford that, but it's nice to know that someday, we will get fucked by robot-like erotic dolls that will never complain or ask you to cook them dinner after sex!
Other Types of Sex Toys for Women
Anal Toys
Are you looking for an epic anal stuffing that causes temporary blindness? Good girl! Well, the only way to get that tasty treat is through specially designed toys made solely for intense backdoor adventures. Fortunately, the options are a-plenty! You can explore your butt in and out with all kinds of butt plugs, anal beads, vibrating stimulators, huge anal dildos, etc.
If you're just starting with your anal training, you can even try various anal toy kits that give you several toys in different sizes! So whether you're an anal-only slut who has to gape every day before breakfast or a rear-end virgin who wants to experiment, there's truly something for everyone's butts! You can also choose anal hooks, animal tail plugs, butt dilators or tunnel plugs, DP dildos, inflatable anal toys, and so much more.
BDSM Toys
If you're a hardcore fetishist or a recreational kinkster, you should definitely look into some female adult toys for BDSM. That includes everything from clit clamps, pussy pumps, chastity belts, dildo panties, gag balls, pussy spreaders, speculums, latex hoods, sex machines for women, etc. Of course, those kinds of toys aren't for everyone… But they will be the perfect choice for all types of aspiring slaves or ruthless mistresses!
Long-Distance, Remote Control, and VR-enabled Toys
This is an entirely new category of toys that has blown up over the past decade or so. You can find various vibrators, dildos, and other kinds of massagers with unique teledildonic features, wireless app control, and VR compatibility.
If you're looking for next-gen technologies, these types of women's masturbators are probably your best bet. They will let you have sex with an LDR partner by syncing up with their toy from miles away. Also, you can control them via smart apps to get an extended range of customizable options, orgasm monitoring controls, music syncing, and so on. Even better, if you want to get dicked down by your favorite pornstar, try a VR-enabled sex toy for vaginas that can sync to virtual reality content. Now, fuck your way into the future!
Buyer's Guide: Find the Sex Toy of Your Dreams!
Regardless of if you need something that looks like your ex's 10-inch monster cock that you used to slobber all over in college or you actually prefer a non-phallic sex toy for her that doesn't remind you of male genitalia, you should read through this section carefully to learn some of my essential tips and tricks before buying your female sex toy.
Trust me, if someone paid me every time I saw a woman buy the wrong vibrator, I'd be a pretty rich bitch right now. So remember this: the best way to have fun is to know how to dodge all of the crappy toys out there and learn how to pick the best one for you!
Obviously, the world won't crumble if you get it wrong. However, I don't exactly want you to go out and buy a dildo that looks like an overcooked hot dog! Even worse, some toys are made of toxic materials that can seriously damage your punani. That can be outright traumatizing and unhealthy. And what if you're just overwhelmed with all the options and you don't know which sex toy you should jump on first? Well, let's get even deeper into it!
Sex Toy Checklist: 5 Quick Tips to Get You Started
What type of stimulation do you need? – My first tip for you is to think about how you like to get your rocks off. Luckily for us girls, there are so many options. Do you wanna milk your clit or pump your G-spot until you burst? If you prefer to orgasm through clit stimulation, look for an external toy. But, if you want to spread your pussy and get fucked nice and deep, you'll need a toy designed for internal pleasure. Now, if you want an all-purpose orgasm machine, it's best to look for a toy that can do several things at once.
Does it make you horny, baby? – Obviously, this one's a no-brainer. If it doesn't work for you or if it looks weird, you probably shouldn't buy it.
Does your new toy use safe materials? – I have to get real with you here and tell you that it's not all about eating with your eyes and choosing a sex toy that looks the hottest to you. You shouldn't ignore the material that your toy is made of because it can truly make or break your experience.
How big is it? – Whether you want a mini clit massager or a dildo that looks bigger than a freaking baseball bat, you should always consider your needs or abilities. If you get it wrong in the size department, your women's sex toy could be too small or too big to get you off.
How much can you pay? – Even if you want to spend hundreds of dollars, remember that the "more expensive equals better" rule doesn't always apply to sex toys. When considering your budget, always examine if the toy ticks all the right boxes for you.
Which Material Is the Safest for You?
Not all materials are safe when it comes to sex toys for her. In fact, there are tons of cheap and fake materials out there that could cause more trouble than they're worth. In some cases, the material can actually be more important than the look and features of your toy. It can determine whether or not your toy feels good against your skin.
Some unsafe materials, like jelly or rubber, will feel sticky against your skin. They will also give off nasty smells and will even absorb bacteria with each use. Those materials fall under the category of highly porous toys that you should avoid. They are quite unstable and could even break down and melt after a couple of uses. And trust me, you don't want your dildo to melt while you're fucking it. Still, if you buy the correct material, you won't have to worry about that. So choose from:
Silicone
Metal
Glass
ABS plastic
All of those materials are non-porous and are 100% body-safe. Another common alternative is TPE, although it's somewhat porous and needs special care. Still, if you want a softer toy that provides a lifelike feel, your best bet will be silicone or TPE.
The Best Materials for Newbies and Pros
For beginners, I always recommend silicone because it lasts forever and feels so damn smooth. It's a fantastic choice for vibrators, dildos, butt plugs, and so on. Plus, it's the easiest toy material to handle and clean. However, if you happen to find a TPE toy that you really like, you can use it as long as you know how to clean it properly and even replace it after a few months.
Now, onto the harder stuff… Metal, glass, and ABS plastic are much tougher materials. They are more suited for intermediate sex toy fans. They are hard yet smooth, and will provide a special feeling of intense pressure during insertion. In most cases, you'll see metal and steel on dildos and butt plugs while ABS plastic is usually used for small clit stimulators. That includes butterfly vibrators, bullet vibrators, vibro eggs, etc.
All of those materials are body-safe and non-porous, so consider them if you're looking for something hard and mighty. If not, stick with skin-friendly silicone and you'll not have to think too much about the material of your toy.
Size Matters!
Whether you're a size queen or you're looking for something average that's perfectly suited for your pussy, you'll need to know the dimensions of your toy.
Remember, the "go big or go home" approach will not work for everyone. Even if you're tempted to get a huge BBC assblaster, try to take it easy at first. As you may know, the average penis size is around 5 inches. Meaning, you could have all the fun you need if you find a dildo or vibrator in that size. So use 5 inches as a reference point and go smaller or bigger from there. Also, don't neglect the girth of your toy. This will depend solely on your preferences but note that the average measurement is around 2 to 4 inches. From there, you can think about what you're craving. If you want it fat and compact, go for it. But if you know that your body can handle a huge anaconda and you purposely want to rip yourself apart, giddy up!
Furthermore, the size will also matter based on the type of toy. For instance, butt plugs can be around 1 to 5 inches long or more. Conversely, external clit stimulators are approximately 2 to 3 inches long. G-spot massagers, kegel balls, clit suckers, and other types of toys will all come in different sizes. So consider the following measurements before you buy your new plaything:
Total length
Insertable length
Width/Girth
Turn up the Heat With the Best Extra Features
I guess it's safe to say that nobody likes a vibrator that offers only one speed. That kind of defeats the whole point and makes everything a lot more boring, right? Luckily, today's latest adult toys for women come packed with all sorts of features. It's up to you to find out which ones are worth it and which ones are forgettable:
Remote control – Wireless remote controllers allow you to use your toy hands-free or even experiment with your partner in the bedroom or in public.
Button control – When inspecting the buttons on your toy, make sure they are positioned conveniently. That way, they won't be a distraction.
App control – App-controlled toys are where it's at right now. You can sync an app-enabled toy straight to the manufacturer's free app. Then, use it to explore all kinds of new control options. It's usually an option on more expensive toys, so get ready to spend extra if you want to explore the newest tech in the industry.
Want More?
Power – You should never neglect the power options on your toy. Ideally, you should look for USB-rechargeable toys that last for several hours on a full charge.
Vibration – It's always best to get as many vibration patterns as possible. That way, you'll keep coming back to your toy and it will never get boring. Most standard vibrating toys will give you around 10 different vibration patterns, speeds, and modes. That's a great starting point if you're looking for something versatile.
Long-distance play and VR – Much like app-enabled toys, long-distance and VR-compatible toys are also quite expensive. Plus, there's no point shelling out the extra cash if you're not going to use those features. So make sure to research these types of toys in detail and see whether they offer you and your long-distance partner everything you're looking for.
Water-resistance – Finally, don't neglect the water-resistance ratings on your vibrating toys. If they are not waterproof, you won't be able to clean them or use them in the shower. In my opinion, you should look for waterproof and fully-submersible toys because they are safe and are easier to clean.
Do's and Don'ts: Your Holes Deserve Only the Best!
Do…
Always look for sex toys made by reputable and reliable manufacturers.
Look into all of the features before you spend your money. But don't forget to assess the safety of the materials.
If you need more inspiration, you can check out my previous articles that cover specific types of sex toys. Also, you can check out user reviews and video demos online to see what others thought of your chosen sex toy.
Don't…
Don't spend your money on cheap unbranded toys that use materials such as PVC, jelly, or rubber.
Don't buy a toy and use it for something that it's not intended for. For example, if it's not made for your ass, it probably doesn't belong in your ass, so don't try to stick your small bullet vibrator up there because it will get stuck.
Don't spend tons of money on features that you won't need.
Some toys are not safe to be shared with a partner. If you want to share toys, it's probably better to buy some for yourself and some for your partner.
Tips on Using, Cleaning, and Storing Sex Toys for Women
So what's the big deal here? You should just unbox your sex toy, push it inside your punani, and rock it in and out until you start smiling, right? Well, that's certainly the way it works, but it's not the same for all sex toy types. Let me help you make everything flow nice and smooth:
No Lube, No Love
My #1 tip is that no matter if you're soaking wet, you must lube. Using lube will eliminate any friction that comes from the material of your female masturbator. Plus, it will just make everything much hotter.
Also, most types of lube will heat up inside you and blend well with your natural juices. Ready for it? Well, wait just a minute, missy! Always make sure to use the correct type of lube. For silicone toys, always use water-based lube to avoid harming the material. If you opt for other materials such as glass or metal, you can use any lube type safely. But, if you're unsure, water-based lubricant will work the best for all materials.
Use These Handy Tips and Keep Cumming
Before I start anything with my sex toy, I make it my mission to get super horny and prime my holes correctly. So try to turn yourself on as much as you can before you set off on that naughty rodeo. You can watch porn, touch your body, and do whatever else turns you on. Don't forget to use your sex toy to explore your sensitive areas such as your nipples, neck, and thighs. If you want to, you can also suck on your toy (especially if it's a big fake cock) to get super pumped up. Another fun tip is to try your female masturbator in the shower for even wetter sensations. And when it all cums down to it, don't be afraid to use your toy and explore every type of orgasm out there. So set aside some me-time and get to work!
Always Clean Your Toy Correctly
Look, nobody likes a stinky and smelly sex toy. The only way you'll keep it safe is to clean it after each use. That way, you'll get rid of all the grime, cum, and dirt that can build up on it. So don't be lazy!
By far, the easiest way is to wash your toy with warm water and some mild soap. If your toy is waterproof, you can soak it fully. Then, give it a nice deep clean. If not, you'll have to use a damp cloth to wipe it down. After that, just leave your toy out to fully dry. Now, store it in its original box or use a sealable plastic container to keep it safe. It will always be ready for your next adventure!
Sex Toys for Women: Industry Overview
So when did we discover sex toys and who do we have to thank for giving us millions of guilt-free orgasms? Well, the whole thing started a lot earlier than you may think. In fact, the oldest dildo dates back to 28,000 years ago. It kind of shows you that the human race has been full of horny and kinky perverts since the beginning, am I rite?
History of Sex Toys For Women
Most historians agree that it all started with a 7-inch ice age dildo made of stone. This ancient dildo was discovered in modern-day Germany. It contains all the elements of a finely crafted and polished phallus ready for insertion.
Granted, there were many stone dildos throughout history that were used for religious rituals. Yet, this 28,000-year-old rock-hard cock was actually used for penetration, according to experts. We also see evidence of double-headed dildos in the ancient world, dating back to 19,000 years ago. What's more, you probably know that the ancient civilizations in Greece and Egypt depicted various sexual acts through paintings and pottery. But, what you don't know is that some of those paintings featured explicit representations of dildos being used for even some of the most hardcore sex acts. And if we focus on China, we'll find other bizarre examples of ancient women's sex toys. That includes jade butt plugs and bronze strap-ons. Other materials were also used, such as wood, leather, or stone and they are present in early toys from ancient Japan, medieval Europe, or Renaissance Italy.
However, the first modern sex toy aka the vibrator was invented in the Victorian era. It was created in the 1800s by an American inventor who experimented with hand-cranked and steam-powered designs. Still, it took us around 160 years to finally get to the modern era of sex toys. In the 1960s, the sexual revolution brought sex toys for her into the mainstream. That's how the whole avalanche started! Then, we went from underground sex shops in the 1970s all the way to online sales starting in the 1990s.
The Future of Sex Toys for Women
Today, the sex toy industry earns roughly $15 billion a year. Plus, studies show that more than 50% of Americans use sex toys in the bedroom. We've come a long way from ancient stone dildos, correct? Well, the industry is just getting started. The internet, online shopping, technological breakthroughs, and massive demand have all contributed to the wide availability of all kinds of next-level sex toys.
Companies such as We-Vibe, Lelo, Kiiroo, Le Wand, Fun Factory, Hot Octopuss, and various others are using the power of new technologies to take sex toys to a whole other level!
From app-enabled vibes to AI and VR-compatible sex toys for her, it seems that the sky is the limit, and so is the depth of our holes. So what does the future have in store for your horny ass? Will you ever be able to say "Hey Siri, I want you to fuck me at 6000 RPM while I'm getting my nails done and then make me a sandwich when I'm done!"? Well, never say never!
⚠️ Disclaimer: Our articles contain affiliate links. If you like our content and wish to support our work, consider purchasing your new sex toys through our links. For each purchase through our links, we receive a small commission but at no extra cost to you.
FAQ
Absolutely! However, you'll need to know how to use your toy correctly. Plus, you'll need to use a body-safe toy to avoid infections or other issues. If you choose your toy properly, you'll have a safe and super orgasmic experience. Granted, if you misuse your female sex toy or pick the wrong size, you could run into some problems.
The safest, easiest, and most discreet way to buy a sex toy for women is to simply order it online. You'll get full discretion as well as all the time you need to pick your toy. Also, when you order your female masturbator, it will arrive at your door in discreet packaging to protect your privacy.
That depends on what you like. If you prefer clitoral stimulation, get an external massager. But, if you're a fan of strong vaginal orgasms and deep penetration, look for a suitable internal stimulator. Of course, if you haven't discovered your turn-ons yet, you can also pick several toys to experiment with. Also, you can buy a rabbit vibrator or a similar toy that will take care of both of your needs at the same time.
Some of the best sex toys for lesbians include clit massagers, strap-ons, vibrators, and double-headed dildos. All of those choices will allow you to explore your lover's body and even experiment with some kinky role play. However, if both of you want to use your female sex toy, make sure it's suitable for both of your bodies. Also, try to get a few different sex toys for lesbians to experiment and find what works for you!
It might not always be a good idea to surprise your partner. Some men could get intimidated whereas others might not be into it. That's why the easiest way to start using sex toys in a relationship is to talk about them first. You can discuss your sexual preferences and fantasies, and then bring up the subject of sex toys. If your partner is into them, decide on a toy together and buy it to improve your sex life!
This is highly subjective. It all depends on your body and the way you climax. So consider whether you need strong or mild stimulation to get off. If you need to get fucked hard and fast, chances are that you won't be satisfied with a mini bullet vibe. But, there are other women who can cum equally as hard by using a compact clit stimulator. Therefore, it's all up to you and your body! But, if you're really stuck, try a standard or rabbit vibrator and take it from there.