Jul/04/2022
Last Update: June 26, 2023
1005
24 min read
Best Magic Wands And Wand Vibrators In 2023: They'll Put A Spell On You!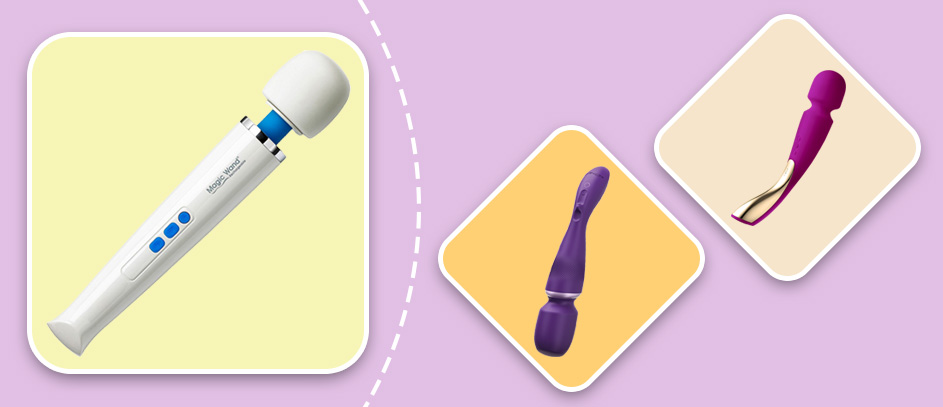 Did you know that some people believe orgasms are the ultimate magical force that can bring forth your desires and cleanse your body while helping you reach nirvana? I'm not exactly an occultist, but there's something otherworldly about a 6,000 RPM vibrating wand throbbing against my pussy! Oh, and when my magic wand makes me gush like Hermione Granger's milky white Patronus spell, I certainly feel like a supernatural sex goddess. Whether you want to call that divine or mighty wicked, magic wands are some of the most famous vibrating sex toys. Abracadabra, beyotch – you're about to get bewitched! So spread 'em wide, open sesame, and check out my ultimate guide on magic wands!
Top 10 Magic Wands in 2023
So you're thinking: Scarlett, what is the most powerful sex toy??? Well, if you're looking for "knock your soul out" power, these orgasm machines will literally give you a cum seizure. If you're already dripping and you're in a hurry, check out my top picks for 2023 below. I've chosen the best wand vibrators according to their strength, quality, reputation, and I believe one of these bad boys will do the trick for you!
Magic Wand Basics
So what are the 10 magic words? For me, it's not please, it's not thank you; it's: I want you to fuck me with my magic wand! That's what we're all here for, right? It's about your willingness and freedom to experiment with your strawberry muffin and turn your naughty fantasies into a reality. Honey, these babies will turn your orgasm into a full-on sex ritual to make you scream and cream like you're getting an exorcism! And did I mention you can also use them as a handy back massager? Honestly, these things are the strongest vibrators on the planet. They provide all-over power plus wide stimulation to rock your whole pelvic floor.
But hold up… I already know what's going through your head. The newest magic wands are nothing like that bulky back massager your grandma used to hide in her medicine cabinet! They don't sound like a lawnmower anymore, and they're ergonomically designed to target all your sensitive bits.
After several years of testing them, I can guarantee that they're some of the most intense toys I've ever used on my kitty and butthole. No need to hide it: I'm totally hooked. I use them for all sorts of dirty adventures on my own and with my BF Richard. However, not all magic wands are equal. Trust me: some of them could feel like Voldemort's going all Avada Kedavra on your ass.
Basically, I'm saying that with great power comes great responsibility, so you'll need to do your homework first. You should think carefully about finding the perfect wand vibrator for you.
Say The Magic Words…
For me, magic wands are some of the most unique multi-purpose sex toys. They're generally the first ones I grab when I'm alone, and I want to get a little kinky. Usually, I'll have a hot bath, put on some questionably hardcore videos (I'll worship your dick, Johnny Sins!), and get straight to the point.
Plus, when I'm with my BF, I love to use my wand massager to put pressure on my clit as he thrusts deep inside me. Even better, when Richard is really in the mood, he ties me up in a bondage spreader and uses my magic wand massager to turn me into his slave and make me cum involuntarily. At this point, I squirt all over his face and get him extremely hard until he's ready to drill my ass like a hungry slut.
Am I saying too much? But really, aside from regular masturbation and sex, you can use a wand vibrator for all kinds of kinks, including orgasm control play, edging, and forced orgasms.
Anyway, I hope I've given you some inspiration on what magic wands can actually do for your solo or coupled sexperiments. Now, let's look into how they actually work and discuss the main types of wand vibrators for your pleasure.
Bewitched
Firstly, magic wands are some of the oldest vibrating toys. Their origins date back to the sexual revolution of the 1960s. Currently, we can buy all kinds of amazing toys. That includes self-thrusting vibrators, dildos that shoot out fake cum, hands-free G-spot massagers, and so on.
I've tested most of them on my own or with my BF, and you can or should read my earlier reviews and slutty confessions to find out about all kinds of sex gadgets. However, massaging wands truly stand out. They're some of the most popular vibrating toys, and there's truly nothing else quite like them.
Essentially, wand vibrators are quite large, and they look a little bit like a long dildo. Except, even though they have a massive length of around 12 inches, most of them are not insertable. They have a soft rotating head (I like to call this the wonder ball) that you can use to stimulate your punani or your browneye. You simply need to click the toy on and sit back as it vibrates your brains out! Shazam!
Luckily for us, the newest magic wands operate differently compared to their earlier versions from the 1960s. They're much quieter, and some of them are wireless and rechargeable. Others even feature dual-sided ends for highly versatile stimulation.
Also, they offer multi-speed settings, various vibration modes, and they even have warming features to push you over the edge. What's more, since some horny cock-addicts (myself included) really love to stretch their buttholes and vajayjays with the ultra-wide heads of these toys, you can even find insertable wand vibrators that will penetrate you like a huge ass traffic cone. Well, it's no wonder we ladies like to refer to a magic wand as the little black dress of sex toys!
What Kind of Sorcery Is This?!
If you've ever tried a standard vibrator, you probably know that these toys mainly create precise and targeted pulses directly to your clit. Magic wand vibrators are so special because they offer a different type of vibration altogether.
Typically, instead of a high-frequency fizz, they produce a deep rumble that you'll feel throughout your body. Most quality wand vibrators pulsate within a certain range. For example, up to 6,000 or more RPM. Plus, they give you extensive control over the type of vibration. These deep vibrations will pleasure your external and internal nerves.
Like I said, this toy is made out of two parts: a rounded head and a long handle. There's a vibrating motor on the inside and it makes the entire head shake. You can use the soft head to massage your pearl at any range, from soft and smooth to extremely fast and buzz-your-brains-out powerful. And even though the standard massaging wand is about the same size as a subway sandwich, it's easy to hold in your hands and direct the vibration just where you want it. Also, these toys are not only popular because of the way they feel. They pack a lot more energy compared to standard vibrators. They are incredibly robust, reliable, and can last a lifetime.
Why Your Orgasms Will Be So Much Stronger With a Wand Vibrator
Now, listen up, ladies. Time for my #1 sex rule. If you're into a guy, ask yourself: Can he do anything that my cat, some dessert, and my magic wand massager can't? No? If he can't deliver anything else of value, just move along. Next! Still, wand vibrators can't exactly kill those terrifying house spiders or pick up Chinese food on the way home. But they also won't blow a big load inside you way too early!
If you're not exactly sure how a massaging wand could bring you stronger orgasms, let me explain. Firstly, these toys are user-friendly. Almost anyone can switch them on, press them against their genitals and go for a joyride. If you apply vibrations to sensitive areas that are packed with pleasure nerves, the vibration will send deep pulses to them.
Ultimately, a wand is a precision machine that can outmatch any horny guy's tongue, fingers, or dick. And I'm not saying that I'm not a sucker for a huge throbbing cock by any means! It's just that this sex gadget has long-lasting power and strong vibration settings that your guy (or girl) will never be able to give you.
Types of Wand Vibrators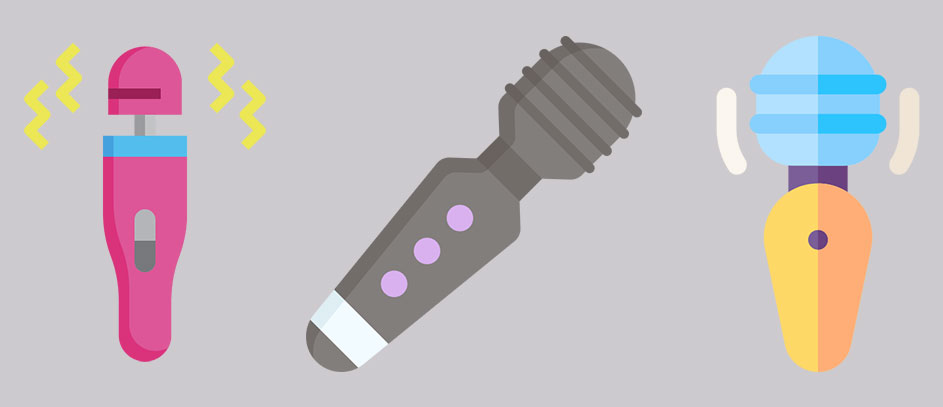 If we go by all those iconic Harry Potter books and movies, the wand always chooses the wizard. The same can be said about wand vibrators, and they require a great dose of subjectivity on your part. It's all really a matter of your individual preferences. As in, your pussy always chooses the wand. Also, the thought you put into finding your wand will matter if you truly want to love it for years to come.
Of course, all wand vibrators are inspired by the OG white and blue Hitachi Magic Wand massager from the late 1960s. Right now, there are tons of innovative takes on the original design. They come in many different shapes, sizes, and vibration configurations. Plus, you'll find them in all sorts of colors, from white, purple, pink, black, to some that even use chic leopard prints. Rawr! So let's check out the main types of wand vibrators below:
Original Magic Wands
This is actually a series of original full-size massaging wands and it's produced by Vibratex. It comes from essentially the same company that created the original wand, but the company dropped the Hitachi name a few years back. Remember, the Hitachi Magic Wand was the most popular sex toy and, with a legacy of nearly 50 years, it certainly deserves its own category.
If you want to grab an OG wand, you'll get to choose between several different kinds, including the Magic Wand Original, Plus, and Rechargeable.
These toys distinguish themselves by their iconic white and blue look that truly needs no explanation. What's more, the OG wand has kept the same features for five decades, and the others come with updated features for the 21st century. For instance, their power level goes up to 6,300 RPM, and they produce a deep and growling massage. They have a soft head, flexible neck, and can operate either plugged in or wirelessly depending on the model.
Vibrating Magic Wands
We can put all other types of full-size massaging wands that aren't made by a Vibratex/Hitachi into this category. There are literally hundreds if not thousands of vibrating wands out there. They are made by companies like Doxy, Lelo, Le Wand, and others. For the most part, they are pluggable toys that don't have an internal battery. That way, you don't have to wait for them to recharge.
For most of these toys, the vibrating motor is found inside the handle while the ball is connected via flexible coupling. A less reliable way to connect the ball to the motor is to attach the head straight onto the motor shaft. Additionally, most AC-powered wand vibrators use an AC adapter that regulates the voltages to ensure your safety.
Rechargeable Magic Wands
If you don't want a corded vibrator, you might be better off with a rechargeable magic wand. These things have a built-in battery. You can charge it for around 3 hours and get approximately 3 to 4 hours of use on a single charge. Most of these types also allow you to use them with a power cable when the battery runs out, which is certainly convenient.
Also, for most quality options, there will be no noticeable difference in the vibration strength if you're using the battery or you're powering it through a wall socket.
Other Types
Aside from standard full-size wands, there are many other exciting types you could get:
Mid-sized wands – These are a few inches smaller than the previous variants, but they still pack a similar amount of power.
Small wands – Mini wands are discrete and portable, but they are not as strong compared to their bigger brothers. Still, they're a good choice for all girls who want something portable or even those who are not into the most powerful vibrations.
Dual-ended wands – This type has two heads on each side. Usually, you'll get a standard ball vibrator at the top and a longer, thinner tip at the bottom that resembles a standard vibrator.
Insertable wands – These wands are made for external stimulation and insertion. They're usually molded out of a single piece of silicone. They have no attached or moving parts which makes them ideal for intense vaginal or anal penetration.
Rabbit wands – If you want to double the fun, these wands are similar to rabbit vibrators. They come with attached bunny ears for precise clitoral stimulation.
Flexi wands – Flexi wands are made of stretchy material. You can use them in all sorts of positions and at any angle you prefer.
G-spot wand – These toys look like massaging wands, but they're actually regular vibrators that you can push inside and use the head to milk your G-spot.
Enchanting Features
Now, while you can use magic wand massagers for a plug and play experience without thinking about it too much, there are several features and functionalities that could matter to you:
Strength – Massaging wands can vibrate at several different levels, from light to extra strong. Some of the power levels of large full-sized wands range from 2,700 on the lower side to 6,000 or more vibrations per minute in the upper range.
Vibration configurations – A lot of magic wand sex toys come with rhythmic vibration patterns. They can speed up, slow down, or create short pauses. A quality massaging wand will give you around 5 to 10 various modes you can experiment with.
Button control – Usually, you'll get a control panel on the handle with buttons to configure the vibration speed and pattern.
Water-resistance – Not all magic wands are waterproof. For example, the Vibratex/Hitachi wands are not fully waterproof, which could be a downside for some. Waterproofing enables you to use your toy in the shower for extra slippery sensations. Also, it makes cleaning a lot easier.
Heating – Some warming wands automatically heat up to body temperature to bring more blood flow to your nerves and make you orgasm quicker.
Weight – Original magic wands weigh around 1.3 lbs and that weight is equally balanced. However, some models put more weight on the head to give you more pressure.
Attachments – Some wands are compatible with various attachments. You can fit these attachments onto the head, and the vibration will transfer through them. That could include attachments, such as a realistic dildo, G-spot massager, anal beads, a clit sucker that simulates oral sex, various beaded or ribbed textures, etc.
Body Massage – Most massagers are body-friendly. You can use them for a good-old-fashioned muscle massage!
Remote and App Control
You can also control some magic wand vibrators remotely. They might include a remote controller in a box, you might have to buy one separately, or some can even be Bluetooth-enabled.
If you get a magic wand massager with a close-range remote, you can use the toy on yourself or your partner hands-free. Yet, you'll still need to secure it in some way or use a pillow. Personally, remote controllers are some of the most useful options for vibrating sex toys. It's mainly because you don't have to hold your toy to change the settings.
Alternatively, you can use smart technologies to sync your magic wand vibrators to your phone and control it via an app. That includes apps such as Satisfyer Connect, We-Connect, and ​​Lovense Remote. The apps allow you to make your own patterns, they'll also offer music-syncing or sound-activated vibrations.
But best of all, you can use them for long-distance control. That way, you or your partner can control your wand from miles away to stay naughty, even if you can't physically be together. Personally, the Lovense app is killer here because it functions flawlessly and offers integrated video chat options.
Magic Materials
Most massaging wands have a non-porous, non-staining head made of silicone. When it comes to the handle part, it's usually made of hard ABS plastic. However, some wands can be made entirely out of silicone.
Now, here's where your choice could get a bit easier compared to most other sex toys. It's very rare to see wands made of unsafe materials like jelly, PVC, or latex. These materials can be harmful to the skin. I always advise you to avoid them when you're buying new sex toys.
Yet, you won't have to worry too much about the materials used on magic wands because most manufacturers use only body-safe choices. In most cases, the silicone head is smooth and soft to the touch. Also, silicone does not absorb bacteria, it's hypoallergenic, and you can fully sanitize it with soap and water.
Some exceptions are the Original Magic Wand by Vibratex and the Doxy wand. Both have vinyl heads. This is where they fall short because the material is porous and somewhat hard to maintain and clean. If you're concerned about using the vinyl head against your skin, you can use your panties as a barrier, which will also help keep the thing clean.
Buyer's Guide
Remember when I said that the pussy always chooses the wand? Well, now's the time to truly put some thought into it. If you thought that the OG wand was the only option, you were probably overwhelmed when you checked out my list of all the different types and features of these toys. Now, you first have to understand the nuances of these things.
From the outside, they don't really look like a veiny throbbing dildo, a jeweled butt plug, or any ol' vibrator. They have an innocuous appearance that may or not look all that sexy to you. I'm not a fan of the classic white and blue design because it looks a bit too medical, but it's really not about the appearance here. It's all about easy handling, strong vibrations, and top-notch usability. Here's what you need to look into:
Intensity
So how strong do you need it to be? Like I said, full-size wands are undoubtedly the strongest vibrators out there. This could work wonders for you if you want to send deep shockwaves throughout your entire body. If you love strong stimulation and need lots of it, a full-sized wand is definitely a must-have.
But, if you're oversensitive, a big wand could feel a bit too strong, even on some of the lowest settings. A midsize or a small magic wand sex toy could be a better alternative. However, if you want versatility, and if you want to play around with tons of different patterns, buy a wand that offers a wide power range and many different control options.
Power Source
In terms of power, plug-in options are almost always cheaper. However, they are trickier to clean, and most of them are not waterproof. You obviously shouldn't get in a hot tub and use your non-waterproof wand while it's plugged in, unless your muffin's got a death wish.
I prefer rechargeable wands. They don't limit me in that way, and they also don't have a bulky cable that restricts my movements. Also, keep in mind that most wand vibrators should have some type of circuit protection to prevent overheating. Some could automatically shut off after 30 minutes if they get too warm. This is a recommended safety option because it keeps your vibrator safe from damage.
Size and Body Measurements
Choosing the size is different from picking any regular dildo. Remember, the head is the most important part. It's usually around 2 to 3 inches wide on full-sized wands. It covers a large area of your honey pot. If those measurements are too big, you should get a toy with a smaller diameter. Frankly, I don't think the size of the head is a problem, and I'm a firm believer that bigger is better here. The width can shake my entire clitoral area up, and it can send the vibrations deep down.
Another thing to focus on is the total size of your toy. As I said, most standard wands are around 12 inches long, and they weigh over a pound. This could be too much if you have smaller hands. Alternatively, the smaller options can range between 4 to 10 inches, which might be a bit easier to handle if you're clumsy.
Water Resistance and Noise
Personally, water resistance is a must-have for me. It helps me clean the thing easier, and it gives me some extremely wet and sloppy adventures in the shower. It's just one less thing I have to worry about, which is certainly helpful if you only want to focus on your orgasm. Still, if you don't care about water resistance, you can use a non-waterproof wand if you're careful.
And when it comes to noise, wand vibrators are much quieter than they used to be. But they can still hum loudly. This could be a nuisance if you have thin walls or if you want to avoid awkward talks with your roommates. If you want a super quiet wand, just remember that they might be less powerful.
Usability
How many settings do you want? Do you need to switch between settings or would you prefer a steady speed? Are the buttons on the toy easy to reach or will they distract you while you're getting it on?
Honestly, that's up to you and the type of stimulation that you're into. One tip would be to get a massaging wand with a bunch of different speeds and patterns. That way, you can experiment and find the best way to pleasure your hoo hoo. If you don't want to struggle with buttons, it may be better to use a wand with a remote or an app.
Which Material Is Right for You?
Personally, I would choose a high-quality massaging wand made of body-safe silicone. Like I mentioned, vinyl is also an option. However, it's a bit trickier to use because it's porous and often included in toys that are not waterproof. If you're worried sick about the safety of the material, you can always use the head over a pair of panties or even wrap a larger condom around it. This won't numb the vibrations and it will keep the thing clean.
Also, if you opt for silicone, you won't have to worry about all that and you can use the head on your bare skin. However, you'll still need to be delicate and handle the thing properly so that you don't stain or damage the plastic handle. Alternatively, you can buy a vibrating wand made entirely out of silicone. This is usually common for dual-ended or insertable types and it's one of the easiest options for cleaning and durability.
Price
By default, vibrating wands are pricier compared to most other sex toys but they're still within a reasonable range. Luckily, you don't have to spend a fortune on one. Here's how much you should expect to pay:
$25 to $50 for mini wands.
$50 to $100 for most mid-range wands. This includes toys like the Magic Wand Original.
$100 to $200 for rechargeable vibrating wands and premium options.
Dos and Don'ts
Do…
Buy your vibrating wand from a reputable source. There are many, many counterfeits that copy authentic designs, especially if you want to get an original Vibratex wand. Most copies are underpowered, and they're made with poor materials. Therefore, only buy your toy from reputable online sex shops.
Pick the options that you like the most from an intimate and practical standpoint based on what I've described above.
Don't…
If you know that your clit is too sensitive to extreme vibrations, a massaging wand might be too intense for you.
Don't ignore water resistance as a factor – it plays a huge role.
Power options are essential, so don't avoid them.
Tips on Using, Cleaning, and Storing Your Magic Wands
"I want to give it to you straight: a wand vibrator is not a discrete and cute thing that fits in your bedside table. It's industrial-looking and large, kind of like a miniature drill that pummels your clit to extract crude oil from your pussy!"
Frankly, hitting my orgasms with my wand makes me feel like I'm running a marathon. It's not only a pleasurable feeling limited only to my clit. My wand makes my entire body tingle and contract. Afterward, the sheer strength of my orgasms completely renders my body useless. And if I want utter pussy annihilation, I combine my wand with a deep G-spot massager to make me squirt oozing juices harder than Adriana Chechik.
How to Orgasm with Your Magic Wand Massager
For most sex toys, the second (or third) helpings of your orgasm cake are somewhat hard to reach. However, vibrating wands are so powerful that even thirds will be easy for you. Trust me, the shockwaves are so strong that they'll make you cum in less than a minute. They'll leave you wanting more and more! It's so easy to orgasm with these babies that it honestly feels like cheating.
Basically, what you need to do is plug your magic wand in or charge it first. Then, without inserting it anywhere, just hold the wonder ball over your pink pearl. On most settings, the pulsations are so powerful that you might not even need to hold it directly against your clit.
That's basically it. Hold it in place or make tiny movements where the head feels the best, and you'll be screaming in minutes. It's like a "holy shit, I just came so hard my brain turned into potatoes" sensation rather than the standard "ooh aah" kind of feeling. What's more, being penetrated while using my wand is explosively amazing, and Richard also loves it when he feels the strong pulsations on his cock when he dicks me down.
In short, these toys will give you continual shockwaves that target a huge surface area and transfer deep down inside your body. One tip I should mention here is to make sure you're extremely horny before you use your wand. The strong vibrations could feel ticklish or even uncomfortable if your clit is not swollen with excitement. And when you're ready to go, you should also use water-based lubricant to ensure some smooth gliding sensations. The lubricant will also form a wet barrier between your skin, and the soft head, which could transfer the vibrations a lot better.
How to Clean Your Wand
Look now, cleaning and storing your wand vibrator correctly is absolutely essential. If your wand is waterproof, you can clean it with warm water and mild soap. You can do this in the shower or in the sink, but never put your electronic wand in the dishwasher. If your wand is not water-resistant, it's going to be a bit more complicated. You should skip any direct water contact in this case. Instead, use a damp cloth to wipe the head.
Plus, it's necessary to leave your wand out to dry until you can put it away safely. Most wands will already include a storage pouch, but if you don't get one, you can store your toy in a makeup bag or a plastic box.
Magic Wands Industry Overview
If you've only known the magic wand as an ugly hunk of plastic that you often ran across in your mom's bathroom shelf, you might be shocked to learn that this thing actually has a pretty badass feminist backstory. It's much more than just a weird-looking "sports massager".
Girl Power: History of Magic Wands
While vibrators were invented in the 1900s, the original Hitachi Magic Wand came into existence in 1968. Originally, it was invented to relieve sore muscles. And I think we ought to really give props to the curious woman who first found out this thing was a godsend for her sore vagina. We don't know which lucky girl figured it out first, but a woman named Betty Dodson takes the credit for popularizing its use as a sex toy in the mid-1970s.
Moreover, the best thing about it at the time was that it was technically a massager when it came out. It looked like a household item, and there was nothing overly phallic about it. This actually freed women from the belief that they need a dick to give them pleasure. Plus, it was extremely easy to buy because all you needed to do is say that you had a sore neck.
Best of all, this orgasm machine was all about a girl's pleasure. Another thing that the magic wand helped inspire were sex shops themselves. Yup, the very first sex stores that are still world-famous such as Eve's Garden and Good Vibrations were first opened because the female owners wanted to find a way of discretely selling magic wand massagers to women. And we all know what came later.
What's even more interesting is that the huge choices we have available nowadays came from a lack of availability of the original wand in the late 1990s. It's true: the manufacturer didn't make them anymore, and various other companies had to think of a way to make their own products.
Some of the most popular brands today include Vibratex, Lelo, We-Vibe, Le Wand, plusONE, Lovelife, Doxy, LuLu, Tracey Cox, Pure Enrichment, Adam & Eve, Lovehoney, and many others. As I've described, there are many, many variations of the original wand, and all of them do something different. Plus, most of those iconic brands are competing to push the vibrating wand into the future.
So What's Next for Vibrating Wands?
As I said earlier, app control is one of the newest and most exciting features of wand vibrators. Also, it's incredible that the Original Magic Wand is still a favorite of many women, even though it's nearly 50 years old. This shows us that the basic operation can and will stay the same for many years to come.
However, we can expect to see the same level of innovation that's happening in other sex toy categories. For example, I'd like to get some sort of VR or AI capability on my massager. Smart monitoring options and AI massage algorithms would be a dream come true for anyone into next-gen tech. And what about all kinds of different wand shapes, textures, and 100% silent operation? I'd pay good money for that.
Yet, if you've read my guide, and you still don't own a magic wand, just stop what you're doing. Just stop it. It's a shame to not own one. So go get yours right now or even urge your government to hand them out for free on street corners.
⚠️ Disclaimer: Our articles contain affiliate links. If you like our content and wish to support our work, consider purchasing your new sex toys through our links. For each purchase through our links, we receive a small commission but at no extra cost to you.
FAQ
The difference is in the size, look, and feel. A bullet vibrator will give you precise and direct stimulation to your clit. It will produce a kind of fizzy vibration that pleasures only one spot. Conversely, the head of a wand vibrator will produce low-frequency rumbles that will shake up your entire body. You can use a wand vibrator to stimulate one spot directly, but since the vibrations are so strong, you'll feel them across a larger area and even inside your body.
Absolutely! In fact, vibrating wands look nothing like a penis or a realistic dildo. If you're not into dicks, or if you just need something completely different, a wand vibrator will be the perfect choice.
Oh yeah! A lot of men love wand vibrators for direct penile stimulation during masturbation. They are also fantastic at stimulating your testicles, your perineum, and your little bumhole. You can use them for all sorts of masturbation techniques, including edging. Plus, it's much more fun if you get your partner to use it on you to make you explode.
No, vibrating wands and vibrators, in general, will not desensitize you. There are many rumors about this, but the truth is, you will not go permanently numb if you use your wand too often. In some cases, you could experience numbness during masturbation if you use your wand for too long, but this is only temporary and it's nothing to worry about.
Yes, yes, yes! If your wand is massage-friendly, you can use it on any part of your body. Feeling sore after your 10th orgasm? Just run your wand across your back or over any other area in need of pampering and you'll instantly feel some relief. Remember: they're designed to be sports massagers after all, and they'll definitely make you feel better after an intense workout.
No. It's not safe to insert a standard wand vibrator because it has moving parts and a sensitive neck. However, some people love the huge heads for vaginal or anal insertion. Penetration feels pretty extreme if you do this, so it's only meant for those with experience. If you are into this, the only way to do it is to get a wand made specifically for penetration.