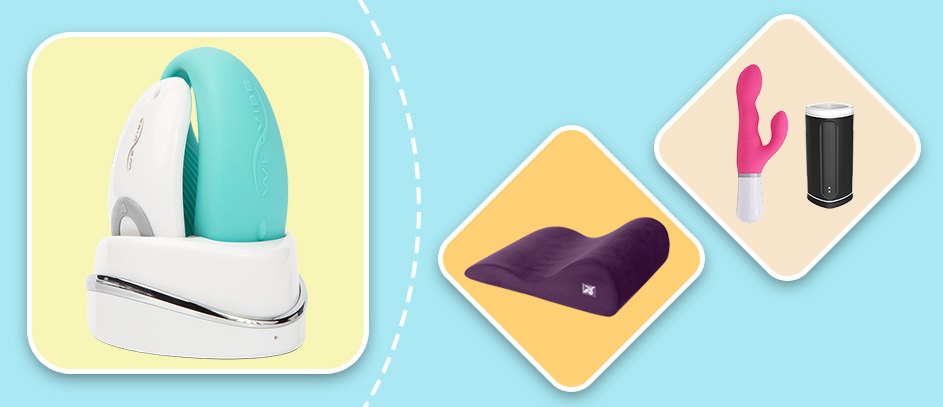 Whether you're prepping a kinky surprise for your lover on your anniversary or looking for a naughty gadget or two that can get you out of a bedroom rut, nothing says "I love you" like cumming hard with sex toys for couples!
Granted, it would be unprofessional of me to tell you to buy that huge 12 inch BBC dildo right away and slam it way down your boyfriend's ass on Valentine's day without giving him a heads-up. There are so many questions to consider here. That includes your fantasies, your preferred way to stimulate your naughty bits, and the type of sex toy that turns you on the most.
So let me give you a full rundown on the best sex toys for couples: from vibrators, strap ons, sex furniture, sex swings, to long-distance toys, and much more! Let's play!
Top 10 Sex Toys For Couples in 2023
Looking for a new rubber daddy or a buzzing pocket rocket does not mean your man's spunk torpedo isn't giving you what you want. There are thousands of sex toys for couples out there! Their main job is to help you try something new while enjoying your partner's body even more, regardless of if you're using them for gentle romance or rough love.
That's why I've tested tons of sex toys for couples with my boyfriend. I want to help you find the hottest gadgets to blow your and your partner's minds until you're creaming so hard that you'll need to buy new bedsheets! So check out my top 10 sex toys for him and her!
Sex Toys for Couples: Let the Games Begin!
No matter if you prefer vanilla sex or adventurous lovin', adult toys for couples will definitely kick things up a notch. However, you don't need me to explain that to you. Just because you're reading this means you're way past the dusty notion that sex toys are only for people whose relationships are failing or even perverts who watch way too much porn. Quite the contrary!
"Sex toys for couples will let your freak flag fly while making your naughtiest desires cum true! So what if your partner is obsessed with using massive ejaculating dildos to stretch your ass out?! Who cares if you want to use a big double dildo to pound both of your holes while riding a sex swing?! Sweetie, it's all about taking your pleasure in your own hands, and sex toys for couples will definitely make your dreams cum true!"
Eventually, sex toys for partners will bring you and your lover closer together. From masturbation and foreplay to fetishes, roleplay, and the good ol' in-and-out, sex toys for couples will help you get more creative in the bedroom. They'll bring you some of the most explosive orgasms of your life! But what are adult toys for couples anyway? Which one(s) should you and your partner choose?
Sex Toys for Him and Her
As mentioned, looking for a sex toy for couples won't necessarily mean that your lover's custard launcher can't satisfy you. And I'm certainly not saying that your sweet holes just aren't tight enough for him. Far from it! My Richard has the biggest, baddest dick I've ever had! While he's a beast in the bedroom, we're always looking for something new to experiment with. And if you've read any of my previous articles, you know that your sexpert Scarlett here is always down to stretch her holes out with something shiny, smooth, and extra-large.
After all, we're living in the 21st century. There's honestly no reason why you should stick to your same old sex rituals if you have the chance to explore your fantasies with additional hardware! So just embrace your inner sex goddess!
It's All About Spicy Mutual Pleasure!
Basically, you can use any sex toy out there for solo or mutual fun. However, sex toys for him and her are specifically designed for two. That is, they are intended to be used by both partners. Plus, they offer features that deliver mutual pleasure at the same time or put you or your partner in the driver's seat.
There are many options to cover here, from ball gags, sex furniture, double-ended dildos, special couples' lubes, sex masks, double penetration toys, as well as app-enabled toys for VR fun or long-distance play. Most of those are designed for direct external or internal stimulation. Others are intended to make sex much easier or help you get naughtier than ever.
Ultimately, not all his and hers sex toys are shaped like dicks. They're certainly not meant to replace your lover's fat chub! What's more, his and hers sex toys are so popular nowadays that they have turned into an entire industry on their own. Believe me: some of them could truly make you lose your shit if you saw them back in the days when our ancestors fucked stale bread with olive oil or used giant dildos carved out of gemstones to penetrate their hairy holes!
Pleasure for Two
Currently, the use of smart technologies, ergonomic designs, and premium materials has become the norm in the industry. A quality couples' sex toy will give you a comfortable and creative design. The goal is to focus on improving your orgasms and allowing you to push your sex life to the next level.
Even better, while sex toys for partners are usually designed for two people, you can still use some of them for solo play. Just buy the right gadget, and you'll know what I mean.
But, it all comes down to your perspective and the way you and your partner want to explore each other's kinks. And best of all, there's truly something for everyone. The best his and hers sex toys include a wide variety of sizes, shapes, and categories!
Types of Sex Toys for Couples
If you're getting bored of using the same old sex positions or if you just want more out of your orgasms, the best way to turn up the heat with your partner is to think about the type of toy that you'd enjoy the most.
As I've said, there are practically no limits nowadays. The chances are that if you have a weird fantasy or kink, you'll always be able to find a sex toy that can make it come true. Also, even if you don't want your BF to use your holes like you're his little fuckdoll, there are plenty of options out there that can make regular vanilla sex that much sweeter.
So check out all the different types of sex toys for couples below:
Vibrators For Couples
Vibrators are by far the most popular sex toys out there for women and couples. Sure, you might think that vibrators are intended solely for female pleasure. However, there are many couples models out there designed for male and female fun. Also, there are plenty of LGBTQ+ vibrators to specifically please couples of any sexual orientation.
Now, most of the standard options out there are bullet vibes, eggs, and vibrating cock rings. However, couples vibrators can be an entirely separate category on their own. For example, some couples vibrators are designed to provide direct and precise stimulation to both sides while providing features like remote control or hands-free operation. Whether they're insertable, external, or a mix of both, they will help you to maximize your orgasms during sex while also pleasuring your partner at the same time.
Moreover, they are available in a wide range of sizes, from tiny and portable to huge and intimidating. Depending on your needs and fetishes, you can choose various categories, including classic vibrators, wearable vibrators, clit vibes, and G-spot massagers. You can also pick anal vibrators, prostate massagers, cock and ball vibrators, vibrating strap-ons, etc. While the options are nearly endless, the easiest way to know if this type is right for you is to simply try it and wait for the powerful pulsations to blow your brains out as they throb against your honey pot!
Strap-Ons
What if you've always wanted to find out how it feels to own and use a huge thick cock? Well, there's a reason why strap-ons are some of the best-selling kinky sex toys for couples!
Strap-ons will enable you to strap a big veiny dildo onto your crotch. Then, you can use it as your ultimate weapon of ass destruction! Due to their design, these toys are the most popular for lesbian couples. Yet, they are also a highly kinky option for straight couples who want to explore pegging. No need to be discreet here! If you've always wanted to fuck your man's asshole and make him your little sissy, you better strap in quickly and use your new dick for all its worth!
Generally, there are several different strap-on designs. That includes vibrating, non-vibrating, strapless, hollow, DP strap-ons, and so on. Most strap-on harnesses will use a big dildo. Others will let you penetrate your partner with a powerful vibrator. Even better, some of them have wearable bullet vibes or G-spot massagers on the inside. That way, you'll get your needs met while you're banging your partner. Trust me: this is one of the most unusual yet highly pleasurable feelings a woman can ever experience!
Nevertheless, picking the best strap-on for both of you will require you to study those types or look into my previous articles to see how to choose one that suits your and your partner's body the best. What's also unique about these toys is that you can detach most of them from the strap-on harness. That is, you'll be able to use them manually, just like any regular vibrator or dildo!
Sex Swings
You know those super kinky sex scenes in Hollywood flicks where two people bang their brains out on a sex swing? Well, sex swings aren't just a movie prop, and you can actually buy and install them in your home!
Typically, sex swings allow one or two partners to hang in the air. Some can mount over a door. Others can be installed directly on the ceiling. Alternatively, some sex swings include a standalone design with a frame. These will not require you to modify your home. You won't have to worry about getting strange looks from your guests when they see a few steel hooks mounted to your ceiling.
Either way, if you use a sex swing, you won't need to hold your partner up during your happy humping rituals. Also, you'll get to experiment with tons of different swinging sensations. Just sit in the swing and have your man slam you back and forth to give you the pounding of your life!
Additionally, you can use a sex swing to experiment with all kinds of oral pleasures and make your lover worship your soft vagina lips all night long! What's more, sex swings deliver a unique element of weightlessness and an unusual type of pressure.
These sensations will work wonders for all sorts of kinky BDSM and bondage play. For example, some of them have leg straps. Your partner can tie you up, spread you wide open, and punish you over and over again like a bad, bad kitty while you hang there motionless! Lastly, my favorite thing about sex swings is that you can combine them with other couples toys like vibrators, nipple clamps, and butt plugs to live out some of your favorite porn fantasies!
Sex Furniture
Apart from sex swings, there are plenty of other types of adult furniture that you could use to decorate your sex room or simply make sex easier for you. After all, not everyone is fit and flexible enough to fuck like an Olympic gymnast, right?!
Typically, sex furniture is ergonomically designed to make sex more comfortable. It's a superb choice for anyone looking to experiment with accessible angles, deep penetration, or kinky sub/dom play! Plus, it can truly help people who are dealing with back problems, muscle aches, etc.
Also, sex furniture looks naughty as hell! It will definitely inspire you to try some new things. For instance, I love to sit on Richard's face and make him worship my asshole like it's a delicious jelly donut. However, sitting on his head for too long gets heavy on my legs sometimes. In that case, a queening stool always helps to get rid of the cramps.
Not a fan of rimming? No problem! There are many different kinds of sex furniture. They are all designed for specific needs or physical requirements. That includes love cushions, chairs, sofas, benches, ramps, loungers, etc.
Sex Games
If you've never tried a sex toy, or if you're simply not into them, you can still get flirty with your partner by trying some adult board games. Yup, sex board games are a thing, and some of them can bring a lot of spice into traditional lovemaking! And no, I'm not talking about those cheesy 1990s strip poker games. Instead, you can try sex dice, ouija boards, or even complex games like Monogamy. All of those could be a fun and naughty gift for your partner, and a clever game could change up your regular sex routines while adding more fuel to the fire.
Long-Distance Sex Toys
Long-distance sex toys are some of the newest inventions on the market right now. You can control these next-gen toys from miles away. That way, you'll keep the spark going and stay intimate with your LD partner! But, you'll find many different designs here, including toys that you can control remotely via apps and those that can sync to your partner's toy. The latter is a real game-changer for long-distance couples. It can stimulate vaginal, anal, or oral sex even if your partner is living on an entirely different continent!
So how does that work? Well, most LD toys are shaped like masturbators or vibrators. For example, when your partner slides his LD masturbator onto his monkey and syncs it to your app-enabled vibrator, your toy will mirror his movements. The faster he moves the masturbator, the faster your vibrator will thrust in and out of you. You'll also be able to see your partner via webcam to make the experience even more real. Plus, if both of you are porn lovers, you can also find VR-compatible toys that sync to virtual reality content and mirror the movements of your favorite stars!
What's more, you can use long-distance toys even if you're not in an LD relationship and you simply want to try some kinky remote-controlled pleasure in public. For instance, app-controlled panty vibrators, butt plugs, or vibrating eggs can make you orgasm in public while your partner controls your toy from a distance. No one will know!
Other Types of Adult Toys for Couples
Obviously, not every his and hers sex toy is created equal. There's a lot more to choose from besides the types I've outlined above. You know, some couples love to go clubbing and get off via remote vibrators on the dance floor, while others prefer to spend their Sunday mornings stuffing their sphincters full of monster dragon dildos! Again, it will all depend on both of your preferences and your mutual fantasies.
So check out some additional types of kinky sex toys for couples that are ideal for long and steamy sex marathons:
Hands-free vibrators – These are by far the best choices for hands-free foreplay, playful teasing, and other naughty activities. You can use them on your own or with a partner during penetration to enhance your orgasms or even learn how to squirt!
Double-ended dildos – Double the dildo, double the fun! Double-ended dildos are the ultimate toys for couples of all sexual orientations who love to penetrate each other at the same time. They are some of the hottest toys for lesbian couples, but you can use one with a male partner. Just penetrate his ass while sticking the other end deep down in your pussy or butthole and start moaning!
Cock sleeves – Cock sleeves can work miracles for any couple dealing with size or erection issues. They can extend the length and girth of your man's junk while making him stay hard for hours.
And the List Goes On
Double-penetration dildos – Some DP dildos can strap onto your lover's cock and give him an extra shaft to penetrate you with. They'll help you to finally explore those naughty double penetration fantasies!
Sex toy kits – If you want to try a little bit of everything, you can invest in a couple's sex toy kit that provides multiple gadgets ranging from vibrators, butt plugs, beads, cock rings, clit stimulators, and so on.
Vibrating cock rings – Now, if you're looking for the most discreet yet most powerful sex toy for him and her out there, look no further than a quality vibrating cock ring. This bad boy will make your man's cock throb harder than ever while stimulating your clit or ass with intense vibrations as he pushes deeper and deeper inside you!
Bondage toys – There's truly no time like the present if you want to go all 50 Shades on your partner and explore BDSM! You'll find all sorts of bondage couples toys out there! That includes mouth gags, masks, paddles, chastity belts, floggers, cock or pussy pumps, toys for electro-stimulation, etc.
Anal toys for couples – If you're an anal-only kind of gal or you want to dominate your male sissy's rectum until he begs for mercy, it's best to look into anal-friendly toys that provide the safest backdoor fun. That includes anything from prostate massagers for your man to vibrating buttplugs for your sweet tight tush.
Buyer's Guide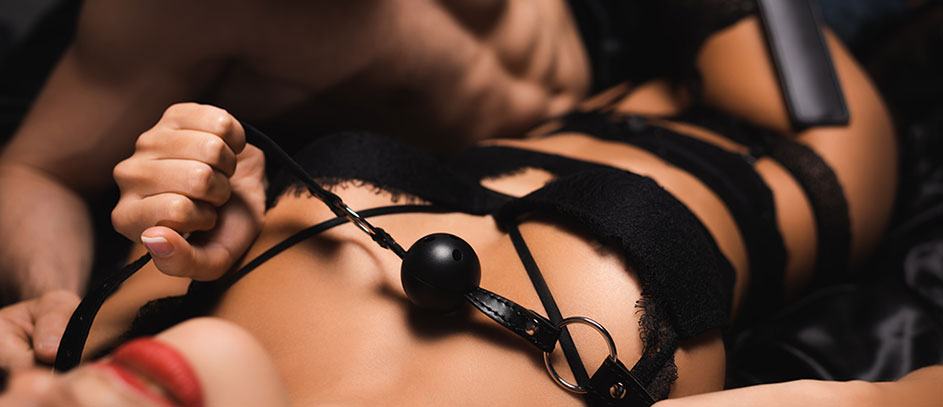 Before you spring for that blindfold and a penis pump to milk your man dry, make sure you're only buying something that both of you are comfortable with. Rember, ladies, you'll have to make a mutual decision with your partner and get his consent. This could complicate the buying process a bit, especially if your BF isn't into spreading your pussy out with a huge 14-inch fisting dildo, even if you really want him to.
Of course, it's all different when you're buying a toy for yourself. For example, I can blast my hole with any toy I want. But when it comes to Richard, I have to look out for his boundaries and expectations. Therefore, whether you're kinky and you want to fuck, or you're a bit shy, and you want to explore your body to boost your intimacy, the same rules apply when you're buying your new toy.
Fortunately, couples toys are made for women, men, and all genders in between. Even better, modern toys look and work nothing like those cheap and barely functioning devices that were available just several decades ago. Plus, they are no longer thought of as taboo in our society. Still, while you should expect to get a modern, convenient, sexy, and sleek toy, there are many things you'll have to look into before spending your money.
Things to Consider Before Buying
The fun part here is the fact that there is such a diverse choice of most modern sex toys for married couples that everyone will find something they enjoy. However, to get it just right for the first time and buy the toy of your dreams, you should consider:
Your Sexual Desires and Appetites
I can't tell you if there is a one-size-fits-all toy for all couples. It's up to you to consider your turn-ons and your fantasies to see which toy would be the best for you and your partner.
Your and Your Partner's Body
While adult toys for couples are available in all kinds of sizes and shapes, they have to match both of your bodies. So be prepared to take some measurements of your partner's penis as well as your height or weight in order to find a suitable vibrator, dildo, or even a piece of sex furniture.
Which Hole Do You Want to Please?
By now, you probably know that some toys are hole-specific while others can be used for general purposes. If you're looking for intense external pleasure or deep penetration, my best tip for you is to find a toy designed specifically for the type of stimulation you require.
For example, if you want intense clit stimulation during sex, a vibrating cock ring or a bullet vibe might be enough. But, if you're looking for a prostate massager for your partner, your best bet will be an ergonomically-designed P-spot massager.
Your Living Situation
Do you need something quiet that won't wake up the kids or neighbors, or are you only living with your partner and you don't care about how much noise you'll make? If you need something extra quiet, you'll have to look into discreet toys like silent vibrators. If not, you could even get a full-size sex machine and make your partner fuck you with it while you scream at the top of your lungs!
How Can You Find a Quality Couples Toy?
Obviously, there is a big difference between a compact vibrator and a large sex swing that can take up an entire room. But don't fear. I'll show you several universal rules and tips that you can use when picking out pretty much any type of sex toy!
Materials
Whether you're buying a big anal dildo or a kinky sex swing, you should always look for body-safe materials. There are several hypoallergenic materials out there that will play well with everyone's skin type while eliminating the risk of rashes. Some of those materials include:
Overall, silicone is the safest and most comfortable material for beginners. It has a soft and smooth texture that works well for all kinds of vibrators, dildos, wearable sex toys, cock rings, G-spot massagers, and more. Silicone is 100% body-friendly and non-porous. It will suit everyone's skin, and it will not absorb bacteria. This makes it easy to clean and maintain.
Furthermore, ABS, steel, and glass are all safe choices for external or insertable dildos or vibrators. Yet, they'll all provide different sensations due to their harder textures. Other common materials you'll see out there are TPR, TPE, and Cyberskin. These are incredibly soft and lifelike materials. They provide hyper-realistic sensations when used on dildos or masturbators, but they are somewhat porous, and they will break down over time. What's more, if you're looking into sex swings or sex furniture, you'll come across an even wider range of materials. That includes fabric, leather, wood, rope, fiber, and non-toxic nylon. In that case, it's best to go for non-toxic nylon or leather.
Features
If your couple's vibrator has only one or two settings, it will just get boring and old after a while. My smartest tip here is to buy a toy with plenty of features to keep you entertained. That includes multiple vibration speeds, strengths, and patterns. Also, my favorite feature for couple play is by far wireless remote control. I believe all couples should try it because it allows you to set up your toy from a distance. There are so many ways you can experiment with wireless hands-free fun! That includes edging your partner, giving them anything from a gentle massage to forced orgasms, or even making them cum in public.
Some of the other essential features you should spring for are things like rechargeable batteries, ergonomic shapes, and user-friendly controls. If you can pay extra, I'd recommend a Wi-Fi or Bluetooth app-enabled toy with smart controls. That could include smart monitoring, downloadable content, customizable presets, virtual reality, etc.
Size
While some couples' toys are adjustable, others will not allow you to change the size. You should think about what you and your partner are really into here. For instance, if you're getting an external clit stimulator, 1 to 3 inches in length will be enough. But, for insertable vibes and dildos, you should look at anything above 5 inches.
Either way, you'll need to know your body measurements as well as your partner's preferences before you buy your toy. Again, don't use that 12-inch black dildo to stuff his hole if he doesn't want you to!
Things to Avoid
Stay away from cheap materials like rubber or jelly. They are not body-safe and can cause allergic reactions.
Avoid buying toys from unknown brands. You'll never know what kind of material is used, and you'll probably end up disappointed.
Since you're buying a toy for two, don't believe that one toy will be enough to get you off. It might be better to buy a few different toys and experiment!
Tips on Using, Cleaning, and Storing Your Sex Toys for Couples
Using kinky sex toys for couples will require trust, teamwork, and consent. So work together to cum together hard and get the most out of your sex toy!
Why Should You Use Sex Toys for Couples?
If you need further encouragement, check out just some of the benefits of sex toys for couples:
They strengthen your bond and intimacy.
They boost your emotional attachment.
Sex toys for partners keep sex in long-term relationships fresh and creative.
They allow you to push your body to its limits to find new ways of pleasuring yourself.
If you're having trouble orgasming during sex with your partner, sex toys will help you to focus on your own pleasure. They'll eventually teach you how to orgasm during vaginal or anal sex!
Sex toys for partners promote safe sex and even help with mobility issues or other sexual problems like erectile dysfunction.
How to Use Your New Toy
Teamwork is the name of the game here, but it will all depend on the type of toy. Clearly, if you get something complicated like a sex swing, you'll need to study the manufacturer's instructions for safe installation. And if you get a couple of long-distance toys, you'll need to learn how to set them up for ultra-intense remote pleasure. However, here are a few general guidelines when it comes to using sex toys with your lover:
Start with foreplay and get fully turned on first – This will make you wet and ready for penetration. It will also make you feel your toy with much more intensity.
Go slowly – Whether you're using your sex toy for partners for penetration or external play, an essential step is to start slowly and explore all of its nuances. You don't want to turn your vibrator on the max intensity at first because that could feel a bit too much.
Use plenty of lube – If you get a silicone toy, you should only use water-based lube. Other types could harm the material. Conversely, if you're using an ABS, steel, or glass toy, you can try it with any lube type. Remember that lube is always your friend, and it's best to use a lot of it at first to make sure that everything feels silky smooth!
Experiment! – A sex toy isn't a means to an end, and it's not only meant to give you strong orgasms. It's designed to prolong your sex sessions, make them wilder, and enable you to have a lot more fun with your partner. So use your sex toy to tease each other! Try to build up to long and strong orgasms and play with various settings to make you cum over and over!
Cleaning and Storage
Whose turn is it to clean that big pink dildo that's covered in all your squirt juices tonight? You can clean your toy as a team or do it in shifts, but the most important thing is to always keep your toy sanitized before and after use.
The easiest way to do that is to give your toy a deep wash under the tap and use mild soap. This will be enough to cleanse off all the lube, spunk, spit, and all kinds of other juices. Still, the method may depend on the type of toy or whether or not it's waterproof.
In most cases, water and soap will do the trick. But, other toys may require you to use a special cleaning solution or renewal powder. This is why you should always inspect the manufacturer's instructions. What's more, you should wait until your toy dries before you put it back in its box. Alternatively, you could leave it in a soft carrying pouch or a sterilized plastic container. But just make sure you keep it in a cool, dark place before you use it again.
Sex Toys for Couples Industry Overview
Remember when I said that our ancestors used to lube up their dicks with olive oil before getting busy with loaves of stale bread? Oh yes, our ancestors were even bigger perverts than us since sex toys have been around for thousands of years! In fact, the earliest sex toy ever discovered was a stone dildo that's approximately 30,000 years old! That's older than civilization, marriage, and religion combined! Plus, it's just another reason for you not to feel ashamed if you want to get filthy with a kinky toy.
Still, while we can buy pretty much any sex toy, our ancient ancestors were up to some pretty crazy shenanigans in the past. Some ancient civilizations used huge dildos made with everything from bone, wood, stone, bronze, to jade. During China's Han Dynasty, butt plugs were even used during embalming to prevent the "chi" from exiting the body.
But seriously, history shows us that we've used orgasm balls, painful bamboo piercings, ancient urethral sounds, and early 17th-century dames de voyage sex dolls to get off in all kinds of ways. However, the modern roots of sex toys stretch back to the Victorian era and the invention of rubber. That's when we see the emergence of early vibrators, but we had to wait for the 20th century until they were perfected.
The Future of Sex Toys for Couples
At the moment, we're living in an era where sex toys get reinvented every day. Almost every option out there is easily available through online shopping. Some of the most popular brands that keep inventing fun sex toys for couples include We-Vibe, Fun Factory, Lovense, Vibease, Doc Johnson, Calexotics, etc. The newest toys are already providing us with smart monitoring, AI-controlled orgasms, and artsy body shapes. They can pleasure us like we're living in the future! What about long-distance app control? Or a sex-tech market that's worth over $30 billion? Sweetie, the future has already arrived! Right now, all you and your partner have to do is jump into it quickly, get your new sex toy, and hump each other all night long!
⚠️ Disclaimer: Our articles contain affiliate links. If you like our content and wish to support our work, consider purchasing your new sex toys through our links. For each purchase through our links, we receive a small commission but at no extra cost to you.
FAQ
Some of the best toys for couples are vibrators, cock rings, strap-ons, and sex swings. However, it will all depend on your preferences. So think about the way you like to have sex and the way you want your partner to pleasure you. Also, remember that your partner needs to have fun too. If you're unsure which sex toy is the best for you, it might be a good idea to buy a few different types. That way, you'll see which one you and your partner enjoy the most.
Yes! In fact, studies have shown that almost 45% of couples have used sex toys in their relationship. Among women, around 35% claimed that they used sex toys in relationships. In another survey, a whopping 75% of people claimed that they used sex toys for couples. This will give you some idea of why sex toys for couples are so important, if not essential, in relationships.
Yes and no. It will all depend on the circumstances of your marriage and your sex life. If you think that you're in a sex rut and that there are no underlying issues in your relationship, then yes, sex toys for married couples will definitely help! A fun sex toy for couples will allow you to reignite the spark and experience new things with your partner! However, if you are having serious relationship or marriage issues, a sex toy for married couples might not be the best solution, and it could actually cause you further problems. If you know that your problems are purely sexual, then go for it! Experiment with a couple of sex toys, and you'll certainly be able to improve your marriage!
This will truly depend on your partner. After all, using sex toys for couples should be a mutual decision. If your partner doesn't want to do it, you shouldn't pressure him. Still, I'd advise you to bring the topic up when you're getting intimate. Just chat to your partner to see what he thinks of using sex toys. If he's into it, great! If not, you should try to explain to him why you'd like to try a sex toy. Show him how that could benefit both of you!
Absolutely! If you pick the right toy, you'll be able to enhance your orgasms while prolonging your sex sessions. They will make you feel naughtier, and you'll be able to use them to fulfill your or your partner's fantasies. Sex toys can also help you delve into all sorts of unexplored pleasures. So say hello to squirting G-spot orgasms, anal orgasms, prostate pleasure, strong blended orgasms, and much more!
If you can't reach orgasm during vaginal penetration, don't worry. This is incredibly common, and around 30% to 40% of women experience the same issue. Sex toys for couples can truly help here. They can enable you to focus on your own orgasm during penetrative sex. Also, they can speed things up. Some of the best toys for that are clit massagers, vibrating cock rings, and classic vibrators. With some training and persistence, they can help you to finally learn how to orgasm during penetrative sex with your partner. They'll make your orgasms much more intense!