Oct/04/2023
Last Update: October 4, 2023
125
9 min read
Lovense Max 2 & Nora Review: Uncover Space-Defying Orgasms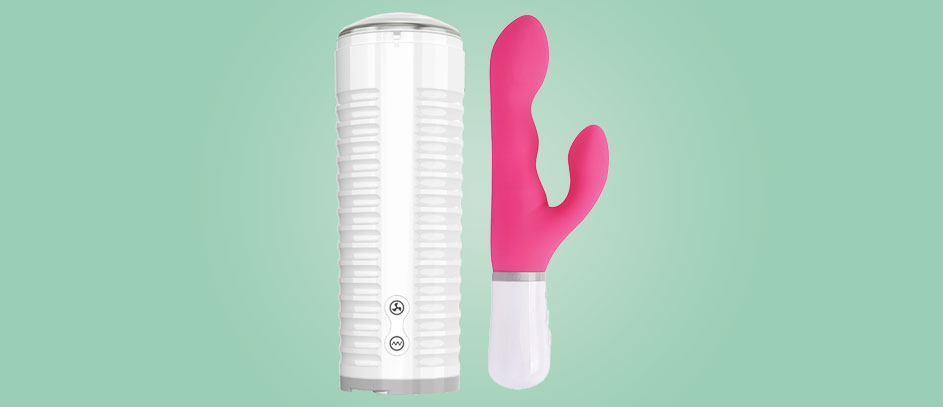 Greetings, my insatiable readers! Get ready for a wild ride as we delve deep into my spicy, tantalizing Lovense Max 2 & Nora review.
Yes, you heard that right. Today, we are in for a double treat, with toys that, when brought together, cater to every couple's needs, regardless of the distance between them (literal distance, that is. The emotional one requires an entirely different blog post). So, come on, join Richard and me, your not-so-humble guides, as we throw caution to the wind and plunge headfirst into the heady world of teledildonics, with the glittering Lovense duo leading the charge.
Meet the Power Couple: Max 2 and Nora
So, who's the sizzling tandem promising to set our bedrooms aflame – even if those rooms are on opposite sides of the world? Presenting Max 2 and Nora, the embodiment of pleasure, power, and mischief, all wrapped up in one high-tech package.
Separately, these interactive toys cost between $99 and $199, depending on the deal you find. But you can also buy them as a 2-in-1 deal for a mere $210.
Since ladies should always come first (in every sense), let's start with Nora. She is one of Lovense's finest Bluetooth-enabled rabbit vibrators. With vibrations and curves in all the right places, she's a great companion for your ride to bliss.
Next up, we've got Max 2: a game-changing male masturbator, a proverbial ace up the sleeve, if you will. He brings a whole new world of sensations to your favorite dangling parts.
But what makes these two so special, you wonder? Aside from being amazing toys for solo sessions, Max and Nora are even better when used together. Just like the digital age Romeo and Juliet, they help you and your lover find pleasure together, no matter where you are (sans the tragic end).
Their state-of-the-art design enables them to mimic each other's movements, making a mountain out of a molehill when it comes to physical distance. So, whether you're separated by one mile or a thousand, with Max 2 and Nora, it's as if you're in the same room – or, better yet, the same bed.
Features
Max 2:
Long-lasting lithium-ion batteries and magnetic USB
Bluetooth technology
Dimensions: 9.5 inches long (6.7 inches insertable), 3.3 inches in diameter
Inner canal diameter: starts at 0.59 inches but stretches up to 6 inches
Multiple sensors throughout the sleeve
Waterproof
Vibrations and contractions
3-4 hour battery life, fully charged in 2 hours
Nora:
Lithium-ion batteries and magnetic USB
Bluetooth enabled
Sized at 8 inches total (4.72 inches insertable), with 1.06-1.5 inches of insertable diameter
Rabbit ear: 2.6 inches
Rotating head
7 exciting vibrating patterns
Lasts 4 hours off the charger, topped up in only 2 hours
Flexible vibrating arm
Waterproof
Two motors
Unboxing: From Inconspicuous to Downright Delightful
As soon as Richard and I heard about this enticing pair, we knew we had to have it. The anticipation paid off because the package arrived quickly, looking so innocent. Our elderly neighbor, bless her heart, picked it up for us, and she had zero inclinations as to what she was carrying in her hands.
The boxes themselves had a quality vibe to them, but it was the content inside that grabbed all our attention. Our new gadgets were splendid, all sleek and modern looking, seeming to smirk at us, promising kinky times. Tucked in alongside them were user manuals and charging cables, just as neat as a pin.
But hang on a second, you're probably wondering, was there a fly in the ointment? Well, I hate to break it to you, but there was no lube. Just a minor blip on the radar, really, and not enough to rain on our parade. I mean, c'mon! With these fancy-schmancy love toys now in our mitts, Richard and I were grinning ear to ear, buzzing like bees in a bottle of pop!
Check our Max 2 & Nora 360 Video on Youtube
Talk About First Sight Love, Eh?
Isn't there just something electric about a new discovery? The first time I got a good grip on the Max 2, I was absolutely over the moon! Talk about a looker – with its posh design, all smooth and ridged, this cheeky devil could give a ritzy water flask or a trendy espresso mug a run for their money. But its weighty feel is the telltale sign of the delights that lie within its mysterious shell.
Nora also knows how to make a good first impression with her silky touch and delicious shade of pink. She has a rich feel to her, with delicious curves and panty-melting shape.
Features Roll Call
Time to get down and dirty (yes, please) with this Lovense Max 2 & Nora review. Although, I have to admit no comprehensible words came out of my mouth during the research phase.
First on the Table: Max 2
This toy's smooth, sturdy shell is made of ABS plastic, which is nice. But as we all know, it's what's on the inside that matters, and believe me (or Richard, in this case), Max 2 delivers. The inner sleeve consists of soft, skin-like TPE that hugs your manhood like your favorite glove. What's more, there are four tantalizing textures in there, waiting to stimulate you into oblivion.
Now, to make the embrace even snugger, Max 2 uses air pump technology. The airbag linings grow and reduce, mimicking the intimate feel of vaginal contractions. Plus, it features air vents and a quick-release valve for those moments when things get a tad too intense.
Oh, and did I mention the vibrations? Richard swears they are strong enough to reverberate through the entire sleeve, sending shivers of pleasure from base to tip. And if that wasn't enough, you've got seven settings to explore: three constant speeds and four patterns to set your heart racing.
Meet Nora, the Queen of Quirks
Her ergonomic design fits like a glove on anyone, no matter the shape or size – like your favorite pair of jeans that hug you in all the right places. She's got this twirling head that can bullseye your G-spot like a pro and a bendy vibrating arm that dishes out seven scrumptious varieties of pulsations.
Just when you think you've got her all figured out, she plays her ace – a waterproof feature! Now, ain't that the cat's pajamas? She's turned into your perfect tub-time companion just like that!
Oh, and There's Music, Too
If you thought Nora and her comrade, Max 2, couldn't possibly stir up more excitement, you are in for a sultry surprise. Picture this: your toys are jiving, buzzing, and spinning, all in rhythm with your jam. It's like turning the dial all the way up to 11 on the delight-o-meter!
Mirror Life
Got a penchant for a bit of virtual excitement? Well, Mirror Life is about to knock your socks off! With VR and 2D compatibility, this feature lets Max 2 up the ante of in-game characters. Your playtime's about to become an all-encompassing experience that's as immersive as diving headfirst into a fantasy world.
Lovense Remote App
This smarty-pants of an app takes your solo play from zero to hero, doing away with the fuss of fiddling with buttons on your toy. Select patterns, switch up the intensity, or even shake things up with long-distance fun – it's all at your fingertips with this nifty piece of innovation.
But wait, the Lovense remote app isn't just a control panel for your toys. Oh no, my friends, it's also your virtual playground. It doubles as a messaging and video feature, letting you share intimate moments, images and even have a good ol' chit-chat with your partner while you play.
✍️ Scarlett Recommends: In this Lovense Max 2 & Nora review, I'd be remiss not to remind you how vital it is to keep these love gadgets in tip-top shape. Regular cleaning with warm water and a good toy cleaner will keep them humming like new. And remember, the Nora is fully waterproof, making cleanup a breeze. As for Max 2, well, his sleeve pops out for easy washing.
Yes, but, What Do They Feel Like?
Ready for our frank and frothy Lovense Max 2 & Nora Review? Hang onto your hats because things are about to get a whole lot steamier!
Just imagine: there I was, left all on my lonesome as Richard jetted off to visit the family, the evening stretching out before me like a blank canvas. It was just me, and Nora primed for a night of personal exploration. It was clear as day, right from the get-go, that a dash of water-based lube (only water-based, mind you!) would be the perfect sidekick to kickstart our little soirée.
Now, let's talk about those vibrations. Sure, they weren't the strongest I've ever felt, but boy, did they light my senses on fire! And when that swirling head joined in the dance, well, that was the cherry on top – teasing and pleasing in all the right places without me needing to do much of a song and dance.
Figuring out how to commandeer Nora's controls felt a tad like a game of Twister at times, so I made a quick pit stop over at the reliable Lovense app. What a relief it was! Like night and day, the transition was a breath of fresh air, swiftly steering the night back onto smoother seas.
Richard Joins the Party
My other half, you see, had a hot date with Max 2 in a solo play extravaganza. Richard, my darling, decided to spill the beans about his eye-popping encounter just for this Lovense Max 2 & Nora review, and trust me, it's a hoot!
He was bowled over, gobsmacked even, when he took Max 2 out for a spin for the first time. That cozy sleeve is spot on as a perfect bullseye – soft and squishy. And it took only one flip of a switch for the buzzing to start.
However, the relatively moderate vibrations did not do much for him, so he included the contractions in the mix, and that's when the real party started. He used the Lovense app to play with different patterns and intensities that sent him over the edge quicker than my hand ever could (my mouth is a whole 'nother story, though).
Anyways, after a few days, we've had enough of solo play and decided it was time to try the Long Distance lovin' feature. Video chat worked fine, but the messaging feature was bugging to the point we had to restart the app a couple of times. But we forgot about it all the moment we felt each other's movements through the toys. I mean, who cares about the texts when you can feel your man moving inside you from a couple of towns over?
The only hiccup? For Richard, Max 2 is a snug fit, and lots of thrusting can lead to discomfort, but nothing a little lube and some air pump adjustments can't fix.
So, folks, that's our tale of passion and exploration for this Lovense Max 2 & Nora review. If you're looking for a thrilling ride, this is your golden ticket!
💡 Pro Tip: When you're having a rendezvous with Lovense Max 2 & Nora, don't pigeonhole yourself to a single rhythm or speed. Toss predictability out the window. Consider it like dancing with a partner, tease the tempo, play with the pace, switch from the waltz to salsa in a heartbeat.
Weighing the Scales: Pros and Cons
Pros:
Long battery life in Max 2 is a major plus
Max 2's one-size-fits-all approach
Pace control? Talk about convenience
A wireless connection that makes it perfect for long-distance sweethearts
Nora's rotating head and top-notch clit stimulator are a perfect duo
The Lovense remote app is user-friendly
And let's not forget about Max 2's 360-degree compression and the unique Mirror Life game
Cons:
The noise levels of Max 2 can leave something to be desired
A storage bag is conspicuously missing for Nora
Max 2's a bit on the lighter side vibration-vise
Nora's handle can be tricky to hold when you've got lube in the mix
Max 2 can feel a tad snug for comfort
Nora's shaft could use a bit more buzz in her shaft, and all things considered, her vibes might not exactly be a home run for the power junkies
Final Verdict
Brace yourself, here's the nitty-gritty of our Lovense Max 2 & Nora review: Are these toys worth their weight in gold or just glitter? The short answer is, "Hell yeah!" Despite a few minor snags, like the slightly noisy Max 2 and Nora's slipperier-than-a-greased-eel handle, these beauties hold their own. Max, with his staying power and adaptability, and Nora, with her whirling dervish of a head and potent clit stimulator, make these toys a priceless addition to your treasure trove of pleasure.
Sure, they're not flawless, but boy oh boy, they sure know how to keep the party going! So, the grand finale verdict: a solid 4.5 out of 5 rating, making the Lovense Max 2 and Nora a joyously delightful investment in sensual pleasure.
| | |
| --- | --- |
| 👉 Name: | Lovense Max 2 & Nora |
| ⚙️ Features: | Vibrating, Multiple Patterns, App Controlled, Remote Controlled, Multiple Speeds, Stroking Technology, Rotating Shaft |
| 📁 Type: | Long Distance Sex Toys |
| 🛠️ Materials: | ABS plastic, TPE |
The Long Distance Sex app that allows you to feel your partner's movements in real-time
5
Both toys Ace in the stimulation department. Max 2 has a great inner sleeve with 4 different patterns, and Nora has a perfectly curved shaft that hits G-spot with ease
5
Vibrations are good but not the most powerful we've felt
4
Mirror Life, music app, video chat, and messaging app make for an immersive experience
5
Editor's Pick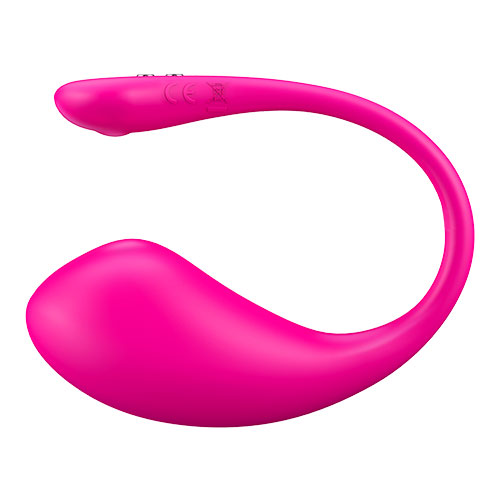 Lovense Lush 3
⚙️ Special features:
Impressive battery life
⚡ Power source:
Rechargeable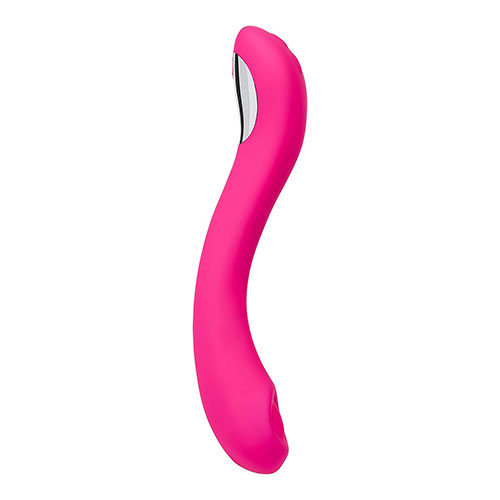 Lovense Osci 2
⚙️ Special features:
Remote App Controlled
⚡ Power source:
Rechargeable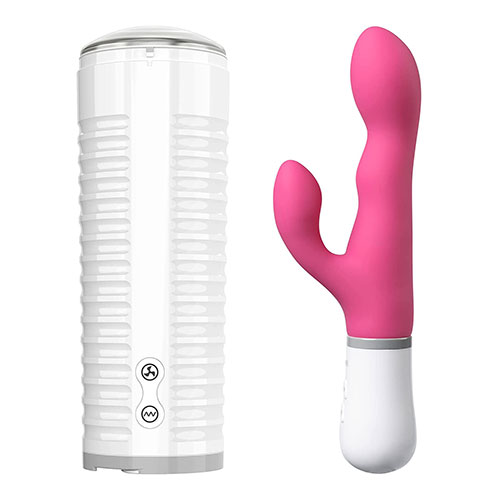 Lovense Max 2 & Nora
⚙️ Special features:
App Controlled
⚡ Power source:
Rechargeable