Jan/17/2023
Last Update: June 26, 2023
524
8 min read
Strap-On-Me Strapless Strap-On Review: Just Get Up And Ride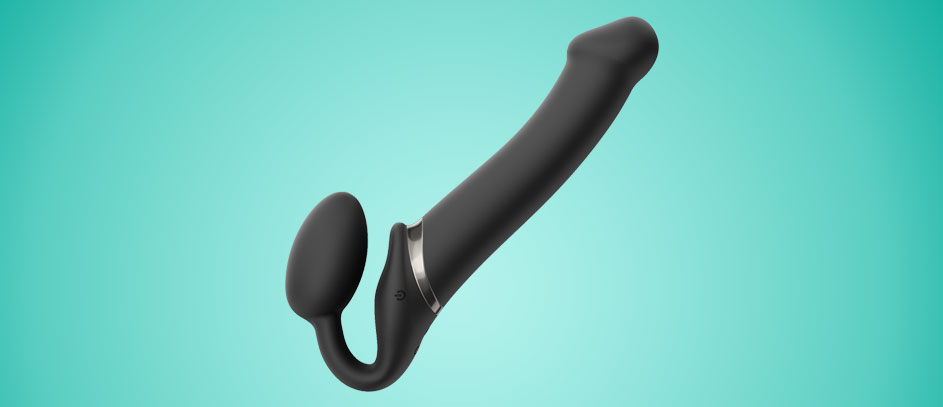 Let's get one thing straight (unlike myself) – I loooooooove pegging. But do you know what I don't love? A wonky-ass harness paired up with a bad dildo. Yes, not all dildos were created equal. If you've ever used a classical strap-on, you KNOW how annoying the harnesses can get. Nine out of ten times, there's something wrong with it. Sometimes, the material is annoying and causes weird rashes from the thrusting. Sometimes, the whole harness feels wobbly and just doesn't fit right, no matter what you do. Here comes the answer to my prayers, and your prayers, too. Let's get into the Strap-On-Me strapless strap-on review and why it's worth the hype.
Don't you just hate getting your thrust on, just to feel the harness slowly sliding off of your hips, or completely off of your ass? Nobody likes the "thrust-thrust-wait, pause-thrust-thrust-wait…" Once the fun starts, I don't want to stop or pause, baby. That's just how I roll.
Discover A Whole New World: The Strap-On-Me Strapless Strap-On Review
I've had my fair share of experience with harnesses that were just, simply, overall bad quality. And if there's one thing that I can't stand, it's having to feel like Cinderella when buying a strap-on, wondering if the fucking glass slipper is finally going to fit. After a few years of being a self-proclaimed strap-on queen, I do have to admit I started to get slightly bored from the pegging and strapping with no pleasure pay-off for me.
Being the penetrator is fun and all, but God damn it, I want to feel something happening in my pussy, too! Or in the words of Lady Gaga, I wanna take a ride on the disco stick, too! Now, that's where the Strap-On-Me strapless strap-on comes in and changes the game.
Queue the sound of angels singing. The moment it entered my vagina, it was an instant hit (and you'll see why later). For me, for him, for her – for all of us.
Harness? No, Thanks – My Pussy Got This
Of course, that wasn't my first rodeo using a strapless strap-on. But sadly, most of them don't give you a good grip, if you know what I mean. With all the lube and sweat, they often slip out, and what's the point in having a wonky strapless strap? Just FYI, my pelvic floor muscles are strong as fuck, so it's definitely not my vag, but rather the shape/design or heaviness of the strapless sex toys that I tried before this one.
In this Strap-On-Me strapless strap-on review, you'll quickly see why all parties involved will be riding the disco stick to the land of "Ooooooooh". With this magical toy, you'll (both) feel love at first insert. Let's break it down.
Ain't No Ordinary Strap
A good dildo goes a long way. A good vibrating double-ended strap with three motors, three speeds, three patterns, and a wireless remote? Now, that gets you to Jupiter and back.
First things first, the looks of the Strap-On-Me strap-on. It's black, thick, and beautiful. When the package arrived, I was honestly extremely excited to try it out both on myself and on a play buddy. It was great for masturbation, but the remote has a range of 5 meters. I had to test that, too. It was even more fun with my play partner all the way in the kitchen while I was in the bedroom, shaking – just with the help of a click on the remote. My play partners loved having a sense of control, as well as hearing my moans and screams.
Features:
Material: Silicone
Waterproof: Submersible
Circumference: 4.5 inches
Insertable Length: 6.5 inches
Length: 10 inches
Controlled by remote
Three motors with three patterns and three speeds
Rechargeable
Wearer or Pegger: How Does It Feel
Sometimes, I order a sex toy in a rush, or in other words, in my horny daze. In those moments, I completely forget to check which material the toy is made from. I made the mistake of using rubber dildos, which left my pussy itchy and on antibiotics. Mistakes were made, but lessons were also definitely learned. When I was experimenting and playing with it, for this Strap-On-Me strapless strap-on review, I was so relieved to see that the toy is made from silicone.
It's simply the best material for a strap-on or dildo. It's non-porous, rarely (if ever) causes allergic reactions, feels fucking good, and it's super easy to clean. If you take care of your precious silicone strap-ons and dildos, they can pretty much last forever. Some gals also love the feeling of a glass dildo, but if you're into pegging and strapping it on, it might not be the best choice. So, silicone all the way, baby!
Lube, Lube, Baby
Well, unless we're talking about lube. Only water-based lubes are getting near my vajayjay, and the same should go for you. Silicone lubes can cause all kinds of icky stuff to happen to your lady bits, but these lubes can also break down silicone toys. Let me say it loud and clear: DO NOT USE silicone-based lubes when strapping on this bad boy.
This strapless strap-on has a great hand feel; silky, smooth, and has just the right density. It also feels great from both sides in your asshole or pussy. My pegging partner is also nodding his head in agreement. I don't know how else to describe it, but as soft yet not too soft, combined with the perfect amount of thickness and density.
The Strap-On-Me strap-on is submersible, but do not throw it in the dishwasher to clean it. Don't even think about boiling it because then the vibrating magic strap just turns into a plain-ass dildo. Some good old water and soap will clean up even the dirtiest and kinkiest messes.
Deep Inside, Deep Deep Down Inside
Personally, I'm a sucker for clitoral stimulation. I mean, what's an orgasm without some clit action? I wouldn't be able to do justice for this Strap-On-Me strapless strap-on review if I didn't mention what it can do to the clit. The toy has three different motors that you can have full control over with the wireless remote. One is on the smaller side of the double-ended strap, the second one is at the end of the shaft of the other side of the strap, and the third motor is the one that will make your clit purr.
My playing partners and I had a sextastic time exploring all three different speeds and patterns. And let me tell you right now: I've never ever had an orgasm like that while pegging my little play pal. Thanks to combining the different patterns and speeds on the different motors, "Honey, I'm cuming!" just got a whole new meaning for me and my play partners. You can also use all three motors at the same time, which is my personal favorite.
The Right Size For Any Occassion
I already mentioned that I've tried strap-ons that don't require a harness before, but that I would often have the issue of the insertable strap part slipping out of me and ruining my part of the fun. Let me just tell you that I had no issue with this wonderful strap. It almost felt like it sort of adjusted to my body to give me maximum pleasure. Because it sure as fuck did.
Even though I kinda love the feeling of my pussy or ass getting stretched out, most of my male partners aren't the biggest fans of it. Getting a strap that's too big, too stiff, or too wide for them to handle (even with all the lube and anal training) always sucks because it's an instant buzzkill. However, with 6.5 inches of insertable length and a 4.5-inch maximum circumference, the strap on makes the two of us feel mind-blowingly good. I mean, what kind of Strap-On-Me strapless strap on review would this be if I didn't tell you about how fantastic this felt inside of me, and inside of him?
G-Spot And Clit? Don't Mind If I Do
Did I mention that the neck is flexible? Yeah, the neck is flexible, so I can peg my male partners exaaaaactly how they like it, while also getting the clitoral and G-spot stimulation that takes me straight to Cum City. (Population: anyone using this baddy). Most strapless strap-ons have zero flexibility, making the whole experience kinda flat and monotonous.
I also love the fact that the strap-on has a wireless remote. When I use a strap-on or even a vibrator with a wire, I feel like I'm about to short-circuit my pussy somehow. Not to mention that it's just extremely annoying and ugly-looking. I don't know about you, but my attention span isn't the greatest when I'm getting my freak on. I can't be bothered with untangling wires or anything of that nature. With the remote, pleasure is just a few clicks and thrusts away!
Finally, a shout-out to whoever designed this gorgeous beast for making it rechargeable. I was starting to get uncomfortable with the amounts of batteries that I'd been purchasing on a monthly basis. That way, I'm feeling quite eco-conscious #SaveTheEarth. Just a quick little charging session and I'm thrusting and riding into the sunset.
Let's list out the pros and cons of this magical toy
Pros
Flexible
Rechargeable
Remote Controlled
Three motors with three speeds and patterns
Stimulating for both partners
Great for hetero couples and lesbians
Cons
Not the best for beginners
A bit pricey
Strap-On-Me Strap-on Review: Let's Get To Strappin'
To conclude this Strap-On-Me strapless strap-on review, whether you are the one wearing it or the one being strapped, you'll definitely see stars. All of 'em. The feeling of it is amazing, no matter who is being penetrated from which end. So if you're tired of wonky harnesses, weird yet bad dildos, and super-stiff vibrators, cum and give the Strap-On-Me strap-on a try. I promise you won't regret it.
⚠️ Disclaimer: Our articles contain affiliate links. If you like our content and wish to support our work, consider purchasing your new sex toys through our links. For each purchase through our links, we receive a small commission but at no extra cost to you.
| | |
| --- | --- |
| 👉 Name: | Strap-On-Me Remote Control Vibrating Strapless Strap-On |
| ⚙️ Features: | Vibrating, Double-Ended |
| 📁 Type: | Strapless Strap-On |
| 🛠️ Materials: | Silicone |
The length and girth of both sides are chef's kiss. Hits my G-spot and his P-spot.
5
Adore the fact that it has three motors, three speeds, and three patterns. Keeps the pussy and the bussy quavering.
5
I'm an expert pegger and a self-proclaimed strap-on queen so keeping it inside of me was easy peasy.
4
Both ends feel equally fantastic to the touch… and inside. Love the density of the silicone.
5
Editor's Pick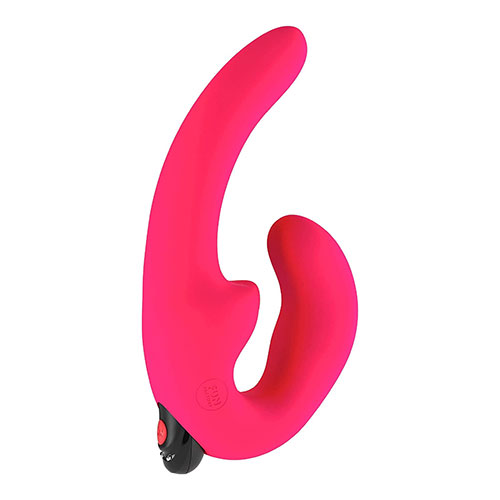 Fun Factory ShareVibe
⚙️ Special features:
Precise G-spot stimulation
⚡ Power source:
Rechargeable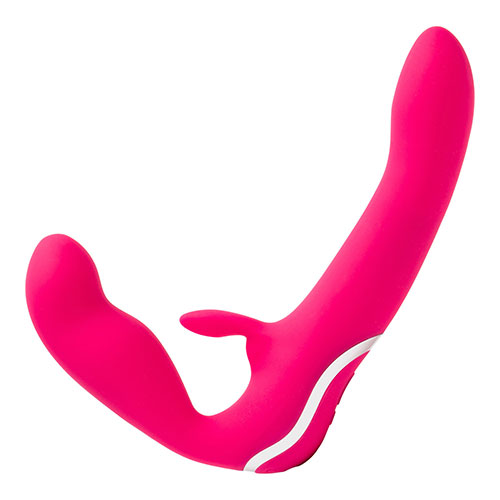 Happy Rabbit Strapless Strap-On
⚙️ Special features:
Slim tapered tip for smooth entry
⚡ Power source:
Rechargeable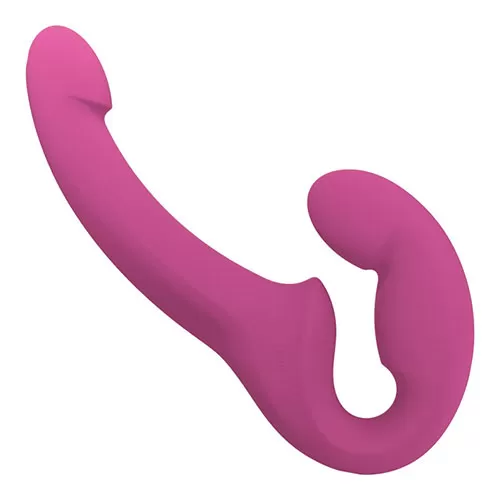 Fun Factory Share Lite
⚙️ Special features:
Adjustable hinge