Jun/30/2023
Last Update: June 30, 2023
213
9 min read
Two's Never a Crowd! The We-Vibe Sync 2 Review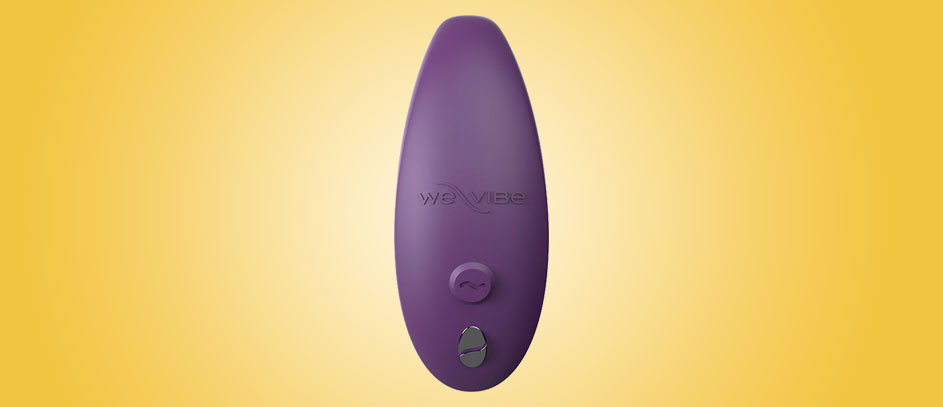 Normally, when on a quest to find the ultimate sex toy, the ladies focus on what pleases them, and that's perfectly fine. Most of the toys I've used and abused over the years have been solo affairs, from massive dildos to clitoral vibrators. Granted, some of them can be used with a partner, but their main goal is to be used in one-woman outings. But as this We-Vibe Sync 2 review will show, it's not all about one toy per person.
Now, I adore having some me time, especially when the Big Horny hits me. But at times, I yearn for a toy that can enhance the actual coitus. If both me and Richard can cum hard thanks to a small bit of ABS plastic and tiny vibrating motors, I consider it a rousing success. That's why I initially went after the Sync 2 – it seemed like the kind of toy that would give me exactly what I needed.
So, did it deliver? Did this small wonder from We-Vibe make my lady parts soaking wet after a few sessions, or was it a dud? Well, I believe you'll find that answer in the following paragraphs, my lovelies. Until then, let me edge you with a bit of information.
An Ultimate in Both Worlds
The We-Vibe Sync 2 is designed to stimulate the woman both during masturbation and penetrative sexual intercourse. It's one of several We-Vibe toys that serve this purpose. In fact, some of my readers will remember how strongly I felt when it came to another We-Vibe product, the Chorus. Yes, that glowing review is very much true and I stand by every word. And every orgasm, mind!
Of course, there was no doubt in my mind that a We-Vibe Sync 2 review would follow considering the company's track record in keeping lil' Scarlett sated. Aside from the Chorus, my tight area had the pleasure of enjoying the Moxie and the Nova 2. All of the sweaty, exhausted nights will attest to how much I loved these items. So, if you aim to buy yourself a We-Vibe product, don't hesitate. In fact, they even throw in a few coupons for both the eager newcomer and the loyal patron.
Now, the company itself is fairly recent. Founded in 2008, the brand has won multiple awards and crafted dozens of excellent products for eager self-pleasure enthusiasts like yours truly. They are especially known for their line of couple products, a definite plus in both my and Richard's book.
Needless to say, I placed my order faster than some of my former partners ejaculated. Sometime later, as I was fiddling around with a different product, there was a tap at the door and an elegant little box was waiting for me. Neato! Our We-Vibe Sync 2 review can officially begin!
First Impressions: That Initial Impact
And what better way to begin than by inspecting the product itself? Much like the Chorus, the Sync 2 features that iconic curvy, U-shaped look. The interior of the toy sports two rows of ridges, strategically placed to drive gals insane during masturbation and sex alike. That tiny control button rests neatly on the front of the outer handle of the toy, easy to access and click on. That's also the button the ladies will be using to cycle through the different options that the toy has to offer.
I always appreciate a nice color palette with my sex toys. For this occasion, I went with the purple variant, but I highly recommend both pink and green velvet, as they all look so cute! Interestingly, Richard prefers the purple option as well, especially considering the caliber of toys he has been using lately. It's all in the presentation, folks!
Other than that, I can't say much about Sync 2 at first glance that I hadn't already said about the Chorus. Sure, there are the features and there is the test drive, but we're getting a bit ahead of ourselves. After all, no We-Vibe Sync 2 review would be complete without discussing the goodies that come with it.
What's in the Box?
Ah, Richard and his boxes! I swear, I keep telling him to get rid of some, but he never does. Some of our friends joke that we're running a storage unit for extra products with how many sex toy packages Richard has saved up. But he can't help it – he loves those tiny little boxes!
Now, I can see the appeal, having unpacked the Sync 2 in preparation for this review. The box looks really chic, with its square shape and calming color and design choice. The toy itself rests neatly inside, but it comes in some good company:
A USB charging cable, for obvious purposes
Short quick-start user guide for the newbies
A 2 ml sample of We-Vibe patented lube
An elegant line storage bag
If I had any nitpick here, it's the desire to get more lube with my toy. However, considering that our household always has some lube on hand, it's really not that big of an issue, and I am grateful that We-Vibe provides this sample with its high-end products as is.
💡 Pro Tip: Lube residue, among other things, can lead to bacterial build-up and cause your sex toy to have a nasty odor. That's why it's extremely important to always clean your devices after use, even if it's short. Most lubricants are water-based, so not only are they easy to rinse off, but their scent won't linger on the gadget once you've cleaned it.
The We-Vibe Sync 2 Features
OK, we've seen what the box is like (yes, Richard kept it!), and we've parsed through the contents. Now let's see what the toy itself is like. An in-depth We-Vibe Sync 2 review has to contain a list of features, and with this particular toy, they are as follows:
Body-safe silicone coating
USB rechargeability
10 vibration modes
We-Vibe app control
Ergonomic shape with adjustable fit
Waterproof (IPX7)
120 minutes (two hours) of runtime
90 minutes (an hour and a half) of charge time
The Elegance of Modern Sex Toy Shapes
I've briefly mentioned it before, but I have to stress just how much I LOVE this design. The Sync 2 enters my body so well that I almost don't feel it when I'm not in the mood. It fits like a glove! And just like the Chorus, it's perfect if I want to express my exhibitionist side and walk around town with a little extra tucked inside my special spot. I even recommended that Richard try inserting it in himself, but he was too preoccupied with a prostate massager to give it a whirl.
Part of the appeal of modern sex toys like the Sync 2 is that every single element is designed to please. The outer handle stimulates the G-spot, and the ridges along its interior facilitate that. While it does that, the interior handle vibrates and enhances the sensation tenfold. Naturally, the soft outer layer of the Sync 2 feels like actual human skin, so I had the sensation of two fingers violating my tight little hole at once. It's almost indescribable with words, though moans more than convey the meaning.
The Feel and Intensity of We-Vibe Sync 2
As I stated earlier, this bad boy comes with 10 different intensity levels, and being the good girl that I am, I gave them all a go. The first 3-4 options were smooth sailing, perfect for that calm night in, when I just want to relax and watch a few soap operas or read a naughty book. The more I upped the ante, the more intense it got, and the wetness poured like summer rain. By the time I reached level 8, I squealed like a naughty schoolgirl caught ogling that one sexy PE teacher.
Furthermore, unlike a lot of toys, the Sync 2 is rather quiet, even on higher levels. I remember testing some really epic vibrators and clit massagers, only to be put off by how annoyingly loud they would get. But this little beauty bore the brunt of Scarlett abuse with a nice, silent murmur. It's refreshing to actually experience a feature that is exactly as advertised – the Sync 2 is quiet, there is no question about it.
Sadly, it wasn't all peaches and cream with this We-Vibe product. As was the case with some of the previous outings, the app hiccuped a few times during play. Again, the button on the surface of the toy worked just fine and I could reach it easily. But if the app doesn't do its job well 100% of the time, Scarlett is left unsatisfied, and a different toy must be brought in to finish the job. This does feel like a nitpick, but I have to stress how important app connectivity is to me. I'm a modern woman, and I'll be damned if my toys aren't keeping up with me.
Giving It a Whirl!
And now we get to the portion of the We-Vibe Sync 2 review everyone's been waiting for – the part where Scarlett fucks herself for science! So, how did the Sync 2 perform? Let's find out.
Scarlett Does Herself
For my solo outing, I've decided to do the deed in two stages:
With Sync 2 alone
Combining Sync 2 and another toy
Using the toy by itself was fairly straightforward. The lower settings had me in a pleasurable mood, and though gratification came later, it came quite pleasantly. Higher settings were making me gush all over the bed, and even after repeated usage, I can safely say that the first part of the test went great.
Of course, combining the toys is what made me fall in love with Sync 2. In order to keep everything as objective and unbiased as possible, I used a regular, run-of-the-mill dildo to do the deed. And boy, was it ever a blast! Not only did the thrusts increase the pleasure alongside the vibrations from the Sync 2, but the toy itself moved and adjusted with the dildo. I didn't have to realign anything by hand, so kudos to the designers of this vibrator!
✍️ Scarlet Recommends: Toys like the Sync 2 work well when combined with dildos, vibrators, and similar penetrative gadgets. If you intend to enjoy the Sync 2 this way, I highly recommend buying the best dildo on the market today. Luckily, there are plenty of options to choose from, and they all have their own little features that make your bedroom time feel amazing.
Tap In, Richard!
Of course, since this is a couple's vibrator, I had to get Richard in on the action. And once again, I did so in two stages:
Non-penetrative
Penetrative
Richard and I love testing each other's limits, just to see how much "abuse" we can inflict on one another. The first stage was Richard with a smartphone, flicking through the options. Not to sound like a bragging wife here, but Richard is a pro when it comes to teasing. The way he shifts between different speeds is almost an art form, and I was cumming in the first ten minutes of our play. So way to go, Richard, you made Scarlett happy!
Of course, even the best skills with the touchscreen can't replace the good, old-fashioned thrust-and-repeat. In fact, poor Richard was so eager to get inside me that he could hardly contain himself within the last few minutes of the first stage. Part of it was the fact that he loves the feel of vibrations against his shaft when we use toys like this. The sex was absolutely amazing, definitely an upgrade of the dildo stage in every conceivable way. I won't surprise anyone by saying that we both came in cuploads by the end of it. In fact, Richard enjoyed the toy so much that I was almost afraid that he was going to write this review instead of me.
Pros
10 different speed settings
App connectivity
Ergonomic design and soft exterior
Silent, noise-free performance.
Cons
The price tag is a bit much for newcomers
App glitches from time to time
Not as big as some of the other toys I'm used to.
Final Thoughts on the We-Vibe Sync 2
I can't heap enough praise on the Sync 2; this vibrator, even with the slight app imperfections, delivered across the board. I've not had that much fun in weeks, and based on how it performs both solo and with a partner, the toy will likely continue to make me scream in pleasure in the following few weeks. In short, I can't recommend it enough – get yourself a Sync 2, ladies, and discover why it's one of the best couples' toys out there!
⚠️ Disclaimer: Our articles contain affiliate links. If you like our content and wish to support our work, consider purchasing your new sex toys through our links. For each purchase through our links, we receive a small commission but at no extra cost to you.
| | |
| --- | --- |
| 👉 Name: | We-Vibe Sync 2 |
| ⚙️ Features: | 10 different settings, Smooth velvety finish, Optimal shape and U-design, App connectivity |
| 📁 Type: | Vibrator for Couples |
| 🛠️ Materials: | Silicone |
There was almost no noise during the entirety of my time with the device.
5
Thanks to its shape, it enters the pussy easily and stays there without any issues.
5
I love that it's a smart device, though the app could use a bit of work.
4
It's perfect for both solo play and partner stimulation, as well as in combination with other toys.
5
Editor's Pick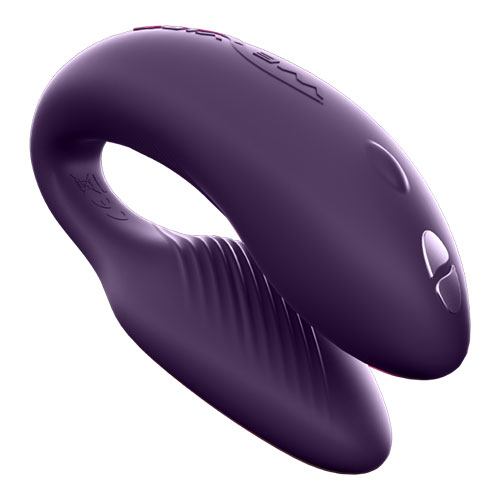 We-Vibe Chorus
⚙️ Special features:
Adjustable fit
⚡ Power source:
Rechargeable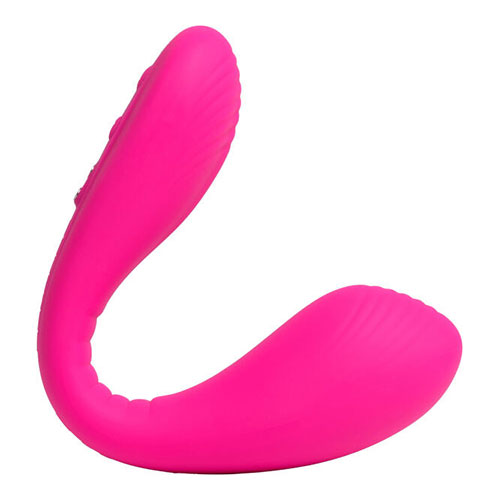 Lovense Dolce
⚙️ Special features:
Fully waterproof for aquatic adventures
⚡ Power source:
Rechargeable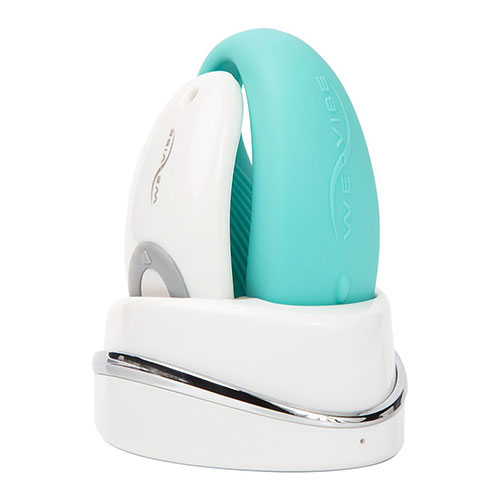 We-Vibe Sync 2
⚙️ Special features:
Dual stimulation
⚡ Power source:
Rechargeable