Sep/27/2022
Last Update: September 22, 2023
987
7 min read
Super Strong Orgasms On The Go! We-Vibe Moxie Review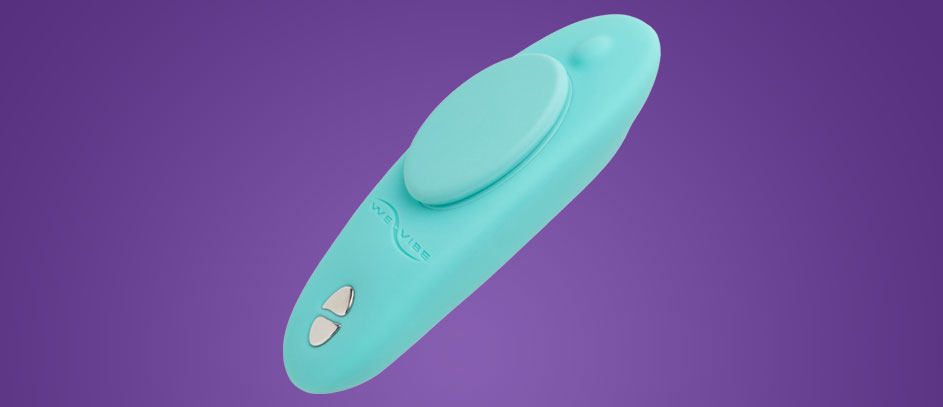 If you want to go out on a kinky adventure and paint the town with your cum, it's always handy to have a quality pair of vibrating panties rumbling against your crotch! Seriously, your sex toys don't need to stay hidden in your closet or your secret BDSM chamber! And quite often, the smallest vibrators are the most powerful. In this We-Vibe Moxie review, I'll show you what it's like to use a remote AND app-controlled wearable panties vibrator for all sorts of naughty outdoor and indoor exploits. The only question is… Will I be able to pull it off without moaning and screaming in the middle of the street? Check out my We-Vibe Moxie review to learn all about this kinky panties vibrator!
We-Vibe Moxie: Heroes Wear Capes but Good Little Sluts Wear Vibrating Panties!
For starters, Richard and I have been experimenting with public play a lot these days. In the beginning, he made me wear various vibrating butt plugs to the mall… But, we've also started to fuck in literally every single public dressing room or club bathroom. Happy days!
Of course, we aren't the only ones that play like that. Vibrating panties have recently seen a surge in popularity. Part of the reason why they were not very sought-after in the past was that most of them used primitive and cheap designs that didn't actually work as intended. I remember playing with some cheap plastic wearable vibrators that just wouldn't stay in place no matter what I did.
Yet, all of that has changed now and you don't have to superglue a vibrator to your panties to enjoy some dirty public explorations! In fact, many brands are making premium panty vibrators at the moment, and We-Vibe is one of them. Of course, you all know how much I love We-Vibe from my previous reviews. This Canadian brand is one of the leaders in smart sex toys that provide a luxury feel and a host of orgasmic features!
First Impressions
When it comes to the We-Vibe Moxie, it's the only panties vibrator that this company has designed so far. Just like all other We-Vibe toys, it's all about a premium and elegant design that can last for ages. Seriously, this thing knocked my panties down as soon as I opened it. I expected no less from one of the leading brands in the sex toy industry!
When I started my We-Vibe Moxie review, I instantly noticed that the vibrator is about the same size as the We-Vibe Tango. The first thing that struck me was the gorgeous aqua blue color. It also comes in black, but this time I picked the aqua blue version just to switch things up. The blue also kind of reassured me that my aqua pussy was gonna get super soaked!
What you'll also notice is that there's a magnet on the front side of the Moxie. You'll see a We-Vibe logo, magnetic charging plates, and one button. The button and the magnet are slightly raised. That way, you can easily feel them when you've got this vibrator strapped to your panties. Easy, right?
Cute but Deadly…
Well, here's the fun part: the Moxie gives you two different stimulation points. You'll get a raised bump for direct stimulation. Plus, there's another section with a wavy texture to deliver even more pleasure! This is a big wow factor for me because most other panty vibes are designed to target only one spot. Here, you can choose the exact point you want to stimulate and you can experiment based on what your pussy demands the most.
What's more, there are several other things that gave me a tingle in my crotch. For example, the Moxie uses We-Vibe's premium silicone materials. It doesn't attract dust and feels awesome against your skin, especially if you want to wear it for a long time. It's also fully waterproof and USB-rechargeable.
What's In the Box?
Inside the box, you'll get the Moxie vibrator plus two magnetic clips. The spare clip will definitely come in handy if you lose one. And as I mentioned, you can control this bad boy via the included remote or the free We-Vibe app.
As for the remote, it's the same type that comes with many other We-Vibe toys. It's made of white plastic and its size is actually much smaller than the Moxie. Also, there are four buttons that you can use to get off on the go, especially if you don't have time to start up the app. Moreover, the box includes a convenient carrying pouch made of white satin, a free packet of lube, and the owner's manual.
We-Vibe Moxie Features
App or remote controlled
Magnetic attachment clips
USB-rechargeable
Run time: 2 hours
Charge time: 90 minutes
100% submersible
Premium silicone
Total length: 3.5 inches
10 vibration modes (additional patterns are available in the app)
Silent operation
Physical remote range: approx 50 feet
Materials and Quality
Public play can get messy, especially if there's a small vibrator attached to your panties. Fortunately, the Moxie's material has truly managed to impress me. This vibrator is made of non-porous premium-grade silicone. It's 100% body safe and extremely durable.
What I loved here was the smooth and soft feel of the material against my skin. It felt super comfortable in my panties and worked wonders while I was moving or walking around. It didn't grip or stretch my skin in any way and it felt like pure joy as it was vibrating against me. Another thing I enjoyed during my We-Vibe Moxie review is that this thing is fully waterproof. That way, you can quickly soak it. Then, clean it in just a few minutes and remove any leftovers from your intense orgasm!
Comfort
Now, comfort is vital when it comes to vibrating panties. I genuinely enjoyed the shape of the Moxie and the way it attaches via a magnet clip. The magnet is small and compact, but it ensures that the Moxie will stay in place.
Again, what's really cool here is the slightly curved shape that conforms to my body. Plus, the two different stimulation points can deliver all sorts of intense pleasure waves and keep your experience fun and versatile. Also, the 3.5-inch-long vibrator is a little bigger than I expected. Yet, it's also thin and light so the slightly longer size doesn't pose a problem.
Time to Buzz My Brains Out!
Obviously, the most important thing about this sex toy is the quality of the vibrations. However, if you want to wear this thing in public, you should also note that it offers nearly silent operation. Because of that, the type of vibration that you'll get is mainly going to be all about deep rumbles instead of a high-frequency buzzing. This is a huge benefit in my opinion because it doesn't instantly pummel your clit or feel annoying as heck.
Instead, you'll get deep and intense vibes at a nearly imperceptible noise level. Richard and I couldn't hear anything when we used it in a quiet outdoor bar. It's likely that almost any kind of outdoor noise will drown out the vibrations of the Moxie. Still, if you're planning on taking this thing to the library, people will probably be able to hear you.
Another thing that I was absolutely stunned by was the above-average battery life. With up to 2 hours of running time, the Moxie is hands down a better choice compared to other wearable vibes that usually last around an hour. Still, if you want to use this bad boy on its maximum power, the battery will drain in about an hour.
Remote Control
Honestly, I love the fact that all control options are possible with this toy. If you need a quick release, just grab onto the remote and go for it! But, I think the real fun starts once you explore the We-Vibe app. When you sync the toy to your or your partner's phone, you'll be able to create custom vibration patterns, change the intensities on the fly, and discover various extra features such as music syncing and long-distance play. If you're looking for a long-distance toy, the Moxie will be a fantastic choice since your partner will be able to configure it from miles away.
Alternatively, you can also just use the remote in your bedroom for those intimate moments when you want your partner to dominate you. However, one of the only problems that bug the heck out of me with this toy is that it can disconnect occasionally. When that happens, it doesn't reconnect automatically. I had to reach down into my panties several times, fumble around, and even close the app until I could reconnect it. This is quite inconvenient, especially if it happens just before an orgasm.
Pros
It feels super comfortable and the running time is perfect.
There are all kinds of vibration modes you can play with and the vibrator is almost fully silent.
Cons
It's expensive!
I had some connection problems while using the app
We-Vibe Moxie Review: Final Thoughts
So what can I say at the end of my We-Vibe Moxie review? Well, this bad boy made me cum like a kinky little slut in public and it all happened while Richard was controlling the action. Some of the connection issues were annoying, but other than that, this is pretty much the perfect panty vibrator out there!
⚠️ Disclaimer: Our articles contain affiliate links. If you like our content and wish to support our work, consider purchasing your new sex toys through our links. For each purchase through our links, we receive a small commission but at no extra cost to you.
| | |
| --- | --- |
| 👉 Name: | We-Vibe Moxie |
| ⚙️ Features: | Wearable, Remote Control, App Control, Multiple Patterns, Waterproof |
| 📁 Type: | Vibrator Panties |
| 🛠️ Materials: | Silicone |
Comfort: It fits perfectly and feels soft and smooth!
5
Vibrations: You can go from super slow to rough and fast with just the push of a button!
5
Nearly silent operation: I was unable to hear the vibrations in most public places.
4
Remote and app control: Both options work like a charm but I had some connection issues with the app.
3
Editor's Pick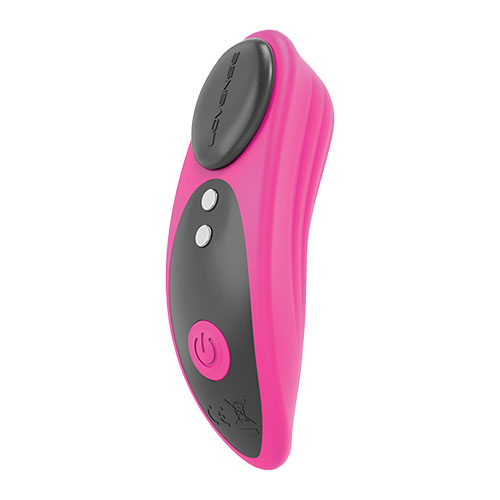 Lovense Ferri
⚙️ Special features:
Customizable vibration
⚡ Power source:
Rechargeable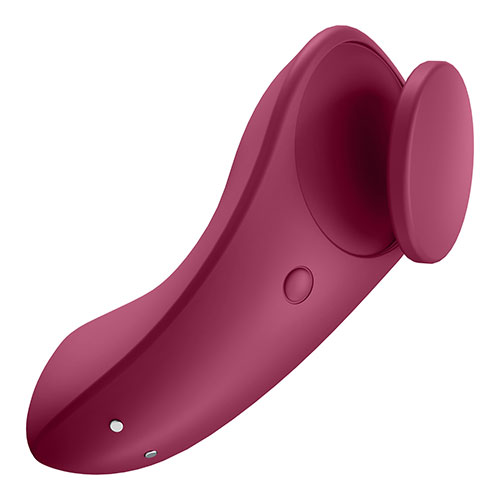 Satisfyer Sexy Secret
⚙️ Special features:
Remote App program
⚡ Power source:
Rechargeable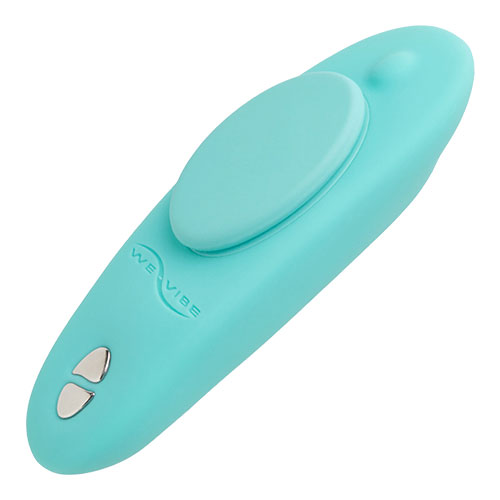 We-Vibe Moxie
⚙️ Special features:
App for long-distance play
⚡ Power source:
Rechargeable