Sep/27/2022
Last Update: June 26, 2023
802
7 min read
OhMiBod Fuse Review: Cum On Baby, Light My Fire!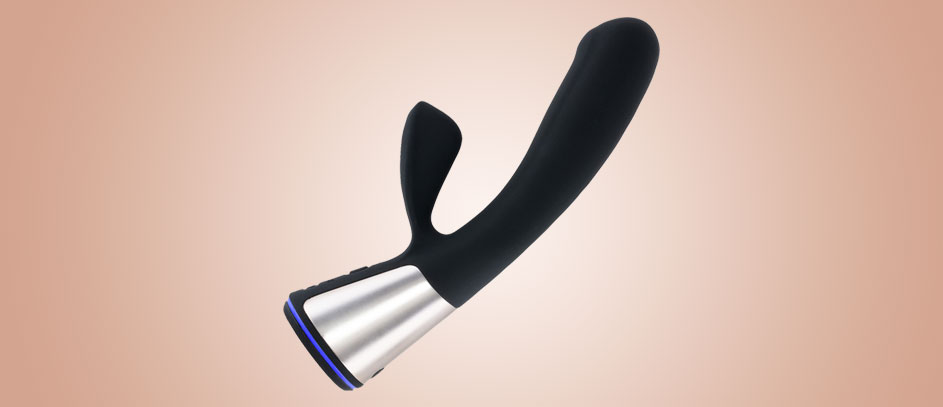 If you and your partner live apart, you'll definitely need to get creative in order to keep the flame burning. So why not fuel the fire with a dual stimulation vibrator that offers Bluetooth, touch-sensitive, and manual controls? Well, baby, with the OhMiBod Fuse, you can now get fucked just the way you like it despite the miles between you and your partner! In my OhMiBod Fuse review, I'll put this interactive rabbit vibrator to a deep, deep test and we'll see just how hard it can make me cum! So does the OhMiBod Fuse have what it takes to ignite the spark and make me cream all over? Find out in this OhMiBod Fuse review!
OhMiBod Fuse: Dual Stimulation and Unforgettable Orgasms!
Whether you're in an LDR or you just want to chill out and stick a remote-controlled vibrator deep in your minge, there are tons of long-distance sex toys out there that you could experiment with. The Fuse rabbit vibrator was actually released back in 2017 but I didn't get a chance to try it until now. In fact, OhMiBod created this vibrator in collaboration with Kiiroo, one of the first and most successful teledildonics brands.
Additionally, OhMiBod is also a game-changing female-based sex toy company. It first blew people's minds with its iPod vibrator back in 2006. And besides the OhMiBod Fuse, Kiiroo also collaborated with Fleshlight to create the now-iconic Fleshlight Launch.
Now, if you're in a long-distance relationship, the OhMiBod Fuse may be exactly what you and your partner have been looking for. Basically, what you'll get is a wide range of features and a unique experience. With an app-enabled toy like the Fuse, your partner can stay in control of your sensations. Also, they can pair it with another toy by Kiiroo in order to match the stimulation patterns to your vibrator. That way, you can enjoy two-way stimulated intercourse from miles away.
Sure, at $149, the Fuse is an expensive vibrator. However, what you'll get for that price is a premium design combined with some cutting-edge orgasm gadgetry. And like I said, even if you're not in a LDR, you can take advantage of these naughty technologies, especially if you're frequently away on business trips or you want to get kinky in the bedroom.
First Impressions
When I started my OhMiBod Fuse review, I couldn't help but notice that this vibrator has a fairly standard design. However, if you take a closer look, you'll instantly see what sets this toy apart from the competition.
For one, it has a cone-shaped and tapered handle along with an extra wide clitoral arm. Moreover, it has a fancy and sleek appearance and it uses premium silicone materials in addition to coated ABS plastic. With its matte black look and silver/blue accents, it definitely looks like it means business! Now, Richard and I have tested tons of premium sex toys before, but what surprised us the most when we first unboxed it was the sleek feel of the material. It has a distinct smoothness that we've rarely seen on other sex toys.
Let's Unbox This Bad Boy!
Inside the box, you'll find the Fuse vibrator, a satin carrying pouch, an instruction manual and a charging cable. Also, the packaging has an elegant foam interior that you can safely use to store your toy. Moreover, just one look at the Fuse convinced me that this vibrator was designed to adapt to most women. You'll get a 7.1-inch long shaft, which is just enough to satisfy most horny gals out there. Plus, the shaft has a nice curve to it, which is just perfect for all kinds of ooh-aah G-spot massages.
Check our Fuse 360 Video on Youtube
Features
The OhMiBod fuse is packed with features, which is exactly what makes it stand out from other toys. Here's what you'll get:
Dual motors
Three control modes: Bluetooth, touch-sensitive, and manual
7 vibration presets in manual mode
Bi-directional control
Visual feedback via LED
You can synchronize the Fuse to other Kiiroo toys designed for men or women
100% premium silicone and ABS plastic
Charging time: 2.5 hours
Running time: up to 1.5 hours
Shaft length: 7.1 inches
Insertable length: 5 inches
Diameter: 1.3 inch
Clit arm length: 2 inches
Materials and Design
As mentioned, the Fuse has a fairly standard shape for a rabbit vibrator. The tapered base is one thing that sets it apart from the competition. Even though the base looks a bit out of place, it's actually quite useful because it allowed me to get a firm grip while pushing the vibrator deep inside.
Moreover, the materials used on this bad boy are pretty awesome. I generally prefer silicone toys to all others because they are easy to clean. With the Fuse, you'll also get a 100% body-safe toy.
However, I was kind of disappointed that the vibrator is not fully waterproof for the price. It's only splashproof and you can't submerge it in order to clean it or have fun with it in the shower. Still, I genuinely enjoyed the premium look and feel of the Fuse. Also, the super long clitoral arm is definitely a game-changer.
Size
Let's not forget the main attraction of this bad boy: the long and curved shaft! While the total length of the Fuse is 7.1 inches, you'll only get to insert around 5 inches until you get to the clit arm.
Personally, I need a few more inches to get those unforgettable full-body orgasms and I think the Fuse is a bit underwhelming in that department. But, never mind my cock-hungry pussy… With 5 inches, you'll get just enough length to reach your G-spot and also enjoy some deep thrusting sensations. Combined with the 1.3-inch diameter, there's more than enough meat on this bad boy to keep you satisfied!
Bluetooth, Touch-Sensitivity, Manual Operation
Obviously, the biggest selling points of this rabbit vibrator are its control options. You can use the Fuse in three different ways. First, if you're impatient, you can simply use the buttons to operate it manually and choose from 7 different patterns.
However, to fully explore the Fuse's next-gen functionality, you'll have to connect it to the free OhMiBod remote app. The app is extremely simple to use and it will allow you to customize the Fuse's vibration functions to their full extent. One of the coolest things I noticed here is that you can fine-tune the motors and tailor the vibrations to your needs. Plus, you can also choose from a wide range of custom presets designed by the OhMiBod community.
Moreover, if you want to use the Fuse for long-distance fun, you'll get two different options. Firstly, you can sync the vibrator to your partner's phone and allow them to control it. You can also pair your vibrator to another Kiiroo/OhMiBod toy. Then, you'll both get the same vibrations and you'll be able to sync the movements of both toys even if your partner lives on another continent. Finally, there's also the touch-sensitive mode that keeps track of how deep you're penetrating yourself with the Fuse.
So whether you prefer shallow or deep strokes, this mode will increase or decrease the intensity of the vibrations depending on your movement. Personally, this was the most fun feature during my OhMiBod Fuse review. It's super intense and it allowed me to focus on my orgasm without worrying about which vibration pattern I was going to choose next.
Power and Noise
One thing you should remember before you try anything with this toy is to charge it fully. According to the specs, the running time is up to 1.5 hours, but that will depend on the setting you use. In my dirty experiments, the Fuse lasted for one hour. Obviously, this is more than enough to get you some epic multiple orgasms.
However, I can't help but feel that the Fuse is a little underpowered compared to some of the other options on the market that offer over 2 hours of operating time. Another thing I didn't enjoy during my OhMiBod Fuse review was the noise. It's about as cheap as vibrators on the market, which is a bit disappointing given the price. Still, while you'll definitely be able to hear it in your bedroom, it's not louder than usual and your neighbors will not be able to hear you.
Pros
Feature packed
The materials feel awesome
The clit arm and main shaft felt super intense when they were inside me!
Cons
Battery life is shorter than usual
It can get loud
The length might be a bit too small for some size queens
Not fully waterproof
OhMiBod Fuse: Verdict
To sum up my OhMiBod Fuse review, all I can say is that this vibrator offers many different options for the price but it also has a lot of cons. You can use it for kinky masturbation sessions and you can take advantage of all the remote-control options to experiment with your partner in the bedroom. Plus, it's one of the best choices out there for long-distance play, but only if you can live with some of its drawbacks.
⚠️ Disclaimer: Our articles contain affiliate links. If you like our content and wish to support our work, consider purchasing your new sex toys through our links. For each purchase through our links, we receive a small commission but at no extra cost to you.
| | |
| --- | --- |
| 👉 Name: | OhMiBod Fuse |
| ⚙️ Features: | Flexible Clit Arm and Shaft, App Control, Long-Distance Play, Body Safe |
| 📁 Type: | Rabbit Vibrator |
| 🛠️ Materials: | Silicone |
Premium look and feel: The design is unique and the material feels super soft.
4
Remote control: The app allows you to fully customize your experience.
4
Touch-sensitive: My favorite feature! It changes the intensity of the vibrator based on how deep you penetrate yourself!
3
The clit arm is one of the best I've ever tried: It's flexible and feels super soft over my fun button!
4
Editor's Pick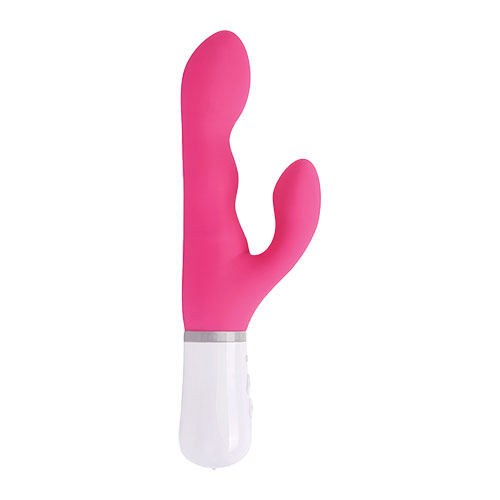 Lovense Nora
⚙️ Special features:
Rotating head
⚡ Power source:
Rechargeable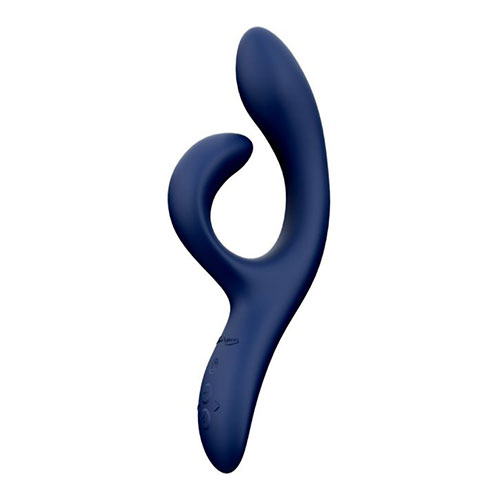 We-Vibe Nova 2
⚙️ Special features:
Long-distance play
⚡ Power source:
Rechargeable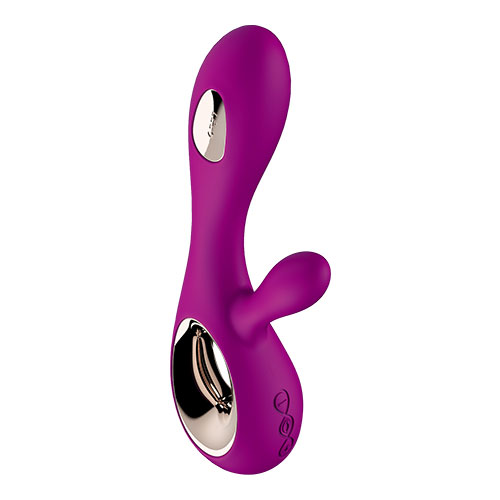 Lelo Soraya Wave
⚙️ Special features:
Ergonomic external stimulator
⚡ Power source:
Rechargeable