Jun/21/2022
Last Update: June 26, 2023
962
16 min read
Best Sex Games For Couples In 2023: Roll The Dice And Fuck For The Win!!!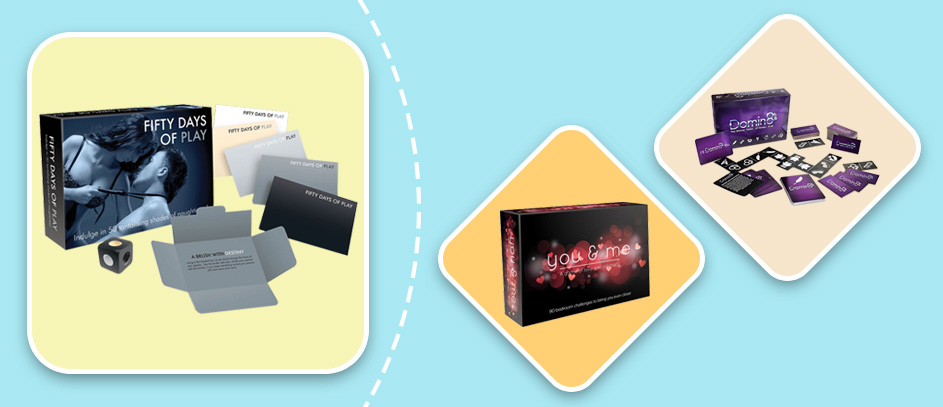 We've all played kinky sex games at some point in our lives, right? It all starts with a simple round of strip poker and a couple of margaritas. The next thing you know, you're spraying whipped cream all over your juggs and a throbbing BBC is forcing its way deep down to your tonsils! Well, that may not have been your thing back in the good old days. Yet, if you want to relive some fearless sex adventures from your past or simply spice things up with your partner, why not put a little fire into your date night with the hottest sex games for couples? Baby, if you wanna roll the dice and get that ace in the hole (mmm, hmm!), I'll show you how to switch things up with the best adult games for couples!
Top 10 Sex Games For Couples in 2023
If you love playing games but also happen to enjoy sex (a lot!), adult games for couples will definitely unleash your competitive side! Whether it's sex dice, cards, or board games, I've played 'em all with my BF or in a group!
All I can tell you is that they're not as silly as they seem. Sure, you and your partner could laugh or cringe at first, but it's all part of the entertainment, especially if it all ends with some intense humping and pumping! It's like playing adult team sports! But with so many options out there, which sex game should you try first? Check out my favorite sex games for couples!
Shuffle the Deck and Bring It On!
"Life is all about luck. And the more you fuck, the luckier you'll get!"
Are you a truth-or-dare kind of girl? Or do you prefer to play dungeons without the dragons? Well, chocolate, flowers, and a nice dinner are always a fun way to kick off your date night. But what if you're actually stuck in a sex rut? Do you need something new to set you off on an epic quest to boost intimacy and find the buried treasure?
Sure, you can try some sexting and experiment with new positions or even bring out some huge anal dildos. But…! If you really want to be a team player, sex games for couples will take your adventures to a whole new level! And honey, these aren't your typical silly games from back when you were a kid. I like to think of them as contact sports for adults that are way less complicated and a heck of a lot more fun!
So let me take you through what adult games for couples are all about and show you how to play them to make your kitty gush harder than ever! Checkmate!
What Are Sex Games for Couples?
If you're not a total virgin, you've probably tried some sex games in the past. You know, there's strip poker, stripper twister, playing dress up, fuck/marry/kill, and so on. However, sex games for couples are specifically created for explicit and downright dirty fun. Some are X-rated versions of existing games that we all know and love, but with a naughty spin. Others are entirely unique and 100% perverted.
Basically, a sex game for couples is designed to introduce more charm into your sex rituals and give you entirely new erotic adventures. Trust me: sex games for married couples will ignite some wild action, and they'll boost the excitement during foreplay to eventually lead up to a night of hot and steamy fun! And we all know what happens when you reach the final level. So get ready for a cruel and rough boss battle or a sweet reward for saving the day!
To be real, the great news here is that there are so many different games on the market. Also, they're not expensive at all. You can always try a couple of different ones to find some erotic inspiration!
Game On, Beyotch!
Whether you already own a chest full of brutal dildos and huge butt plugs or prefer vanilla sex and are just looking to fuel the fire, here are some examples of the most common sex games for couples:
Classic board games with an erotic twist
Adult card games
Sex dice games
Role-playing games
Apps
Classic DIY games
Most of those adult games for couples are designed for different levels of passion. That includes anything from romance and teasing to hardcore unadulterated kinks, fetishes, and a brutal ass-banging! Oh my, I hope I can win the prize!!!
What's more, these games are a fabulous fit for any occasion, regardless of if you're looking for rose-scented passion on Valentine's Day or a nasty blood-spattered fuckfest on Halloween!
Things to Know Before You Play
Like a lot of grown-ass adults, I used to think sex games were silly. I was expecting to laugh all the way through when I first tried one. But damn, was I wrong. Actually, things didn't seem so silly when I tried one for real, and I soon found myself with my legs wrapped around my BF's body while he dicked me down like he'd just come out of prison!
Anyway, what I'm aiming at here is that sex games are not lame or gimmicky. They actually come with a lot of positive sex and relationship benefits that you may not have expected. Here's what you'll get from your sex game for couples:
Benefits of Sex Games for Couples
Break the ice! – Playing a love game for couples is the perfect way to get your, erm, feet wet and initiate all the pervy proceedings. If you're nervous before sex and need an extra kick, you can try some sex dice or card games. They can help you take off the pressure and get those juices flowing.
Improve your sex life – If you're out of ideas or you're tired of doing your same old 69-ing rituals, sex games for married couples will solve all your problems! They can boost intimacy and act as a social lubricant. Depending on how you like it, they'll either speed things up or slow them down. You'll be able to go at your own pace until you prime yourself for a wild night of intense fornication.
Communicate – Love games for couples will lube you up mentally. They will boost your communication with your partner. This is a fantastic benefit if you're a bit shy and don't know how to chat to your partner about sex. They'll help you establish some flirty verbal and non-verbal cues to open you up (in more ways than one!)
Experiment – If you're someone who works best under pressure, adult sex games for couples will certainly make your imagination roam free. They'll make you try some things that you've never felt before. Plus, they'll introduce you to some new experiences, kinks, and fetishes. Also, if you're already a dirty kinkster, these things will be the perfect addition to your dungeon! You can try them for all sorts of dom and sub powerplay or roleplay.
Multiplayer – Sex games are some of the best tools that will slowly ease you into a threesome or a swing party! You can play them with several people to get horny and ready for a wild gangbang! Now gag on 'em cocks like you're getting paid!!!
Types of Sex Games for Couples: Whose Turn Is It?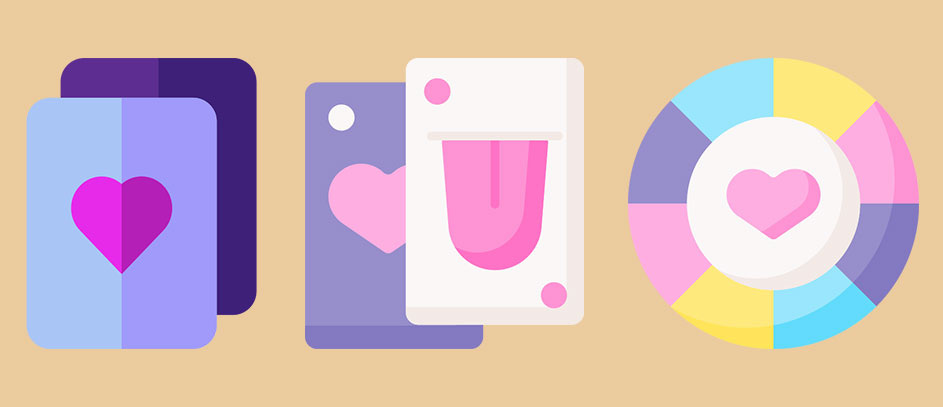 Unlike surprising your boyfriend with a blow-up fuck doll that provides a 5-speed vibrating vagina, an elasticized sphincter, and a suction mouth tunnel with a semen collection cup, choosing a sex game for married couples is actually rather simple!
For one, you won't have to worry about buying sex dice made of the wrong material. Well, not unless you want to stick them up your partner's pooper to get him that royal flush.
Anyway, there are hundreds of sex games for couples out there. Since they're not as expensive as an AI-powered blowjob machine, you can buy several to play around, and find your favorite. So take a look at all the different types of sex games for couples:
Card Sex Games For Couples
From foreplay to the main course, sex card games are always a great idea! These things will loosen you up and get you and your partner in the mood to party. For real, I'm a massive fan of these games since they're so simple yet so effective!
Unlike a more complicated board game, they don't require you to set away some time, read the rules, or make action cards. They'll give you an easy way to speed up foreplay and fuel your naughty imagination. For most of these games, you'll get a deck of playing cards with kinky-looking suits on them. The suits and numbers that you draw will coordinate all the tantalizing fun.
In most games, the numbers will tell you which body part to do it on! For instance, if you get a 5 of hearts, you might have to lick your partner's ear. But, if you get a queen of spades, your lover will have to get down on his knees and worship your sweet holes until the next round! Oh, the torture! Mind you, there are many different variants of card sex games with different rules and objectives. Meaning, you'll need to find the one that matches your perverted pleasures the most.
Dice Sex Games For Couples
If you truly want to get things rolling, dice sex games for couples will provide instant spontaneity. Not to mention a whole lot of relief! Think about it: aren't dice just the sexiest game out there? You know, they have those smooth edges, a glossy look, and they'll give you a super tactile feel on your fingertips. And let's not forget those erotic clicking noises they make when you roll them across your table.
Generally, sex dice come in various different sizes and shapes. Most of them are square and simple, and they'll make you roll for body parts of pieces of clothes. Some full-on dice games will even include foreplay activities or different positions. Also, just like card games, they won't require you to study the rulebook and kill the mood.
The rest is up to you: do you want to compete and beat your lover? Or do you want to gamble your pussy away until you become your master's property?
Board Sex Games for Couples
While Monopoly and intimacy aren't usually talked about in the same context, spicing up your foreplay with dice rolls and kinky rules can help you add more magic to the bedroom. And that's what sex board games are for! They'll help you instantly switch positions or embark on long foreplay campaigns.
If you've never seen them, you probably don't know that almost all classic board games from your childhood have been reinvented for X-rated experiences. Not to get all Freudian on you or ruin your childhood, but these games will definitely put you on the right track to some of the hottest 18+ experiences.
Some of the most popular sex board games include Monogamy, Oral Fun, Loaded Questions, and so on. What about a chess game but with insertable pieces that you have to push inside you when you lose? Oh, boy!
But seriously, there are so many ways to get creative here. You can try your luck on trivia, puzzles, action, role-play, mystery, and various other board games. And sure, you'll have to set aside some time to learn the rules and set up your tabletop. Then, crack open a wine bottle, get some candles burning, and go for it!
Buyer's Guide: You'll Never Lose!
Now, what's the best game you can actually buy that matches your preferences and your bizarre sexual behaviors? As I mentioned, these things are some of the cheapest erotic accessories you could buy, so you can stock up on several games and explore them all. But, you can also pay attention to the following:
The Hornier, the Better
Before you choose your sex game, think about your and your partner's turn-ons. Also, just focus on what you like and talk to him about some of your limits.
For example, you don't have to get a high-stakes game if you're not into it. If you're only looking for light teasing and foreplay without anything major, get a basic set of sex dice or cards. That will get you in the mood for some sweet lovin' without any disturbing fetishes.
But, if you want to try some new stuff, find a dirtier game that goes into detail on what you should do to your partner if you lose. There's so much to choose from here! That includes dirty-talk cards to full-on Kama Sutra board games.
If you don't know how to start, any striptease card or dice game will get the ball rolling. Still, if all that stuff sounds like child's play to you and you want it darker, there are tons of BDSM-inspired fetish board games out there. You can play them to explore hot bondage action and taboo satisfaction!
Some of them will instruct you to restrain, spank, roleplay, and punish your lover in various dominance and submission acts. Again, it all depends on what you're into. Therefore, discuss this with your partner and decide whether you want to play a game of pleasure or pain.
Rules and Features
Across the board, sex games come with some unique rules. You simply need to search for our chosen title online to see if the rules are spicy enough for you. As I said, dice and card games are the easiest and fastest solution for an avalanche of pleasure. You won't have to remember a lot of rules. And that's certainly a good thing if you find yourself strapped into a French maid's costume with a huge strap-on cock protruding from your crotch. Now give your slave the punishment he deserves!
On the other hand, board games can make your experience feel extra special if you take the time to set them up and follow the instructions. You'll need to set aside at least an hour of hot foreplay for them. Yet, this will not only take everything to new heights. It will also prolong your release. You'll want it even more! Plus, some of these games could be a bit more creative compared to dice or card variants. They could include various levels, conversation cards, playful prompts, and so on.
Is It X-Rated?
In my experience, this is one of the most important things to watch out for. A lot of sex games are just party games in disguise. Some just won't hit the target right when you get to the fucking. Others of them are not explicit and are made as gimmicks that you can use to have a laugh with your buddies.
That's definitely something you should avoid if you want to throw down and ride your lover's fat yogurt launcher until he explodes. If a sex game for couples is not juicy enough for your bedroom adventures, I'd advise you to skip it.
What's more, I also have to note that some games are more talky while others get straight to the point. Some could feature crude and simple illustrations and one-word descriptions, whereas others could outline sex acts down to the detail. You can easily find this out when you see how the game looks online and read some of the rules.
Does It Look Sexy?
Unlike most board or card games that look about as sexy as an overcooked steak from a roadside diner, sex games are made with flirty colors and naughty images. You'll find a ton of different designs here. That includes games that look discrete and those that look like they belong on a porn set. Some could even come with board game tokens that look like big dildos! Others might even include saucy accessories like a small flogger or a blindfold. All of that is part of the charm, and it's up to you to pick the game that looks the hottest.
Packaging and Portability
If you pick a quality game made by a known brand, the overall production value will look pretty high. Some could even come with felt-lined rollers, convenient packaging, and soft carrying pouches. This is another thing to think about if you're planning on taking your games on the road with you. If you need something super portable, I'd advise you to stick to cards and dice. They are not so bulky and you can take them anywhere.
Tips on Using and Taking Care of Your Sex Games For Couples
Obviously, you'll have to pay at least some attention when you're using your game. Do I really need to tell you to look over the instructions before you start?
Well, it's the only thing that will kick off your game and make it work as intended. So my advice for you is to read over the rules carefully. That way, you won't only know what the adult game for couples is about – you will also be prepared and able to focus on your enjoyment. The next step is to talk to your partner about your consent and limits. Sure, it's all fun and games at first, but what happens when you turn around and suddenly there's your husband trying to fit his whole fist up your rectum? Yikes!
Therefore, it's essential to set up some safe words or talk about how long you want to play. Of course, if you're going to play with several people, you'll need to talk to all of them to set up the rules so there'll be no surprises. And regarding health or safety, just try to keep things clean. If you end the evening with your game covered in all kinds of lube and semen, good for you! But, I'd recommend you try to clean your board game, cards, or dice with a soft cloth just to be safe.
Sex Games for Couples Industry Overview
It's not every day that I get to write about the history of sex games. In fact, it's next to impossible to trace the origins of sex games. The reason? Well, the human race includes a bunch of naughty perverts who have been pumping their pussies and buttholes raw ever since the dawn of time! So remember this: if there's a game, there's probably some sort of sexual variant of it out there!
However, we do know that modern sex games like strip poker were invented in the 1900s. Most likely, strip poker first came out of swampy Louisiana brothels down South. Then, it became huge during the 1950s and 1960s. As for other sex games, we know that most of them were available in sex shops in the 1990s. Next up was the internet and that brings us to current times.
Right now, you can buy an endless variety of hot and kinky sex games for affordable prices. Most brands that are famous for their adult toys are also famous for sex games. That includes names like Adam & Eve and Lovehoney. Still, there are tons of manufacturers that focus solely on adult games for couples. That includes Bondage Seductions, Oral Fun, Monogamy, Domin8, Our Sex Game, Sex IQ, etc. So which one will you choose? Game on!
⚠️ Disclaimer: Our articles contain affiliate links. If you like our content and wish to support our work, consider purchasing your new sex toys through our links. For each purchase through our links, we receive a small commission but at no extra cost to you.
FAQ
Sex dice, board games, and cards can all spice up the fun during foreplay. This choice is entirely up to you. Still, remember that some games are longer while others take a short time to complete. If you want to get straight to foreplay without thinking too much, I suggest you choose sex dice. They'll tell you what to do as soon as you roll them. However, if you want to spread your foreplay out, choose a longer, more complex board game.
Well, that depends. If you don't want to do anything serious with them and you just want to try a sex game for fun, it's totally fine. However, if you actually want to engage in sexual activities with friends, coworkers, or strangers while playing your sex game, make sure everyone's on the same page and that everyone agrees to it.
This will depend on the game. Some love games for couples will have an end goal, and you might need to play them for hours. Others such as dice are fast, and you can stop whenever you want. In my opinion, it should last as long as you want it to or as long as it takes to get you to cum!
You'll have to consider your turn-ons and preferences here. If you want something flirty, choose a card game with tons of seductive descriptions. If you want to use your brain to solve a puzzle, a board game will work wonders. Also, if you want some carefree fun, dice are the way to go. You can even improve all those games by making up your own rules and rewards.
The easiest way is to buy your game online. Simply order it from a reliable sex toy retailer, and it will arrive at your door in an unmarked box. That way, you'll protect your privacy. You'll also get to choose from hundreds of titles on the market.
It depends on what he's into. If you want to spice up your date night, simple dice or cards will definitely be a hot surprise. However, choose a game that he's comfortable with. For example, if you surprise him with a bondage and domination game and he's not really into that, you could push him away or spark up other relationship issues. If you're unsure, talk to him about some sex games to get an idea of what he's into.