Jun/20/2022
Last Update: June 30, 2023
1151
15 min read
Best Vibrators For Couples In 2023 To Transform Your Sex Life!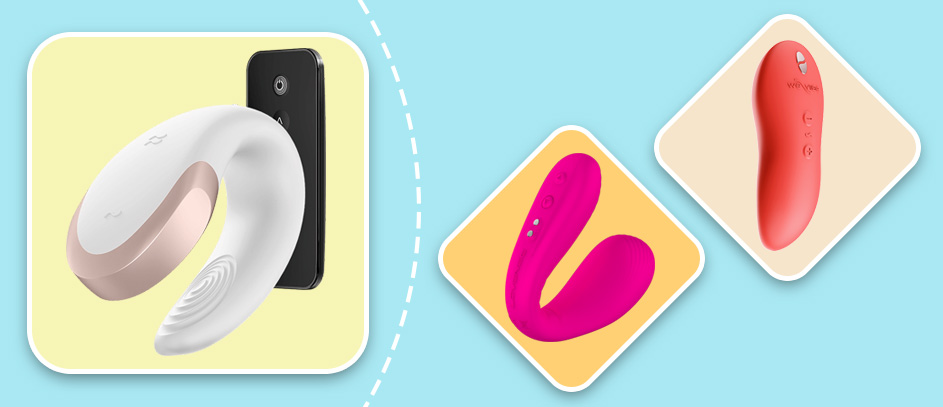 Is a huge 12 inch BBC dildo that squirts out fake cum an appropriate gift for a newly married couple? Well, nothing says "I love you" like a brutal dildo, but every couple has its own kinks, fantasies, and limitations. If you're stuck in a sex rut or want to explore new ways of getting dirty with your lover, vibrators for couples are some of the most versatile and creative orgasm tools that will reinvent your sex life! So let me help you to turn your romance from corny to horny and show you the best couples' vibrators out there!
Top 10 Vibrators For Couples in 2023
There are oh so many reasons why you should never take out an extra-wide anal vibrator mid-sex and shove it up your partner's bum without prior warning. Look, I get it, you're all excited, and you finally want to live out your fantasy, but not everyone appreciates getting their butt fucked by surprise. The same goes for any other sex act or adult toy.
Instead, the best way to introduce vibrators into your relationship is to learn from others' successes and failures. That's why I've tested tons of different vibrators for couples with my BF, and we've selected the best of the best for you to enjoy! So if you want to get down and dirty right away, check out my top 10 vibrators for couples!
Vibrators For Couples: Naughty Mutual Fun!
There comes a point in everyone's relationship when both sides get bored of vanilla sex or good old-fashioned masturbation. Also, there are many reasons why you'd want to try a vibrator with your lover. There are even more ways in which you could use them for extra kinky fun!
"Studies say that most couples will feel their intimacy drop after about four years. But I'm not here to give you marriage counseling tips. I'm here to tell you that you can use a couples' vibrator to make your bae's sweet pussy gush like never before or even milk your male slave's prostate until he begs to lick your feet clean and apologizes for not throwing out the trash yesterday morning!!!"
From the get-go, you should know you can use couples' massagers in any way that turns you on and gets your partner extra hard. Also, you can use couples' vibrating massagers regardless of your sexual orientation and the nature of your relationship. And if you've followed any of my previous articles, you know that Richard and I get up to some pretty nasty shit when we test sex toys together. However, the way you choose and use your couples' vibe all depends on your kinks and preferences.
Vibrators for Couples Explained
How can you pick the best vibrator out of thousands of toys on the market? Well, you can pretty much use any toy that you like, including cock rings, big dildos, butt plugs, and so on. Even classic vibrators can make your orgasms go apeshit in the bedroom, but you might not have known that vibrators for couples are a whole other category of sex toys.
Typically, vibrators for couples are specially designed for mutual romance. They can help you try different sex positions, explore your orgasms, or even try out your darkest fetishes. There are way too many couples' massagers to fit into one article, but I can best describe them as adult toys that are specifically intended for couples, mutual pleasure, strong orgasms, and even long-distance play. While some are designed to be couples' toys rather than standard sex toys that are used by couples, you can still use some traditional sex toys together with your partner to reach those sparkling moments of orgasmic bliss.
Types of Vibrators for Couples
Over the years, my BF tested out nearly every available sex toy on my holes, from the tiniest bullet vibes to massive dildos that felt like I was getting fucked by the freaking Cock-ness Monster. So whether you need gentle and intimate love or you're craving a rough and rowdy fuckfest, you can use pretty much any vibrator with a partner if you're creative.
Yet, there are some that are ergonomically designed to boost couple play even more. We can split couples' massagers into several categories, and the easiest way is to focus on the following types:
ABS Vibrators For Couples
Vibrators made of ABS plastic are some of the safest and toughest toys out there. ABS is a rigid body-safe material with hypoallergenic properties. Also, it's non-porous, meaning that it doesn't absorb germs. You can use it all over your labia, your partner's cock, his butthole, your butthole, you name it!
Generally, ABS couples' vibrators include mini bullet vibes or any other toys designed for precision. They could have slightly pointier tips to deliver high precision. They are excellent choices for stimulating your external erogenous zones. That includes your nipples, your partner's balls, your clit, or any other sensitive spots. However, ABS is also used to make longer insertable vibrators, massage wands, vibrating eggs, prostate massagers, etc.
Now, that's usually not the first choice for penetration since toys made of ABS are firm and unyielding. They won't bend when you insert them. They'll produce an entirely different feeling compared to, let's say, a bendy silicone vibrator. Still, many people prefer the sensations of ABS because it delivers a lot more pressure and precision internally. It also transfers the vibrations in a different way compared to softer materials. For most ABS vibrators, you'll feel the vibrations as precise high-frequency fizzes.
Silicone Vibrators For Couples
The next types you could look into are silicone vibrators for couples. Silicone is by far the most popular and the healthiest sex toy material. You'll find it on all sorts of couples' toys. That includes classic vibrators, ring vibrators, love eggs, anal pulsators, and more.
Just like ABS, silicone vibrators are 100% body-friendly. While they are hypoallergenic and non-porous, silicone vibrators are also incredibly easy to clean.
What's more, silicone is super flexible. It is the closest thing out there that replicates the feeling of real skin. It has a velvety smooth texture that plays well with water-based lubes and works wonders for external and internal stimulation. Personally, I'd recommend silicone vibrators for couples to all newbies who are thinking about using a toy with their partner for the first time.
The Best Vibrators to Use With Your Partner: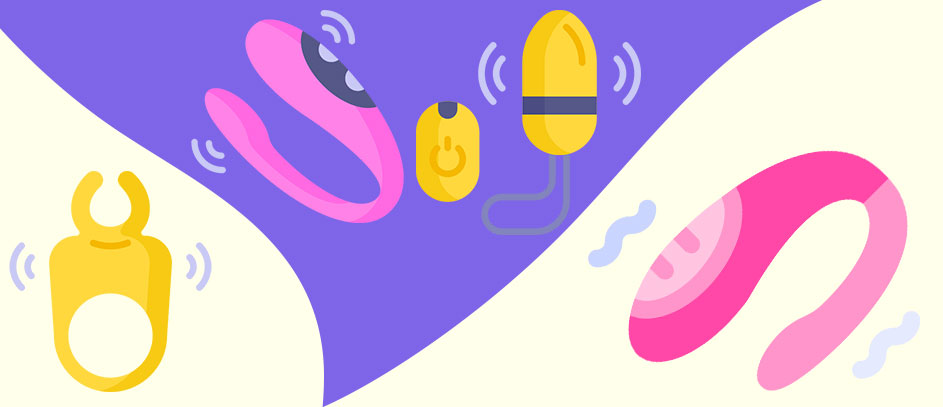 As mentioned, there are so many different models and categories of couples' vibes that you'll be spoiled for choice here. You can try:
Classic Vibrators
Everyone knows them, and everyone loves them! Classic vibrators will give you a long shaft to play with both externally and internally. They provide intense vibrations, and you can use them for all types of clit play, deep vaginal penetration, anal adventures, and so on.
Clitoral Vibrators
These bad boys are small, but they're oh-so powerful! You can try them to tease your clit during foreplay or sex, and you'll reach some massive clitoral orgasms!
Wearable Vibrators
These are some of the most discreet yet most unique couples' massagers. You can slide them over a cock to boost both of your pleasures during intense penetration! Oh, and some of these, like vibrating panties, can fit right into your sexy lingerie to blow your mind inside and outside the bedroom!
G-Spot Vibrators
If you or your partner prefer intense G-spot play or if you finally want to learn how to squirt, these vibrators will buzz against your secret spot until you see rainbows! They are available in various shapes and sizes, but all of them are finely crafted to target your G-spot with waves of pulsating pleasure!
Tongue Vibrators
What if you want your partner to get better at eating your pussy? Wearable tongue vibrators are some of the most unusual toys for couples that your partner can wear around his tongue. That way, his tongue could turn into a vibrating weapon that pummels your honey pot with ultra-intense oral fun. But there's more to it. You can use these bad boys to toss your lover's salad or rim your GF's asshole until she squirts all over your face! Delish!
Rings for Couples
Nope, this isn't about your wedding ring. This is strictly about cock rings that can squeeze your lover's junk to make it longer and harder. There are a million different designs here, but they all strap around your partner's wang. Some provide a unique type of additional stimulator that vibrates against your sweet spots during sex. Heck, the newest cock rings even come with an attached vibrator or dildo, which is an insanely hot feature if you finally want to try double penetration!
Anal Massagers
If your SO is obsessed with your butthole or if you want to explore anal orgasms, prostate play, or even get a toy that can train you to finally lose your anal virginity to your partner's cock, there are all kinds of butt massagers out there for the job. Some include prostate massagers, vibrating buttplugs, vibrating anal beads or balls, etc.
Explore Other Fun Options:
Remote vibrators – These toys are perfect for kinky edging, domination, public play, and all sorts of kinks!
App-enabled vibrators – The newest vibrators out there can sync to an app on your phone to allow you to use them for naughty long-distance play. Also, they'll give you extended control over the vibration settings and even allow you to monitor your orgasms!
Multi-erogenous vibrators – Dual or triple stimulation vibrators are great for solo play, but they can also work wonders if you want to get wild with your partner. Some of these toys include rabbit vibrators, DP vibrators, and similar.
Vibrating strap-ons – Strap-ons that vibrate are some of the hottest toys for intense lesbian sex and male anal pegging. You can strap one on to wear an actual vibrating cock and dominate your partner all night long!
Buyer's Guide:
I highly doubt that your relationship will crumble if you end up buying the wrong toy. At best, both of you'll get a few laughs out of it. However, Richard and I have run across some toys that are outright unhealthy and disappointing. To save you the hassle and to make sure you're truly putting your money into something you can use, check out my buyer's tips:
Choose Only the Safest Materials
Vibrators come in all sorts of healthy and unsafe materials. You won't have to look hard to find those that are perfectly suited for your body. As mentioned, it's best to choose between ABS or silicone. Both of those materials are body-safe, and they won't cause nasty reactions on your skin.
However, you'll also encounter some materials like rubber or jelly that you should stay away from. These materials are full of toxic chemicals called phthalates. Plus, they're highly porous, meaning they collect bacteria even if you don't use them. While you should skip those materials altogether, you should also keep a lookout for toys made of TPE or TPR. Tons of couples enjoy these materials because they are extra soft and flexible.
Yet, while you can use TPE or TPR toys safely, you should know that they're somewhat porous. You might need to wash them with special sex toy cleaners or even replace them frequently.
Make Sure the Shapes Suits Both of You
To cock, or not to cock, that's the question! You've probably seen that a lot of couples' vibrators look like big penises, and if you're intimidated by them, you don't have to choose phallic-shaped toys. There are so many other shapes. That includes egg, bullet, rabbit, finger, butterfly, suction, tongue shapes, and more.
Does It Have the Right Size?
When it comes to vibrators for couples, the size makes all the difference. The first thing to think about is whether you want a smaller external stimulator or a larger toy that you can use for penetration.
For example, if you want a couples' cock ring, you'll have to find one that suits your man's rooster. If you need an external clit stimulator, you'll have to focus on the shape, size, and design to find one that matches your anatomy. And for smooth insertion, you should always find a size that you and your lover are comfortable with.
Vibration, Power, and Intensity
Regardless of the type of toy, the purpose of vibrators for couples is to generate strong vibrations to tease your pleasure nerves and eventually lead up to a huge orgasm. If the vibrating motors aren't good enough, you'll end up feeling disappointed.
That's why it's always important to make sure your vibrator has enough juice to please both of you. The best tip here is to choose a rechargeable vibrator for couples that offers more than 10 or even 20 settings. Ideally, you should get a range of super slow to extra-fast vibrations along with a wide choice of rhythmic patterns or modes. Plus, look for a toy with decent battery life. Anything from 1 to 2 hours on a single charge will be enough.
Remote Controls and Long Distance Play
Previously, I said that remote-controlled vibrators are some of the dirtiest toys you can use with your partner. They'll allow you to tie each other up and edge yourself, and you can use them for all sorts of unusual fetishes and orgasm control.
Moreover, some of the toys that I highly recommend for long-distance couples are app-enabled vibrators. These types of vibrators will allow you to have fun even if you're miles away. They are a bit more expensive, but they'll enable your partner to control your pleasure from another continent. That will practically transform your long-distance intimacy! Some of these toys can even connect to your partner's toy for extra steamy cybersex. Moreover, some app-enabled couples' massagers can connect to VR content, which is super fun if you want to explore VR porn together.
What to Look For
Keep your eye out for things that you may not notice at first. That includes small loops, rings, handles, button configurations, and water resistance. Those features will show you if your toy has what it takes to handle your sex habits.
Always make sure your vibrator has enough power, settings, and speeds to keep both of you occupied.
What to Avoid
I would recommend you avoid vibes with removable batteries. They could be expensive to replace, and they may not last as long as USB-rechargeable toys.
Stay away from jelly and rubber materials.
Avoid cheap toys made by unknown manufacturers. They could use poor quality or imitation materials and could break down quickly.
Tips on Using, Cleaning, and Storing Your Vibrators for Couples
If you're already thinking about a couples' vibrator, you don't really need me to tell you where to put it, right?
Well, it won't hurt to follow some of my advice to maximize your orgasms:
Talk about it – Since you're not alone and you won't have time for a lot of trial and error, the best and most seductive way to start is to talk to your partner about how you'll use your vibrator.
Stock up on lube – Whether it's for external or internal play, your couples' vibe will always benefit from a lot of lube. However, I'd suggest you use only water-based lube on silicone or ABS toys in order to protect the materials.
Foreplay – It's up to you whether you want to use your toy for foreplay or the main act. Just remember to take it slowly and get horny before you use your toy.
Go for it! – When it's the right time, just take out your vibrator and use it in all sorts of creative positions or anything else that you might like. So try it during oral, vaginal, or anal sex, and it will make you cum like a queen!
Always Clean Your Vibrator!
Keeping your vibrator clean is definitely not optional. If all goes well, you'll soak it with all sorts of fluids and cum juices! Fortunately, it only takes a few minutes to clean your toy after the big act. In most cases, you'll be able to clean any vibrator for couples with soap and water. This method may not work for toys that aren't waterproof. But, for most toys, it's enough to soak them in water or even use a soft cloth to wipe off the excess fluids.
After that, you should leave your toy fully dry before you put it back in its box. You can also store it in a separate plastic container.
History and Future of Vibrators for Couples
There are many legends and myths surrounding the invention of vibrators. Some say that electric vibrators were first used by therapists to treat women's anxiety or "hysteria" issues in the 1800s. Others believe that professionally treating women by giving them strong orgasms is just an urban legend.
The truth is that vibrators really were used in the 19th century to relieve all sorts of muscle aches and back problems. However, as the decades followed, people quickly started to use them for sexual purposes, especially during the female sexual liberation in the 1970s. It took until the 1990s when they broke into the mainstream through TV shows like Sex and the City.
But, couples' vibrators are a whole other story. They are a relatively new invention by brands like LELO, We-Vibe, and other intimate lifestyle companies that harness the power of new technologies to create toys intended for mutual pleasure.
Most of the innovation happened in the past two decades, and brands like We-Vibe were actually some of the first to make toys that fall under the couples' vibe category. These toys were marketed as couples' vibrating massagers rather than regular sex toys that are used by couples. And in my opinion, the past decade gave us only a glimpse of what's to come in the future. The most popular brands are already working on new ways to integrate smart technologies, VR, and AI into couples' toys to make them even more special!
⚠️ Disclaimer: Our articles contain affiliate links. If you like our content and wish to support our work, consider purchasing your new sex toys through our links. For each purchase through our links, we receive a small commission but at no extra cost to you.
FAQ
This will depend on your partner and how you want to use it during sex. But, try to take it easy. Some people could be surprised if you start to use a sex toy the first time you get intimate with them. Others could be into it, so there's no way to truly know unless you try it.
If your partner has a problem with large sex toys, it may be best to respect his wishes. Fortunately, this will be an easy compromise. There are many smaller couples' vibrators that you can use to improve your orgasms without intimidating your partner. You should look into bullet vibes, wearable butterfly vibrators, cock rings, etc.
Absolutely! You can use most couples' toys for regular masturbation when you're alone. You may not be able to use cock rings or strap-ons without a partner, but most internal or external stimulators will work wonders for your alone time!
There's no way to know for sure. If you've never used a sex toy with your boyfriend, it's better to discuss the subject before getting intimate. That way, you'll get to see his opinion for it and whether or not he consents to it. Some men could think that they're not good enough for you if you want to use a vibrator. In that case, you should explain the situation to your BF clearly and tell them that your desire to try a vibrator has nothing to do with his sexual abilities.
Again, the best way to do this is to be honest and talk it out. If he's never tried a sex toy before, you can talk about how and why you'd like to use one. Also, you can watch porn to see sex toys in action and get some inspiration. Fortunately, more men are becoming open to sex toys, and the stigma surrounding them is quickly going away. If you're clear with your partner and if he's into it, you shouldn't have any problems talking him into having fun with a sex toy!
Absolutely! That's one of the main benefits of a vibrator for couples! If you're having problems reaching orgasm, a clit vibe or a cock ring with a vibrator could work wonders to help you orgasm through penetration. One tip here is to use your toy alone first to figure out the ins and outs and learn how to orgasm stronger and harder!