Jul/04/2022
Last Update: June 26, 2023
1006
24 min read
Hottest Strap-On Dildos In 2023: Time To Take Control!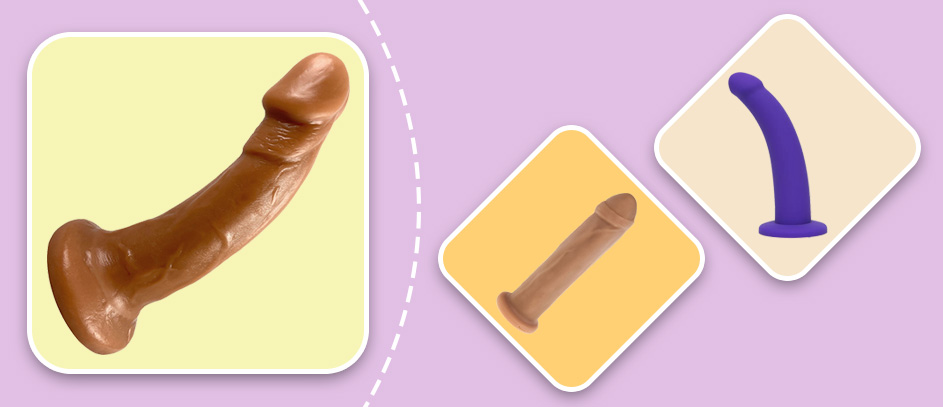 Have you ever ever wondered what it feels like to own a massive fat cock and stick it deep down your lesbian lover's throat? What about using a big bad boner to pound your little BFs virgin boyhole until he pleads for mercy? Cum to mama! Obviously, we ladies will never truly know how it feels to fuck someone with a throbbing chub and shoot a huge load deep inside a warm, tight hole. Well, not unless we use strap-on dildos, baby! So let's strap in, and I'll show you the best strap-ons I've ever tested!
Top 10 Strap-On Dildos in 2023
Make no mistake: wearing a big bold strap-on dildo will make you feel powerful. It will help you experience sex in a whole different way! Still, buying your first strap-on is not as easy as picking out any old vibrator or butt plug. You have to focus on the type of dildo, your body measurements, the dildo size, the harness type, and materials, along with some special features. But, if you want to fuck hard without thinking too much, check out my list of the hottest strap-on dildos I've tested so far!
Strap-On Dildos: The Ultimate Fake Cock
"You may not wear the pants in your relationship, but you can always wear a massive strap-on dildo around your waist to show your lover who's boss!"
Now, your mission here is quite simple: just strap a huge fake cock around your waist, and voila! You can now ram your partner balls deep with a long hard monster cock! And just in case you were completely oblivious: a strap-on dildo uses a special harness to attach itself to your body and give you a big hard dick to play with all night long!
However, strapping on a giant black dildo and wielding it like an anal torture weapon is easier said than done. If you want to shove this awesome sex toy into a tight pussy and even tighter shithole, or if you want your partner to plow you with it until you cream, you'll have to find a quality strap-on dildo and harness that will give you the most realistic experience as well as a comfortable, sturdy, and safe fit.
Wear It Like You Mean It
I've always thought strap-ons were some of the most creative sex toys you can use. Seriously, this little lady gets soaking wet every time she wears one! Even better, strap-on dildos have changed my view on sex altogether. I've used them on super slutty girls and little bitch boys to teach them and myself a thing or two. And trust me, everyone obeys Mistress Scarlett's orders when she takes out her giant strap-on cock! If you want to, ahem, fill a hole in your life, a strap-on dildo will become something you simply cannot live without!
But let's get real… Not all of us are born with a body that agrees with our sexual preferences. If that were true, I'll guarantee you that every dude on this planet would ask for a second dick. Nevertheless, gender fluidity has become much more accepted in the world in recent times, and the sales of strap-ons are going through the freaking roof. Why? Well, these are pretty much the only toys that can help you experiment with role reversal. Take it from me: wearing a big bold strap-on dildo will make you feel powerful. It will help you experience sex in a whole different way!
Now, if you want to wear a strap-on, all I can tell you is that using one will help you navigate an entirely new role. For some people, that can help them to reclaim their sexual confidence and make them feel reborn. To others, these toys provide infinitely kinky and highly experimental fun along with epic orgasms. Trust me: these bad boys will make you do things you never thought were possible!
Confession Time: Losing My Strap-On Virginity
I spent several years playing with strap-ons, and I've tested the ones on my list by fucking my BF deep and getting naughty with my female FWB wherever we're in the mood to party. But, I actually tried one for the first time years ago when my friend Rebecca asked me to come over for dinner one night. After a few drinks, we started our usual ritual of making out and tasting our delicious pussies. But, the next thing you know, Rebecca looked me deep in the eyes, and then she pulled out a strap-on harness.
Sure, I felt kind of awkward when she strapped it around my waist. But, all of my anxiety went away when I saw myself in the mirror. Suddenly, I was the proud owner of a flexible 9-inch cock, and Rebecca was down on her knees sucking on my new fake dick like she owed me rent. I looked hot as fuck, and I felt more powerful than ever. And even though my thrusting was off and I made the dildo slip out several times from Rebecca's pink hole, I felt natural, empowered, and wilder than life.
After that, I kept fucking Rebecca with strap-ons every week. They became a staple in my sex life! I've also used them to peg my BF Richard like a worthless boy slave, and I love wearing one just to make myself feel like a dick-wielding sex goddess. Moral of the story? If you're curious, donning a strap-on dick will transform you into an empowered and wild sexual creature. It will definitely push your sexual boundaries! What about strapping it onto your partner and letting her fuck you in all your holes like you've been a very, very bad girl? Mmm hmmm!
Types of Strap-On Dildos
Strap-on dildos and harnesses come in a broad range of styles. Since there are so many options out there, choosing the perfect one can actually be quite overwhelming. But don't worry, we can categorize a strap-on depending on:
The type of harness
How the dildo attaches to the harness
How the harness fastens to the wearer
The type of dildo
The trick is to find the perfect system that suits your body and feels good for the receiving partner. Let's look into some of the hottest dildo types you can get:
Realistic Strap-On Dildos
A realistic strap-on dildo will look and feel exactly like a thick veiny penis. These types of toys are meticulously crafted to replicate every inch of the male anatomy. They'll give you a thick and hard shaft to play. Plus, you'll get multiple throbbing veins, juicy testicles, and a mouth-watering head. You can get them in any color or size you prefer. You can go from big and white to extra large and black (my favorites!).
What's more, realistic strap-on dildos are flexible. You can use them in all kinds of positions. They are usually made of body-safe materials such as silicone or TPE. Honestly, some of these dildos look and feel so deliciously real that you won't be able to tell the difference.
Just imagine looking down at your crotch and seeing a big fat cock bulging out from under your tits while your partner crawls on her knees and asks for permission to suck it deep!
Double Penetration Strap-On Dildos
Ever wondered how it feels to double the fun? Well, there are various different DP strap-on dildo types that you can use for ultra-intense double penetration sex. The most common variant is a standard strap-on configuration that gives you two stacked dildos, one for the pink and one for the stink!
However, you'll also find DP strap-ons for men. These toys attach around your male partner's waist and give him another dick to penetrate you with. The third type of DP strap-on is actually a strapless toy with two insertable ends. How does it work? Well, one end goes inside your vagina, and your muscles keep it tight and firm inside you. The other end sticks out like a real schlong, and you can use it to penetrate your partner. That way, you and your partner will feel strong penetrative sensations at the same time! You'll be squirting all over each other in minutes!
Vibrating Strap-On Dildos
These are some of my top choices for ultra steamy lesbian sex and intense pegging. Vibrating strap-on dildos can produce deep and rumbly sensations during penetration. There's a lot to cover here, including rabbit-like dildos that come with an external clit stimulator as well as double strap-on dildos that vibrate.
Generally, these toys come with strong internal vibrating mechanisms, and they'll give you tons of vibration options to play with. You can use them for deep throbbing sensations. Plus, they'll deliver highly intense external stimulation if you rub them all over your partner's clit or nipples. They'll literally perform miracles if you want to use them to massage your female partner's G-spot or milk your male slave's prostate!
Rotating Strap-On Dildos
Some strap-on dildos can rotate or thrust automatically. Not only will they enable you to hold a long fat chub in your hands, but they'll also move like a full-on sex machine!
These toys are fantastic if you want to go the extra mile and get something that does all the work for you. They are a great option if you don't want to thrust so much while pounding your partner. They'll deliver some of the most unique automatized sensations compared to all other sex toys.
Also, if you want to be the one taking an enormous rotating dick in your pleasure cave, these dildos will twist and turn deep inside you. They'll milk your G-spot or drill your booty hands-free to make your whole body shake!
Hollow Strap-On Dildos
Hollow strap-on dildos are sex toys for men and other penis owners who want to extend the size of their junk. They are fully hollow on the inside. This allows the wearer to slide his dick in and instantly get a size boost. These toys are a fantastic option for anyone dealing with size issues or looking to experiment with extra-large dildos.
Going Beyond Standard Strap-Ons
If you need something extra kinky, you could try these types of strap-on dildos:
Huge strap-on dildos – Extra-large strap-on dildos will appeal to all people who love monster cock. If you love rough sex, extreme stretching, and hardcore anal gaping, these dildos will give you around 10 to 15 or more inches of extra-large fun. You can use them to brutally dominate your lover's tight asshole or spread her pussy wide open!
Gag or chin strap-ons – The perfect toy for any bondage, domination, face-sitting, or femdom lover! Chin strap-ons can wrap around your slave's mouth. They'll gag them while giving you a big dildo that extends from their face. Then, you can sit on your little sissy, slide the dildo inside you, and squirt all over his face to utterly humiliate him!
Knee strap-ons – These dildos attach to your thigh or knee. While they're not intended for standard thrusting movements from your hips, they can be fun tools for kinky foreplay or intense makeout sessions.
Double dildos – These toys look like standard strap-ons, except they have another end that enters you during penetration. This toy will deliver tons of unique pressure while you ram your partner balls deep! Trust me: it's a win-win scenario!
Ejaculating strap-on dildo – Wanna know how it feels like to shoot a big cumshot all over your partner's face? What about blasting your lesbian lover's asshole with a massive creampie? If you want to get the most realistic experience ever, squirting strap-on dildos will let you shoot out fake cum to fulfill all your lover's semen fetishes!
Buyer's Guide: Find the Perfect Strap-On!
If my rundown of all the different strap-on types just gave you option anxiety, things are about to get a bit more complicated. There are several parts that make up a quality strap-on setup. Trust me, choosing them is like trying to find the recipe for the perfect fake cock! Let me show you everything that you need to look into before you buy your strap-on dildo:
What Does a Strap-On Do?
If you're still confused, any wearable sex toy that's linked to a harness can be classified as a strap-on. As mentioned, the differences are mainly about the attachment mechanism, the type of dildo, and the way you use it. In most cases, you'll be able to get a strap-on kit that gives you a dildo and an adjustable harness. Alternatively, you can only buy the harness. Then, you can assemble your own strap-on with the dildo you like the best. You can also opt for a strapless strap-on dildo. This is a neat option if you don't want to wear a harness and you want to get your hole serviced while you're penetrating your partner.
Either way, these dildos are fantastic tools for masturbation, strap-on blowjobs, and penetrative sex. Everyone with a vagina can use them to step into a more dominant role and use a thick hard johnson like it's their greatest asset. But, remember that, while strap-ons are some of the most popular lesbian toys, they are also the best thing to get for femdom, pegging, anal play, and other activities with your male partner.
Strap-On Setup
When it comes to strap-on basics, you first need to look into the type of system you're buying. That includes the holy trinity:
Harness
Attachment method
Dildo
Granted, an ill-fitting strap-on won't cause the world to end. Yet, getting it right from the get-go will save you a lot of trouble in the long run.
Harness
Strap-on harnesses are made using various different materials such as leather or cotton. The most important tip here is to pick a durable yet comfy harness. That way, you'll be able to stay strapped in for a long time during your bedroom rodeos. Plus, it will ensure that the dildo will never fall out. In most cases, you'll get to choose between these types of harnesses:
Two-strap harness – This harness is similar to a thong. It uses one adjustable strap to attach around your waist while the other one is tightened between your thighs. This is the most basic type, but some people avoid it because the second strap can cause friction and an unstable fit.
Three-strap harness – Instead of using one strap that goes between your legs, this type utilizes two straps that hook up to your thighs. This type of setup is much sturdier and more reliable.
Underwear type – This type doesn't come with straps. Instead, it resembles regular underwear. It can look like a pair of panties, sexy lingerie, or classic male briefs. It's the most practical harness out there, but the drawback is that it encloses your genitals.
O-Ring vs. Hole
Now, how do you actually secure a dildo to your strap-on harness? Well, this is one of the most important aspects of a strap-on system that many people neglect. A harness will typically give you a hole for the dildo right near the crotch. You can attach the base of the dildo to the hole to secure it in place.
It's not the most effective method since it can make the dildo flop around. If you have too much movement, you won't be able to use your dildo for deep G-spot massage, prostate play, or any other sex act based on precise movements. In that case, a harness with an O-ring will be a much better choice.
Typically, an O-ring design will give you a metal or rubber loop attached to the crotch. You can slide the dildo through it or attach it to the base. That way, the O-ring will get rid of any wobbling or movement. Plus, it will feel the most realistic during penetration.
Unlike a harness set-up with a hole, the dildo will not be able to pop out or rip through the fabric. Also, if the O-ring is stretchy, you can use the same harness with several different dildos. If you're having doubts, an O-ring design is definitely the way to go for all kinds of softcore and hardcore debauchery. Furthermore, there are several other configurations to consider, including strapless strapon dildos, single-piece latex dildo harnesses, and vacuum lock dildos.
Which Dildo Should You Get?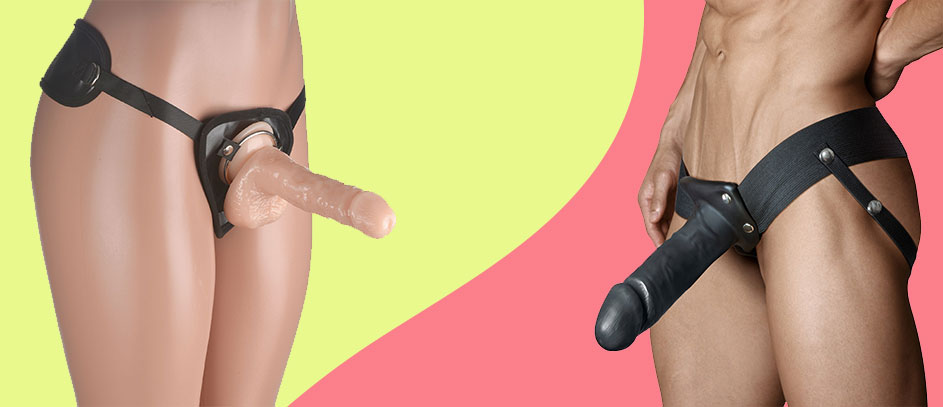 Look, I know that not everyone wants to strap on an enormous BBC dildo to their waist right away. If a large strap-on dildo is intimidating for you and your partner, you don't have to go that route. You'll have to think about the dildo you prefer and find the best type to give you exactly what you crave. If you don't know anything about dildos, you can check out some of my previous in-depth guides to learn all about them. But, when it comes to strap-ons, here's what you should consider:
Classic dildo – This is the most common type of dildo you'll see in strap-on setups. You'll get a long straight or curved shaft that's great for all kinds of real-feel oral, vaginal, or anal fun.
Tapered dildo – Some classic dildos can have a tapered shape that gets wider near the base. This is a clever choice for everyone who prefers a wider girth and likes to get stretched.
Non-phallic dildo – If you're not into it, you don't have to get a realistic strap-on dildo. Non-phallic dildos will give you an insertable shaft that doesn't resemble a real penis.
Anal dildo – A dedicated anal strap-on can work wonders for all kinds of rear-end acrobatics. Some of these dildos are extra-thick, while others have unique textures to pleasure your partner's rectum with just the right amount of pressure.
G-spot or prostate dildo – These dildos are specifically designed to pleasure your partner's G-spot or P-spot. They are often curved and have bulbous heads that allow for targeted stimulation and super fast squirting orgasms!
Harness Materials
Hopefully, you already know that intense fucking makes all sorts of fluids like cum, lube, and DNA fly everywhere. Whether you get gushing wet or you shoot out torrents of squirt, you'll have to pick the most practical harness. The best tip I can give you is to not do what I did. I first got a leather harness because it looked shiny and sexy. However, I soon realized that this material is a bitch to sterilize and clean.
Aside from leather, you can choose from a variety of other materials. That includes synthetics, nylons, plastics, cloths, as well as rubber, PVC, or latex materials. In most cases, I'd recommend you avoid leather, rubber, or any synthetic imitations and go with natural materials.
A cotton or cloth harness will be the most adaptable to your body, and it will feel stretchy and comfortable. It will also last long and feel good on your skin. Another decent choice is natural latex, but use it only if you're not allergic. Bonus tip: if you're buying a harness with two or three straps, make sure they're wide and soft. This will eliminate any chafing issues and will create a much firmer fit.
Dildo Materials
Sex toy materials can always cause some confusion if you're buying your first toy. But, there's really nothing to worry about if you make the right choices. The trick here is to find a medical-grade, body-safe material with hypoallergenic properties.
When in Doubt, Always Go With Silicone
The easiest choice is silicone. It's 100% skin-friendly, and it doesn't absorb nasty germs. What's more, this material will last forever, and it's incredibly easy to clean. Best of all, it will provide hyper-realistic sensations and a smooth, soft texture that feels fantastic during penetration.
Some of the other materials you could encounter are TPE, rubber, latex, or jelly. I'd advise you to skip all the jelly or rubber options out there. They are highly porous, and they're unsafe for the skin. If you're keen on getting a super-floppy rubber dildo, just make sure it's phthalate-free and learn everything you can about handling it.
What Are the Alternatives?
TPE is a softer alternative to silicone. Many people love this material, but what you need to know is that it's slightly porous. While you can use it safely, you'll need to swap your toy with a new one after 3 to 6 months.
And what if you want it harder? Well, if you want to get a probe dildo, G-spot massager, or prostate stimulator, ABS plastic is the ideal option. Just like silicone, it's body-friendly and non-porous, but it will give you a tougher texture to play with. This can create intense pressure and an unusually pleasant sensation as your partner's holes tighten up around it!
How to Measure Yourself and Your Dildo
Frankly, you won't get anywhere if your harness doesn't fit properly. In the worst case, your dildo could be too small or too big to please your partner. That's why it's essential to take some measurements first.
What you're looking for here is a snug fit around your waist. It shouldn't feel too loose or tight. To get it right the first time, you should measure your waist. Then, use that measurement to determine the size of your harness. Keep in mind that most strap-on harnesses are adjustable, meaning that even if the harness you find isn't a perfect match for your measurements, you'll be able to tighten or loosen it to find the ideal fit.
Is Bigger Better?
When it comes to the size of your dildo, you will need to make this decision with your partner. If you're going to use your dildo only to penetrate your partner, then go with a size that suits them. If you want a toy that both of you can use, you may need to come to a compromise.
Either way, my tip here is to start with a medium size. Approximately 5 to 7 inches will be just enough for first-timers, and you can always get a bigger size later. What's more, if a medium size is too big and you need something smaller than 5 inches, you can always choose small strap-on dildos.
Also, don't forget to inspect the girth of the dildo and see if it's thick enough for you. Of course, this will also depend on your and your partner's preferences. You can pick a short and thick dildo, a long and curved one, or an extra-long and extra-thick fake dong. Just remember to know your limits. If you get a dildo that's too big, it could cause some discomfort. If it's too small, it might not be enough to push your partner over the edge.
Special Features
Most strap-on dildo types come in vibrating and non-vibrating variants. However, there are a lot of other features that you could use to experiment even further.
If you're getting a vibrating strap-on dildo, my best tip would be to inspect the specifications. So look into the power features, vibration modes, and remote control options. The same goes for all the other features I've described. If you want an ejaculating dildo, a thrusting dildo, or a 2-in-1 stimulator, read up on the details and see if those features are something you truly need.
Personally, I love it when I get a female fuck buddy to spread out my holes with a vibrating dildo, and I get to feel the pulsations deep in my body. However, not everyone will enjoy this. You might be better off with other special options like automatic thrusting, a strap-on with a butt plug, a highly textured shaft, and so on.
What to Avoid
Stay away from no-name brands and cheap strap-on harnesses.
Avoid leather and other porous materials for your strap-on setup.
Use a jelly or rubber dildo only if you absolutely have to and if you can find a healthy phthalate-free variant. But for the most realistic experience, I'd recommend you stick to silicone.
Tips on Using, Cleaning, and Storing Your Strap-On Dildos
Whether you're going to wear this toy to dominate your partner or you want to be their sub and take their huge strap-on cock balls deep, you'll need to memorize several key tips before you strap in.
Safety First
Strap-ons are relatively safe toys, but you could encounter some problems if the harness feels too tight or too loose. A loose harness will wobble around. Conversely, a tight fit could cause some discomfort or chafing. To get it right the first time, simply slip into it like a pair of panties. Then, make sure the straps are lying flat and tighten them.
Also, you need to know that using this toy like you were actually born with a penis will take some practice. For me, I had to try strap-on sex several times before I got used to all the thrusting movements and positions. The best tip I can give you is to first put on your fake wang and wear it before you have sex. Trust me, walking around with a strap-on attached to you will feel awesome, and it will help you get used to your new dong. The trick is to make your dildo feel like it's an extension of you and genuinely get into the role of a penis-wielding partner.
After that, you could also start with some basic sex positions to get used to the feeling of penetrating your partner or taking a strap-on dildo deep inside you.
Use Your Strap-On Dildo For:
Bend gender and dominance roles – Anything is possible with your new strap-on cock!
Mutual pleasure – Since the dildo will rub against your clit during penetration, you'll also be able to cum while pleasuring your partner. Better yet, you can use a bullet vibrator inside your strap-on harness to get off even harder!
DP – You can experiment with a DP strap-on or use another toy like a butt plug for balls-out double penetration adventures!
Lesbian sex – Lesbian sex becomes a whole other story once you strap in. You'll suddenly take on a new and much more dominant role that will work wonders for all sorts of oral, vaginal, and anal fun!
Pegging – Dominating a man with a huge strap-on dildo is one of the hottest things I've ever tried! Just make sure your male partner is into it before you pop a big chub in his butthole!
BDSM – strap-ons are the ideal tools for roleplay, femdom, chastity play, and many other BDSM fetishes that will bring out your darkest side.
Use hollow strap-ons as an erection aid – If your male partner has problems maintaining an erection or if you've always wanted him to get bigger, a hollow strap-on dildo will improve his erection while giving him a size boost.
Pegging Supplies and Strap-Ons for Short Girls
One of the essential tips is to always use lube to eliminate any kind of friction during penetration. Here, it's important to use only the correct type of lube that won't damage the material of your dildo. For example, if you use a silicone dildo, the best option is water-based lube.
What's more, I have to point out that strap-on play can get a bit messy if your partner is taller than you. If you end up having trouble navigating sex with your new strap-on, stick to the most practical positions like doggy style. Then, use pillows to prop yourself up to get the right angle. Alternatively, you can turn your partner around with their ass up and their legs behind their head. Then, kneel down on some pillows to line up the height perfectly and bang away!
Cleaning and Storage
Remember what I said about all kinds of fluids, cum, and DNA getting all over your strap-on? This is exactly why you should never forget to clean your toy during your post-orgasm haze!
First, remove the dildo from the harness. Then, soak your dildo in warm water or run it under the tap. You can use a mild soap to remove any residue from it and keep it squeaky clean.
Additionally, if you get a machine-washable harness, you can use mild detergent and put your harness in the washing machine to clean it thoroughly. Why not throw your bras in to kill two birds with one stone? Alternatively, you can soak it in the sink and scrub it with detergent. However, if your harness materials are not machine-washable, the cleaning method may vary, and I'd advise you to stick to the manufacturer's instructions.
Finally, you'll also need to air dry your harness and dildo. So leave them out for a couple of hours and store them only when they're fully dry. My tip here would be to store your harness and dildo separately to keep the materials safe.
Strap-On Dildos Industry Overview
When did we use strap-ons first, and what should we expect in the future? Well, strap-on cocks are actually much older than you think!
Who Invented Strap-On Sex?
Strap-on sex exploded in the late 1990s with "Bend Over Boyfriend", a set of instructional videos about pegging and using strap-ons for heterosexual couples. However, dildos have existed for thousands of years.
In ancient times, people used them to worship the fertility gods and take part in bizarre sex rituals. The oldest known strap-on dildo dates back to 10,000 BC. It resembles a big double baton with a pee-pee hole inside. Several early dildos were also discovered in ancient Japan, and they were made of wood and leather.
Also, many murals at Pompeii and Athens depict women using early strap-ons on men, which shows us that strap-on sex was celebrated way back in ancient Italy and Greece! This gives us an idea of how long we've been using strap-on dildos and definitely makes them one of the oldest and most popular sex toys! So why not follow in the footsteps of our ancient ancestors?
The Future of Strap-On Dildos
Every day, the sex toy masterminds keep coming up with new inventions to literally rock our worlds. Of course, strap-ons have evolved quite a lot from their early variants made of wood or jade. Oh, I'm so glad that we don't have to push crudely crafted toys made of natural materials in our pussies and buttholes today!
Right now, strap-on dildos are at the peak of their evolution and the innovation is not slowing down. Currently, you can find several standout brands that make fantastic strap-ons with original designs. Some of the biggest names for strap-ons and harnesses right now include Lovehoney, Tantus, King Cock, Happy Rabbit, Pegasus, SpareParts, Fun Factory, Doc Johnson, Tracey Cox, etc. Some strap-on toys made by those brands will give you some of the newest technologies. That includes vacuum lock harnesses or remote-controlled vibrators. One of the newest examples is a smart strap-on made by Ambrosia Vibe. It automatically senses the dildo's motions and transfers them to the wearer in the form of vibration. That way, the vibrations can make the wearer "feel" the sexual pleasure that a real penis would get.
Of course, no one knows what's going to happen in the future and whether or not we'll get enhanced strap-on dildos that feel even more like a real cock and offer more control along with unique VR or AI features. For now, it's time to get your big and bold strap-on dildo! So strap in and join the fun!
⚠️ Disclaimer: Our articles contain affiliate links. If you like our content and wish to support our work, consider purchasing your new sex toys through our links. For each purchase through our links, we receive a small commission but at no extra cost to you.
FAQ
Not at all! Tons of straight men enjoy getting penetrated anally by a woman wearing strap-on dildos. Bottoming does not require a man to be gay, and lots of men like pegging because it allows them to explore role reversal along with tons of intense ass or prostate play.
Well, the trick is to take things slowly at first. If you're a total beginner, I'd recommend you buy a small strap-on dildo. You might even need to train your booty beforehand with smaller anal toys such as butt plugs. Remember, anal sex can cause some pain, but only if you are untrained and if you don't use enough lube. Also, you will need to learn how to clean yourself out properly if you want to avoid making a mess. After that, just remember to take it easy and experiment. Bonus tip: you should try rimming or fingering to get your booty ready for bigger things.
Yes, but only if your harness allows it. If your harness comes with a permanently attached dildo, you won't be able to switch it out. However, if you get an O-ring harness with a stretchy ring, the chances are that you'll be able to put any kind of dildo through it.
If you or your partner are uncomfortable with the look of a real penis, the best thing you can do is to get a non-phallic strap-on. This dildo will not resemble a penis, but it will still give you a smooth shaft to play with.
Oh, yes! Wearing a classic strap-on will give you a mental rush of dominance as well as the physical sensation of being in charge while you fuck a willing hole deep and fast. But, if you want to cum even harder, your best bet will be a double-ended or vibrating strap-on!
If you want to switch toys with your partner, you should always use a condom. This applies to vaginal and anal sex. Also, if you want to switch from vaginal to anal sex, make sure to always use a new condom. This will eliminate any health risks that come from sharing toys or switching holes.
Using a strap-on requires dedication and training. If your partner feels some discomfort, you can try to switch up your positions and balance your heights to see what feels the most pleasurable. If the harness itself feels unpleasant on your skin, try to readjust it to make it fit comfortably.
Strap-on sex shouldn't cause any discomfort if you know what you're doing, and while it's okay to feel a little pain at first, remember that you'll need some time to get used to your strap-on.